Sticky sweet and spicy ginger wings with green onions and sesame seeds, you'll be licking your fingers clean just to get a bit more of this insaaaanely delicious sticky ginger wing sauce.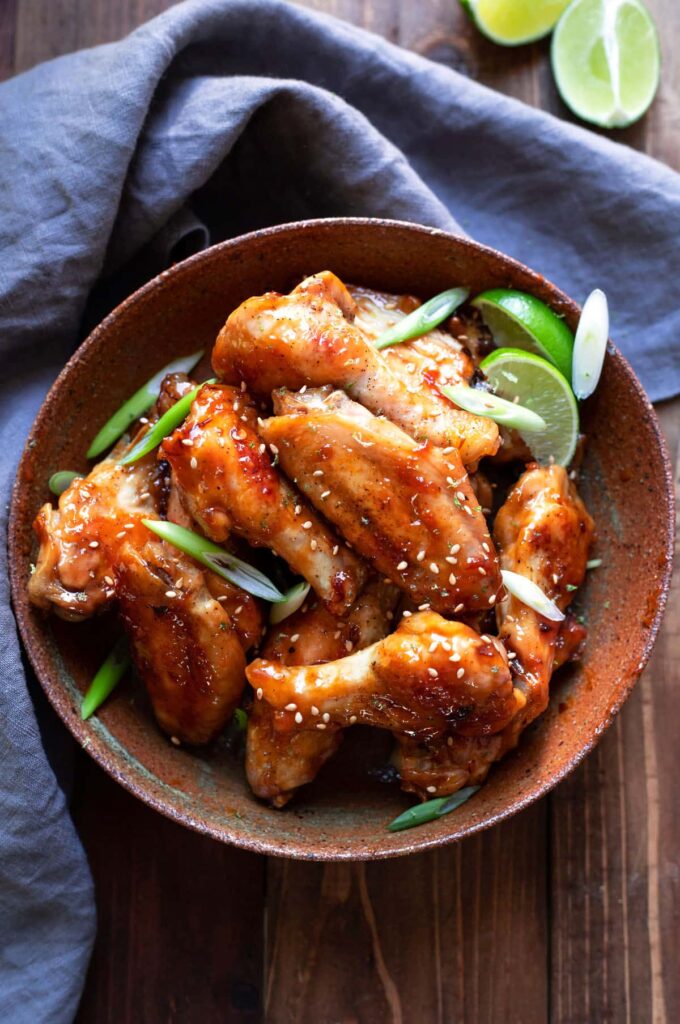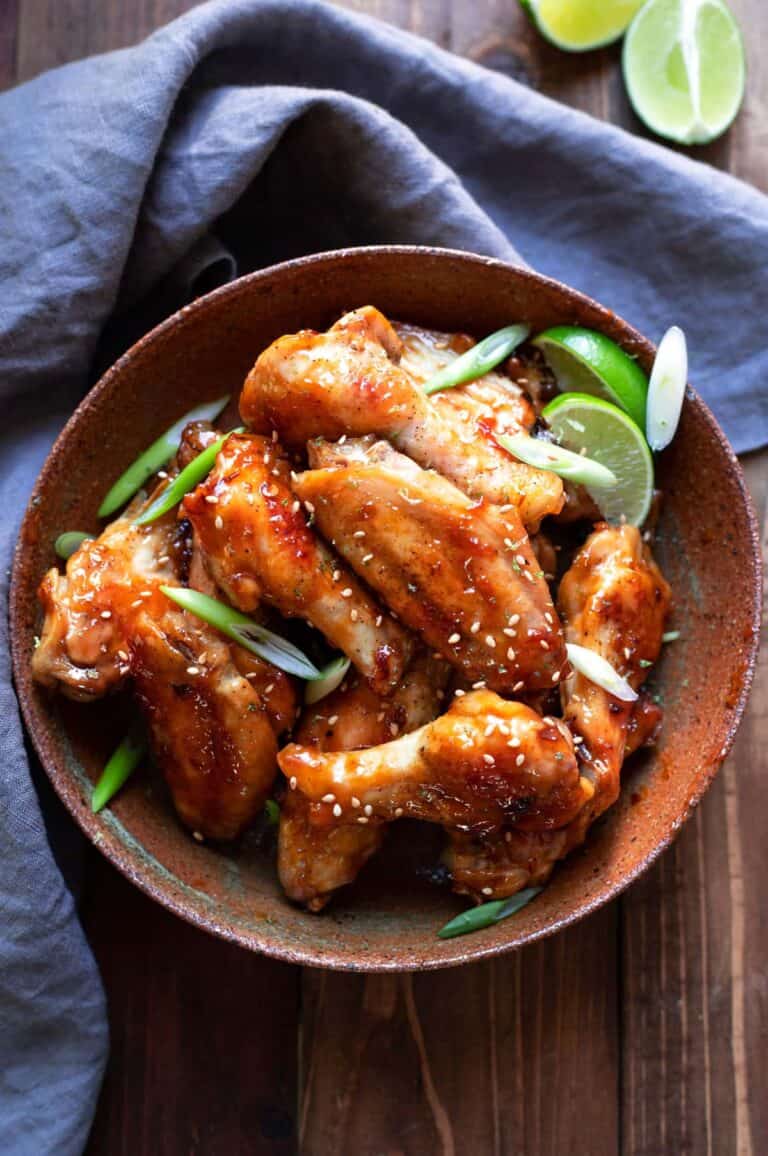 This is a sponsored post by Prince of Peace Ginger. All reviews and opinions expressed in this post are my own.
I love wings. Do you?
I don't think i've ever met anyone that doesn't LOVE wings! And to be quite frank, asian wings are THE BEST. And these sticky ginger wings are no different.
My secret ingredient? My favorite Prince of Peace Ginger Chews. Whenever I make anything with ginger I just toss a ginger chew in and it melts like a dream in sauces. I used the original flavor but they have so many different fun flavors you can grab, like mango and lychee. Ginger has a lot of benefits like supporting digestion and it's an anti-inflammatory. Each ginger chew is individually wrapped for easy on-the-go convenience.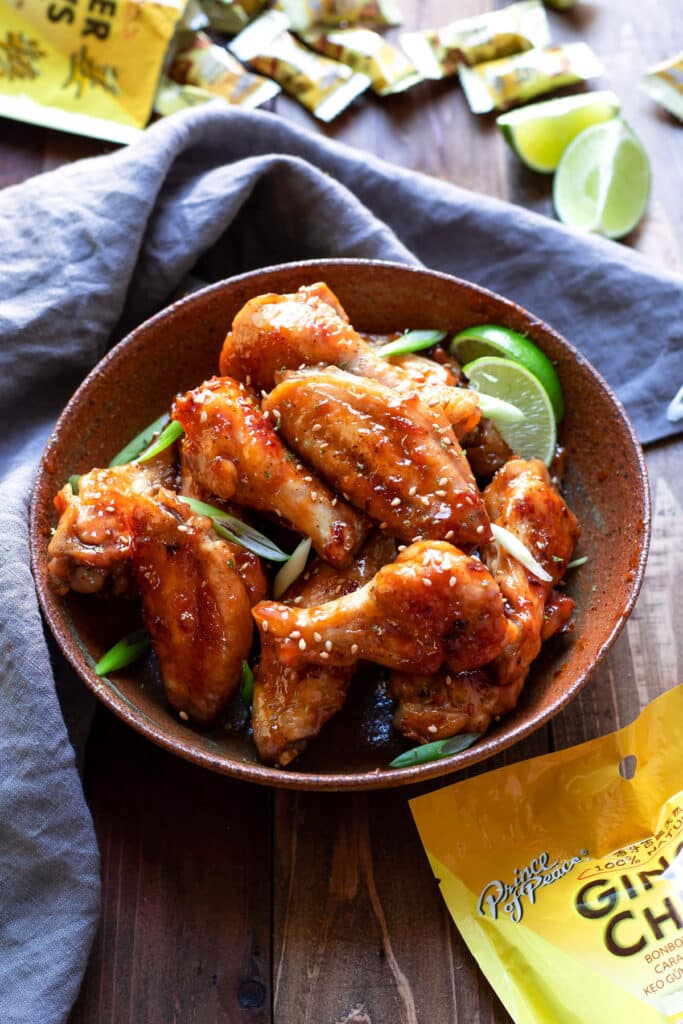 So we like ginger here.
Forget that weak jarred asian wing sauce. This homemade ginger sauce is going to blow your mind. It's super easy to put together too. Everything goes in the sauce pan and it gets all sticky and delicious.
Preparing the wings is also a breeze.
I always bake my wings and they turn out juicy in the middle and crispy on the outside, every time. So put away at that fryer.
Honestly, I don't even do anything fancy to get them perfect. I bake them at 400 and just line them up on a baking sheet.
I'm not sure if you count this as a trick but the only seasoning I ever put on my wings prior to baking, is pepper. No salt, no cornstarch, no nothing. Just pepper.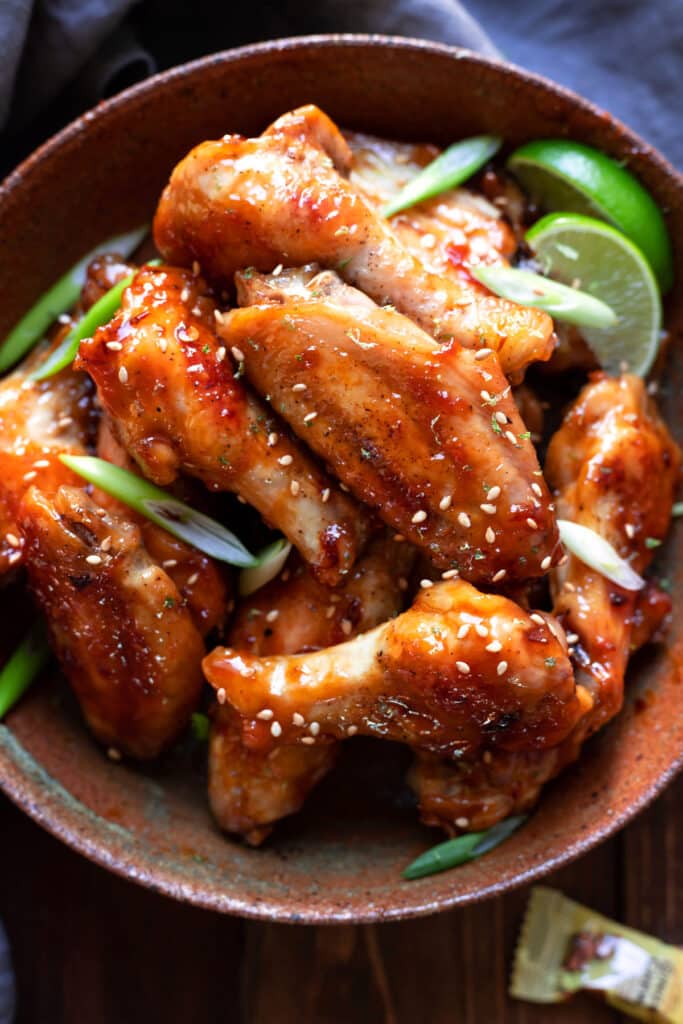 Have you ever head that salt pulls out moisture? I mean, I salt plenty of things and then put it in the oven and don't really notice BUT for some reason I've never salted these.
Call it laziness. Most of the time I just want to get them in. And I always figured they'd get sauce on them later so no point in seasoning these tiny little wings.
Once they are out of the oven you'll want to toss them in the sauce right away, it will really stick as it cools! If you want to dress them up – toss on some chopped green onion and sesame seeds, personally I think they aren't complete without it. But if you ask my husband he'd pass on the green onions every time.
Personal choice.
And don't forget that squeeze of fresh lime juice in the recipe, it gives it a nice zingggg.  Needed. Necessary.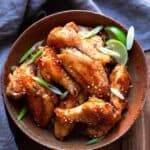 Print Recipe
Sticky Asian Zing Wings
Sticky sweet and spicy asian wings with green onions and sesame seeds, you'll be licking your fingers clean just to get a bit more of this insanely delicious sticky ginger wing sauce.
Ingredients
12

chicken wings

1

tbsp

rice wine vinegar

2

tbsp

honey

2

tsp

sambal olek

2

tbsp

water + more to thin

1

garlic clove

minced

3

Prince of Peace Original Flavor Ginger Chews

1

lime

optional garnishes: green onions

sesame seeds
Instructions
Preheat oven to 400

Line a baking sheet with parchment paper and a spritz of cooking spray

Pat dry the chicken wings and line them up on the parchment paper, so they aren't touching

Bake for 30-40 minutes until they look crispy and golden

To a sauce pan, add the rice wine vinegar, honey, samba ole, water, minced garlic and ginger chews

Simmer for 2-3 minutes, whisking

Turn the heat to low and squeeze in some fresh lime juice (about 1/4 of a lime), sauce will thicken

Remove the wings from the oven and immediately toss in the sticky ginger sauce

Serve with some sliced green onions and sesame seeds on top