Tender bites of steak cooked in a slow cooker, served up with crispy little russet potatoes, juicy cherry tomatoes, red onion and a buttery lemon sauce. This quick and easy crock pot dinner will be a family favorite!
Easy slow cooker dinners are my jam, just like these crockpot chicken enchiladas!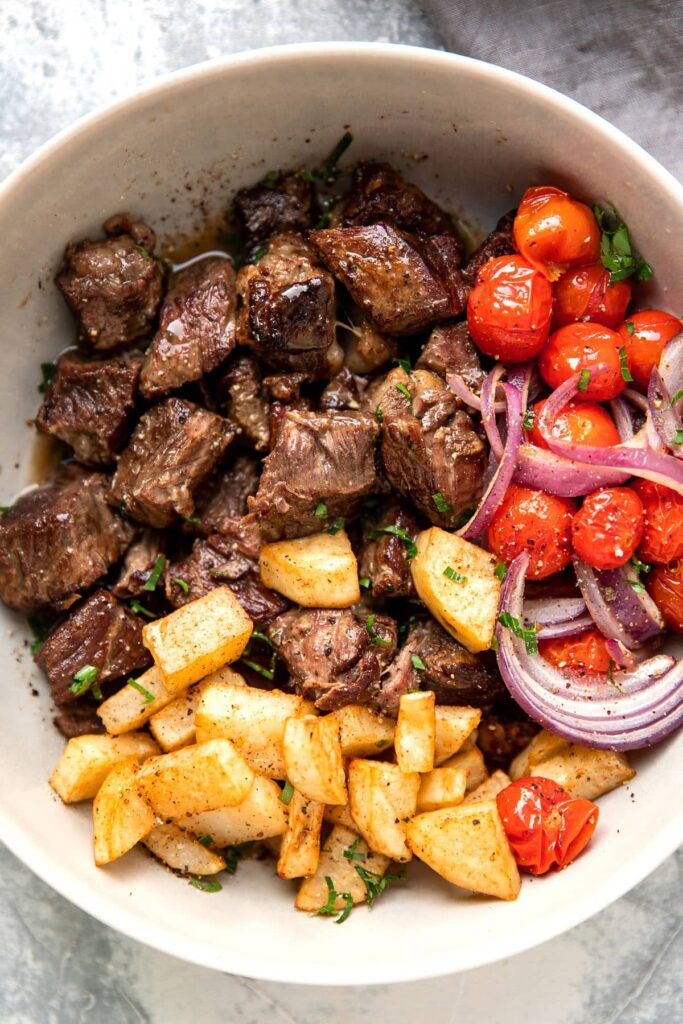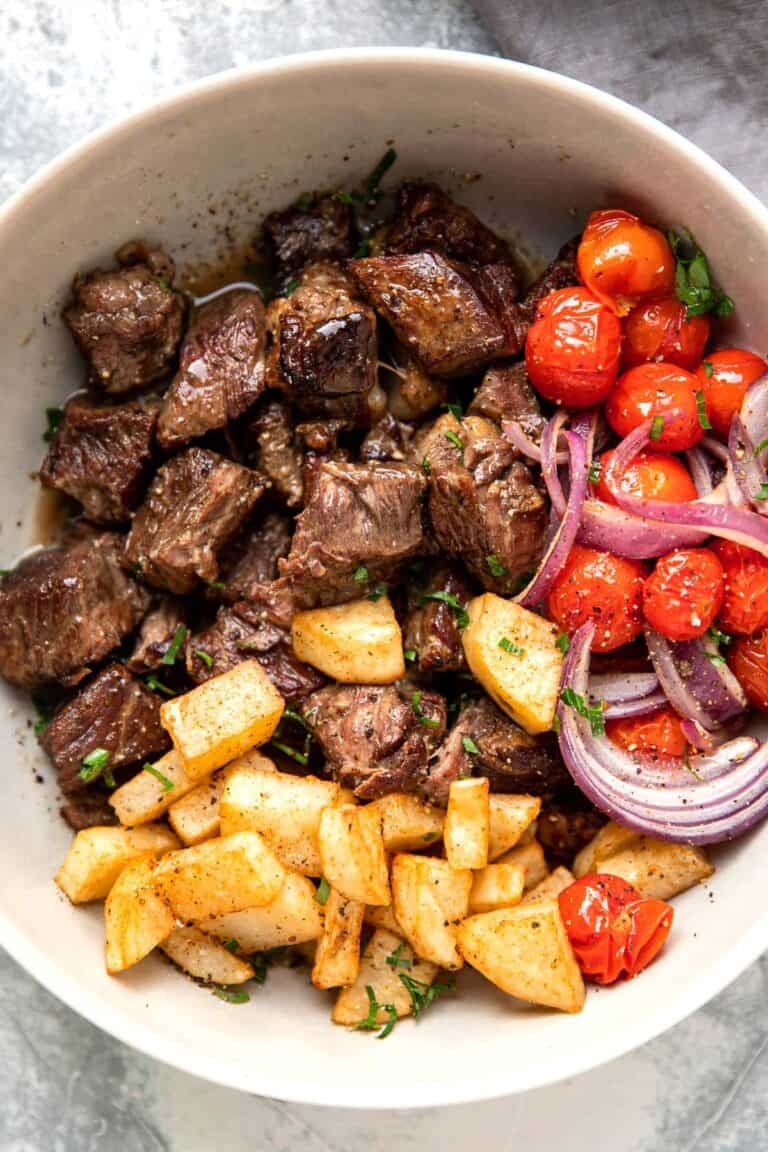 This isn't a full fledge slow cooker dinner. It's half slow cooker half sheet pan meal. I promise it's easy and boy does it look fancy!
Your family will love it so much.
The steak goes in the slow cooker to cook low and slow all day, when it's time to prepare dinner you just have to get the potatoes crispy in the oven, which is super simple.
If you have a mini crock pot, I highly recommend using it for this recipe.
The tomatoes and red onion will also join the potatoes in the oven. And I can't get over the buttery lemon sauce, its soooo good. Like melt in your mouth, licking the plate good.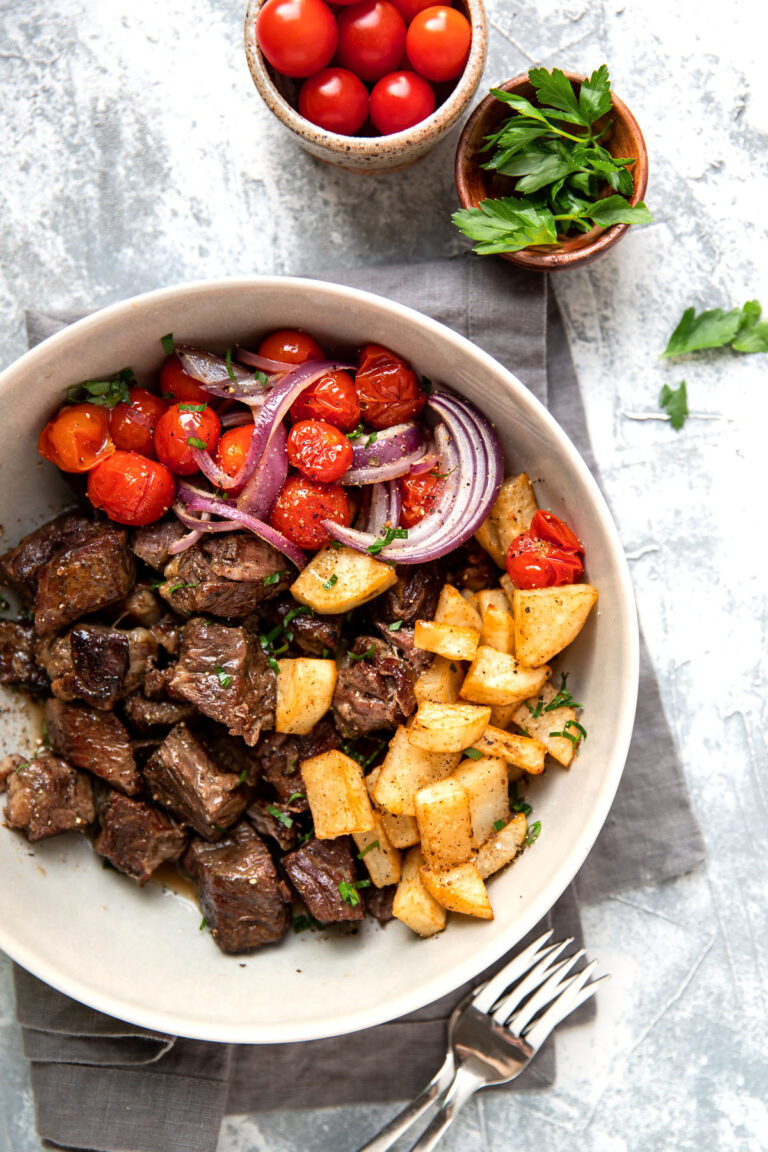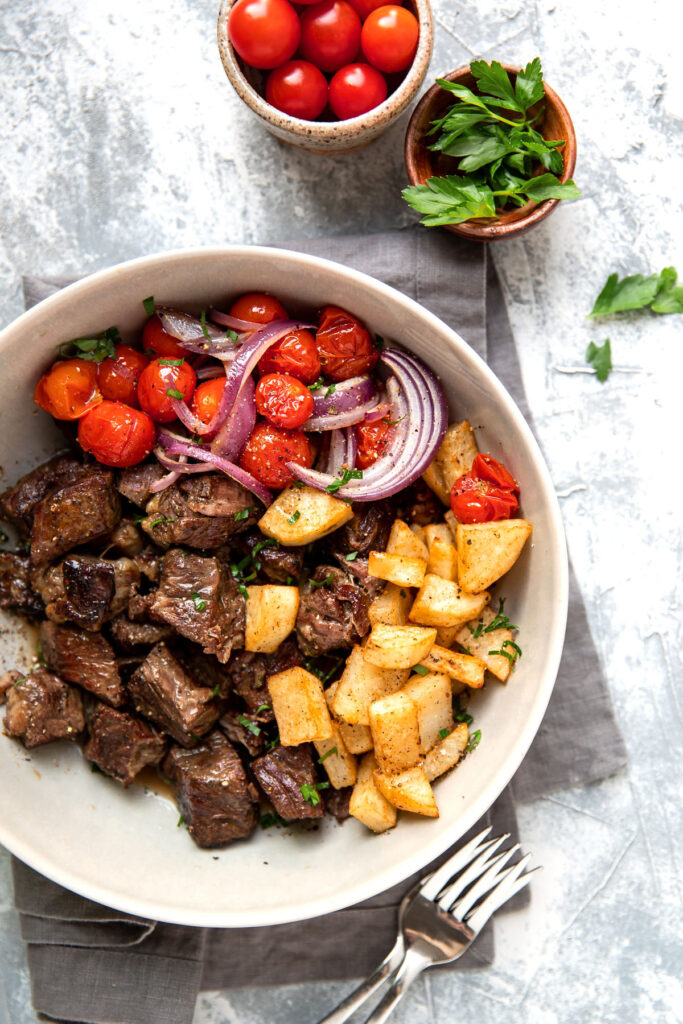 How To Cook Steak Bites
You'll need your crock pot.
If you plan on doubling or tripling this recipe then go ahead and use a normal sized crock pot, otherwise the mini crockpot is perfect.
The only thing that will be in there is two pounds of chuck roast. Did you know that technically you should be filling your slow cooker up at least half way for best results?
I've been doing it wrong for years. But now we know.
The first step will be cutting up your chuck roast into bite size pieces, not really small but also not too big. Toss them in the seasoning and sear all the edges in a hot pan with olive oil.
Searing your meat is so important to having tender bites. I emphasize that a lot in this world's best beef stroganoff recipe.
Then they go in the crock pot, with some liquid, for 8 hours until they are so tender and delicious.
The best part about any slow cooked meal is the infamous delicious smell that travels through the house. Like when this pot roast french onion soup cooks, the smell in the air is amazing!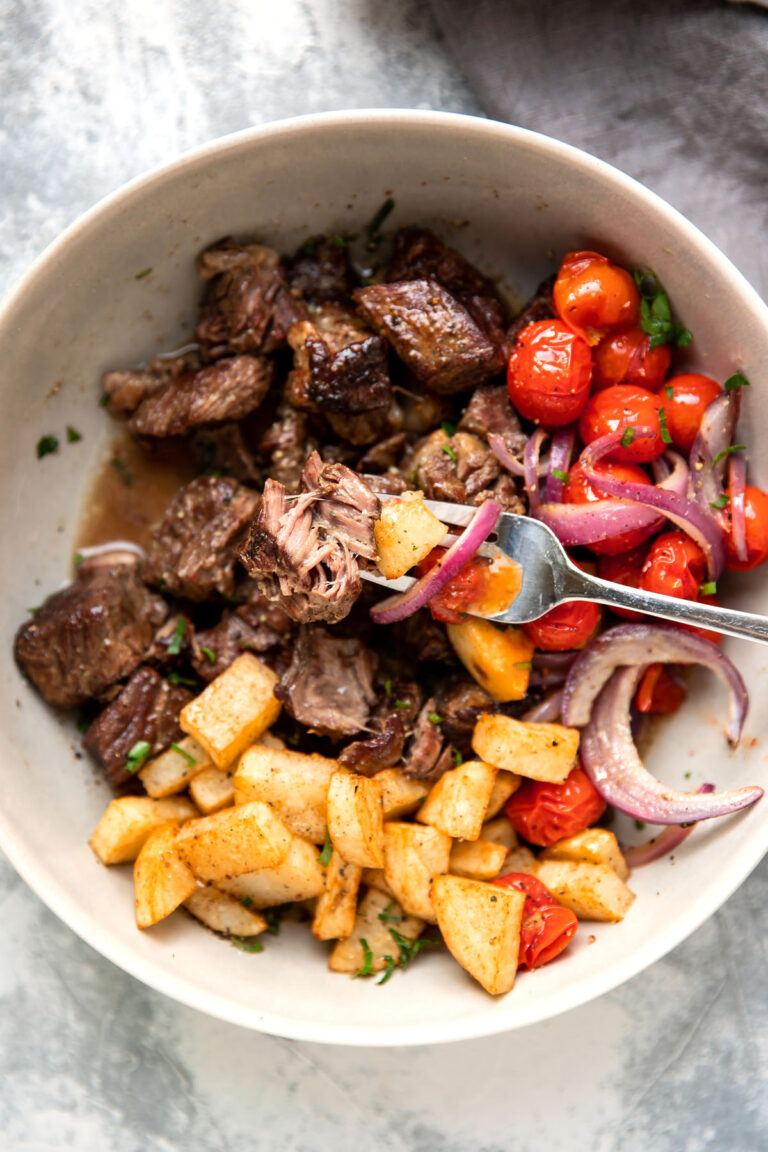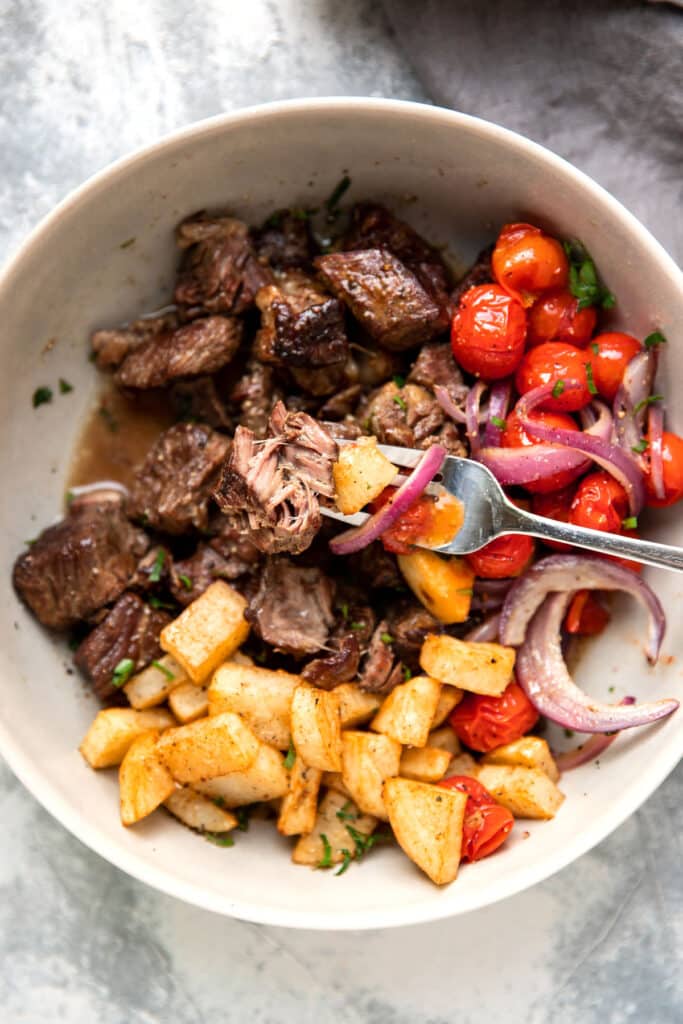 Slow Cooker Steak Bites Marinade
These don't get a marinade. They get seasoned and seared in a pan.
All you need is salt and pepper. Very simple and easy.
But they cook with a bit of water and beef bouillon, or you can use beef broth.
The real magic happens after the steak bites are all done cooking and you make the buttery lemon sauce.
Which is just on a whole other level!
It's merely using a fat separator to separate the liquid in the crock pot from the fat. The good liquid goes in a saute pan with butter and lemon juice, where you make the sauce!
Preparing The Vegetables
Crisping up the potatoes is so simple.
Each russet potato needs to be peeled and cut into thin squares or rectangles. Keep in mind the bigger and thicker the potato square, the longer it takes to cook.
Personally I like to do a thin, square shape, they crisp up nicely (see pictures).
The potatoes get tossed in a mixture of olive oil, salt, pepper and paprika then goes on a sheet pan to roast. Partly through that cooking, you'll add on your cherry tomatoes and red onion (those also get tossed in the olive oil and seasoning)
Baking all the vegetables in the oven makes them warm and delicious. You'll love the crispiness on the outside of the potatoes, with a soft fluffy middle.
Sheet pan veggies are always the best, I toss everything on a sheet pan in this sheet pan roasted chicken thighs and root vegetable dinner.
More Steak Dinners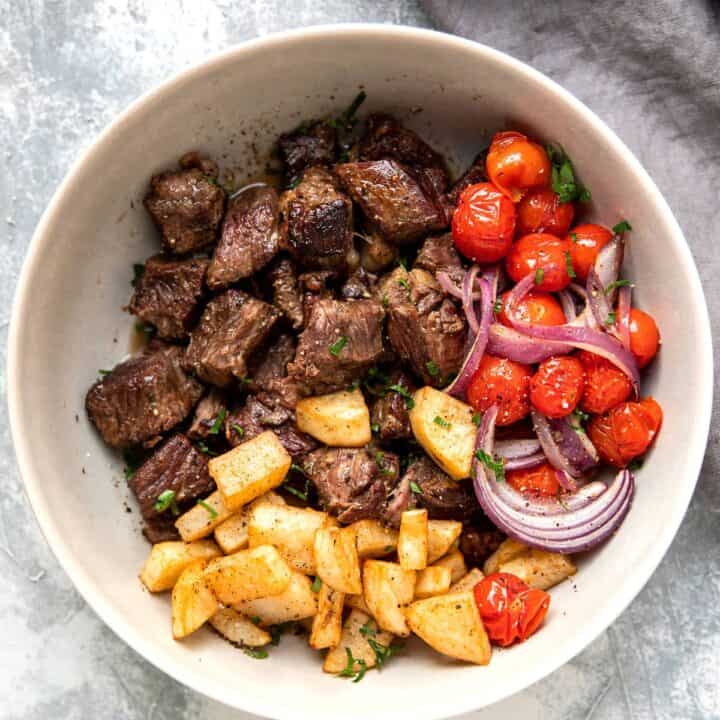 Slow Cooker Buttery Lemon Steak Bites
Total Time:
8 hours
30 minutes
Tender bites of steak cooked in a slow cooker, served up with crispy little russet potatoes, juicy cherry tomatoes, red onion and a buttery lemon sauce. This quick and easy crock pot dinner will be a family favorite!
Ingredients
2 lb chuck roast
Olive oil
Salt and pepper
Paprika
1 russet potato
1 pint cherry tomatoes
½ small red onion, sliced
½ lemon, juiced
½ c water
½ tsp beef bouillon, better than bouillon brand
2 tbsp butter
Instructions
Cut up the roast into small pieces
Season with salt and pepper
Sear in a pan with olive oil
Transfer to a small crockpot along with the ½ c water and ½ tsp beef bouillon, on low for 8 hours
Peel the potato, slice into "coin" shapes about ½ inch thick
Cut these into bite size pieces
Toss with olive oil, salt, pepper and paprika
Scatter the potatoes on a baking sheet lined with parchment paper
Roast in a 425 oven for 6-8 minutes
Toss cherry tomatoes and red onion with olive oil, salt and pepper
Remove the pan from the oven and put the tomatoes and red onion on
Roast for 6-8 minutes
Strain the liquid from the crock pot, add it to a stock pot (discarding fat) add to this 2 tbsp of butter and lemon juice
Bring to a boil then reduce the heat
Transfer the liquid back to the crockpot and cover until the vegetables are done
Serve everything together in a bowl
Notes
Beef better than bouillon is a concentrated bouillon, it comes in a jar and has a paste like texture - it's very flavorful!  You could sub ½ cup of beef broth for the ½ cup water and ½ tsp beef bouillon - but the flavor won't be as good.
Nutrition Information:
Yield:

4
Serving Size:

1 grams
Amount Per Serving:
Unsaturated Fat:

0g
Make sure to follow Modern Crumb on Pinterest, Facebook and Instagram for lots of yummy meal inspiration!  And subscribe to the newsletter, below, to get updates when new recipes post.