This chimichurri steak salad has tender steak, crispy potatoes, tomatoes, fresh corn, asparagus, grilled red onion, and a delicious chimichurri sauce.
It's the perfect family friendly dinner salad that's a main course and not just a side salad. Just like this buffalo chicken avocado salad, crispy chickpea Italian chop salad and healthy asian chicken salad.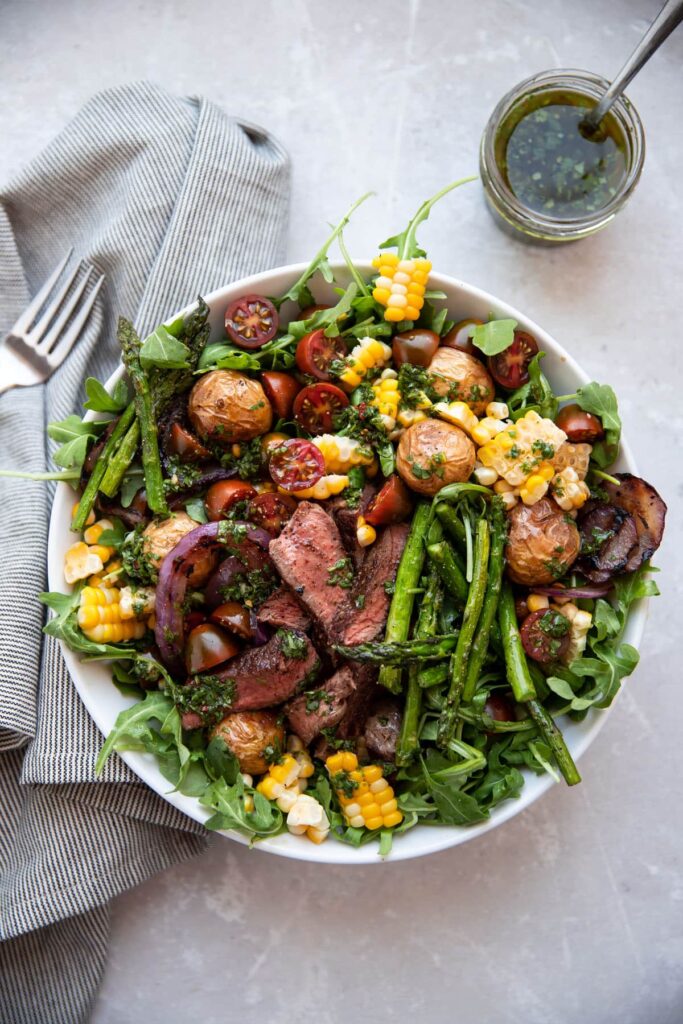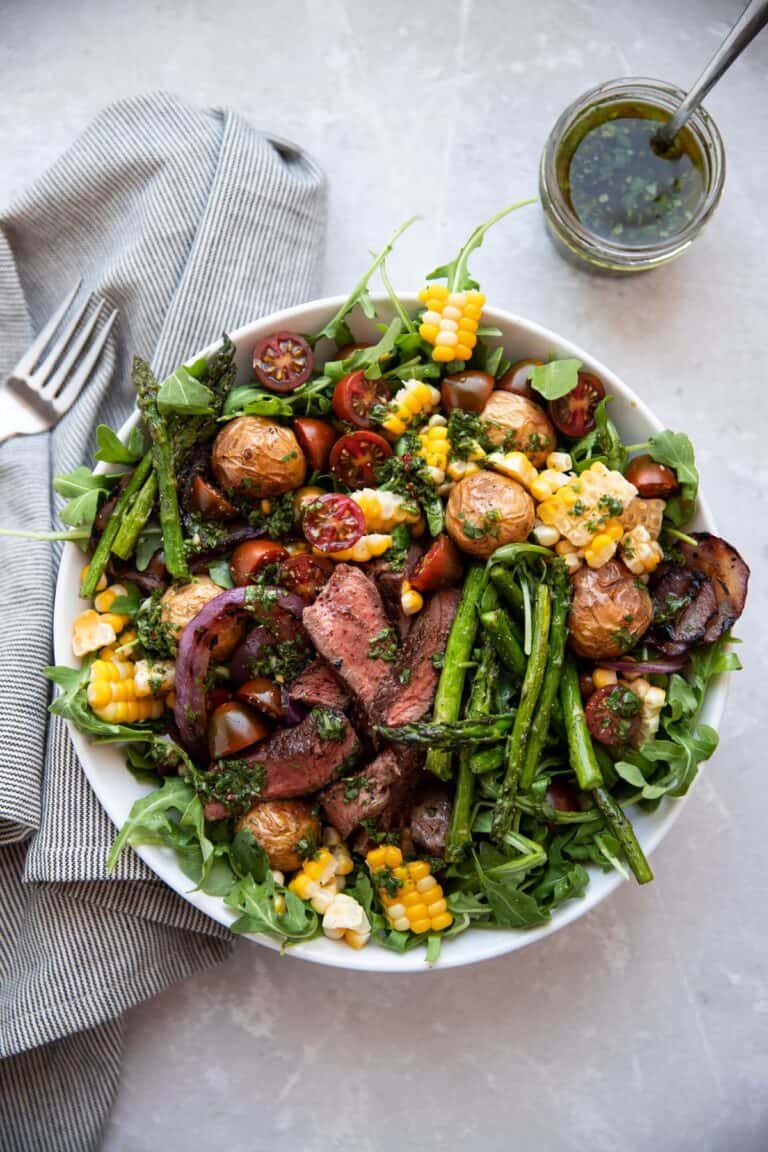 This post was originally published on 08/07/2018.
This chimichurri salad wins an award for most awesome salad ever. It has so much going on, no one will be hungry after eating this.
Don't you hate when you have salad for dinner but an hour later you are still hungry? So you wind up snacking.
I eat all the carbs, so when I'm faced with a salad for dinner it has to be down right delicious, hearty and filling.
When a salad is my main entree I try to pack a lot of substance in it and a lot of flavor.
And what has more flavor that chimichurri sauce, I ask you? If you've never had chimichurri then you are in for a treat! It's fresh and herby and just a tad bit spicy.
One of my favorite things in this salad is the crispy whole potatoes. It's the perfect compliment to the tender steak! A quick trip to the oven is all they need while you prep everything else.
What's In This Chimichurri Steak Salad
tender sirloin steak
crispy gold potatoes
tomatoes
fresh corn off the cob
grilled asparagus
grilled red onion
chimichurri sauce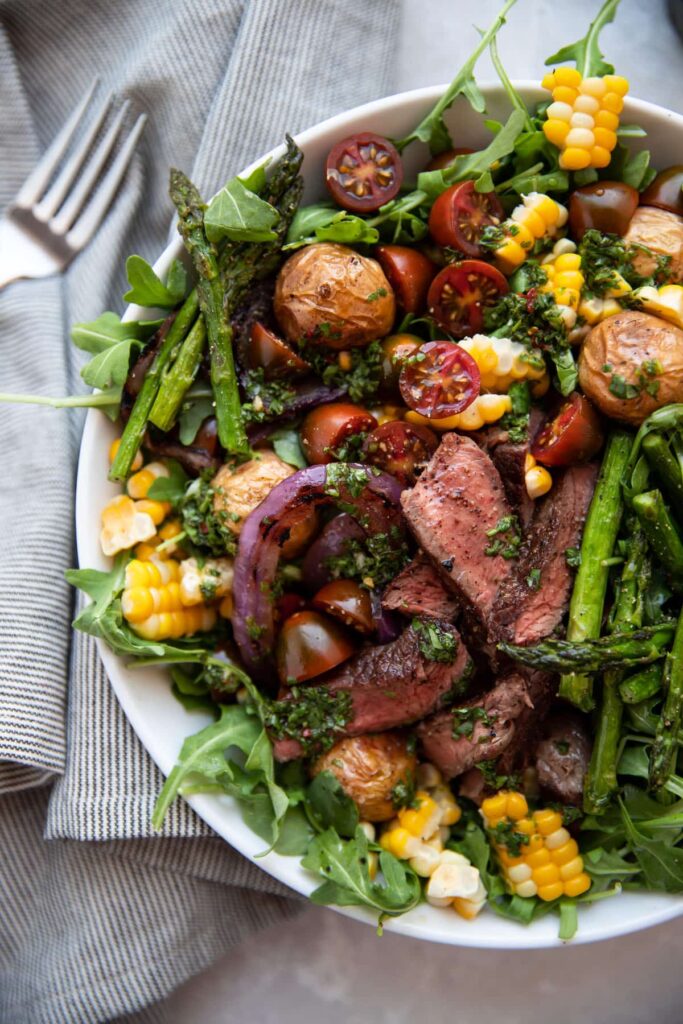 What Is Chimichurri?
Chimichurri is a South American sauce made up of parsley, olive oil, garlic, vinegar and chili flakes. It goes really well on grilled meat!
And if you love chimichurri you should try out this chimichurri steak recipe, it's the kind of meal you can pair with anything.
This chimichurri steak salad comes together so fast, despite the instructions – sometimes I feel like I over detail my instructions, but I'd rather give you more information than not enough.
Since steak and chimichurri are like peanut butter and jelly, this salad stars a mouth watering top sirloin and a fresh and vibrant homemade chimichurri sauce, which is super easy to make.
I can honestly say that this fills us up!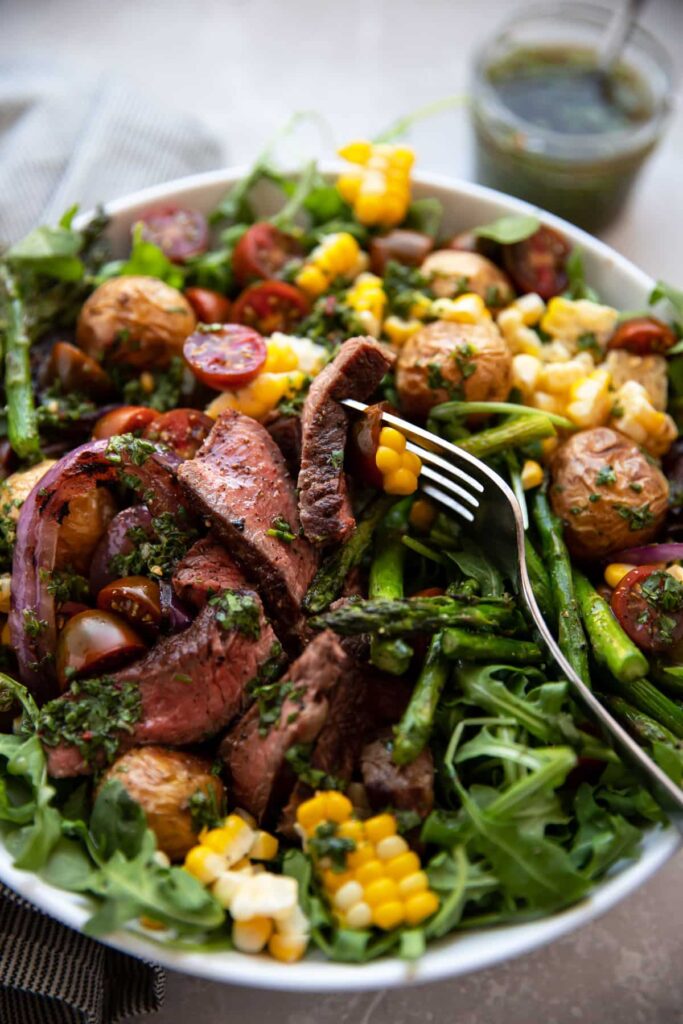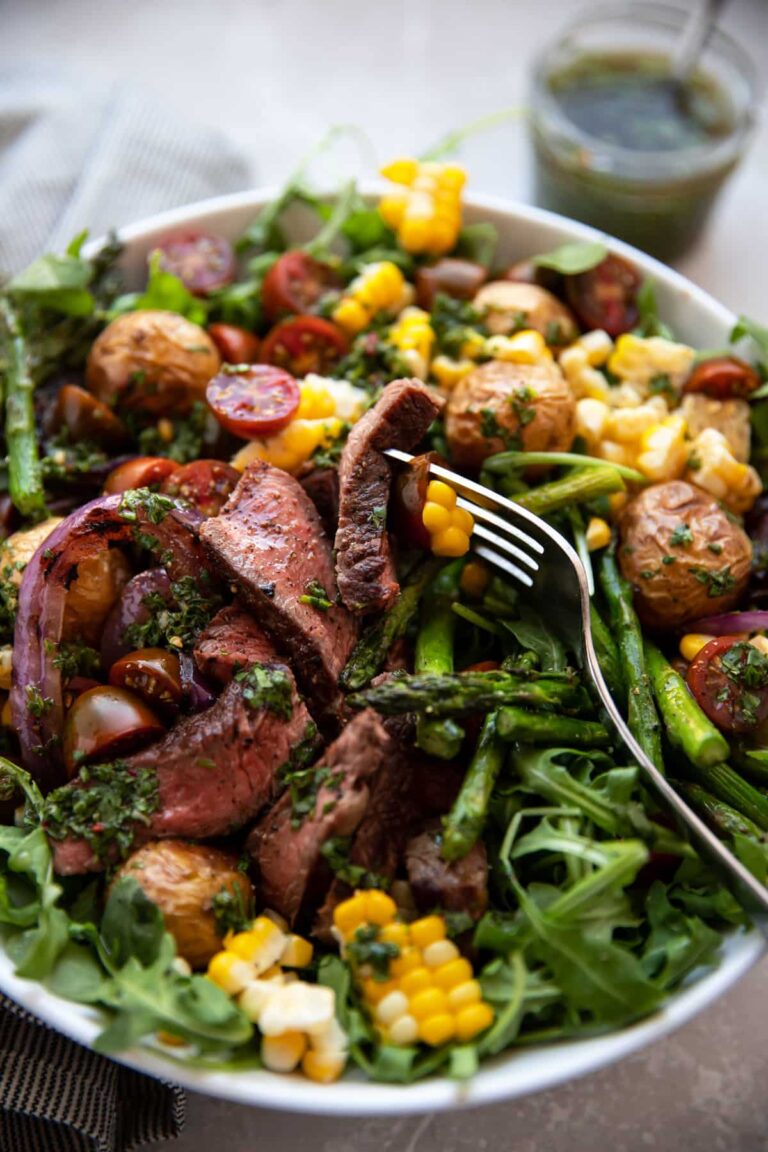 My kids enjoy this one – i just deconstruct everything so it's portioned out on their plates instead of in salad form.
You can even toss in some extra corn on the cob for them.
They are pretty funny, the things I think they won't like they wind up loving and the things I think they will love it's usually one does and the other doesn't.
Does this happen in your house too?
Overall they are good eaters, they are both tall, very active children so they eat a lot. It's amazing what they can pack in those tiny little bodies!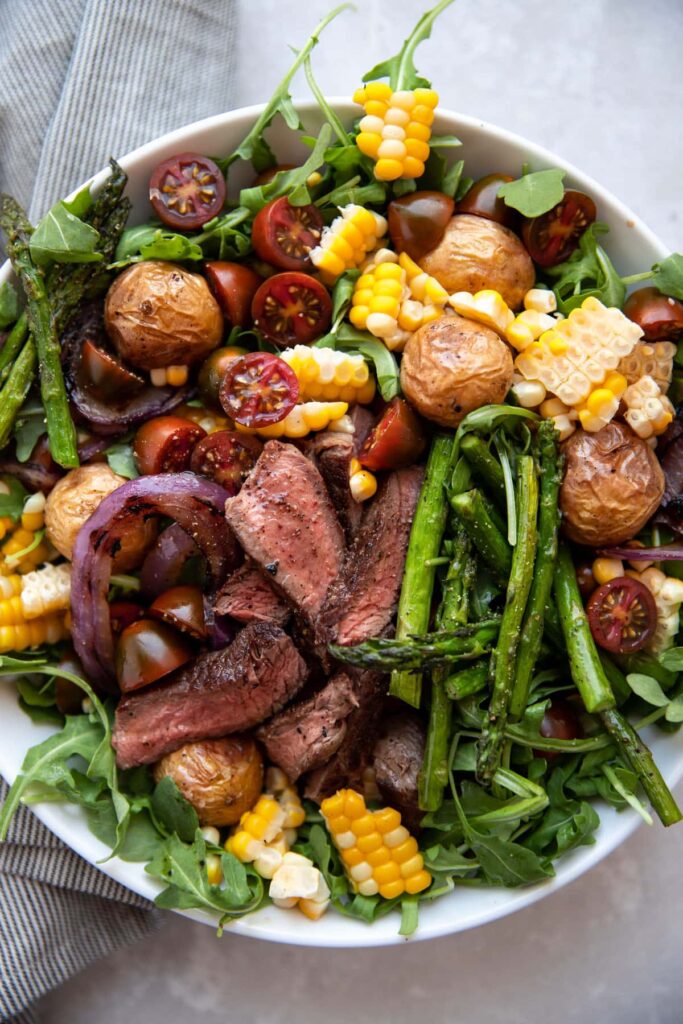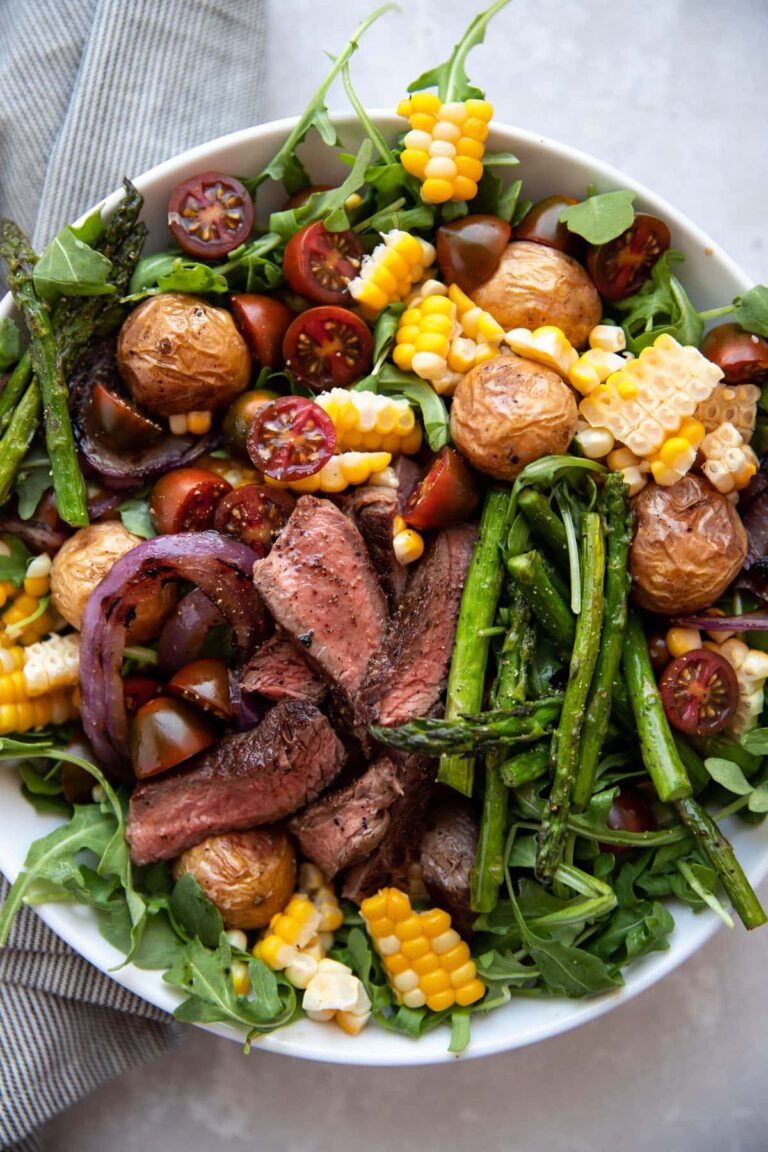 This salad has a lot of steps but they are super simple. The joys of preparing home-cooked, from scratch meals you know?
More Main Course Salads
If you are looking for more main course salad recipes this is a great place to start! Here are some of my favorite family friendly main course salad recipes.
Make sure to follow the Modern Crumb Board on Pinterest and subscribe to the newsletter, below, to get updates when new recipes post.
Chimichurri Steak and Vegetable Salad
This chimichurri steak salad has tender steak, crispy potatoes, tomatoes, fresh corn, asparagus, grilled red onion, and a delicious chimichurri sauce.
Ingredients
1

lb

top sirloin steak

1

lb

mini gold potatoes + tossed in olive oil

salt and pepper

1

lb

asparagus

trimmed + tossed in olive oil, salt and pepper

2

corn on the cobs

1/2

container cherry tomatoes

halved

1/2

red onion

thick round slices

Arugula

1

lemon

halved
chimichurri dressing
1

c

parsley

chopped

1/4

c

cilantro

chopped

3

tbsp

red wine vinegar

1

garlic clove

minced

1/3

c

olive oil

1/2

tsp

salt

1/4

tsp

red pepper flakes
Instructions
Preheat oven to 425

Line a baking sheet with parchment paper

Add the seasoned potatoes to the baking sheet and baking for 30 minutes, keeping an eye on it, once they are browned and fork tender, they'll be ready

Also add the corn on the cob, making sure to saturate the husk with water prior to placing in the oven

Combine all of the chimichurri dressing in a bowl or mason jar, shaking to combine, put it in the fridge

Heat a fry pan or grill pan over medium/high heat with a light drizzle of oil

Pat the sirloin dry with a paper towel and season generously with salt and pepper

Put the steak on the grill pan and cook until desired doneness is reached, a digital thermometer can also be inserted while cooking to help achieve desired temperature

Remove the steak from the heat and let it sit

Add to the grill pan the thick slices of red onion to do a partial cook on them and get char marks, remove these to a paper towel to drain any oil off

Remove the sheet pan from the oven if you haven't already, take the corn out of the oven – check to make sure it's steamed and cooked, if not it can go back in but it should be done by now

Add the seasoned asparagus pieces to the sheet pan and return to the oven until fork tender, about 5-7 minutes

Cut up the steak into bite size pieces

Cut the corn off the cob (very carefully)

In a large bowl add the arugula, potatoes, asparagus, corn, red onion, tomatoes and steak

Toss it around with some spoonfuls of the chimichurri sauce and the lemon juice

Serve