If you've ever had a nicoise salad then this will be a bit familiar. I'll say however, this steak and vegetable salad is much more family friendly. Tender cooked flank steak, baby potatoes, tomatoes, hard boiled eggs, green beans and avocado! Drizzle over top a homemade lemon dijon vinaigrette.
When you prepare a salad for dinner, it should always be filling and packed full of good ingredients. Like this Italian chop salad with crispy chickpeas or chimichurri steak salad.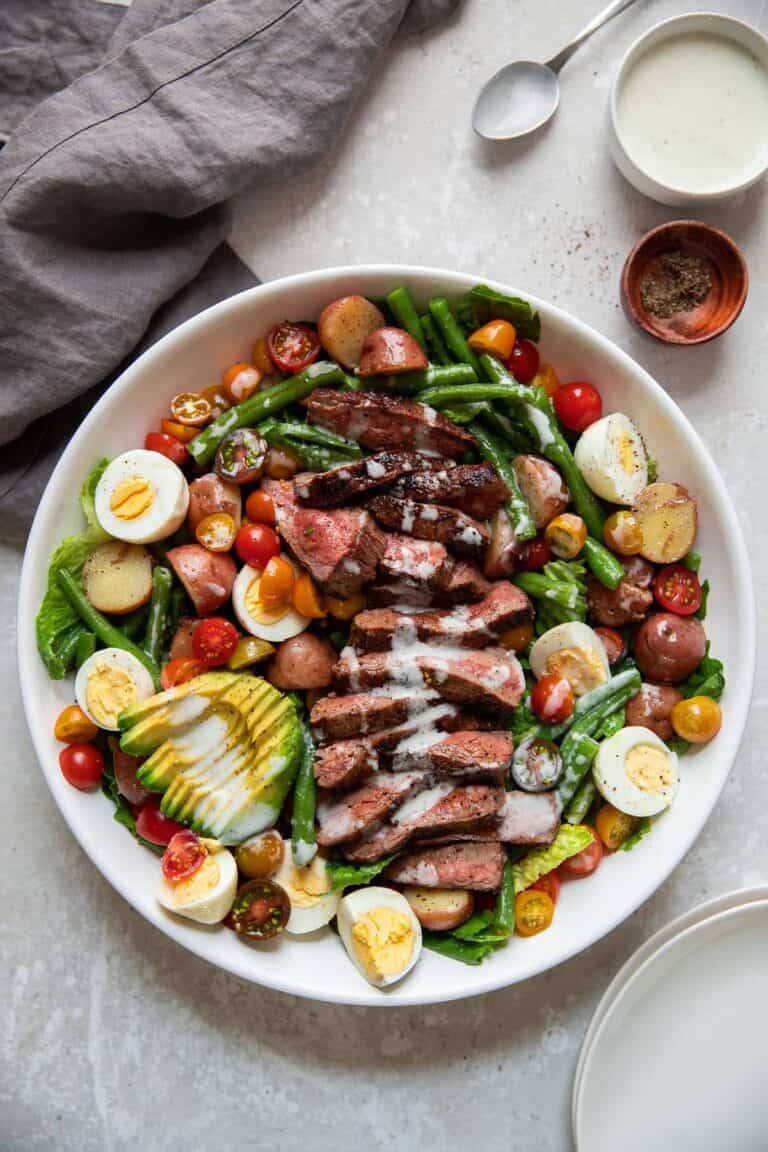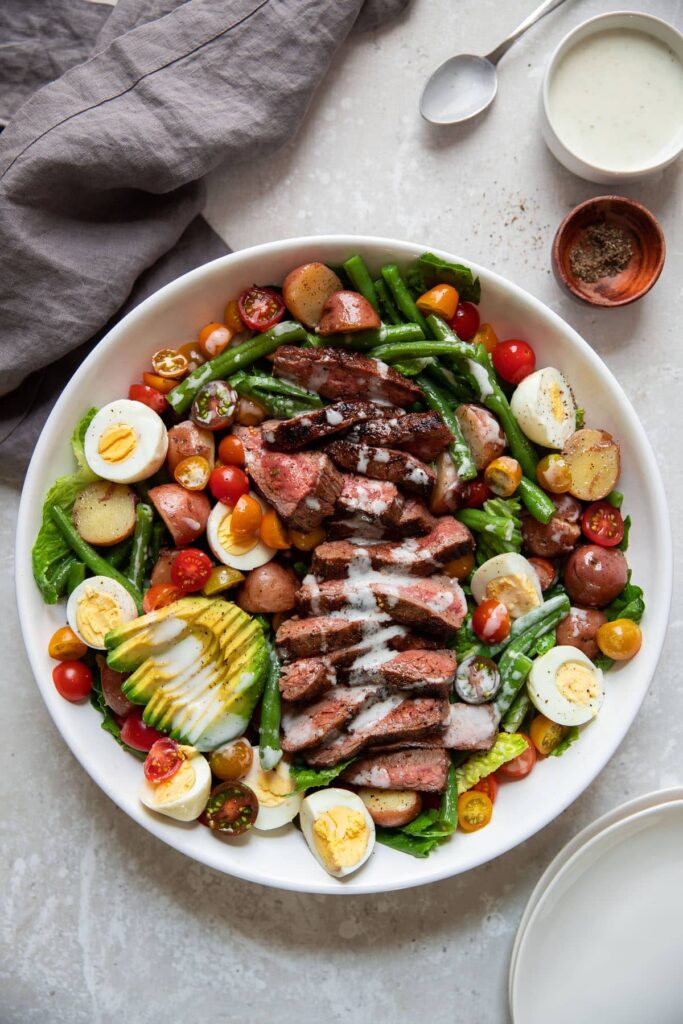 I just want to start off by saying this is the best salad to make for a family dinner. Everything about it surpasses all homemade salads and there are so many healthy ingredients.
Even the tiniest family members will love all the yummy vegetables, creamy lemon dressing and tender steak this salad has to offer.
If you have a picky eater in your home, portion each thing separately on their plate.
Hold off on adding the dressing, instead add it over each individuals salad. This helps to keep any leftover salad from getting soggy. This makes a great next day lunch.
I took a traditional nicoise salad and gave it a little twist to be something that my family would love, like adding avocado, colorful tomatoes and super delicious creamy lemon vinaigrette.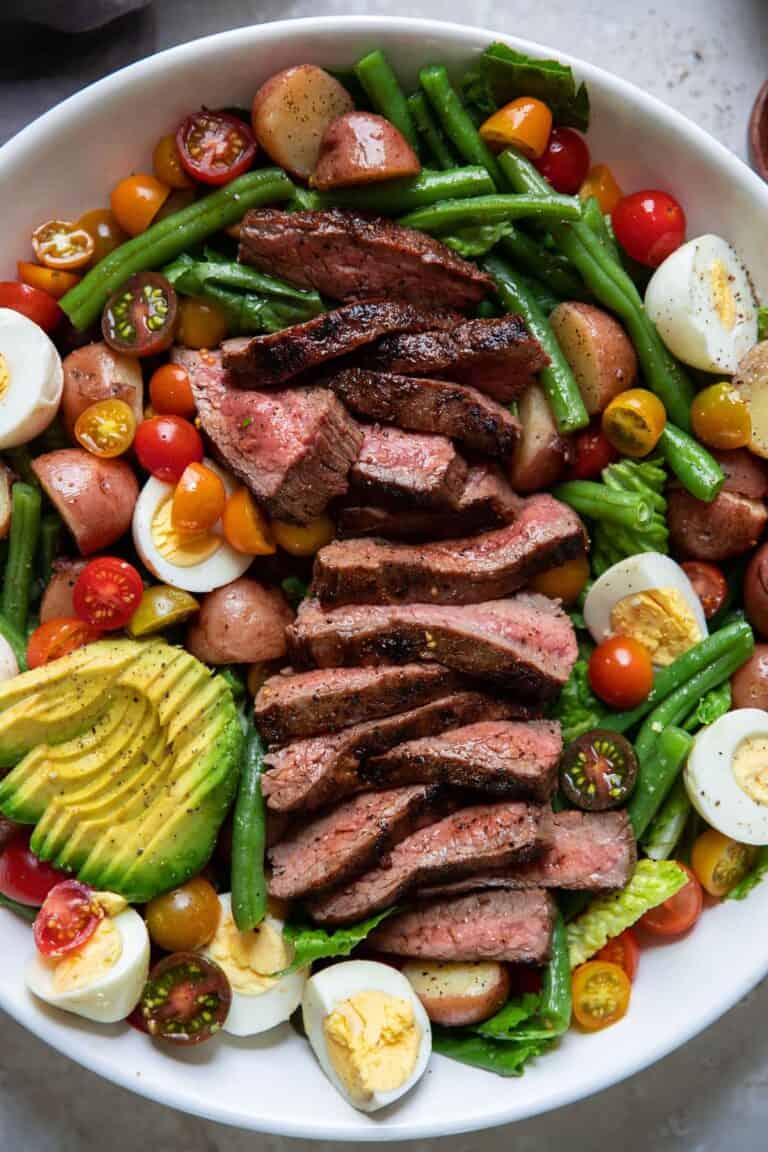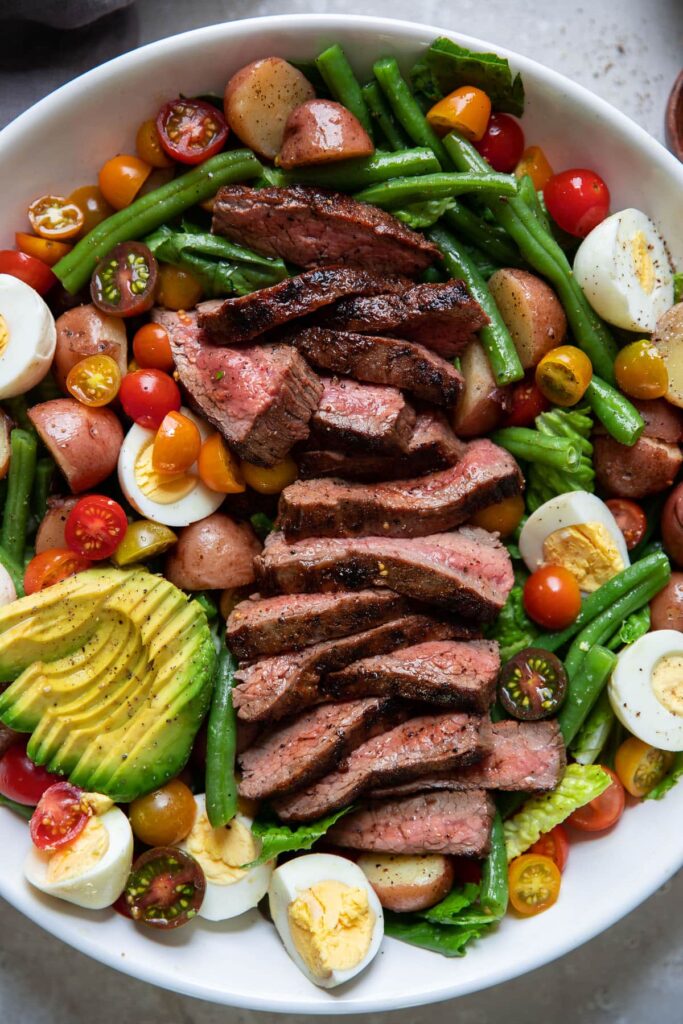 How To Cook The Flank Steak
This recipe calls for flank steak and it's prepared by pan cooking it.
I really like using my stovetop grill because it gives it those beautiful and tasty char marks! And then I can skip firing up the grill.
We'll be skipping the marinade this time around and just use a sprinkling of salt, pepper, onion powder and garlic powder.
If you want to be super exact with your internal temperature than you should invest in a meat thermometer. My favorite one I use all the time and that way, while I'm cooking my steak it just beeps when it's ready.
Using a thermometer takes out all the guesswork. When we're trying to get dinner on the table for our family, we don't have the time to be putting steak back on after finding out it's undercooked. Right? No one wants that.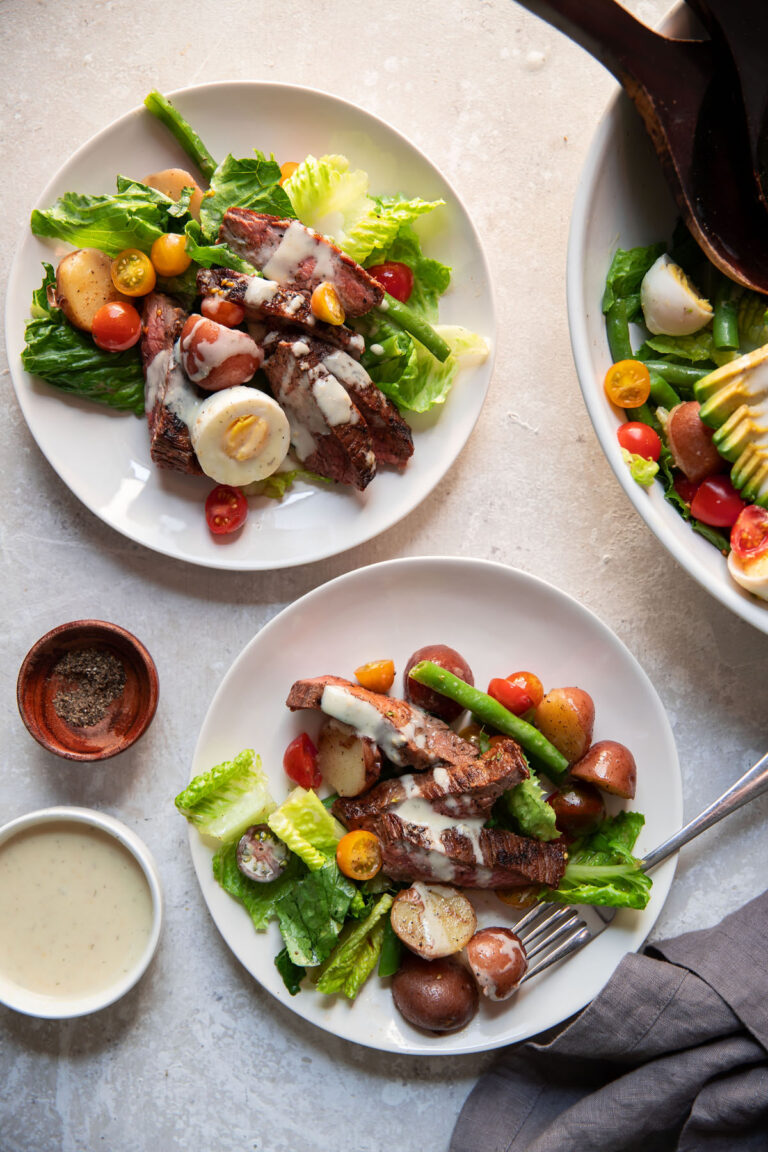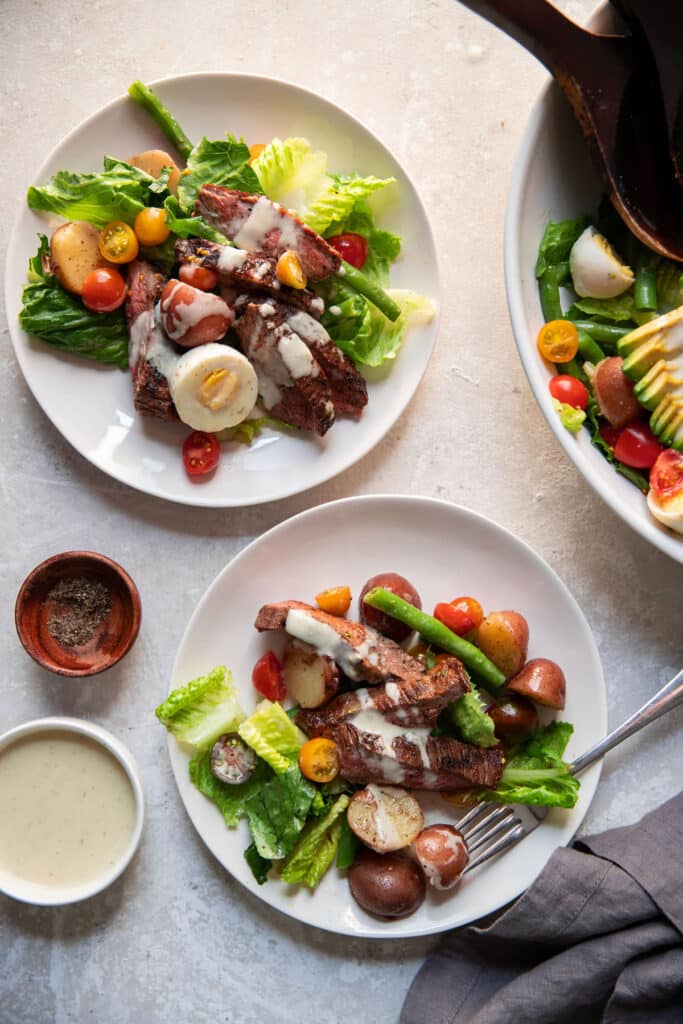 How To Cook The Vegetables
Here's our list of vegetables and how each is getting cooked.
baby red potatoes - they get boiled, then cooled and cut in half, skins left on
eggs - hardboiled, cut in half, quarters or chop them up
green beans - steamed (I put my steamer basket over the boiling potatoes), then dunked in an ice bath while they are still a bit crisp so they don't get mushy
cherry tomatoes - these don't get cooked, just cut them in half
avocado - no cooking, remove the pit and slice thinly
lettuce - no cooking, use your hands and just tear off pieces
I cook the baby red potatoes by boiling them in salted water just until they are tender, you definitely don't want them turning to mashed potatoes so just check on them every so often.
By leaving the skin on the potatoes they will hold together better, just make sure to give them a good scrub when washing.
Before you add the steak to the salad bowl, drizzle on a bit of olive oil, salt and pepper. Toss everything around for some extra flavor.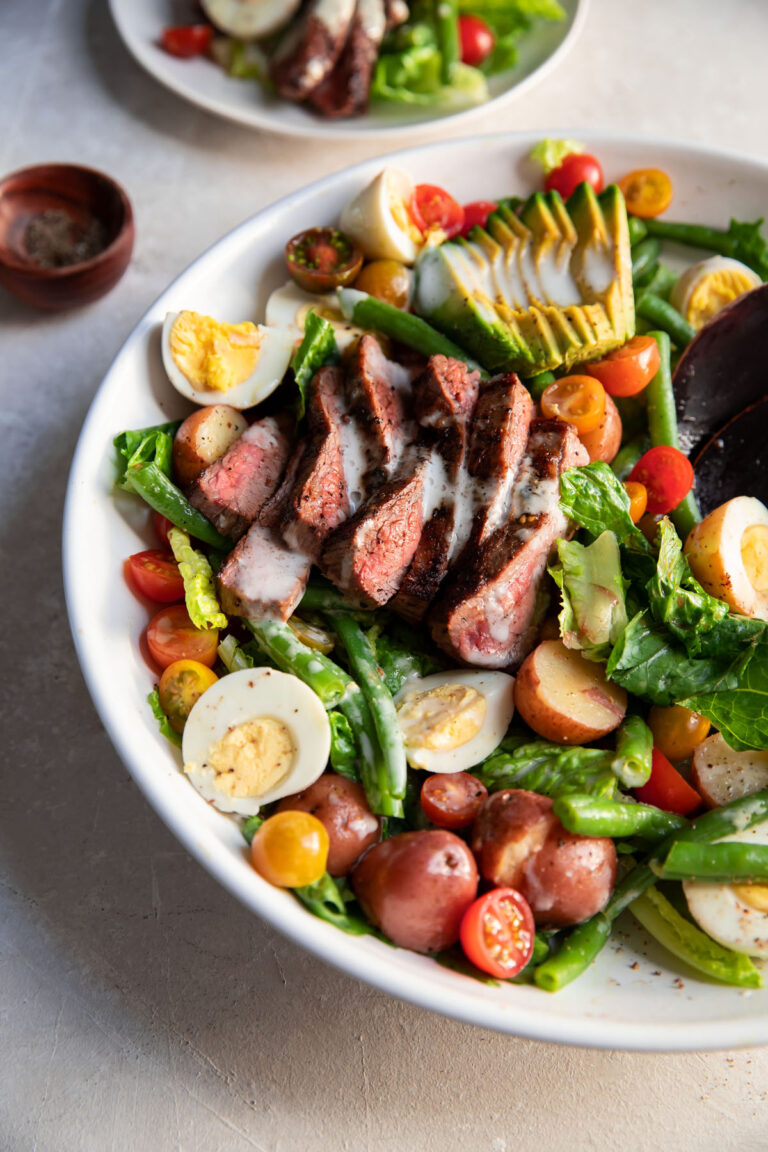 What's In The Creamy Lemon Vinaigrette
Very few ingredients are in the lemon vinaigrette! Probably things you have on hand.
organic sunflower oil - just my oil of choice for homemade dressing, you want something that doesn't have a flavor or odor and is a decent quality
dijon mustard - it get's a ton of flavor from the dijon
lemon juice - the main ingredient
greek yogurt - greek yogurt is the perfect addition to this dressing, it gives it a little body and creaminess
dried dill - our herb of choice, it pairs nicely with the vegetables and steak
onion powder - for taste
salt - to amplify all the other flavors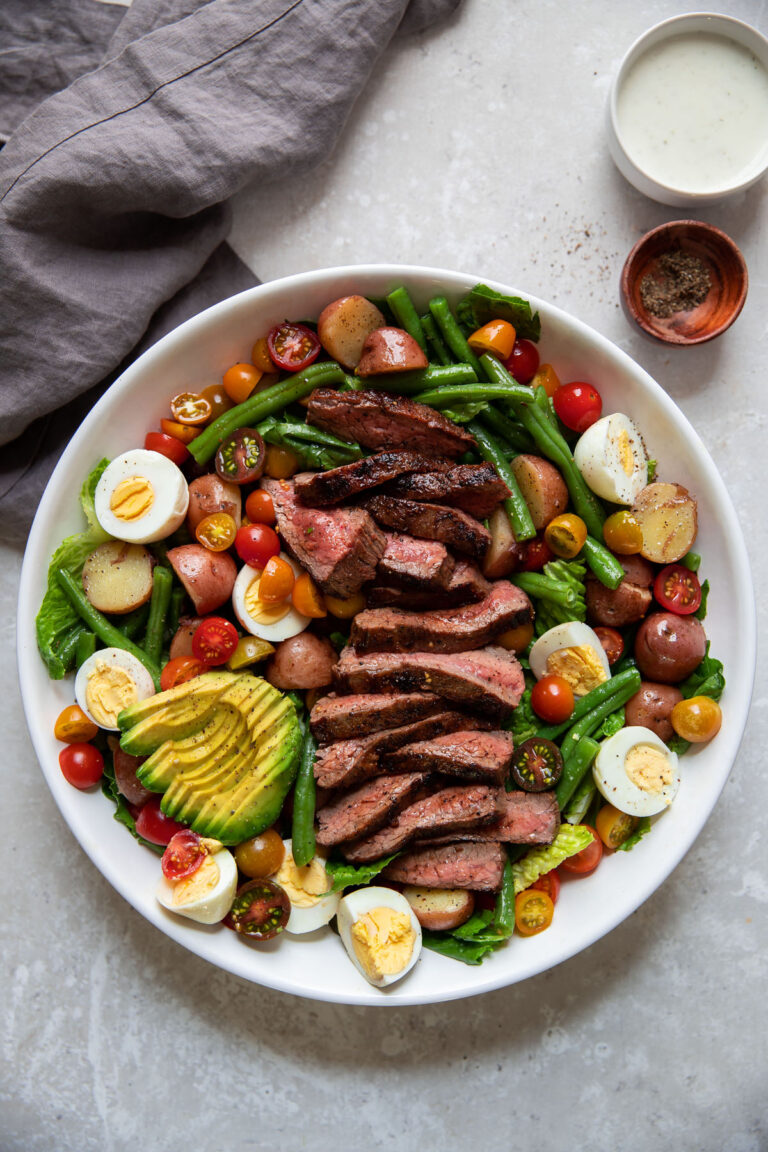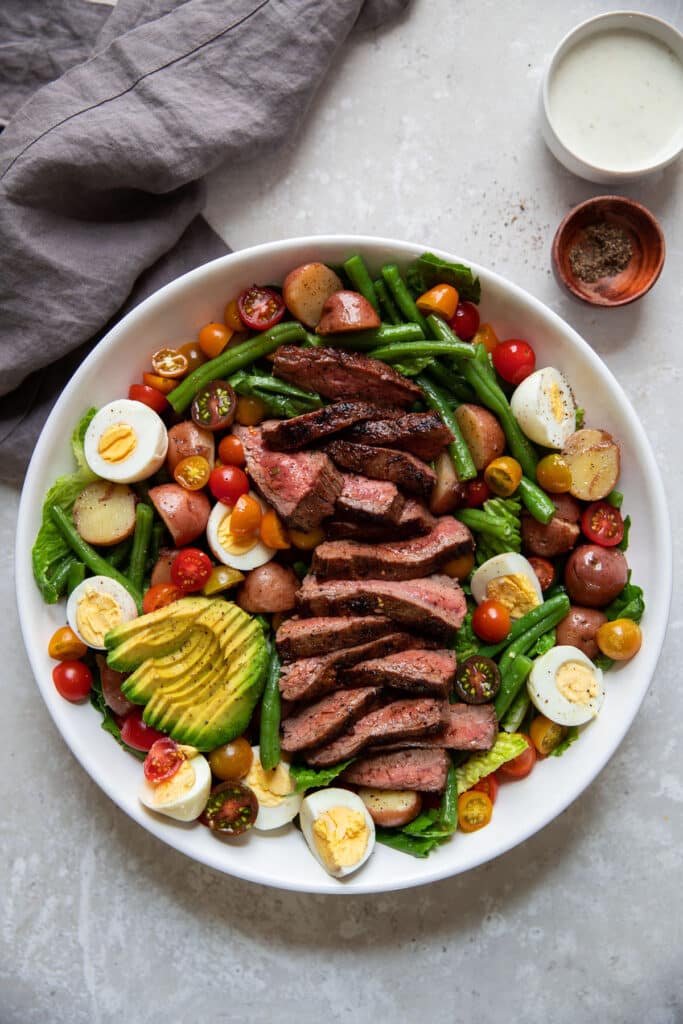 Preparing The Creamy Lemon Vinaigrette
You want to know what makes a restaurant salad so much better than our homemade salads?
Dressing.
It's all about that delicious restaurant dressing.
A bottle of dressing is never the same quality as a dressing made from scratch. This creamy dijon lemon vinaigrette is so delicious you'll swear it's from a restaurant.
With just a few ingredients it's easy to prepare!
You can vigorously whisk it together or put everything into a mini food processor.
More Main Course Salads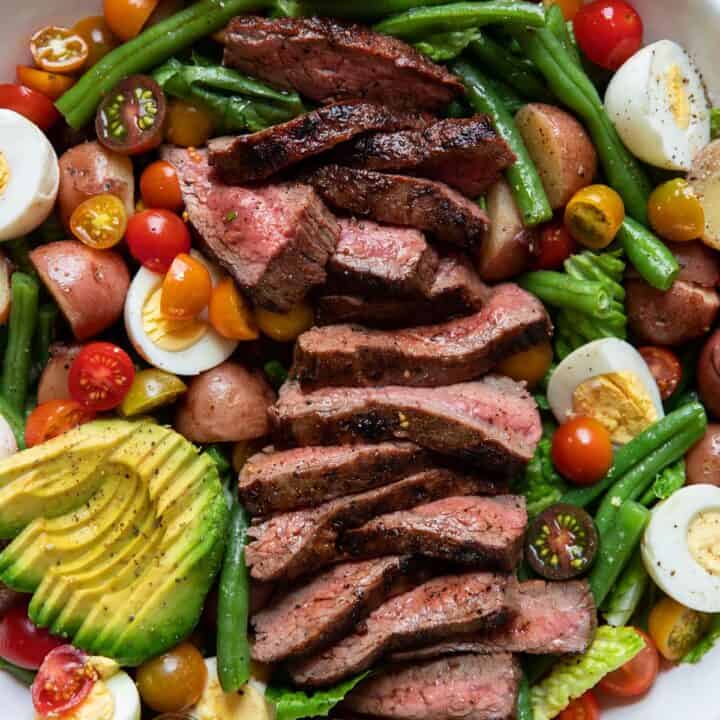 Steak and Vegetable Salad With Creamy Lemon Vinaigrette
This steak and vegetable salad is a twist on the classic nicoise salad. This one is more family friendly, super easy to make and really good!
Ingredients
1 ½ lb flank steak
½ tsp onion powder
½ tsp garlic powder
½ tsp salt
¼ tsp pepper
12 oz baby red potatoes
6 oz green beans, trimmed
1 pint cherry tomatoes, cut in half
4 hard boiled eggs
1 avocado, pitted and sliced
lettuce, no set amount, however much you want, chopped up
vinaigrette
¼ c sunflower oil
1 tbsp dijon mustard
3 tbsp lemon juice
1 tbsp plain yogurt
pinch of dried dill
⅛ tsp onion powder
pinch of salt
Instructions
Make the vinaigrette, put everything in a food processor or whisk it in a bowl
Chill the vinaigrette in the fridge while preparing the salad
Add the eggs to a pot of water just covering the top of the eggs, bring it to a boil, then cover with a lid and turn the heat off
Cook the eggs for 15 minutes then rinse with cool water and peel and slice in half
Boil the potatoes until a fork can barely pierce through to the middle, set them aside, leaving the water in the pot
Put the green beans in a steamer basket over the potato water, steam until the green beans are al dente and still bright green
Transfer the green beans to an ice bath, to stop the cooking process
Season the steak with onion powder, garlic powder, salt and pepper. Rub it all around. Cook the steak over medium heat on a grill pan, to desired doneness
Let the steak rest for at least 10 minutes, before cutting it
Cut the steak into slices, or bite size pieces
Combine all of the vegetables in a bowl (not the avocado) and toss everything together with a drizzle of olive oil and a pinch of salt and pepper
Add the steak and avocado on top
Serve with the creamy lemon dijon vinaigrette
Notes
My steak is cooked medium rare in the photos, I use an internal meat thermometer to get the temperature desired
Nutrition Information:
Yield:

8
Serving Size:

1
Amount Per Serving:
Calories:

362
Total Fat:

21g
Saturated Fat:

5g
Trans Fat:

0g
Unsaturated Fat:

14g
Cholesterol:

161mg
Sodium:

304mg
Carbohydrates:

15g
Fiber:

4g
Sugar:

3g
Protein:

29g
This information comes from online calculators. Although moderncrumb.com attempts to provide accurate nutritional information, these figures are only estimates.
Make sure to follow the Modern Crumb Board on Pinterest for lots of yummy meal inspiration! And subscribe to the newsletter, below, to get updates when new recipes post.