These chicken tinga tacos come together so easily in the instant pot. Tinga sauce is a blend of southwest flavors like tomatillos, chipotle peppers in adobo and fire roasted tomatoes. A vibrant red sauce with a medium amount of heat. Served on corn tortillas with avocado.
If you love these chicken tinga tacos you'll want to try these instant pot barbacoa tacos too!
This recipe was first published March 22, 2021.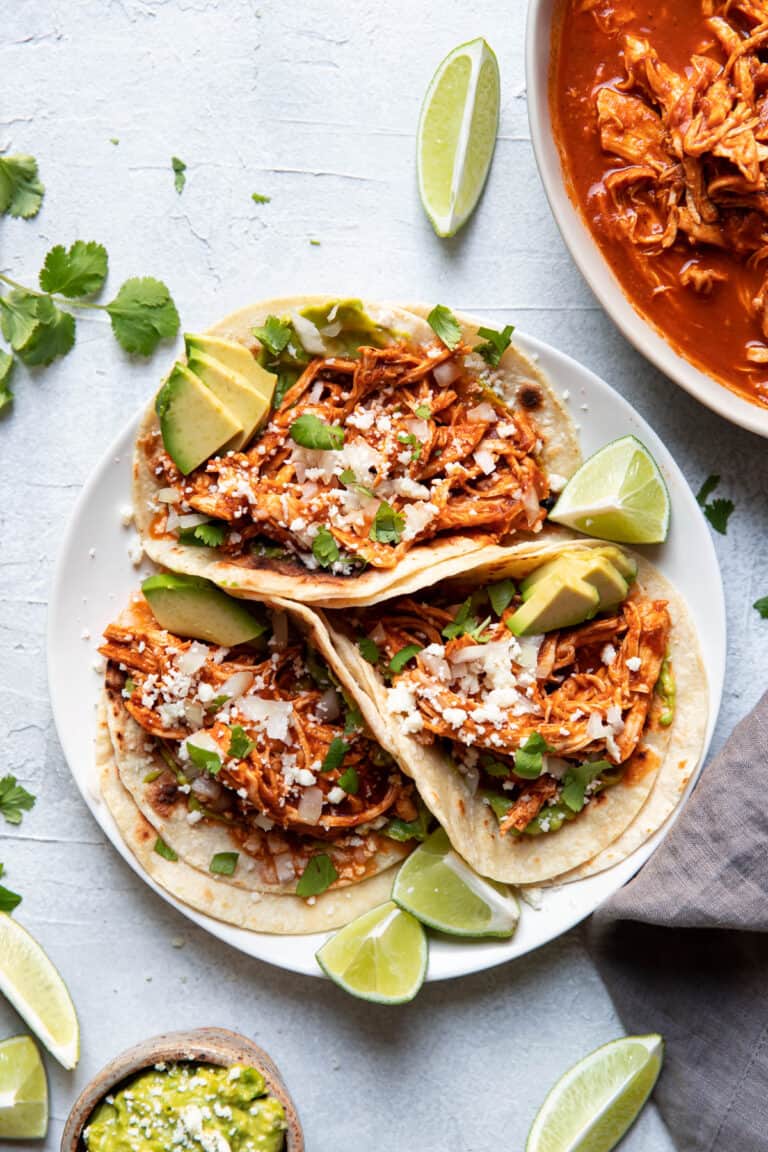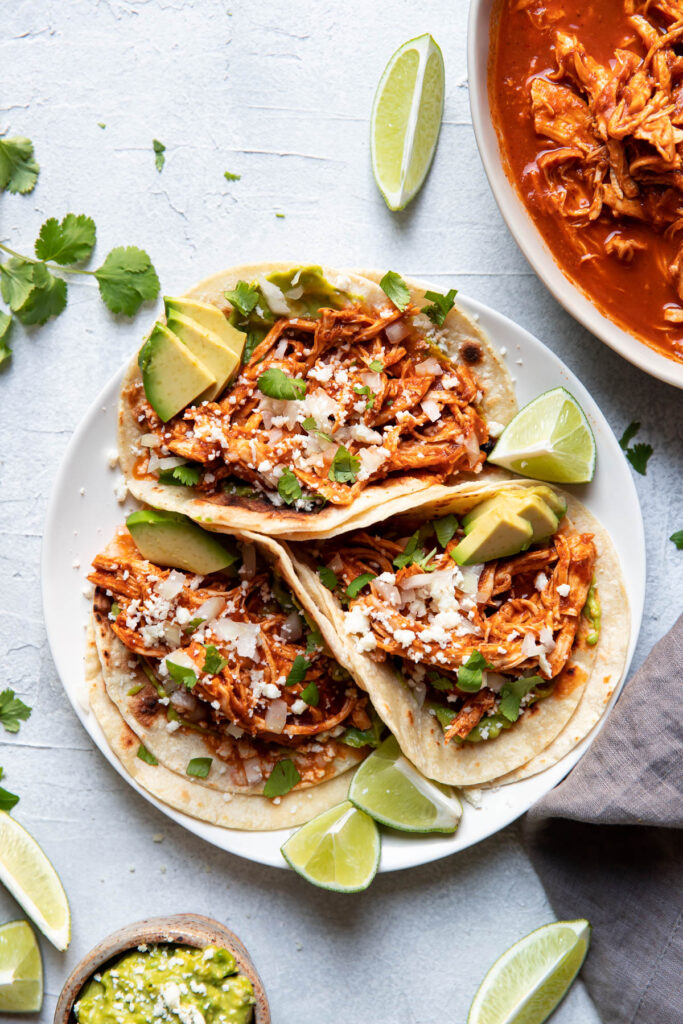 Chicken tinga tacos, it's so fun to say. Even more fun to eat. If you've never experienced tinga sauce, you are in for a treat. It's so good!!!
This recipe for chicken tinga tacos is a medium level of spiciness. You can make it less or more spicy, depending on how many chipotle peppers you add.
Using our instant pot's make this an easy weeknight meal, done in under an hour. Since the instant pot works like a pressure cooker we can blend up a quick sauce and cook it with the chicken for 17 minutes.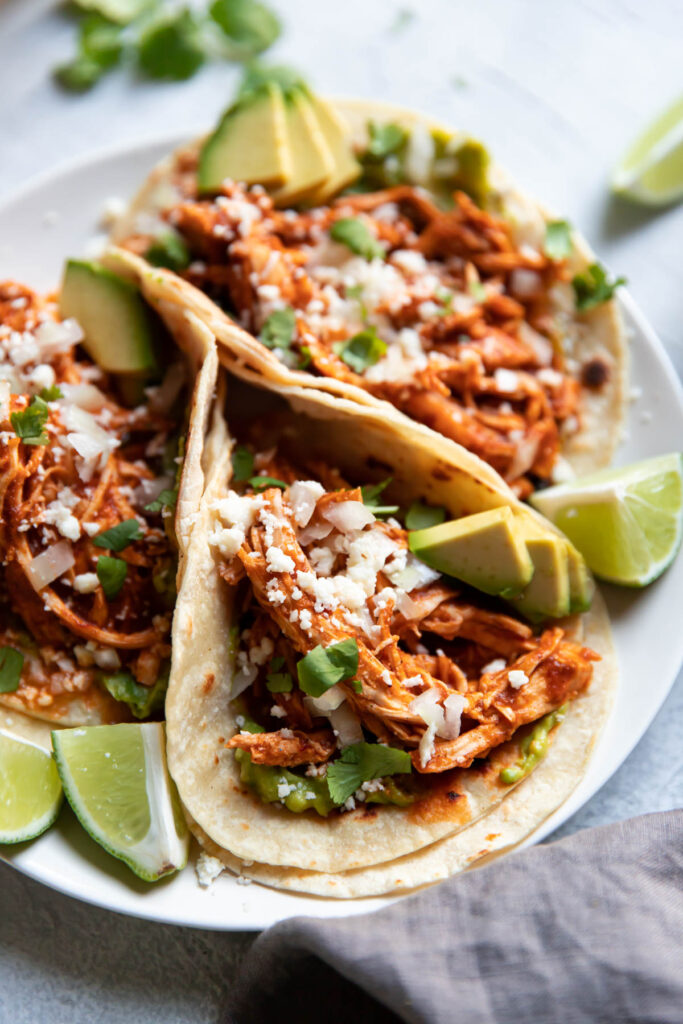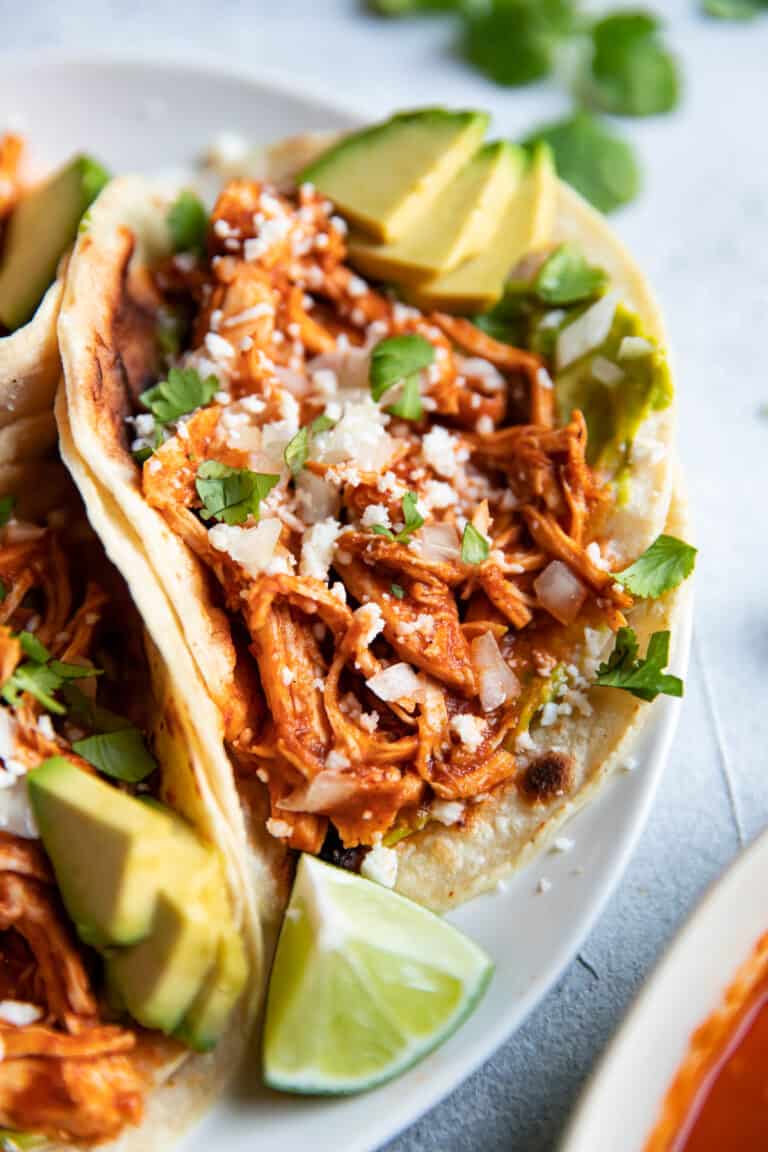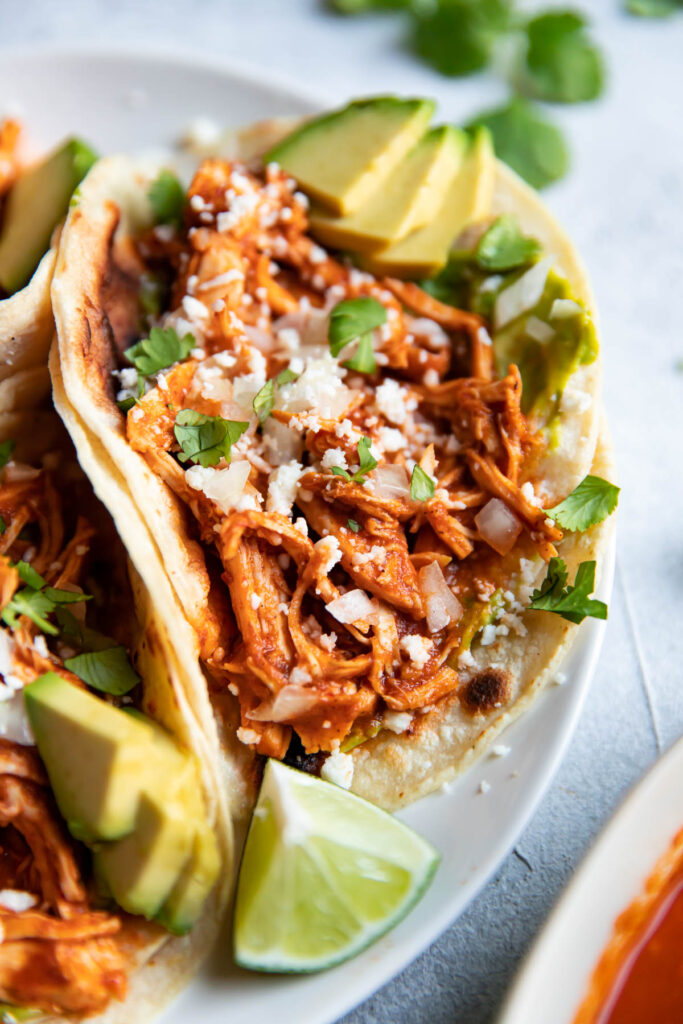 It's the perfect, shreddable, juicy chicken.
You'll want to serve these with some lime wedges for a bit of tang and avocados - the avocado is the perfect cool, refreshing balance to the spicy tinga sauce.
Try mashing up an avocado and spread it on the corn tortillas, then top it with the chicken tinga followed by some onions, cotija cheese and cilantro.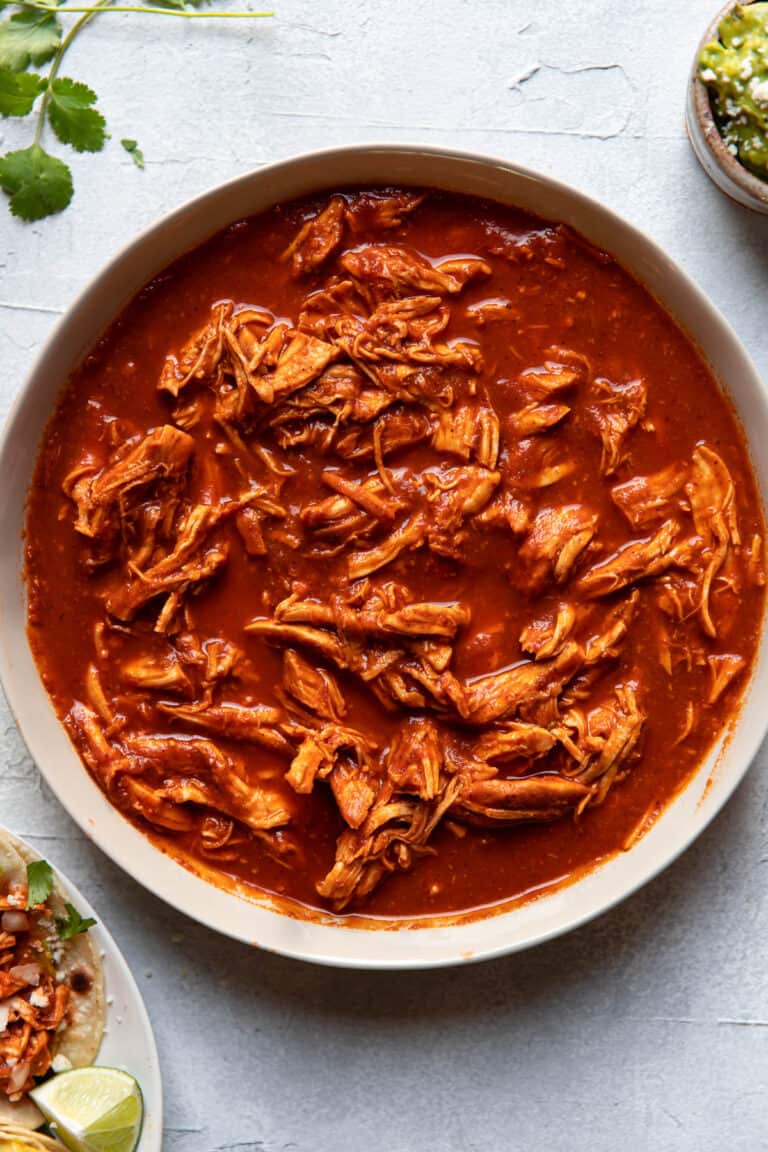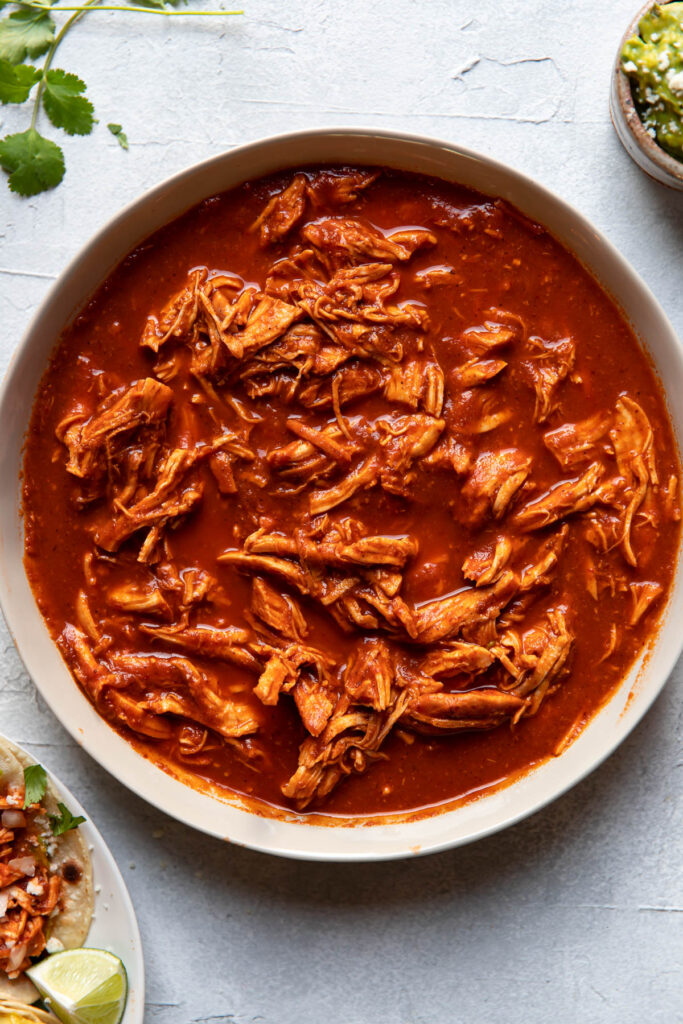 What's In Chicken Tinga
Chicken tinga's recipe ingredient list is full of really good southwest flavors. A local grocery store should have everything you need. If you are unsure about a few ingredients, keep reading to see some explanations.
tomatillos - a mexican green tomato (looking) with a husk on it, tomatillos have a sour taste and are not spicy
onion - a white or yellow onion works
garlic - fresh garlic coves
chipotle peppers in adobo - this comes in a can and will be found in the mexican cuisine aisle
fire roasted tomatoes - also comes in can
oregano - you can use mexican oregano or regular, for this recipe to make it simple I just used regular
salt - to enhance flavors
chicken broth - low sodium chicken broth is best
chicken breast - this recipe calls for 2 lbs of chicken but you could even do 3 lbs of chicken and there would be enough sauce
corn tortillas - corn tortillas will give you the best flavor
avocado - a few avocados, some for mashing and cutting up to top the tacos
optional toppings - cotija cheese, cilantro and diced onions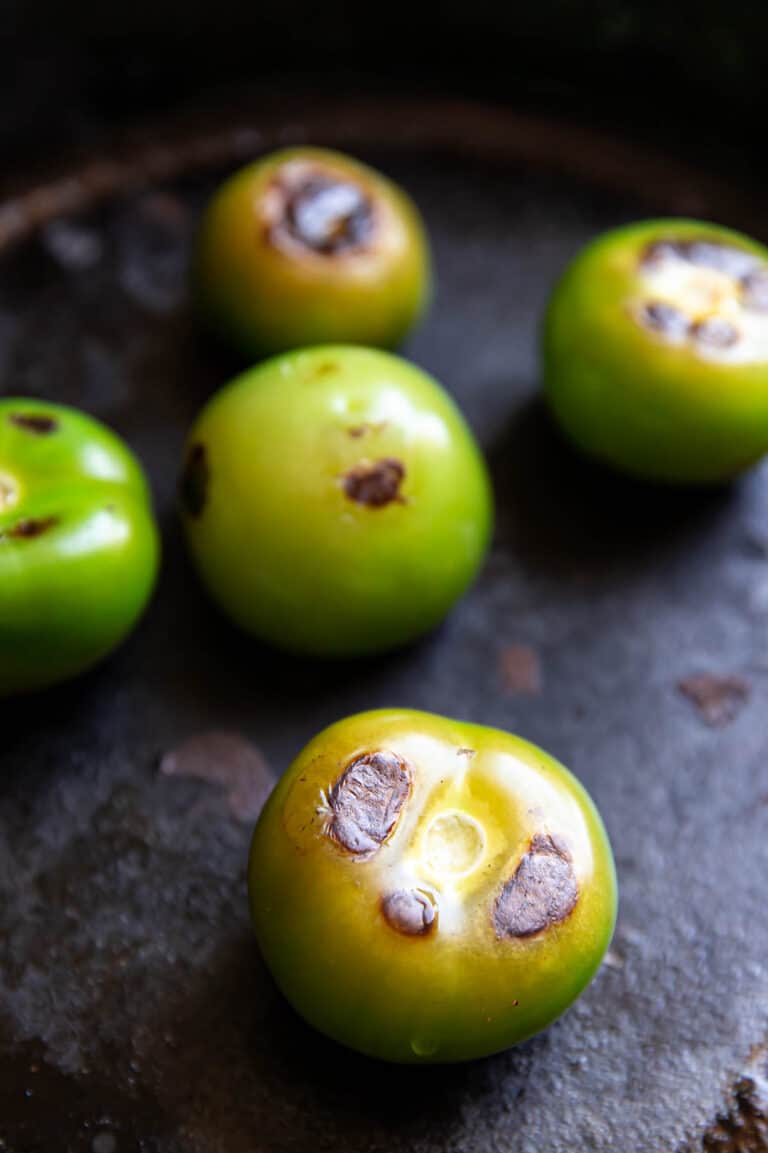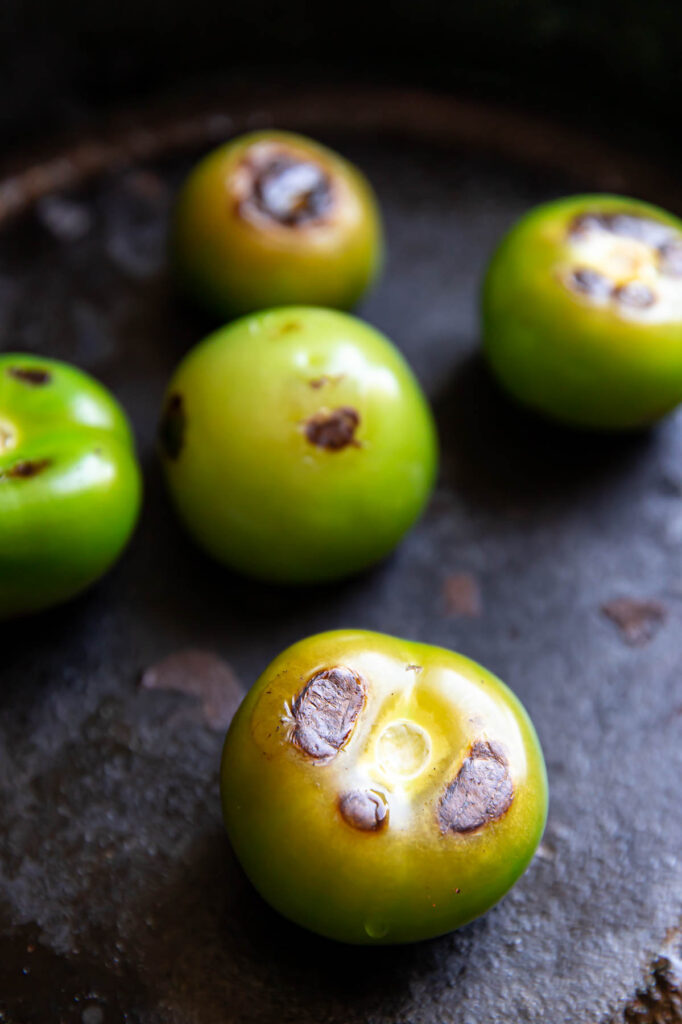 How To Make Tinga Sauce
To make the tinga sauce for your chicken tinga tacos you'll need a skillet or a pan that can get really hot.
Start by adding the whole tomatillos (remove the husk and cleaned), let them cook enough to get char marks on them. Then remove them from the heat.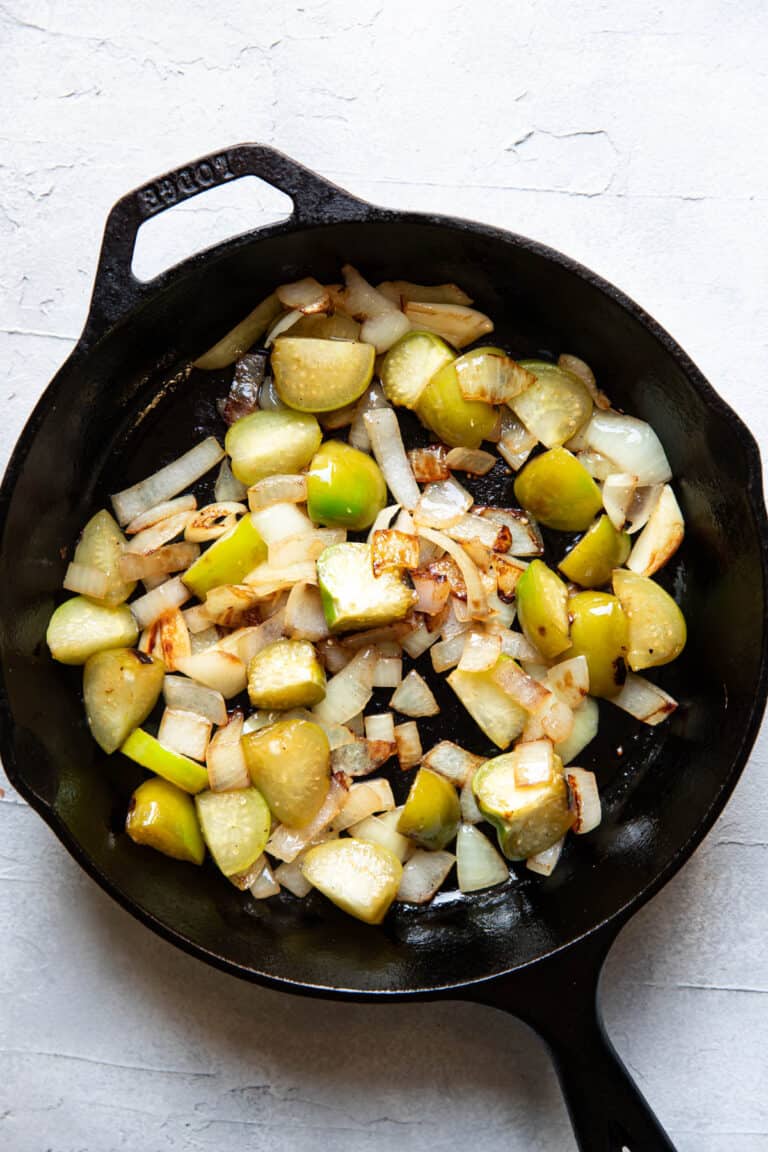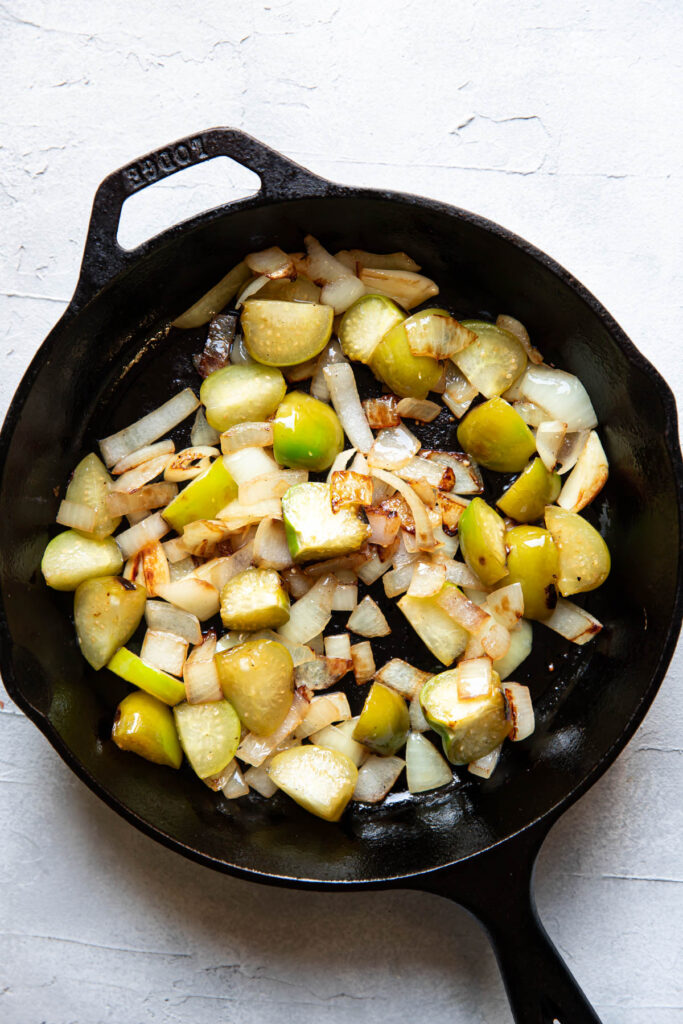 Add to the skillet oil, onions and garlic. Saute this a few minutes. Chop up the tomatillos and add them in too along with the chipotle peppers in adobo, fire roasted tomatoes, cumin, oregano, and salt.
Cook an additional couple minutes. Then add the chicken broth and simmer for 5 minutes.
Carefully pour everything in to a blender (it will be hot!), blend until smooth.
That's your chicken tinga sauce.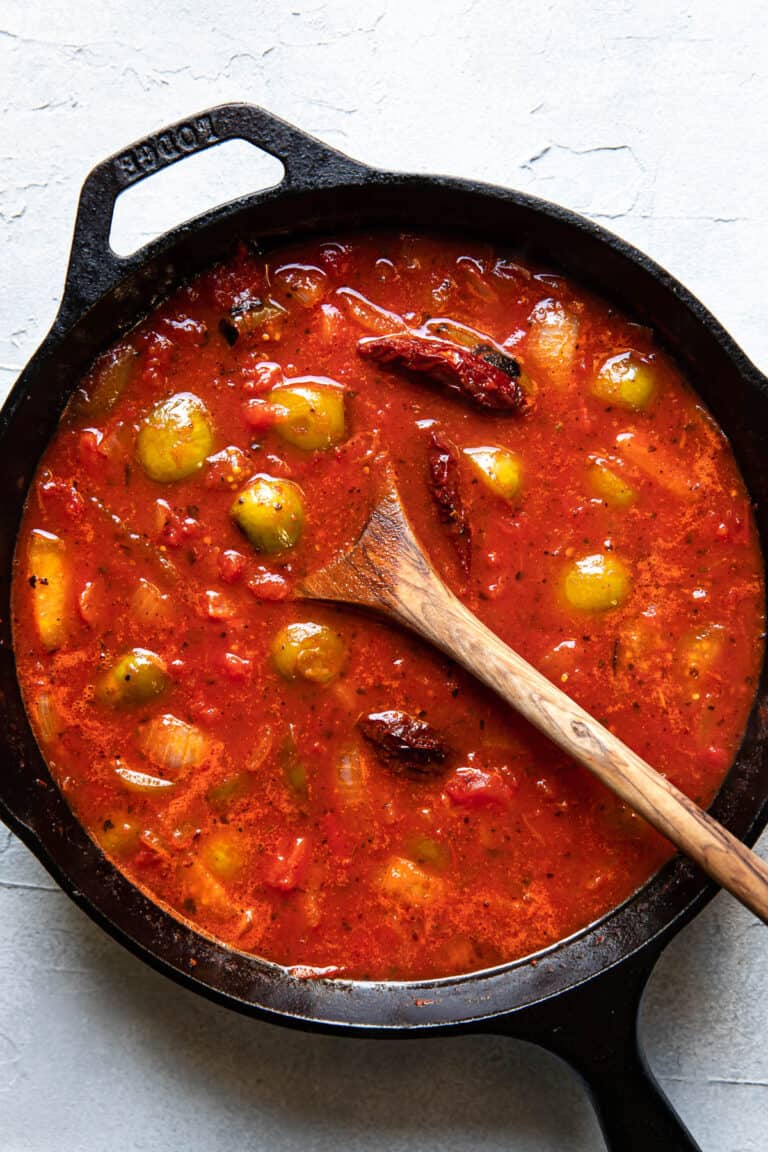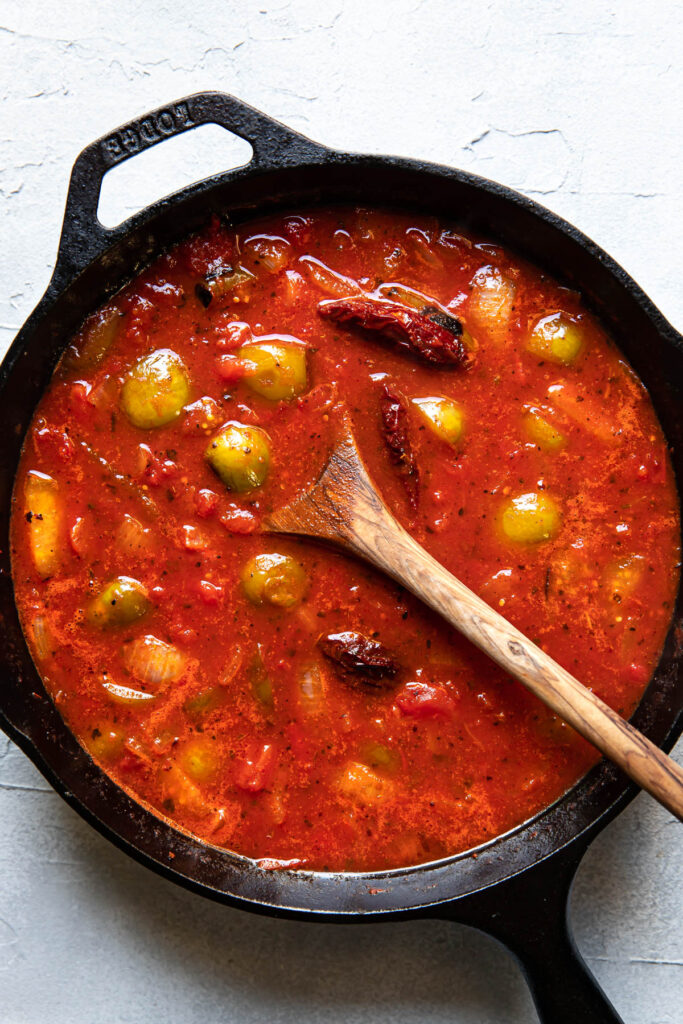 Instant Pot Tips
For this chicken tinga tacos recipe you'll want to get out your instant pot.
Using the instant pot is just easy and always turns out the most tender chicken.
Instant pots need so much liquid in them so they can build steam and pressure. You don't have to worry about having enough liquid, the tinga sauce more than covers the recommend amounts.
Setting your instant pot to 17 minutes is the perfect amount of time, the chicken will shred like a dream. Slow release for 10 minutes.
Make sure your valve is closed and steam isn't escaping. Been there, done that. I think that's only a mistake you make once - when you hear a loud whistling in your kitchen and realize you left the valve vent open.
Instant Pot Alternative Cooking Methods
If you don't have an instant pot don't fret, you could use a slow cooker or even cook it on the stove.
Slow cooker.
To use the slow cooker follow all of the steps up until adding it to the instant pot. Instead add everything to a slow cooker and cook on low for 8 hours.
If you do use your slow cooker you may need to re-blend your sauce a bit.
Stove top.
To cook it on the stove make sure to use a pan that has a lid, or cover tightly with foil.
Add the sauce and chicken to the pan, cover with a lid and simmer on low until the chicken is cooked through. 30 minutes should be the perfect amount of time.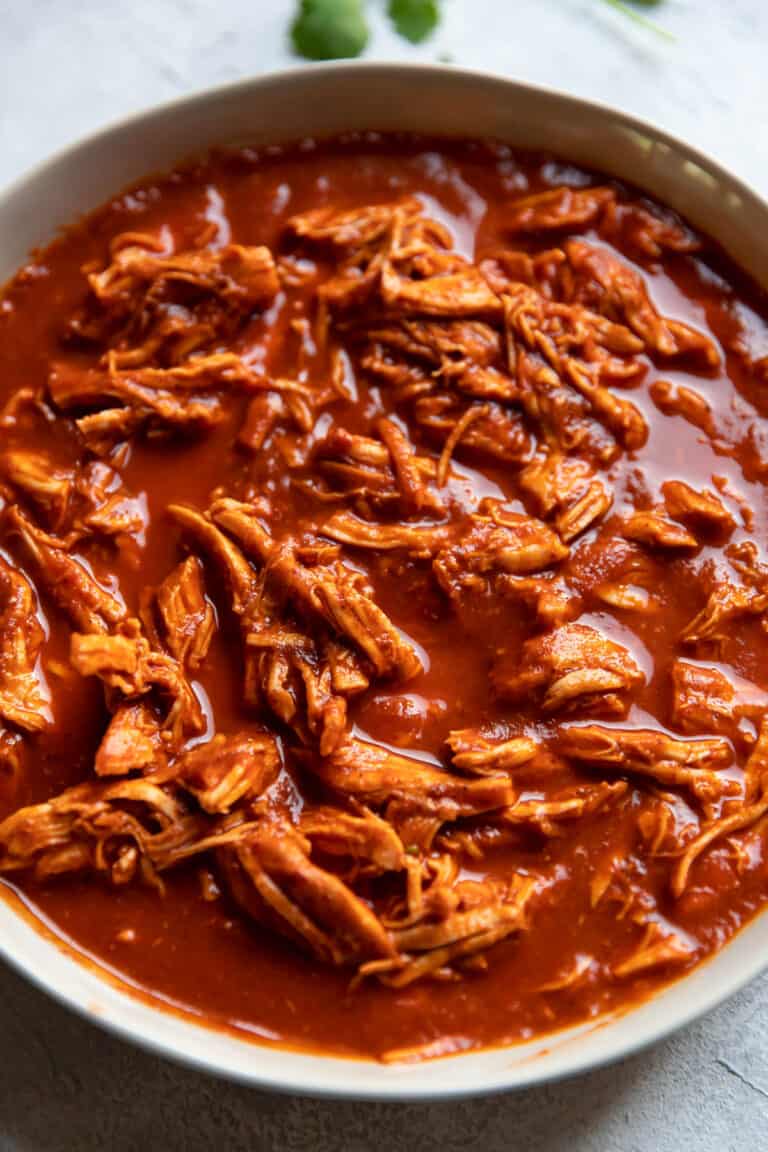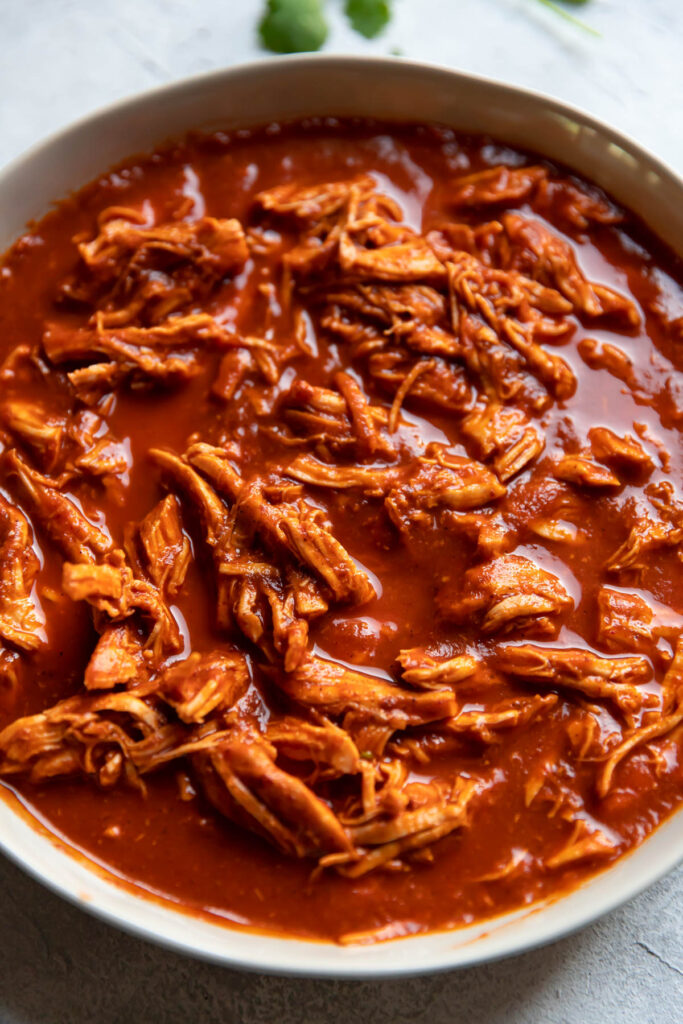 What To Serve With Instant Pot Chicken Tinga Tacos
Since you're making instant pot chicken tinga tacos that means you'll have some extra time to make some good sides or drinks.
Of course pico de gallo salsa is a favorite when we make tacos or even a corn salsa, that's a chipotle copycat one and I love it. It tastes just like the restaurant.
If you want to make a drink with this you can't go wrong with frozen strawberry margaritas.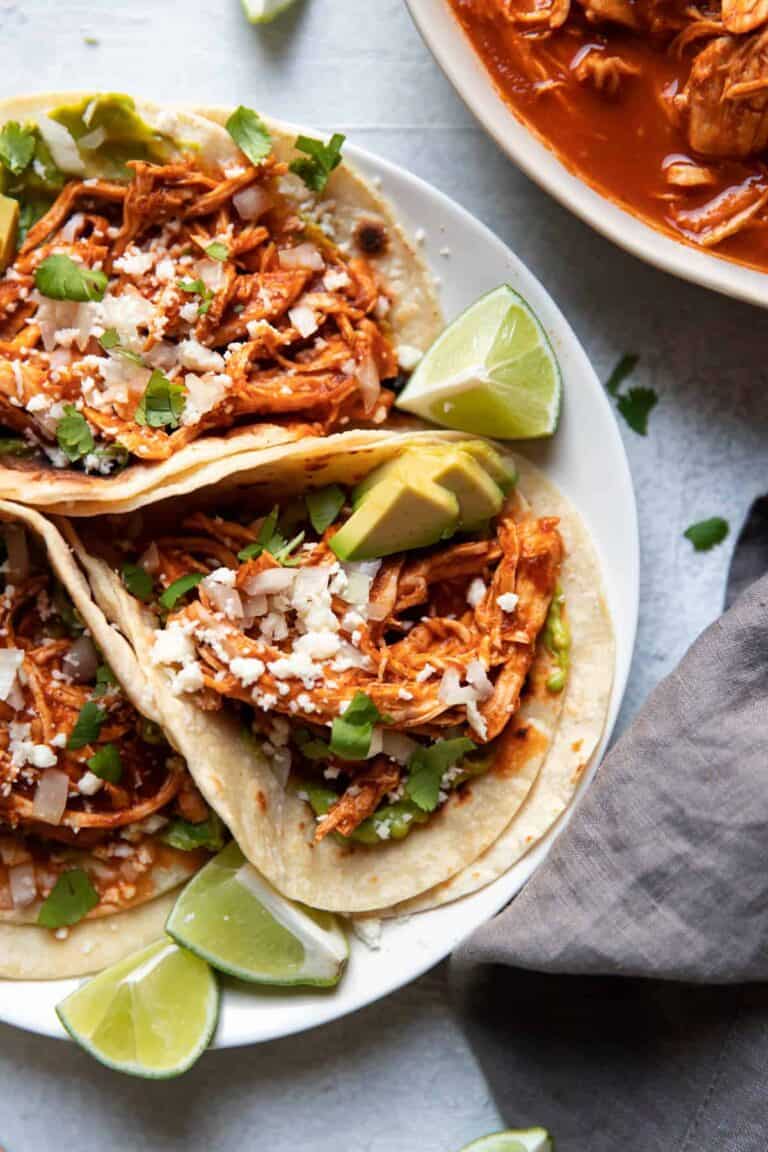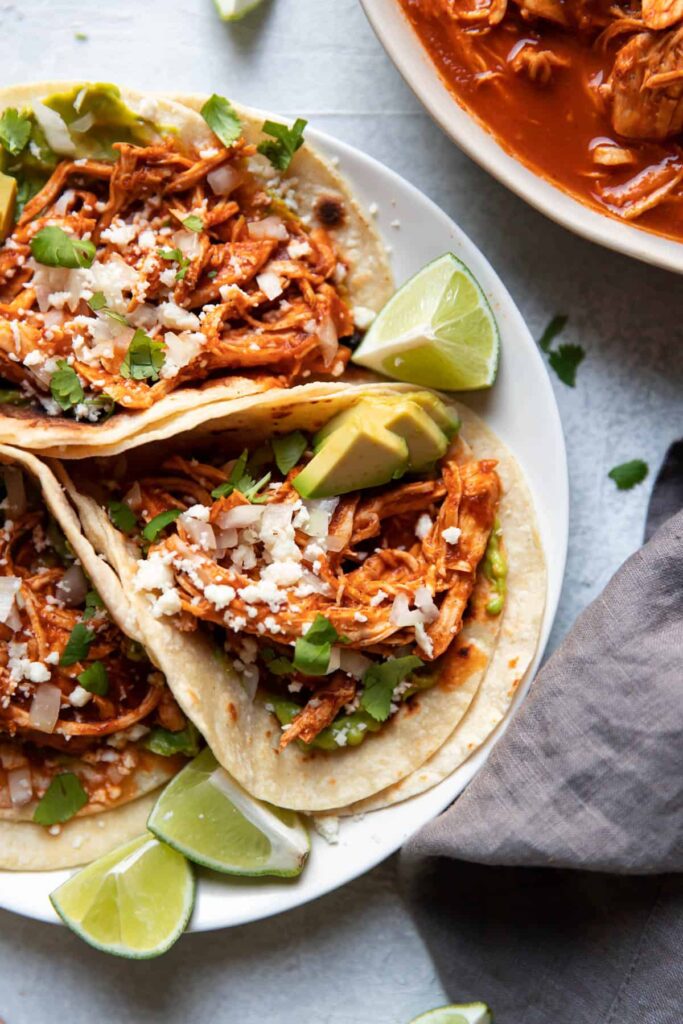 FAQ
Is chicken tinga spicy?
Yes! Chicken tinga is made with chipotle in adobo which is very spicy. This recipe uses 3 chipotle peppers, for less spicy reduce the number of peppers but for more spice add extra peppers. This is a medium level spiciness.
Is chicken tinga gluten free?
There is no gluten in this chicken tinga recipe.
Can I make these chicken tinga tacos in a slower cooker?
Yes, see the section above titled "instant pot alternative cooking methods".
Can I make these chicken tinga tacos if I don't have an instant pot or slow cooker?
Yes, see the section above titled "instant pot alternative cooking methods". You can make these on the stovetop if you don't own an instant pot.
More Southwest Recipes
Check out these other recipes for southwest cuisine. There's so many good taco and enchilada recipes!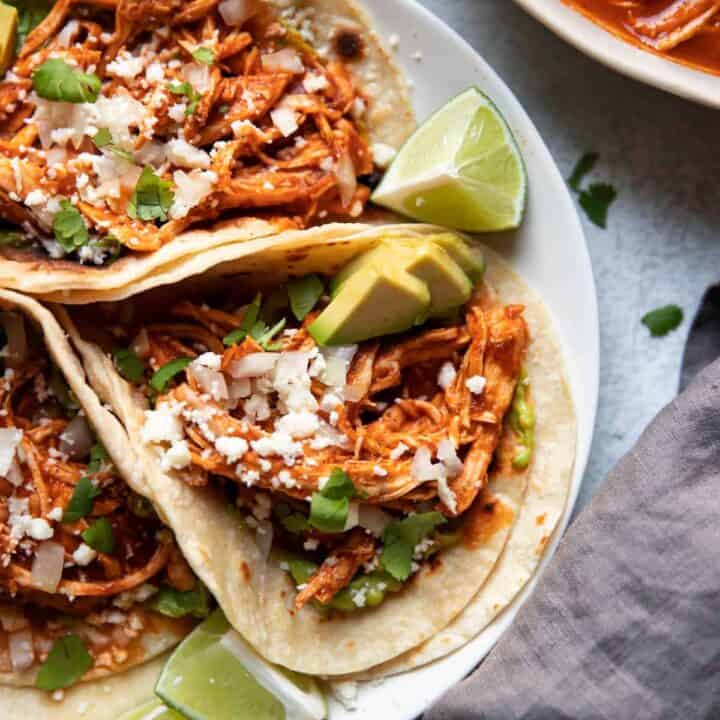 Chicken Tinga Tacos (Instant Pot)
These chicken tinga tacos come together so easily in the instant pot. Tinga sauce is a blend of southwest flavors like tomatillos, chipotle peppers in adobo and fire roasted tomatoes. A vibrant red sauce with a medium amount of heat. Served on corn tortillas with avocado.
Ingredients
5 tomatillos, husks removed and cleaned
½ onion, rough chopped
4 garlic cloves, smashed
3 Chipotle peppers in adobo
15 oz can Fire Roasted tomatoes
½ tsp Oregano
¼ tsp Cumin
½ tsp salt, like 3 pinches
1 c chicken broth
2 lb chicken breast
Corn tortillas
2 avocados, mashed (or cut up)
Oil
Limes, cut into wedges for squeezing on the tacos
Cotija cheese
Cilantro
Instructions
Heat a cast iron skillet to high heat
Add the whole tomatillos, charring the sides a bit, remove from the heat and cut into large chunks
Turn the skillet heat down to medium
Drizzle in some oil (sunflower oil works best)
Add the onions and garlic with a pinch of salt, saute until the onions are transluscent
Add the chopped tomatillos, chipotle peppers, fire roasted tomatoes, oregano, cumin, salt and chicken broth
Bring to a low bubble and cook for 5 minutes, stirring occasionally
Turn the heat off and transfer to a blender (careful, the sauce is hot and you may want to let this cool slightly before blending) *see note
Add some of the sauce to the bottom of the instant pot, followed by the chicken breasts (poke a few holes in the chicken with a knife), and the rest of the sauce on top
Put the instant pot lid on, make sure the vent is closed
Cook for 17 minutes
Slow release for 10 minutes
Take out the chicken and shred it, return to the pot, mix everything together
Sauce will thicken as it cools (looks very runny at first)
Use a fork to mash the avocados with some salt and lime juice to make a quick and easy guacamole (optionally just cut up avocado and serve with the tacos)
Serve with corn tortillas, mashed avocados, diced onions, cotija cheese, cilantro and lime wedges
Notes
Blending hot liquids can be dangerous, it needs to be able to properly vent letting steam escape, if you aren't sure then let the sauce cool before blending
The avocado coolness is a nice counter to the heat of the Tinga sauce, the acid from the lime is perfect with it
You can add an extra pound of chicken breast to this recipe and still have enough sauce
Recommended Products
As an Amazon Associate and member of other affiliate programs, I earn from qualifying purchases.
Nutrition Information:
Yield:

5
Serving Size:

3 tacos
Amount Per Serving:
Calories:

554
Total Fat:

25g
Saturated Fat:

5g
Trans Fat:

0g
Unsaturated Fat:

17g
Cholesterol:

161mg
Sodium:

805mg
Carbohydrates:

22g
Fiber:

9g
Sugar:

6g
Protein:

62g
This information comes from online calculators. Although moderncrumb.com attempts to provide accurate nutritional information, these figures are only estimates.