One serving of this thanksgiving herb stuffing won't be enough. Made with french bread, onion, celery and fresh herbs, it will be a family favorite year after year. It's an easy recipe anyone can follow.
This recipe was first published on 11/16/2020.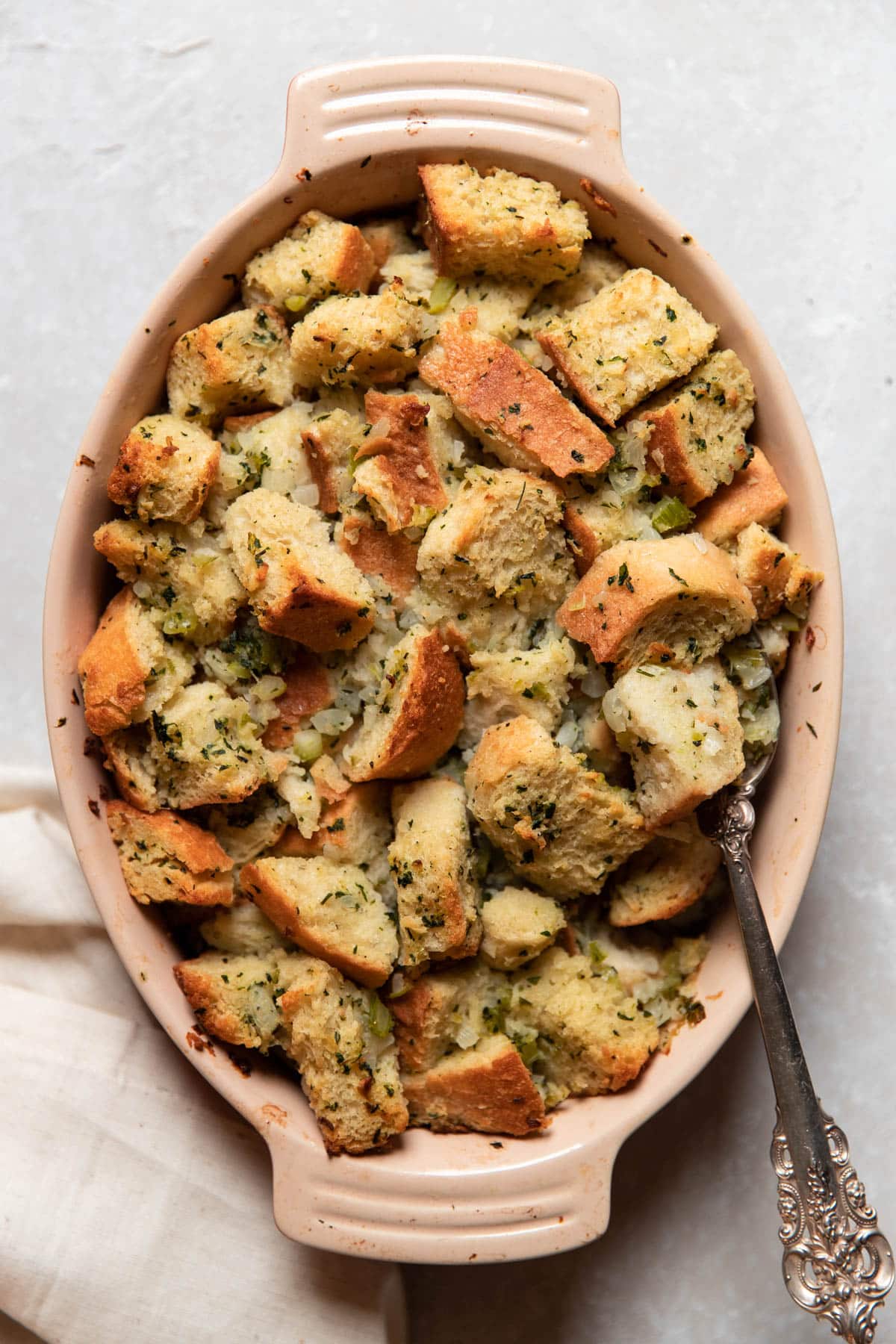 Stuffing is my favorite Thanksgiving side dish (besides dessert, ahem, cranberry cheesecake bars). And I could eat serving after serving of this herb stuffing.
The preferred method of cooking? The oven, where it can cook to perfection.
It's a simple recipe, with just a handful of ingredients. Onions, celery and garlic are your main vegetables. For the herbs I like to use a fresh bundle of thyme, sage and rosemary.
Your local grocery store may even sell it this way, they call it a poultry bundle. For very good reason too, those are the main herbs in most Thanksgiving dishes.
Stuffing can be tricky, it can turn out too soggy or too dry. Using just the right amount of broth is what can make or break it.
This stuffing is made without eggs. And cooked outside of your turkey. If you need a good turkey recipe, I love this spatchcock turkey because it saves on time and oven space. And I always serve this stuffing with mashed potatoes.
For dessert, serve this pumpkin swirl cheesecake.
Jump to: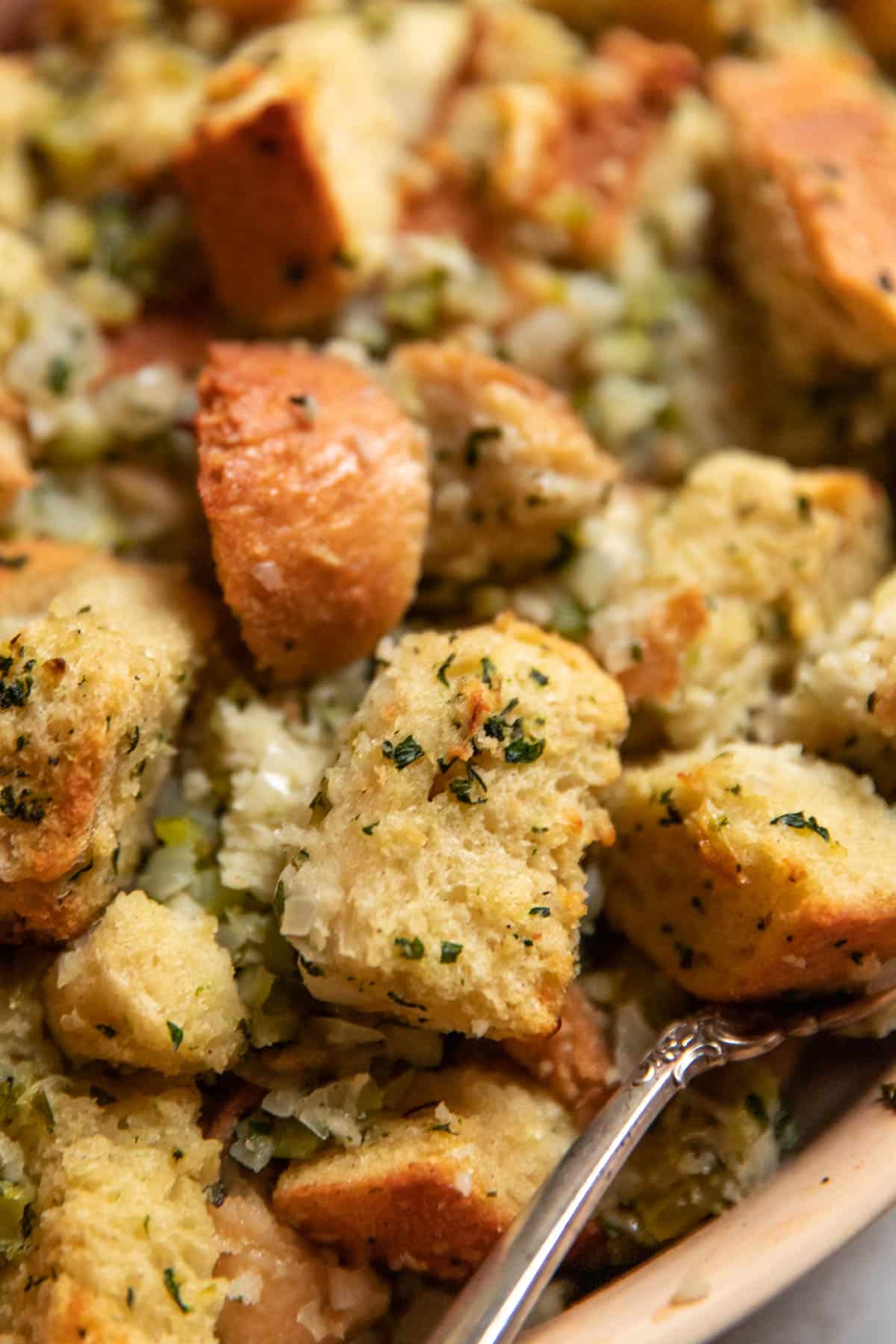 Ingredients
As I mentioned, this stuffing recipe has minimal ingredients, here's what you'll need. Make sure to view the recipe card for the full list of ingredients, amounts and the directions.
bread - one loaf of bread, french bread works really well
butter - salted butter
onion - a whole onion, chopped up, if you want larger pieces chop them larger but I prefer more of a dice
celery - chopped, you can cut your celery stalks in half lengthwise then chop them
garlic - only one large garlic clove
salt - for taste
rosemary, sage, thyme - you can buy them separately but around the holidays you may be able to find them bundled together, you'll want to use fresh herbs for this recipe
parsley - make sure to pack the parsley when you measure it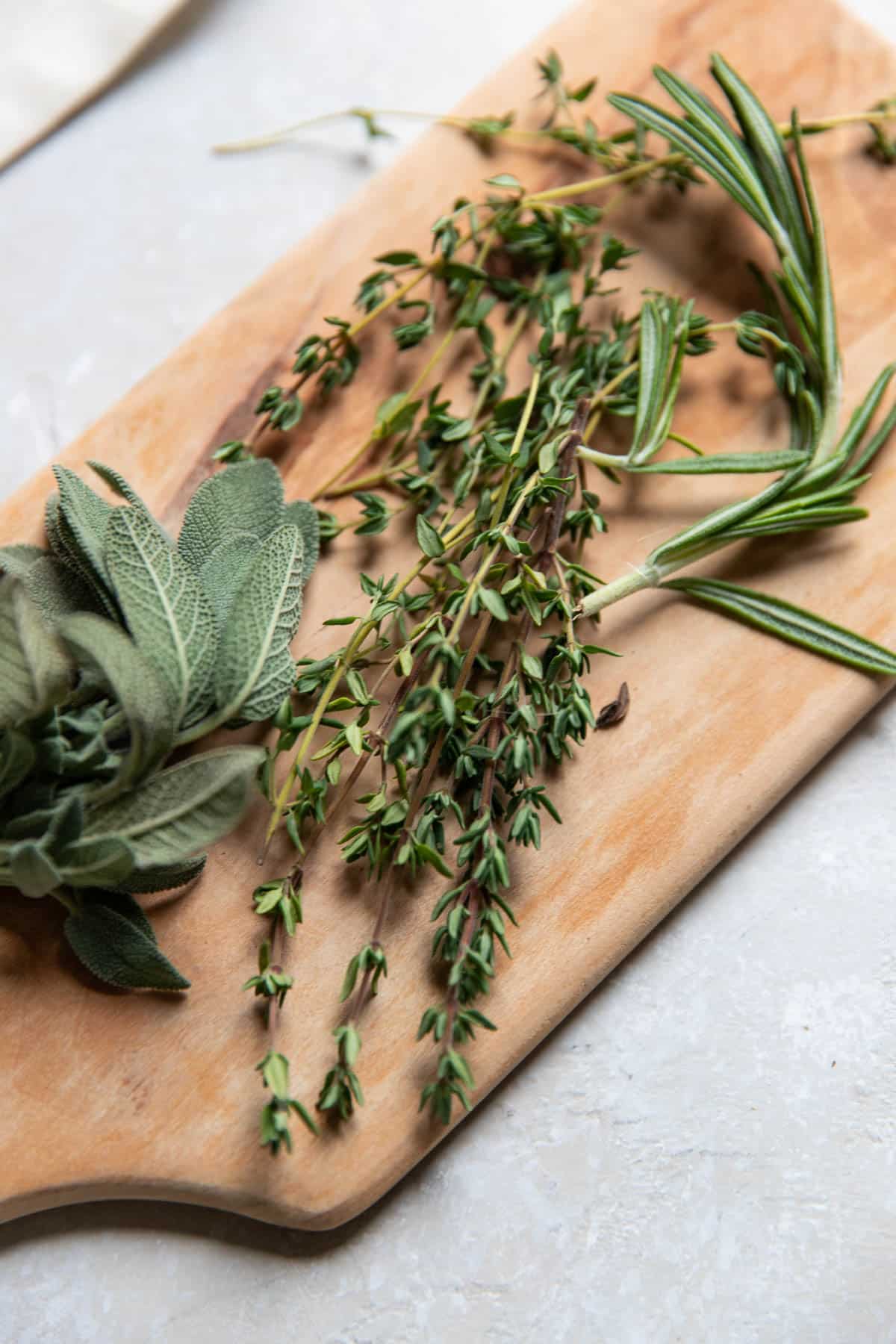 Tips For Perfect Stuffing
If you don't have stale bread you can use a loaf of regular bread and dry it out, which is what I always do.
To do this you'll need to cut the bread into cubes, place it on a baking sheet then put it in the oven for an hour at 200 degrees, just to make sure it's really dry.
Think close to a crouton texture but not totally there.
French bread works really well for this recipe, I like the ones that already have a thick crust, when you bake it the texture of the crust is nice with the softness of the bread.
Cutting large 1 inch to 1 ½ inch cubes works best, in my opinion. Sometimes if your pieces of bread are too small they tend to disintegrate.
A whole stick of butter. It sounds like a lot but a whole stick is standard when making stuffing from scratch. You'll be happy you did.
When it's time to add the chicken broth to the bread cubes, you want to use your hands. That way you can feel the texture you are getting.
Too little or too much liquid can make or break the entire recipe.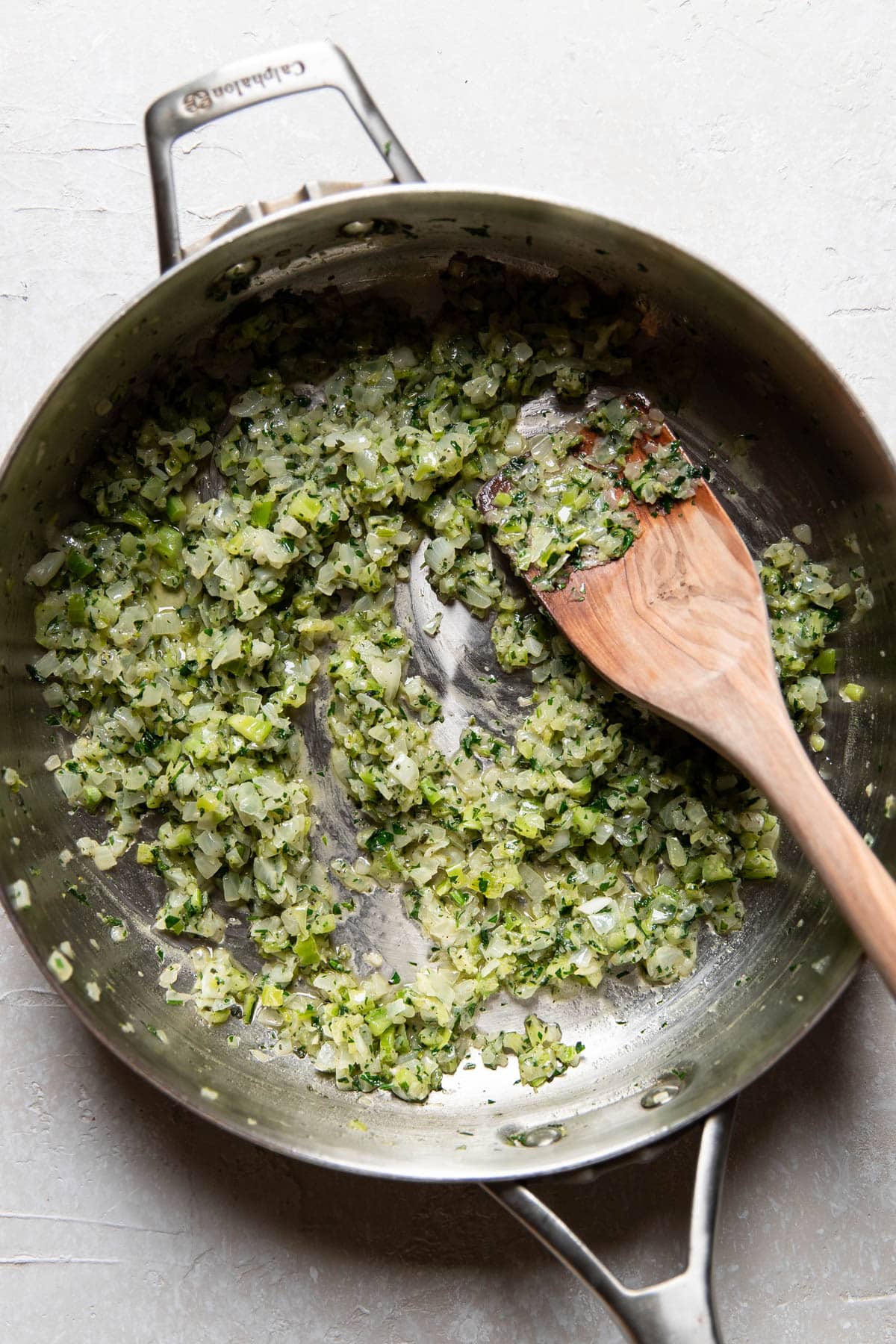 Too little broth, the stuffing will be dry. Too much and it will be soggy. This is by far the hardest part of making stuffing.
Even for boxed stuffing, getting the broth part right can be tricky.
Add a cup of the instructed broth, start tossing it around for a minute or two. Add another half cup, toss it around.
Then add the last half cup. You want the pieces to feel like a wet sponge.
The image on the left (below) doesn't quite have enough broth added, the image on the right has the perfect amount of broth.
Baking Homemade Stuffing
When it comes time to bake your stuffing there are two parts to it.
The first part is the initial 30 minute bake. This is done with the stuffing being covered with a piece of tinfoil. Adding the tinfoil in the very beginning allows the stuffing heat throughout.
You see, when tinfoil is over something, it doesn't allow the top of the food to get all the heat and color from the oven. The stuffing can cook without risking the top being burnt or too dry by the end.
The second part is taking the foil off for an additional 30 minutes.
Your stuffing will continue to cook but now the top of the stuffing will get that golden layer and just a bit of crisp while underneath remains soft.
More Thanksgiving Recipes
For dessert you can never go wrong with something like a batch of pecan shortbread bars, pumpkin roll with cream cheese frosting, or this apple crisp with oats topping.
Thanksgiving dinner isn't complete without an easy turkey recipe, honey baked carrots, creamy mashed potatoes or some fluffy cloverleaf dinner rolls.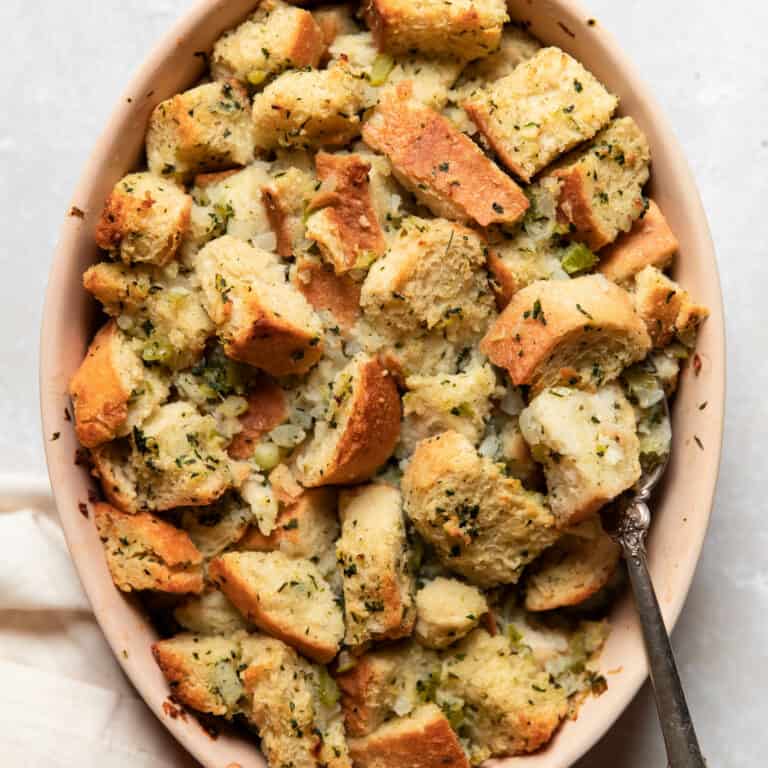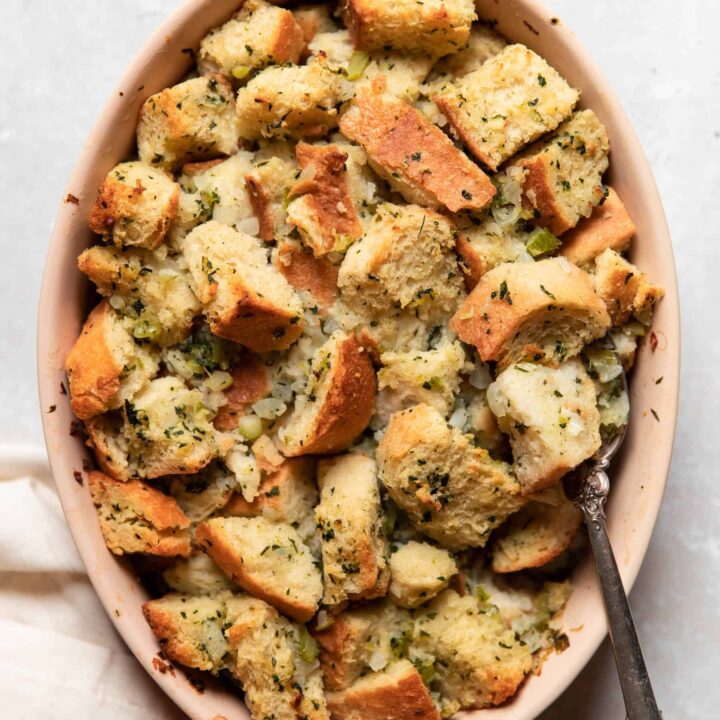 Thanksgiving Herb Stuffing
Bread Drying Time:
1 hour
Total Time:
2 hours
20 minutes
One serving of this thanksgiving herb stuffing won't be enough. Made with french bread, onion, celery and fresh herbs, it will be a family favorite year after year. It's an easy recipe anyone can follow.
Ingredients
13 oz French bread
½ c butter
1 onion, diced
3 celery stalks, diced
1 large garlic, minced
1 tsp salt
Pepper, fresh cracked
1 ½ tsp Fresh sage, diced fine
1 ½ tsp Fresh rosemary, diced fine
1 ½ tsp Fresh thyme, diced fine
¼ c parsley, chopped
2 c chicken broth
Instructions
Preheat oven to 200
Cut the bread into 1 - 1 ½ inch cubes, place them on baking sheet and bake for 1 hour to dry out the bread
Pull the bread from the oven
Turn the oven up to 350 degrees
Melt the butter in a saute pan
Saute the onion, garlic, celery and salt, 3-5 minutes until soft and translucent
You want a total of 1 heaping tablespoon total of the fresh herbs, chop enough for this
Add in the herbs, parsley and some fresh cracked pepper cook an additional minute
Let everything cool
Put the bread in a large bowl along with the vegetable mixture
Add 1 cup of the chicken broth, toss with your hands
Add another ½ cup of chicken broth
Keep using your hands to mix the stuffing, the pieces of bread should feel like a wet sponge, not falling apart but not dry, add another half cup if its still not a wet sponge texture
Transfer to a baking dish
Cover with foil
Bake 30 minutes
Uncover, bake an additional 30 minutes
Remove from the oven
Serve
Notes
See the section in the post labeled tips, for helpful tips when making this recipe
Nutrition Information:
Yield:

10
Serving Size:

1
Amount Per Serving:
Calories:

193
Total Fat:

10g
Saturated Fat:

6g
Trans Fat:

0g
Unsaturated Fat:

3g
Cholesterol:

25mg
Sodium:

723mg
Carbohydrates:

21g
Fiber:

1g
Sugar:

3g
Protein:

5g
This information comes from online calculators. Although moderncrumb.com attempts to provide accurate nutritional information, these figures are only estimates.