These festive cranberry cheesecake bars are perfect for the holiday season! The cheesecake is silky smooth and so creamy. You will love the swirls of sweet tart homemade cranberry sauce.
Cranberry orange loaf cake makes for a yummy winter breakfast or brunch if you happen to have some extra cranberries on hand.
This recipe was first published on 11/18/2021.
I can never get enough of these cranberry cheesecake bars!
The original recipe was actually a full size cheesecake but making them as bars was just so much easier and perfect for a grab and go dessert.
It's a wonderful recipe for Thanksgiving or Christmas, just the sight of them is so cheery and festive with the bursts of bright cranberry red.
Making your own cranberry sauce is pretty easy. I like to use orange juice and maple syrup in my cranberry sauce.
Jump to:
It turns out so yummy! Those two ingredients really help to balance the tart cranberry flavor.
But the real show stopper is the creamy cheesecake. It is so light and airy.
And it wouldn't be complete without a buttery graham cracker crust. Not too buttery, just enough so your crust doesn't disintegrate when you cut the squares.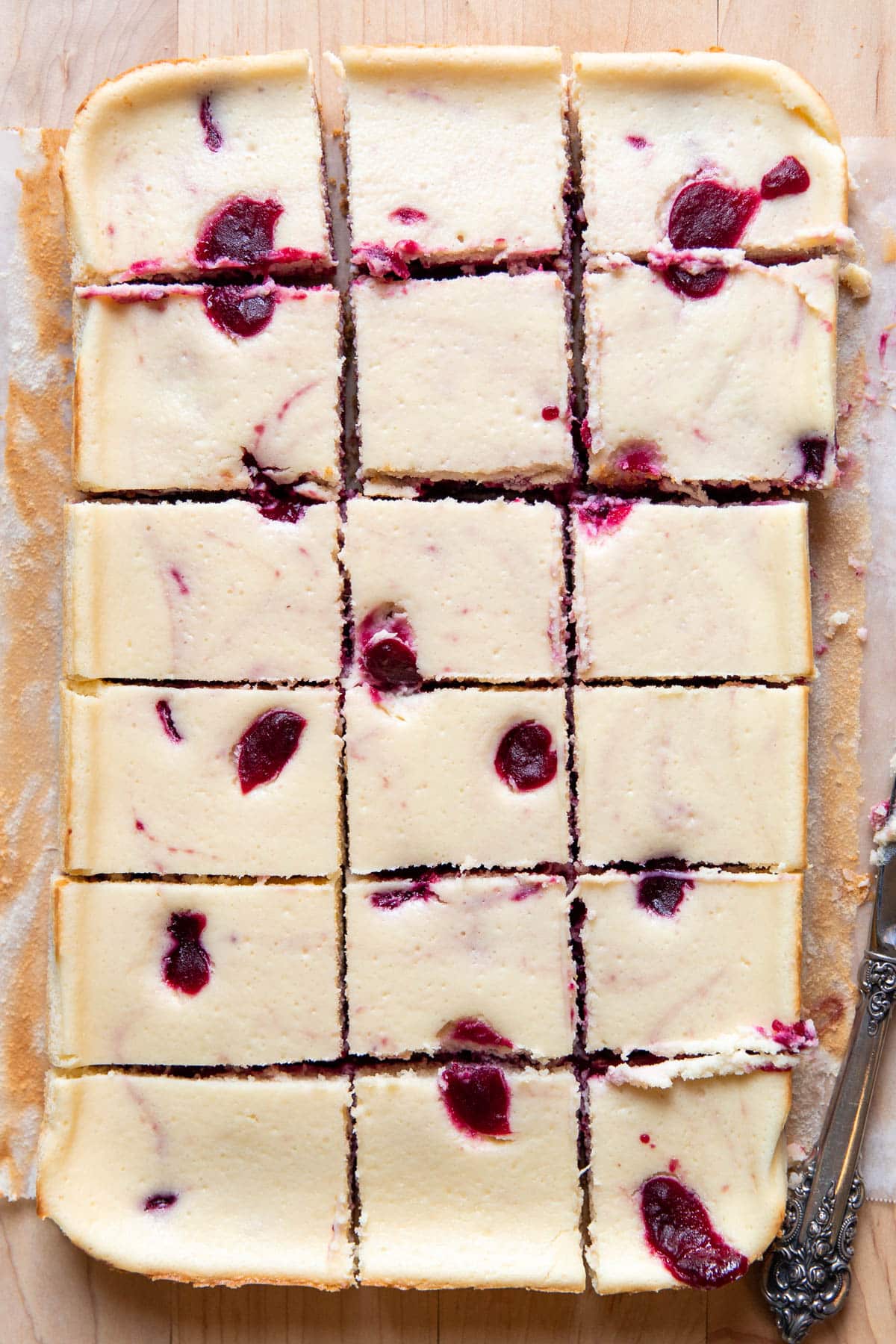 Graham Cracker Crust
To make the graham cracker crust you'll need graham crackers, butter and sugar.
You can actually buy graham cracker crumbs already crushed up.
But if you have graham crackers on hand you'll just need a blender or my preference is to use a mini food processor.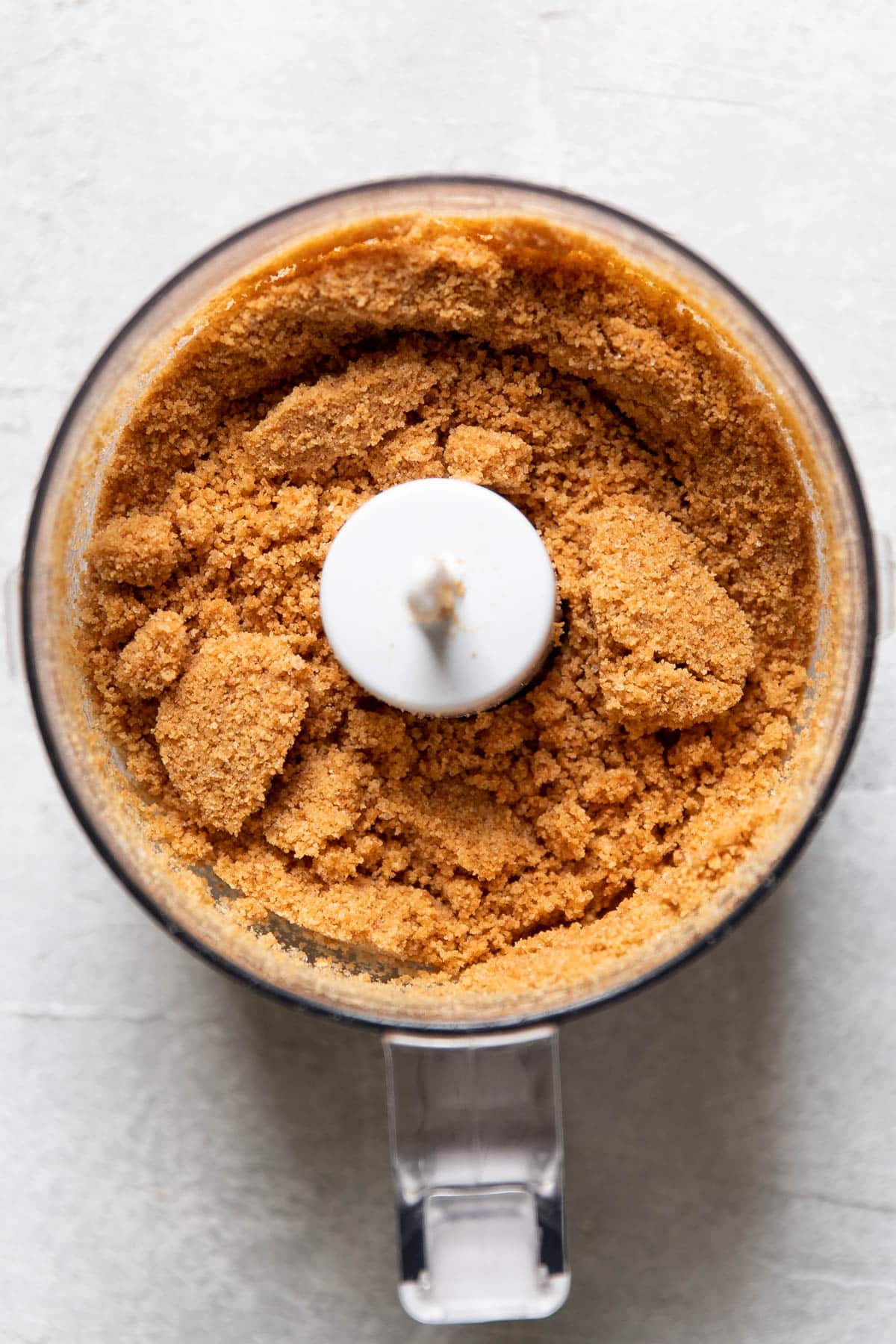 After you get your graham crackers turned into crumbs (a fine crumb) mix it with melted butter and sugar.
The trick is to add enough butter so that the crust stays together when you cut into your cheesecake bars. You also don't want to add too much butter that it's overly oily.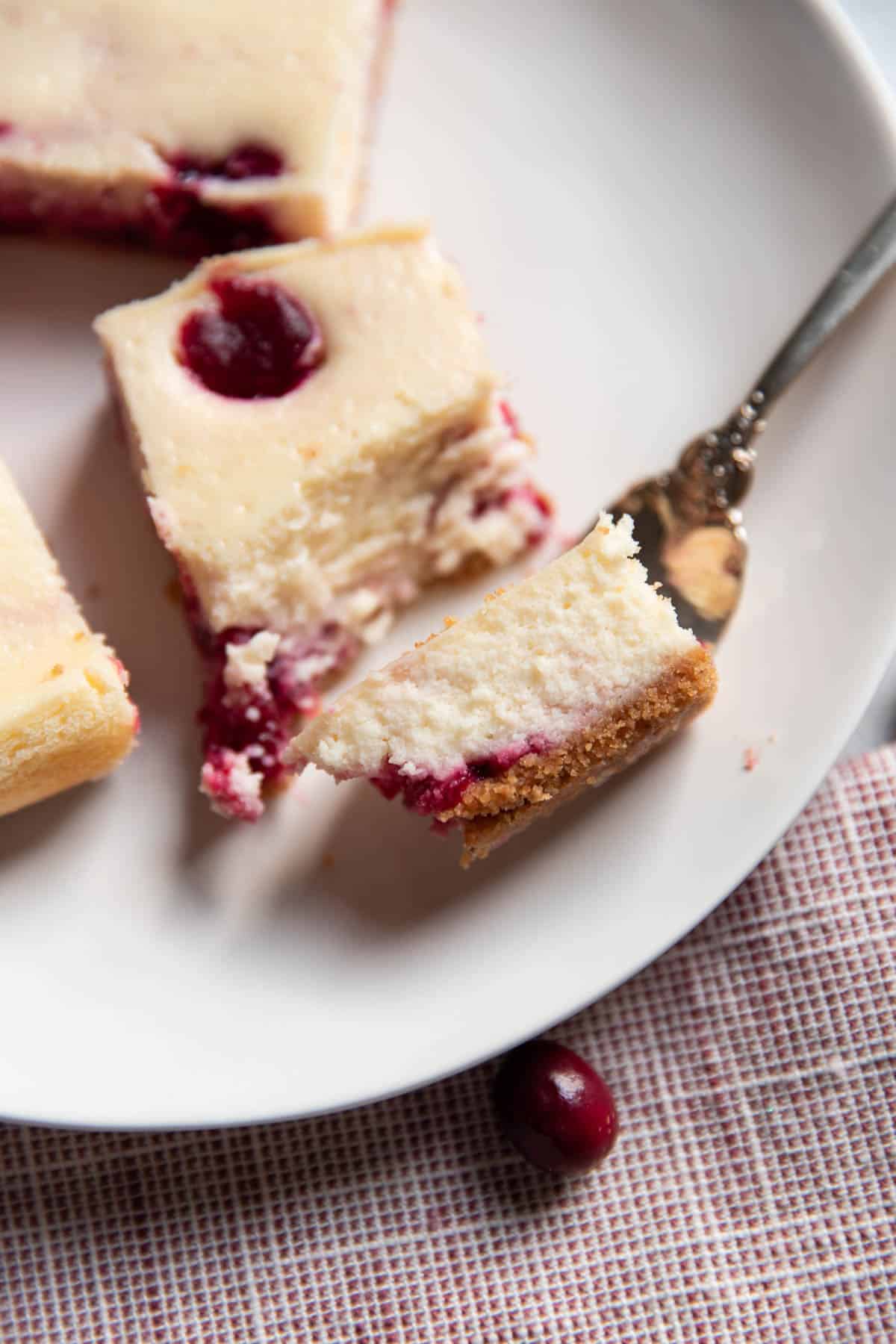 I've found that 5 tablespoons of melted butter to 1 ½ cups of graham cracker crumbs is perfect.
A tablespoon of sugar is all you need, since the cheesecake is sweet your crust doesn't need to be.
It's good measure to pre bake the crust prior to pouring in your filling. It gives it a chance to harden up. You'll want to bake it without a filling for 10 minutes.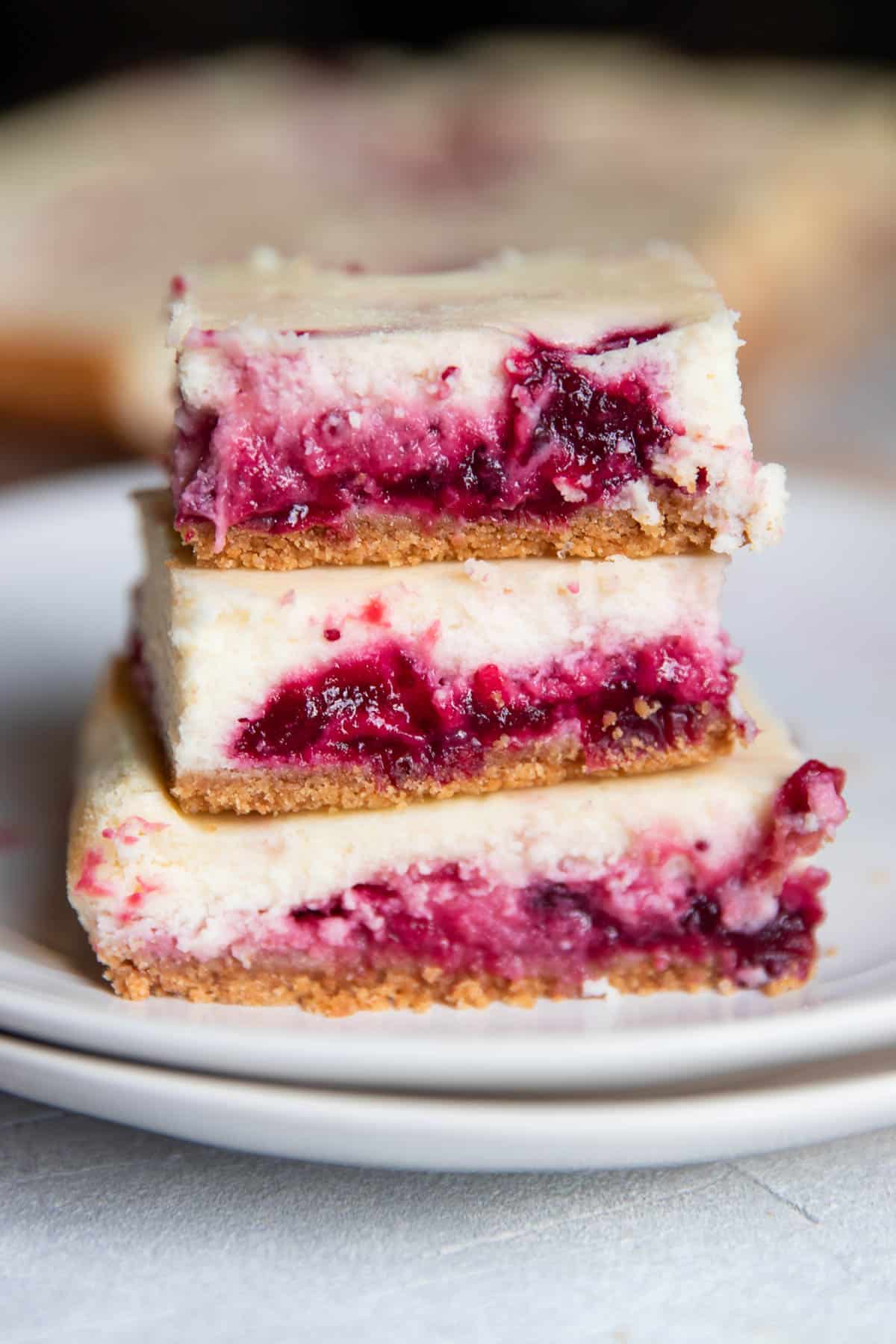 Cheesecake Tips
For a really light and airy cheesecake here are some tips and tricks that may help you!
Start with softened cream cheese, if it's too cold it will make your batter lumpy
Beat together the cream cheese ingredients for a few minutes, without adding the eggs yet, this will get it nice and creamy
Add each egg, one a a time, mix until combined then stop stirring
Add an oven safe bowl of water to your oven, this will release steam in the oven and keep the cheesecake texture nice, reducing the risk of cracking
Bake the cheesecake until it has just about set, with bars it doesn't matter quite as much as a traditional cheesecake, like this pumpkin swirl cheesecake
Chill for 24 hours for the best flavor, if you just can't wait you can let the cheesecake bars come to room temperature and put them in a freezer for 1-2 hours this will have chilled them a fair amount (I toss mine in the deep freezer because I usually can't wait)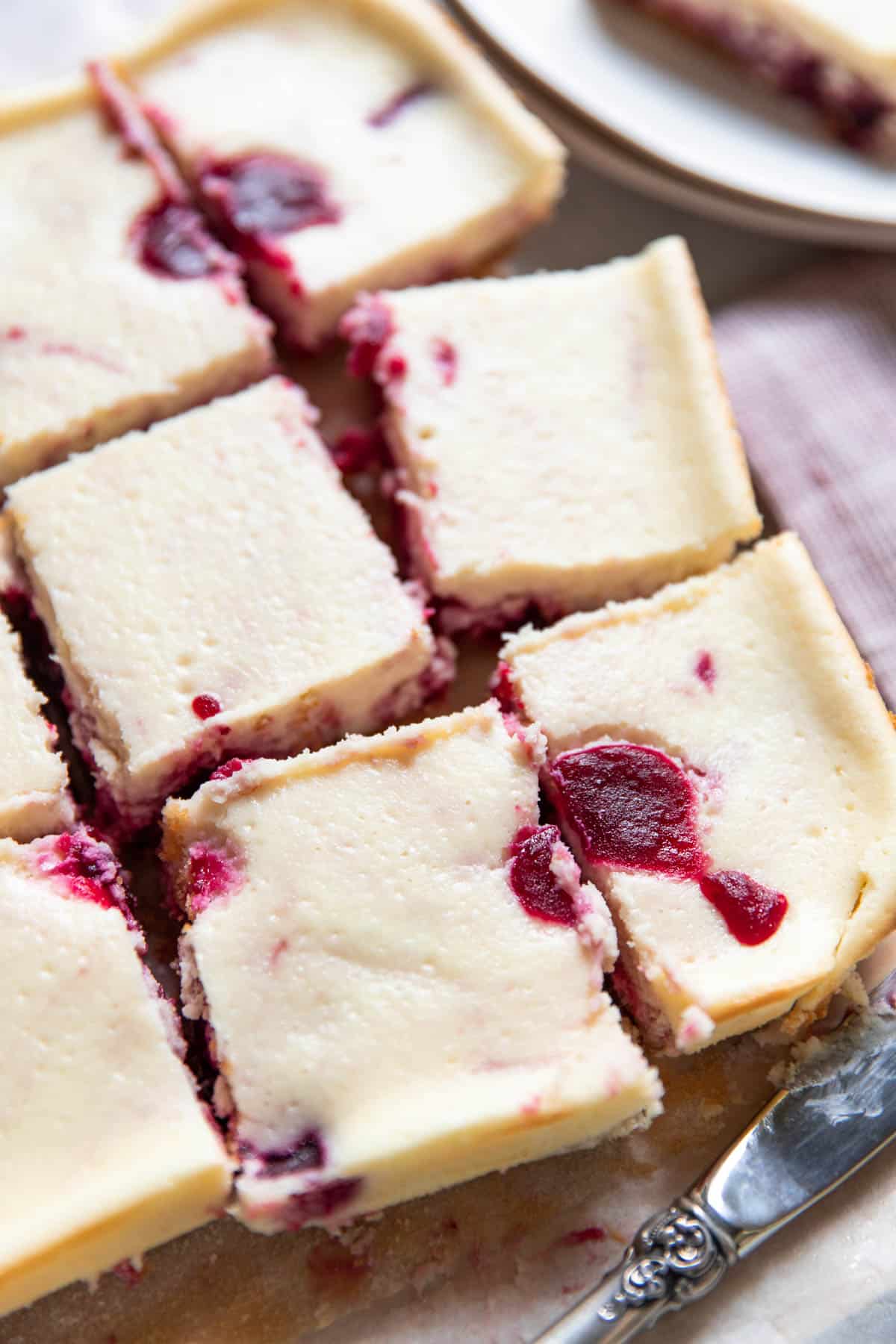 Holiday Recipes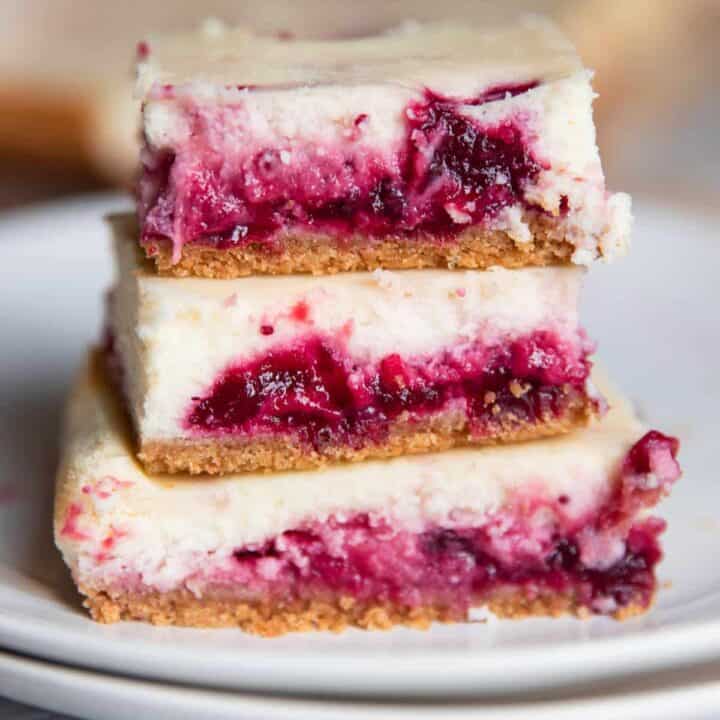 Cranberry Cheesecake Bars
Total Time:
7 hours
15 minutes
These festive cranberry cheesecake bars are perfect for the holiday season! The cheesecake is silky smooth and so creamy. You will love the swirls of sweet tart homemade cranberry sauce.
Ingredients
Cheesecake Filling
16 oz cream cheese, softened
3 eggs
½ tsp vanilla
small pinch of salt
1 tbsp corn starch
¾ c sugar
¼ c sour cream
Cranberry Sauce
7.5 oz fresh cranberries, about 2 cups
¼ c orange juice
½ c water
3 tbsp maple syrup
¼ c sugar
Graham Cracker Crust
1 pkg + 3 graham crackers, just shy of 1 ½ cups
5 tbsp butter, melted
1 tbsp sugar
Instructions
Preheat your oven to 325
Mix together the cream cheese, vanilla, corn starch, sugar, sour cream and pinch of salt for 3 minutes
Beat in the eggs, one at a time
Mix until combined
In a small sauce pot over medium heat combine the cranberries, orange juice, water, maple syrup and sugar
Bring to a low rolling boil then reduce heat to low and simmer for 10 minutes or until thickened, let this cool
In a food processor pulse the graham crackers until fine
Then add in the melted butter and sugar, combine
Spray a 9x13 baking dish with cooking spray and line with parchment paper
Press the graham cracker crumbs down in this using the back of a measuring cup
Bake the crust for 10 minutes then remove from the oven to set
Pour in the cheesecake filling
Use a spoon to dollop on the cranberry filling, placing here and there, use a knife to swirl it around, it's normal for the cranberries to sort of sink to the bottom (be careful not to cut into the graham cracker crust)
End with dollops of cranberry sauce randomly placed on top, do not swirl these, just a few here and there
Bake for 35 minutes (place an oven safe bowl of water in the oven, on the rack below, to release moisture)
Remove from the oven and let cool
Cover and transfer to the fridge to chill
Cut into squares and serve once fully chilled
Notes
You can speed up this process by putting your cheesecake in the freezer to start chilling quickly then serve but wait until it has come to room temperature or almost there before putting in a freezer
Nutrition Information:
Yield:

20
Serving Size:

1
Amount Per Serving:
Calories:

205
Total Fat:

13g
Saturated Fat:

7g
Trans Fat:

0g
Unsaturated Fat:

4g
Cholesterol:

60mg
Sodium:

142mg
Carbohydrates:

21g
Fiber:

1g
Sugar:

16g
Protein:

3g
This information comes from online calculators. Although moderncrumb.com attempts to provide accurate nutritional information, these figures are only estimates.