The creamiest, most delicious pumpkin cheesecake recipe! Boasting a buttery graham cracker crust, sweet and fluffy cheesecake and a perfectly spiced pumpkin swirl throughout. One slice just won't be enough.
Another favorite pumpkin themed recipe, like these pumpkin scones.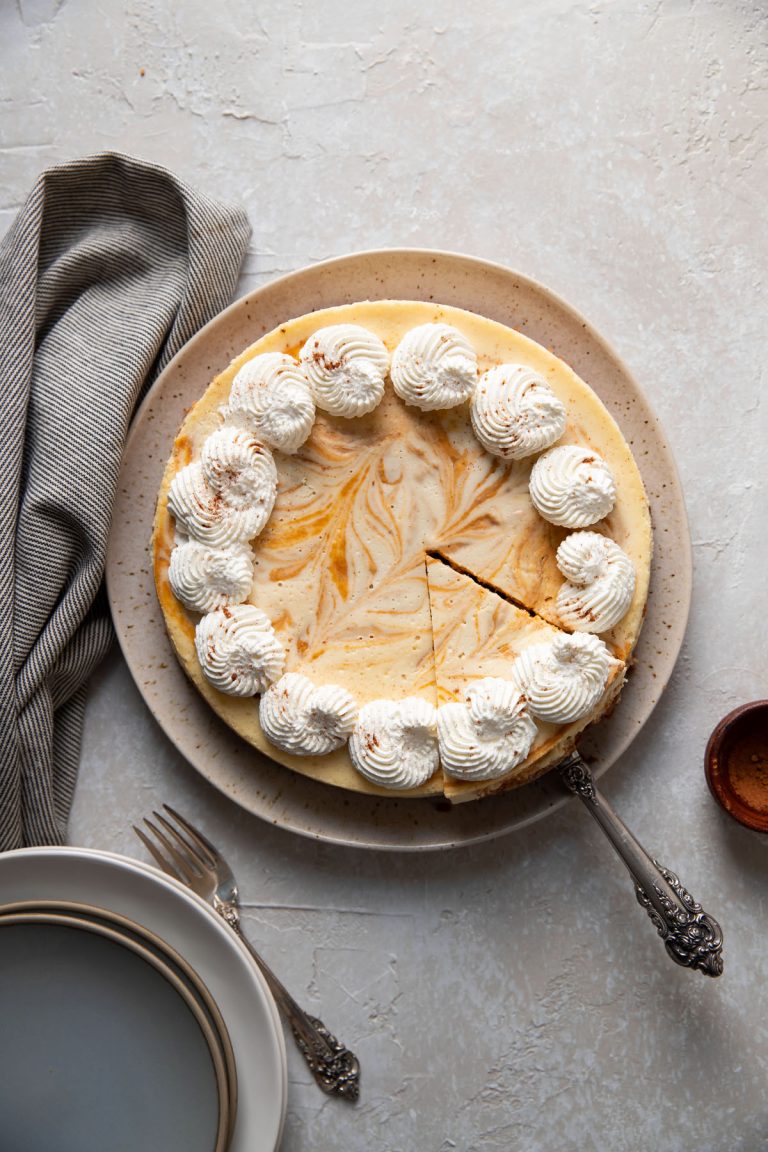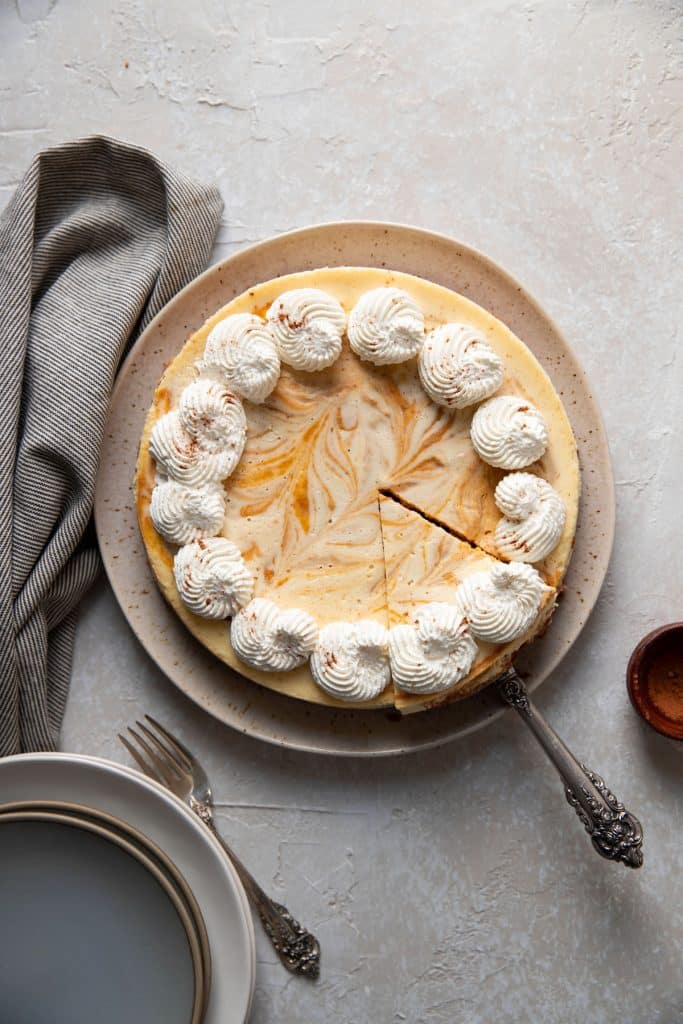 This pumpkin cheesecake is a family favorite, a must have on the Thanksgiving dessert table lineup and always the first baked good to get devoured.
It's the best, can you tell?
I've been making this recipe for over 10 years, only in the last few years have I been making it a whole cheesecake.
In the past years it's always been mini cheesecakes.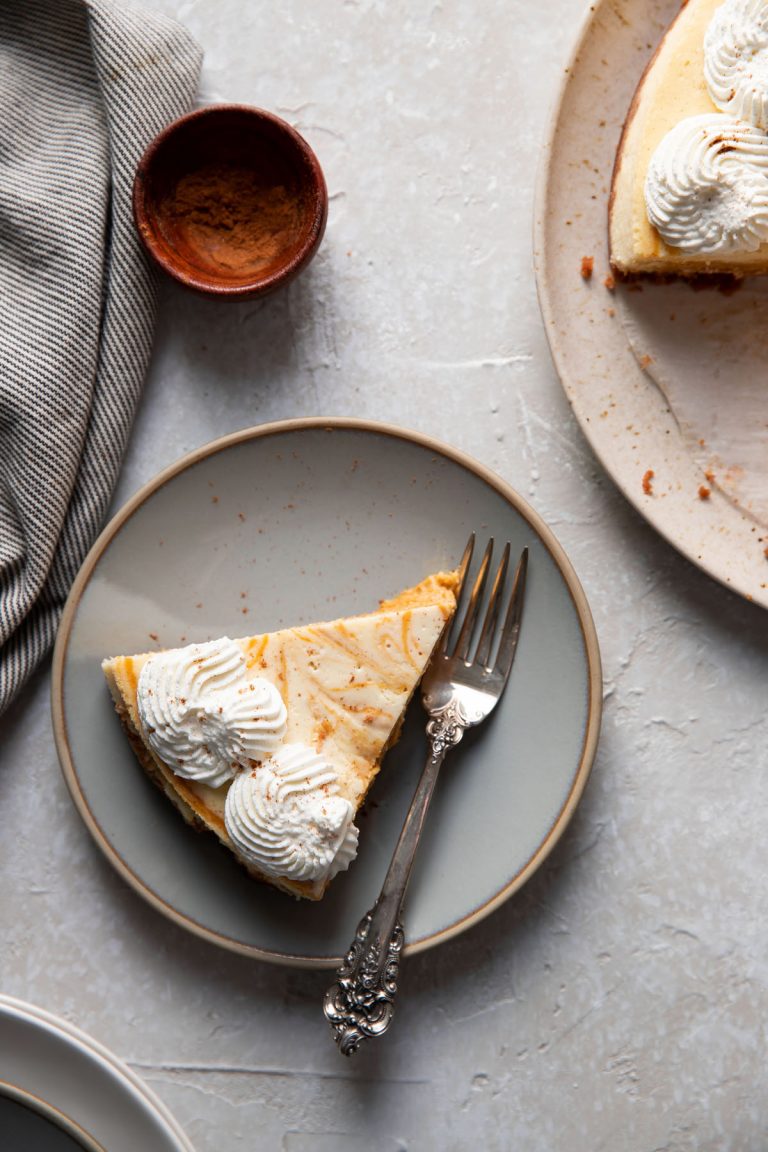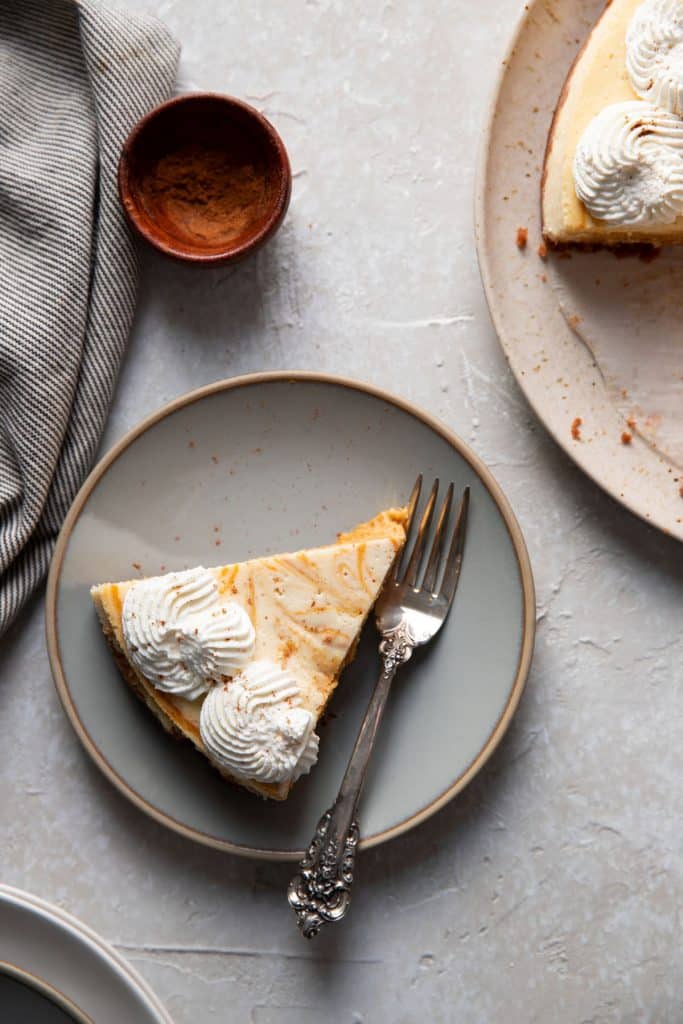 My father in law was notorious for sneaking in to the fridge after half the family went to bed, eating the pumpkin cheesecake.
Thanksgiving eve might I add. It's an irresistible dessert.
It's have cheesecake, half pumpkin pie. All swirled together.
With some helpful tips and tricks you can make a beautiful pumpkin cheesecake for Thanksgiving that your family will rave about.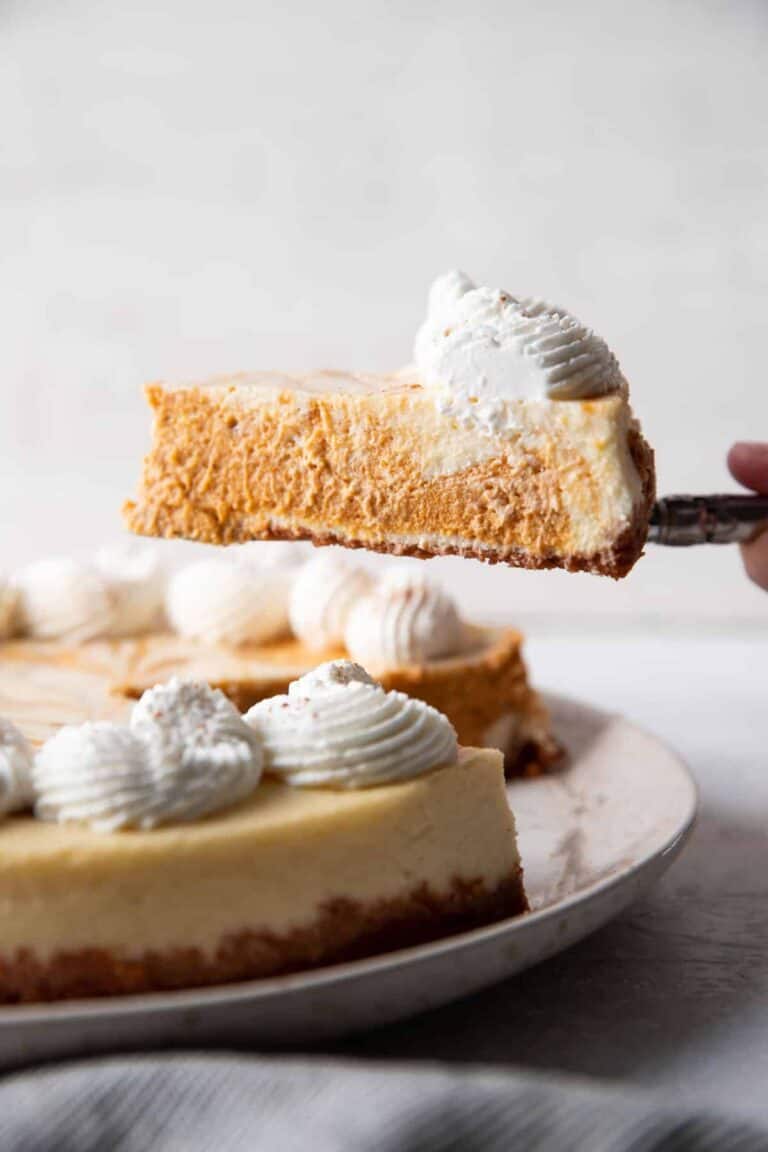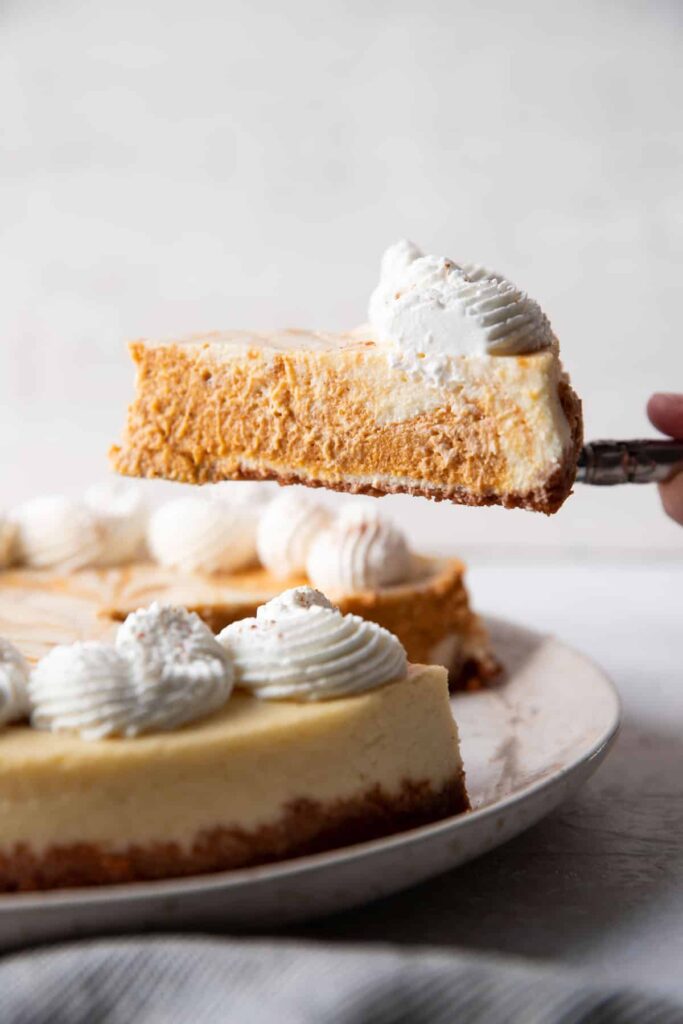 How To Make Pumpkin Cheesecake
Contrary to belief, making a pumpkin cheesecake is beyond easy. Make sure to watch the how to video, I always find it so helpful to visually see something being made.
It starts with having the right pan. You'll need a springform pan.
And what this is, is a pan that has a mechanism on the side that expands the edges of the pan, so you can easily remove the cheesecake.
There's a few steps in the process. You need to get the cheesecake mixture together, the pumpkin mixture together and the crust together. Each are in a separate bowl.
After the crust is ready, you'll fill your pan with just the cheesecake mixture. Then you'll add the pumpkin and use a knife to swirl it all around. You want to be able to see the noticeable steaks between the two flavors.
Then bake, chill and serve!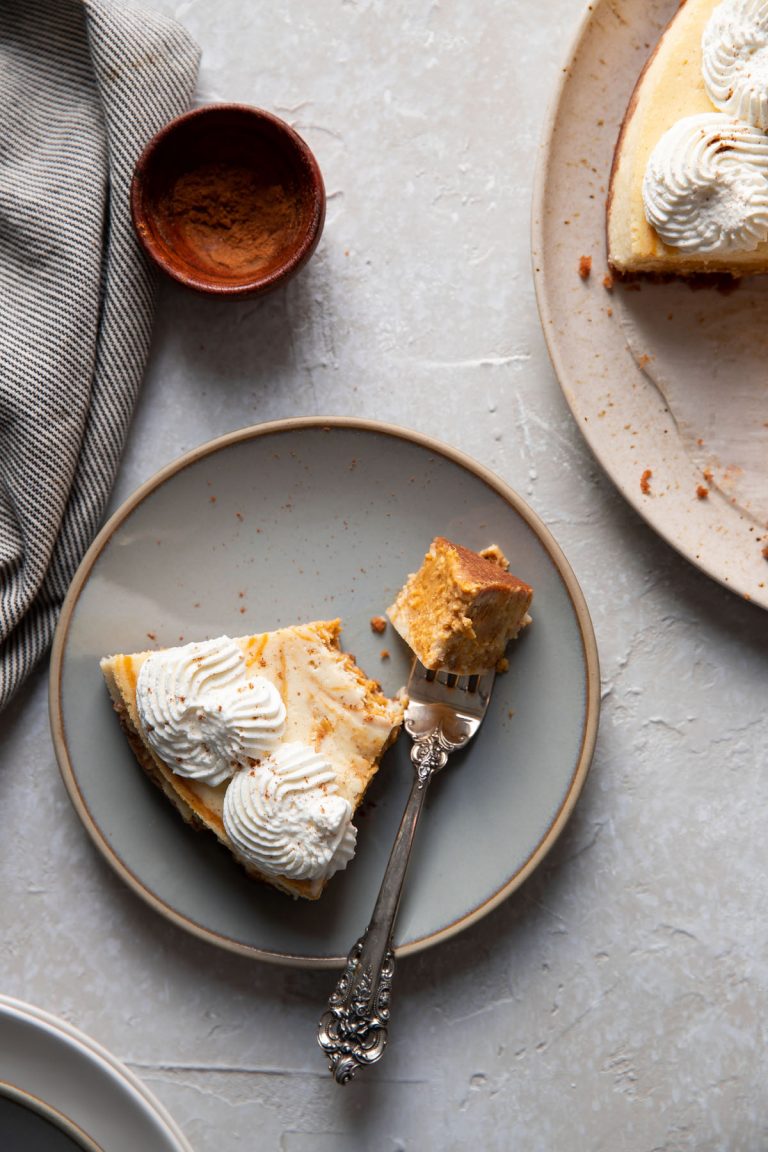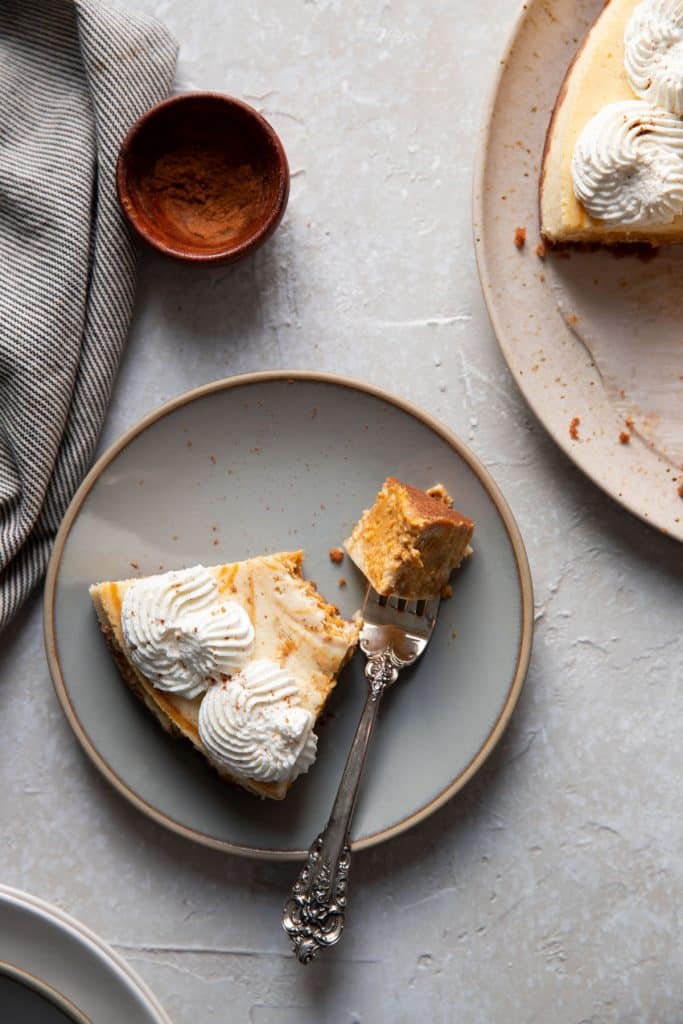 Pumpkin Cheesecake Tips
Using softened, room temperature, cream cheese is one of the most important tips. Soft cream cheese will give you the smoothest, silkiest cheesecake.
Using cold cream cheese will give you a lumpy batter.
Chilling the cheesecake for an entire 24 hours will give you the best taste. That's enough time for it to fully chill throughout and all the flavors to merry together.
At the very least, you'll need 4 hours in the fridge for it to be chilled.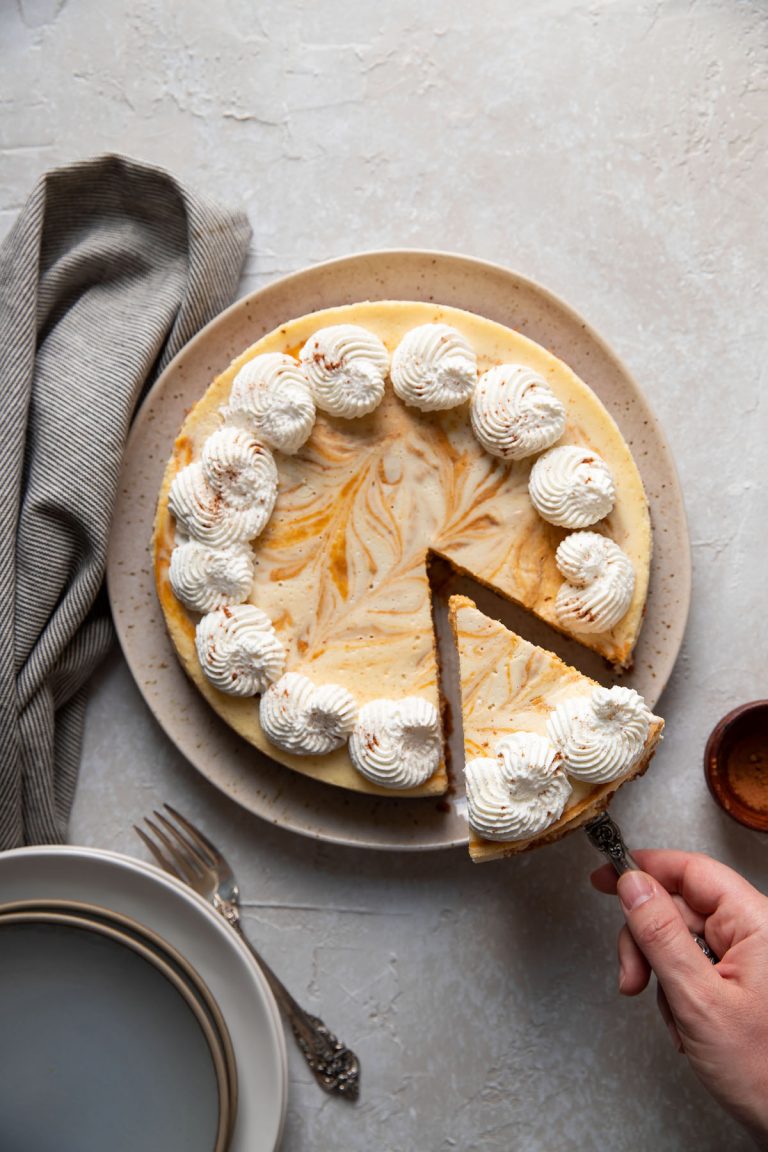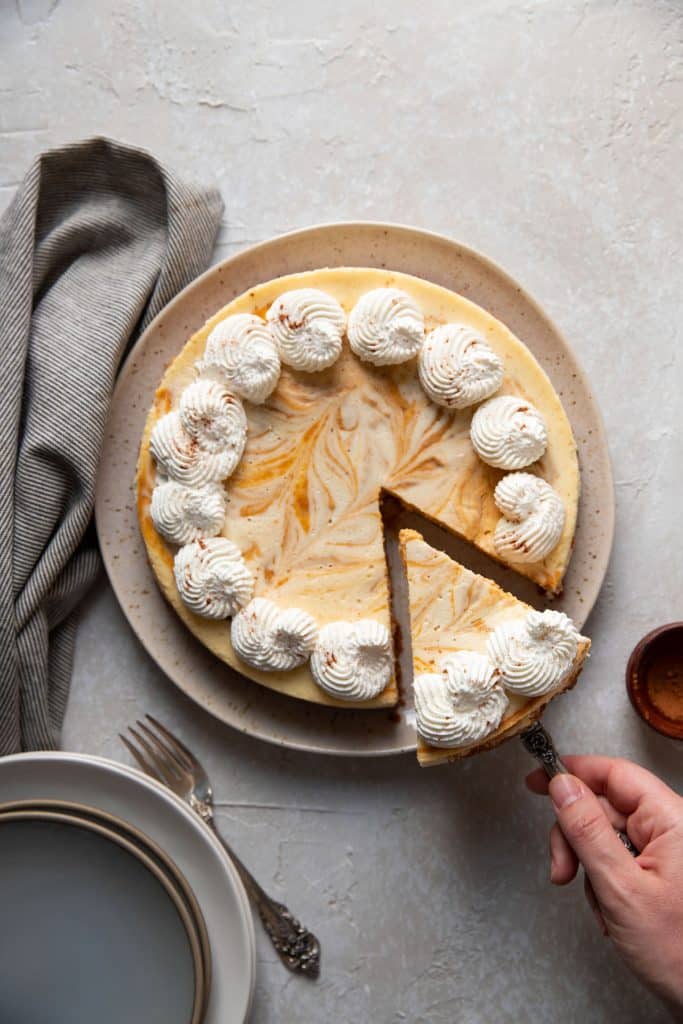 The water bath in the instructions seems like a tedious extra step. But, this is the best pumpkin cheesecake for good reason.
The water bath helps your cheesecake bake evenly.
Do not over bake your cheesecake. It only needs to cook long enough for the sides to set and the middle to still have some jiggle. If the middle does not jiggle, it's going to be over baked.
Over baking can cause cracks.
No peeking. Leave that oven door closed. Use your oven light if you must see what's going on in there.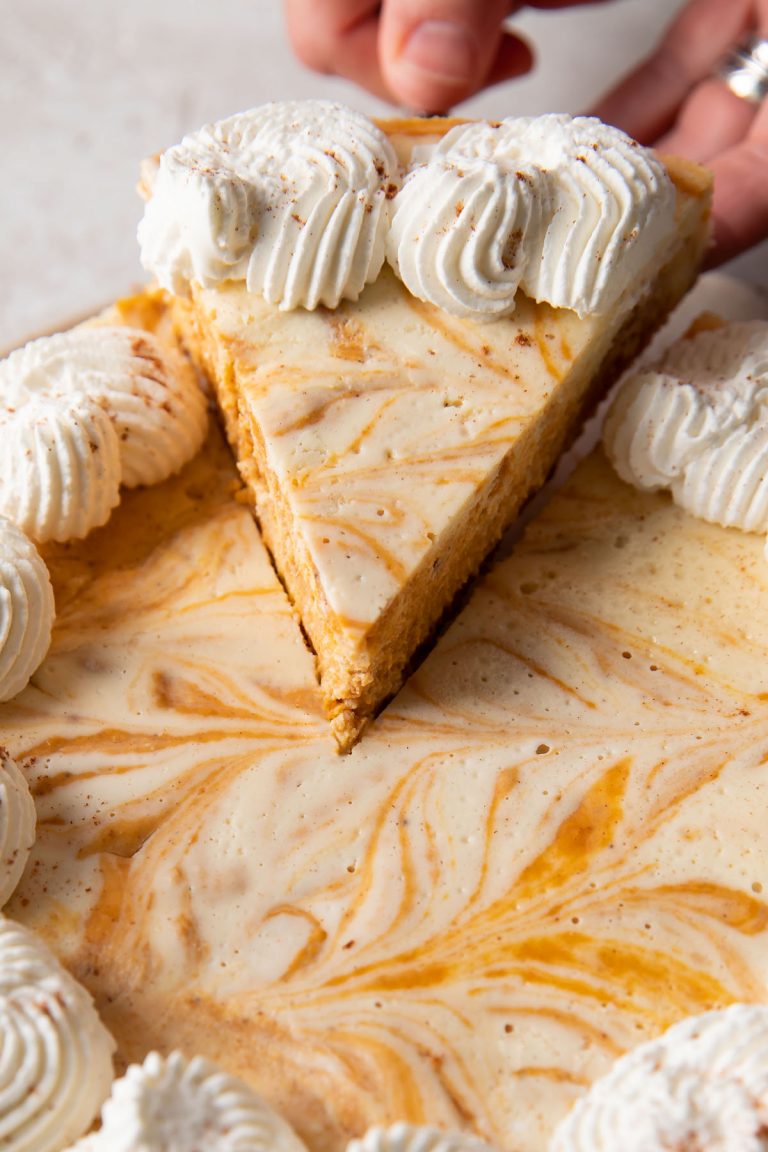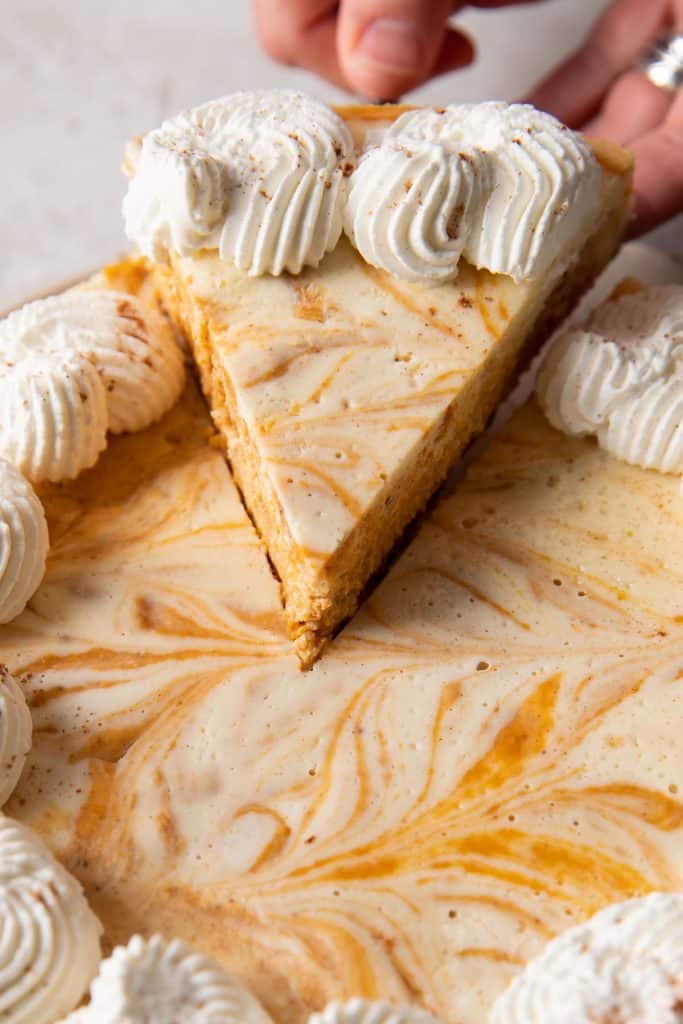 More Thanksgiving Recipes
Planning for Thanksgiving? Whether you are entertaining 10 people or just your family. Here are a few other dessert recipes to try.
Some of my favorites is this maple cream cheese cinnamon rolls, apple crisp with oats topping, and this pumpkin roll with silky cream cheese frosting.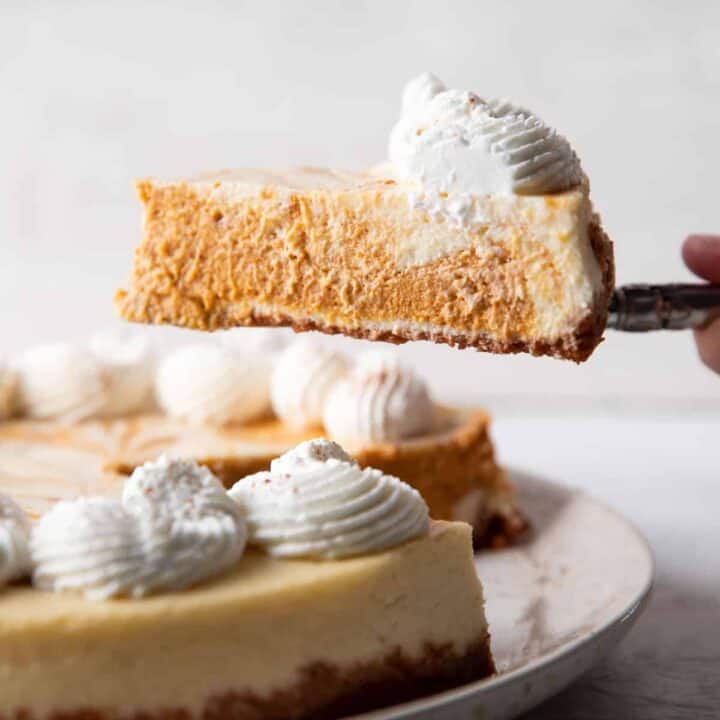 The Best Pumpkin Swirl Cheesecake
Total Time:
5 hours
15 minutes
The creamiest, most delicious pumpkin cheesecake recipe! Boasting a buttery graham cracker crust, sweet and fluffy cheesecake and a perfectly spiced pumpkin swirl throughout. One slice just won't be enough.
Ingredients
16 oz cream cheese, room temperature
3 eggs
1 tsp vanilla
small pinch of salt
1 tbsp corn starch
3/4 c sugar
1/4 c sour cream
pumpkin mixture
15 oz can pumpkin puree
1 1/2 tsp pumpkin pie spice
1/2 tsp salt
1 tbsp brown sugar
1 1/4 c cheesecake mixture that was put aside
graham cracker crust
1 pkg graham crackers
3 tbsp butter, melted
1 tbsp sugar
pinch of salt
1/8 tsp pumpkin pie spice
Instructions
Preheat oven to 325
In a large bowl beat together the cream cheese, vanilla, salt, corn starch, sugar and sour cream, for 3 minutes then add the eggs
In another large bowl beat together the pumpkin puree, pumpkin pie spice, salt and brown sugar until smooth
From the cheesecake mixture scoop out 1 1/4 cups and add it to the pumpkin mixture, stir
Combine all the crust ingredients in a food processor, except the butter, until its a fine crumb consistency
Now add the butter and pulse it together for a minute
To the bottom of a springform pan, add a round piece of parchment paper (optional but can help to easily take the cheesecake off the pan bottom)
Wrap tin foil around the bottom of the pan, coming up the sides an inch or two
Press the graham cracker crust down in the bottom of the pan, using the back of a measuring cup or your hands
Bake this in the oven for 5-10 minutes
Remove from the oven
Add the cheesecake mixture to the pan (tap it against the counter to release air bubbles)
Now add the pumpkin mixture to the top, in dollops
Use a knife to swirl it around but not totally combine it
Set the pan on a rimmed baking sheet and put the whole thing in the oven
Fill the baking sheet up halfway with water
Bake for 45-60 minutes
Try not to open the oven door while it bakes
The cheesecake is done when the sides have set but the middle is still a little wiggly
Remove it from the oven, let it cool, cover and transfer to the fridge to chill before serving
Nutrition Information:
Yield:

10
Serving Size:

1
Amount Per Serving:
Calories:

406
Total Fat:

28g
Saturated Fat:

15g
Trans Fat:

0g
Unsaturated Fat:

10g
Cholesterol:

129mg
Sodium:

469mg
Carbohydrates:

33g
Fiber:

1g
Sugar:

27g
Protein:

7g
This information comes from online calculators. Although moderncrumb.com attempts to provide accurate nutritional information, these figures are only estimates.
Make sure to follow Modern Crumb on Pinterest and Facebook for lots of yummy meal inspiration! And subscribe to the newsletter, below, to get updates when new recipes post.