Light and airy pumpkin cake rolled up with the yummiest cream cheese frosting, that is like spoon licking good.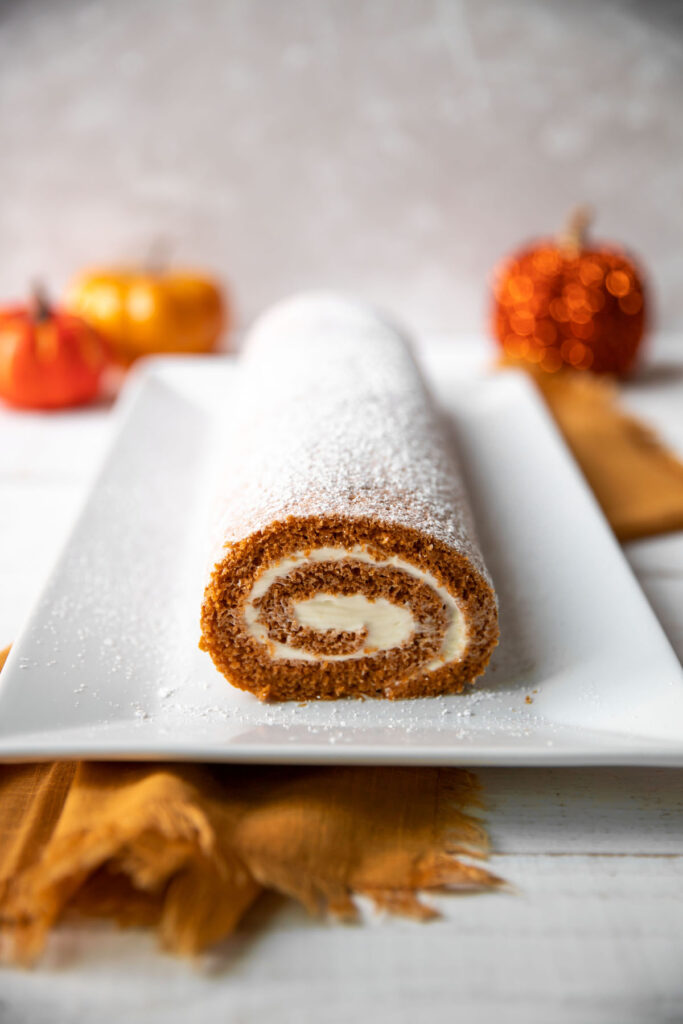 Pumpkin roll with a silky cream cheese frosting. What more could you ask for?
It all starts off with the spiced pumpkin cake. It's super soft and airy, it's got the perfect amount of bounce to it. Yes, cakes have bounce, like when you poke it and it springs back. That's a moist cake!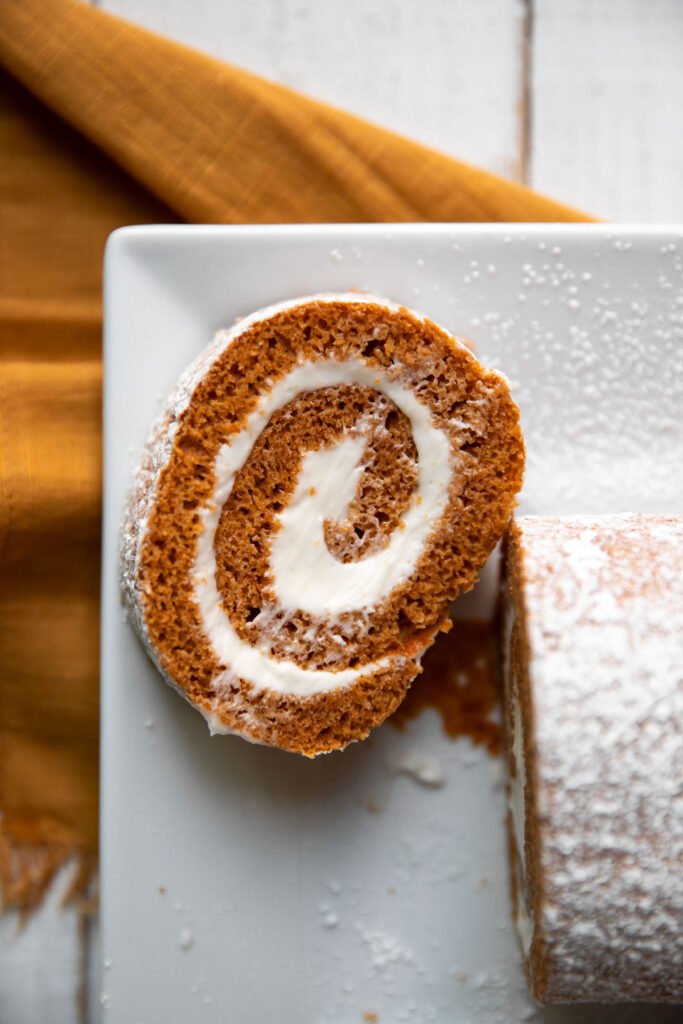 I whipped the eggs for awhile to get them nice and frothy/thick.  Then in goes the rest of the ingredients. 
I also sift my dry ingredients, it helps the cake be lighter.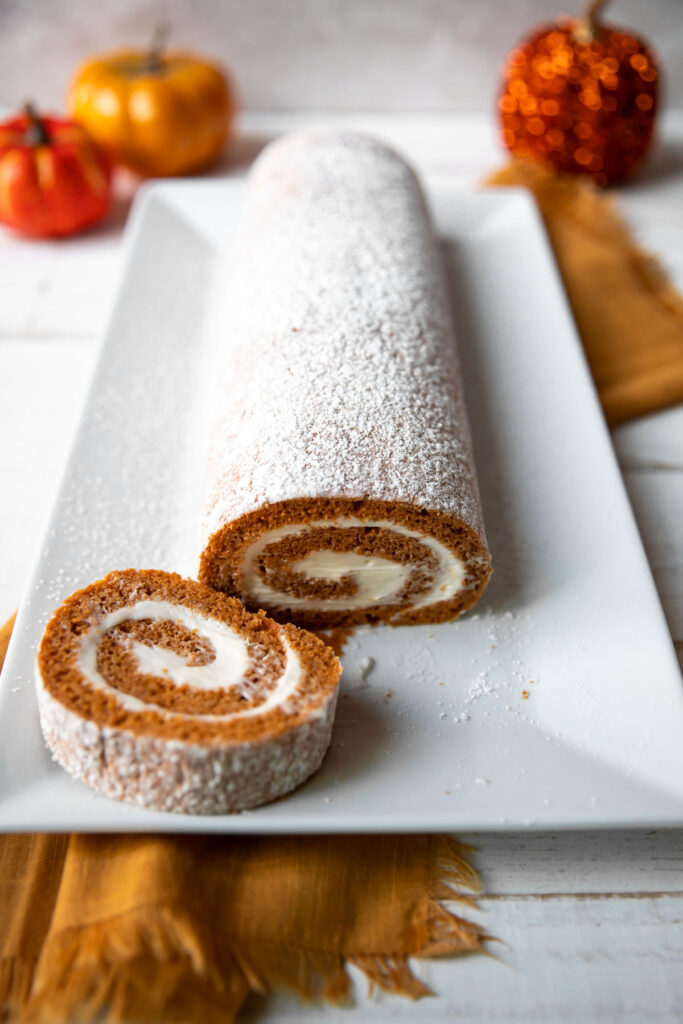 You'll want to bake it right away, because it has baking soda in it and you don't want to leave a batter with baking soda sitting for long – it's best to pop it right in the oven. 
So, you spread it out, and you don't want it to be too thin or it will be dry.  1/2″ is what you'll be aiming for once it's baked.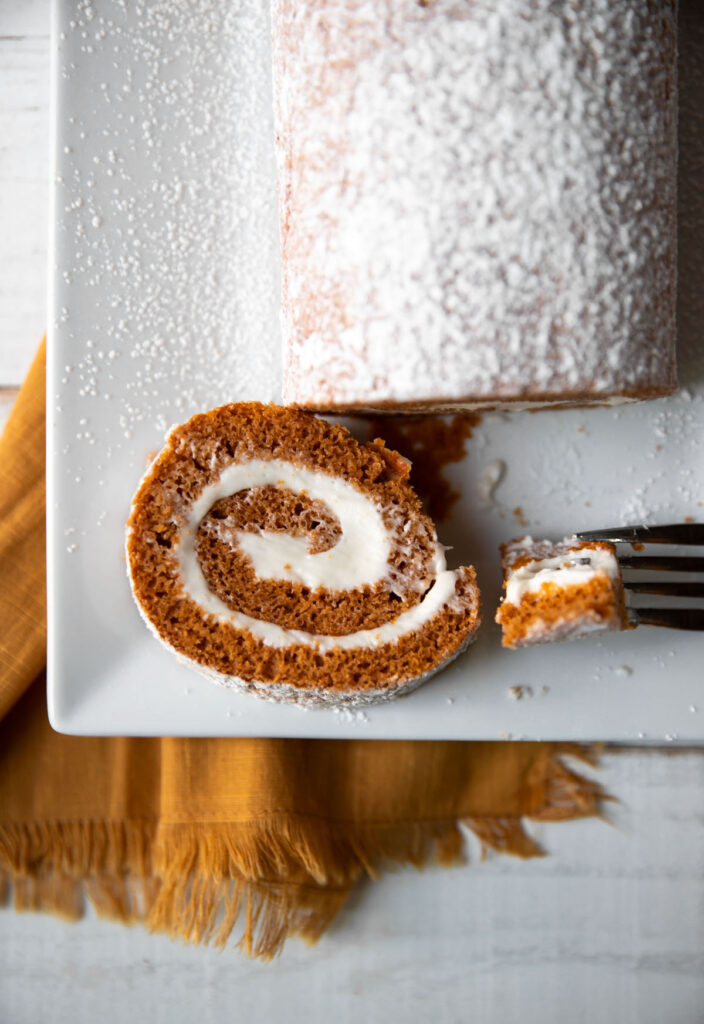 Straight out of the oven you turn it on to a clean (do I need to specify clean? please use a fresh clean kitchen towel, haha) and dusted with powdered sugar, kitchen towel.  Then it gets rolled up, for about an hour, to cool and it will hold its circular roll shape.  Magic — right!?
Slather on the cream cheese frosting, re-roll and call it a day.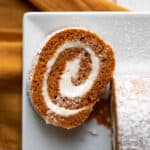 Print Recipe
Pumpkin Roll With Silky Cream Cheese Frosting
A light and tender pumpkin roll log, filled with silky cream cheese frosting.
Ingredients
3

eggs

1

c

white sugar

2/3

c

pumpkin puree

3/4

c

flour

1/2

tsp

salt

1/2

tsp

baking soda

1/2

tsp

baking powder

splash of vanilla

1

tsp

pumpkin pie spice

1/2

tsp

cinnamon
cream cheese frosting filling
1

stick cream cheese

8 oz, softened

4

tbsp

butter

softened

1

c

powdered sugar

sifted

pinch

of salt

splash of vanilla
Instructions
Preheat oven to 400

In the bowl of a stand mixer, beat the eggs on high for 3-5 minutes, until they have thickened and are fluffy

Mix in the white sugar, stir for a minute

Mix in the pumpkin puree and splash of vanilla

In a separate bowl sift together the flour, salt, baking soda, baking powder, pumpkin pie spice and cinnamon

Add this to the mixer, on low speed, until just combined

Spray a 10×15 inch pan with nonstick spray, cover with a layer of parchment paper

Spread the batter evenly over the parchment paper, to all sides (if your pan is bigger than 10×15 only spread it out to those measurements)

Bake for 7-9 minutes, poke it and it should bounce back

Whip together the cream cheese frosting filling; cream cheese, butter, powdered sugar, pinch of salt and vanilla until smooth and silky

Lay flat a clean kitchen towel, dust with powdered sugar

Remove the cake from the oven and quickly flip on to the towel, face down (so the parchment paper side is face up)

Gently remove the parchment paper and sprinkle with a littler more powdered sugar

Roll the cake up and let it sit for 1 hour until cool

Unroll and spread with the cream cheese frosting

Roll back up, slice and serve!