It's like taking a bite out of a slice of pumpkin pie. This pumpkin loaf with pie crust crumble tastes just like your favorite fall dessert. Super soft and moist, filled with the iconic pumpkin pie spices and topped with a buttery, savory crumble. Plus, a homemade cinnamon honey butter for spreading on top.
Celebrating all things pumpkin today, since we're just days away from September. Like these 20 minute creamy pumpkin raviolis, better than Starbucks pumpkin scones and pumpkin cream cheese cinnamon rolls.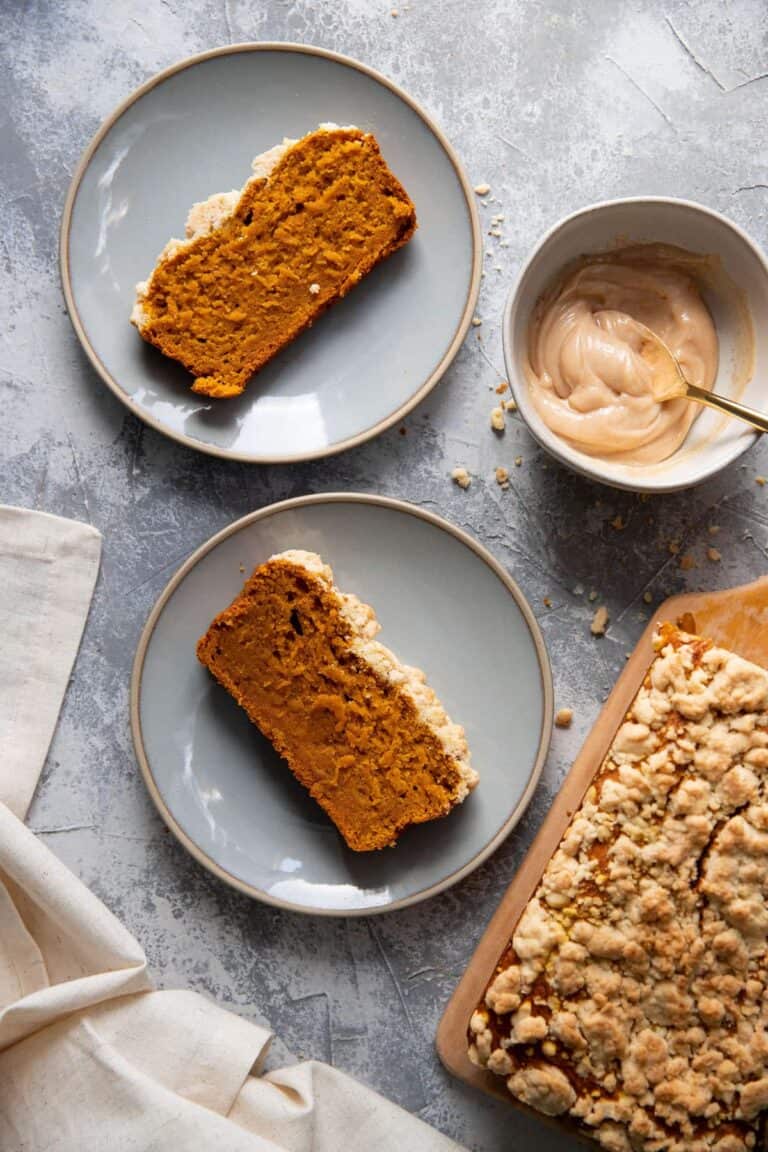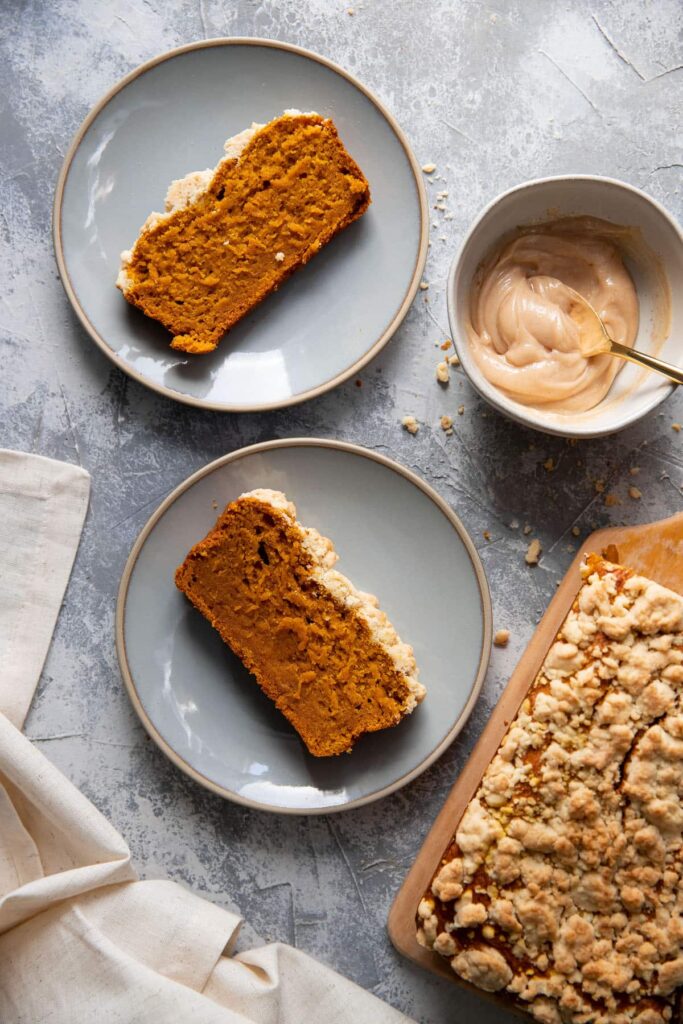 Today we're making the most amazing pumpkin loaf cake (pumpkin bread?). It's so hard to classify what category of baked goods is goes in.
It's sweeter than a typical bread, but it doesn't have an airy cake texture. It's sturdier but extra extra moist.
Like you just took a bite out of grandma's pumpkin pie she made from scratch. That's what this tastes like.
The cinnamon honey butter is ah-mazing. Don't skip the cinnamon butter (think, Texas roadhouse super yummy cinnamon butter they use on rolls).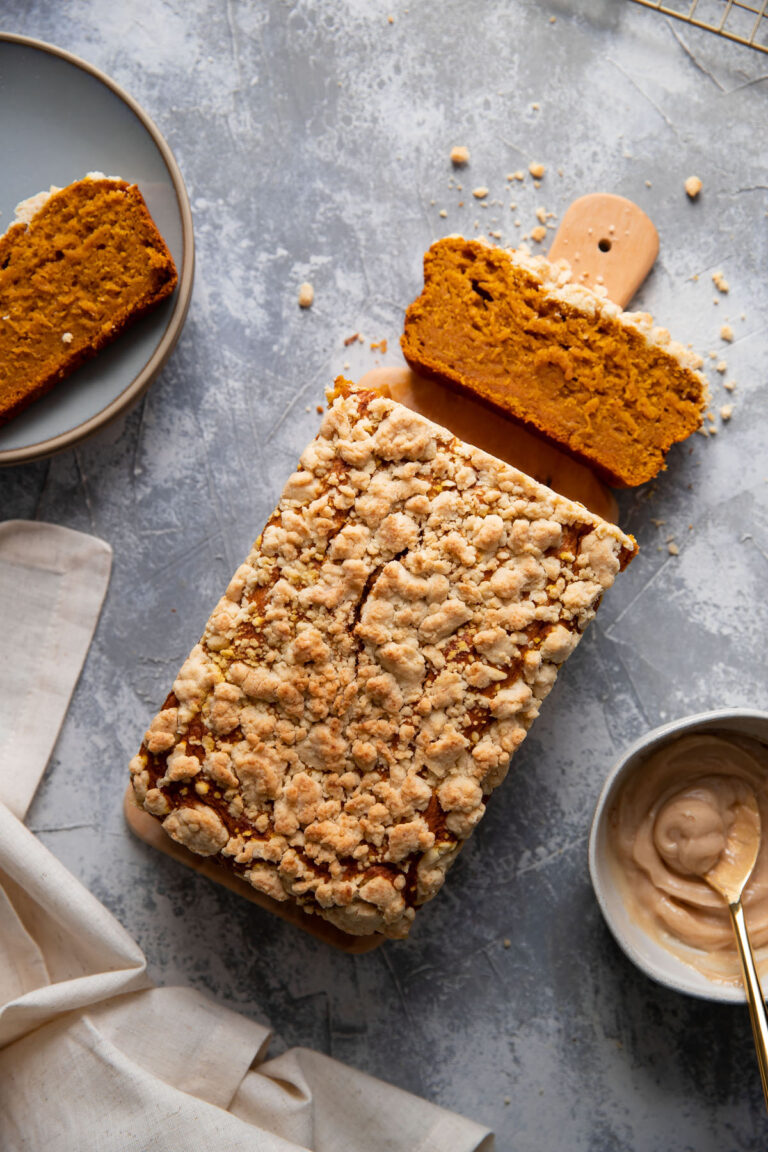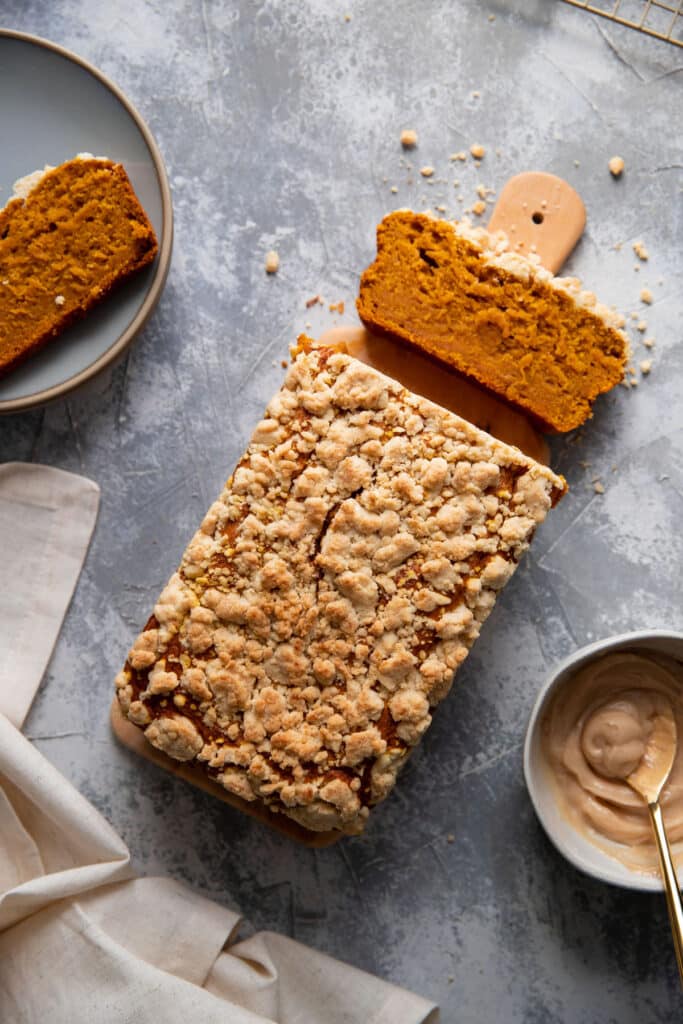 I've decided to start Fall a month early. Because 2020 is rubbish and it's about time for sweaters, Hocus Pocus and all things pumpkin.
Also, a little birdy told me that Starbucks is releasing pumpkin spice latte this week.
Just kidding, I googled it.
It's like that's really our official go ahead each year. Pumpkin spice latte is out, go wild with your fall decor and pumpkin everything. Yippee!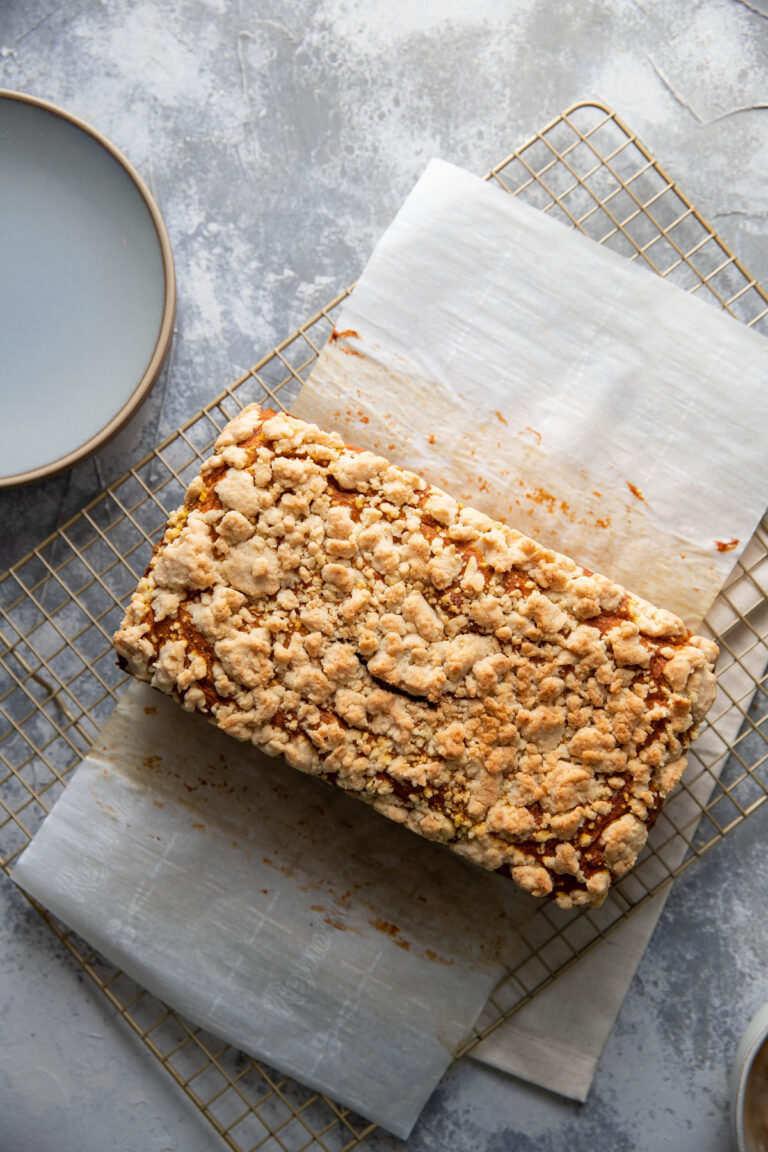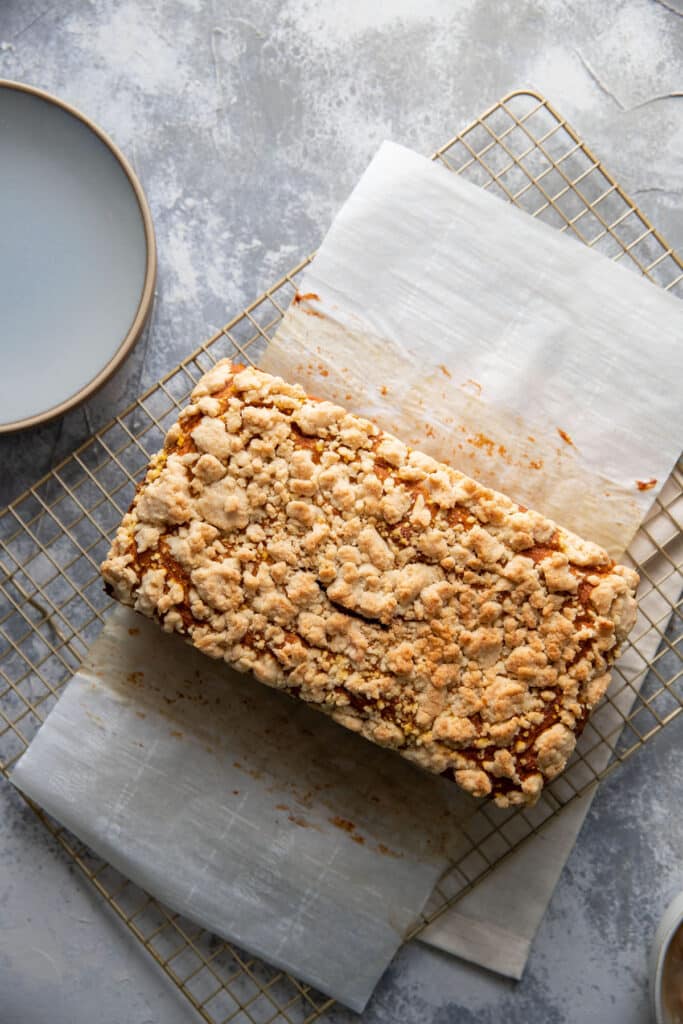 What's In The Pumpkin Batter?
The batter is going to be really reminiscent of what you'd put in your pumpkin pie. I tried to keep it really similar.
pumpkin puree - just a can of libby's pumpkin puree will work (the one that is plain, not the can of pumpkin pie)
butter - salted butter
eggs
sugar - I like to use a granulated cane sugar, but white sugar works too
vanilla extract - the good stuff, not the imitation
buttermilk - I love adding buttermilk to my loaf cakes, it makes it extra tender
flour - all purpose
salt
baking powder - helps it rise
baking soda - a bit to even out the buttermilk acidity and help with rise
pumpkin pie spices - cinnamon, nutmeg, clove, ginger powder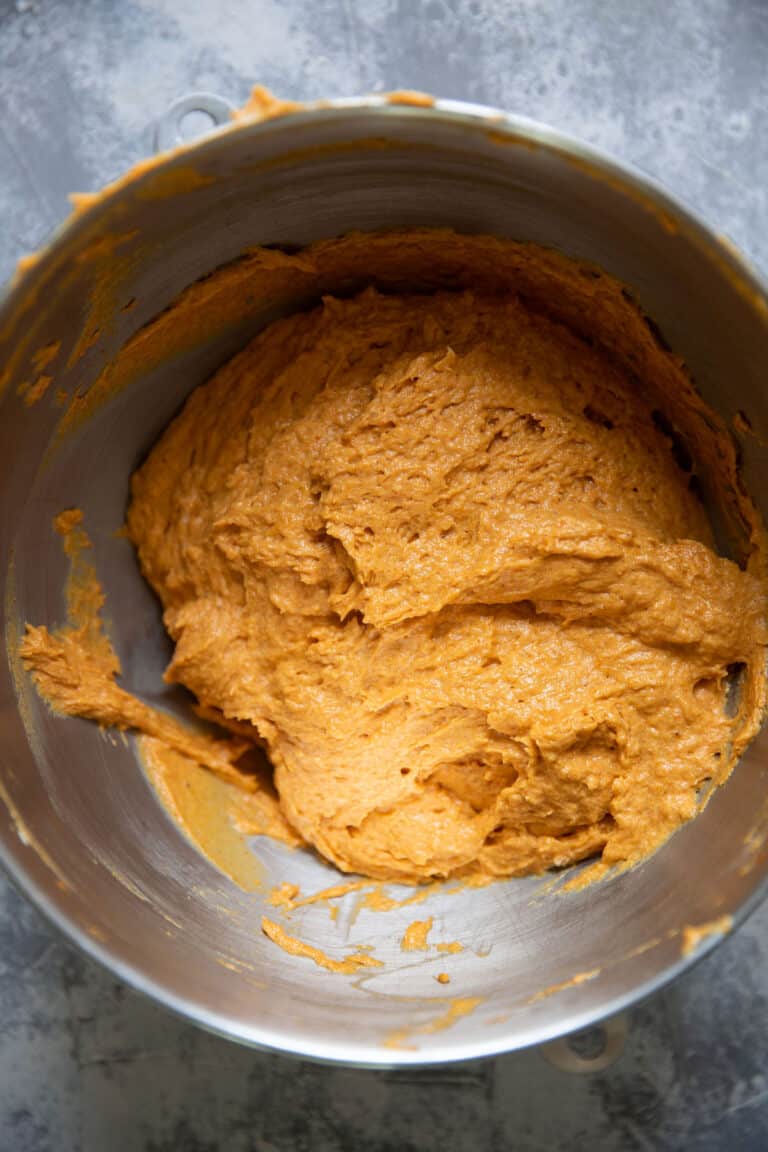 Pumpkin Pie Spice Recipe
To make your own pumpkin pie spice it's so easy.
You need cinnamon, ginger, nutmeg and clove.
1 tsp cinnamon
1/4 tsp nutmeg
1/8 tsp ground cloves
1/4 tsp ginger powder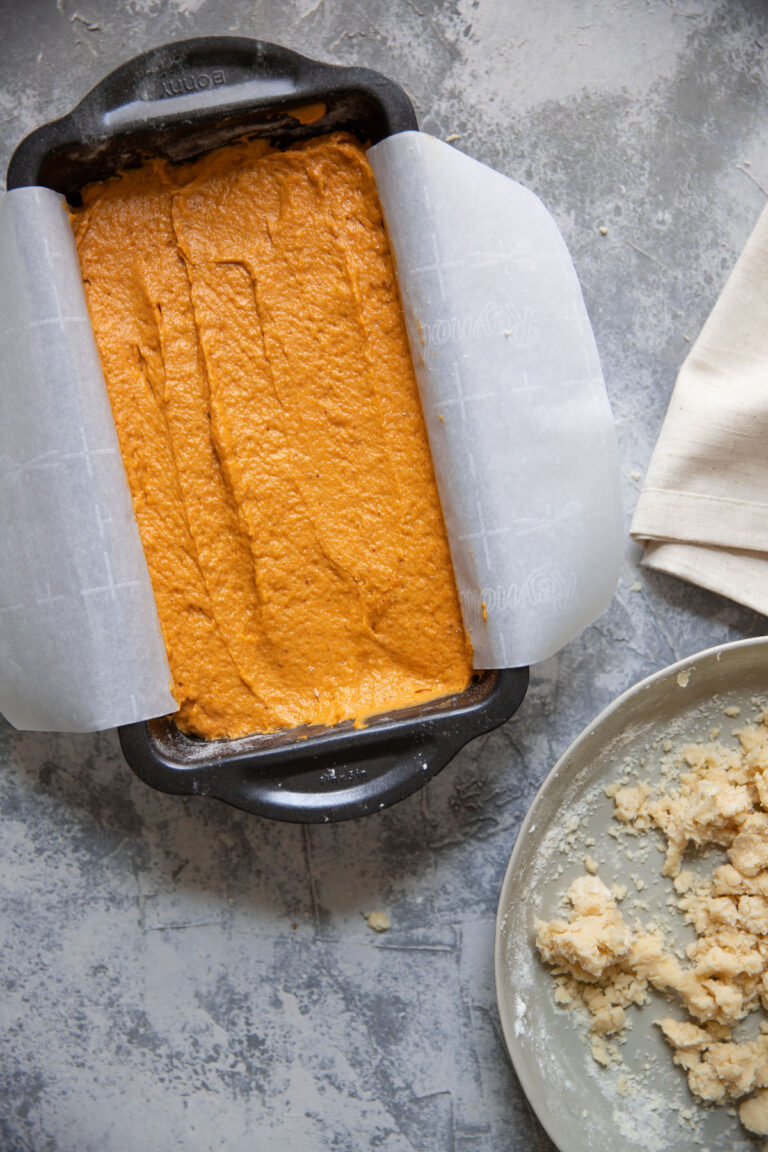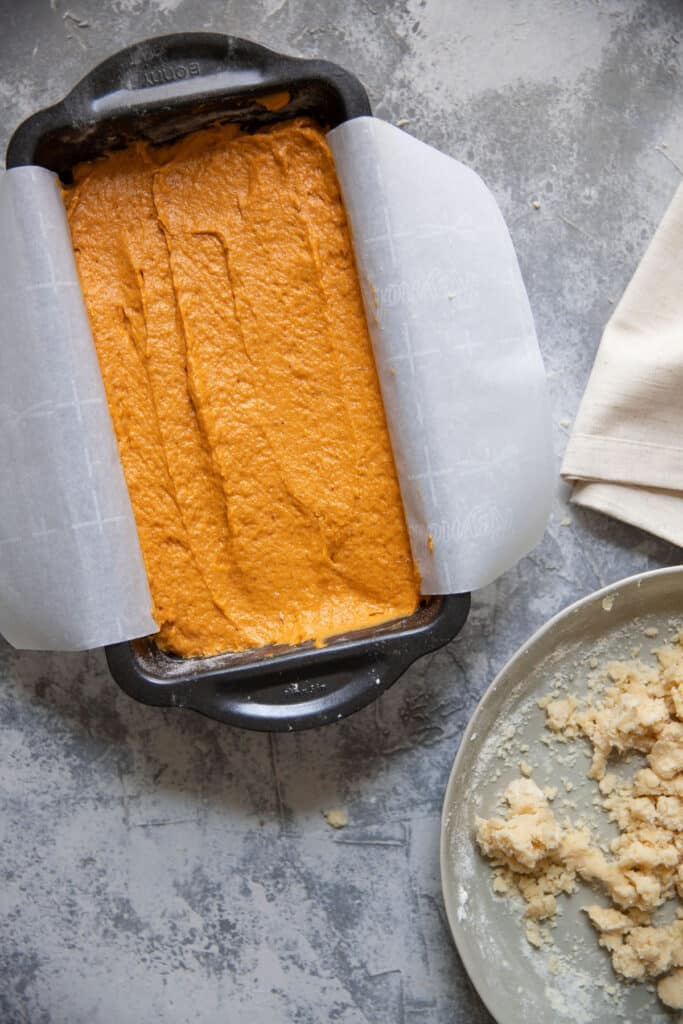 How to Make Pie Crust Crumble
Okay this is my favorite right here. You can't have pumpkin pie without the iconic, flaky, buttery pumpkin pie crust.
To make the pie crust crumble it's a couple ingredients - butter, flour, sugar, salt and baking powder. Put everything in a bowl and use a fork to mash it all around. Really combine it. Try to get large chunks.
Then use your hands to crumble it up.
Sprinkle it over the pumpkin batter once it's in the pan. Then gently press it into the batter. Just so that it's really sticking to it. So when it rises while baking, it won't topple off.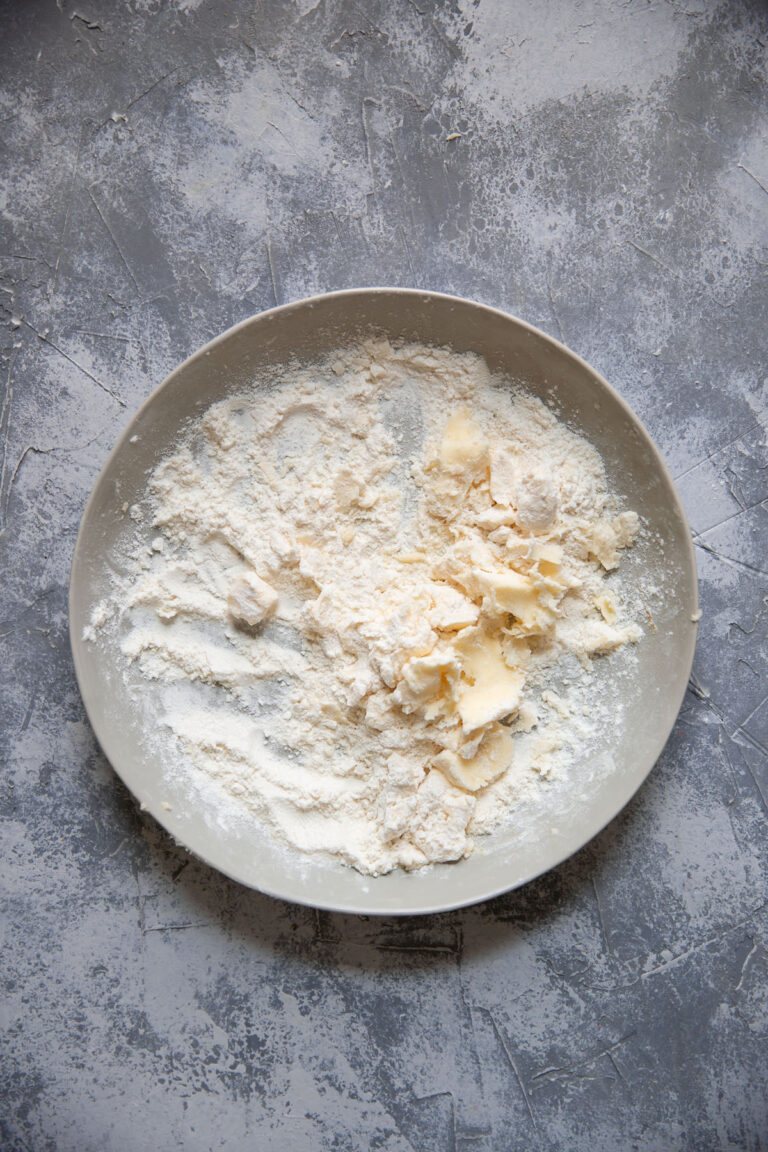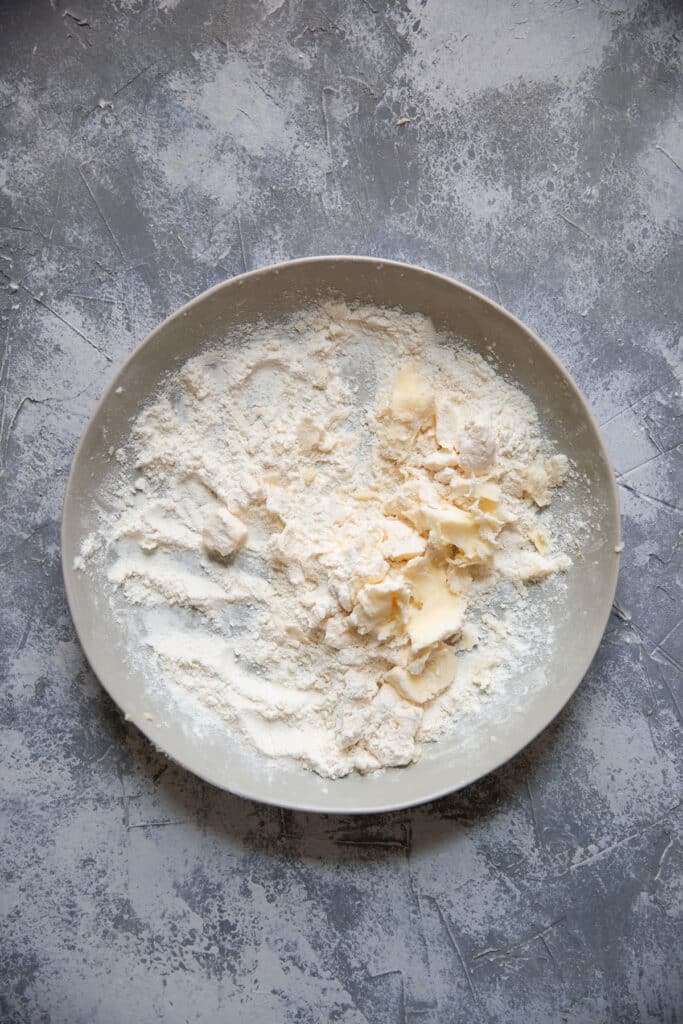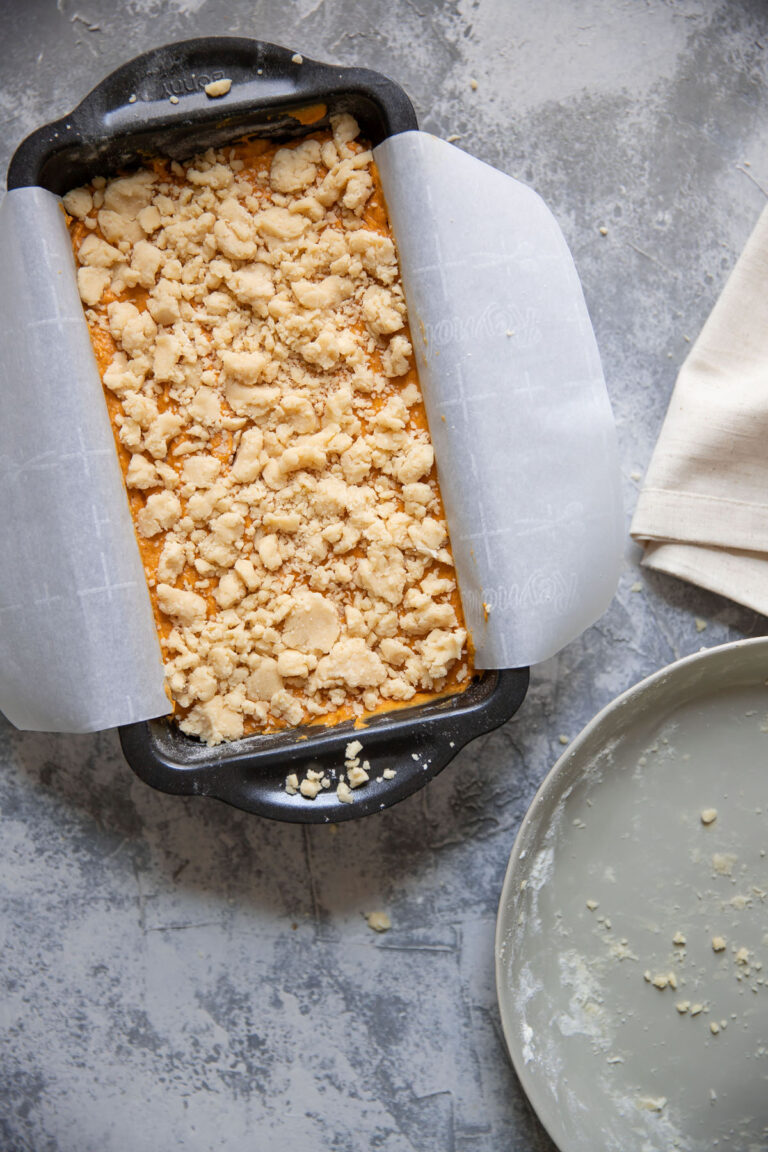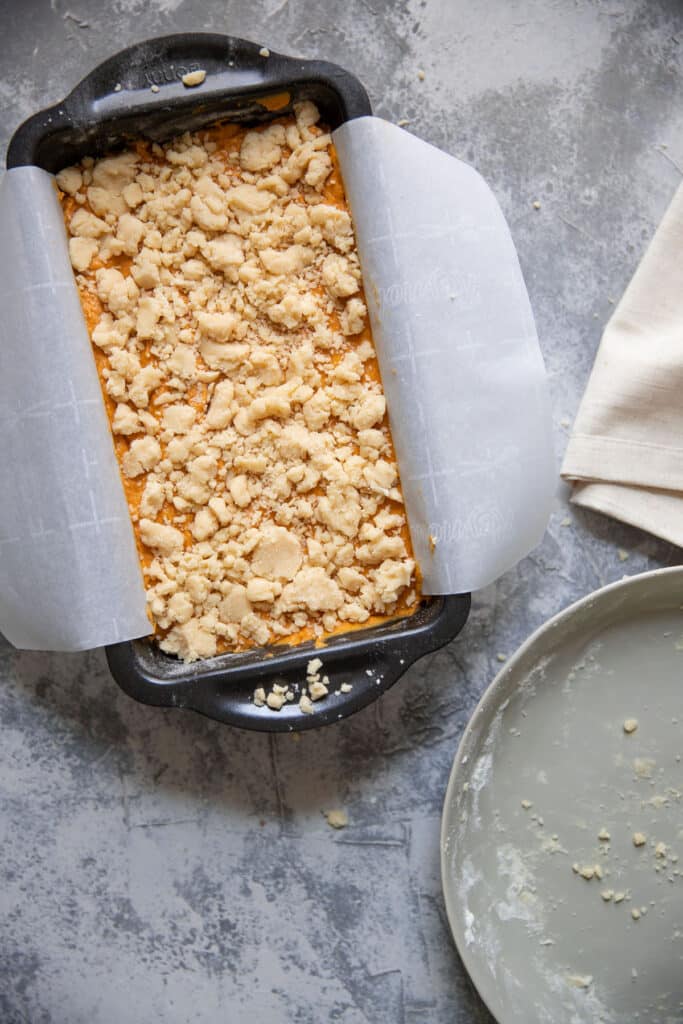 How Much Pumpkin Pie Spice To use in a Pumpkin Loaf?
Less is more. You do not need to dump in a bunch of spices.
Dry spices are way stronger than fresh, so you don't need teaspoons upon teaspoons.
You can definitely add too many spices to your pumpkin loaf. (Sorry family, Thanksgiving 2010'ish pumpkin fiasco).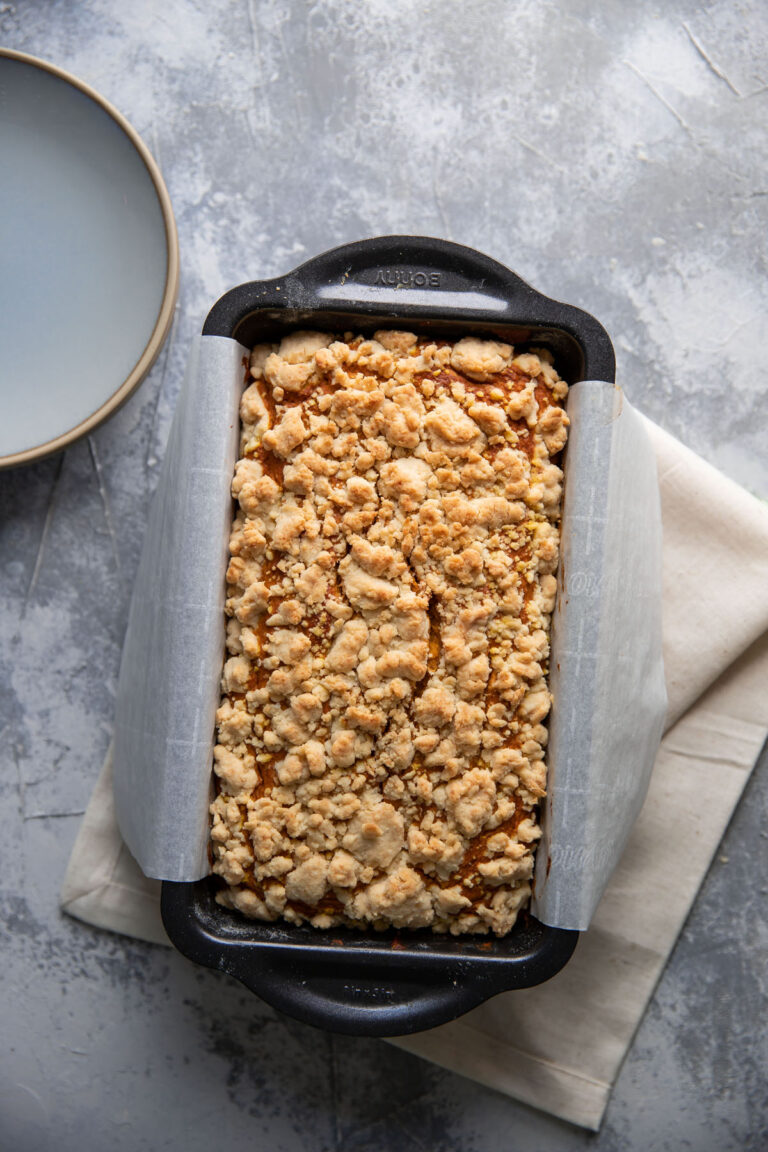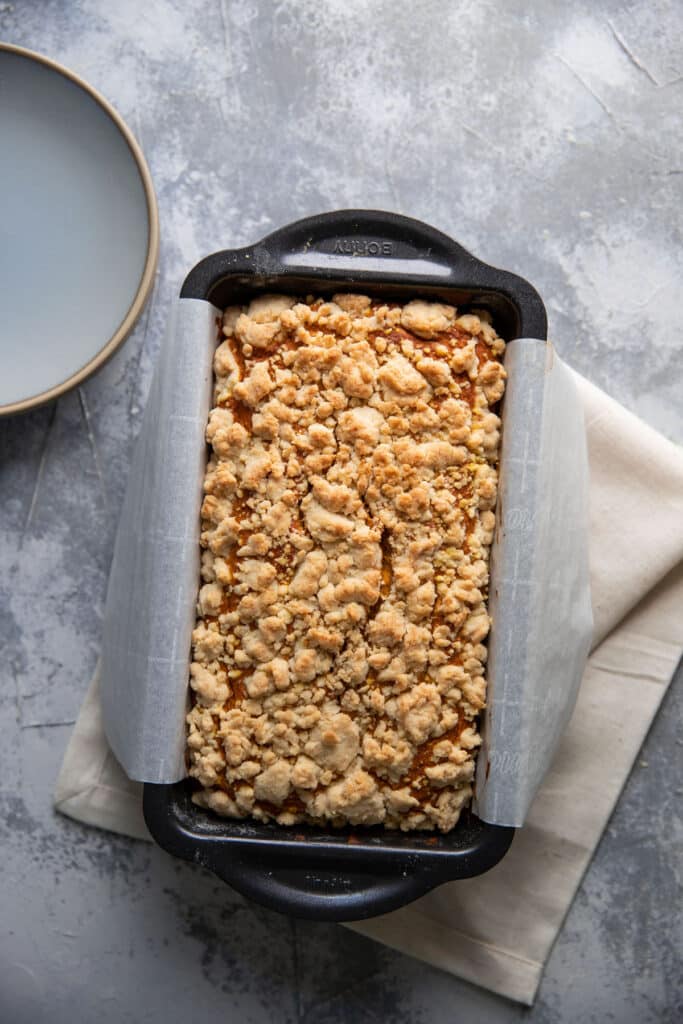 How To Make The Cinnamon Honey Butter
When I was thinking about making a pumpkin pie what's the one thing we always top it with? Whipped cream and cinnamon.
Well, bread and whipped cream is a bit strange. So I came up with this cinnamon honey butter that's like the best thing ever. Sweet and spicy. It definitely must be made. And it's so easy.
All you need is butter, powdered sugar, honey, cinnamon and salt.
Mix everything together in a bowl.
As soon as this pumpkin loaf with the honey butter hits your mouth, everything just melts into this delicious pool of pumpkin pie goodness.
Don't ask me how many pieces I had...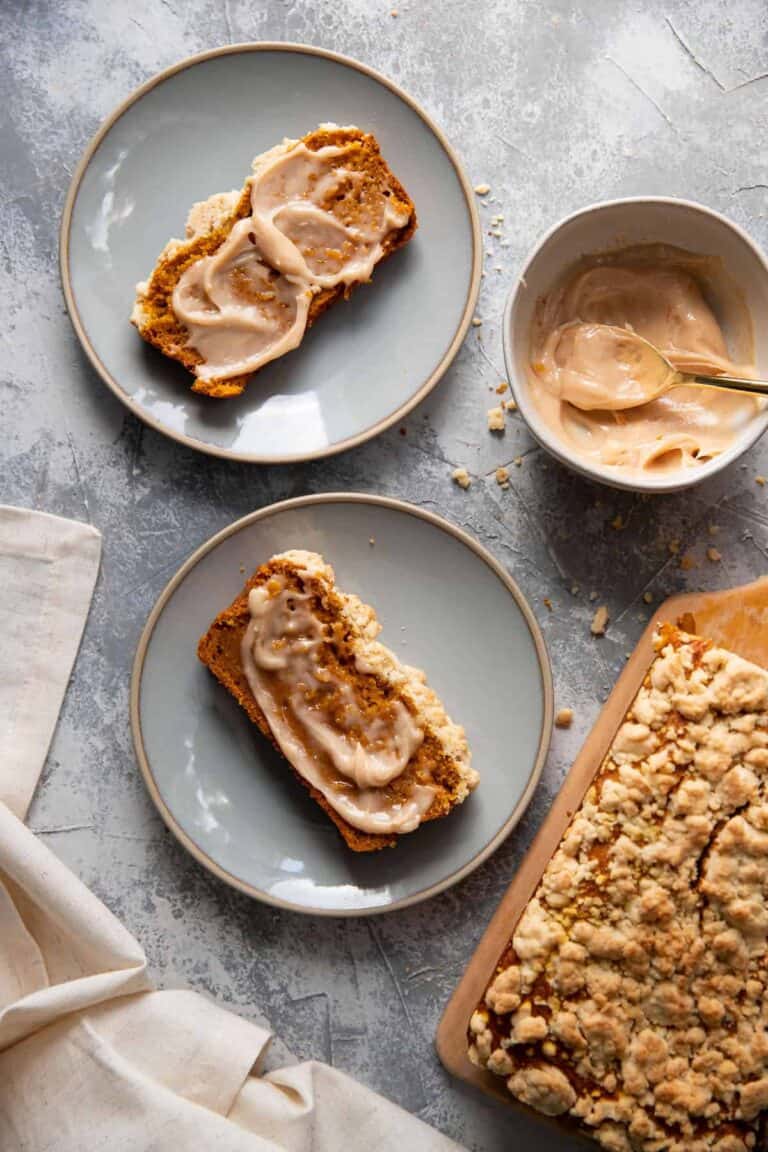 Can you freeze pumpkin loaf?
You sure can!
I love making a double batch of loaf cake and freezing the other one.
Wait until it has cooled several hours and is no longer warm to the touch. Wrap it in plastic wrap and freeze.
When you are ready to eat it, move it from the freezer to your fridge to thaw.
With that being said, you could freeze some cinnamon honey butter too.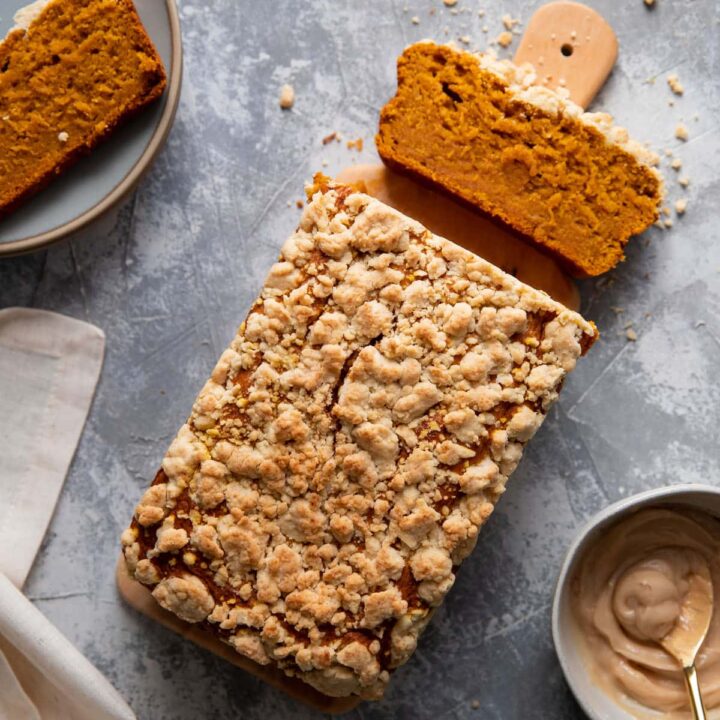 Pumpkin Loaf With Pie Crust Crumble
Total Time:
1 hour
20 minutes
It's like taking a bite out of a slice of pumpkin pie. This pumpkin loaf with pie crust crumble tastes just like your favorite fall dessert. Super soft and moist, filled with the iconic pumpkin pie spices and topped with a buttery, savory crumble. Plus, a homemade cinnamon honey butter for spreading on.
Ingredients
pumpkin loaf batter
1/2 c butter, room temperature
1 c sugar
2 eggs
1 tsp vanilla
15 oz pumpkin puree
1/2 c buttermilk
2 c flour
1 tsp salt
1 tsp baking powder
1/2 tsp baking soda
1 tsp cinnamon
1/4 tsp nutmeg
1/4 tsp ginger powder
1/8 tsp ground cloves
pie crust crumble
1/4 c butter, cold and cubed
1/2 c flour
1 tsp sugar
1/4 tsp salt
1/4 tsp baking powder
cinnamon honey butter
4 tbsp butter, softened
1/2 tsp cinnamon
1 tbsp honey
2 tbsp powdered sugar
Pinch of salt
Instructions
Preheat oven to 325
Start with making the pie crust crumble
Combine the cold butter, flour, sugar, salt and baking powder with a fork until mixed together fully
Cover and chill in the fridge
Next is the pumpkin loaf batter
Cream together the butter and sugar
Add in the eggs, vanilla, pumpkin puree and buttermilk
In a separate bowl sift together the flour, salt, baking powder, baking soda, cinnamon, nutmeg, ginger and cloves
Pour this in to the wet ingredients and stir until just combined (do not over mix)
Grease a loaf cake pan and line with parchment paper
Pour in the batter
Top it with the pie crust crumble, keeping the pieces a bit larger (see images)
Gently press the crumbles in to the batter, just slightly so they stick when it rises
Bake in the oven for 30 minutes, rotate 180 degrees then bake another 30 minutes
Check with a toothpick, if it comes out clean, it's done, if it's still wet continue to cook
It could take between 60-75 minutes to fully cook
Transfer to a wire rack, let it cool in the pan 10 minutes then lift up on the parchment paper and let it cool on a wire rack for a couple hours, until cool
Meanwhile you can make the cinnamon honey butter by mixing together the softened butter, cinnamon, honey and powdered sugar, plus a pinch of salt
When the pumpkin loaf has cooled down, slice off a piece, spread some cinnamon honey butter and enjoy!
Notes
After mixing together some of the wet ingredients, don't panic if it looks a little curdled - it will smooth out
If the crumble starts to darken too fast, put a piece of foil on top
Make sure the oven rack isn't too close to the top of the oven, but in the middle
Because oven range temperatures can vary, making sure to check with a toothpick is always advised - 60-75 minutes is a guideline but keep an eye on your pumpkin loaf
Recommended Products
As an Amazon Associate and member of other affiliate programs, I earn from qualifying purchases.
Nutrition Information:
Yield:

10
Serving Size:

1
Amount Per Serving:
Calories:

412
Total Fat:

20g
Saturated Fat:

12g
Trans Fat:

1g
Unsaturated Fat:

6g
Cholesterol:

87mg
Sodium:

615mg
Carbohydrates:

54g
Fiber:

2g
Sugar:

28g
Protein:

6g
This information comes from online calculators. Although moderncrumb.com attempts to provide accurate nutritional information, these figures are only estimates.