Extra swirly pecan sticky buns with gooey caramel sauce and chopped pecans on top.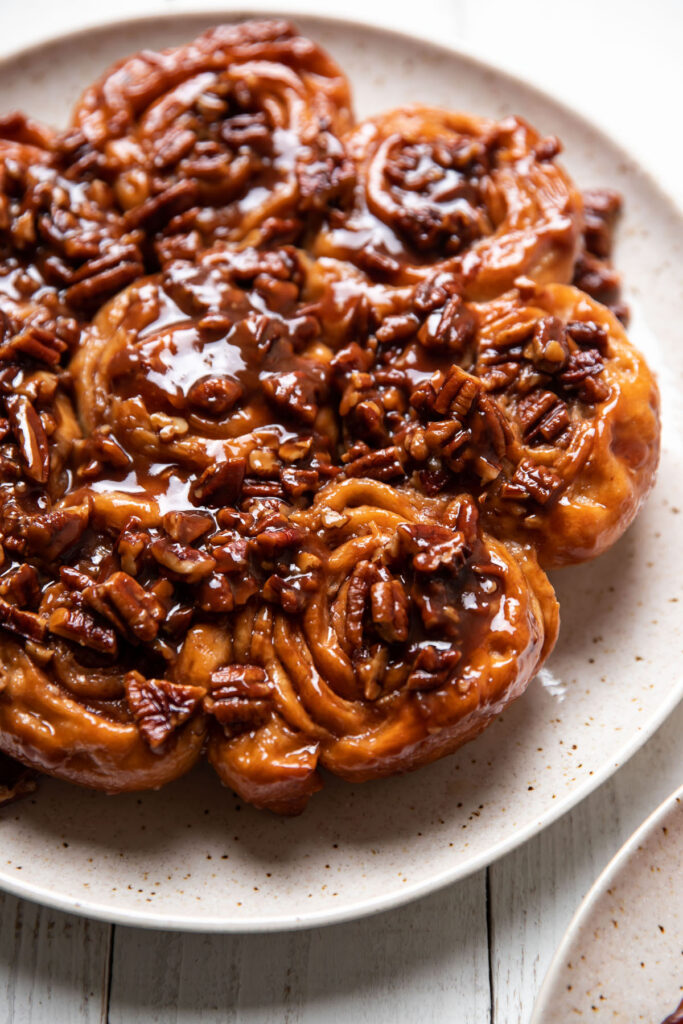 Extra sticky, pecan sticky buns. Soft swirls of buttery cinnamon lined dough, topped with a sticky caramel pecan sauce that is just too good for words.
Let's face it. We don't make sticky buns or any type of roll in the cinnamon roll family because it's quick and easy. No. Sticky buns are a labor of love and they take time. But in the end, it's worth every minute.
As soon as fall shows up, those first glimmers of cool rainy weather, it's like an inherent need to make sticky buns. Dreary day, big cozy sweater, fluffy socks and sticky buns. It's a thing.
This recipe for sticky buns can easily make one large pan or two cake pans worth of sticky buns.  I like to do the two cake pan route so that I can take extras to friends (and so I'm not forced to eat an entire pan of pecan sticky buns by myself). 
So the recipe says it makes 16 rolls.  8 in each cake pan.  Or you could do a regular 9×12 baking pan and make 12.  You'd just want to roll your dough out a bit less than my instructions.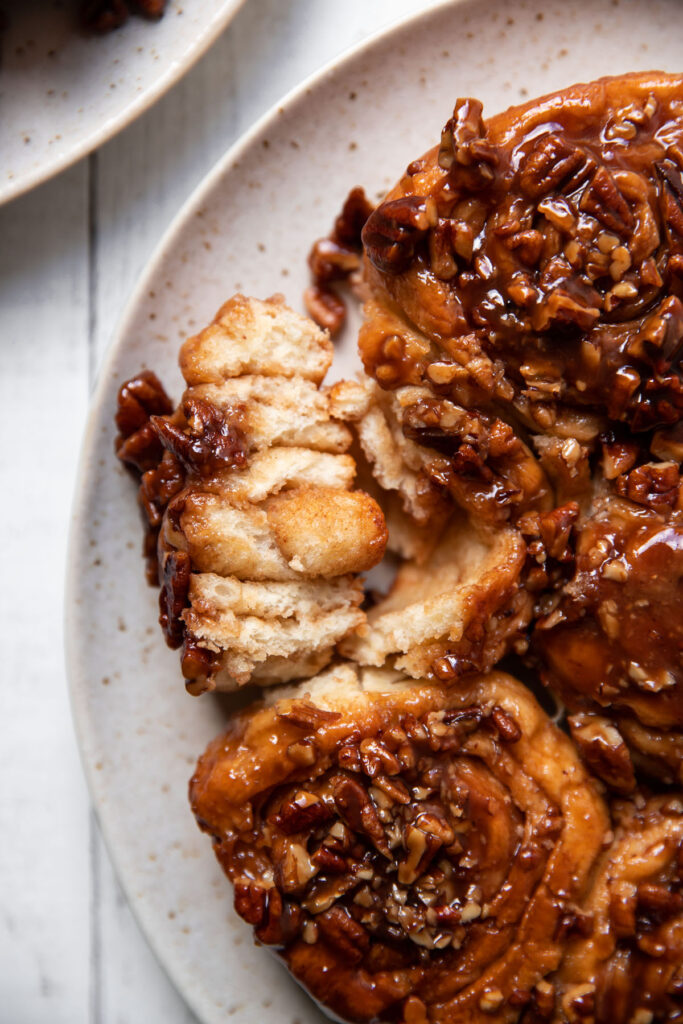 All recipes are different but I like to roll the dough out thinner so that I get oodles upon oodles of swirls. Like 5-6 layers of swirls! Here's the catch, the dough is more prone to tearing when you roll it out thinner, so you just have to make sure you dust your work surface with flour. But if you get a tear, it's not the end of the world, they will be covered in a gorgeous pecan caramel sauce anyway!
Ingredients
1 1/4

c

milk

warm but not hot

2 1/4

tsp

yeast

1/4

tsp

sugar

3 1/2

c

flour

1

tsp

salt

1/4

c

granulated sugar

4

tbsp

butter

melted
pecan caramel sauce topping
8

tbsp

butter

1

c

brown sugar

1/2

tsp

vanilla

1/4

tsp

cinnamon

1/4

c

heavy cream

pinch

of salt

1

c

pecans
filling
4

tbsp

butter

softened

1/2

c

brown sugar

1/2

white sugar

2

tsp

cinnamon
Instructions
Heat the milk, so its warm but not hot

Add the yeast to the milk and 1/4 tsp sugar

Let this sit for 5 minutes until frothy

To a stand mixer or bowl, add the flour, salt, sugar and mix together

Add the melted butter to the milk/yeast mixture and pour this slowly into the flour while stirring

Stir for 2 minutes

Pour out the dough, form into a bowl and let it rest in a bowl, covered for 30 minutes (try turning the oven on, heat up, then off and letting it rest in there with the door partially open)

Heat a small saucepan over low heat, add the "topping" ingredients

Whisk this on low until the sugar has dissolved, a few minutes

Lightly grease a 9×12 pan with butter or two round cake pans

Pour an even amount of the caramel sauce in to your pan of choice

Sprinkle with the pecans

Roll the dough out 20×16 inches

spread 4 tbsp of melted butter over the dough followed by the brown sugar, white sugar and cinnamon to all the edges

Roll up tightly

Depending on the pan you've chosen you'll want about 12 slices for the 9×12 pan or about 16 for the two cake pans. The 9×12 pan will leave you with fluffier bigger cinnamon rolls, the two cake pans just give you more cinnamon rolls, they will be smaller.

Cover the pan to let rise

Preheat oven to 350

Place the pan/s in the oven and bake for 25 minutes, less time for the two cake pans, about 20 minutes

Turn over on to parchment paper thats about 8″ longer than you need after 15 minutes (or else the caramel starts to set and sticks to the pan), then lift the edges of the parchment paper and you can put the rolls back in to the pan