These pecan sticky buns are huge! Gooey and sticky soft caramel and pecans are swirled around fluffy cinnamon roll dough. The brown sugar and cinnamon smells are so inviting and cozy.
These maple pecan glazed scones are also a must make this winter!
This recipe was first published on December 16, 2019.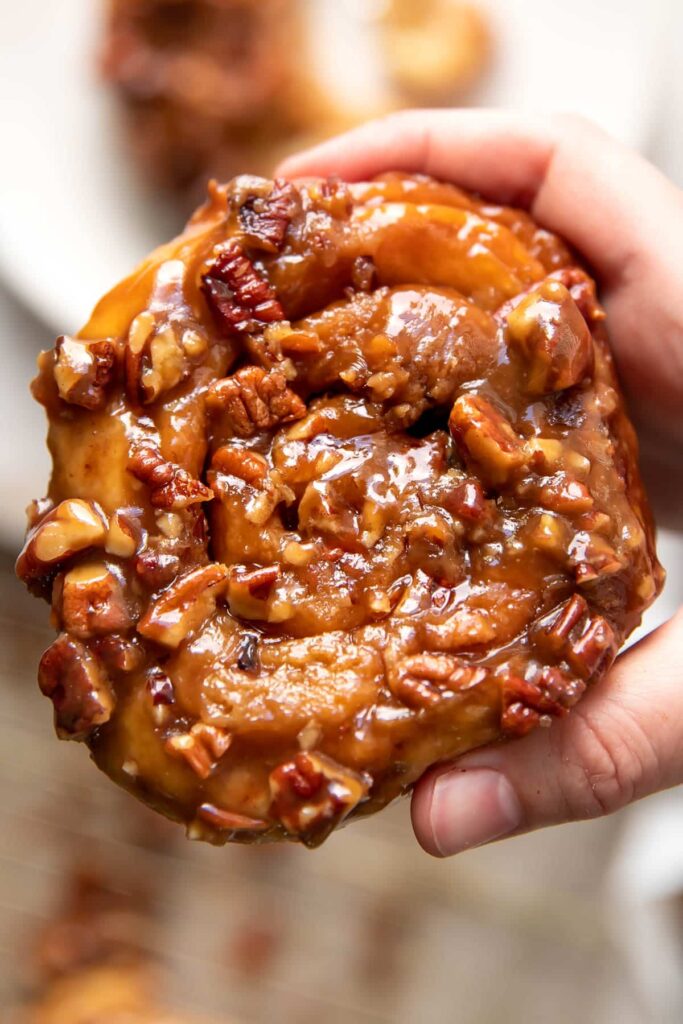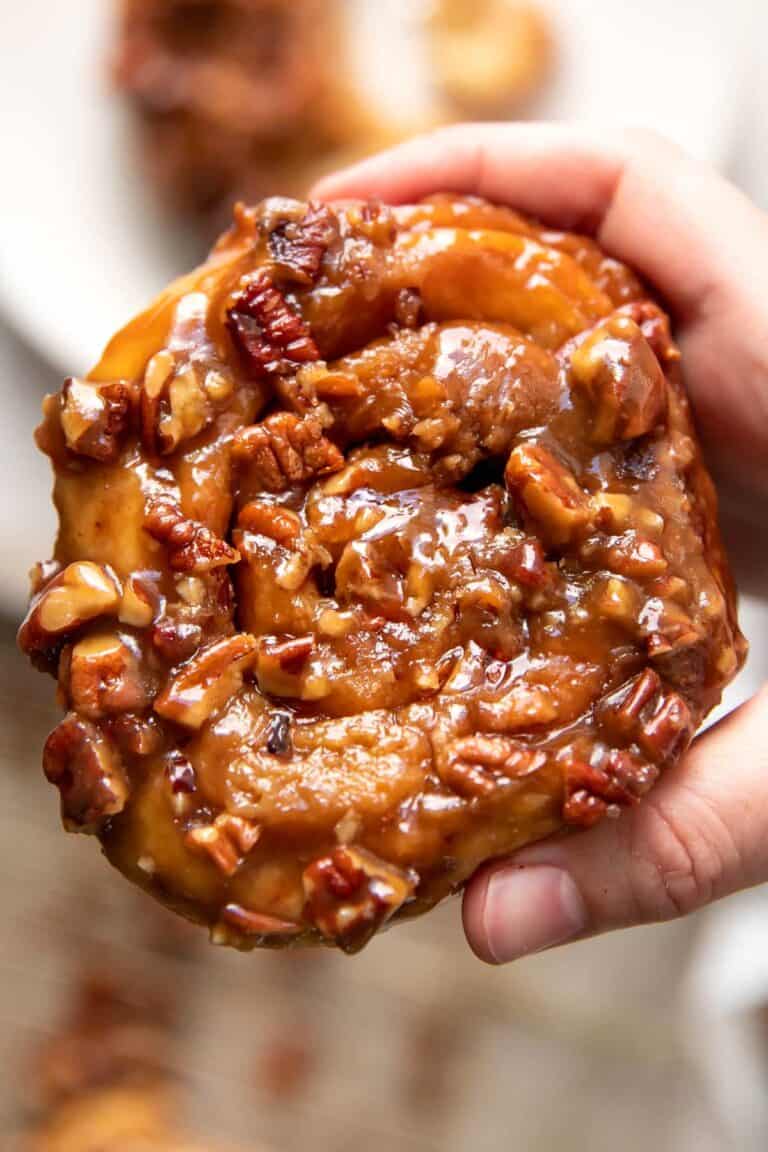 The name tells it all, these are big fat pecan sticky buns! This recipe makes 8 giant sticky buns, almost too big for your hand to hold.
Using a fork is optional though. Just get in there.
Soft swirls of buttery cinnamon lined dough, topped with a sticky caramel pecan sauce that is just too good.
Let's face it. We don't make sticky buns or any type of roll in the cinnamon roll family because it's quick and easy. Like these maple cream cheese cinnamon rolls or pumpkin cream cheese cinnamon rolls. Yum.
Nope. Sticky buns are a labor of love and they take time. But in the end, it's worth every minute.
As soon as fall shows up, those first glimmers of cool weather, it's like an inherent need to make sticky buns.
Dreary day, big cozy sweater, fluffy socks and sticky buns.  It's a thing.
Jump to: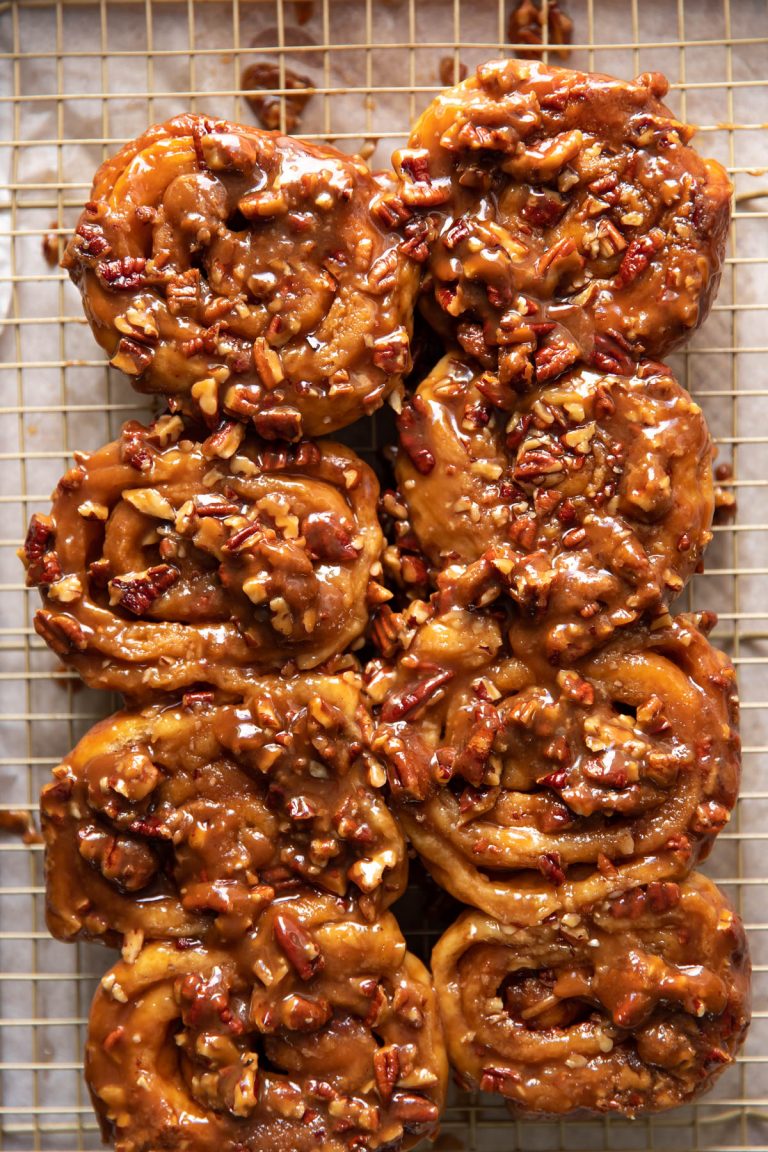 Sticky Buns vs. Cinnamon Rolls
The great debate. Sticky buns versus cinnamon rolls. And what's the difference?
Sticky buns have a caramel gooey sauce. Cinnamon rolls do not.
The caramel sauce is laid down as the very first layer in the bottom of your baking pan. Then followed with some chopped pecans.
You place the sliced pieces of dough with one swirled side down.
When you bake them the dough melds into that caramel and pecan mixture. It sticks to it. Then once they are out of the oven you flip it over and all that dreamy sauce pours over the entire roll.
It's a magical experience if you ask me.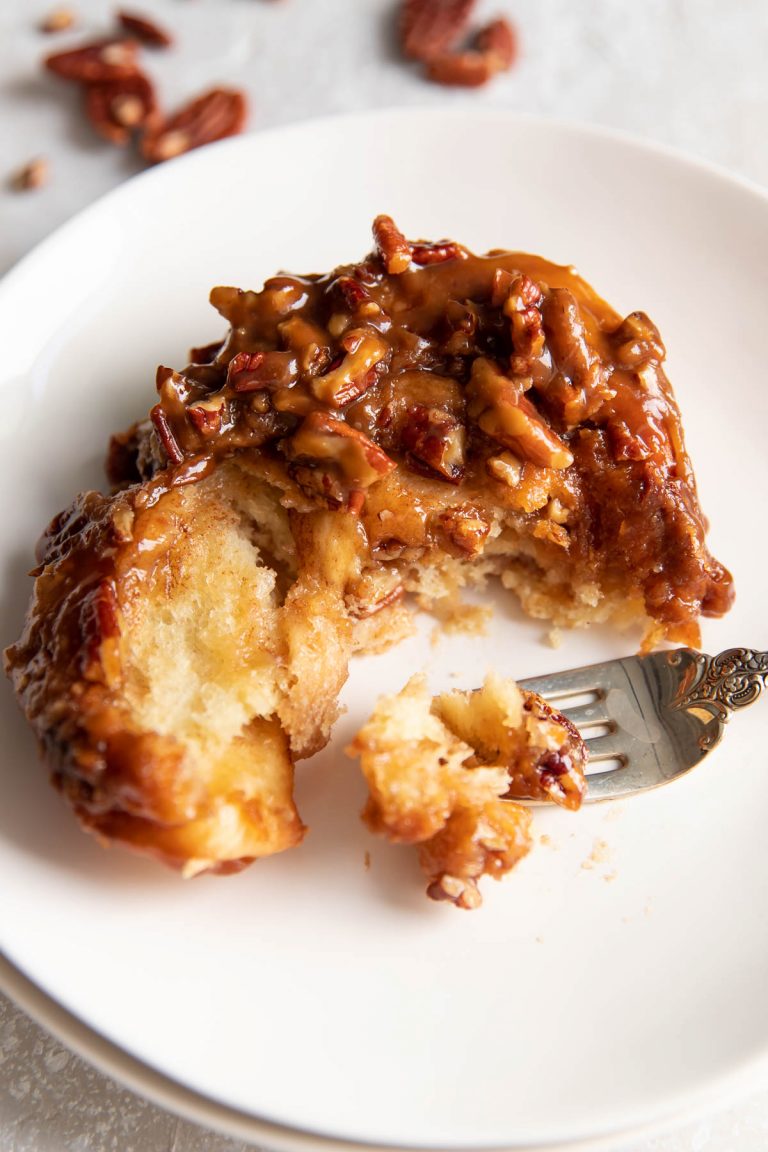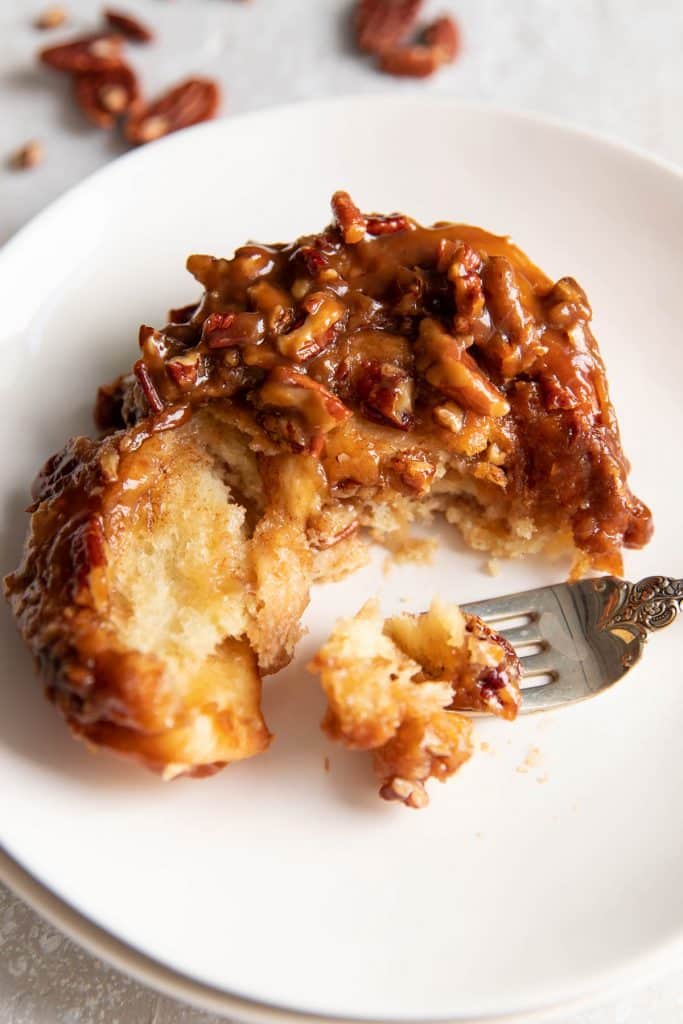 How To Make Pecan Sticky Buns
Good sticky buns start out with good dough.
The texture of your dough should be very soft and pliable but not tacky. Getting the wet to dry ingredient ratio just right. You'll have to use your hands to feel the dough.
A recipe can tell you to add so much flour, but maybe one person making it is heavy handed and the other is not.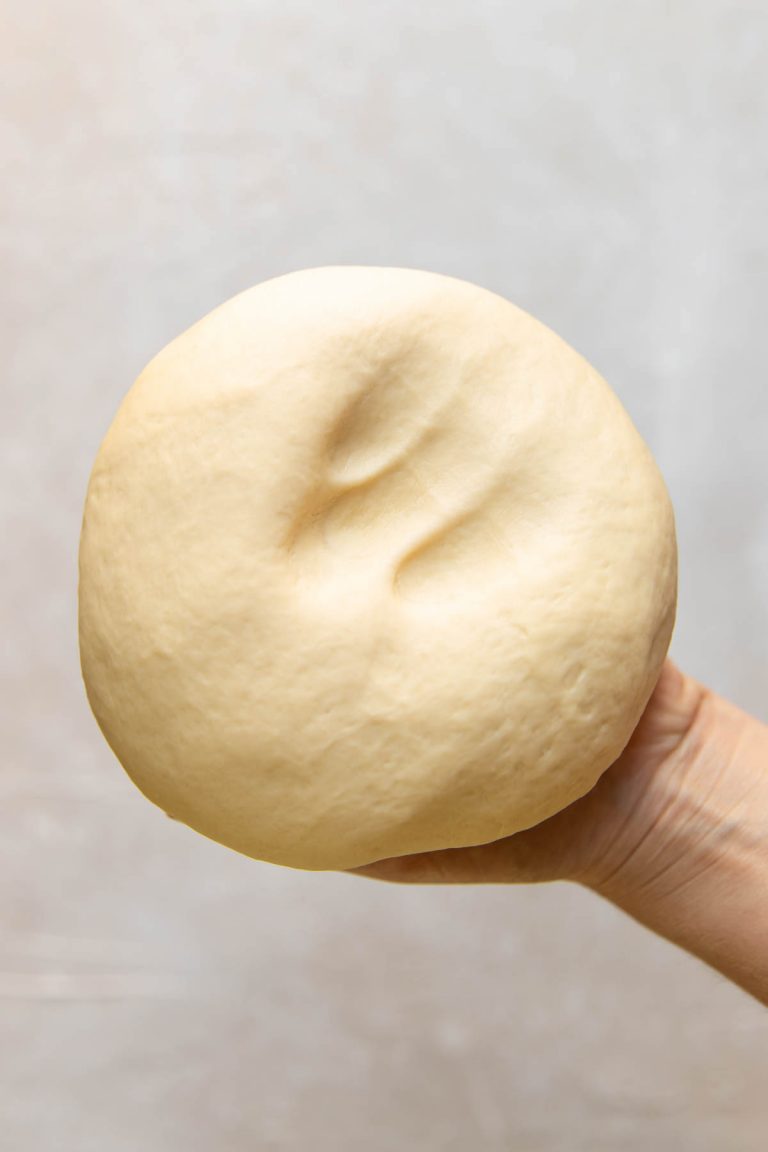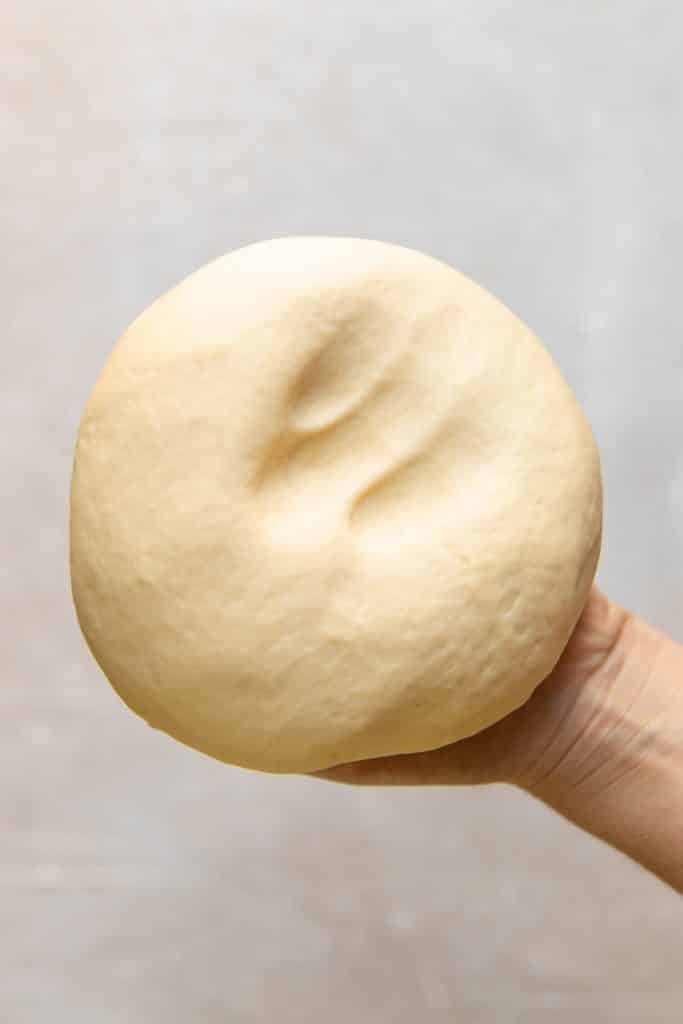 Things like this can change the outcome, so feel the dough.
What you don't want is dough that's overly dry, mixed with too much flour. That will yield you hard sticky buns.
Letting the dough rise until it's double is always standard. I like to let it rise until it's almost to the top of my bowl.
At that point you roll the dough out. Flouring your surface first, so the dough does not stick when you roll.
I like to use sewing thread to cut the cinnamon rolls.
Place them down into the caramel pecan sauce and let them rise again.
You can see in my pictures after they are done baking there is still some room around the edges. When you flip the sticky buns over all the caramel sauce covers the edges of them.
You can definitely make 12 rolls instead of 8, just adjust the baking time for less.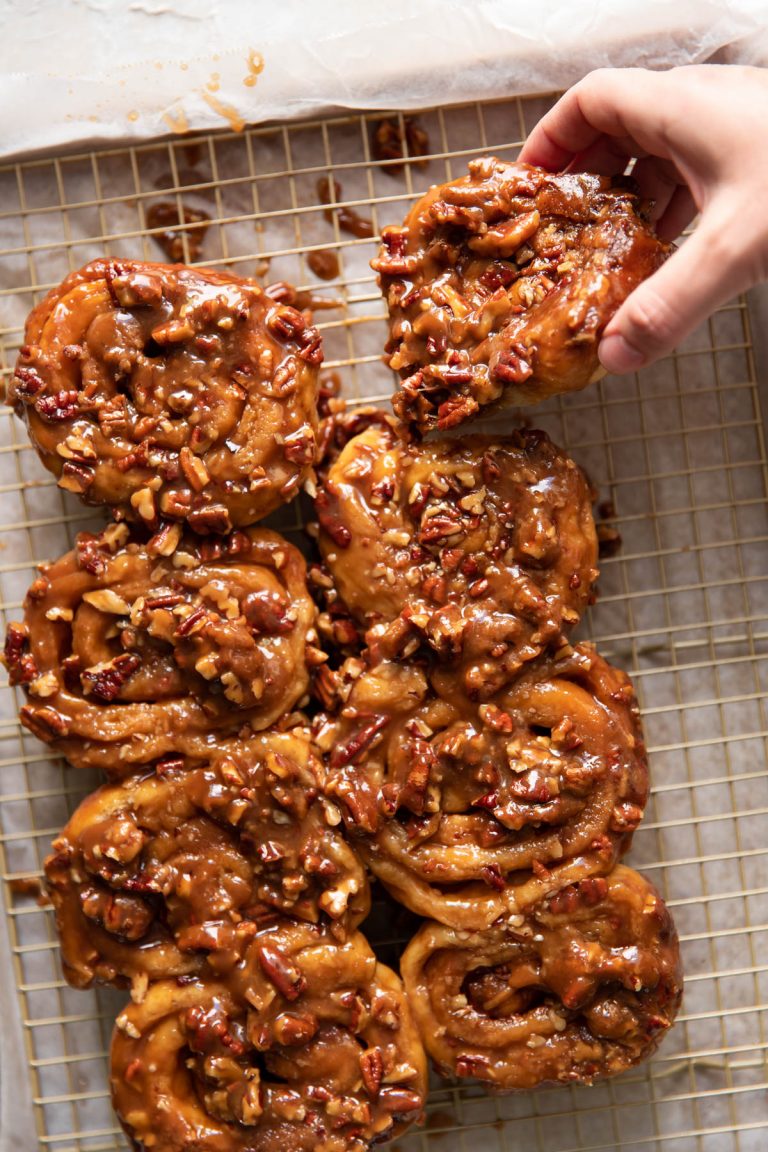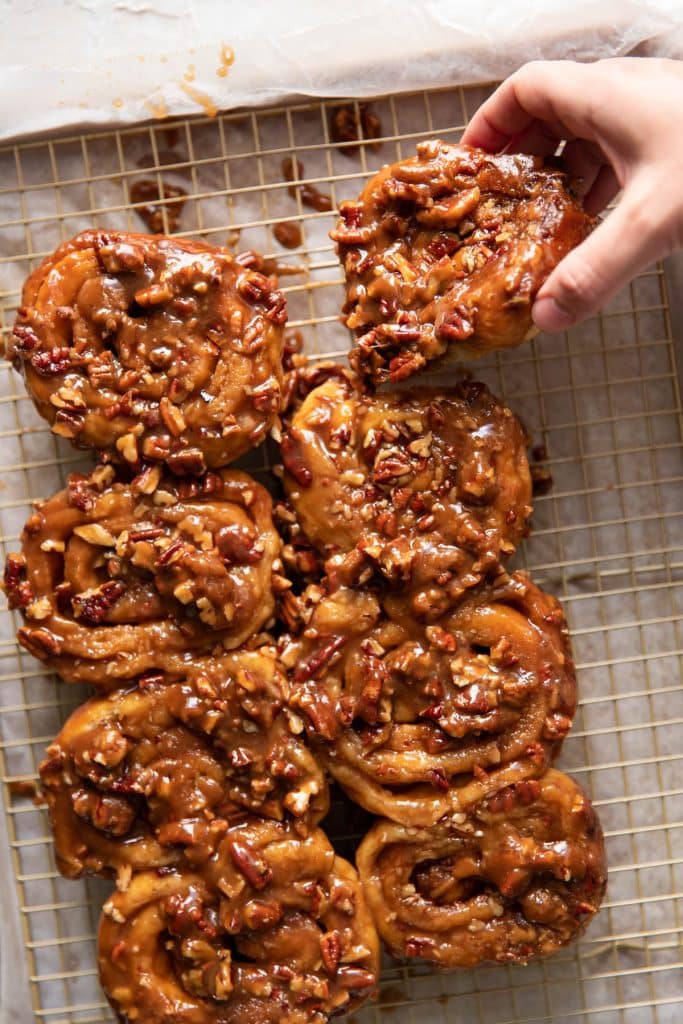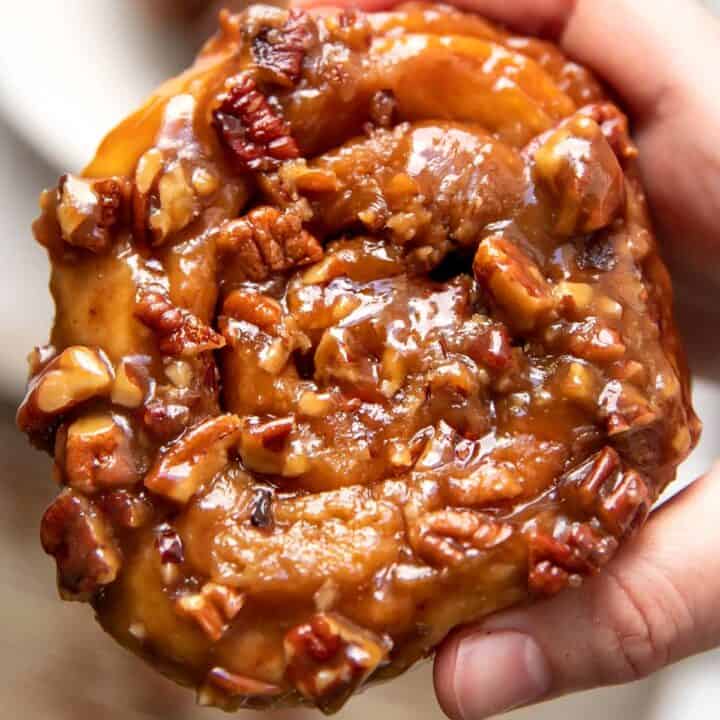 Big Fat Pecan Sticky Buns
Total Time:
2 hours
25 minutes
These pecan sticky buns are huge! Gooey and sticky soft caramel and pecans are swirled around fluffy cinnamon roll dough. The brown sugar and cinnamon smells are so inviting and cozy.
Ingredients
Sticky Bun Dough
1 ½ c milk, warm but not hot
2 ¼ tsp active dry yeast
½ tsp white sugar, (the bit of sugar helps rise the yeast mixture)
3 ½ c all purpose flour
1 tsp salt
¼ c white sugar
4 tbsp butter, softened
Pecan Caramel Sauce Topping
8 tbsp butter
1 c brown sugar
½ tsp vanilla
¼ tsp cinnamon
¼ c heavy cream
pinch of salt
1 c pecans, chopped
Filling
4 tbsp butter, melted
½ c brown sugar
½ c white sugar
2 tsp cinnamon
Instructions
Add the yeast to the warm (not hot) milk, with ½ tsp of sugar
Let this sit for 5 minutes until frothy
To a stand mixer, combine the flour, salt and white sugar (dough ingredients)
Pour the yeast mixture into the dry ingredients, knead with a dough hook until combined
Add 4 tablespoons of softened butter, 1 tablespoon at a time
Knead on low speed for 5 minutes
Use your hands to form the dough into a ball, put it back into the bowl
Cover and rest in a warm spot in your kitchen for 30 minutes (or until doubled in size)
Dump the dough out on to a generously floured surface
Roll the dough out to a 10x20 inch rectangle
Spread the melted butter over the dough followed by the brown sugar, white sugar and cinnamon to all the edges (filling ingredients)
Roll up tightly
Cut into 8 pieces (for smaller rolls you can cut 12 pieces)
Heat a small saucepan over low heat, add the butter, brown sugar, vanilla, cinnamon, heavy cream and a pinch of salt (all the topping ingredients minus the pecans)
Bring to a low boil then reduce heat to low
Whisk on low until the sugar has dissolved, a few minutes
Lightly grease a 9x12 baking pan with butter
Pour the caramel sauce into the pan and sprinkle with pecans
Place the sticky buns in the caramel pecan sauce
Cover the baking pan and let it rise in a warm place in your kitchen, 30 minutes or more
Preheat oven to 350
Place the pan in the oven and bake for 20-25 minutes
Remove from the oven, let rest 15 minutes before turning your pan over onto another pan lined with parchment paper (careful, the caramel sauce is hot!)
Serve
Notes
This recipe makes 8 huge sticky buns
You can make this for 12 sticky buns, decrease the time slightly, 20 minutes should be adequate
Nutrition Information:
Yield:

8
Serving Size:

1
Amount Per Serving:
Calories:

747
Total Fat:

37g
Saturated Fat:

18g
Trans Fat:

1g
Unsaturated Fat:

16g
Cholesterol:

73mg
Sodium:

527mg
Carbohydrates:

99g
Fiber:

3g
Sugar:

52g
Protein:

9g
This information comes from online calculators. Although moderncrumb.com attempts to provide accurate nutritional information, these figures are only estimates.