These maple scones are the perfect winter baked good. Tender crumb on the inside, infused with notes of vanilla, maple and pecans. Serve them for brunch, dessert or even as a snack because they are so easy to make.
For my basic scone recipe, try these perfect soft and tender english scones, a recipe passed down from generations.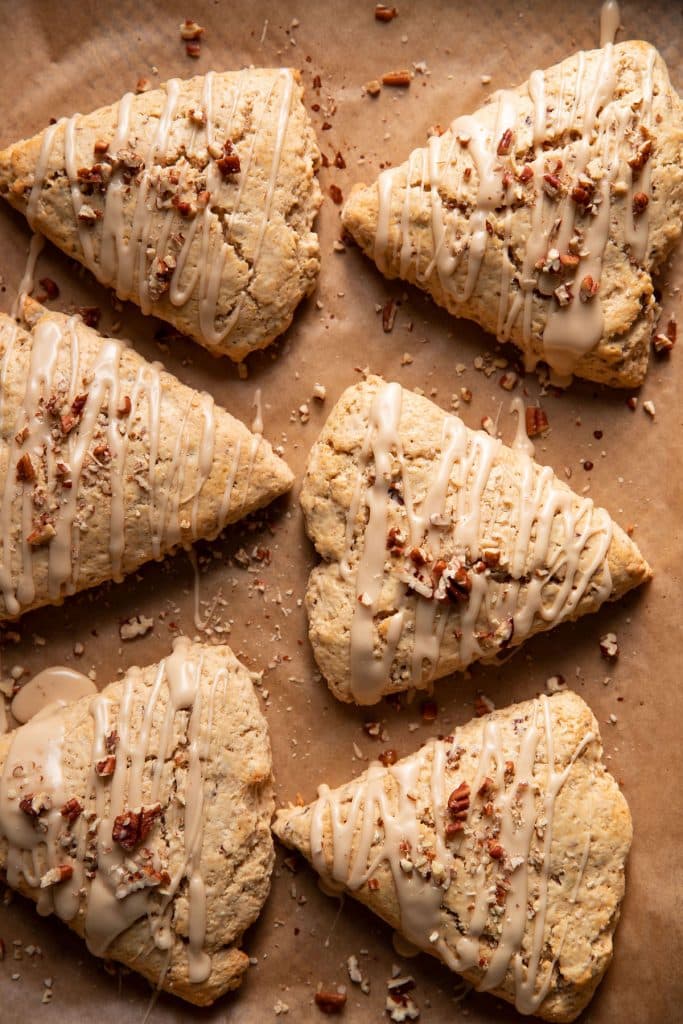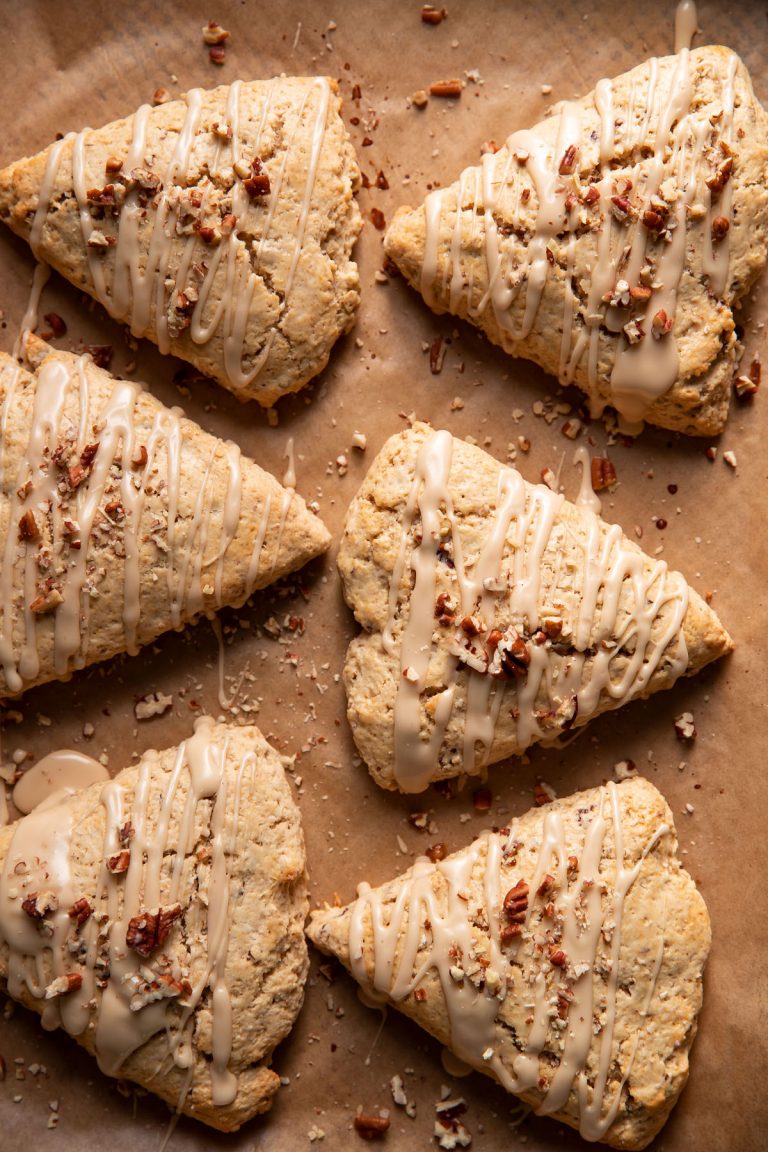 Scones are a wonderful winter comfort food. This recipe for maple pecan glazed scones has subtle hints of brown sugar and pure maple syrup. Each bite is better than the last.
They pair wonderfully with tea or coffee. My favorite way to serve them is for breakfast, with a hot cup of coffee.
These are a tender and soft scone.
You'll find that they have a slight resemblance to an English biscuit instead of an American scone (which tends to be dry and brittle).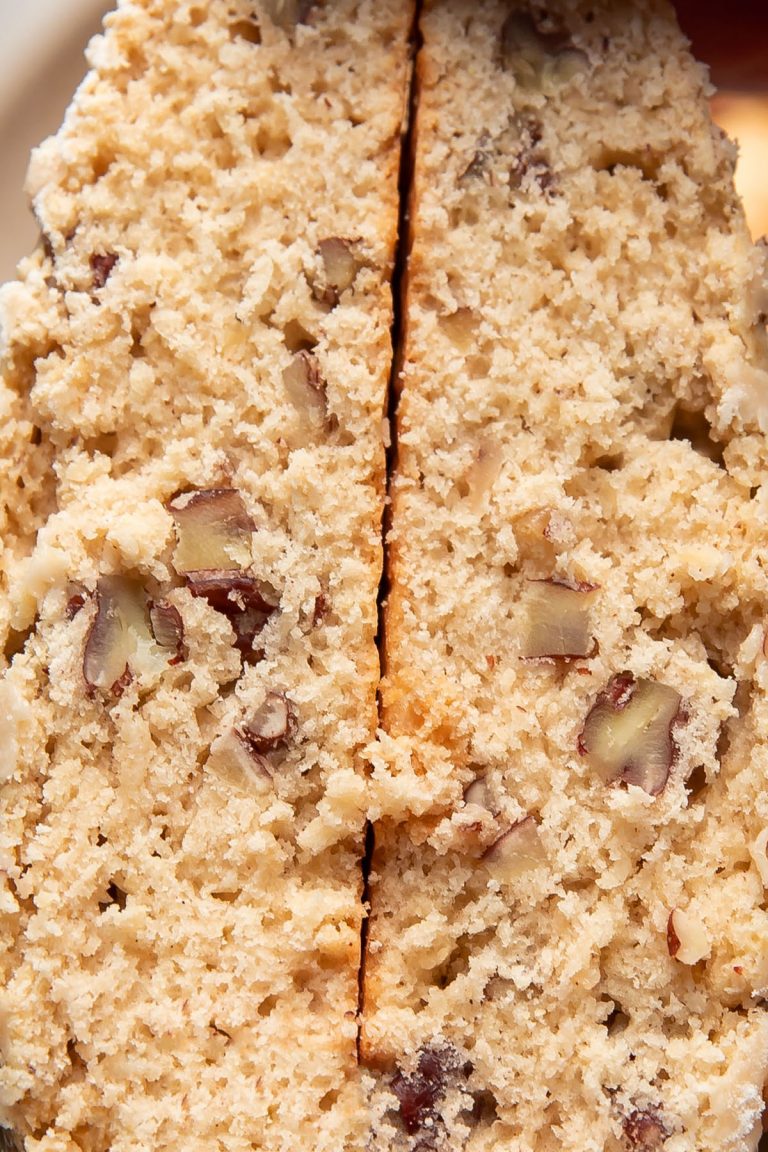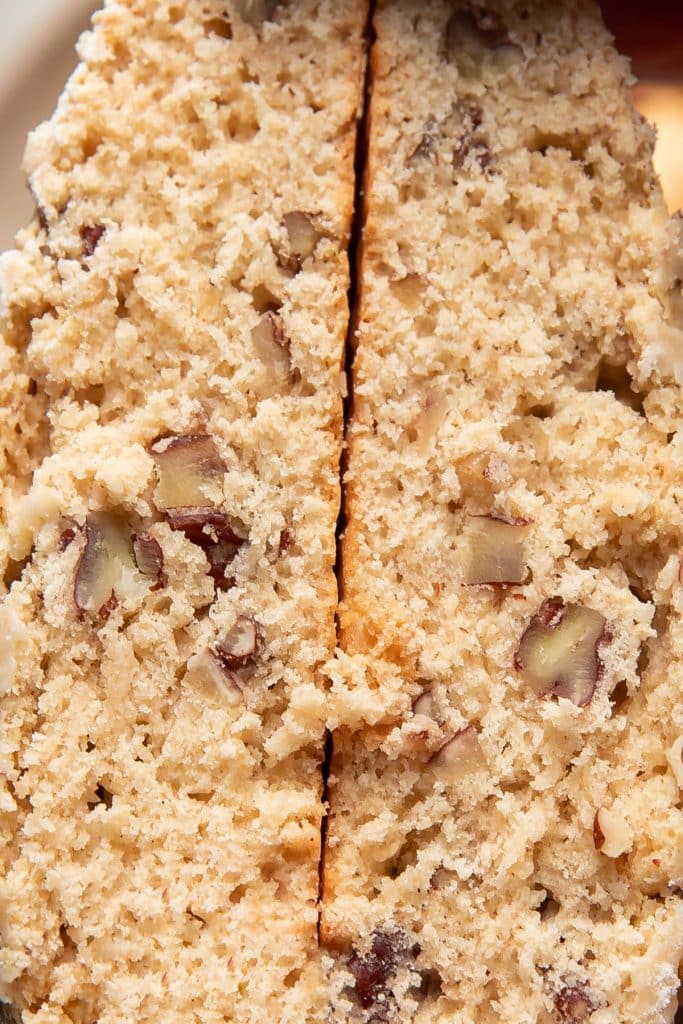 This, like most things, is a personal preference. However, dry scones are not in my vocabulary.
The pure maple syrup used in the scones and also in the glaze on top of the scone, gives it that yummy warm maple flavor. Not overpowering, but you know it's there.
Like these maple cream cheese cinnamon rolls. Maple makes everything in life good. This, I am sure of.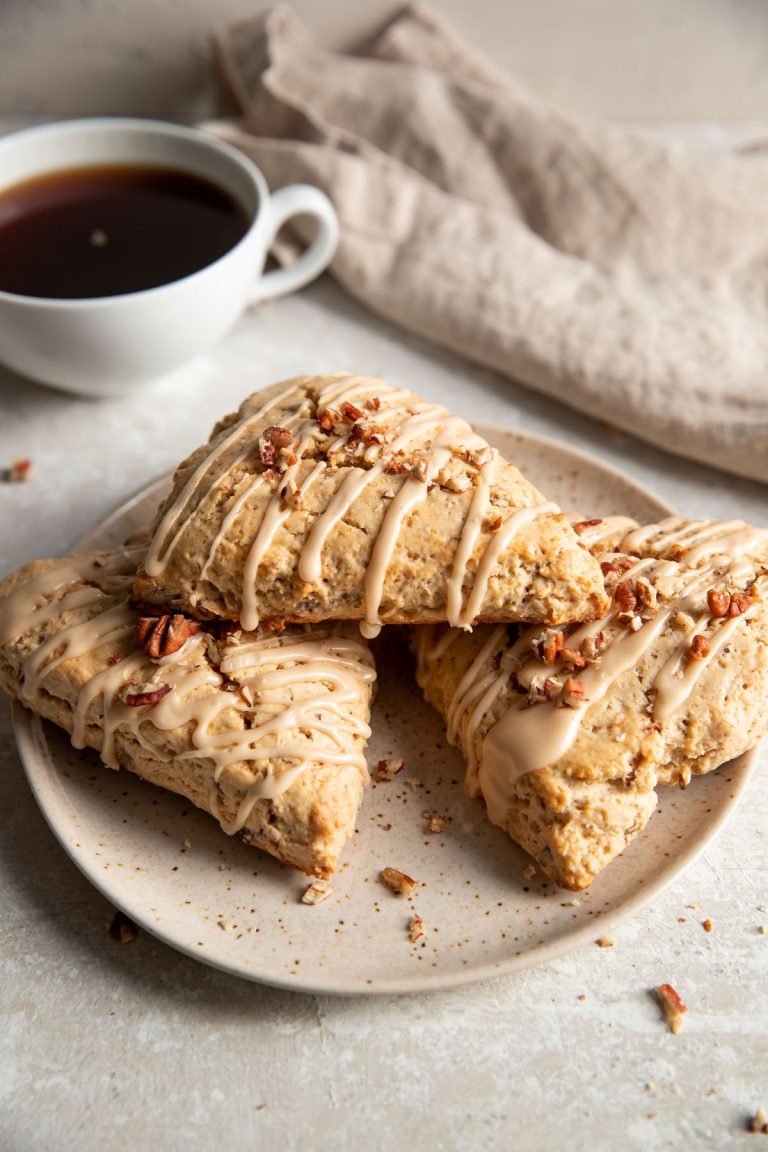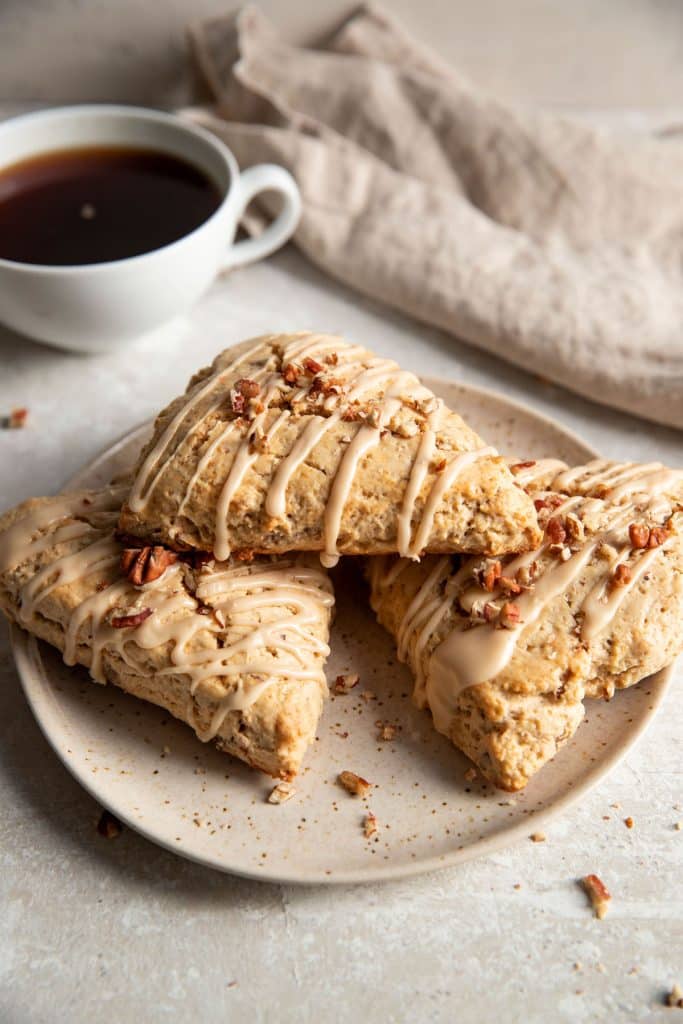 How To Make Maple Pecan Scones
It's important to get the dough just right. For this recipe, mixing the dry ingredients with the butter get's completely mixed together.
Almost like it's sand in the end, this isn't the type of recipe where you leave large bits of butter still in the flour mixture.
For this, you'll need a food processor or high powered blender to pulse everything together.
The dry ingredients then gets mixed with the wet ingredients, slowly incorporating with a fork or your hands.
The texture you are looking for is not super sticky, but soft. Shapeable with hands that have been dusted with flour.
You'll then form the dough into a rough looking ball/disc shape. Starting the process of rolling, with the dough already in a circular shape, makes it easier to roll out.
Using plenty of flour to roll this out will help to keep from sticking. I have a video tutorial for these better than Starbucks pumpkin scones, which may be helpful for rolling out scones if you've never done it.
This recipe makes 6 large scones. So you'll need 6 triangles.
One of my best tips is to make straight cuts down and then pull your knife straight up. Don't drag it to cut one long line. Take your time, make 6 individual cuts and dust the knife with flour if needed.
Parchment paper is your friend while baking, it prevents things from sticking.
Honestly I feel like everything just behaves better when you baking on parchment.
Once they have cooled you can drizzle on all that dreamy maple icing glaze.
Scones FAQ
How do I know when my scones are done baking? Like most baked goods, they will start to turn golden on the bottom, near the edges. Don't overcook them though, they will turn out dry.
What can I use if I don't have a blender or a food processor? You can use a fork or pastry cutter, it will just take a lot longer, keep in mind you are looking for a fine consistency when combining the dry ingredients with the butter.
My scones were dry, what did I do wrong? It can be a number of errors, such as over mixing the dough, too much flour, not enough liquid, over baking.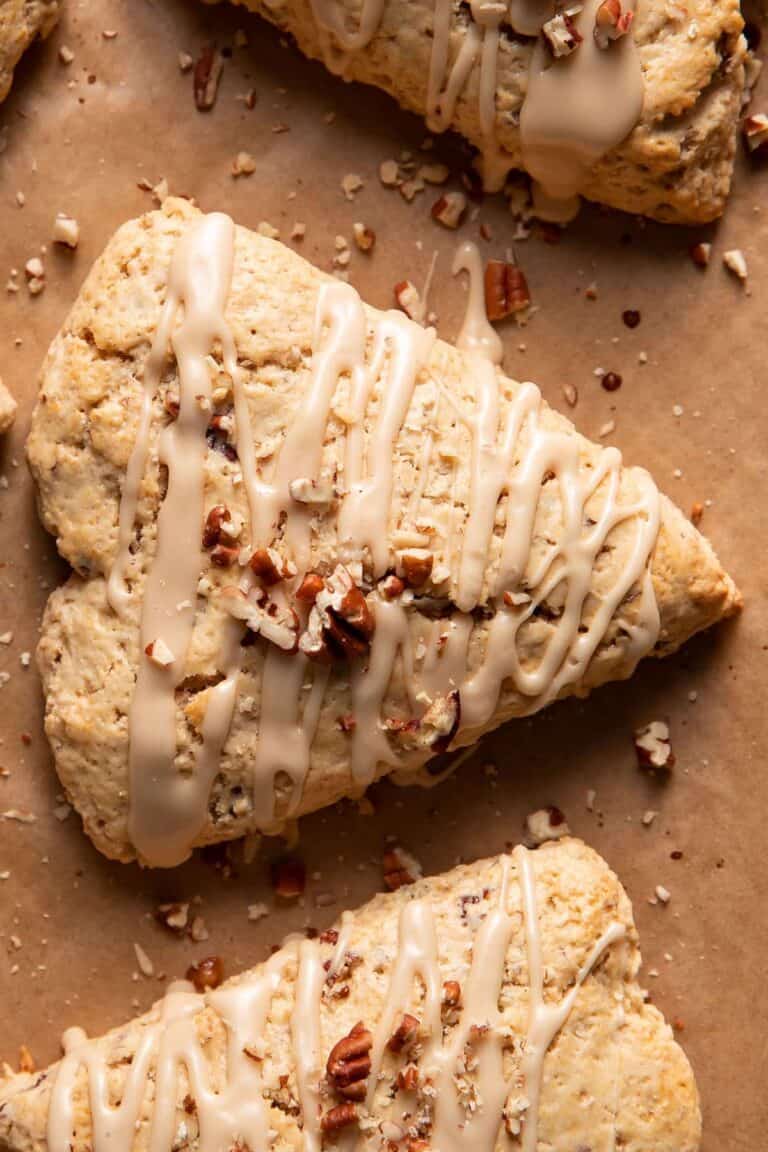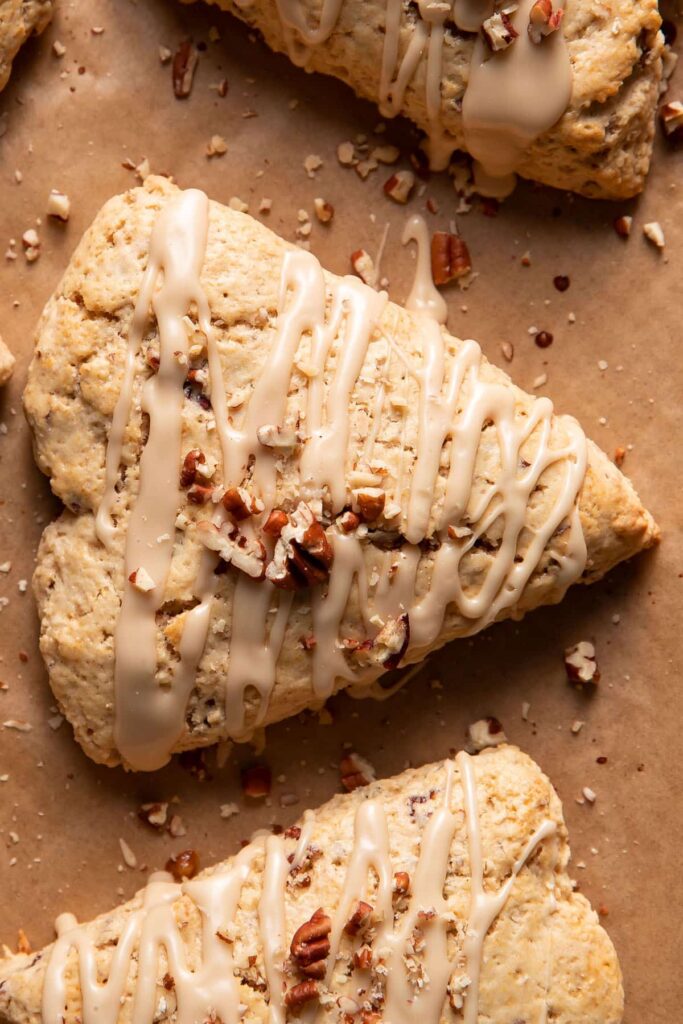 Winter Baked Goods Recipes
A few of my favorite winter dessert recipes are these pecan sticky buns and coffee cake bars. You can't go wrong with either.
If you are in a total apple mood I'd suggest this recipe for apple crisp with oats topping. It's super easy to make and perfect with vanilla ice cream.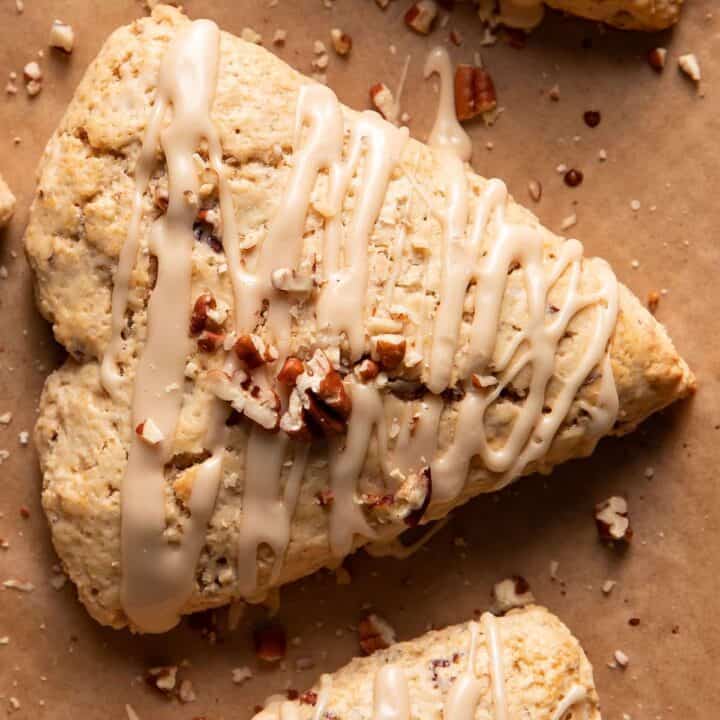 Maple Pecan Glazed Scones
These maple scones are the perfect winter baked good. Tender crumb on the inside, infused with notes of vanilla, maple and pecans. Serve them for brunch, dessert or even as a snack because they are so easy to make.
Ingredients
3 c flour
2 tsp baking powder
1 tsp salt
¼ c white sugar
¼ c brown sugar, packed
4 tbsp butter, cold and chopped in cubes
1 egg
½ c milk
¼ c half and half
3 tbsp maple syrup
1 c pecans, chopped
Maple Glaze
½ c powdered sugar
2 tbsp maple syrup
¼ tsp vanilla extract
salt, a small pinch
splash of milk
Instructions
Preheat oven to 400 degrees
Combine the flour, baking powder, salt, white sugar, brown sugar and butter in a blender or food processor until combined
Transfer to a large bowl, along with the chopped pecans
Add in the egg, milk, half and half, and maple syrup stirring until combined
Roll out on a floured surface and form into a ball shape
Use a rolling pin to flatten to about a 10" diameter circle
Cut 6 triangles (this makes a larger scone), making sure to press your knife down, do not drag it, and lift it straight up, you'll be making 6 individual cuts
Place them on a baking sheet lined with parchment paper
Bake for 15 minutes
While baking, make the glaze by whisking all the ingredients in a bowl
Pull the scones from the oven, let cool then drizzle the glaze over top
Serve
Nutrition Information:
Yield:

6
Serving Size:

1 grams
Amount Per Serving:
Calories:

594
Total Fat:

23g
Saturated Fat:

7g
Trans Fat:

0g
Unsaturated Fat:

14g
Cholesterol:

57mg
Sodium:

669mg
Carbohydrates:

89g
Fiber:

3g
Sugar:

36g
Protein:

10g
This information comes from online calculators. Although moderncrumb.com attempts to provide accurate nutritional information, these figures are only estimates.
Make sure to follow Modern Crumb on Pinterest and Facebook for lots of yummy meal inspiration!  And subscribe to the newsletter, below, to get updates when new recipes post.