These are the most perfect soft english scones and beyond easy to make. Soft and tender on the inside, puffy and the perfect balance of savory and not too sweet. You'll never need another scone recipe!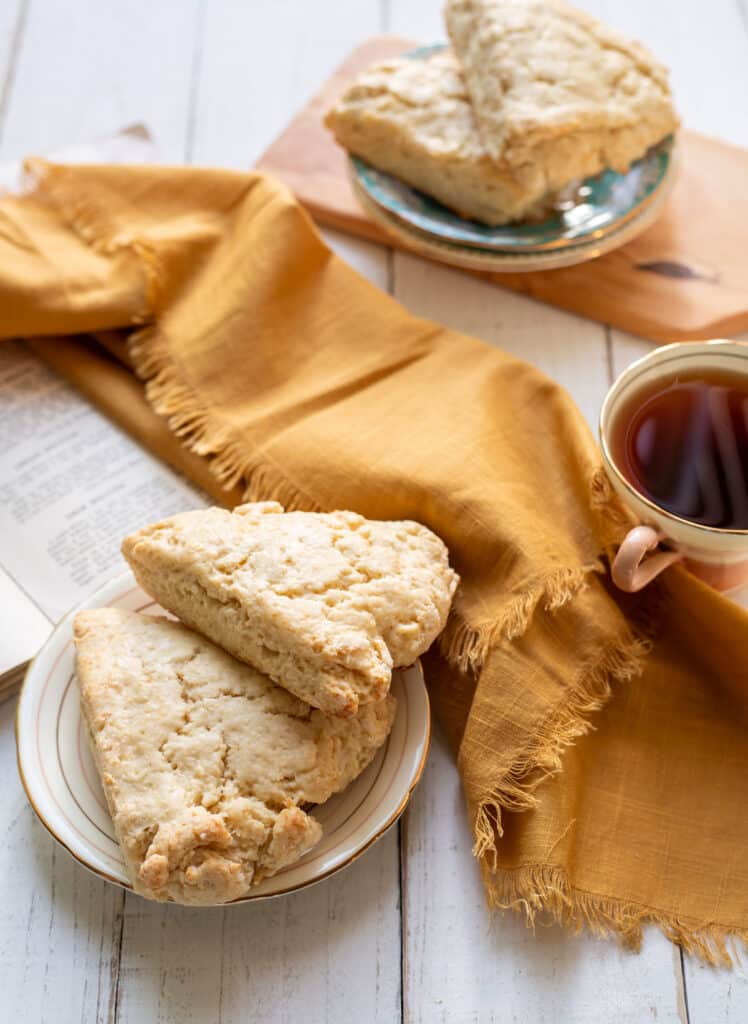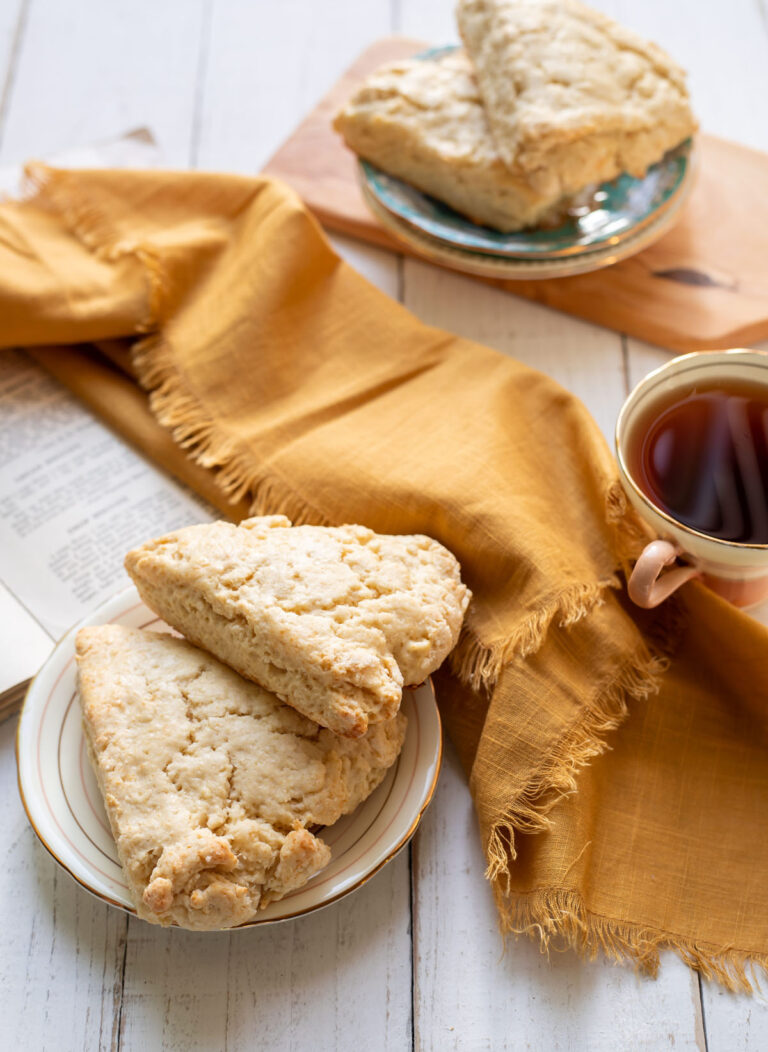 These scones are my take on what a soft english scone tastes like. It's not that I have a ton of experience with english scones, this purely comes from a day of afternoon tea at the cutest little English tea room.
We had English scones and apparently they are more like a biscuit.
My friend invited me to afternoon tea at the cutest list English tea room. We all wore floral dresses, oversized hats, drank tea and ate the most amazing scones on this planet.
To top it off we ate them with lemon curd and it was SO good.  I have a really yummy lemon curd recipe you can make too, equally easy to make and I highly suggest it with scones.
Here's what these scones are. Soft, tender, super easy to make!
Here's what these scones are not. Dry, brittle, hard to make.
You only need a few ingredients, a bowl, something to cut the scones and a baking sheet. That's all! You'll be surprised at just how easy making scones really is.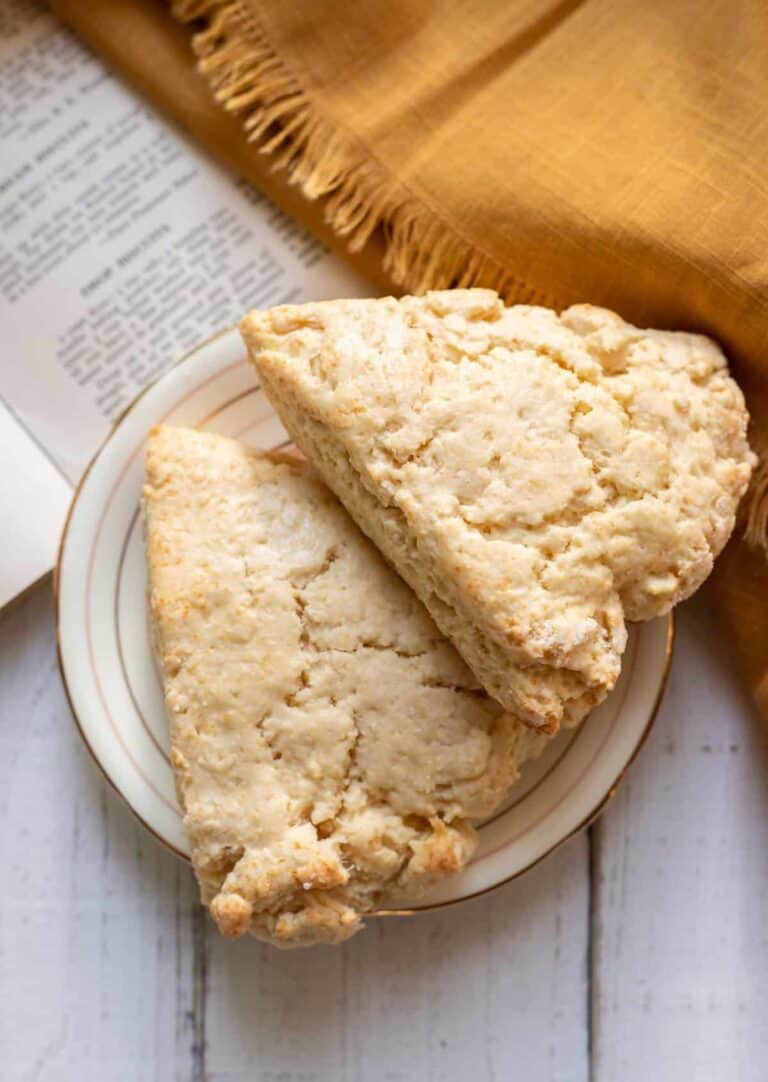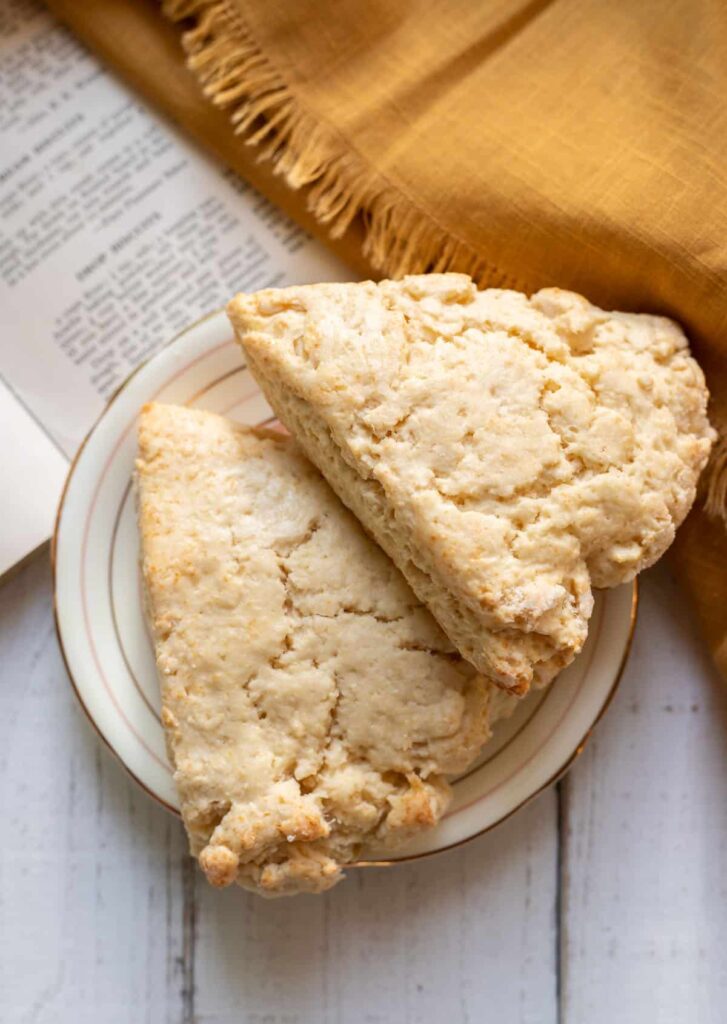 And if you've ever made my buttermilk biscuits then this is even easier than those, if you can believe that. That's just about the easiest, most delicious biscuit recipe ever.
If you check out this recipe for maple pecan scones I have a pretty detailed picture how to. I find it's really helpful when making scones for the first time!
For inspiration I used an old recipe of my husband's grandmother.
My first attempt I made with my daughter and I have to tell you they were so bad we threw them all away.
Our second attempt was a total success, they were perfection!
I took a bit of the scone recipe and a bit of the biscuit recipe and what I thought would taste good and morphed it into one awesome recipe.
And I should remind everyone my husband's grandmother is from New Brunswick, Canada so English baked goods is a thing.
FAQ
Can I use all milk? Personally I would use the ingredients as they are listed in the recipe for the best results.
My scones turned out like bricks, what happened? Over mixing can cause dense scones, or your leavening agents (baking soda, baking powder) could be expired.
Can I make these gluten free? I haven't tested this recipe using gluten free flour but a good 1:1 GF flour works best for subbing regular flour.
My dough is really wet? That's from using too much liquid. Also be sure to use a liquid measuring cup when measuring out liquid ingredients, do not use a measuring cup for dry ingredients. The amounts could be off if you do.
Can these be made round? Totally! You can use a biscuit cutter to make round scones just like I do in this recipe for Irish scones.
How long are scones good for? Scones are best eaten the same day they are baked.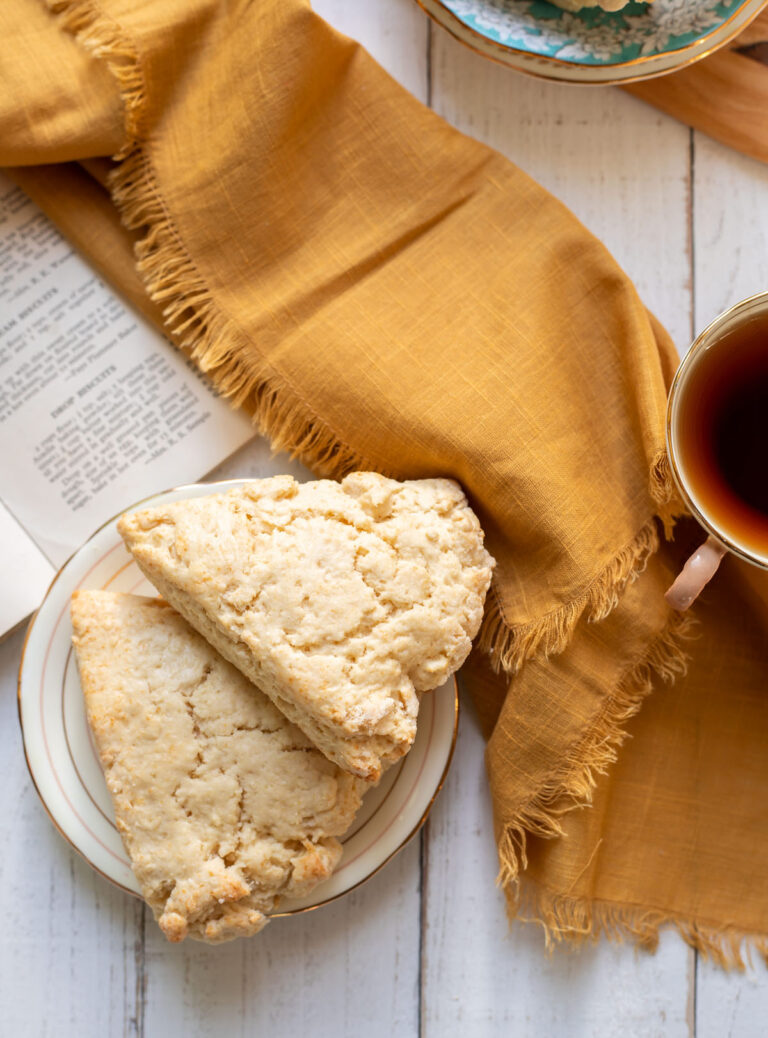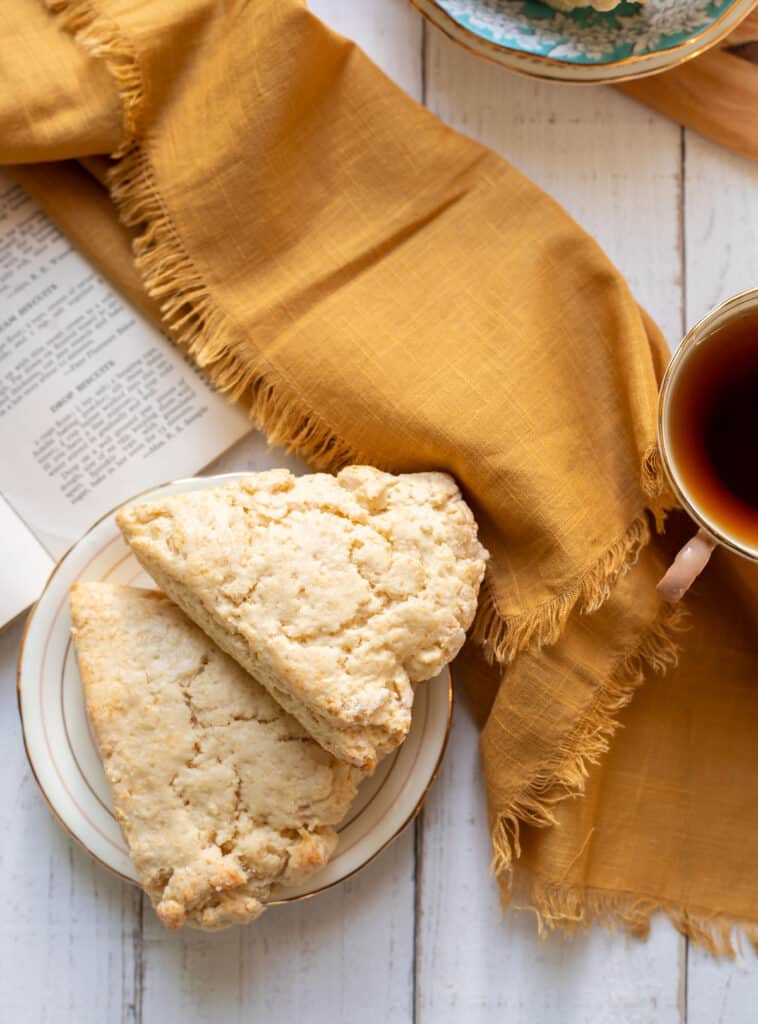 Baked Goods Recipes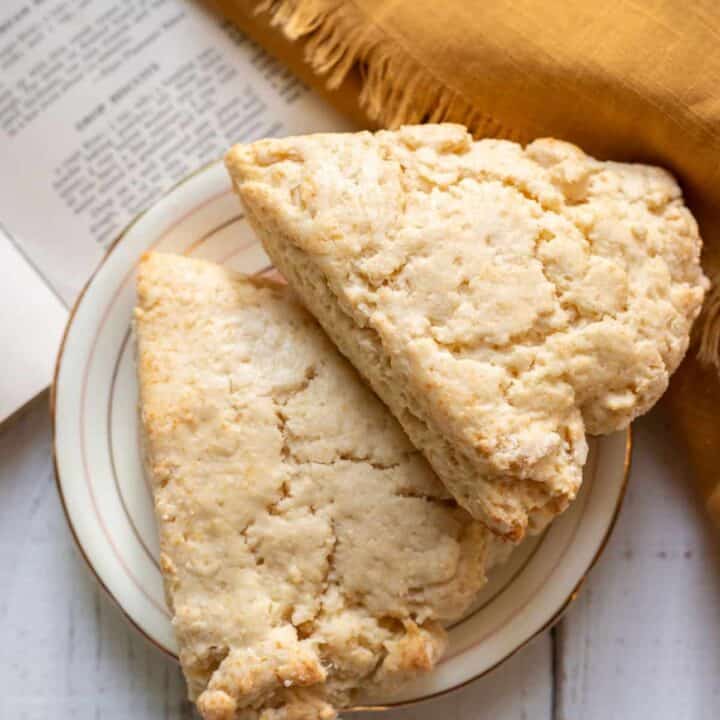 Perfect Soft and Tender English Scones
These are the most perfect scones. Soft and tender on the inside, puffy and the perfect balance of savory and not too sweet. You'll never need another scone recipe!
Ingredients
3 c flour
3 tsp baking powder
2 tbsp sugar
1 tsp salt
½ c butter, cold and cubed
1 egg
¼ c half and half
½ c milk
Instructions
Preheat oven to 400
In a large bowl sift the flour, baking powder, sugar and salt
Add this to a blender or large food processor along with the cold butter
Pulse until it has turned into the texture of sand and the butter is completely cut into the flour
Pour this back into the large bowl
Combine the egg, half and half and milk
Make a well in the flour and pour all but 1 tbsp of the wet ingredients into the dry (reserve the 1 tbsp for brushing on the scones prior to baking)
Using a fork, mix everything together, gently and as little as possible
Roll out on to a floured surface, gently patting down to a 1" thickness
Cut into 6 triangles (for a better rise, cut straight down and lift up, do not drag the knife)
Transfer to a baking sheet lined with parchment paper and brush the milk/egg mixture over the top
Bake for 15 minutes
Eat right away! Serve with strawberry jam or lemon curd
Nutrition Information:
Serving Size:

1 grams
Amount Per Serving:
Unsaturated Fat:

0g
Make sure to follow the Modern Crumb Board on Pinterest for lots of yummy meal inspiration! And subscribe to the newsletter, below, to get updates when new recipes post.