This is the best lemon curd recipe! Say goodbye to all the confusion if you've ever considered making it. Sweet, tangy and perfect for all your baked goods, like scones and muffins. Follow my easy steps and make a batch today!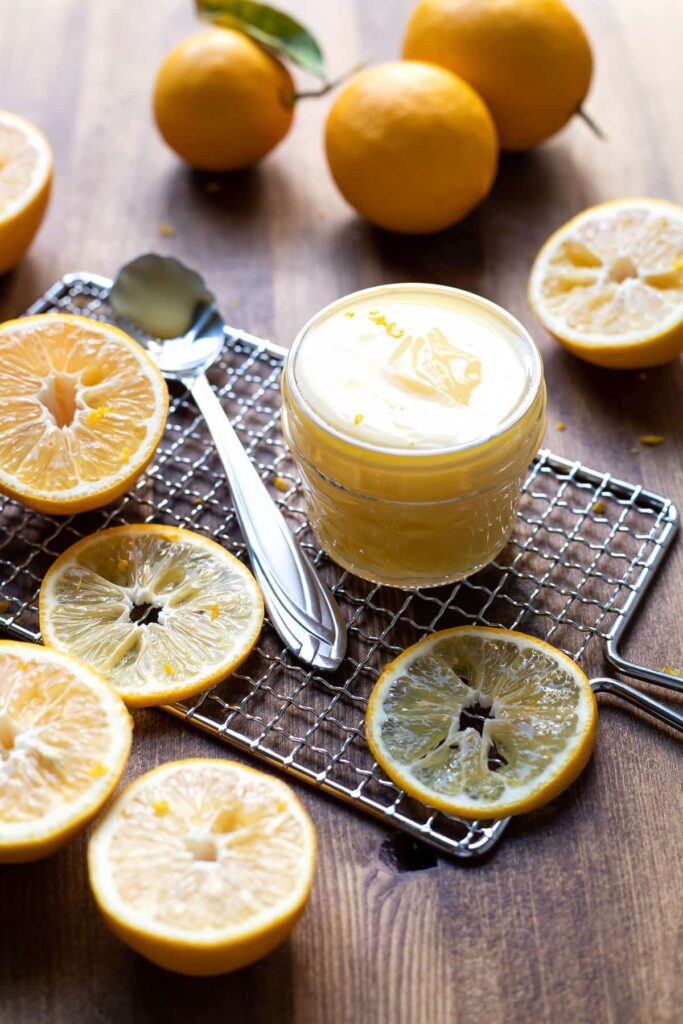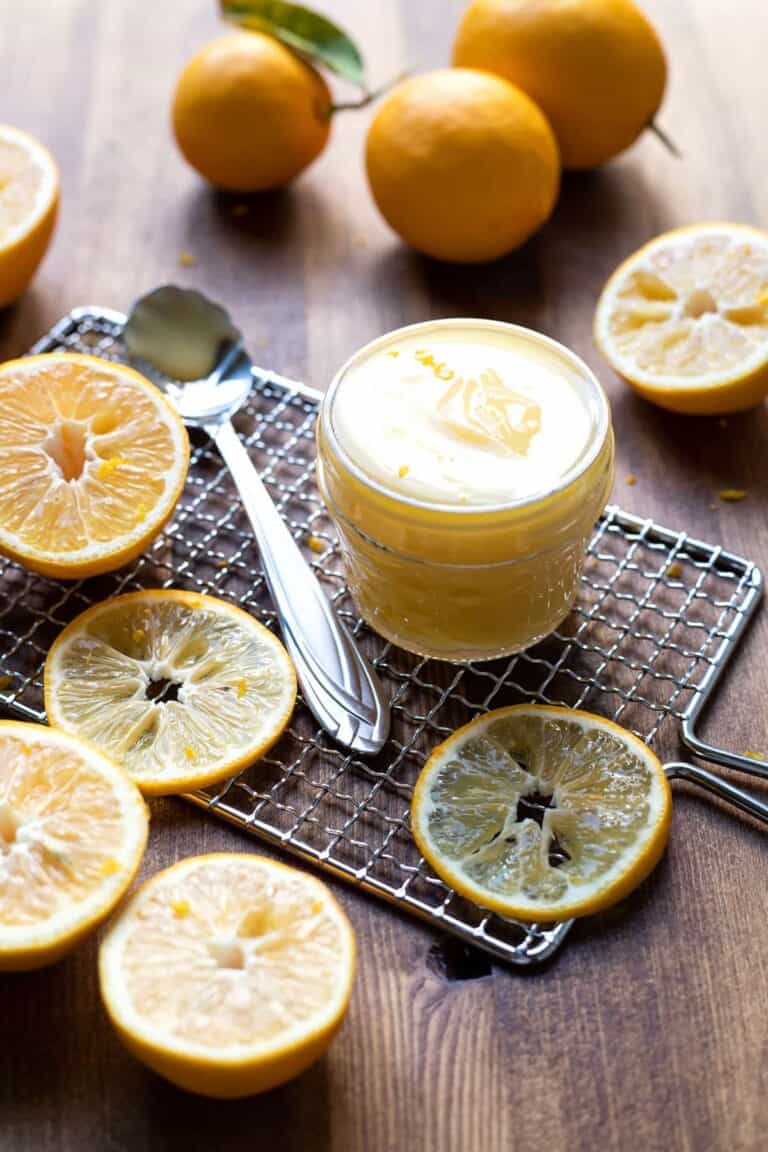 I love lemon everything. Do you? If its tart, sign me up!
Lemon curd is one of those things that, goodness, sounds so terrifyingly difficult. But I am here to help you out.
Today we are taking all the fear out of making lemon curd. And I'm excited to share the recipe because this lemon curd is everything, it's amazing!! It's out of this world good!
Not too sweet, not too tart. I mean, just perfect. And it's easy. I have all the steps you need.
My amazing neighbor and friend brought over the biggest bag of Meyer Lemons from her lemon tree and this is a great time of year if you have a lemon tree to make lemon curd.
I think I counted 30 lemons! I have a freezer full of lemon juice and zest. Shout out to Laura.
What is Lemon Curd?
Lemon curd is a spread. Just like jam, but it's not jam, it's a curd. Remember little miss muffet? She was way into those curds. A curd is a thick spread, made with eggs.
Don't click out of the screen, I promise, it's easy, stay with me. I'm giving you a backstory, okay? Okay. Done with backstory.
The lemon is the flavoring, the eggs thicken it, sugar will make it sweet and butter, well, yum.
So I'll be giving you a recipe that is simple to follow, doesn't have a ton of steps and anyone can do no matter what your cooking skill level.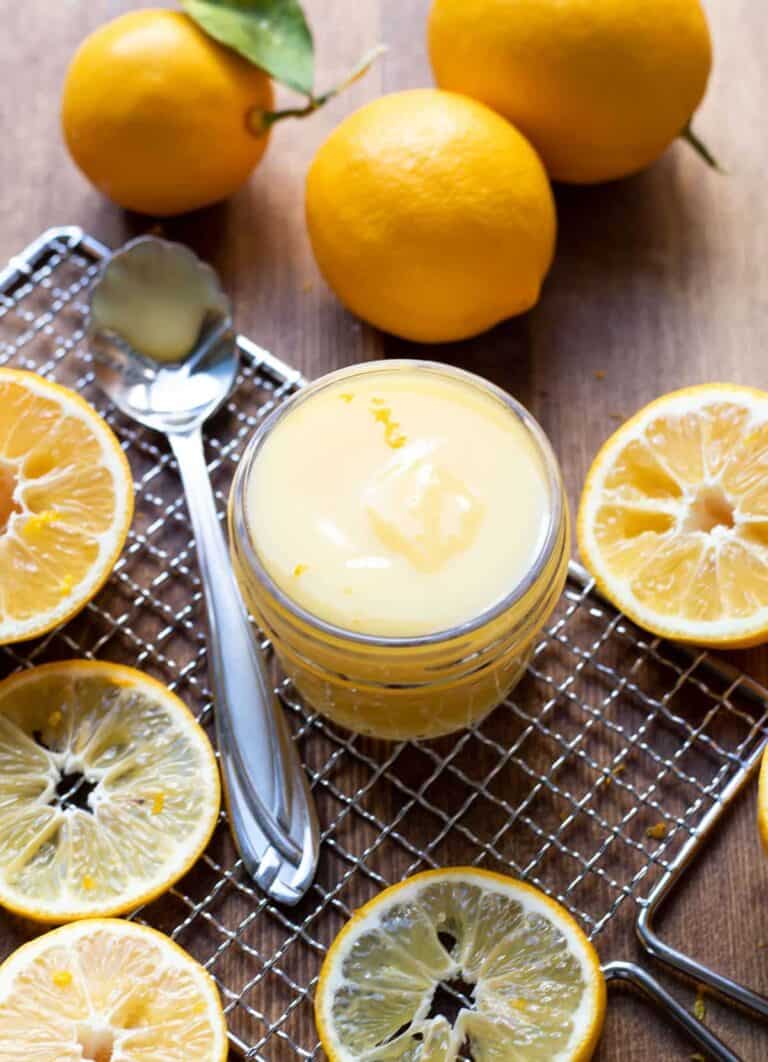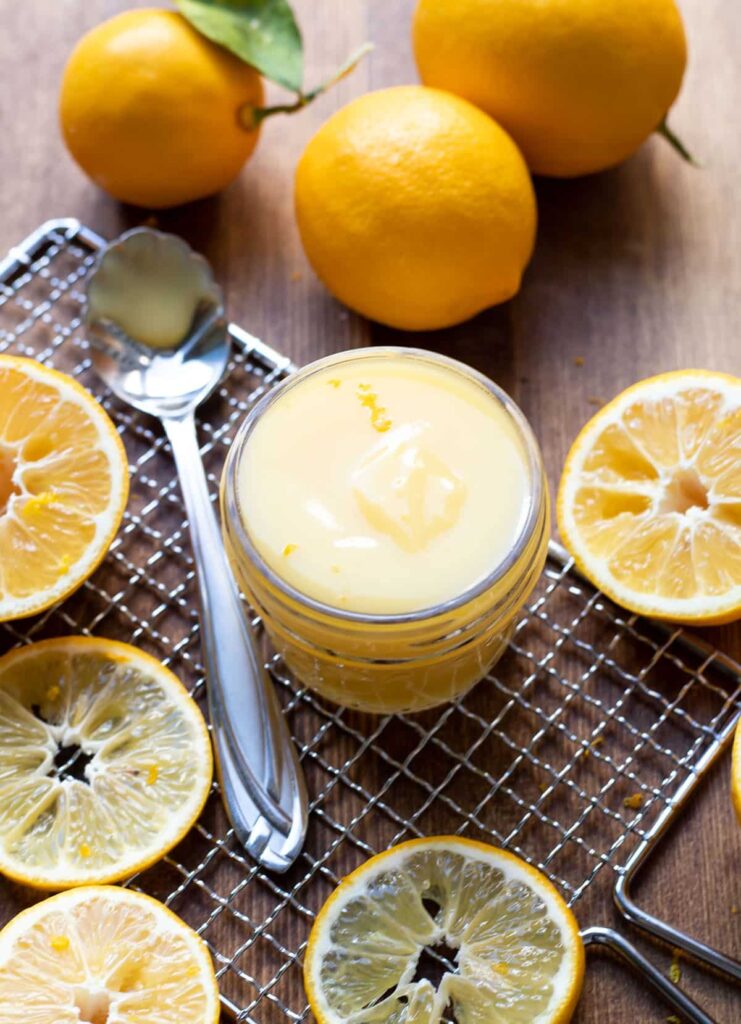 Detailed Instructions
If you google how to make lemon curd you will stumble upon tons of different techniques. I can't even tell you how much research I've done on lemon curd and preparing it.
First of all. We won't be tempering eggs.
Sigh of relief together.
Because this can be tricky and I don't want you (or me) to be frustrated, I want you to have success making this every time.
Second, everything gets mixed in one bowl. Hooray! All the ingredients are combined in a pot, whisked together and slowly brought up to temperature over low heat. Lemon curd should be brought to a temperature of 170 degrees.
You'll need a thermometer for this. So you know when the eggs are cooked.
I use a candy thermometer so I know it's safe. Having a candy thermometer on hand is such a good idea, you will use it more than you think and they are inexpensive.
At the very end you'll want to strain the lemon curd, just in case some of the egg cooked. You can tell because you'll see little pieces of white egg.
And if you accidentally get a few pieces of cooked egg it happens, no big deal.
Let it chill in the fridge and in a few short hours you have the freshest, brightest, most insane lemon curd. Spread it over blueberry muffins or my absolute favorite are these soft english scones. You could even dollop a bit on to some pancakes, that sounds amazing!
Those are the actual specifics. But the gist of it is everything goes into a pot, over heat, whisking together until it reaches 170 degrees.
You'll go for this recipe over and over because it truly is the best lemon curd recipe.
Make sure to follow the Modern Crumb Board on Pinterest for lots of yummy meal inspiration! And subscribe to the newsletter, below, to get updates when new recipes post.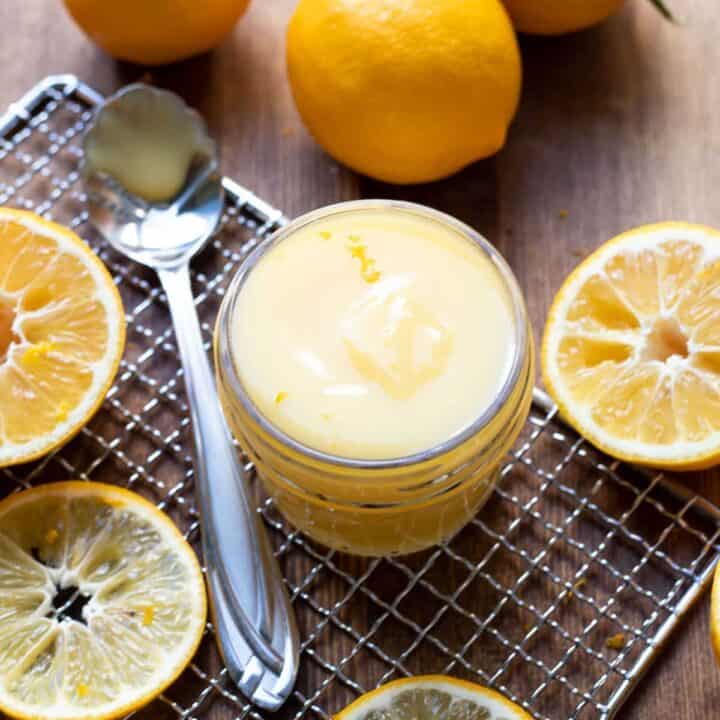 The Best Lemon Curd Recipe
Total Time:
2 hours
20 minutes
This is the best lemon curd recipe. It's also the easiest lemon curd recipe! Perfect balance of sweet and tangy.
Ingredients
1 c lemon juice, 5-6 juicy lemons
1 tbsp lemon zest
1 c sugar
5 tbsp butter, softened
4 large eggs
pinch of salt
Instructions
Add the butter and sugar to a small pot, whisking until combined
Add in the eggs, lemon juice, lemon zest and salt
Whisk until the sugar has dissolved
Heat the pot over low heat, whisking continuously, until the temperature of the lemon curd reaches 170 degrees
This takes anywhere from 5-10 minutes
Remove the pan from the heat, continue to whisk until it has cooled down
Grab a bowl, with a strainer over top
Strain the lemon curd
Refrigerate covered for a few hours then it's ready!
Breakfast Inspiration