This recipe for buttermilk pancakes from scratch will blow your mind. These are easy to make, super fluffy, not overly sweet and so buttery.
Pancakes are a weekend tradition in my house, so I'm excited to share my family recipe with you today!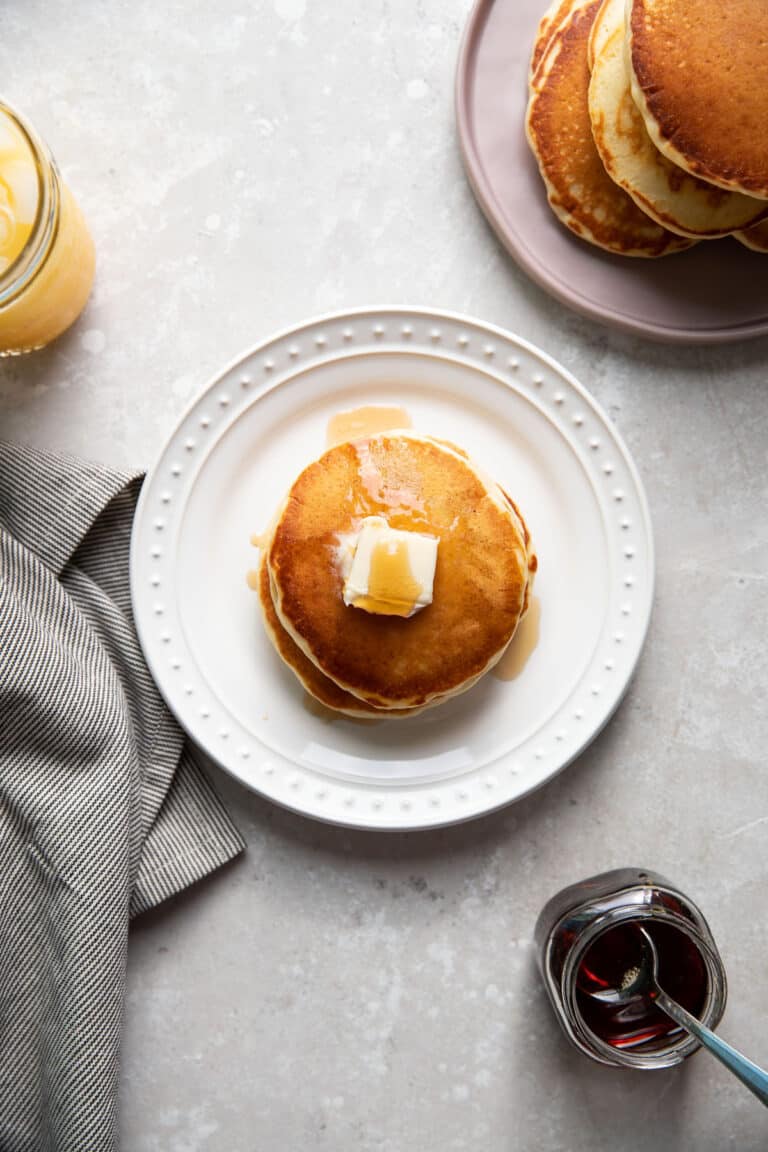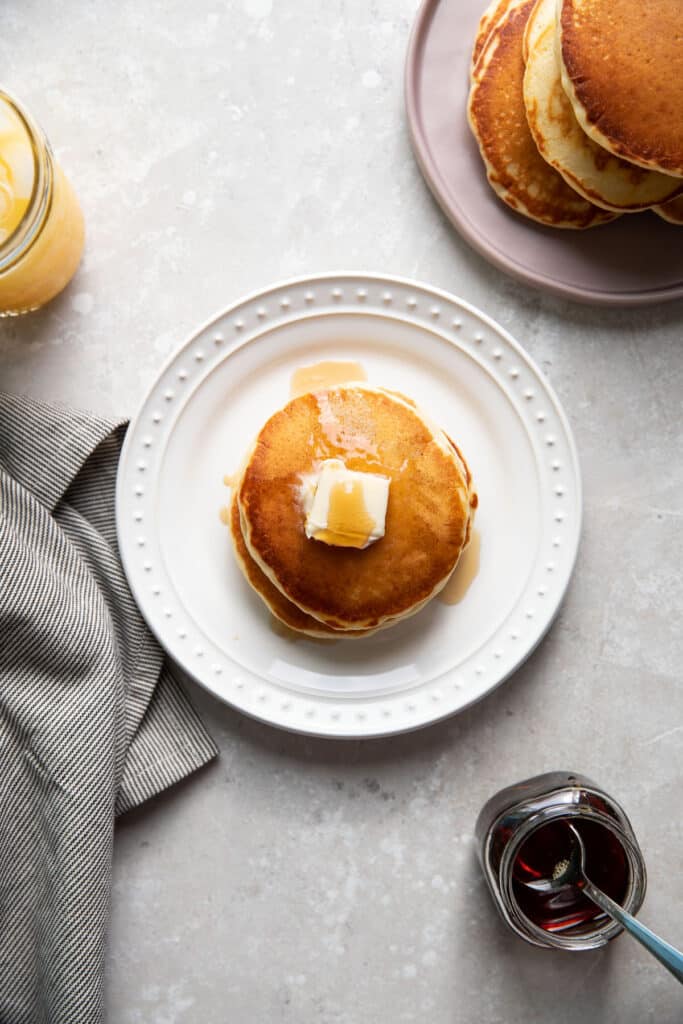 I can't imagine why anyone would ever want to make pancakes without buttermilk. It's this super magical ingredient that amplifies baked goods. It makes pancakes have a seriously perfect taste and texture! It's also a miracle worker for these buttermilk waffles too.
If you wanted to make buttermilk pancakes for two, you could easily half the recipe. Or better yet make a full recipe and freeze half. I actually make a double batch and freeze the leftover pancakes, so we can eat them during the week.
You'll find this recipe is very adaptable. Meaning you can add fruit and toppings easily to it. It's a great base recipe to add to. I make this with blueberries a lot, because blueberry pancakes with a big dollop of salted butter is ma' jam. Do you have a favorite topping?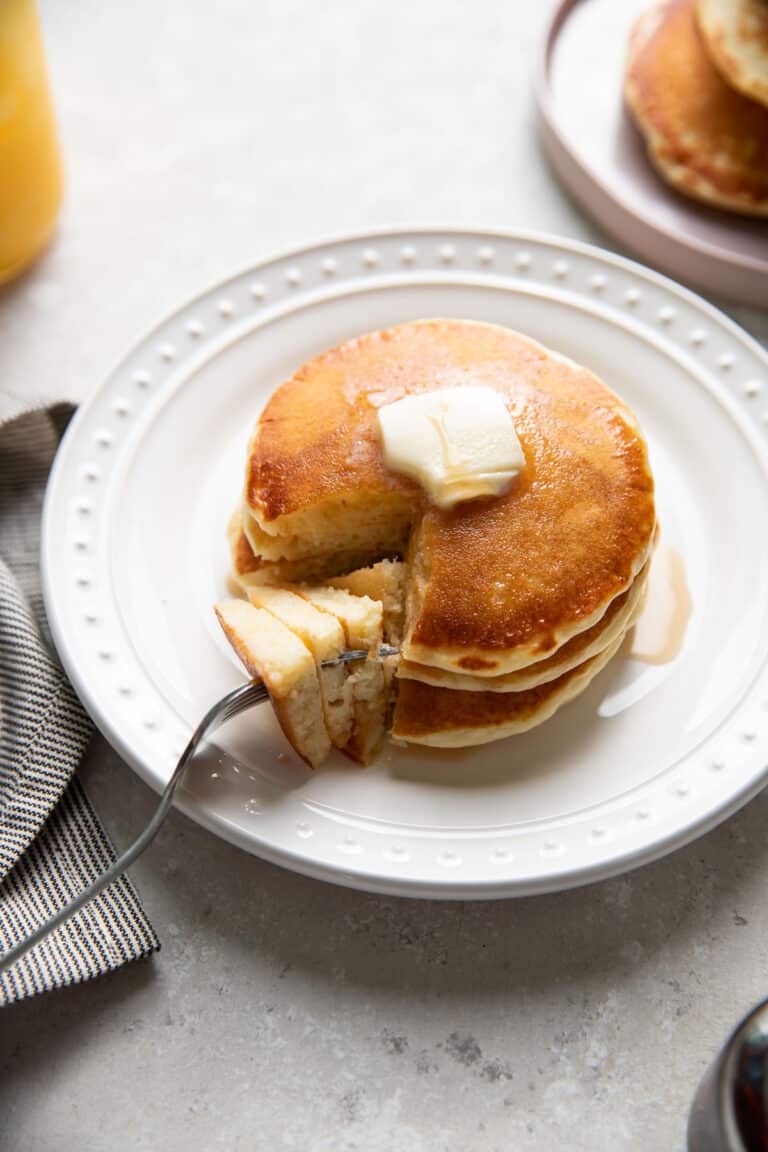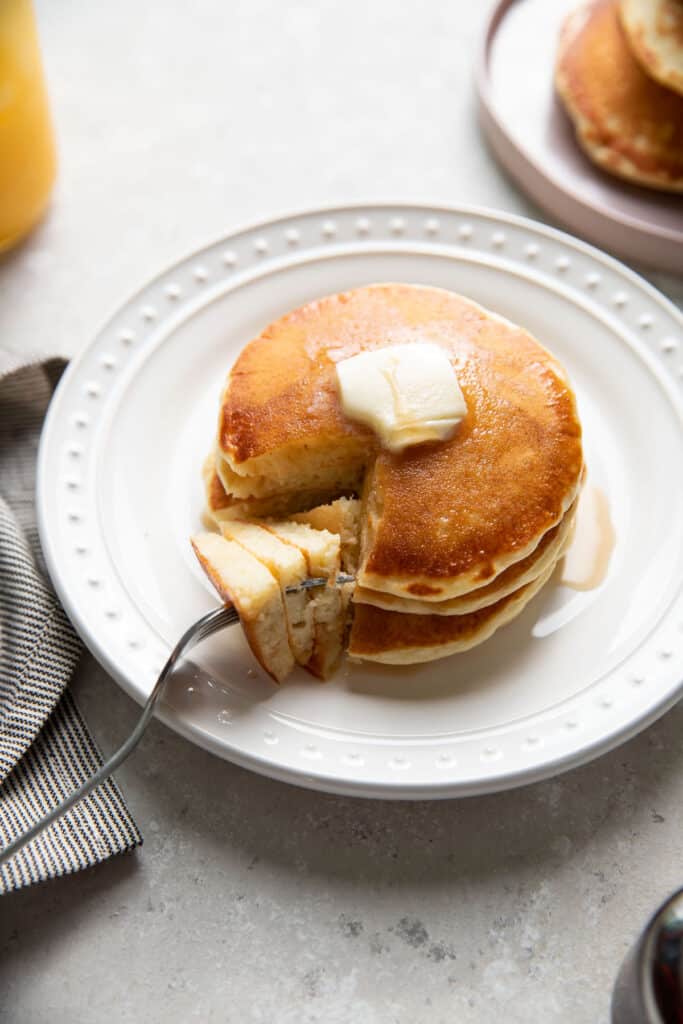 Top Tips for Perfect Pancakes
Making buttermilk pancakes from scratch shouldn't be intimidating. If you are using a pancake mix you still need at least 3 or 4 ingredients, so why not add a few extra and make mouth watering perfect pancakes!
It's way easier than you may think. Here are my best tips:
Heat up your buttermilk and milk, just under 1 minute in the microwave will do the trick
Never add everything in to one bowl, (dirtying two bowls yuck!) but you're here because you want the best buttermilk pancakes from scratch, right? One bowl for dry, one bowl for wet, then add the wet ingredients to the dry ingredients. It makes a difference! If you add everything in to just one bowl, you actually mix the pancake batter longer and that makes for a less fluffy pancake. By adding the wet into the dry ingredients, you are stirring less. Stirring less is what you want.
Don't let your batter sit for too long, use it right away. Once the baking soda and powder are activated by the wet ingredients all of the chemical reactions start.
Butter your skillet, or pan (whatever you use to make pancakes) just once. No need to keep adding butter every single time before each batter pour.
After you pour the batter on to the skillet, don't smoosh it down, pour and leave it alone
Flip once there are bubbles on the top
When you're not sure if the pancakes are cooked through after flipping, you can poke a little hole on top with your spatula. If you see wet batter, cook them longer but if all you see is puffy perfection, they are done!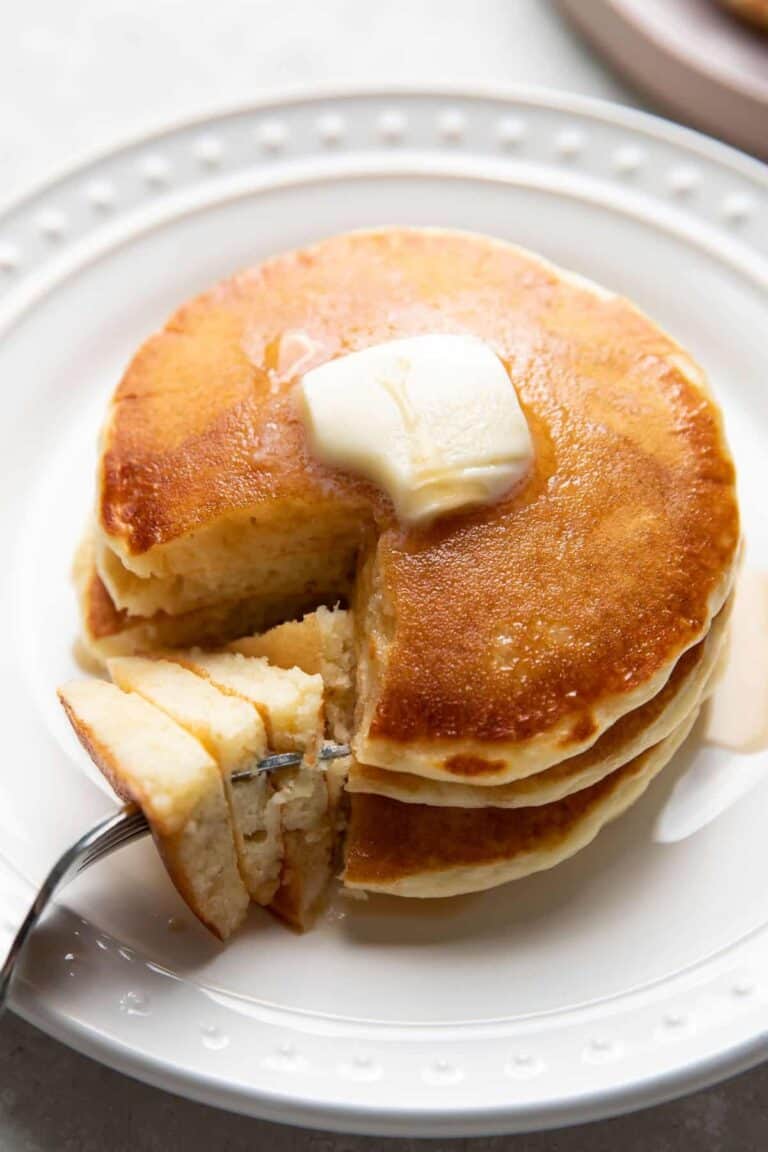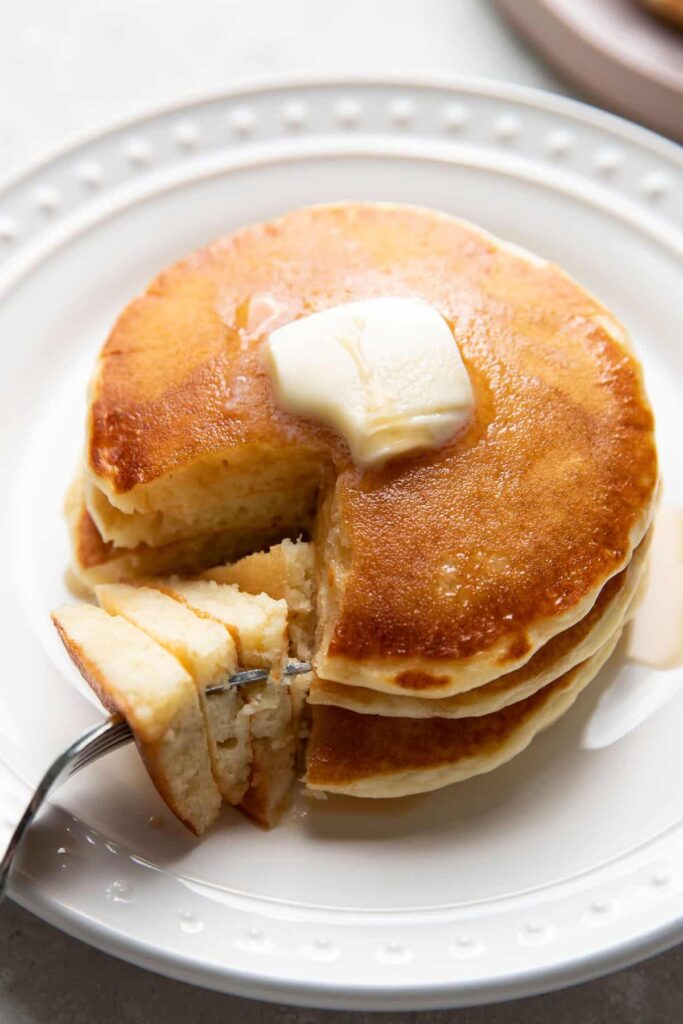 What can I make with my extra buttermilk?
If you're looking for a way to use up any extra buttermilk there are plenty of yummy dinner recipes where you can stretch the ingredient. I love buttermilk for chicken or a marinade, it makes the chicken so juicy and delicious! Like this one pan buttermilk chicken and risotto or juicy baked buttermilk chicken drums. You can even make this crispy chicken and waffles recipe.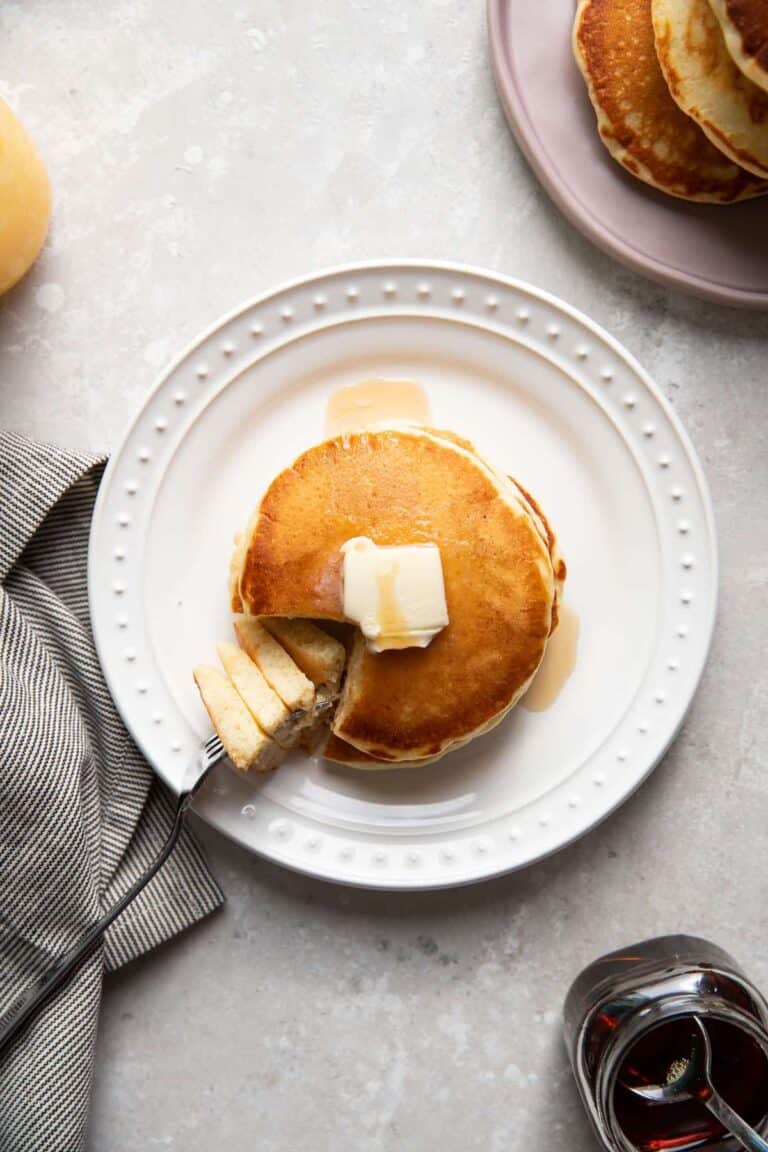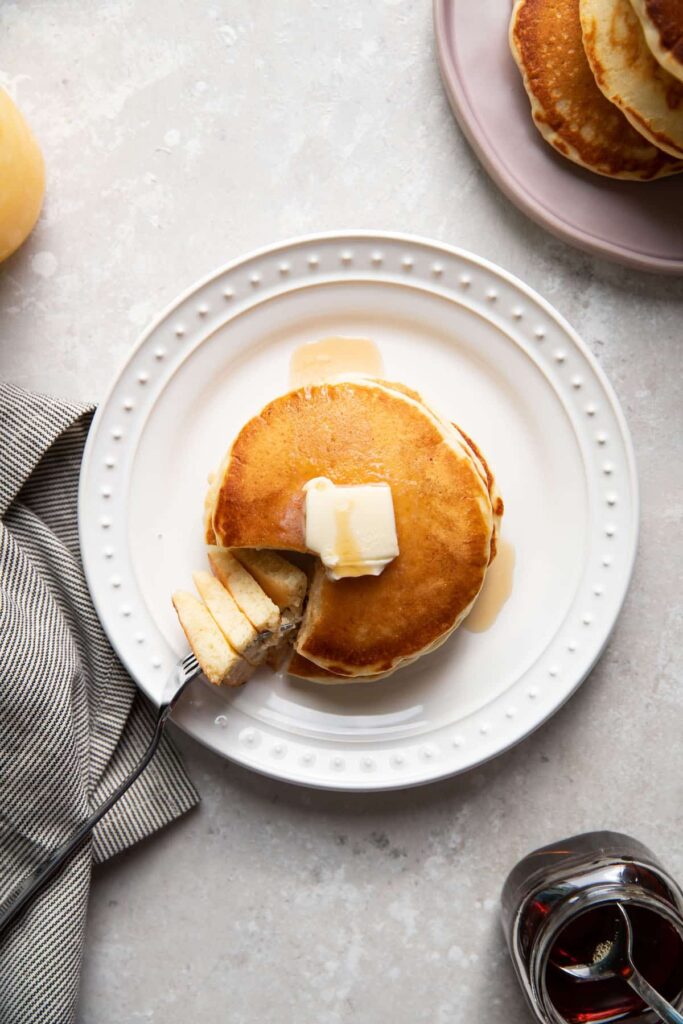 Try Out These Breakfast Recipes
Make sure to follow the Modern Crumb Board on Pinterest for lots of yummy meal inspiration! And subscribe to the newsletter, below, to get updates when new recipes post.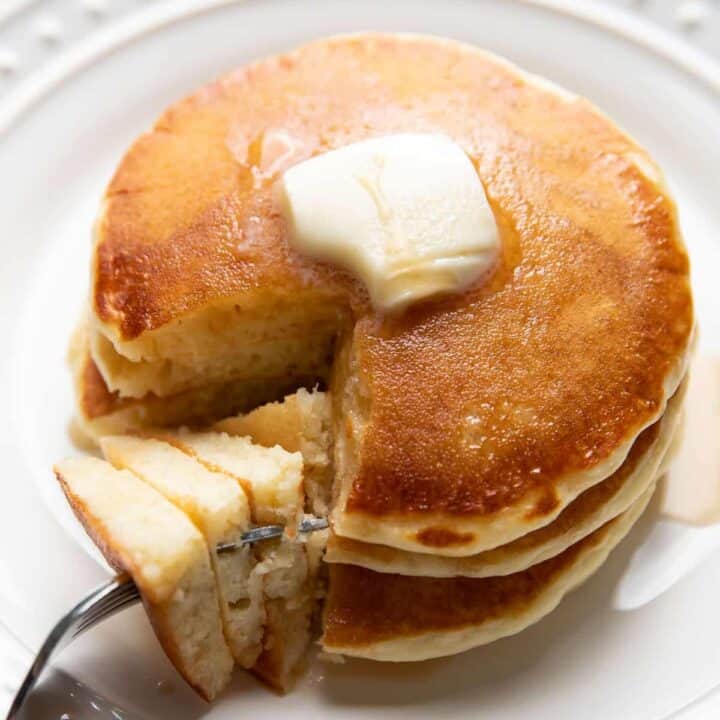 Best Buttermilk Pancakes From Scratch
These are the fluffiest, most delicious, buttermilk pancakes from scratch! Don't bother reaching for a pancake mix when you have this recipe.
Ingredients
2 c flour
2 tbsp sugar
1 tsp baking powder
½ tsp baking soda
1 tsp salt
3 tbsp butter, melted
1 ½ c buttermilk
¾ c milk
2 eggs
Instructions
In a large bowl sift together the flour, sugar, baking powder, baking soda and salt
In a large glass bowl, melt the butter
Use a glass measuring cup to heat the buttermilk and milk, together, for 1 minute
Whisk the eggs in to the butter, then add the buttermilk/milk, whisking everything together
Make a well in the dry ingredients and pour in the wet ingredients
Whisk this together until combined, it doesn't have to be fully smooth, but most of the big lumps out
Heat a griddle over the stove on medium/low heat
Grease with butter
Use a ¼ c measuring spoon to ladle batter on to the griddle
Flip when bubbles have formed on the top
Remove when fully cooked through
Serve with your favorite topping!
Nutrition Information:
Yield:

4
Serving Size:

1 grams
Amount Per Serving:
Unsaturated Fat:

0g