This one pan buttermilk baked chicken and risotto dinner is a quick and easy weeknight meal the whole family will enjoy. The zesty buttermilk marinade makes the chicken juicy and tender and adds so much good flavor to the risotto!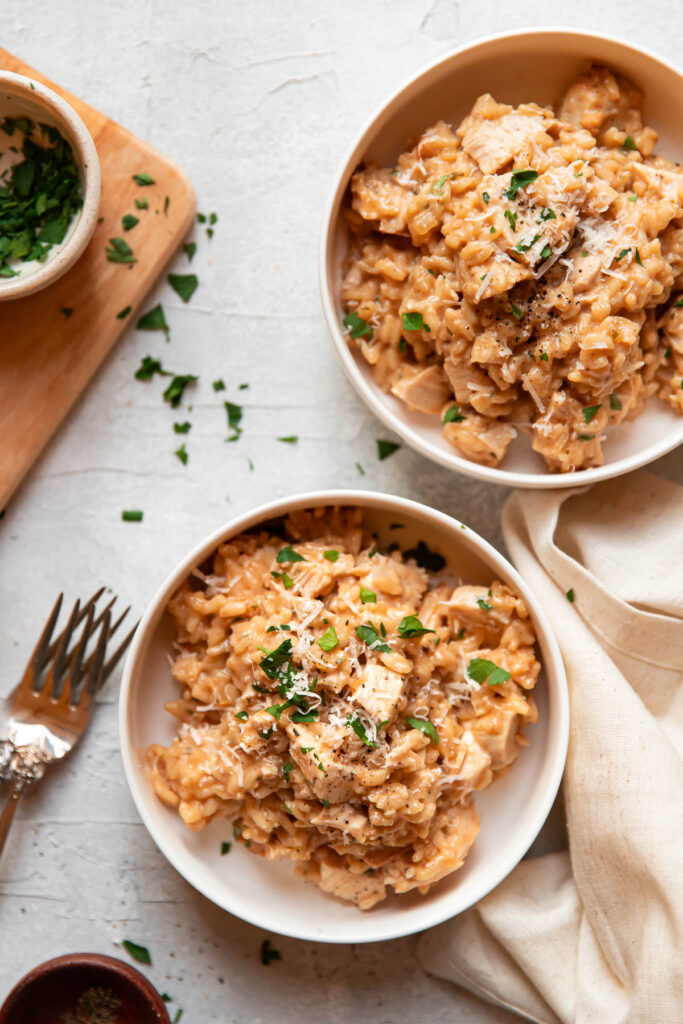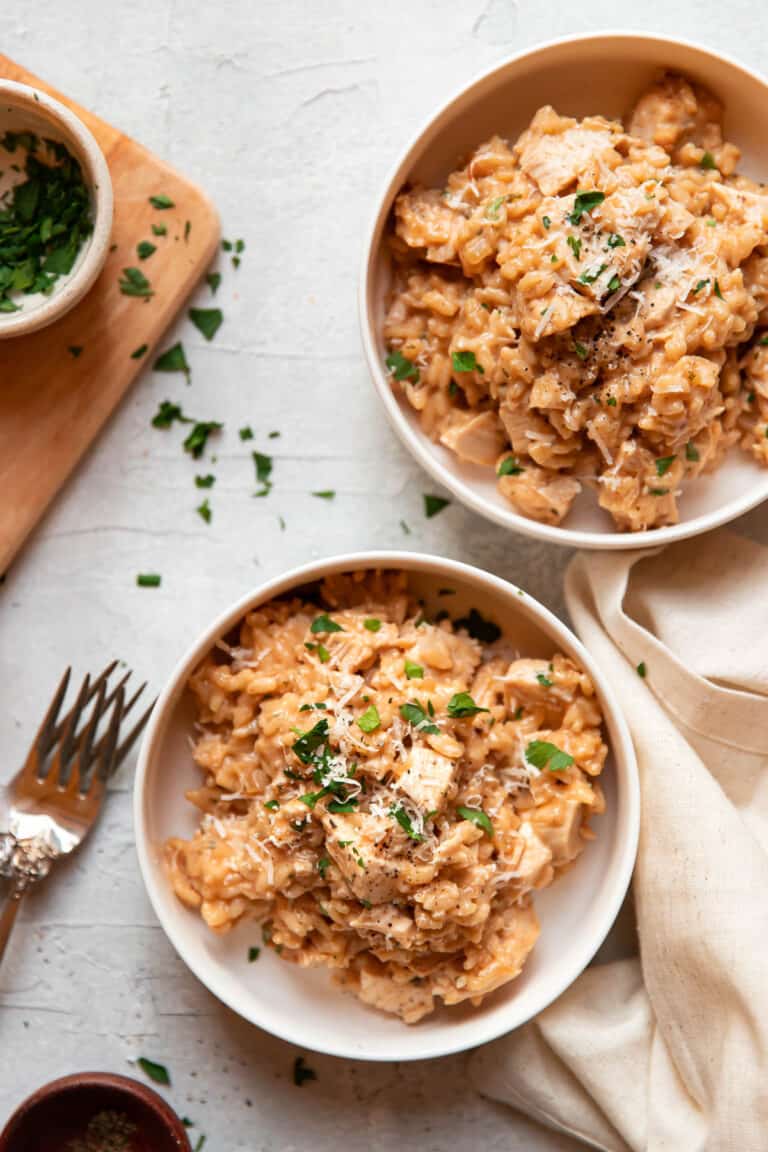 I know how much you all love one pan, easy dinners.
This dinner is made from marinating chicken in buttermilk that is seasoned with spices. Then cooked with risotto (arborio rice).
The end result is really juicy and tender chicken. The risotto is creamy and a bit cheesy from the parmesan cheese.
It comes together pretty quickly. The thing that takes the longest amount of time is waiting for the chicken to marinade. You can prep it in the morning and leave it in the fridge all day but don't let it marinate longer than a day.
Easy to make and easy to clean up.
You can serve this with a side of steamed vegetables or a garden salad.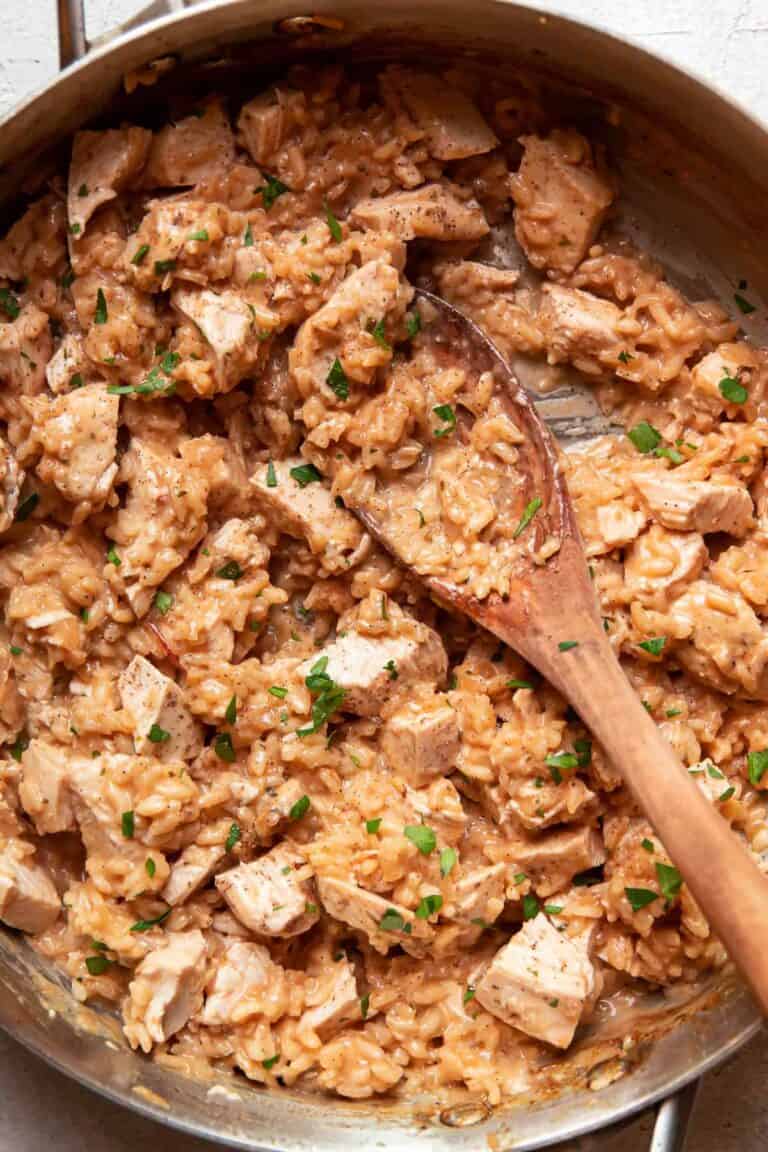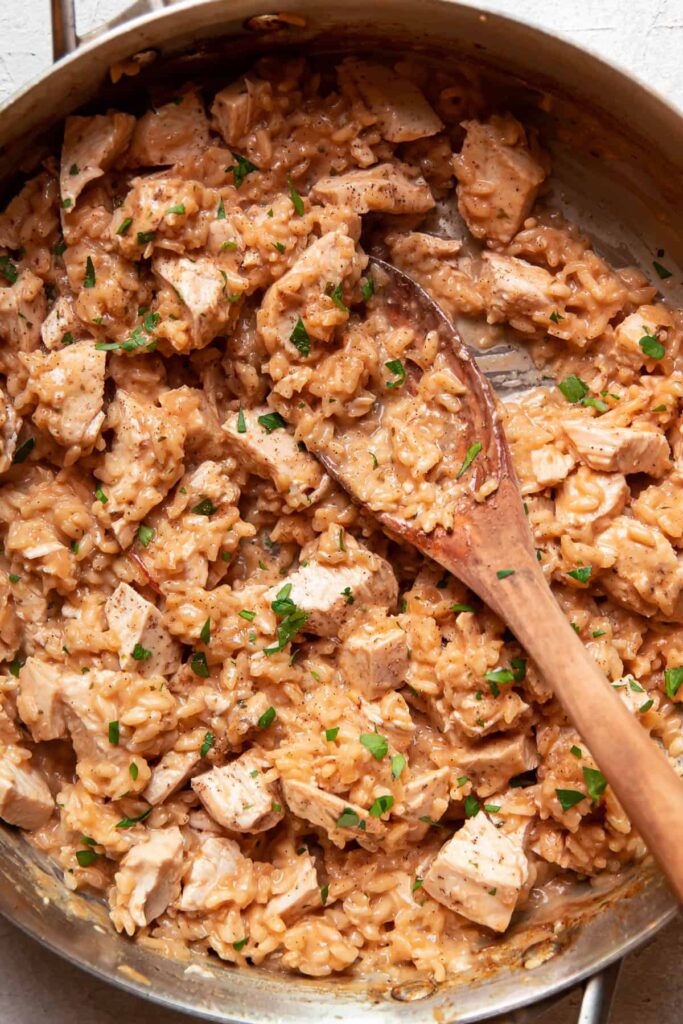 Marinade
For the buttermilk chicken marinade here's what you'll need. And you can use either chicken breast or chicken thighs for this recipe.
Buttermilk - if you don't have buttermilk you can use the hack of mixing milk with lemon juice or vinegar (that's 1 cup of milk to 1 tablespoon lemon juice or buttermilk) but I highly recommend getting real buttermilk for this
onion powder
garlic powder
paprika
dried parsley
salt
pepper
Mix everything together in a big bowl or a ziplock style bag. Then put the chicken in it, toss it around with the marinade and then cover it.
You want it to sit for at least 2 hours in the fridge but if you make it in the morning, for later that day then that works as well. Same method I use for these juicy oven baked chicken drums.
You just don't want it sitting more than a day, marinades start to break down proteins when you do that.
How To Make Buttermilk Chicken Risotto
If you are wondering how to cook chicken soaked in buttermilk then read on!
Getting the chicken in the buttermilk marinade is the first step. Once that's been sitting for a few hours you are ready.
Start by dumping everything (including the marinade) into a heated pan on your stovetop. It sounds a bit strange I know but it winds up working out.
Cook it like this for a few minutes, turning the chicken half way. Then move the chicken to a plate. Leave all the liquid in the pan.
Then you'll saute some onion and garlic, add in the risotto followed by chicken broth. The chicken comes back in to the pan and gets covered with a lid.
Next stop is a trip to the oven to finish cooking for about 30 minutes.
After that you need to let the chicken sit for about 10 minutes, then cut it into small bite size pieces. Letting your chicken sit ensures the juices won't run out (that would give you less juicy chicken).
While your chicken rests you can finish the riosotto by adding parmesan cheese, checking if it needs more salt (it probably will) and adding more chicken broth if it's too thick.
The chopped chicken goes back into the pan, mix it all up and it's ready to be served!
How To Cook Risotto In The Oven
Making true authentic risotto is really a labor of love. Traditionally this involves standing at your stove, whisking the risotto while you gradually add liquid.
It's delicious and amazing and no one has time for that when you are a home cook feeding a family. If we're being honest I'd rather make a batch of s'mores cookies than stand whisking for 45 minutes.
Risotto baked in the oven is a quick and easy substitute for the classic and I think it tastes just as delicious and kid approved.
It absorbs quite a bit of liquid so you need to have enough or else it will dry out.
After it cooks you'll add a bit more liquid and fresh parmesan cheese. Don't forget to check it for taste, you'll probably want to add a pinch of so of salt.
This dinner is so full of flavor!  I love how the buttermilk and seasonings absorb into the risotto making it creamy, savory and extra yummy.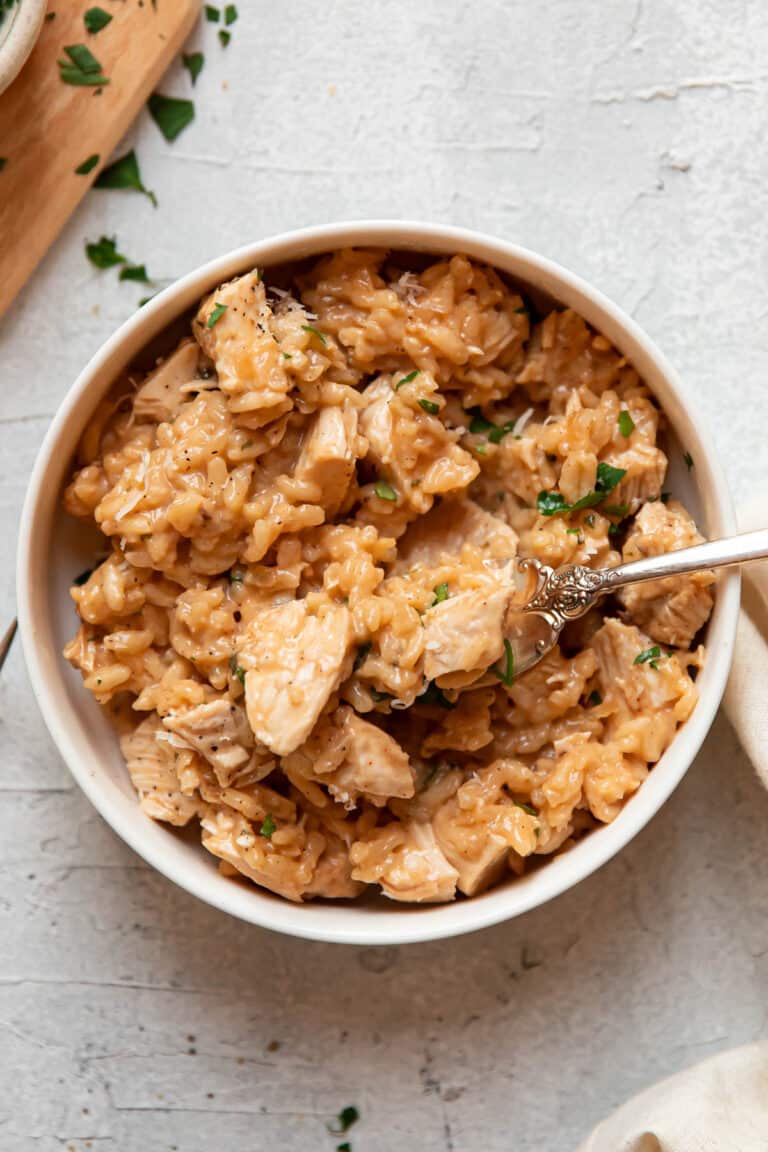 FAQ
How long to marinate chicken in buttermilk?
You will want to marinate the chicken in the seasoned buttermilk for at least 2 hours but no longer than that day.
What does buttermilk do to chicken?
Buttermilk makes the chicken juicy and tender.
Do you wash the buttermilk off the chicken when you bake it?
No. The chicken and buttermilk all go into the pan, don't toss out any of the marinade. It all get's cooked.
What type of chicken should I use?
You can use whatever chicken you want, boneless skinless chicken breast and chicken thighs do work the best for this recipe though.
More One Pan Dinners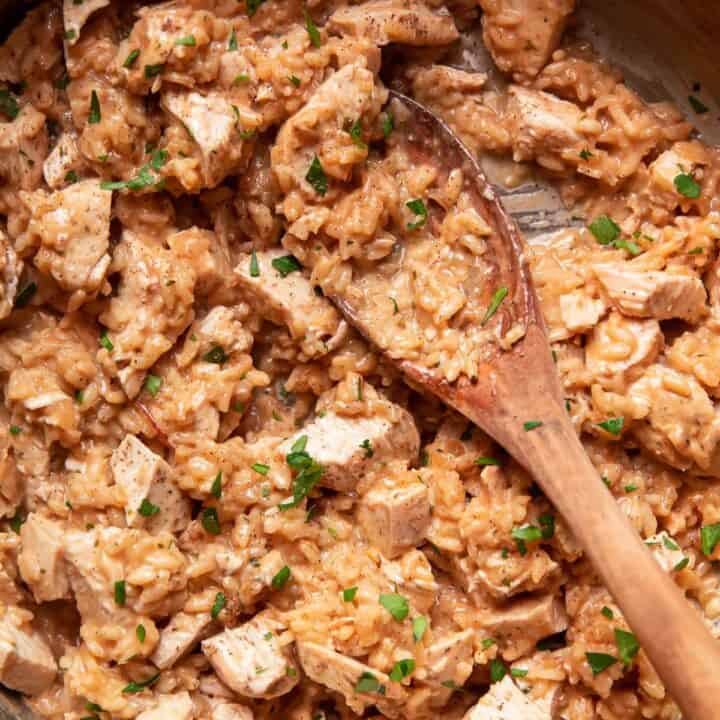 One Pan Buttermilk Baked Chicken Risotto
This one pan buttermilk chicken and risotto dinner is a quick and easy weeknight meal the whole family will enjoy. The zesty buttermilk marinade makes the chicken juicy and tender!
Ingredients
1 ½ lb boneless skinless chicken, (chicken breast or thighs)
¾ c buttermilk
½ tsp salt
½ tsp onion powder
½ tsp garlic powder
¼ tsp pepper
¼ tsp paprika
1 tsp dried parsley
3 tbsp butter
1 c chopped onion, (one small onion)
2 garlic cloves, minced
1 c risotto arborio rice
2 c chicken broth, + more if needed
¼ c parmesan cheese, fresh grated, packed
Instructions
Mix the buttermilk, salt, onion powder, garlic powder, pepper, paprika and parsley in a ziplock bag or bowl
Put the chicken in the bag, coat the chicken in the marinade and refrigerate for at least 2 hours (up to 8 hours, or the same day)
Remove the chicken from the fridge
Preheat oven to 400
Heat a skillet over medium/low heat
Dump the chicken and marinade into the pan, it will bubble and sizzle - this is okay, you can put a lid over top or a splatter guard on top of your pan until it settles
Cook the chicken on each side for 1-2 minutes then set aside on a plate
Add to the skillet the butter, chopped onion and garlic (and a few pinches of salt)
Stir in the risotto, cook it like this for 2 minutes, the risotto will start to absorb a bit of the liquid
Add in the chicken broth and chicken, bring this to a boil
Cover with a lid (or foil) and bake for 20 minutes
Remove the lid and continue cooking in the oven for 10 minutes
Carefully take the pan out of the oven (a hot handle always needs a towel on it to show others it's hot and be careful)
Take the chicken out and set it on a cutting board
Mix in the parmesan cheese to the risotto, if it starts getting too thick add a few splashes of chicken broth
Add salt and pepper to taste at this point
Chop up the chicken into bite sized pieces, put it back in the pan, stir and serve
Recommended Products
As an Amazon Associate and member of other affiliate programs, I earn from qualifying purchases.
Nutrition Information:
Yield:

6
Serving Size:

1
Amount Per Serving:
Calories:

429
Total Fat:

18g
Saturated Fat:

8g
Trans Fat:

0g
Unsaturated Fat:

8g
Cholesterol:

128mg
Sodium:

1015mg
Carbohydrates:

25g
Fiber:

1g
Sugar:

4g
Protein:

39g
This information comes from online calculators. Although moderncrumb.com attempts to provide accurate nutritional information, these figures are only estimates.
This recipe was originally published on Februrary 25, 2019.