Extra creamy and cheesy risotto with juicy seasoned chicken and broccoli all tossed together in one bowl. The perfect 30 minute dinner to please the entire family!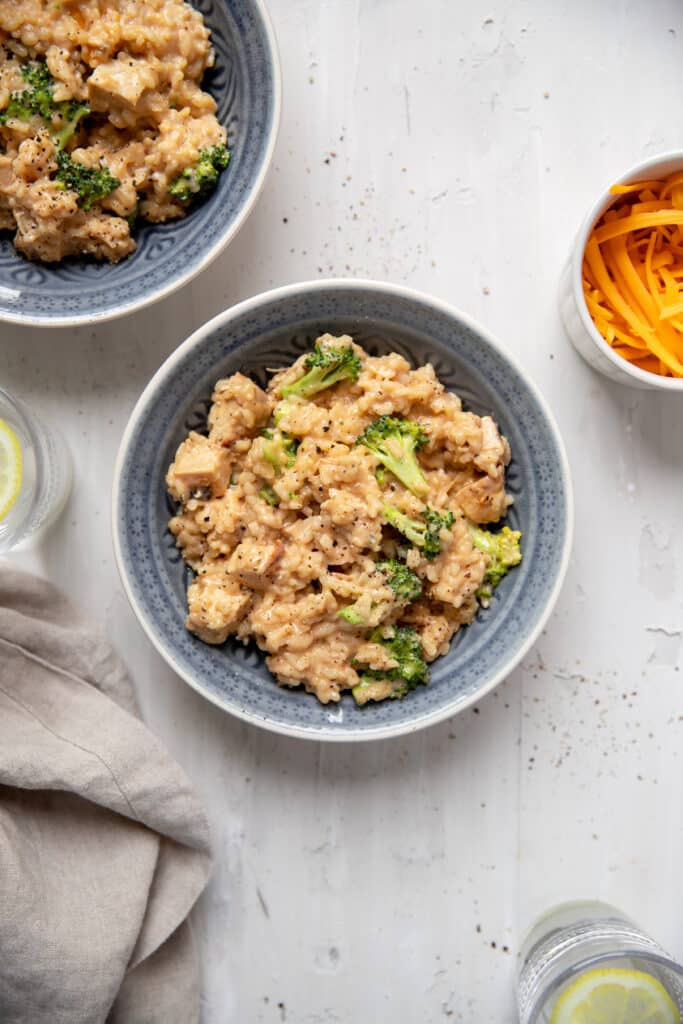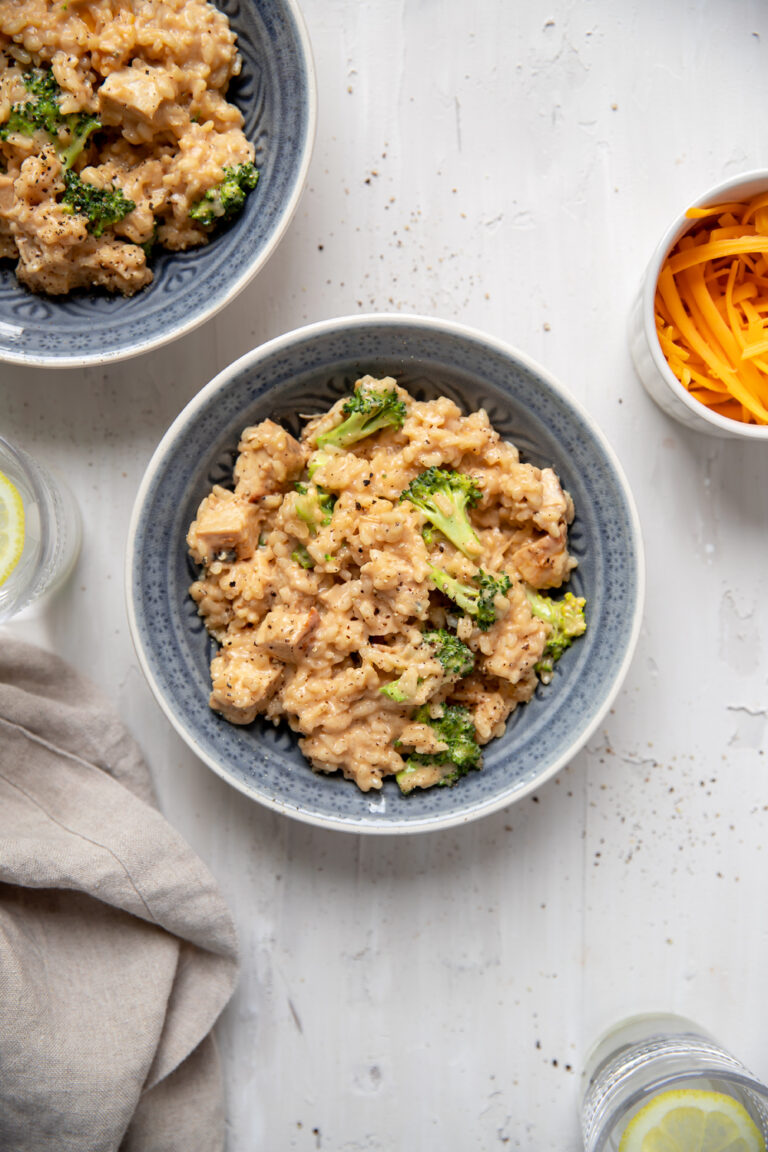 Cheesy Chicken and Broccoli Risotto
For this super cheesy risotto, cheddar is our victim. If you go with a mild cheddar it will melt like a dream. But by all means, if sharp cheddar is where your heart lies than follow through with that!
There is no wrong answer, this is one of those easy recipes that you can transform to make it your own.
Add things, take things away. Go nuts.
Everything is made in ONE pan. Only good things come from a one pan meal; mostly being less dishes. Because dishes are our enemy of course. So bust out that giant pan, and contemplate what you'll be doing with all that free time.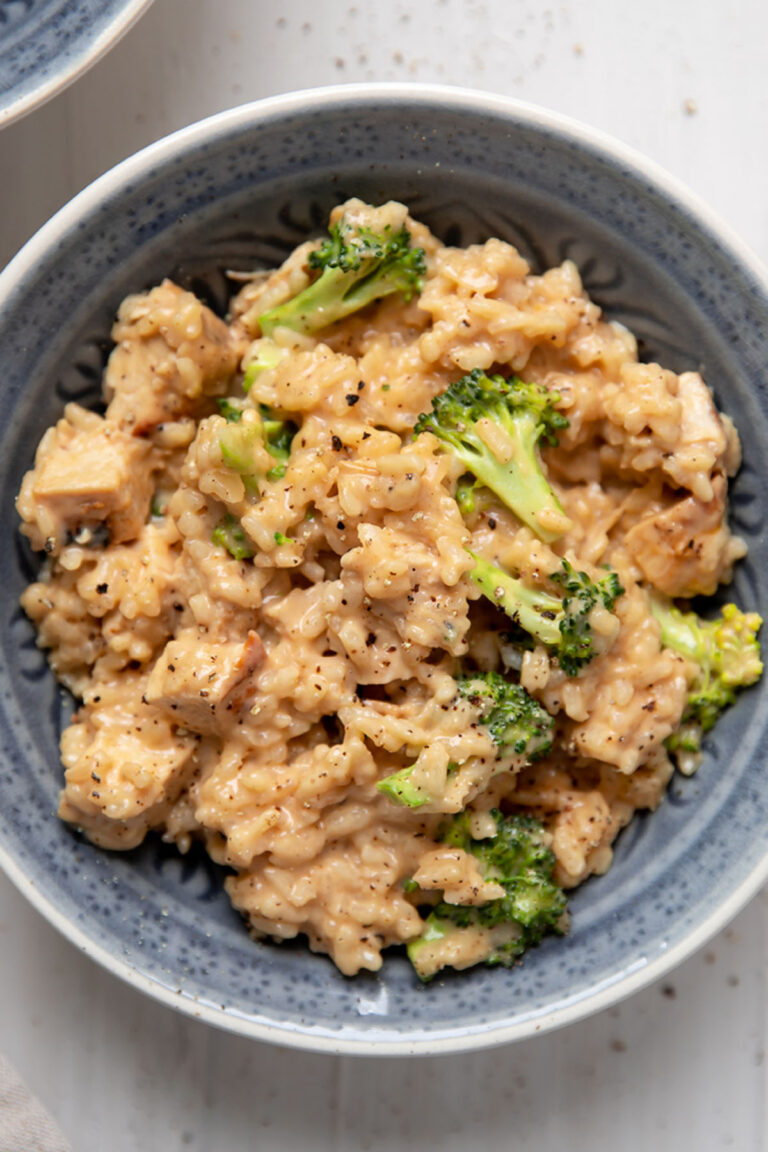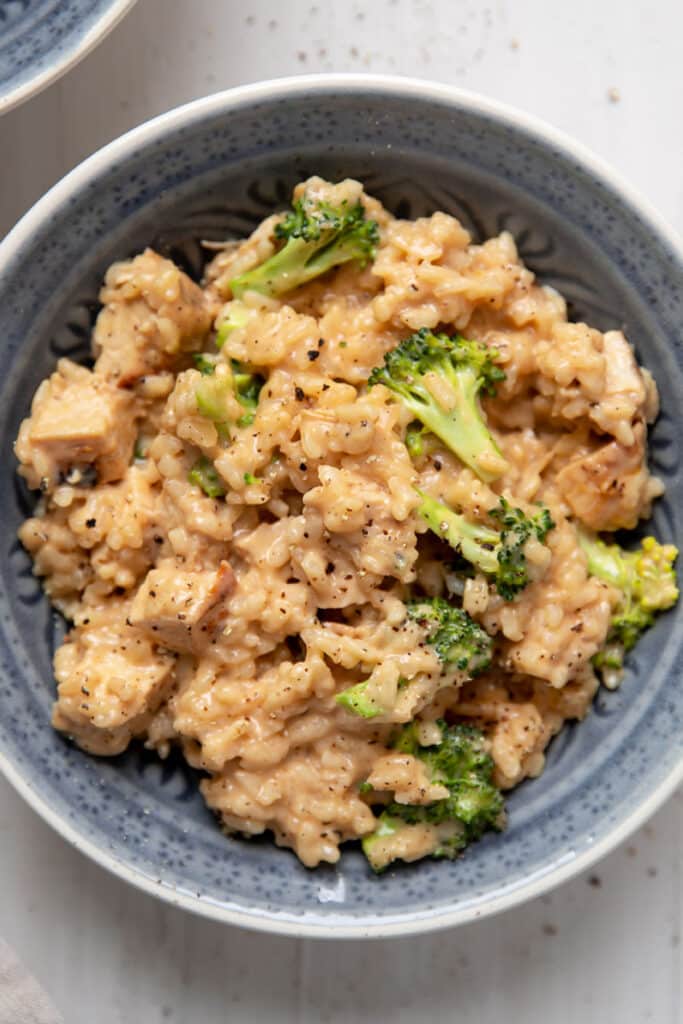 What's risotto? Is it Hard to make?
Risotto is a type of rice. You add broth to it to help it reach a creamy consistency. My favorite way to eat it, is with cheese added in. Normally I just stick to parmesan cheese but I ventured out and added cheddar cheese to this recipe.
Contrary to popular belief, risotto is super easy to make. I've cooked it all these different ways.
Stirring constantly for about 30 minutes + , adding broth as it absorbs. This takes forever. Me no like.
Cooking it stovetop, covered, stirring every so often while it cooks on low. I like this method a lot and the one I use most often.
Starting it on the stove, transferring to the oven. This also works well.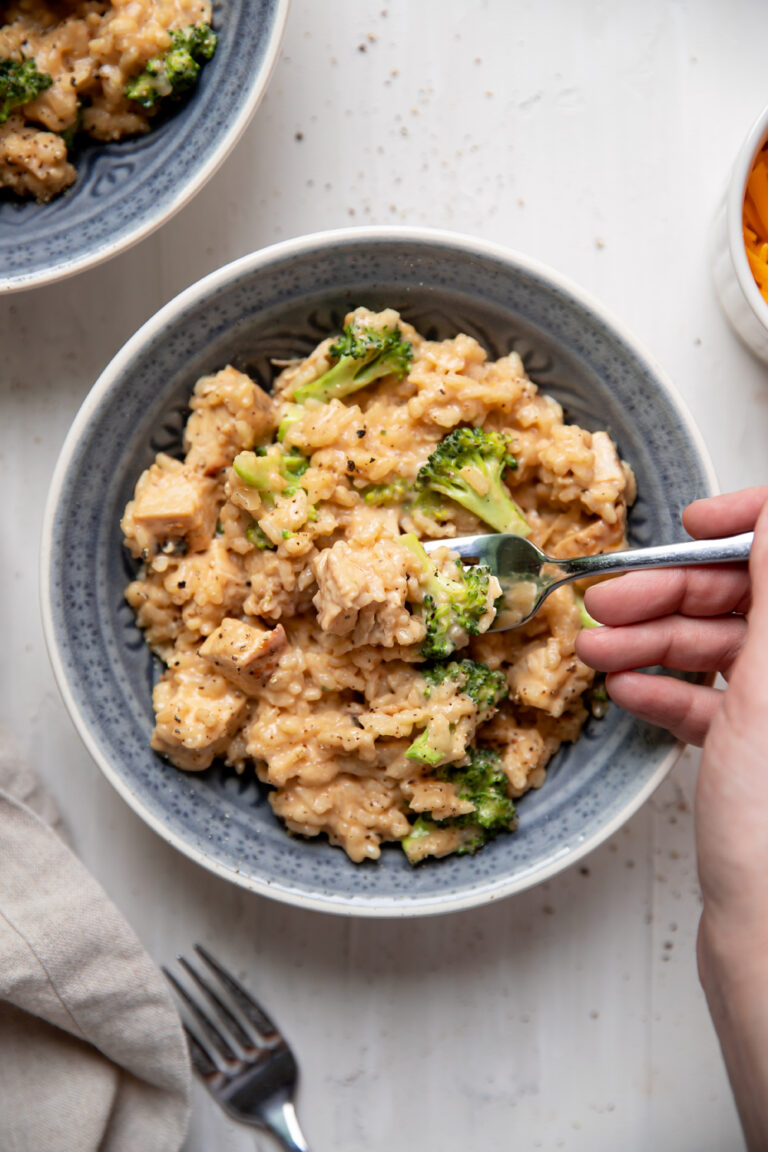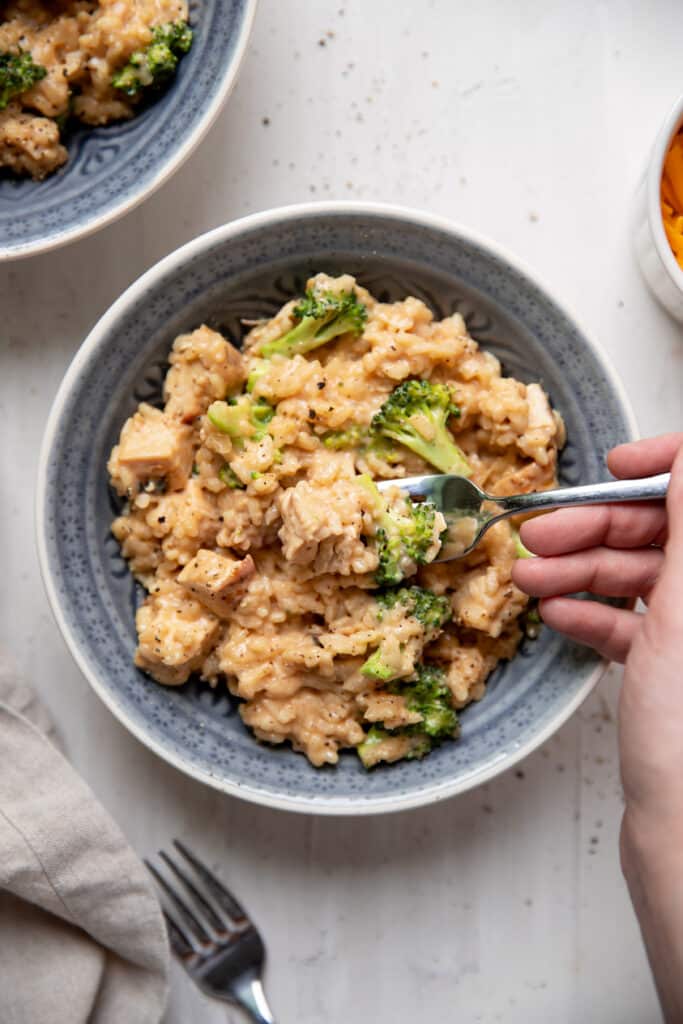 With all the different ways you can cook it, I honestly can't tell a different, they all taste fantastic and the texture is great. So I'm definitely picking the time saving method.
More 30 Minute Dinners
If you are all about easy 30 minute dinners, I feel you. This list is a few of my favorite super simple dinners that my family loves.
Make sure to follow the Modern Crumb Board on Pinterest for lots of yummy meal inspiration! And subscribe to the newsletter, below, to get updates when new recipes post.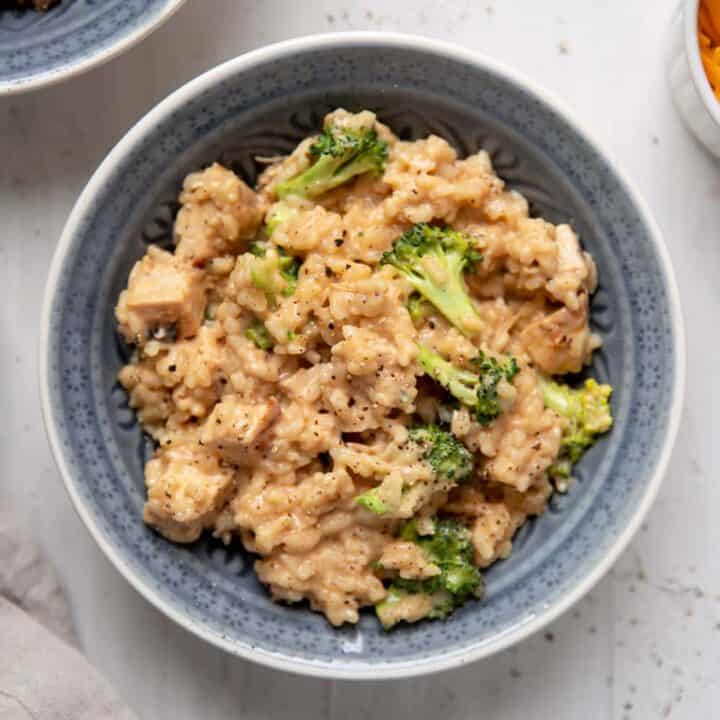 One Pan Extra Cheesy Chicken and Broccoli Risotto
Extra creamy and cheesy risotto with juicy seasoned chicken and broccoli all tossed together in one bowl. The perfect 30 minute dinner to please the entire family.
Ingredients
1 lb chicken
1 c risotto (arborio rice)
½ tsp paprika
½ tsp garlic powder
salt
pepper
olive oil
2 tbsp butter
1 small onion, diced
3 cloves garlic, minced
1 ½ c chicken broth
1 c milk
1 c broccoli florets
1 c packed cheddar cheese, shredded
¼ c parmigiano cheese, shredded
Instructions
Use a mallet to pound the chicken thin, sprinkle on the paprika, garlic powder and a few pinches of salt and pepper
Heat a large sauté pan over medium heat and drizzle with olive oil
Sear both sides of the chicken then remove off to the side
Add in the butter, diced onion and fresh minced garlic
Sprinkle with a generous bit of salt (this helps to caramelize onions)
Stir for 3 minutes or until the onions start to look golden
Add the risotto, chicken broth and milk
Bring to a boil
Add the chicken back in and the broccoli florets
Cover and cook on med/low heat for 10-12 minutes or until chicken is cooked through (best method is to use an internal meat thermometer, so you don't have to cut into it and lose all the juice)
Take the chicken out of the pan again
Add in the cheddar cheese and parmigiano cheese, mix it all around
If it's too thick add in some extra chicken broth or milk
Taste it - it may need a pinch more salt if it's too bland, add a sprinkle at a time
Rough chop the chicken and add it back to the pan, mix everything together
Serve!
Nutrition Information:
Yield:

4
Serving Size:

1 grams
Amount Per Serving:
Unsaturated Fat:

0g
Quick And Easy Dinner Recipes