The cheesiest, yummiest, broccoli chicken cheese pasta! This quick and easy loaded up mac and cheese is our family's favorite dinner.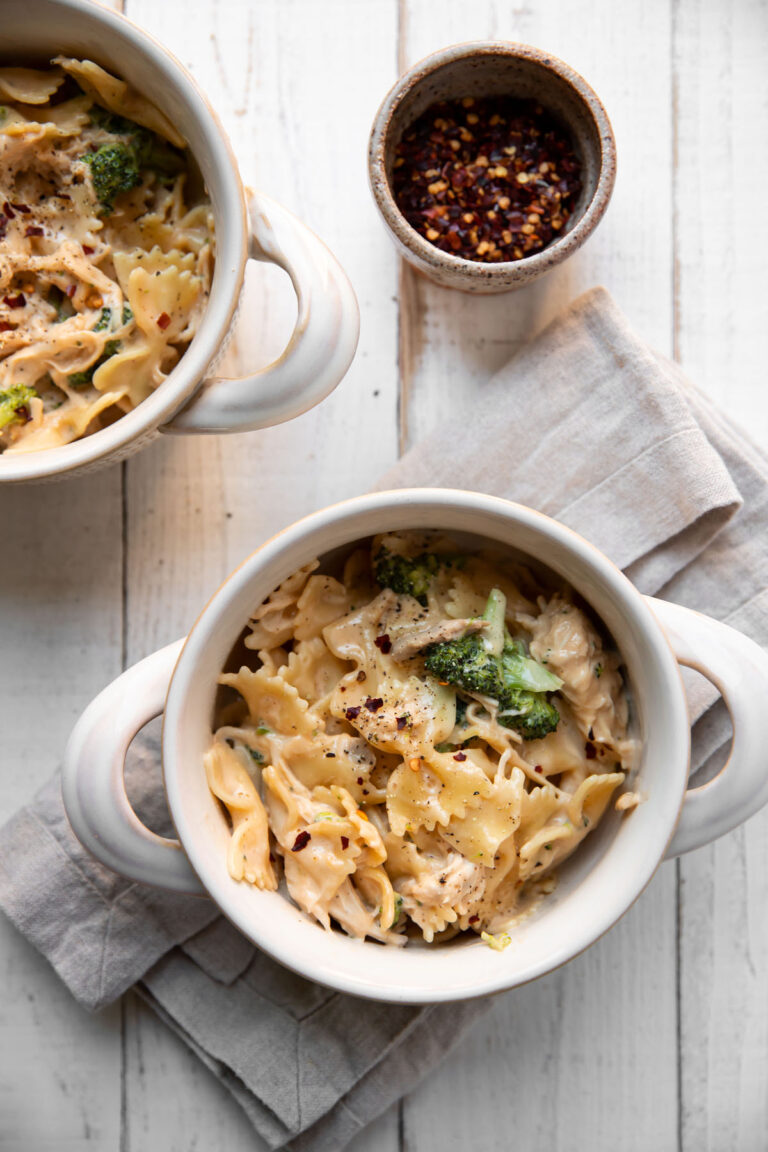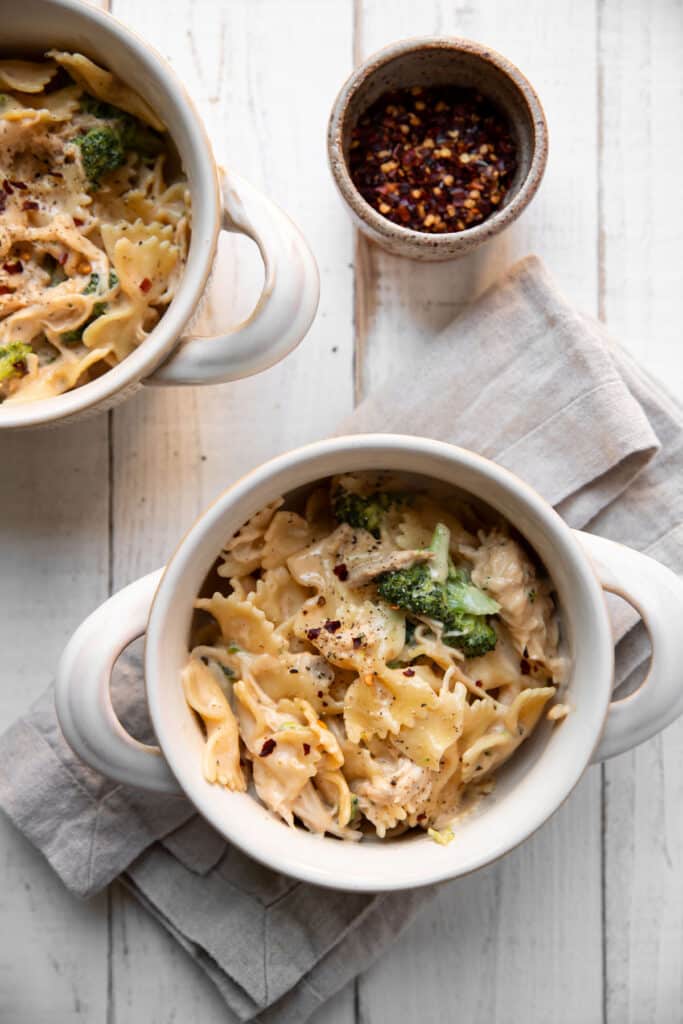 Dear cheese, I'm a big, no, huge fan of yours.  Really my whole family is.  My daughter even has the cutest nose scrunch when she says "cheeeese" with a huge toothy grin. I give you - broccoli chicken cheese pasta, aka your next favorite binge recipe.
We have a local restaurant nearby called Sauce Pizza and Wine, it's a pretty good place and they serve (obviously) pizza and wine. But, besides that they serve some killer salads and delicious pasta dishes. It's a bit trendy but kid friendly, and that works for us in this stage of life.
One of our favorite things to get there is the broccoli chicken cheese pasta (spoiler alert to what's in it, right?).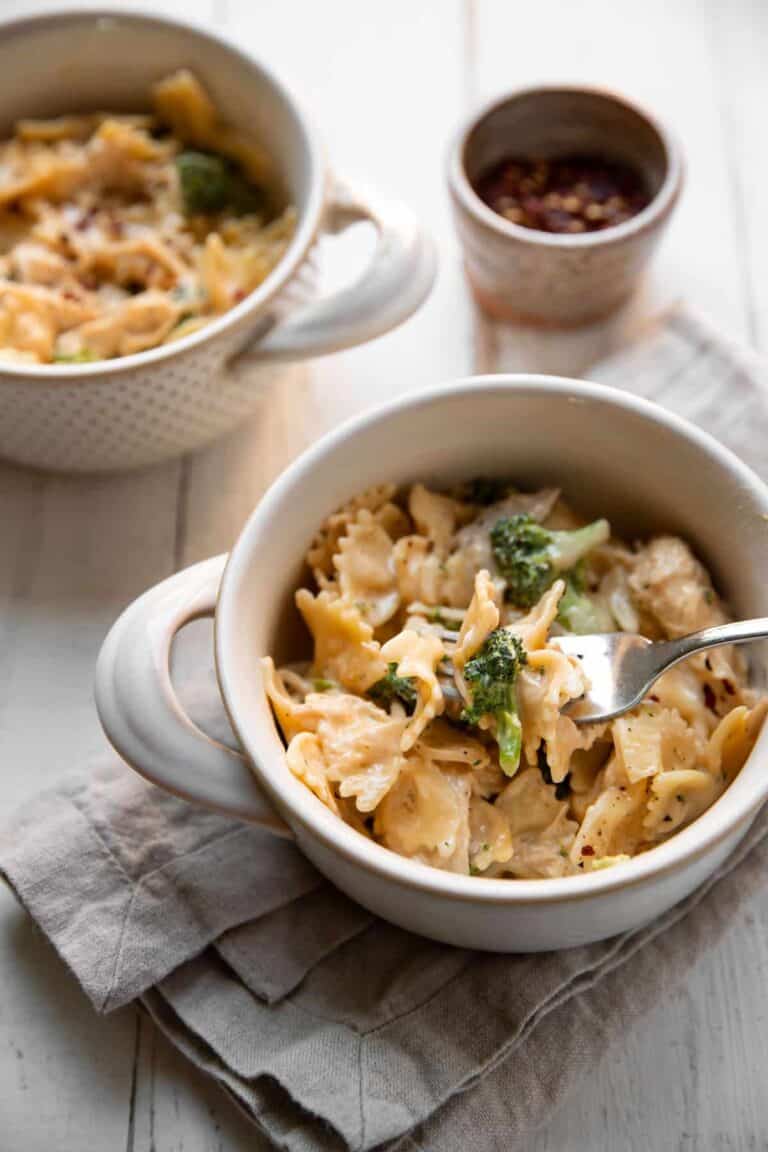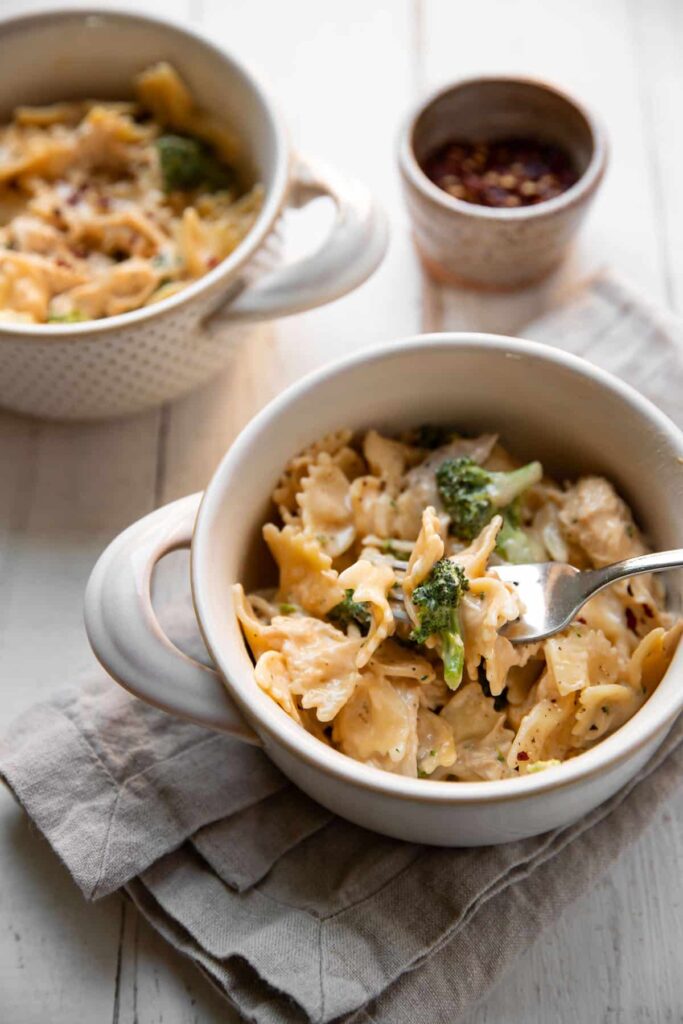 For years and years, and years (yes its been that many years) I've been making a copycat version. It's AH-MAZING. It's cheesily delightful.
The sauce is a nice creamy consistency and the noodles are cooked to al dente along with the broccoli that is cooked and served while its still bright green (AKA no mushy veggies folks).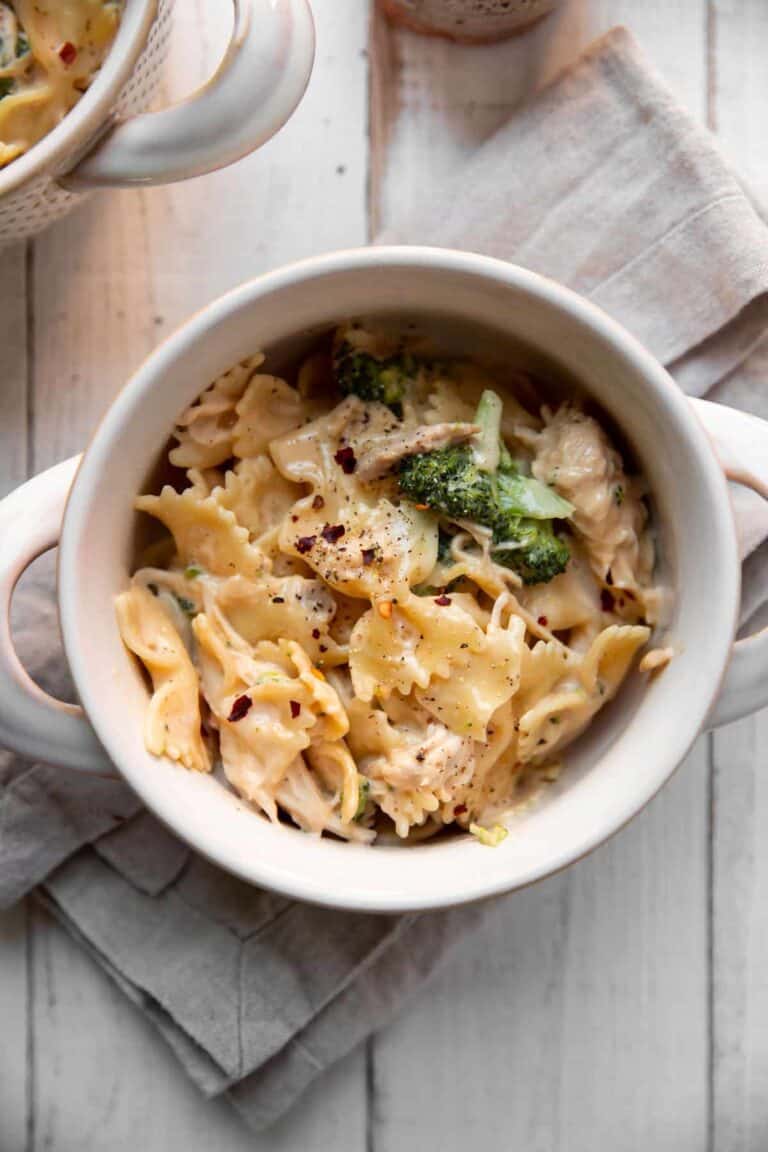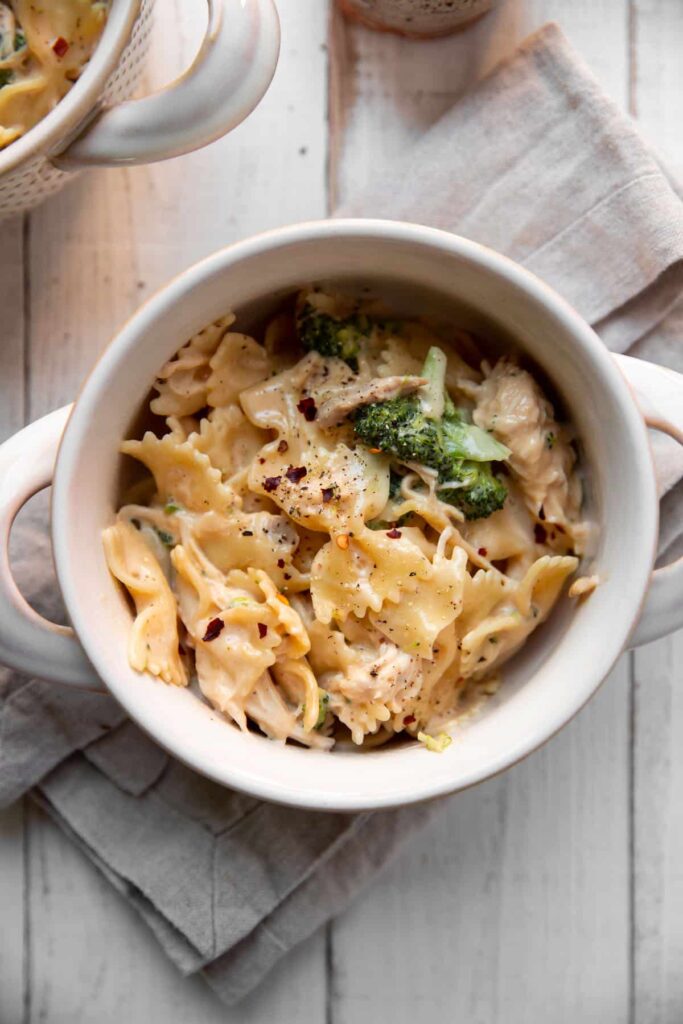 Side note and tip, growing up my mom always overcooked her vegetables, kids may not always love every vegetable you serve them but they especially don't like mushy overcooked ones.
Shredding the chicken gives the dish a more even distribution of chicken and it's just kind of fun! If you have a kitchenaid stand mixer the quickest method is to throw it in, with your paddle at a medium speed for a minute, voila, shredded chicken!
Easy peesy lemon squeezy.  I wen't there, i know, corny sayings give me joy in life. Let's get cooking!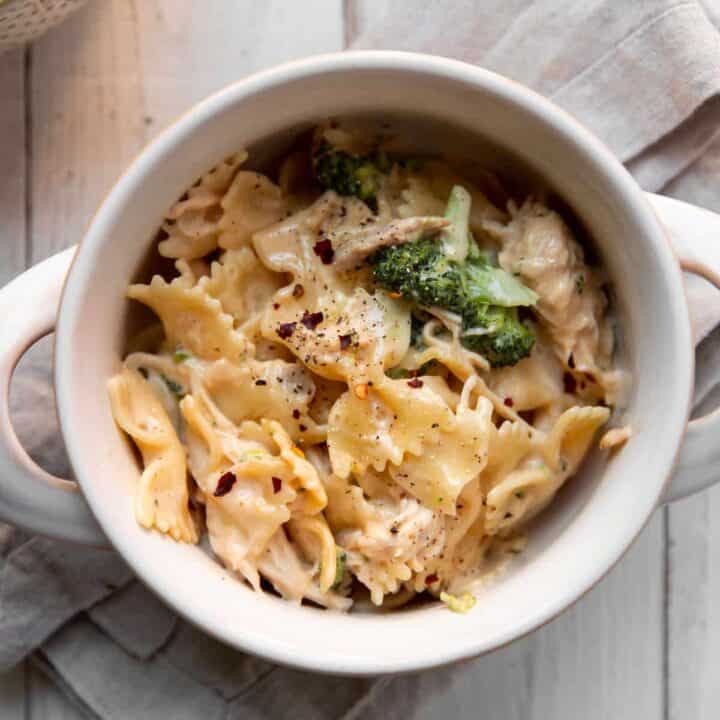 Broccoli Chicken Cheese Pasta
The cheesiest, yummiest, broccoli chicken cheese pasta! This quick and easy loaded up mac and cheese is our family's favorite dinner.
Ingredients
8 oz dry pasta
1 lb chicken breast, pounded thin
2 heads of broccoli
5 oz velveeta cheese
5 oz extra sharp cheddar, about 2 cups loosely packed
1/4 c. packed parmigiano reggiano
2 c milk + more if it starts to get too thick
1/4 tsp pepper
seasoning for chicken
olive oil
1/2 tsp salt
1/8 tsp pepper
1/4 tsp garlic powder
1/4 tsp onion powder
Instructions
Preheat oven to 400
Put your chicken on a baking sheet lined with foil
Drizzle the chicken with olive oil and the seasonings
Bake for 25 minutes.
Grab a large pot, fill it with water and bring to a boil, add your pasta and cook until al dente
Wash and cut the broccoli heads into little bite size pieces
Steam the broccoli until it is barely tender, it will continue cooking even after you pull it off the steam
Drain your noodles
Grate the cheddar cheese, parmesan and cut the velveeta into cubes
Grab a pot (I use the same one that I used to boil the noodles) and put it on the stove over low/med heat
Add the milk, cheese and pepper, whisking to incorporate until you get a nice smooth consistency
While this comes together shred the chicken and it to the cheese mixture
Dump in your noodles and broccoli
Combine this gently, you don't want to disintegrate the broccoli
Add a couple extra splashes of milk before you serve it (it will start to thicken).
Spoon the pasta into a bowl and top with freshly grated pepper and if you want a little kick, add some red pepper flakes, it's awesome!
Nutrition Information:
Serving Size:

1 grams
Amount Per Serving:
Unsaturated Fat:

0g