Bolognese is an Italian meat sauce. This one is made with ground beef and lots of fresh ingredients like carrots, celery and onion. Fresh basil, oregano and a bay leaf gives this bolognese so much flavor. Serve with spaghetti or your favorite pasta.
You could replace the sauce in this easy stovetop gnocchi lasagna and use this bolognese for a fun dinner.
This recipe was first published on November 2, 2020.
Bolognese is my husband's all time favorite dish to order at a restaurant. So you can imagine how thrilled he was when I stared making my own restaurant quality recipe for spaghetti bolognese.
Sort of like this 20 minute pumpkin ravioli, it gets rave reviews for being restaurant quality but so easy.
If you've never tasted bolognese, it is a very rich meat sauce that has a lot of components. Vegetables, broth, often times red wine. This recipe has no wine, just chicken broth.
The difference between bolognese and marinara is that in a bolognese sauce the meat is the star, in a marinara the tomatoes are the star.
The secret ingredient is bacon. Read on for how I use bacon to start building flavor.
Jump to: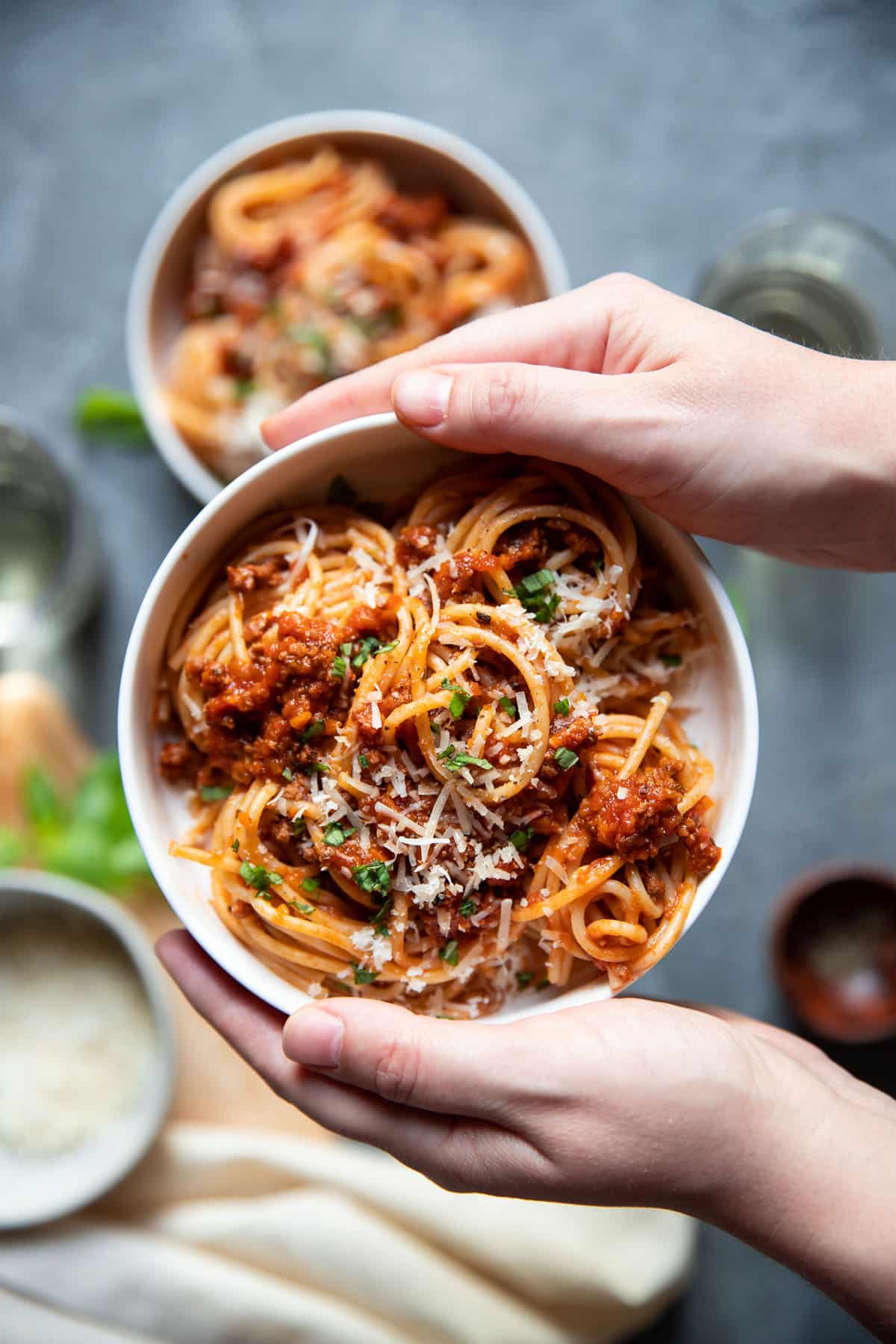 What Pasta To Use
The options are endless when it comes to which pasta to select for your bolognese. Realistically any type of pasta will work.
A few of the most popular will be spaghetti, tagliatelle, pappardelle, rigatoni and penne.
We're a spaghetti household, so spaghetti is what I like to use.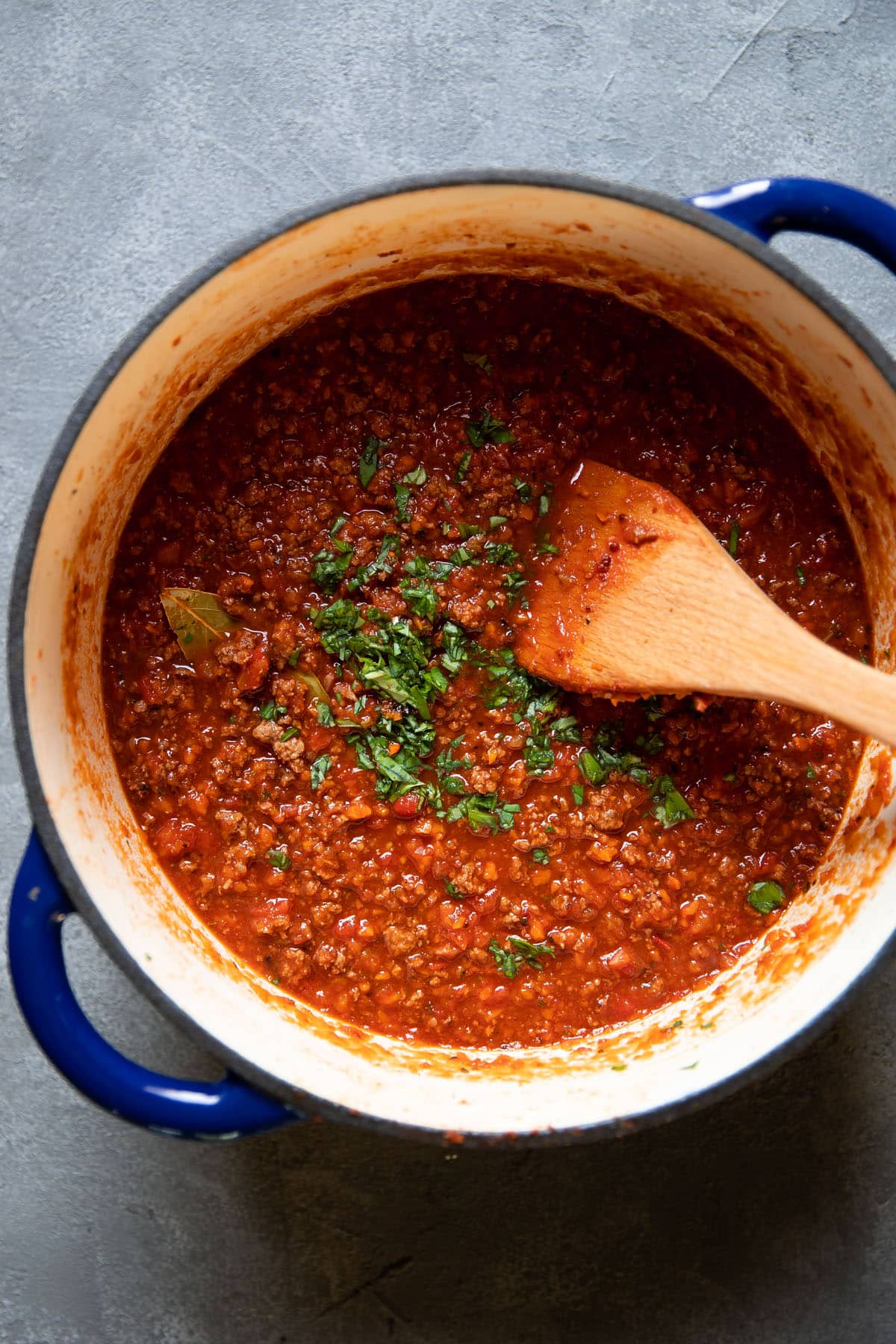 How To Make Bolognese
Making this delicious bolognese is all about building flavors.
Bacon is the first ingredient that you'll be starting with. The bacon gets chopped up then added to a large pan, like a dutch oven. You want to get this crispy, then do not wipe out any grease, leave it there.
Additionally I like to take the bacon out give it another rough chop and toss it back in.
In go carrots, onion, celery (all chopped) for a 10 minute saute. The ground beef is next, with an additional 10 minutes of cook time.
Here's the secret to knowing when it's ready at this point. The meat will start to make a crackling sound. Pay attention to your heat, you don't want to burn anything.
Last to go in is all of the wet ingredients and herbs. Chicken broth, tomato paste and crushed tomatoes. The herbs are oregano, basil leaves (preferably fresh), and a bay leaf.
Some salt with enhance all the flavors. You'll stop adding anything new and simmer this, covered, for 1 hour. And that's it, so easy!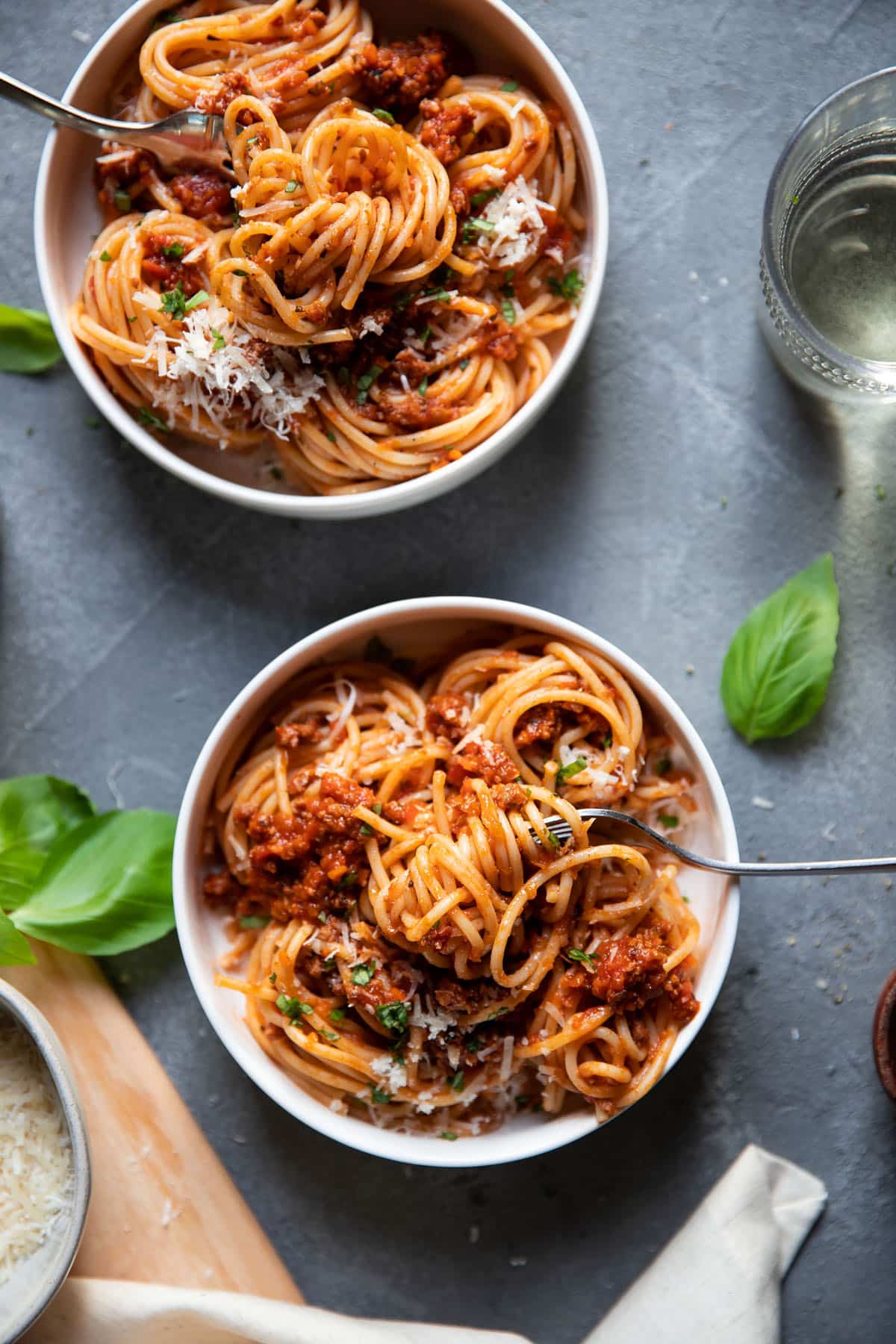 Tips and Tricks
The cracking sound you'll be listening to for when the meat is ready is a very distinct crackle. It will go from the sound of just browning, to cooking, to the crackling.
It's important to let it cook while making this crackle, for 5 minutes. Adjust the heat if it's too hot.
You don't want to leave it unattended at this point because it could burn your meat.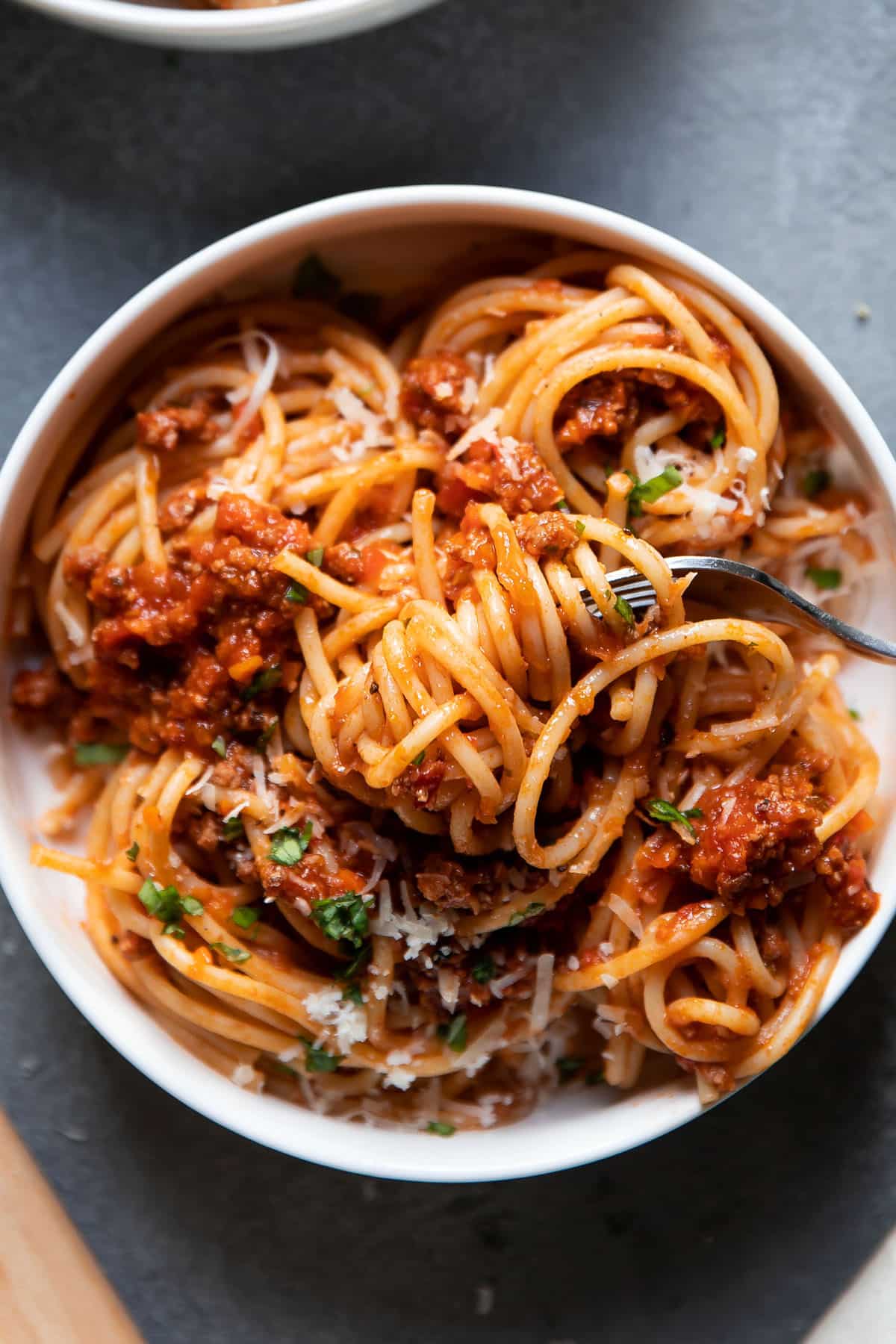 Getting the bolognese sauce to stick to your pasta is always what you want. You don't want it sliding right off, all pooled on your plate.
To achieve this, do not rinse your pasta after draining. That is a big no no.
You need those extra starches to remain on the pasta, it gives the sauce something to stick to.
One of my favorite things about this bolognese recipe is that you can freeze it so easily! Pull it out of the freezer and it makes the perfect easy weeknight meal, just boil some pasta to go with it.
It tastes just as good after being frozen too.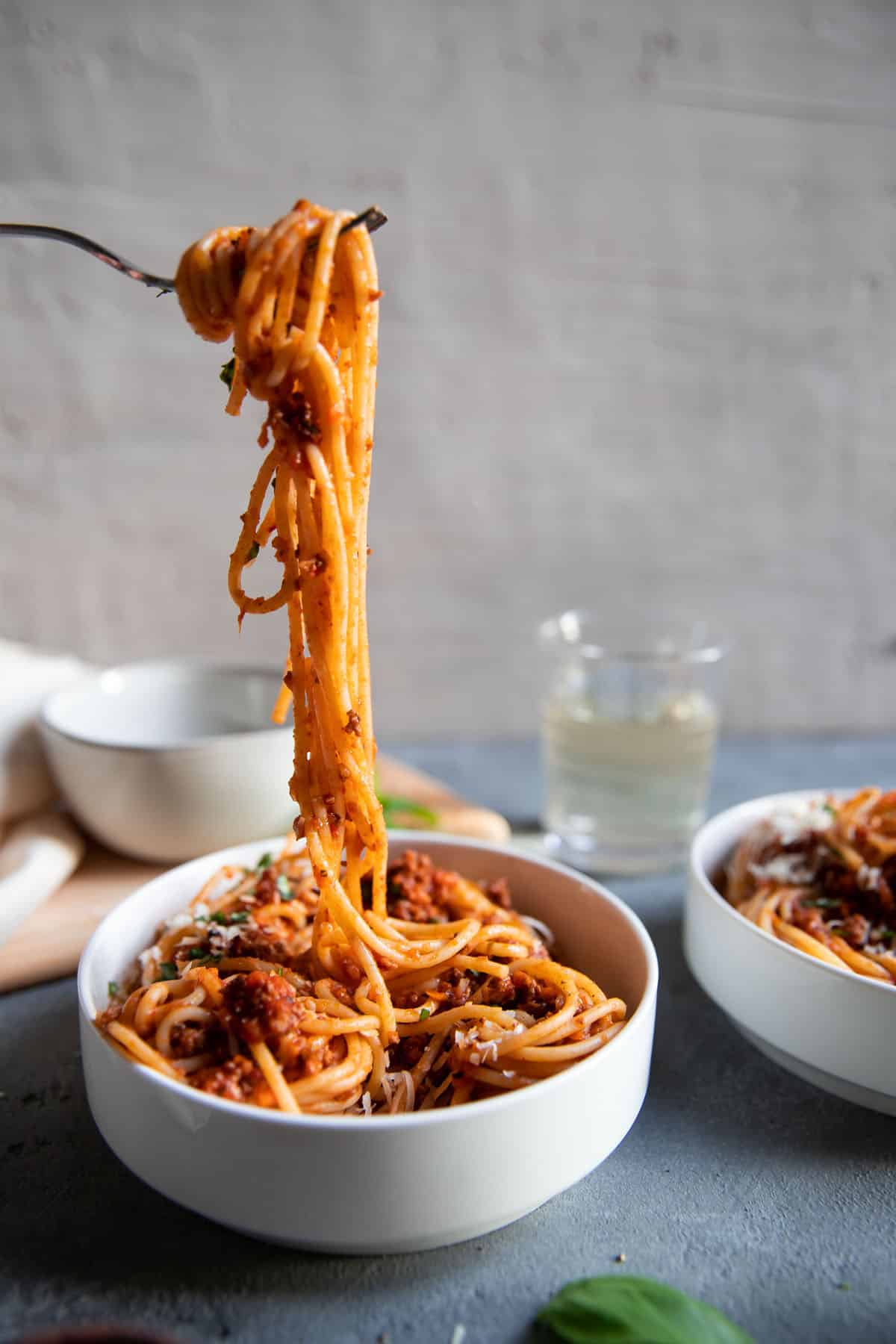 FAQ
Why does bolognese take so long?
Great question! The ingredients need to sit together to make a great flavor. This bolognese is actually really good the next day!
Can bolognese sauce be frozen?
Yes! You can easily freeze the bolognese in a ziploc bag to use later. To reheat, move it from the freezer to the fridge then transfer to a pot on the stove. You may want to add a bit of chicken broth to it if it's too thick.
How long will bolognese sauce last in the fridge?
Eat your bolognese meat sauce within 5 days. If you want to eat it later than that, try to freeze the sauce the day you make it.
Do you remove the bay leaf in bolognese before serving?
Yes, you will remove the bay leaf. Or you can leave it in and just scoop around it. But you won't want to serve it in someones bowl.
What herbs go in bolognese?
Dried oregano, fresh basil and a bay leaf.
More Pasta Recipes To Try
If you are looking for a beef based pasta dish try out tara's easy stovetop lasagna, lasagna tortellini soup and easy stovetop gnocchi lasagna. Can you tell lasagna is a big deal around here?
If you are looking for chicken being the star of the dinner than this lemon basil chicken pasta is quite nice, or this chicken and sun dried tomato pasta.
Ground turkey meatballs and pasta are my go to for a ground turkey dinner, and this white wine gnocchi and shrimp is so amazing, there are even instructions if you want to make homemade gnocchi.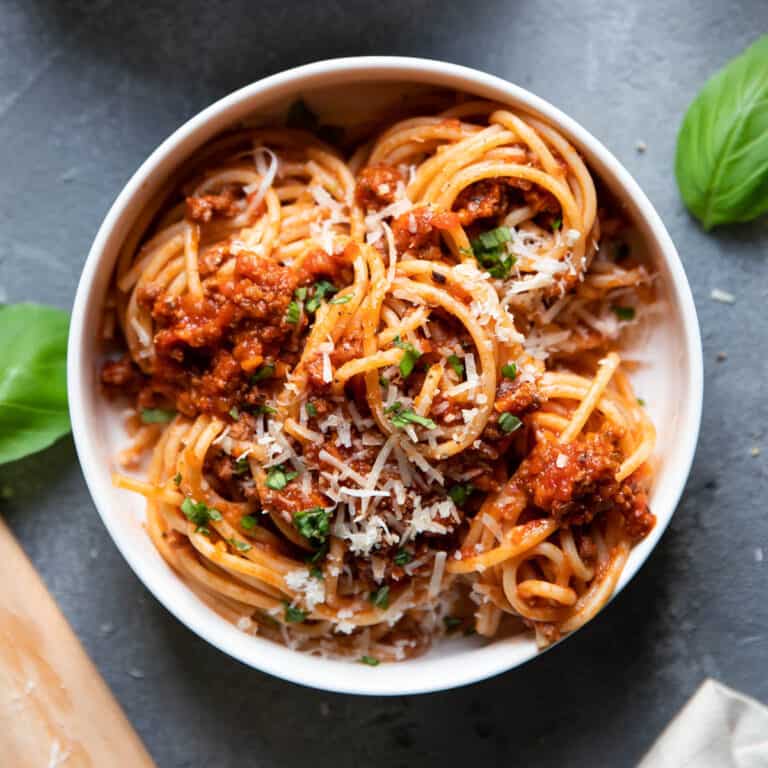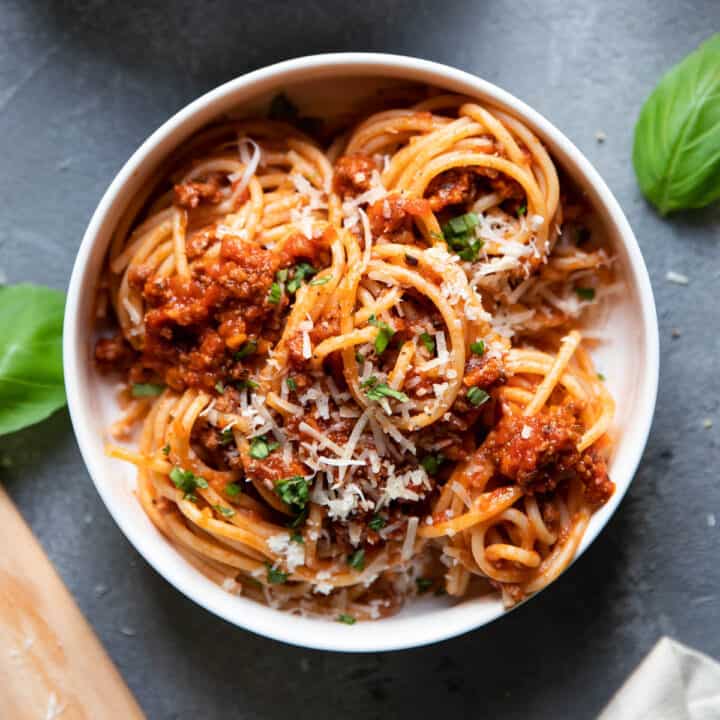 Spaghetti Bolognese Meat Sauce
Total Time:
1 hour
35 minutes
Bolognese is an Italian meat sauce. This one is made with ground beef and lots of fresh ingredients like carrots, celery and onion. Fresh basil, oregano and a bay leaf gives this bolognese so much flavor.
Ingredients
3 pieces of bacon, chopped up
2 carrots, peeled and diced in a food processor (about 1 cup)
2 celery stalks, diced in a food processor (about ½ c)
½ onion, diced in a food processor (about 1 cup)
1 lb ground beef
1 c water
1 tsp chicken better than bouillon
1 tsp tomato paste
28 oz crushed tomato
1 tsp dried oregano
5 large fresh basil leaves, chopped + extra for garnish
1 bay leaf
1 tsp salt
16 oz spaghetti
optional: parmigiano reggiano cheese
Instructions
Heat a large dutch oven or pot over medium heat
Add the chopped bacon and cook until crispy, do not wipe out the grease
Transfer the bacon to a cutting board, rough chop and return to the pan
To the pan add the finely diced carrots, celery and onion, plus two large pinches of salt
Cook for 10 minutes on med/low
Add in the ground beef
Cook an additional 10 minutes
After 10 minutes it will start to make a crackling sound, cook it like this for an additional 5 minutes, adjust the heat if it's getting too hot (be mindful not to burn the meat)
To the pot add the water, chicken better than bouillon, tomato paste, crushed tomatoes, oregano, basil, bay leaf and salt
Cover and simmer on low for 1 hour (stirring to make sure it isn't sticking to the bottom of your pan, every 20 minutes)
20 minutes before it's done, cook your spaghetti noodles according to the package instructions, do not rinse your noodles when you strain them (very important)
When it's done simmering, remove the bay leaf
Serve with the spaghetti noodles
Top with fresh grated parmigiano reggiano cheese and extra chopped basil if you have more
Recommended Products
As an Amazon Associate and member of other affiliate programs, I earn from qualifying purchases.
Nutrition Information:
Yield:

10
Serving Size:

1 grams
Amount Per Serving:
Calories:

244
Total Fat:

10g
Saturated Fat:

4g
Trans Fat:

0g
Unsaturated Fat:

5g
Cholesterol:

45mg
Sodium:

552mg
Carbohydrates:

21g
Fiber:

3g
Sugar:

5g
Protein:

18g
This information comes from online calculators. Although moderncrumb.com attempts to provide accurate nutritional information, these figures are only estimates.