Lemon basil chicken pasta tossed with roma tomatoes, olive oil and butter. It's truly a magical concoction if I say so myself. About 30 minutes to make it's the perfect weeknight meal.
Basil is the most refreshing ingredient, I just love it in this strawberry basil galette and this buttery lemon basil chicken pasta.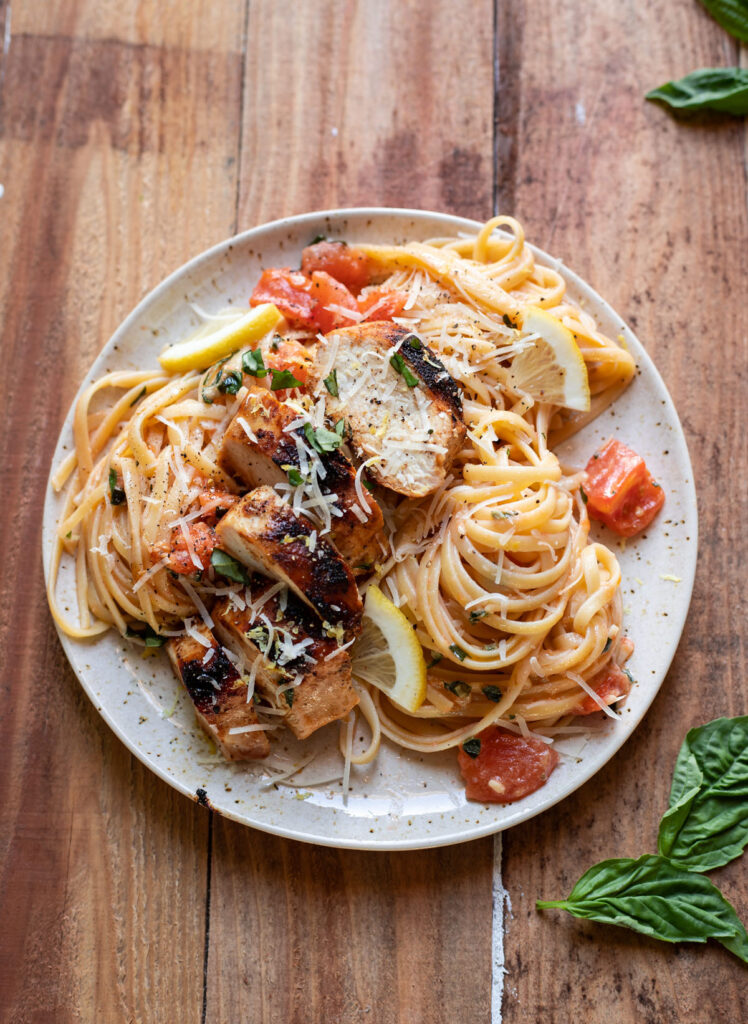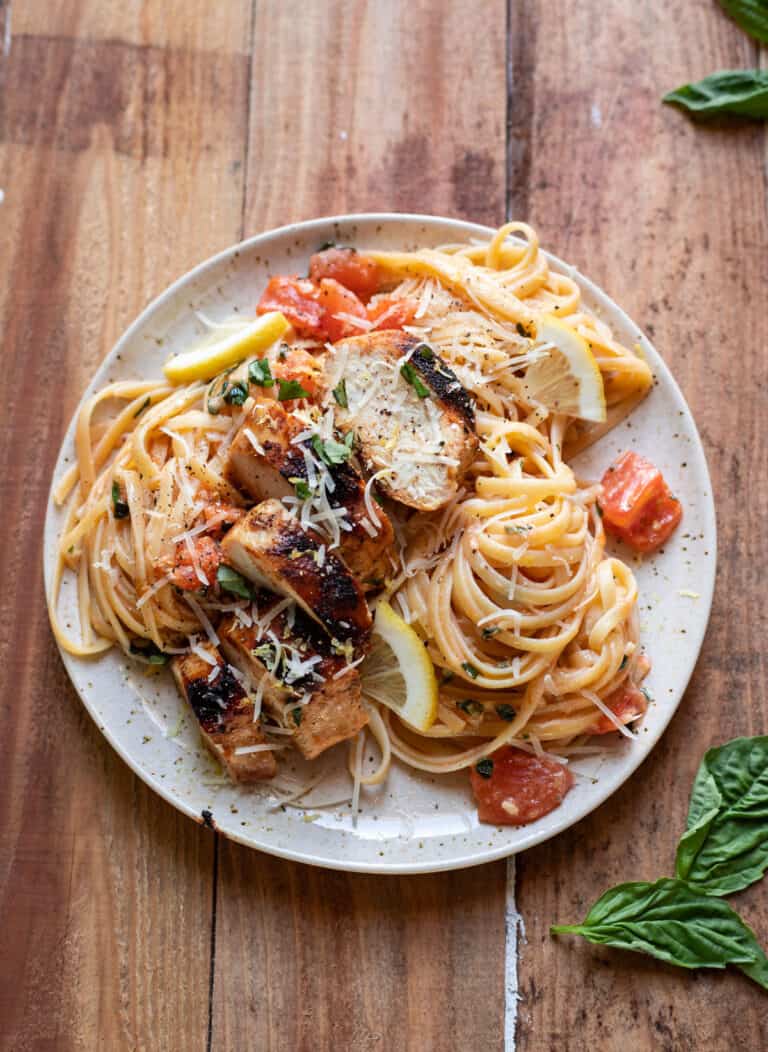 I'm not going to lie, this lemon basil chicken pasta looks extra fancy like you slaved the day away in the kitchen, but it's so easy to make. I won't tell anyone our secret.
Also you only need two pans to make this, a pot to boil your water and I use my large sauté pan to prepare the dish in because its so big and has tall sides. It's seriously my favorite.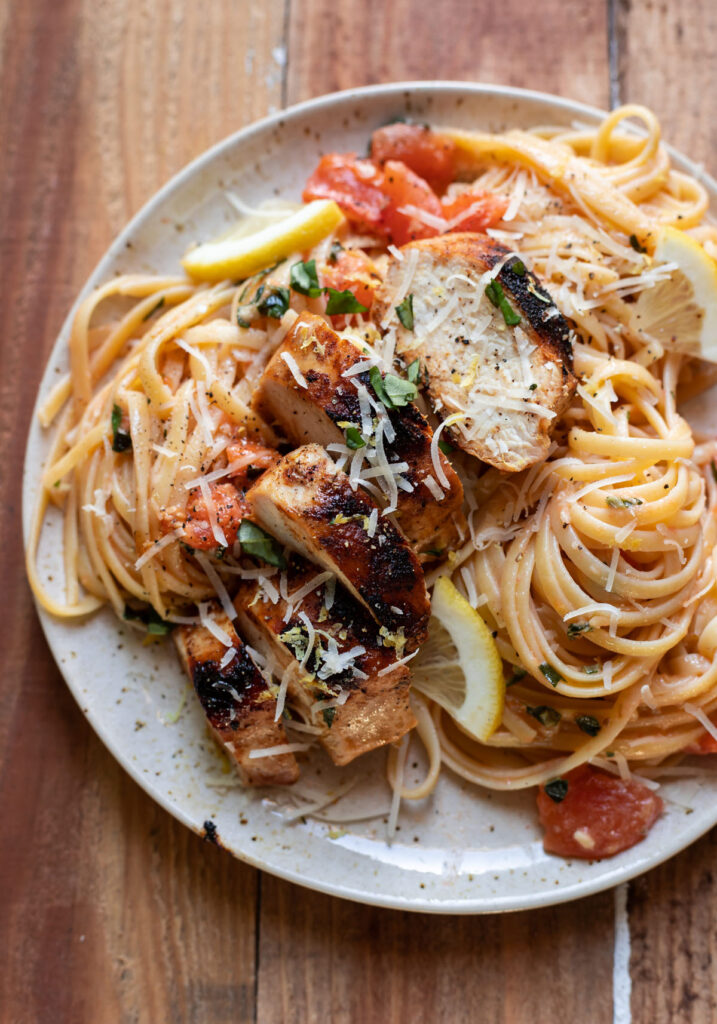 Every so often my husband and I go to this cute little wine bar for dinner. They play old movies projected on a wall and have candles on the table, it's so cozy and just has a charm about it.
On a whim I ordered the calamari, which honestly can be such a hit or miss. Not only was the calamari so yummy but the dip for the calamari blew my mind and stole the spotlight!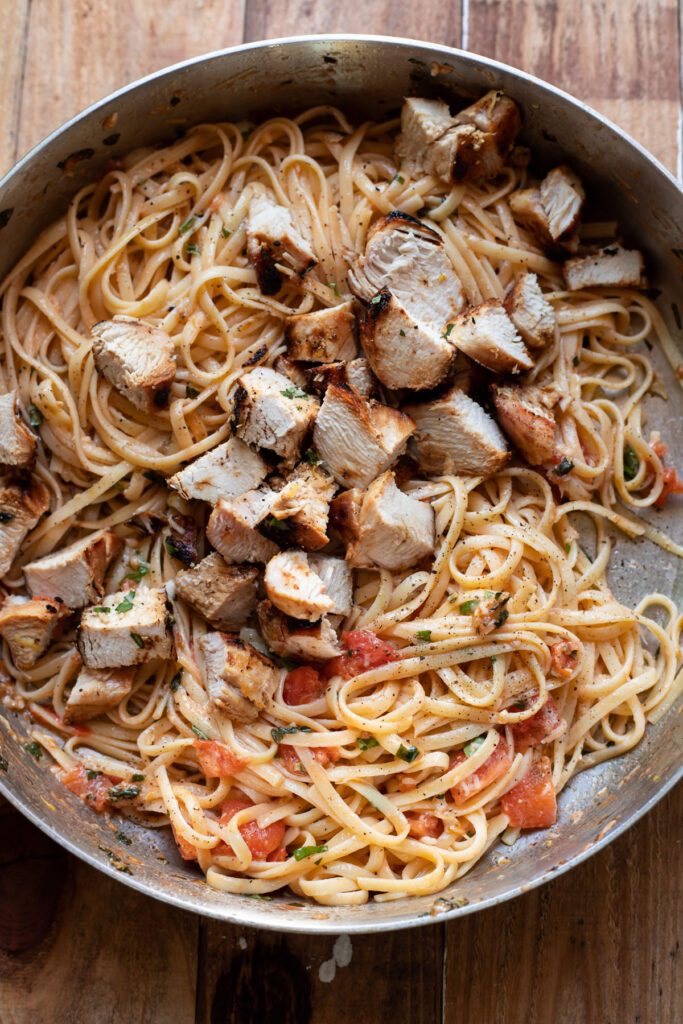 Lemon AND basil. It's a revelation.
I love that mix. Don't you?
It inspired to make up this pasta dish.
The only thing I thought it needed, was some acid.
And pasta needs tomatoes. Like Bert needs Ernie.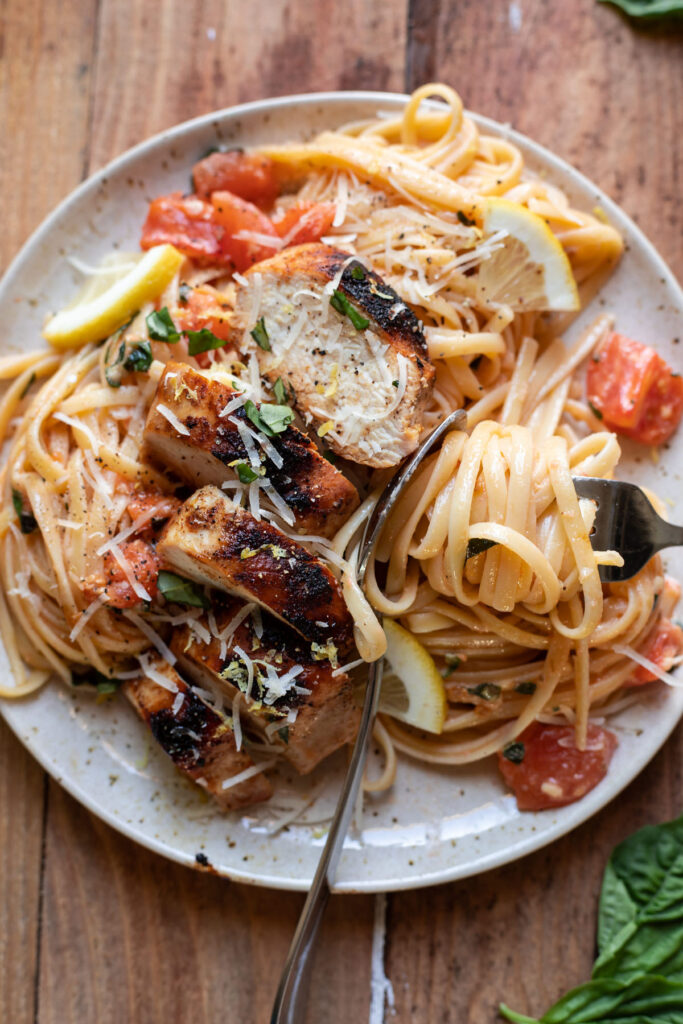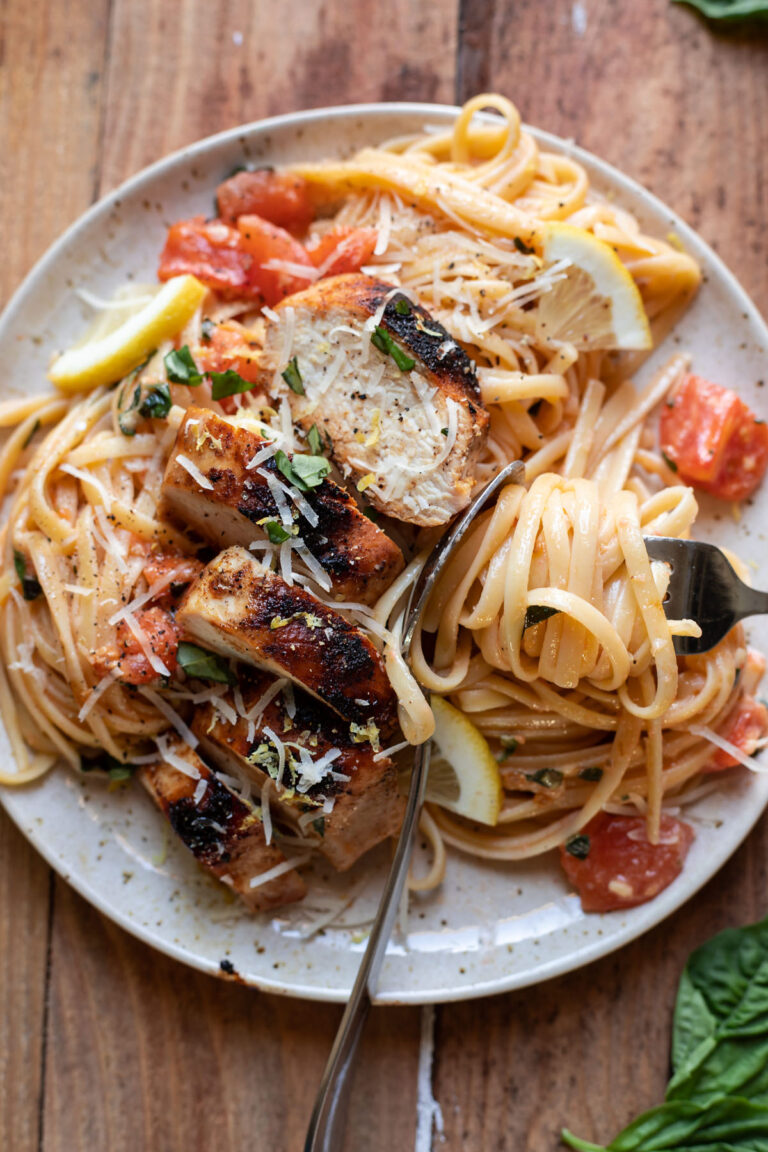 So I did a quick boil, peel, chop and tossed the tomatoes in the most dreamy buttery lemon sauce. It's not heavy, it's very light and my little trick I always use for a light sauce is to use pasta water.
It's thin, binding and always has flavor. Just make sure that when you cook your pasta you also salt the water.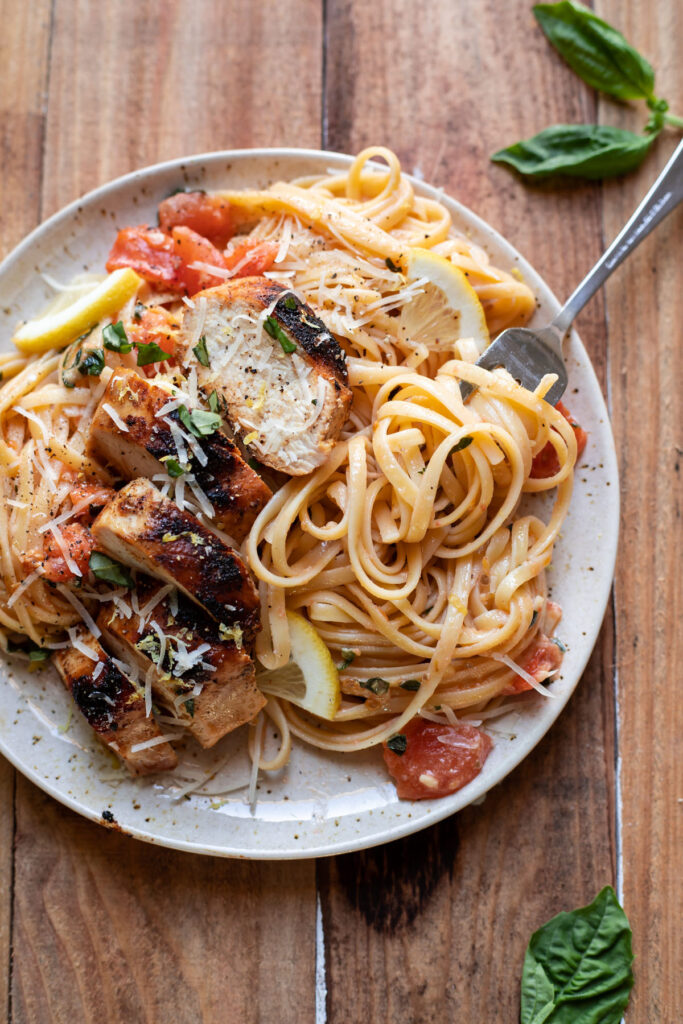 Once you start to mix in the pasta water and the parmigiano it gets to be this subtly creamy sauce. So enchanting.
There's never a substitute for fresh basil or fresh lemon zest. So make sure you use both for the best tasting lemon basil chicken pasta ever!
And I actually use my lemon zester to grate both the lemon and the parmigiana, it works way better than a regular box grater.
More 30 Minute Meals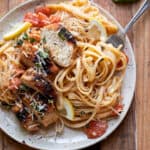 Print Recipe
Lemon Basil Chicken Pasta
Lemon basil chicken pasta tossed with roma tomatoes, olive oil and butter. This pasta dinner takes about 30 minutes so it's the perfect weeknight meal.
Ingredients
8

oz

linguine

important, if you increase the pasta amount you must double sauce or will be too bland

2

chicken breasts

1

tbsp

olive oil

2

tbsp

butter

2

garlic cloves

minced

6

roma tomatoes

skins peeled (boil for 30 seconds and they should peel off) and cut into sixths

1/2

tsp

garlic powder

1/2

tsp

onion powder

salt and pepper

2

tbsp

lemon juice

1

tsp

lemon zest

1/2

package fresh basil

about 5 extra large basil leaves, chopped

1/2

c

parmigiano cheese

grated

1/2

c

pasta water + more if needed
Instructions
Season the chicken with garlic powder, onion powder, salt and pepper

Pan sear the chicken, let sit until everything else is done (so juices do not run out) then cut into pieces

Cook the pasta per package directions (plus a few pinches of salt), you'll transfer the noodles straight into the sauce (make sure to reserve 1/2 c pasta water)

Heat a large saute pan over low heat

Add in olive oil, butter and garlic

Cook for 5 minutes until garlic is fragrant

Add in the tomatoes and lemon juice

Cover the pan and cook an additional 5 minutes

Uncover the pan and transfer the cooked pasta noodles directly to it along with 1/2 c pasta water

Add the lemon zest, chopped basil, most of the parmigiano reggiano and the cut up chicken

Toss everything together

Serve up your lemon basil chicken pasta with a bit more fresh parmigiano