Pan seared shrimp in a white wine sauce with homemade gnocchi and vine ripened tomatoes.  Say hello to your new favorite summer pasta dish!
If you love shrimp dinners then you'll also love this creamy cajun shrimp pasta.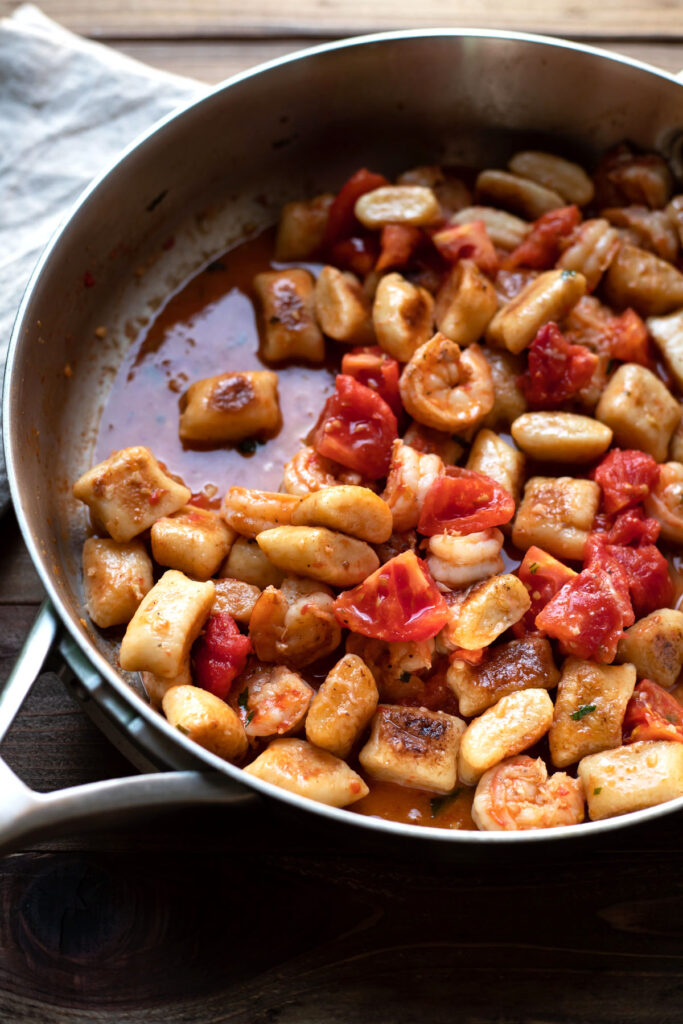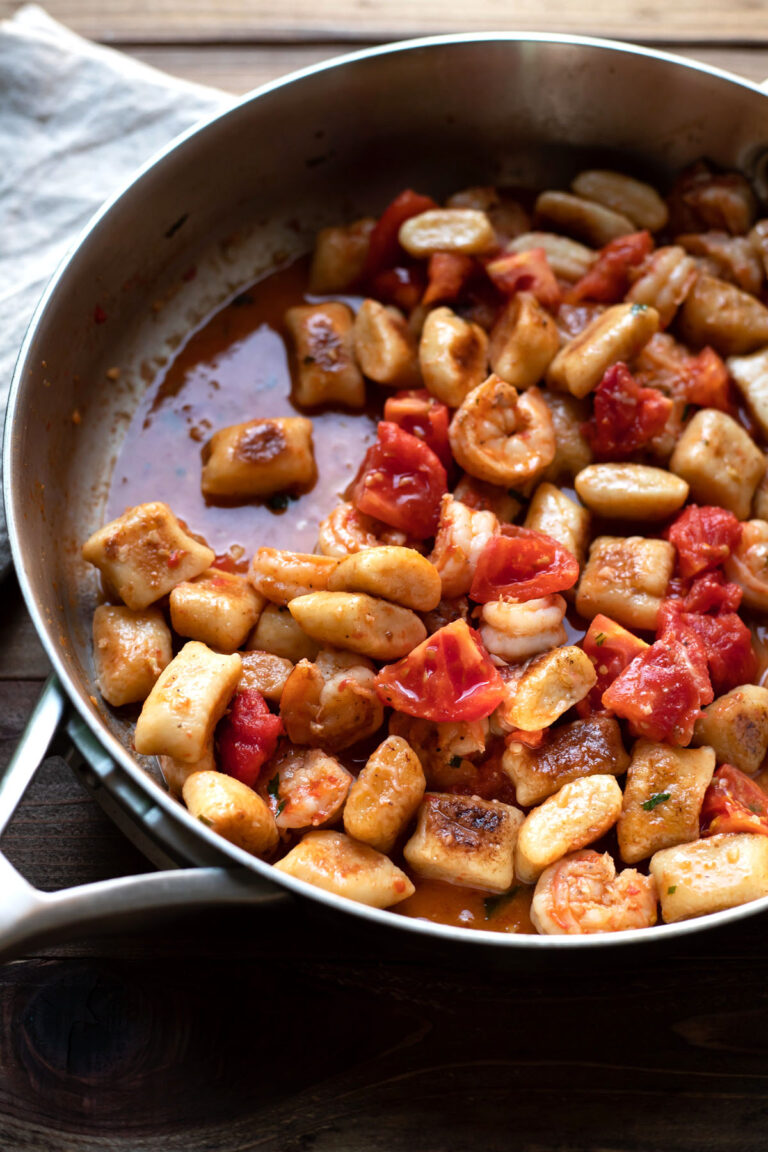 The first time I had gnocchi was just recently.  On vacation visiting my family-in-law. 
We were out to dinner with my husbands sister and her husband and I had scanned the menu before we even left Arizona. 
I knew exactly what I was getting.  Gnocchi with blue crab and lemon. 
It was beyond what I could have imagined, it definitely hit the spot.  And that's how this white wine gnocchi and shrimp came to be.
Once we got home I set out to recreate this magic dinner I had experienced.  The gnocchi is tender and plump and the sides are seared to give it a bit of texture. 
The white wine sauce is truly delectable. 
A light and refreshing pinot grigio with lemon, garlic, butter and fresh basil make it so enchanting. 
I keep the 4 oz mini wine bottles on hand for cooking, typically you can find this in a pack of 4.  So handy.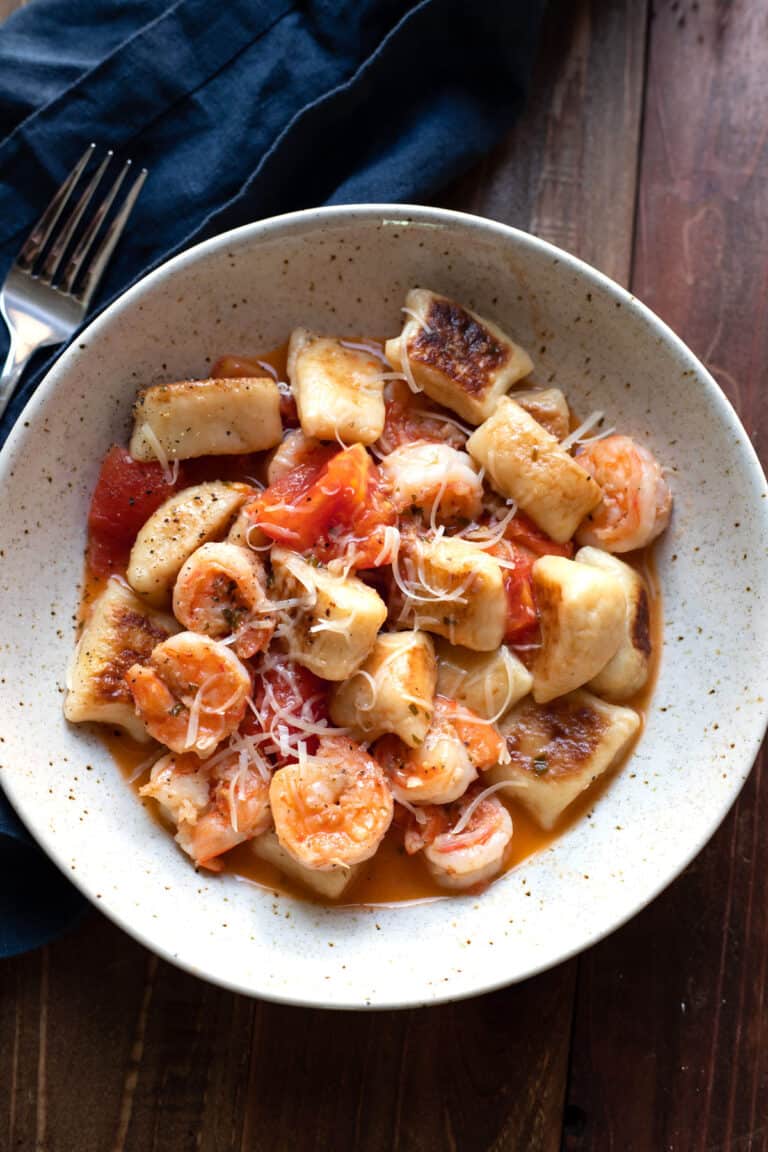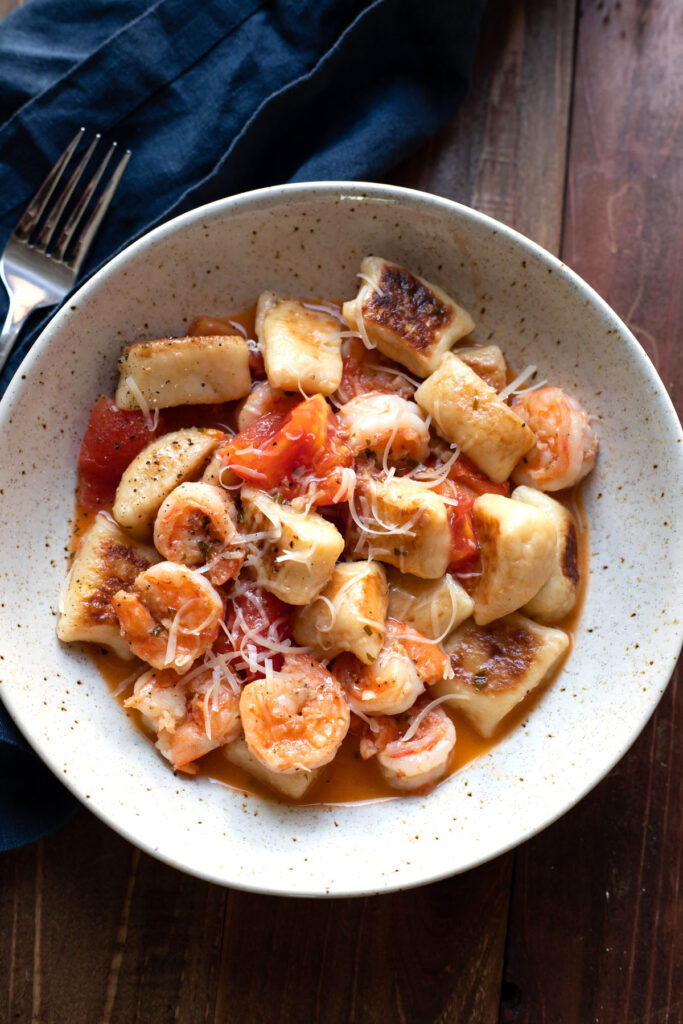 It's not that I never wanted to try gnocchi. I did. It just didn't happen. It never crossed my mind to attempt to make it because it just sounded so difficult.
Let's clear the air. Gnocchi is so easy to make.
The only tools you need are your hands, a strainer, a knife and some boiling water. 
It reminds me a lot of making soft pretzels in the same way you roll out long ropes but you cut the gnocchi into 1" pieces. 
I use a pastry cutter but a knife works too.
When it comes to those gorgeous vine tomatoes you'll want to peel them.  To do this bring a pot of water to a boil, place the tomatoes in it for ONLY 30 seconds. 
Remove, cool and cut a slit to start the peeling process. 
They should come right off. If you boil them longer than they will start to get too soft and mushy. Don't worry about the seeds, they can go right in the dish.
I know it looks like a lot of steps below, but I tried to break it down as clearly as possible. I promise it moves fast.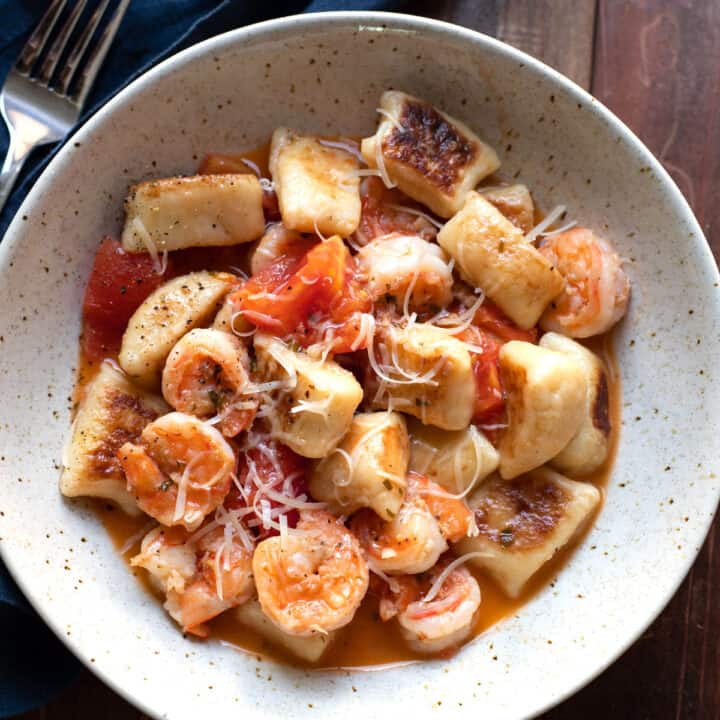 White Wine Gnocchi and Shrimp
Pan seared shrimp in a white wine sauce with homemade gnocchi and vine ripened tomatoes. Say hello to your new favorite summer pasta dish!
Ingredients
2 c flour
3 small/med sized russet potatoes, peeled and cubed
½ tsp salt
1 egg
1 tbsp olive oil
1 lb shrimp, thoroughly cleaned and dried with a paper towel
4 vine ripened tomatoes, skins removed (see post above on how to do this easily) and cut into eighths
5 tbsp butter, divided 3 tbsp and 2 tbsp
2 garlic cloves, minced
4 oz pinot grigio wine
1 tbsp lemon juice
Splash of chicken broth
3 basil leaves, chopped
salt and pepper
fresh parmigiano reggiano
Instructions
Boil the potatoes until fork tender
Drain and return to the pot, cover with the heat turned on for a few minutes, this steams out the extra moisture in the potatoes
Transfer potatoes to a fine mesh strainer to cool
Press the potatoes through the strainer (use a ricer for this if you have one) on to your counter
Sprinkle 2 cups of flour over the potatoes
Make a well in the center, crack an egg in it, use a fork to mix the egg until the yolk and whites are combined
Use the fork to pull the flour/potato toward the center of the egg mixture, repeat until it has come together
Form into a smooth ball
Separate the dough in to four big chunks, roll each piece out to a rope and using a pastry cutter or knife, cut into 1" pieces
Dust flour over the counter to set the pieces on so they do not stick
Heat a large pan over medium heat with olive oil
Sprinkle the shrimp with salt and pepper, transfer to the pan and cook for 2 minutes on each side, then transfer to a plate to sit
To the pan add 3 tbsp of butter and garlic, cooking on low for 5 minutes until the garlic becomes fragrant
Add in the pinot grigio, lemon juice, splash of chicken broth and tomatoes, simmer on low
Bring a pot of salted (a few pinches of salt) water to a boil
You'll also need a saute pan, bring this to med/high heat
Add the gnocchi, in batches (I usually do 2 batches) to the boiling water
The gnocchi are done when they float to the top, it just takes minutes
Add 1 tbsp of butter to the saute pan you just heated
Using a large slotted spoon transfer the gnocchi directly to the pan with butter, flip when the first side is seared, then transfer to the pan with the sauce
Repeat until all gnocchi is cooked and seared
Add the fresh basil to the gnocchi and sauce, toss gently
Serve with fresh grated parmigiano reggiano
Recommended Products
As an Amazon Associate and member of other affiliate programs, I earn from qualifying purchases.
Nutrition Information:
Yield:

4
Serving Size:

1
Amount Per Serving:
Calories:

616
Total Fat:

14g
Saturated Fat:

5g
Trans Fat:

0g
Unsaturated Fat:

7g
Cholesterol:

302mg
Sodium:

1563mg
Carbohydrates:

78g
Fiber:

6g
Sugar:

5g
Protein:

38g
This information comes from online calculators. Although moderncrumb.com attempts to provide accurate nutritional information, these figures are only estimates.