Rich and decadent creamy cajun shrimp pasta, emphasis on the decadent. Linguine swirled around a spicy cajun sauce, perfectly seasoned shrimp and tomatoes, topped with some fresh parmigiano reggiano cheese.
My other favorite shrimp pasta recipe is this shrimp scampi without wine.
This recipe was originally published July 15, 2019.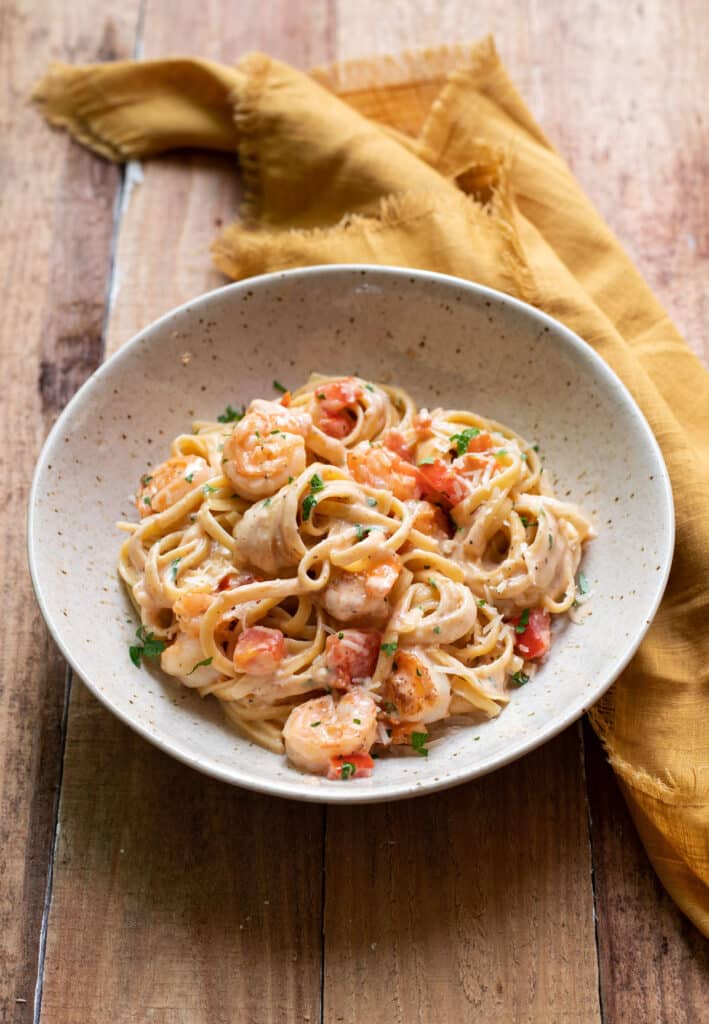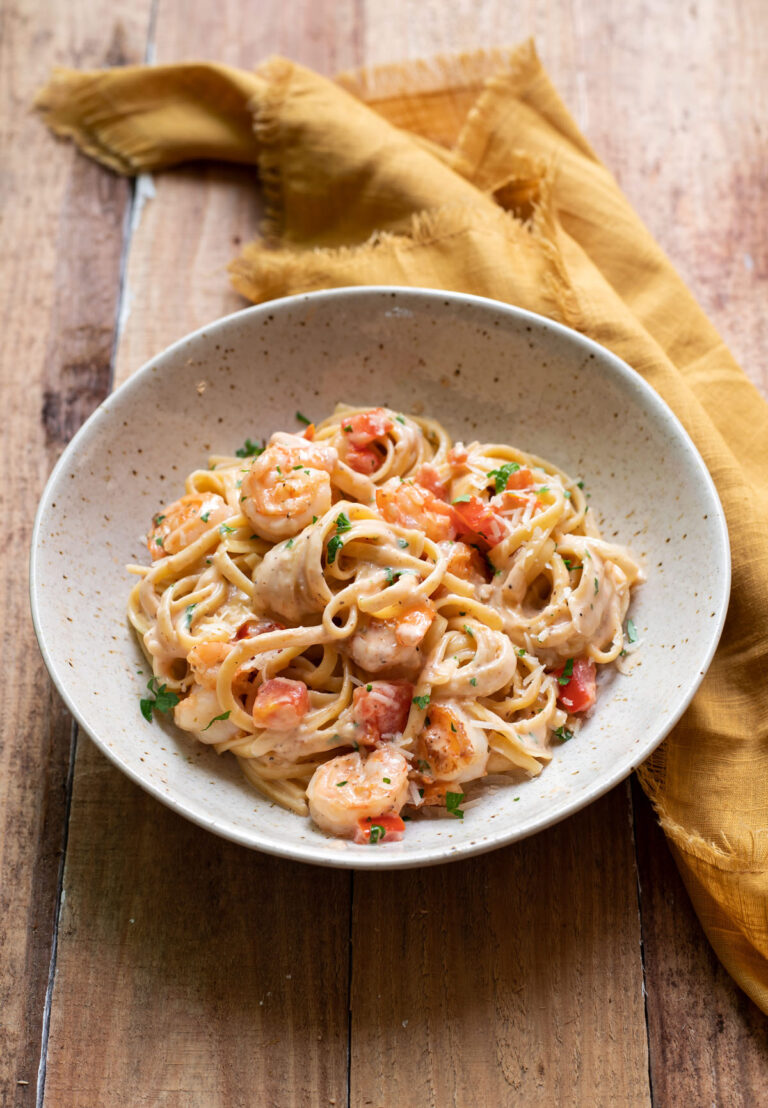 This creamy cajun shrimp pasta is the best cajun pasta ever! It is creamy, easy to make and everyone loves it.
To get a cajun flavored dish you need some cajun seasoning. All of the juicy shrimp is coated in cajun seasoning then cooked to perfection.
Jump to:
Once you add all of your ingredients everything comes together and you get that spicy yummy sauce.
It's not so spicy that your family won't like it. My kids are young and they absolutely love this. You can add extra cajun spice to make it really spice or even some cajun hot sausages for an extra kick.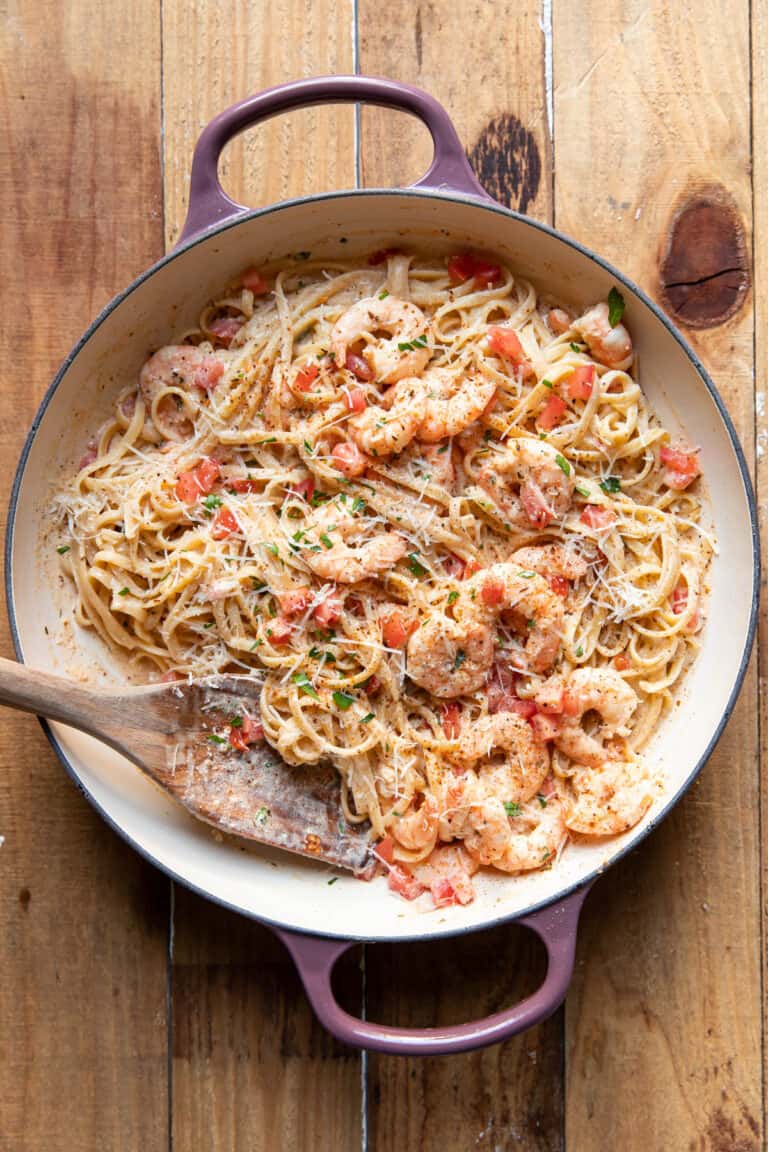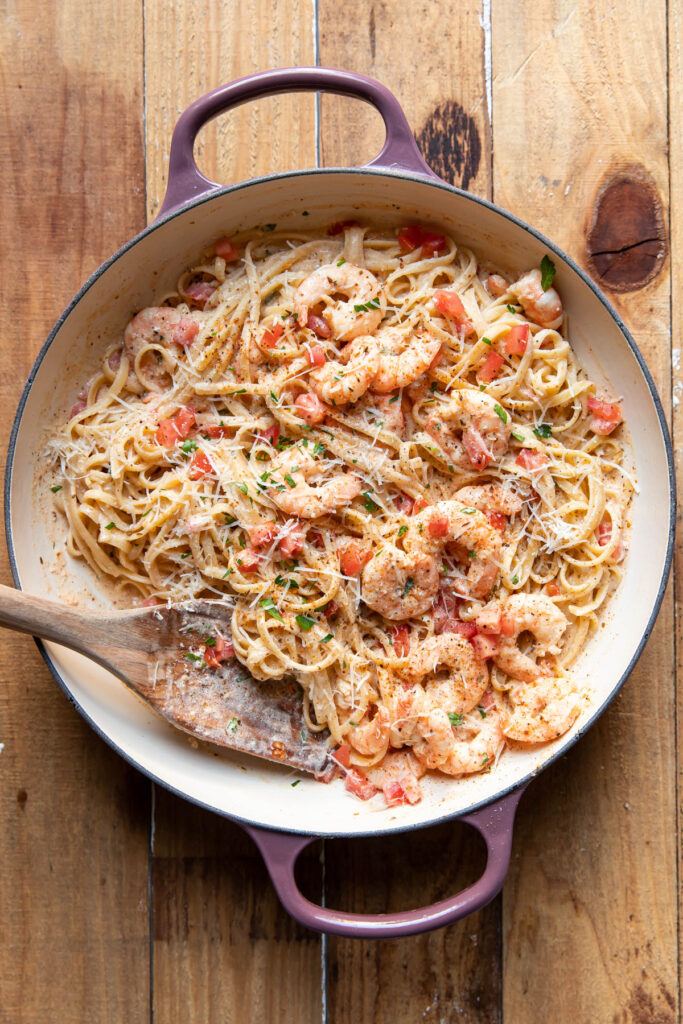 If you are watching what you eat, then this is probably not for you. But if you are looking to fully indulge, read on.
Normally when I order a cajun pasta at a restaurant I just assume it's going to be super creamy and cozy. And this is exactly what I was going for with this family friendly dinner.
And for reference, this is way better than anything you'll get from a restaurant (ahem, Chili's cajun pasta).
I mean, we all have those nights. Where a salad just won't cut it and we want a big old bowl of pasta.
Although there is nothing wrong with a salad, some of them can be quite filling like this chimichurri steak and vegetable salad or this italian chop salad with crispy chickpeas.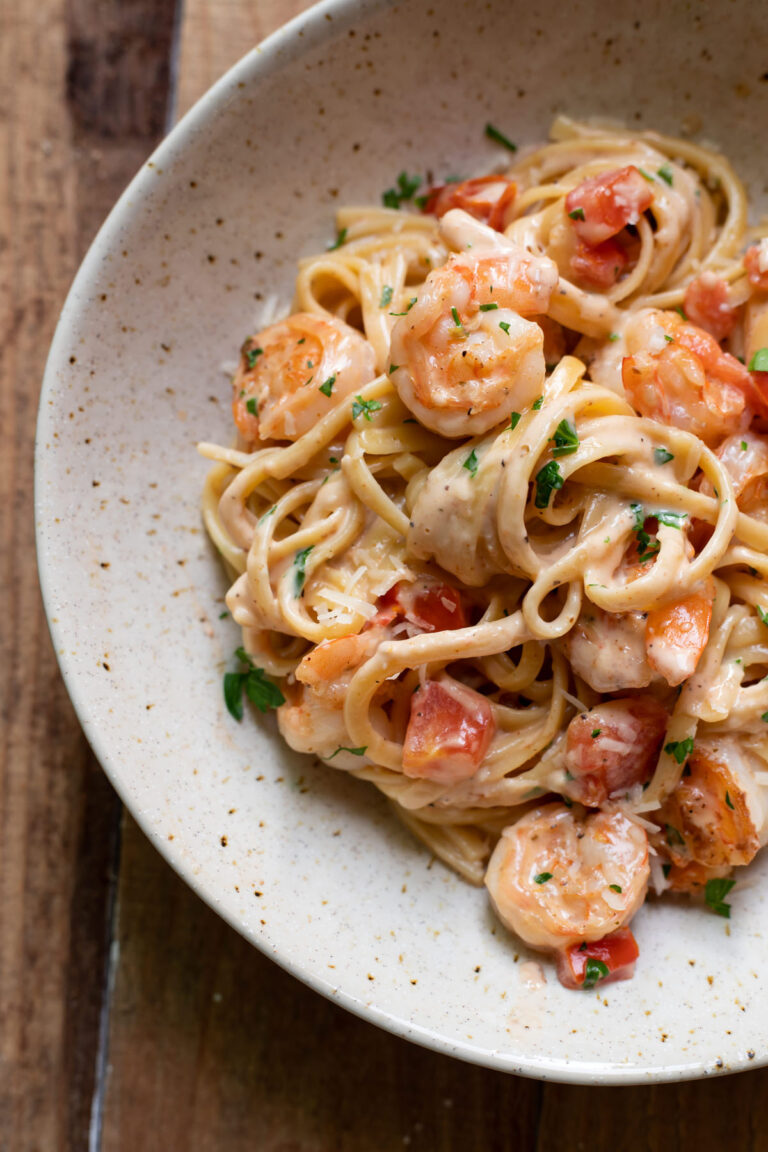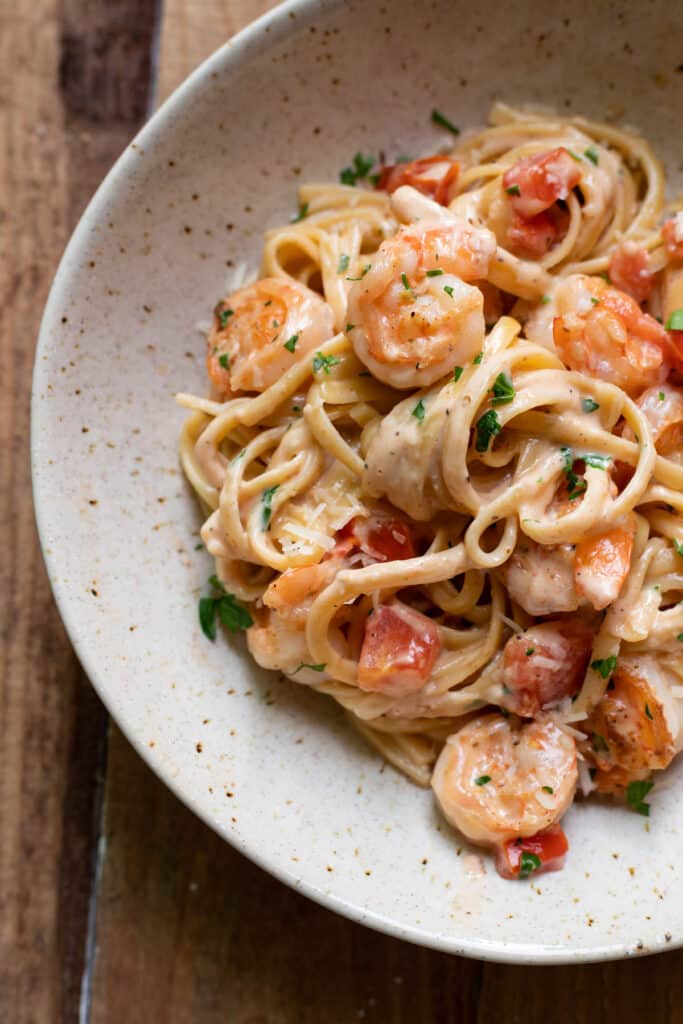 What Kind Of Shrimp To Use
Bigger is better when it comes to shrimp. For a few reasons!
For starters the bigger the shrimp, the less you have to clean and handle them. If you pick out small shrimp then you'll be peeling shrimp for a while. So a medium to large shrimp should be good.
Cleaning the shrimp is my least favorite part.
The fresher shrimp will taste the best but I know we don't all have access to fresh caught or wild shrimp. So if you can only get farm raised or a package of frozen shrimp, that's okay.
And sometimes if the shrimp are really big I will cook them and then chop them up a bit before we eat.
If you are using frozen shrimp make sure to thaw them in the fridge, instead of in water. They can absorb too much liquid this way.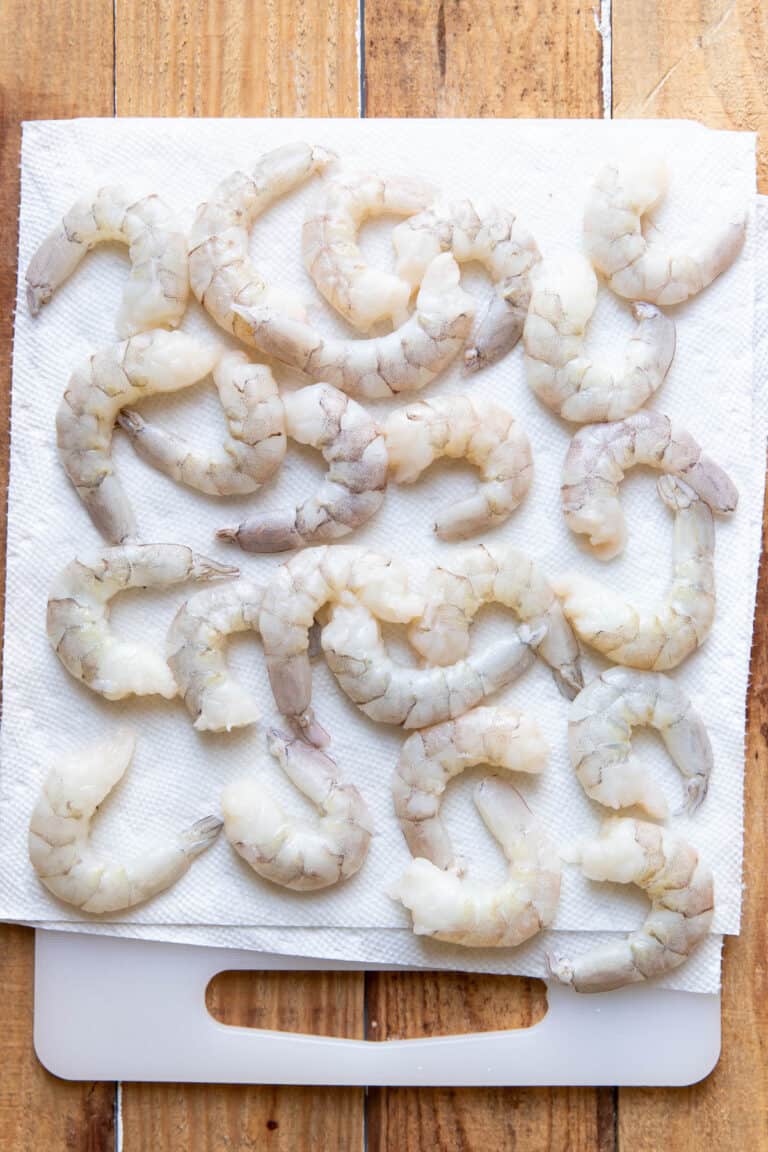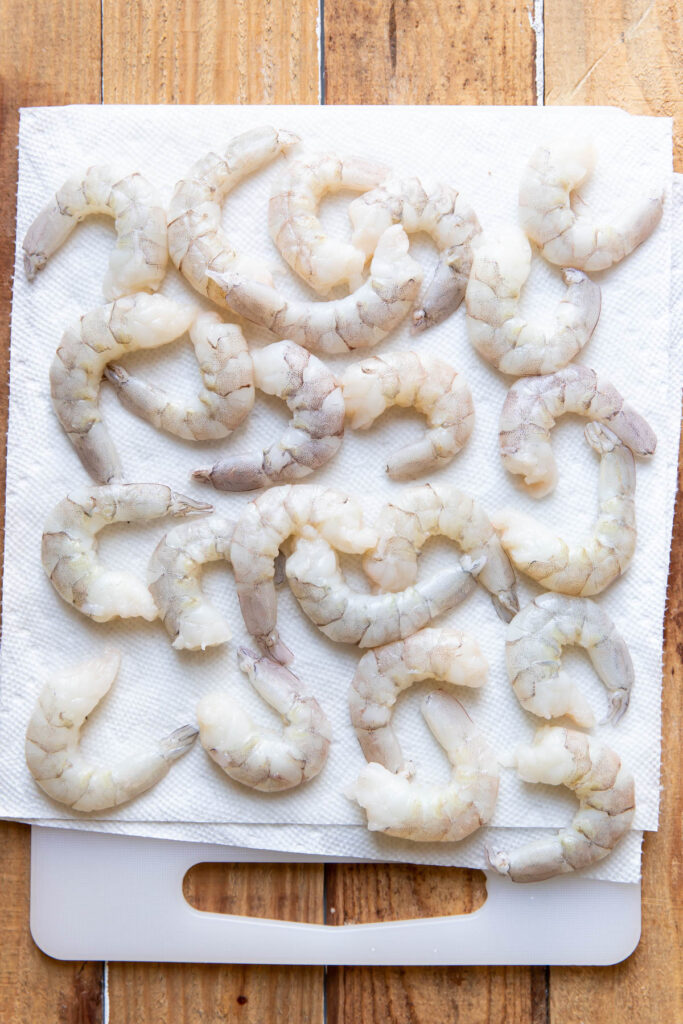 How To Make The Cajun Alfredo Sauce
The trick to a thick cajun alfredo sauce is to let it boil and bubble for a bit and then reduce the heat.
If you let it boil (stirring nonstop so it doesn't stick to the pan) when it cools it will be the perfect thick and creamy consistency.
And by the time you take it to the table to serve, wait 10 minutes for everyone to actually show up, it should be perfection and thickened up.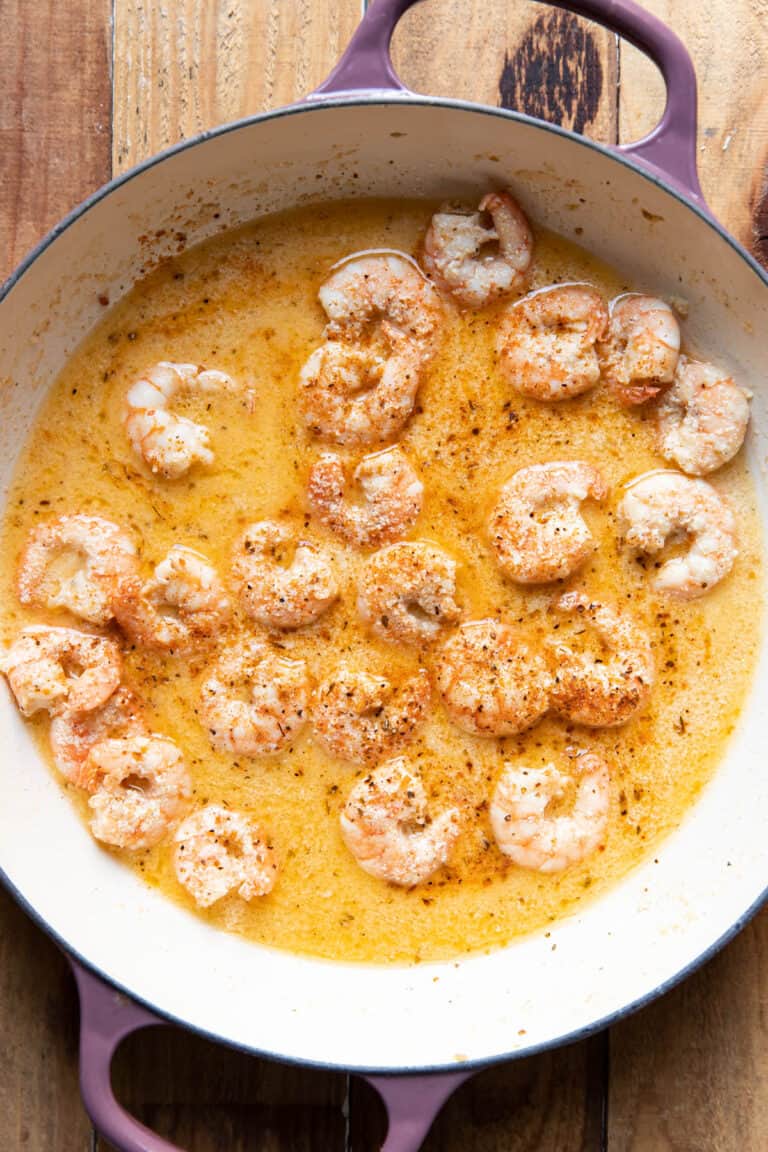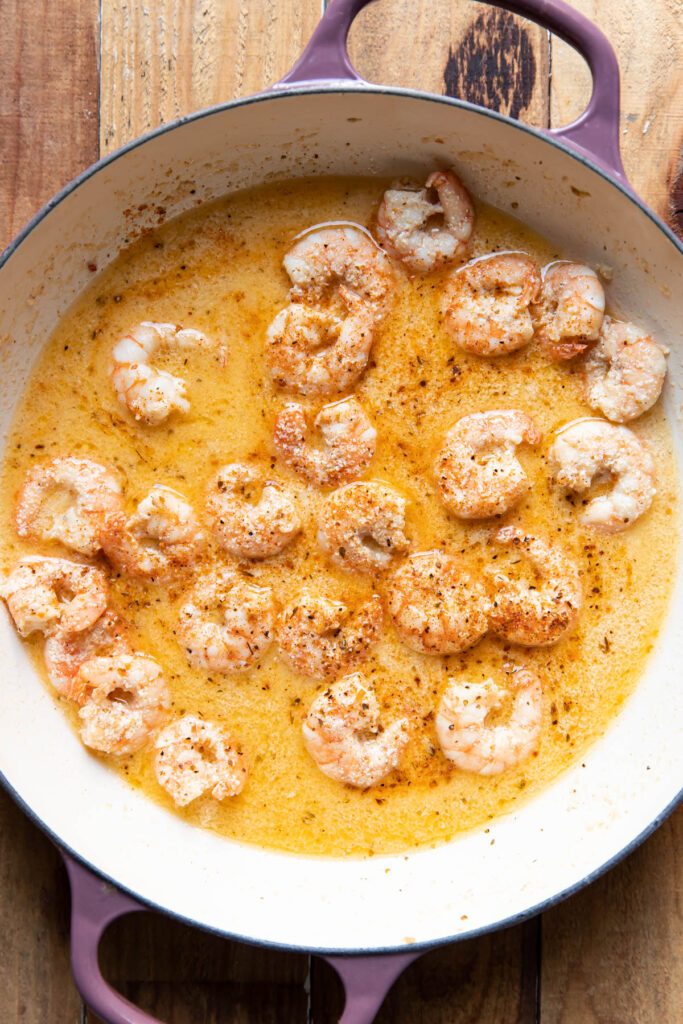 If for some reason the sauce starts to curdle, just turn the heat off. Mix in all the ingredients, keep stirring and then add another splash or two of half and half until it gets creamy.
Since we're using half and half for this recipe (no cream) plus the lemon juice, that curdled texture can show up. But I've never had any trouble getting back into a creamy sauce by adding a bit more half and half at the end.
Also, I would say this is mediocre spicy. If you want it spicier, then just add extra cajun spice.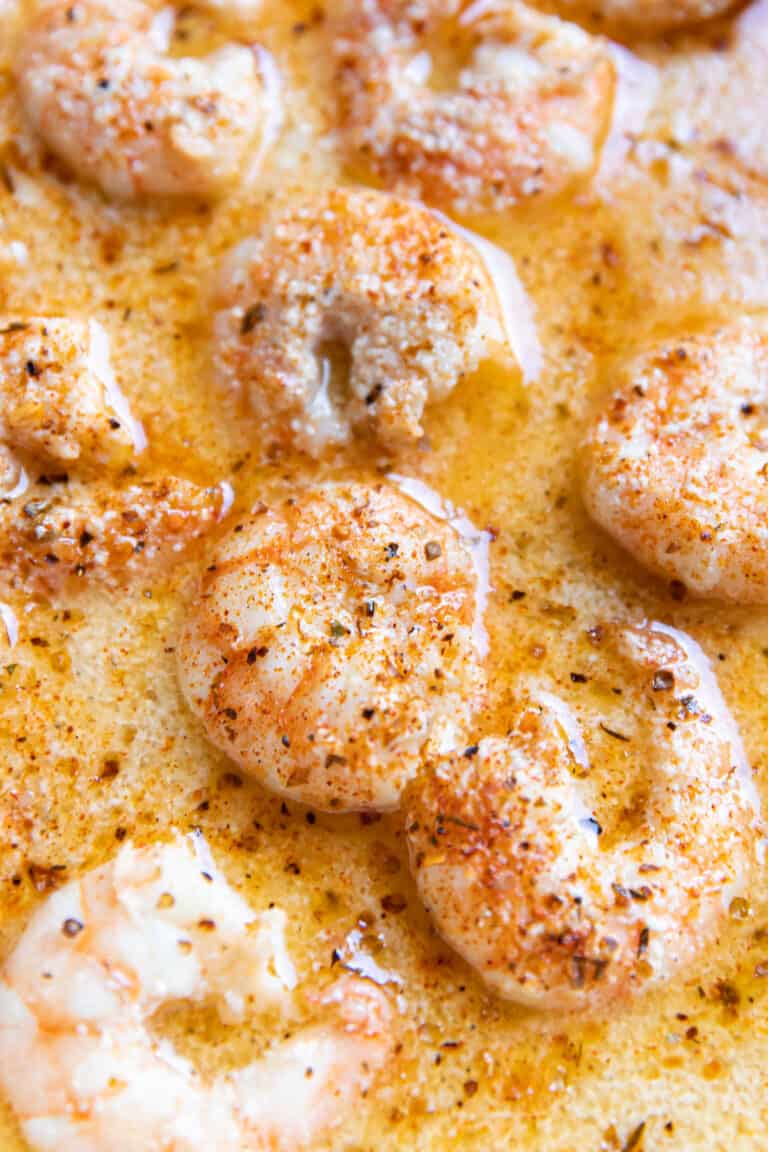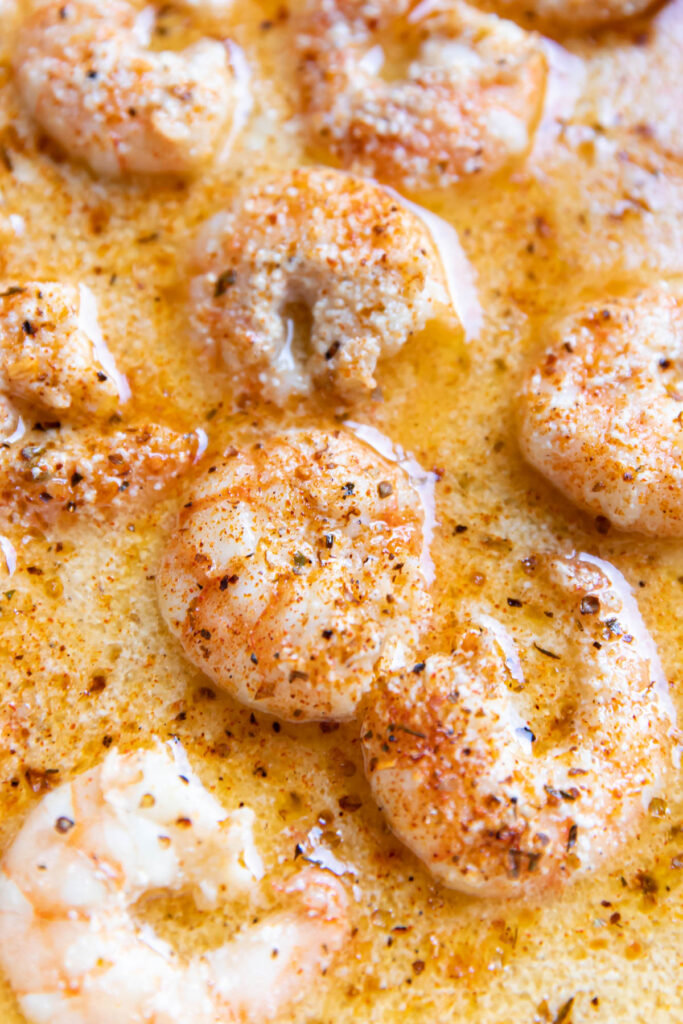 How To Get Perfectly Cooked Shrimp
Heres the deal with shrimp.
You have to cook it just right. Shrimp takes only minutes to cook.
Like a couple minutes. Once they are pink, they are done and any extra time spent cooking will just make them tough and chewy.
And it's easy to tell when the shrimp are fully cooked, because the color of shrimp prior to being cooked through is that kind of clear white color.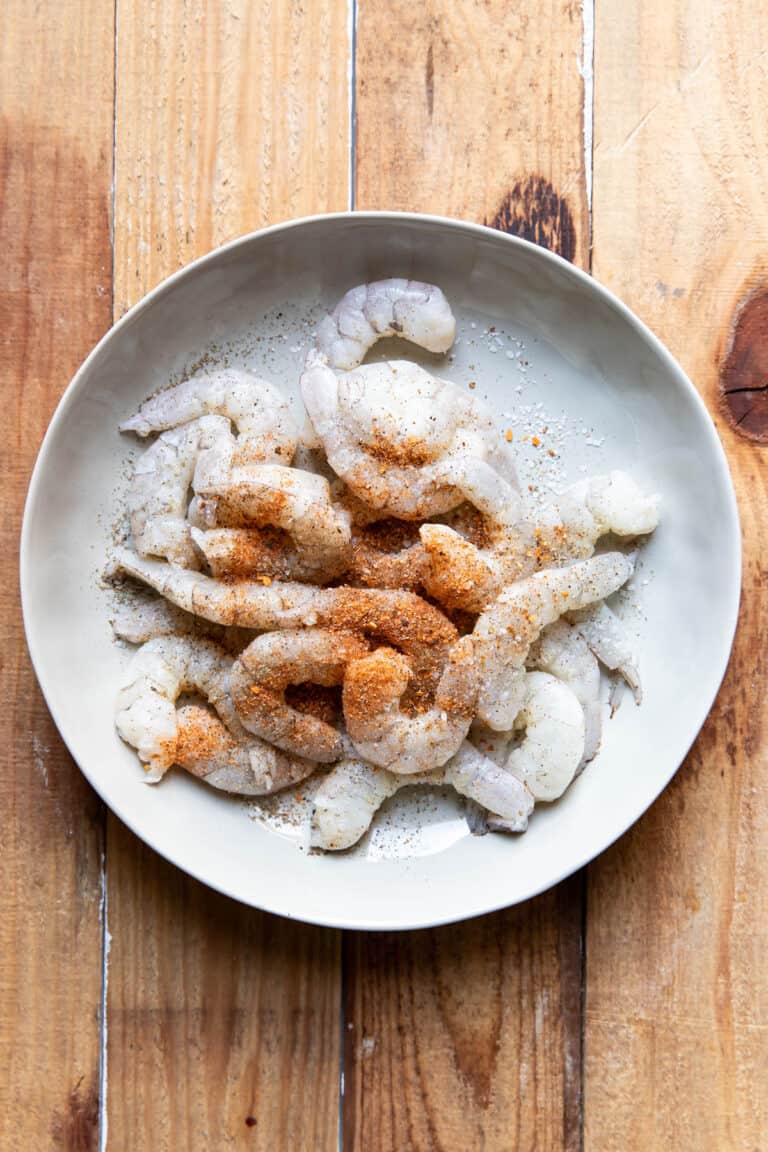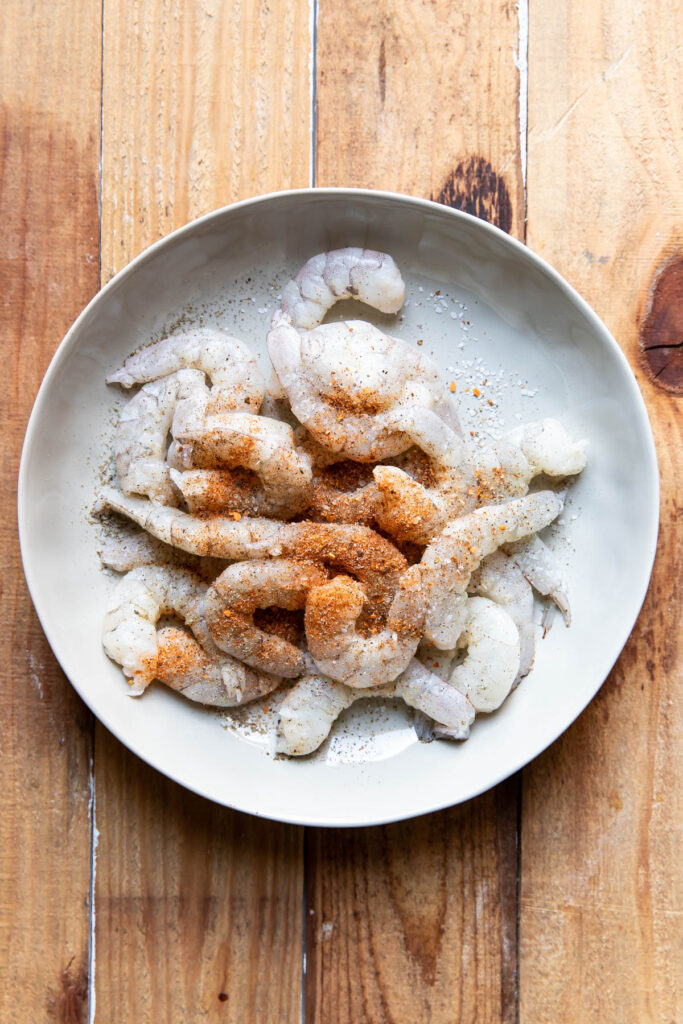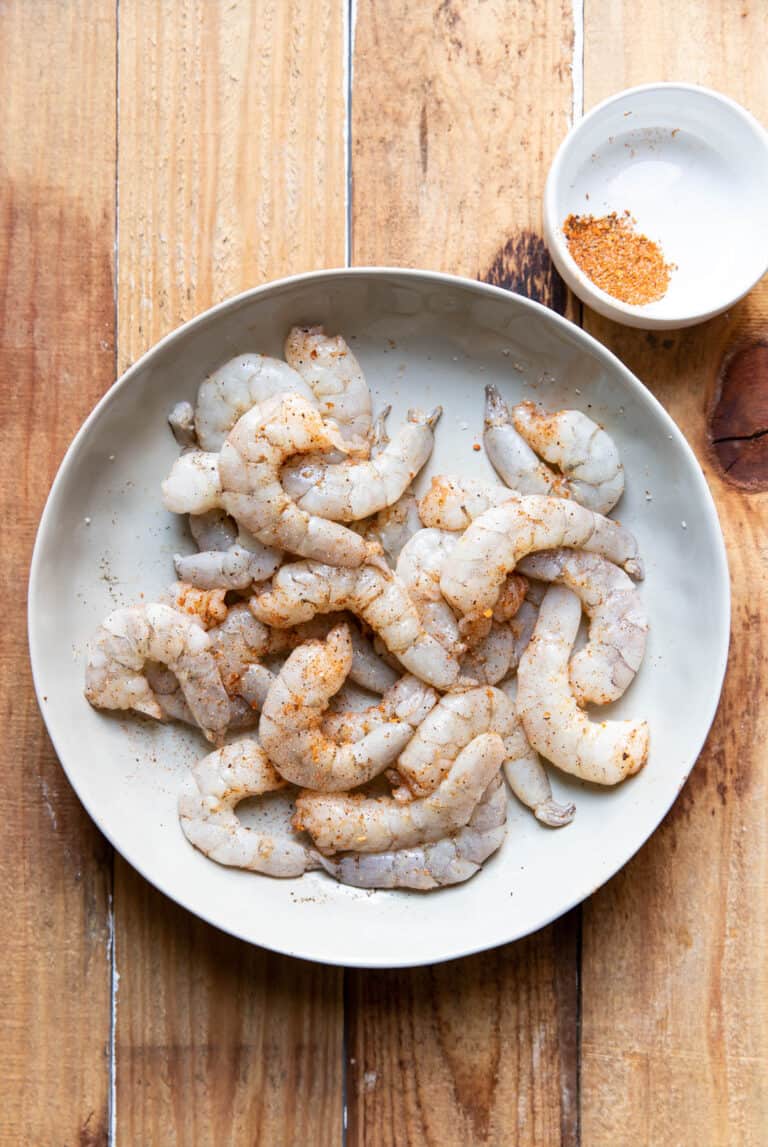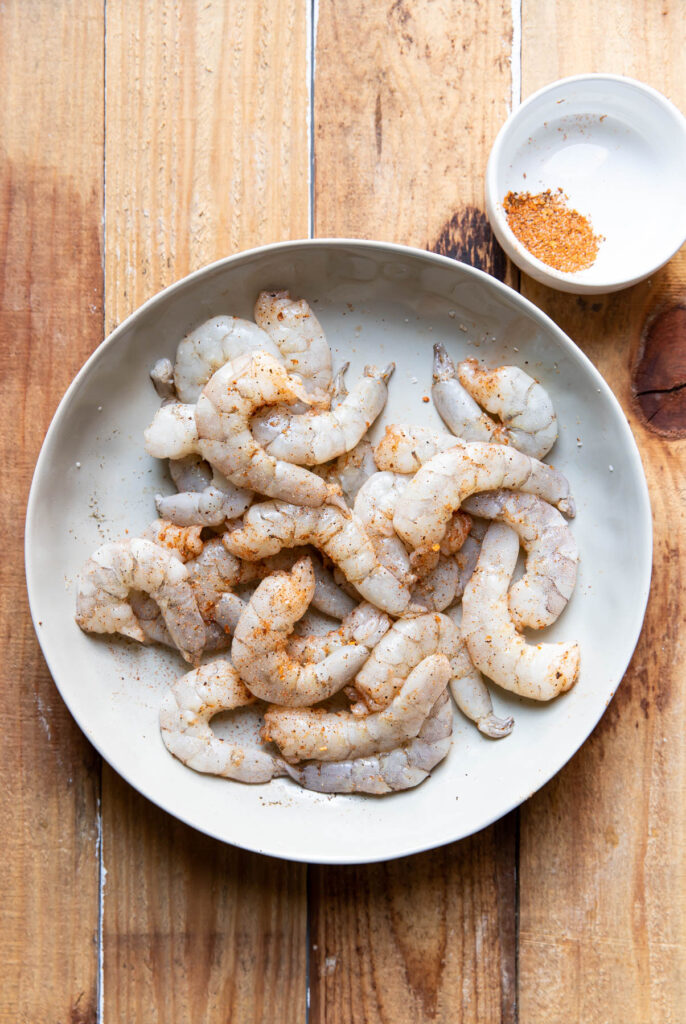 But once cooked, that more orange red pink tone is apparent.
Also you want to pat them dry before throwing them on to your pan and season generously.
If you love shrimp dishes, you may like to try this white wine gnocchi and shrimp or this bang bang shrimp pasta (which uses greek yogurt instead of mayo, a bit healthier).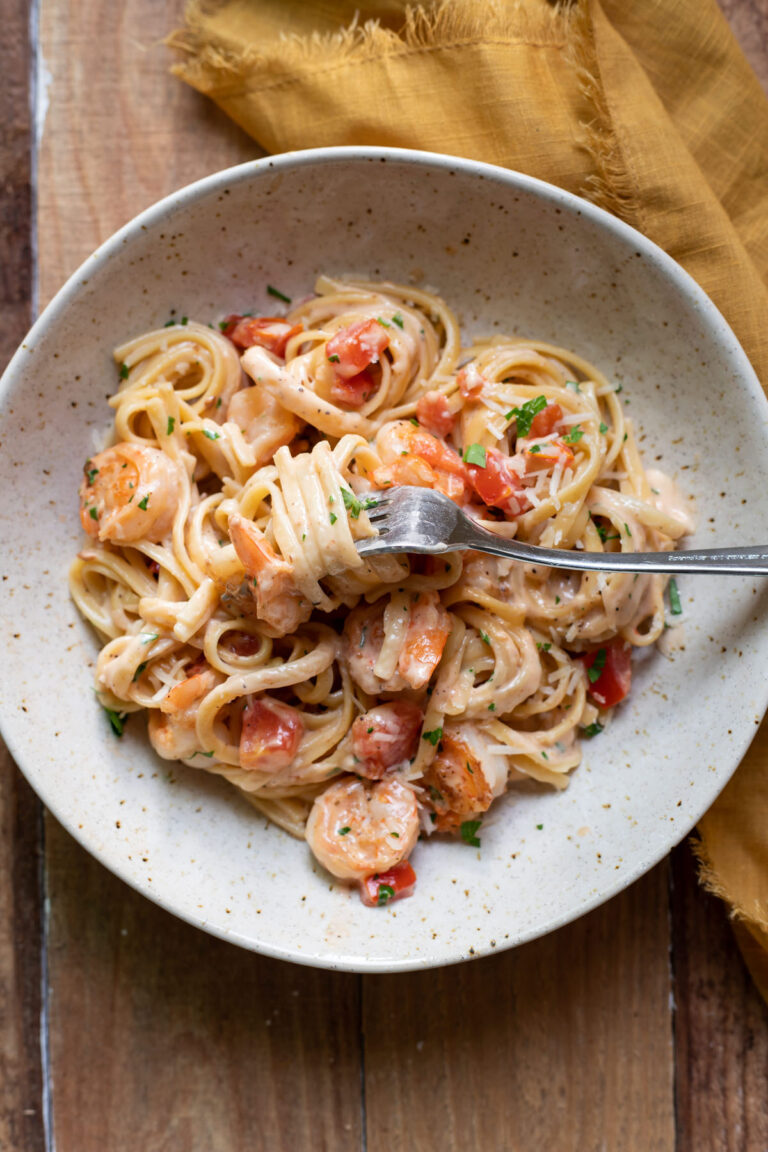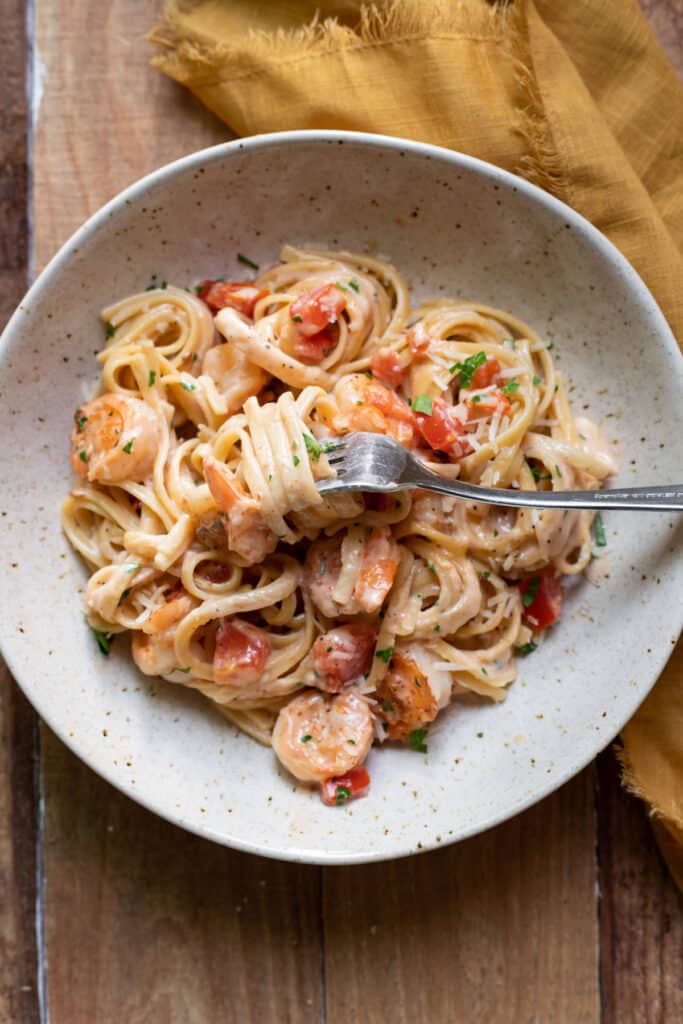 Pasta Noodles
For this cajun shrimp pasta you can use any type of pasta shape you want! Linguine, spaghetti or a fun shape. It really doesn't matter, a noodle is a noodle.
But here's a fun fact!
Flat noodles, like linguine are actually perfect for sauces, because it's more space for the sauce to grab on to.
Another fun fact. Noodle shapes with ridges on it are also awesome for sauces, because the sauce sort of clings on to the crevice in the noodles.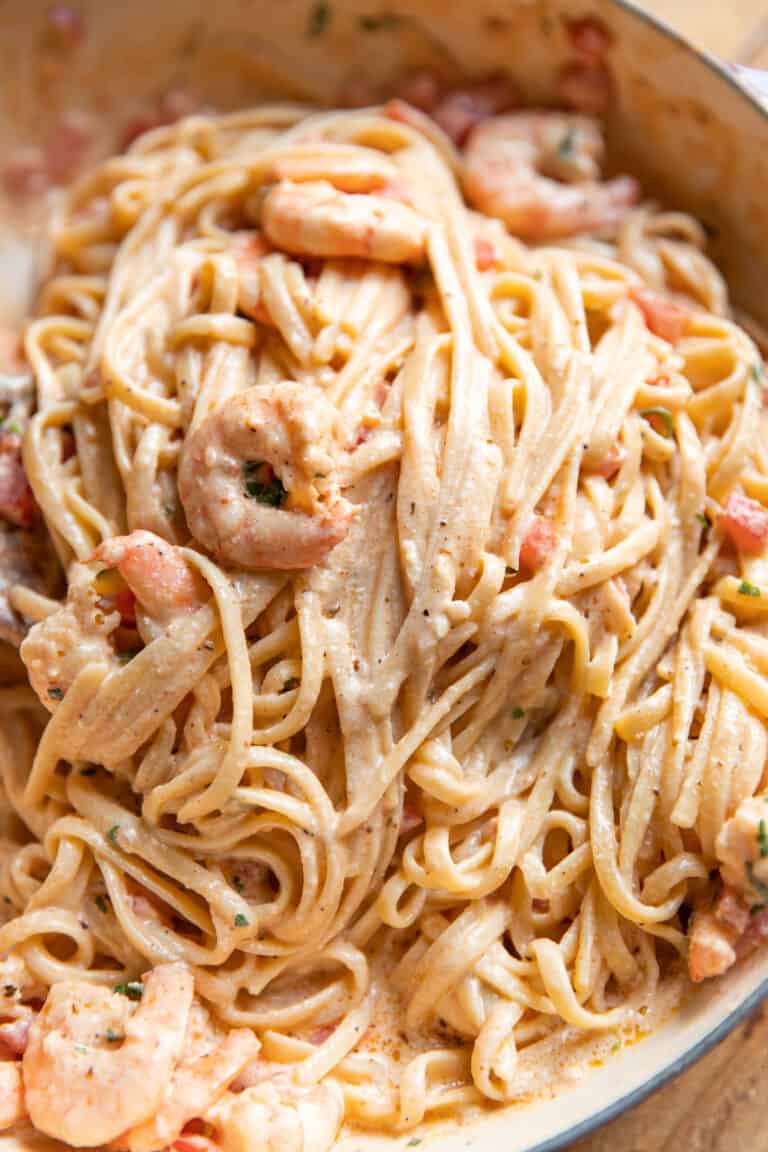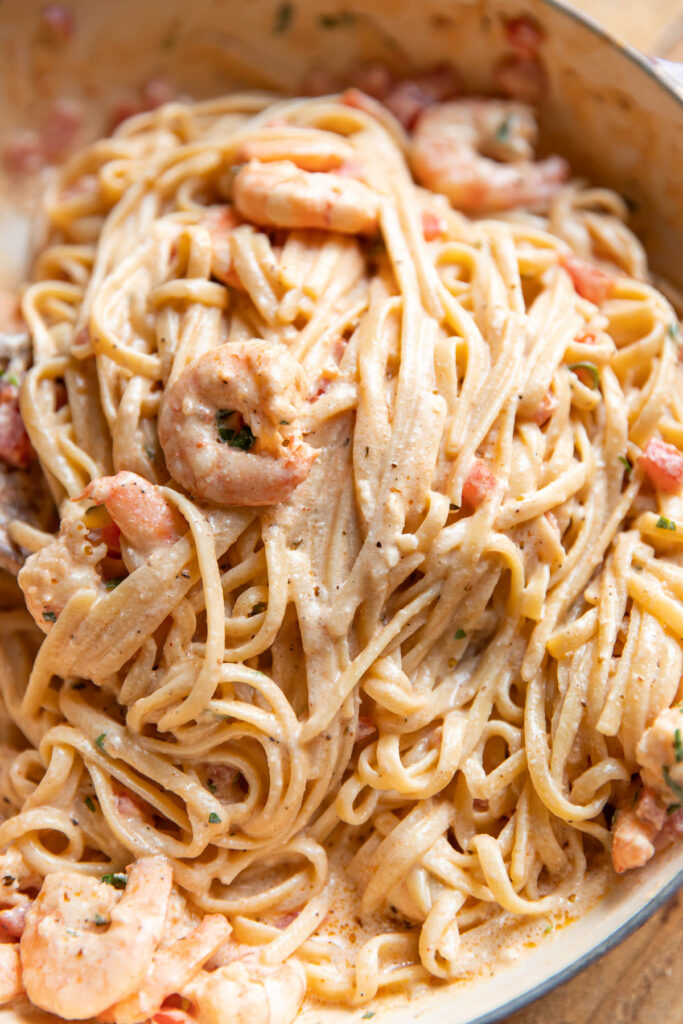 What you don't want to do is rinse your pasta after you strain it.
The reason why is because you also rinse off all that important starchy water. When you combine your sauce and pasta, it will stick to the pasta.
If you rinse your pasta, it will have a harder time sticking.
I think this is the perfect summer, crave-able dish. Here's how I can justify this as a summer dish. Shrimp = seafood = summer.
There you have it. And I'm sold on this.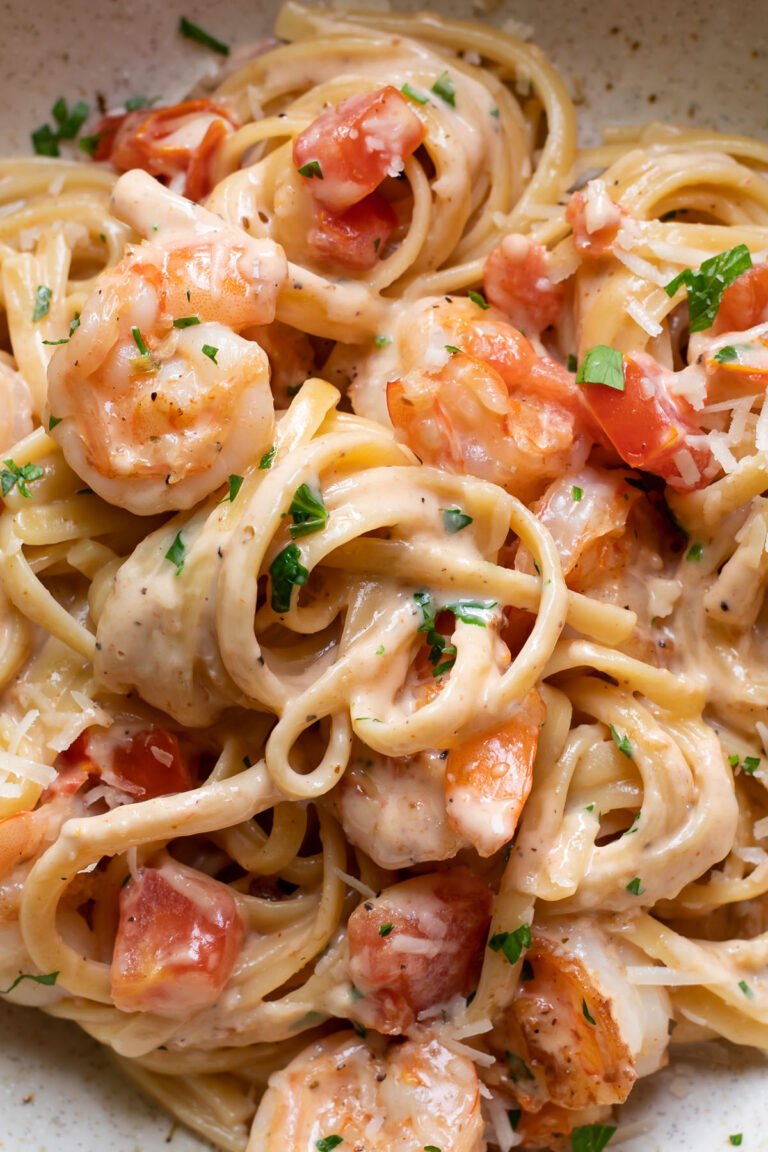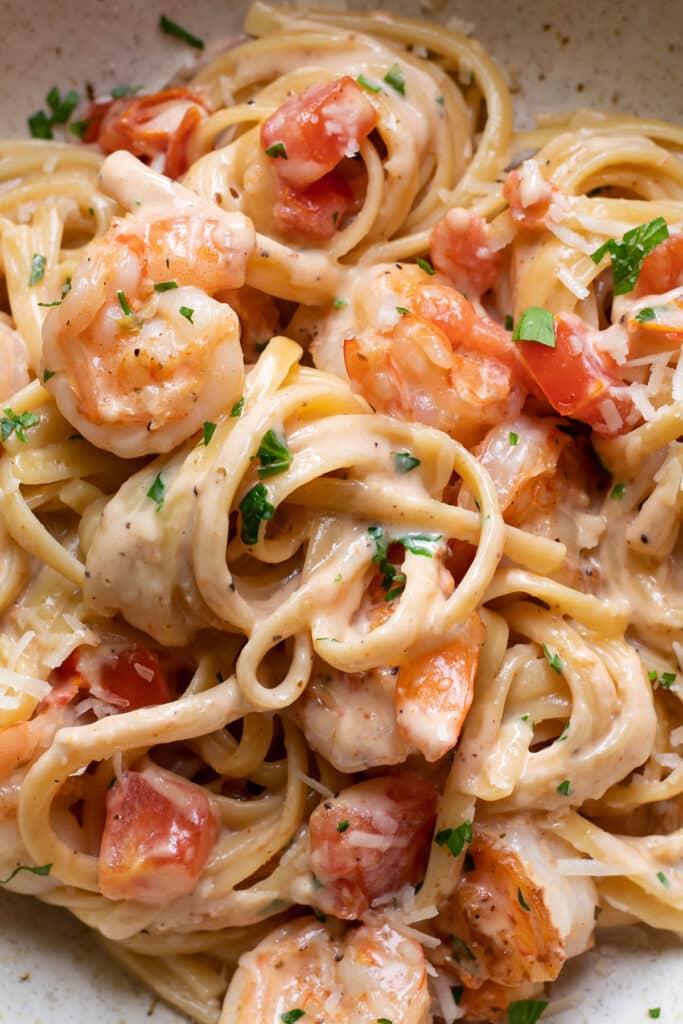 How To Make Cajun Shrimp Pasta
A quick run down of how to make cajun shrimp pasta.
Season the shrimp, be generous if you really want it super spicy
Melt the butter in your pan, let it sizzle
Cook the shrimp with some fresh minced garlic. Only a couple minutes on each side
Once the shrimp are pink, turn them - it's important not to overcook the shrimp
Add the half and half and parmigiano regianno, whisking
It will start to thicken, just keep whisking (*note - if it looks like it curdled (could be from too much water out of the shrimp) do not panic, add in your pasta and all the other ingredients, at the very end, turn the heat off and add another splash or two of half and half and it will magically become smooth and creamy again)
Add your pasta of choice, this is linguine but any shape works
Stir in the chopped tomatoes, parsley, lemon juice and more cajun seasoning
Serve!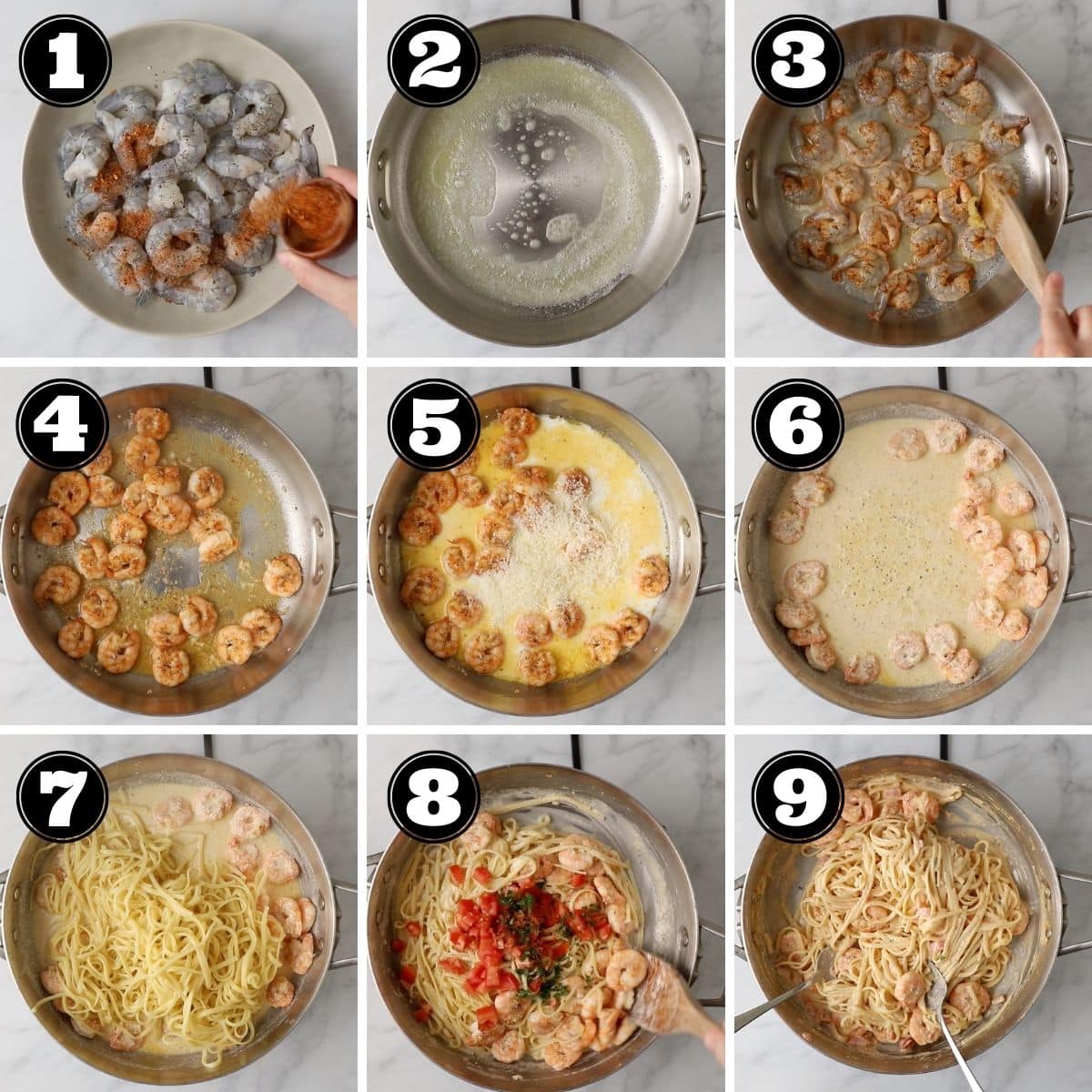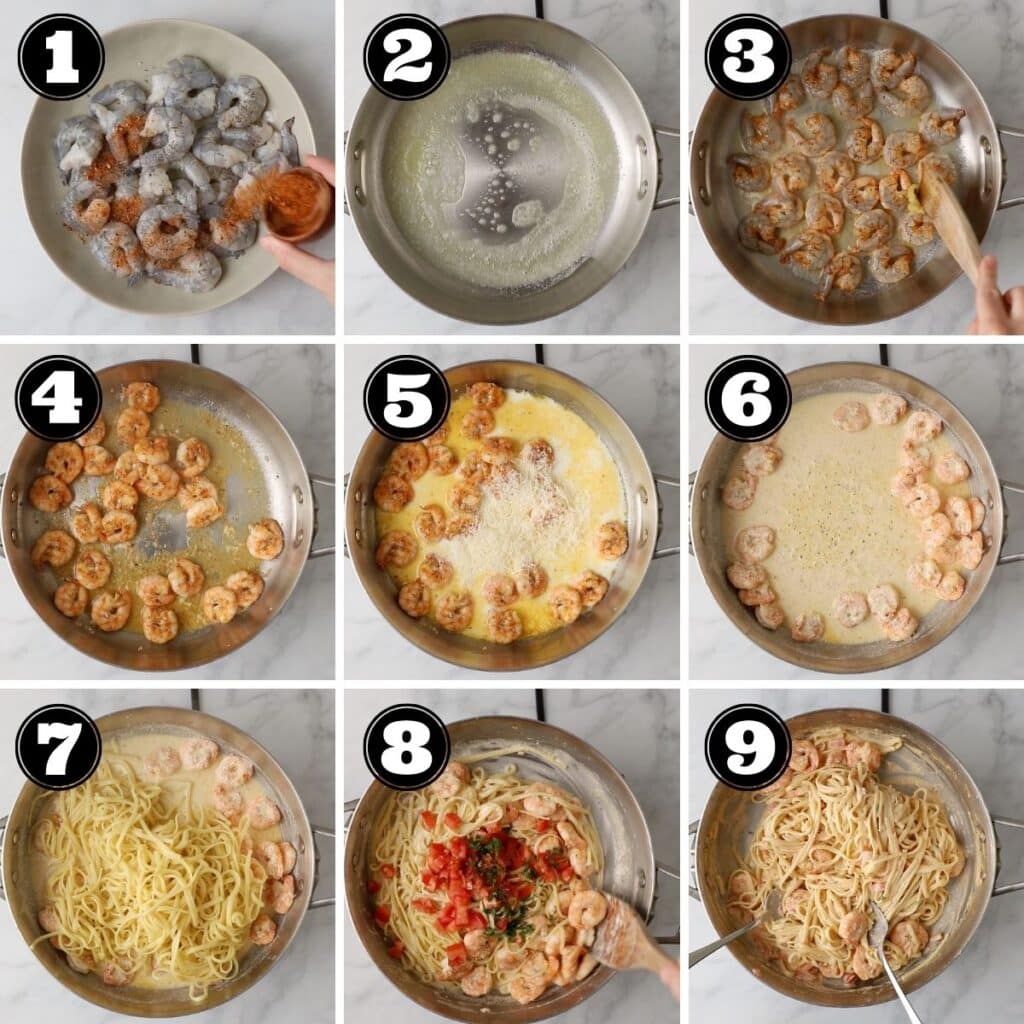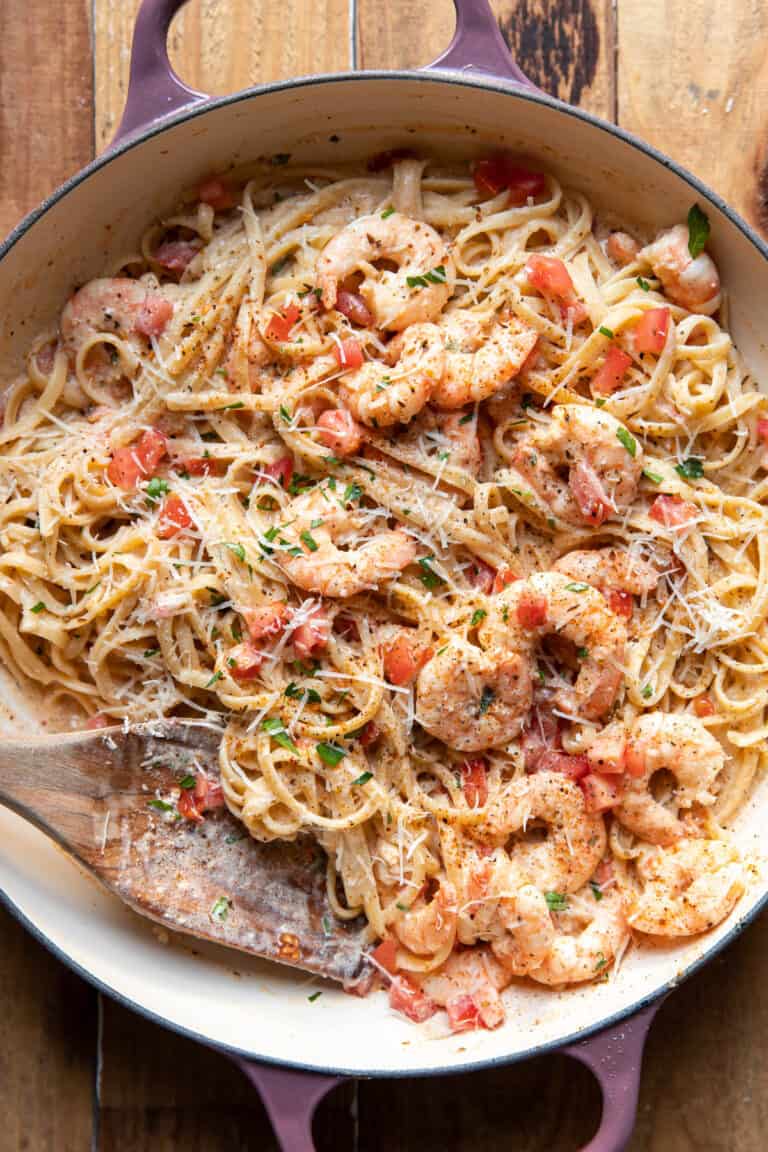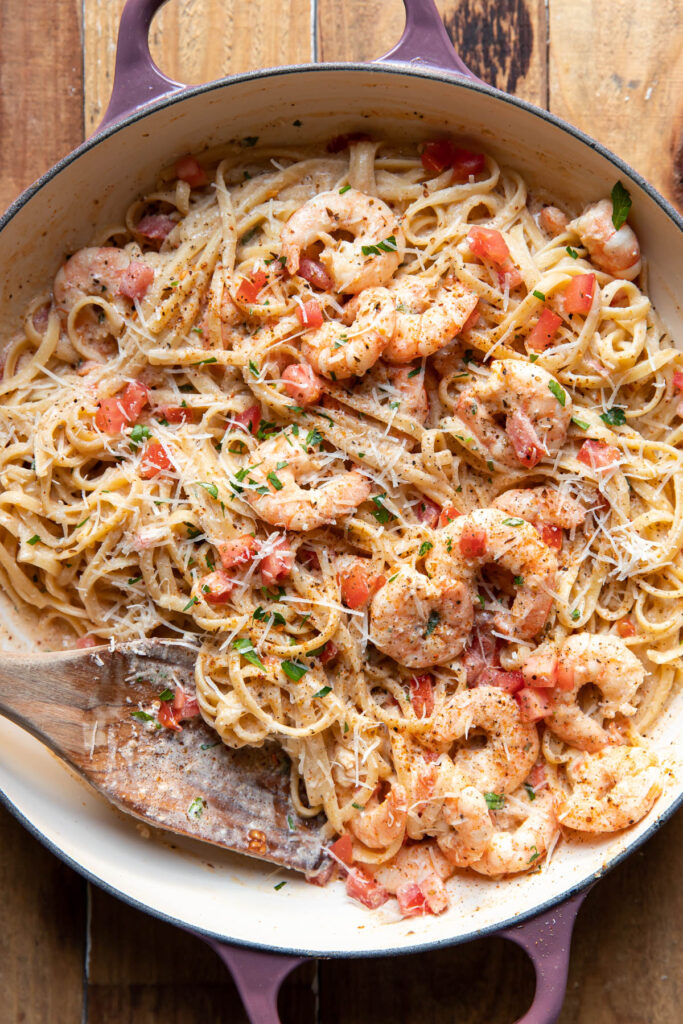 What You'll Need To Make Cajun Shrimp Pasta
Here's an easy visual of what ingredients you'll need to make this dinner. You'll find that most of the ingredients are things you'll already have on hand!
If you are using frozen shrimp, just make sure to dry them really well, you'll want any excess moisture gone.
half and half - I decided to make this cajun shrimp pasta without heavy cream, I chose half and half because I wanted a lighter option than a traditional cream sauce. If you notice it get lumpy toward the end of making just add some extra splashes of half and half in, it will smooth out.
linguine - you can pick any pasta shape you like
lemon juice - the lemon juice gives it a nice kick of flavor, it's optional you can always leave it out
tomatoes - a little bit of tomatoes for some color, texture and flavor
parmigiano reggiano - the real stuff, not the one in the green container
salt and pepper - for seasoning
fresh garlic - for flavor
cajun seasoning - not all cajun seasonings are made equal, some are more spicy some are more salty, I actually mix two brands together to make my perfect cajun seasoning (slap ya mama and a basic mccormick)
butter - for cooking the shrimp and the first base of the sauce
oil - also for cooking the shrimp, we use less butter this way
parsley - add some color back in to the dish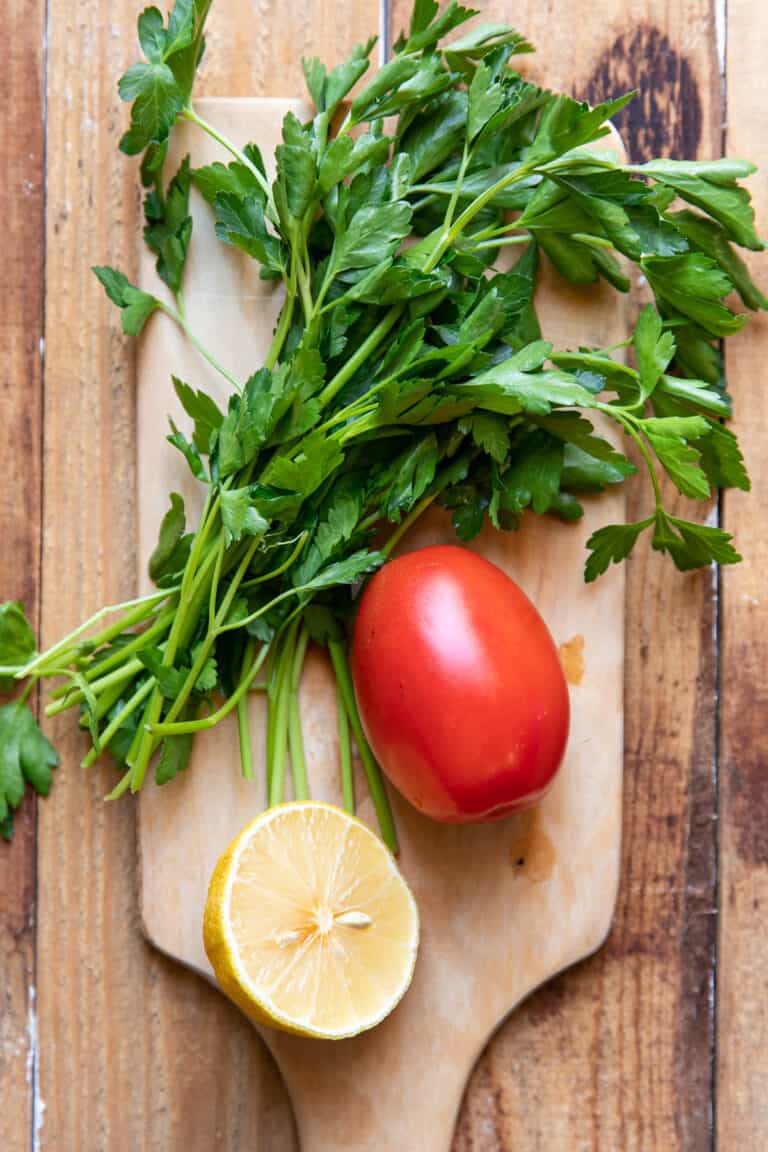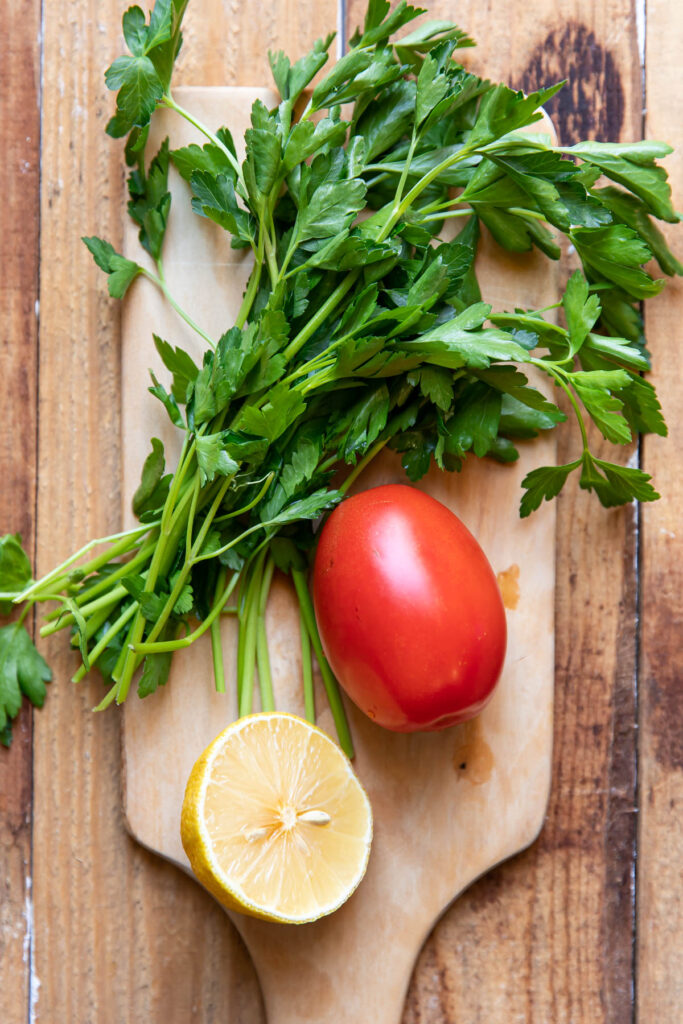 Cajun Shrimp Pasta Tips
Recipes with some tips and tricks are always successful! Here are some tips I've put together when making this creamy cajun shrimp pasta.
Know your cajun seasoning. If this is your first time making a cajun pasta make sure you taste test the cajun seasoning before using it.
For me I mix two different brands, because I know one is heavy on the salt and one is heavy on the spicy and doesn't have much salt. To get your preferred flavoring, pick and choose what suits your family best.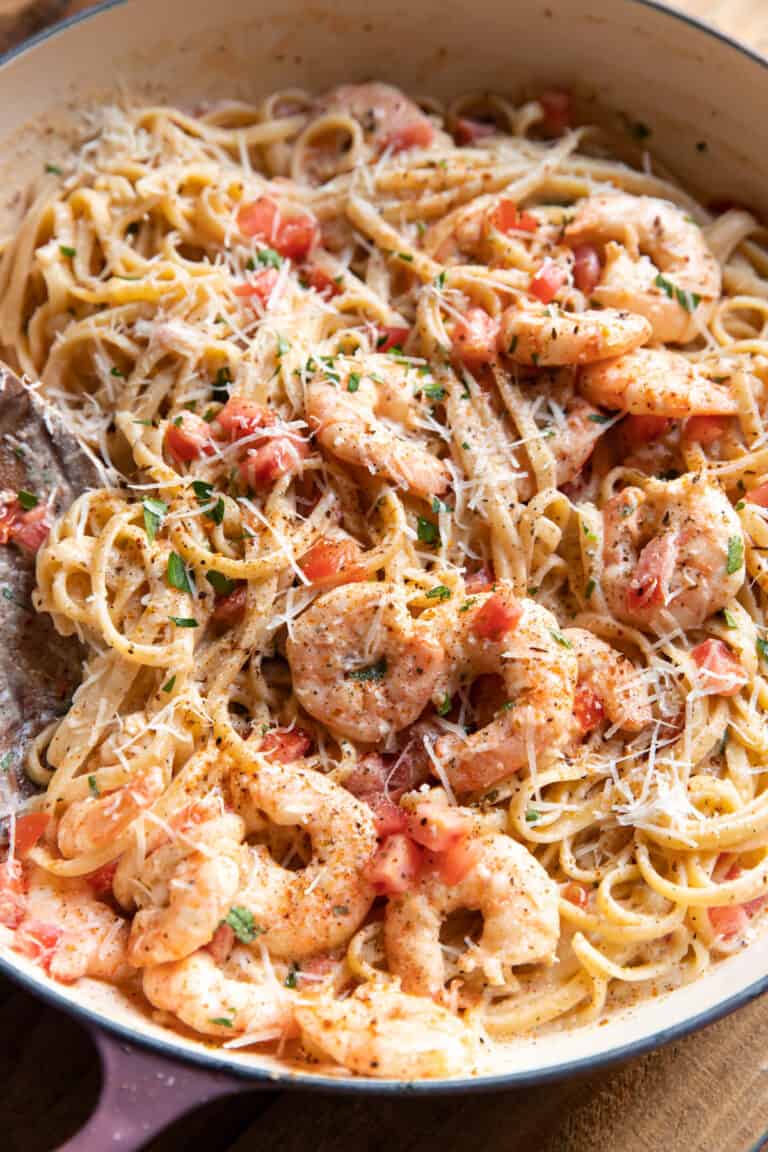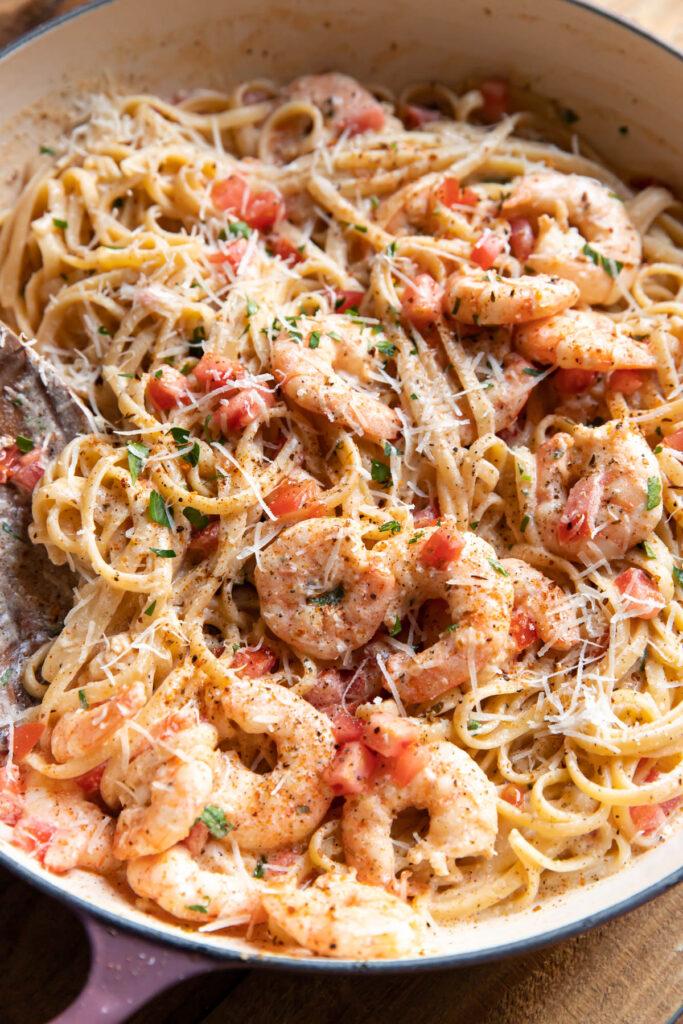 Don't overcook the shrimp. It's hard not to. I get it. You aren't quite sure if it's done, how can something cook in just minutes?!
If you think about it this way it takes a piece of chicken about 20 minutes to cook stovetop, one little shrimp is a tenth of that size, so it only takes 2-3 minutes to cook. If you notice the color of shrimp prior to cooking vs after, the color changes significantly.
If you need to, take a picture of what it looked like before when judging if it's cooked, the uncooked color is a pale grey white and the cooked color is a rosy pink.
Use the right temperature. You should heat your pan to the right temperature, medium is perfect for shrimp.
If your temperature is too low your shrimp won't get a good sear and since they cook fast you lose that opportunity quickly. If it's too hot your shrimp will get crispy.
Salt your pasta water. For more flavor, try salting your pasta water to give the pasta a bit more flavor.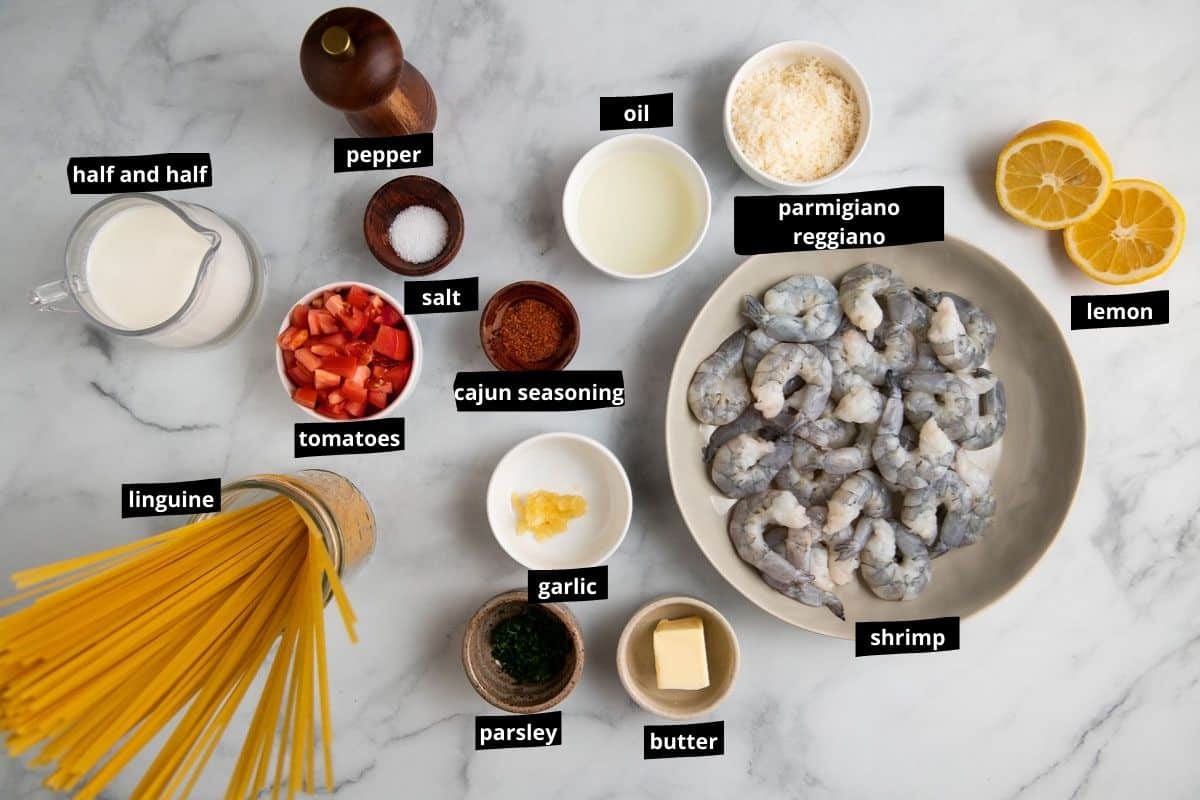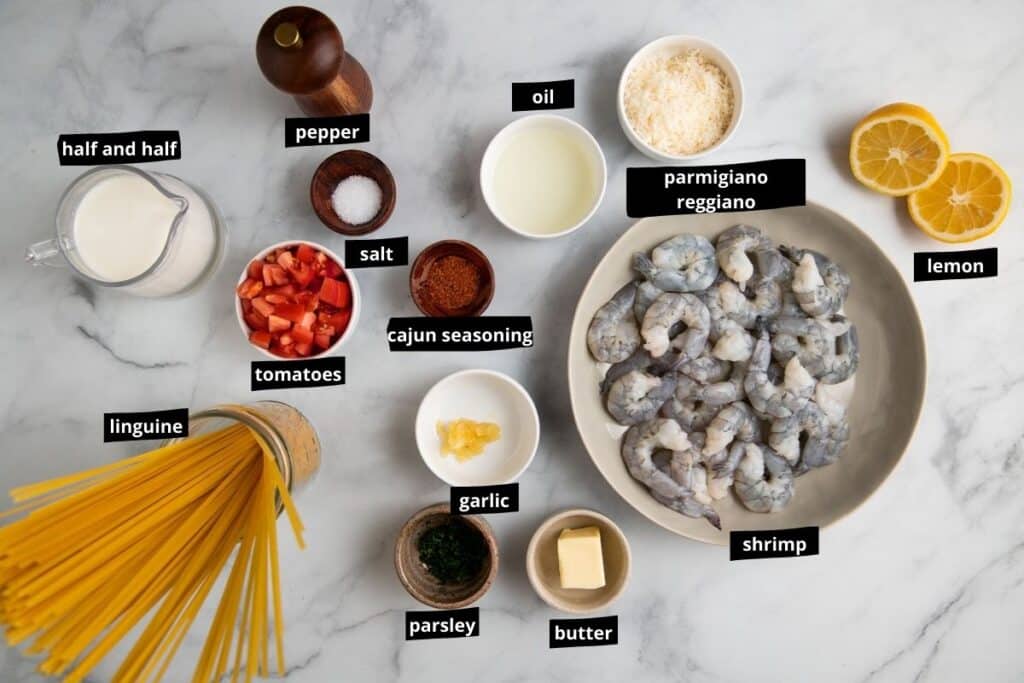 Cajun Shrimp Pasta FAQ
My sauce got a bit lumpy, how can I fix this?
Because we're using half and half instead of heavy cream, this can happen (plus the lemon juice can also make this happen). After you are done preparing, if you get this result add another few splashes of half and half in, mix it around and watch it smooth out!
Can I add extra things to this pasta, like sausage and more vegetables?
Yes! You can add whatever extras you like to make this your family's favorite! Some favorites that readers have added is cajun sausage, bell peppers, sun dried tomatoes and spinach to the cajun shrimp pasta.
Can I substitute milk for the half and half?
I personally have not tried this but some reviews have had success with using milk.
Can I make this gluten free?
By using gluten free pasta noodles you can.
How can I reheat this?
Stovetop would be my preferred method of choice, it's the easiest on the shrimp. Microwave could work as well.
Can I freeze cajun shrimp pasta?
I wouldn't recommend it, noodles can get mushy if you reheat them from frozen, it's just too much cook time.
Can I make this as a chicken cajun pasta?
You can. Season the chicken like you would have the shrimp, then cook it but you'll need to cook it until the chicken is no longer pink in the middle. Otherwise you can prepare this exactly the same way.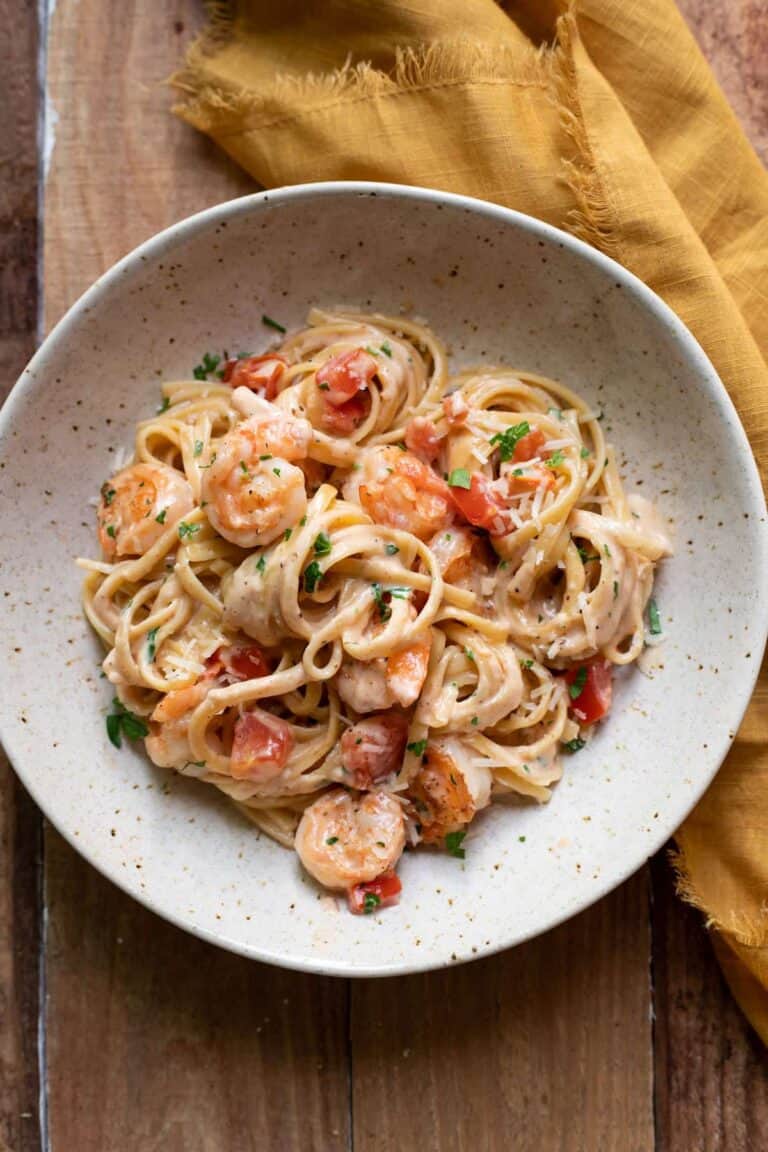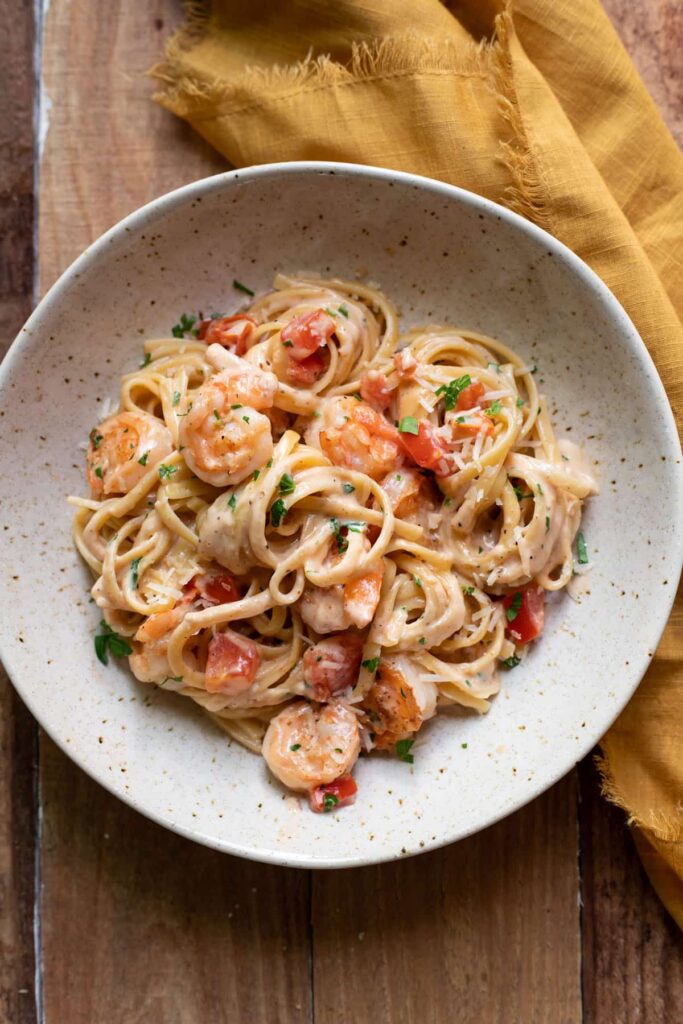 More Dinner Recipes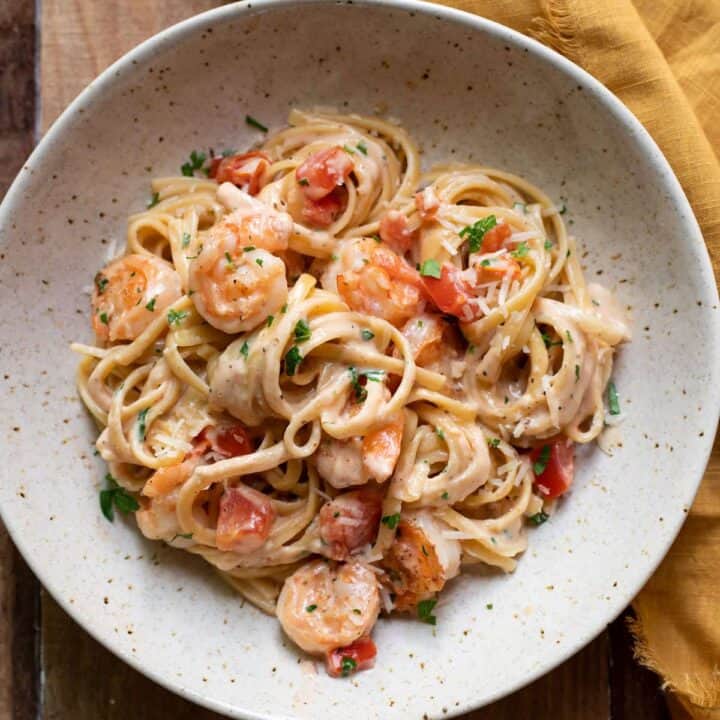 Creamy Cajun Shrimp pasta
Rich and decadent creamy cajun shrimp pasta. Linguine swirled around a spicy cajun sauce, seasoned shrimp and tomatoes, topped with parmigiano reggiano.
Ingredients
1 lb shrimp, deveined and cleaned
8 oz linguine
1 tbsp oil
1 tsp cajun seasoning
1 c half and half
2 tbsp butter
2 cloves garlic, minced
A few sprigs of chopped parsley
1 roma tomato, diced small
¼ c parmigiano reggiano
1 tbsp lemon juice, optional
salt and pepper
Instructions
Dry the cleaned shrimp with a paper towel, season with a few pinches of salt and pepper and ½ tsp cajun seasoning
Cook the linguine per package instruction and set aside
Heat a large pan over medium heat
Add the oil and butter
Add the shrimp in an even layer followed by the minced garlic, turning after 2 minutes cook an additional 1-2 minutes or until pink and cooked through
Add to the pan the half and half and parmigiano reggiano
Bring to a low boil, while whisking constantly for 2 minutes
Turn heat off
Add the pasta
Add the diced tomato, chopped parsley and the remaining ½ tsp cajun seasoning
Squeeze on the lemon juice, this step is optional because adding lemon juice to dairy can be tricky, it has the chance of curdling your sauce, but if you do it with the heat off you have a better chance of it not happening and the taste is amazing
Stir to combine, it will continue to thicken as it continues to cool down
If the sauce is clumpy, add another splash of half and half it will get creamy!
Serve
Notes
If the sauce seems a bit curdled, don't panic!  Continue preparing, making sure heat is on low.  Add another splash or so of half and half, stir, and it will get nice and creamy.
If it's not spicy enough, add more cajun seasoning!
Recommended Products
As an Amazon Associate and member of other affiliate programs, I earn from qualifying purchases.
Nutrition Information:
Yield:

4
Serving Size:

1
Amount Per Serving:
Calories:

411
Total Fat:

20g
Saturated Fat:

10g
Trans Fat:

1g
Unsaturated Fat:

9g
Cholesterol:

280mg
Sodium:

1604mg
Carbohydrates:

24g
Fiber:

1g
Sugar:

3g
Protein:

33g
This information comes from online calculators. Although moderncrumb.com attempts to provide accurate nutritional information, these figures are only estimates.