Rich and decadent creamy cajun shrimp pasta, emphasis on the decadent.
Linguine swirled around a spicy cajun sauce, perfectly seasoned shrimp and tomatoes, topped with some fresh parmigiano reggiano cheese.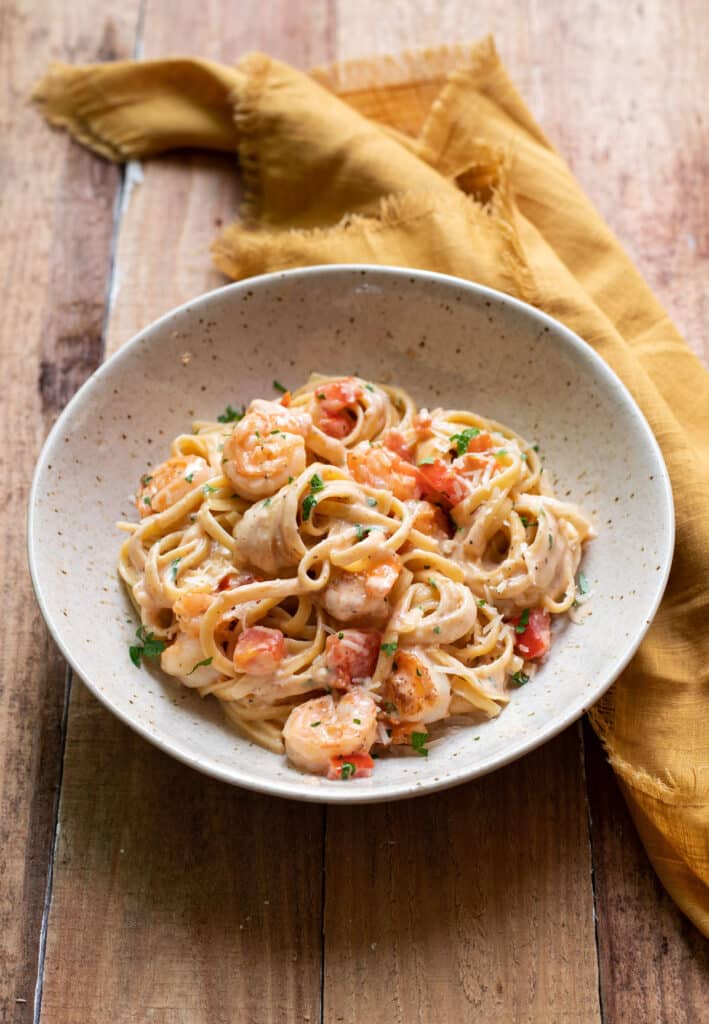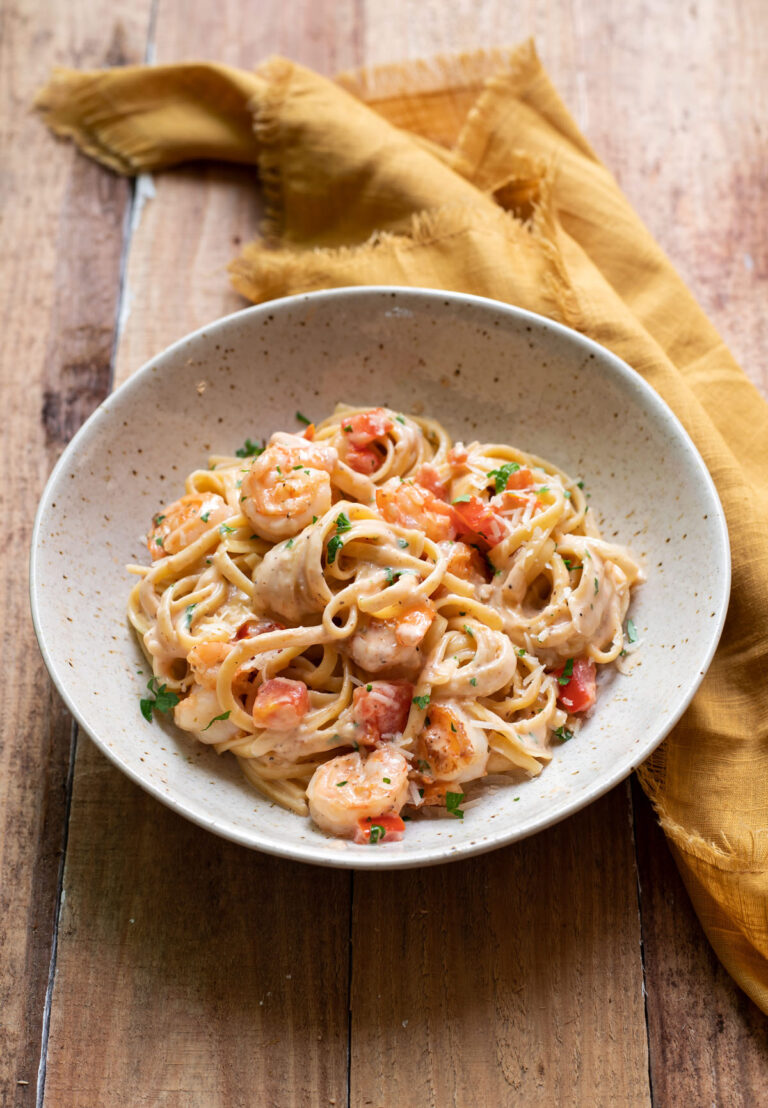 This creamy cajun shrimp pasta is full on luscious.
If you are watching what you eat, then this is not for you.
But if you are looking to indulge read on.
Normally when I order a cajun pasta I just assume it's going to be super creamy. And this is exactly what I was going for with this family dinner.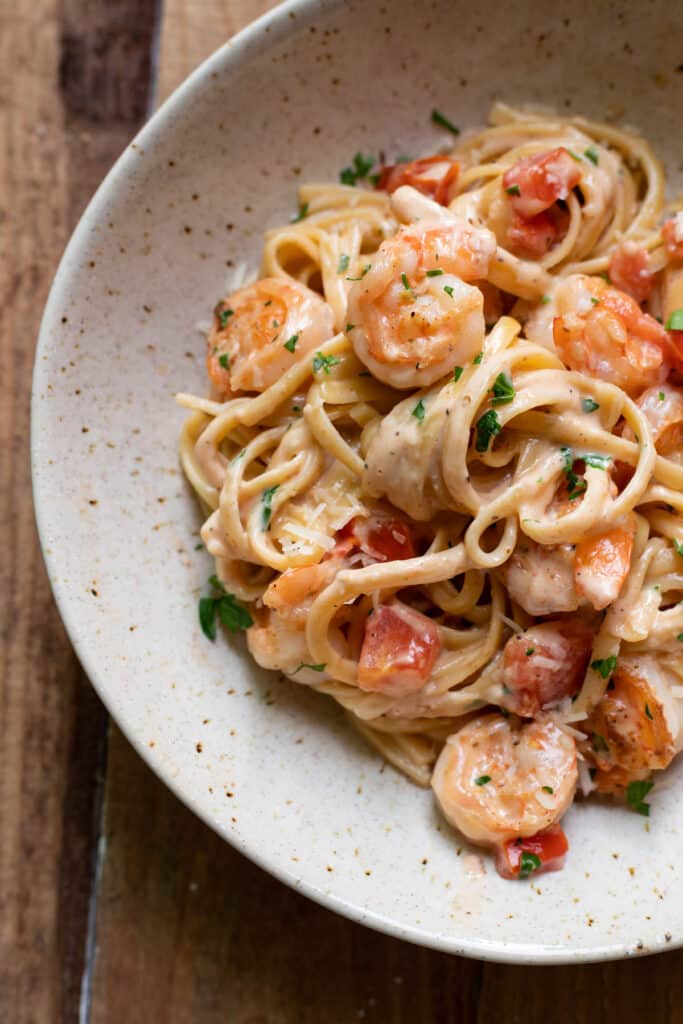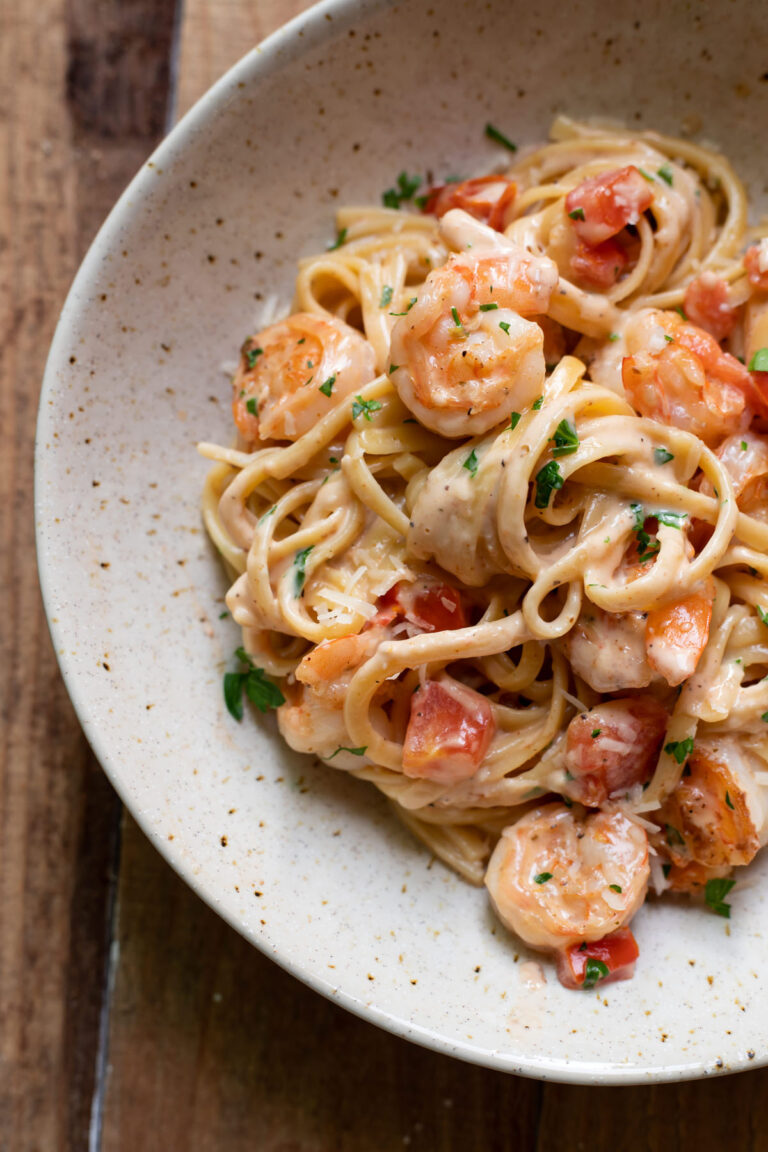 When you just want to be cozy and splurge on your family dinner.
I mean, we all have those nights. Where a salad just won't cut it and we want a big old bowl of pasta.
Guilty.
The trick to a thick sauce is to let it boil and bubble for a bit and then reduce the heat.
If you let it boil (stirring nonstop so it doesn't stick to the pan) when it cools it will be the perfect thick and creamy consistency.
And by the time you take it to the table to serve, wait 10 minutes for everyone to actually show up, it should be perfection and thickened up.
So to recap – if your sauce is too runny, crank up that heat.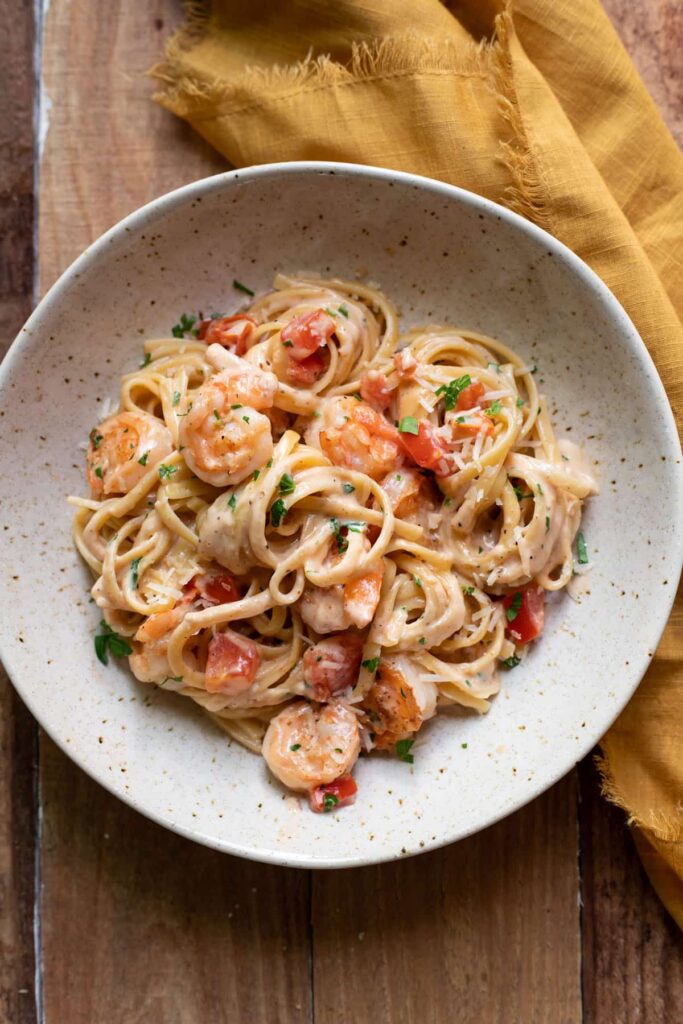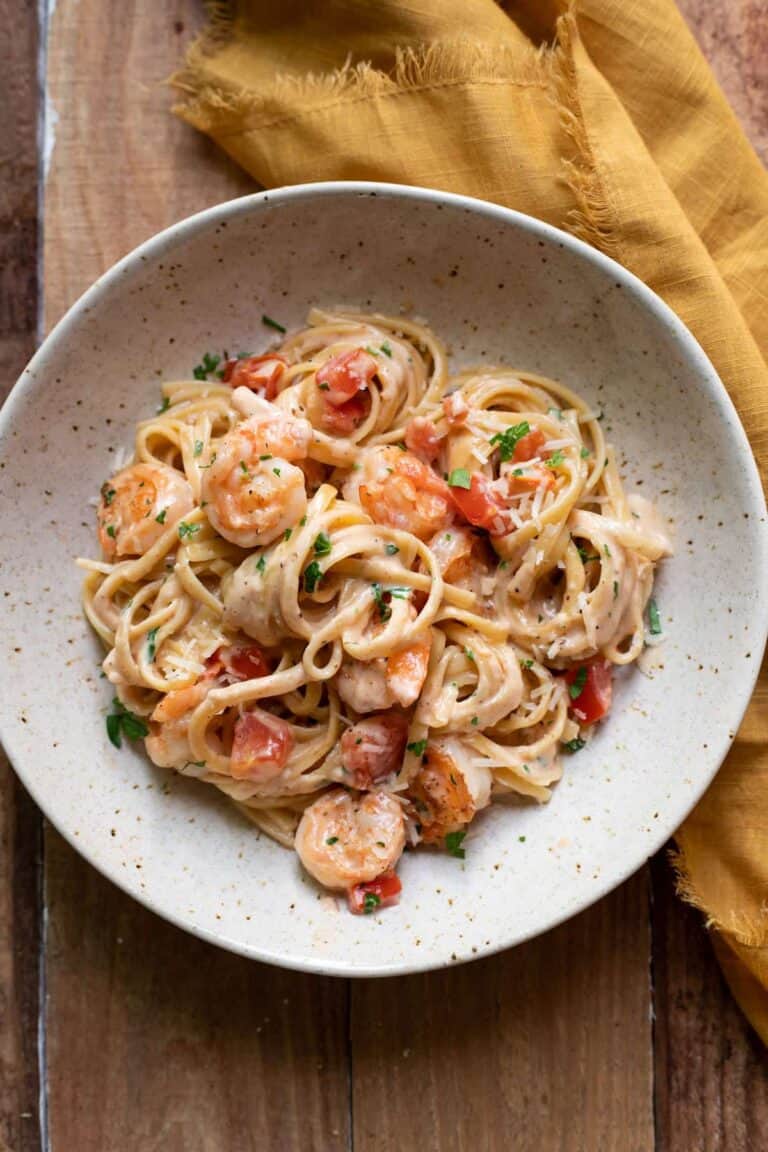 How To Get Perfectly Cooked Shrimp
Heres the deal with shrimp.
You have to cook it just right. Shrimp takes MINUTES to cook.
Like a couple minutes. Once they are pink, boom, they are done and any extra time spent cooking will just make them tough.
And it's easy to tell when the shrimp are fully cooked, because the color of shrimp prior to being cooked through is that kind of clear white color.
But once cooked, that more orange red pink tone.
Also you want to pat them dry before throwing them on to your pan and season generously.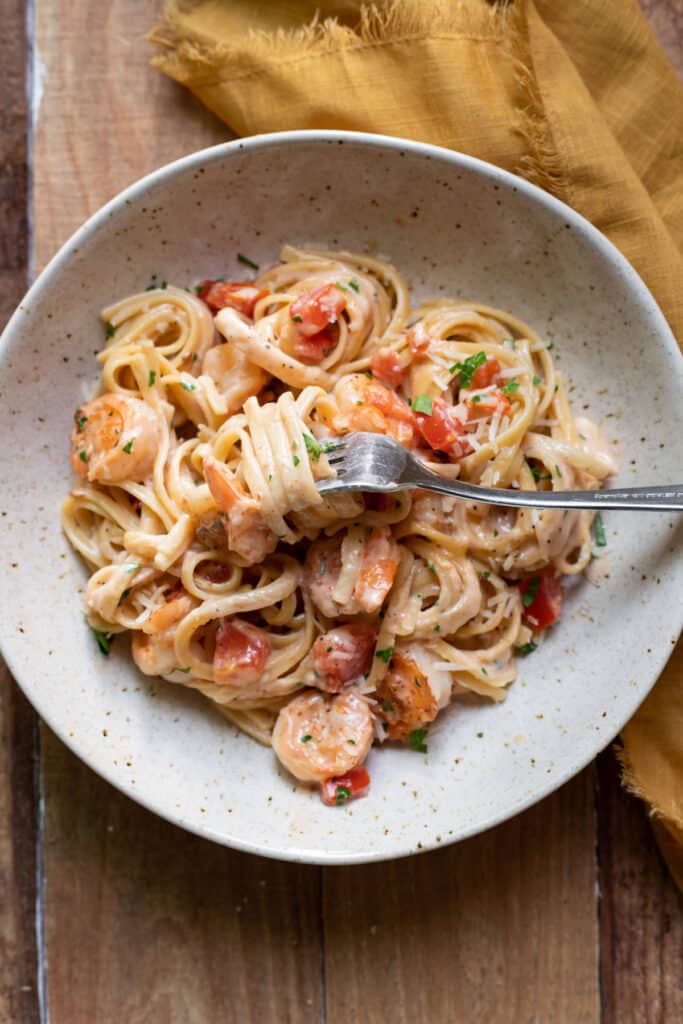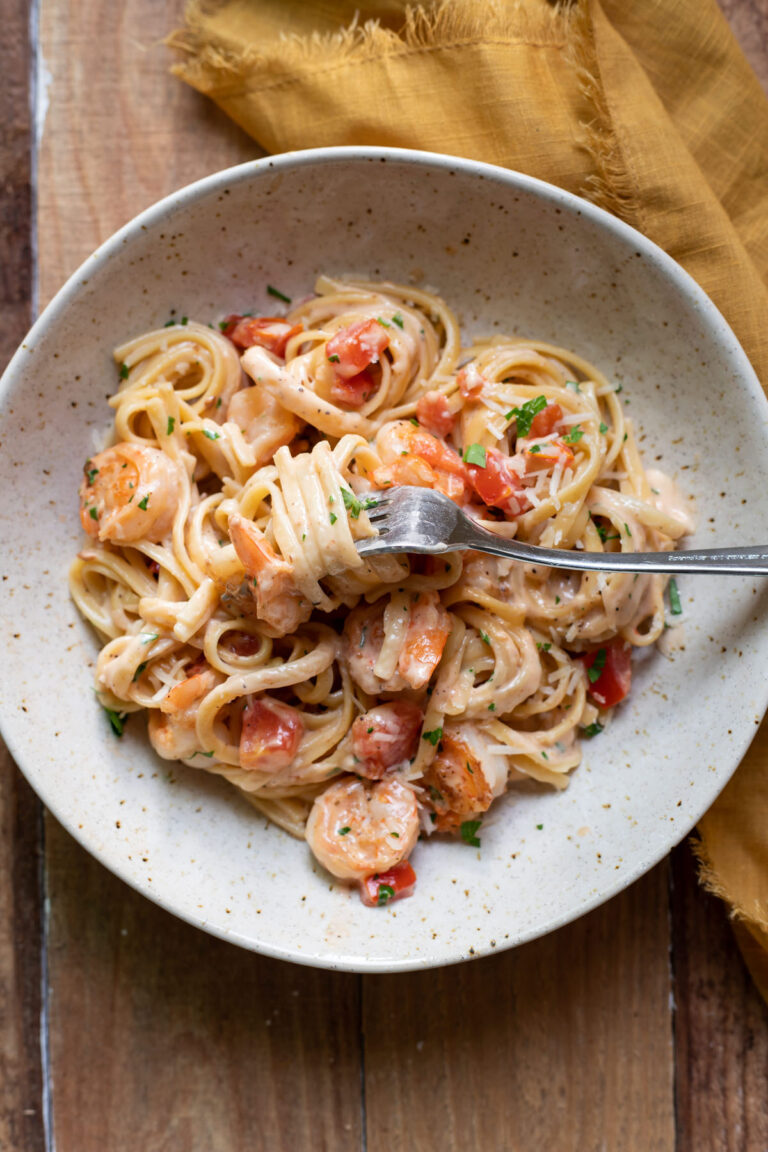 For this cajun shrimp pasta you can use any type of noodle you want! Linguine, spaghetti or a fun shape. It really doesn't matter, a noodle is a noodle.
But here's a fun fact! Flat noodles, like linguine are actually perfect for sauces, because it's more space for the sauce to grab on to.
Another fun fact. Noodle shapes with ridges on it are also awesome for sauces, because the sauce sort of clings on to the noodles.
What you don't want to do is rinse your pasta after you strain it. The reason why is because you also rinse off all that important starchy water. When you combine your sauce and pasta, it will stick to the pasta.
If you rinse your pasta, it will have a harder time sticking.
I think this is the perfect summer, craveable dish.
Here's how I can justify this as a summer dish.  Shrimp = seafood = summer.
There you have it. And I'm sold on this.
But if you looking for a few more summer pasta dishes to feed your wonderful family I'd suggest this lemon basil chicken pasta or this white wine shrimp and gnocchi.
I have instructions for how to make your own homemade gnocchi, or you can cheat and buy it from the store. Either way it's delicious!
More Family Friendly Pasta Recipes To Try
Make sure to follow the Modern Crumb Board on Pinterest for lots of yummy meal inspiration! And subscribe to the newsletter, below, to get updates when new recipes post.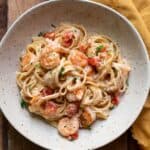 Print Recipe
Creamy Cajun Shrimp pasta
Rich and decadent creamy cajun shrimp pasta. Linguine swirled around a spicy cajun sauce, seasoned shrimp and tomatoes, topped with parmigiano reggiano.
Ingredients
1

lb

shrimp

deveined and cleaned

8

oz

linguine

1

tbsp

oil

1

tsp

cajun seasoning

1

c

half and half

2

tbsp

butter

2

cloves

garlic

minced

1

tbsp

lemon juice

A few sprigs of chopped parsley

1

roma tomato

diced small

1/4

c

parmigiano reggiano

salt and pepper
Instructions
Dry the cleaned shrimp with a paper towel, season with a few pinches of salt and pepper and 1/2 tsp cajun seasoning

Cook the linguine per package instruction and set aside

Heat a large pan over medium heat

Toss in the oil and butter

Add the shrimp in an even layer followed by the minced garlic, turning after 2 minutes cook an additional 1-2 minutes or until pink and cooked through

Transfer the shrimp with a slotted spoon to a plate

Add to the pan the half and half, lemon juice and parmigiano reggiano

Bring to a strong boil, while whisking contstantly for 3 minutes

Reduce heat to low

Add back in the shrimp, linguine, diced tomato and chopped parsley

Stir to combine, it will continue to thicken (if not turn the heat back up to boil for a few minutes, stirring constantly so it doesn't burn or stick to the bottom of the pan)