Bang bang shrimp.  The name alone spikes my curiosity.  What is bang bang shrimp!?  Just about the yummiest spicy shrimp pasta ever.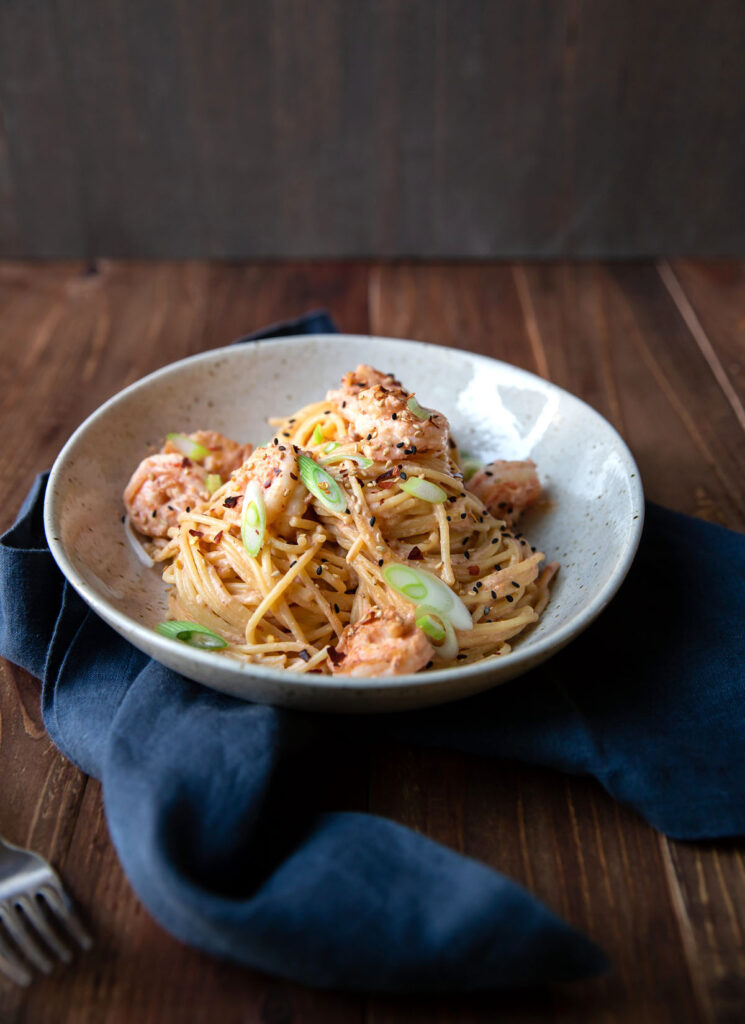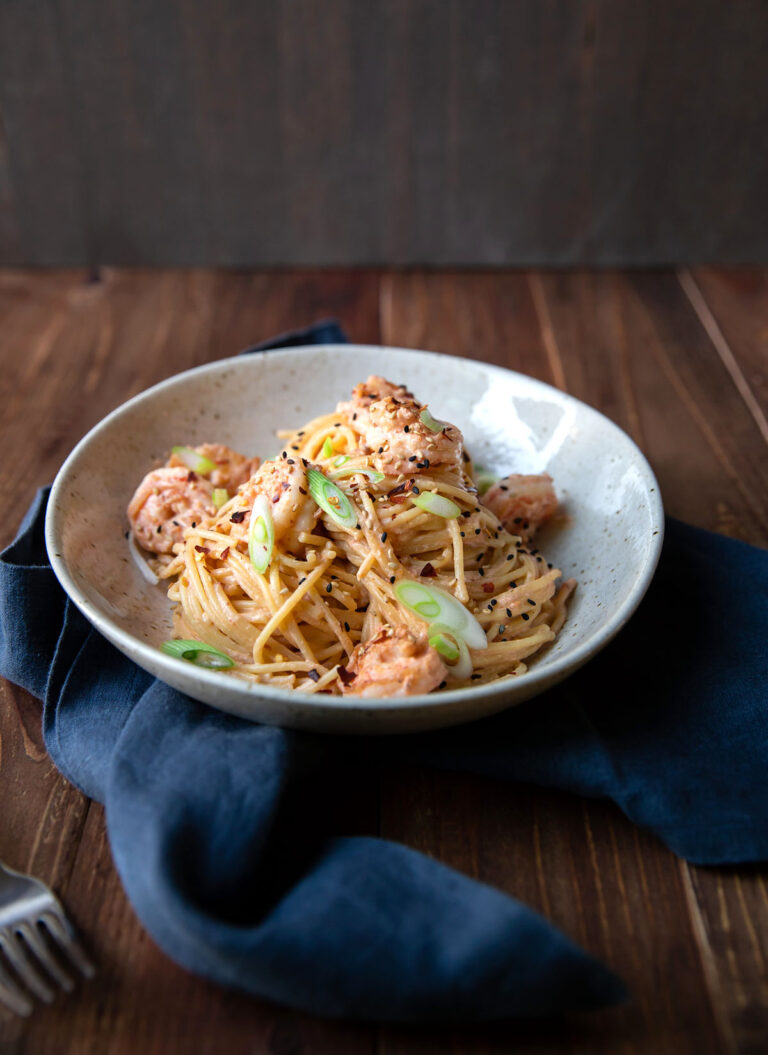 The first time I heard of bang bang shrimp pasta was years ago, I was on the facebook (haha) and someone shared an overhead cooking video, at the time these were so amazing and new! 
I can't even remember what company it was but it had pasta, shrimp and looked spiiiicy.  Yum.  
 I really didn't think about it for awhile but the first time I made bang bang shrimp pasta I wondered "what have I been missing out on!?" 
You just keep eating it and loving it. 
You really are in control of how spicy this gets though, I think mine is more mild than a lot and still, it clears my sinuses. This recipe is definitely more spicy than this creamy cajun shrimp pasta, which is a bit more mild.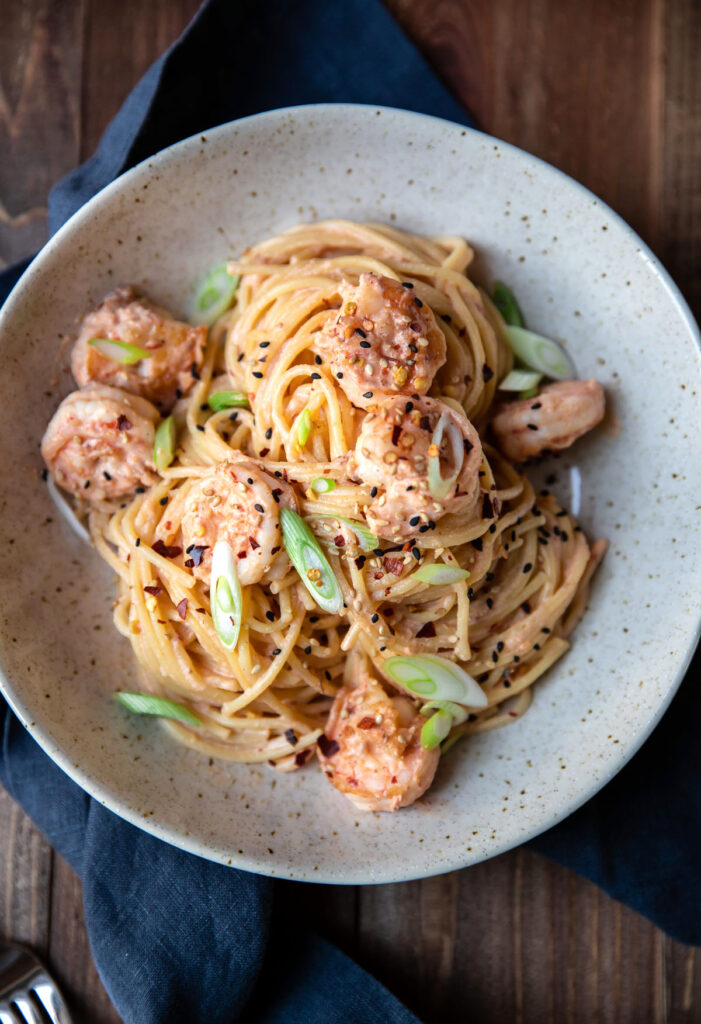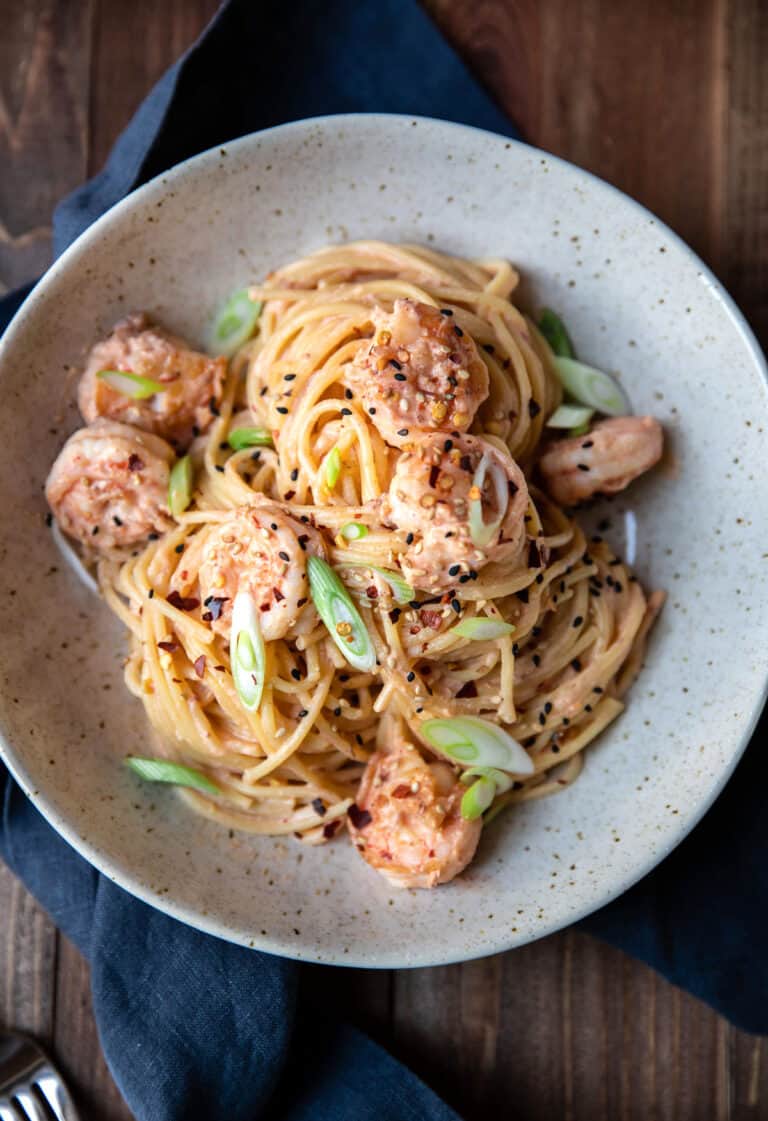 This bang bang shrimp pasta is a lighter version than the classic. 
I use Greek yogurt instead of mayonnaise and lemon juice instead of lime.  I just like the way this tastes better.  
Typically I have lemon juice on hand and right now I am fully stocked up because my friend gave me a ton of lemons awhile back and I juiced them and froze it in individual tablespoon ice trays.
Actually they are baby food trays from when my kids were babies. 
The yogurt gets mixed with sambel olek which you can find at any grocery store in the asian cooking section.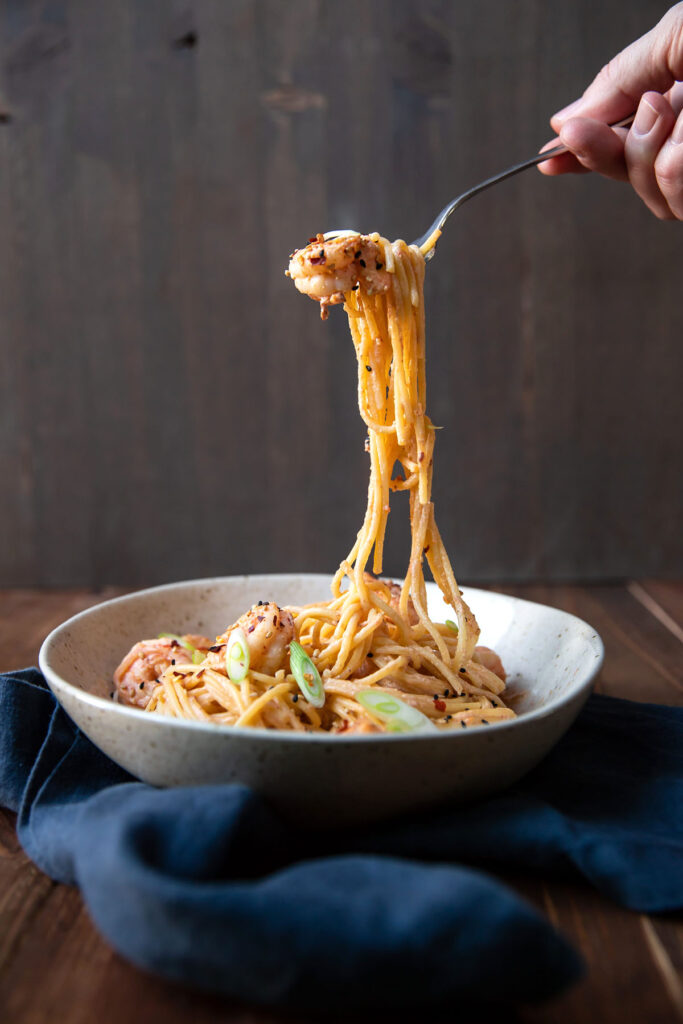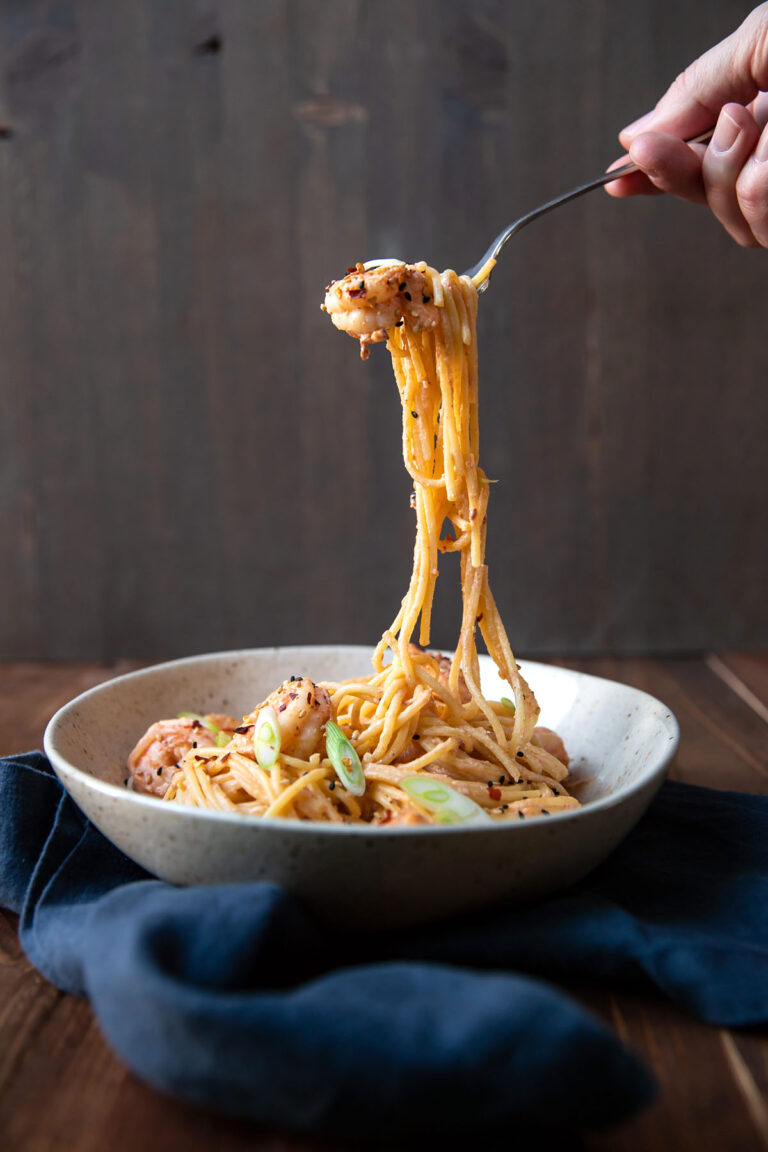 This is where all the spice comes from!  I love sambel olek, especially for angry edamame. 
For the shrimp I toss it in paprika, salt, pepper and just a little bit of corn starch for texture when it cooks.
But the most important part of all is the pasta water! 
Add half of a cup of pasta water to the sauce will give the bang bang shrimp pasta a nice smooth texture.  Without it the sauce gets kind of clumpy. 
I will say this is something you want to time out right and eat it right away as it sits, it thickens. 
So to get that gorgeous silky smooth sauce, scoot on over to the table and dig in!
Bang Bang Shrimp Pasta
Bang bang shrimp. What is bang bang shrimp!? Just about the yummiest spicy shrimp pasta ever.
Ingredients
8

oz

spaghetti

1

lb

shrimp

deveined, cleaned and dried on paper towels

1

tbsp

high heat oil

sunflower oil is my choice

1

tbsp

butter

2

garlic cloves

7

oz

greek yogurt

small container

3

tbsp

sambal olek

1

tbsp

lemon juice

1/4

tsp

sriracha

1/2

c

reserved pasta water
shrimp seasoning
1/2

tsp

paprika

1/2

tsp

corn starch

a few pinches of salt and pepper

*optional garnishes: green onions

crushed red pepper and sesame seeds
Instructions
Cook the spaghetti and reserve 1/2 cup pasta water

Season cleaned and dried shrimp with paprika, salt, pepper and corn starch

Heat a saute pan over medium heat with 1 tbsp oil

Add the shrimp evenly so they aren't overlapping, cook until pink and transfer to a plate

Turn heat down to low and add the butter and garlic, cook for 2 minutes until fragrant

To the pan add the greek yogurt, samba olek, lemon juice, sriracha and pasta water, whisk until combined and smooth (it may look a bit separated at first, just keep whisking it WILL come together)

Add back in the shrimp and the spaghetti, toss everything together

Serve with some sliced green onions, crushed rep pepper and sesame seeds