This pan seared herb turkey meatballs recipe is full of flavor. These are incredibly tender from slow simmering in pasta sauce.
You wouldn't even know these are made with lean ground turkey and you won't mind at all that they are.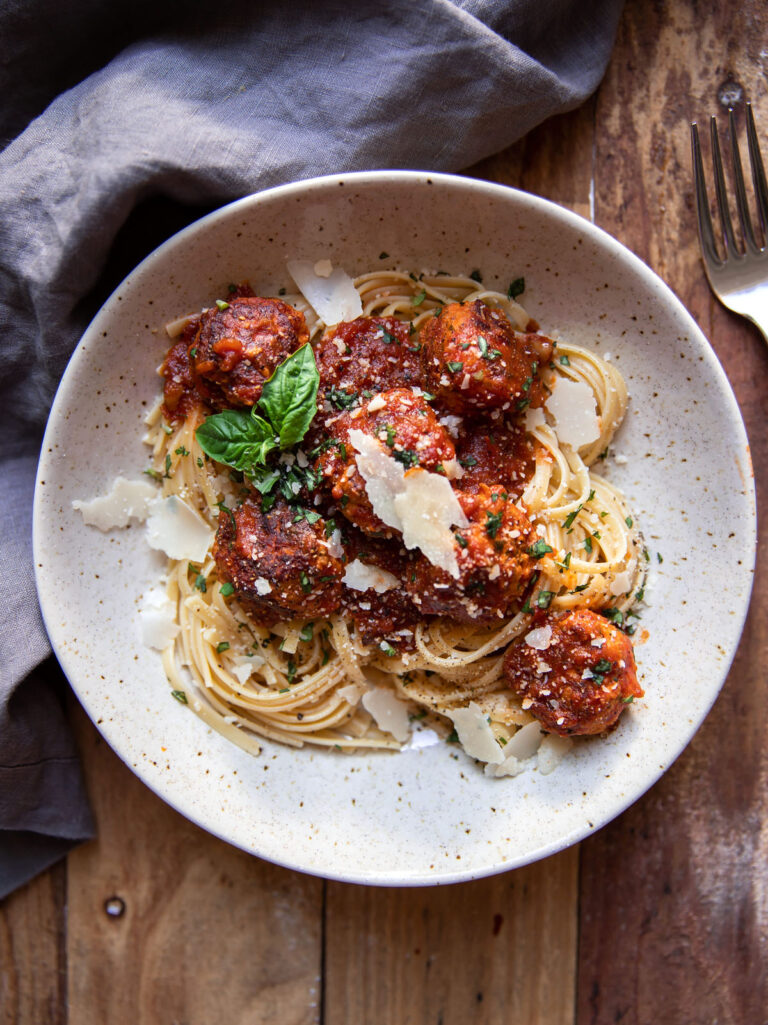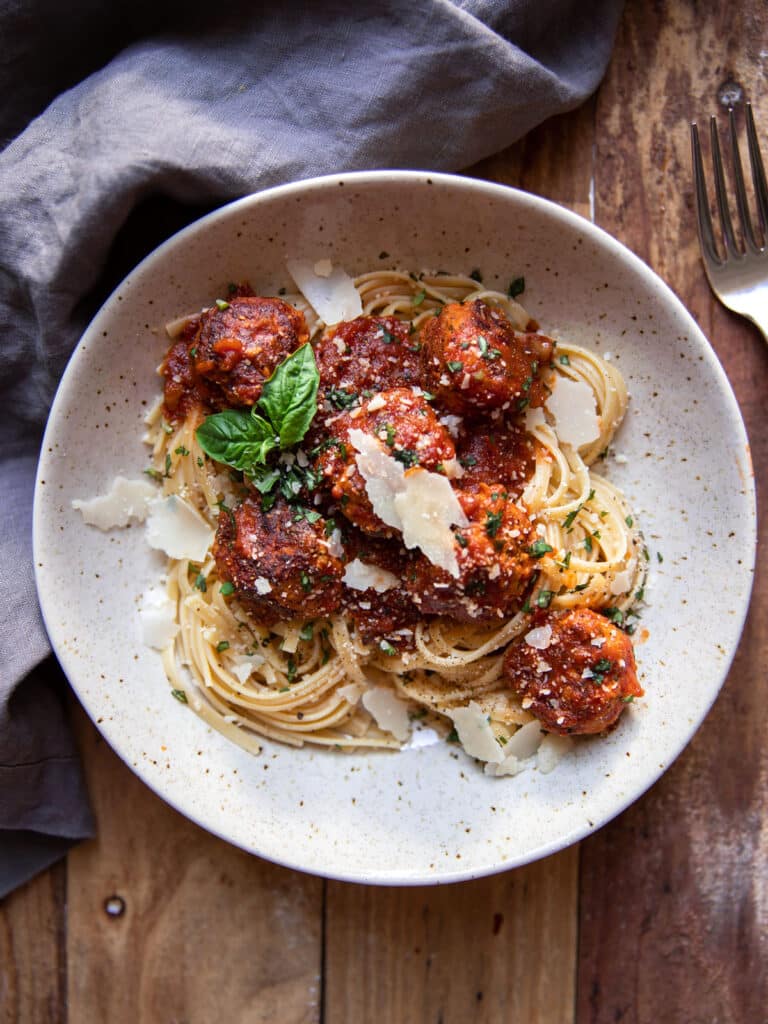 Spaghetti and (turkey) meatballs.
Such an iconic and timeless duo!
Today I'm sharing with you my special easy turkey meatballs and pasta recipe. These are the best turkey meatballs, ever.
Let's face it, if you are swapping out regular meatballs with turkey then they better be damn good! Juicy, full of flavor and tender.
The thing I love about ground turkey is that it picks up all the flavors of whatever you cook it with.
And you know these are packing tons of flavor!
Things like fresh parmigiano reggiano and fresh basil leaves really make these meatballs awesome.
My sister-in-law actually turned me on to ground turkey years ago.
She made spaghetti but instead of using beef in her spaghetti sauce she used turkey and I was a little skeptical at first but she was on to something because it rocked!
From then on out I used ground turkey for my pasta sauce and my meatballs and my life was complete and delicious.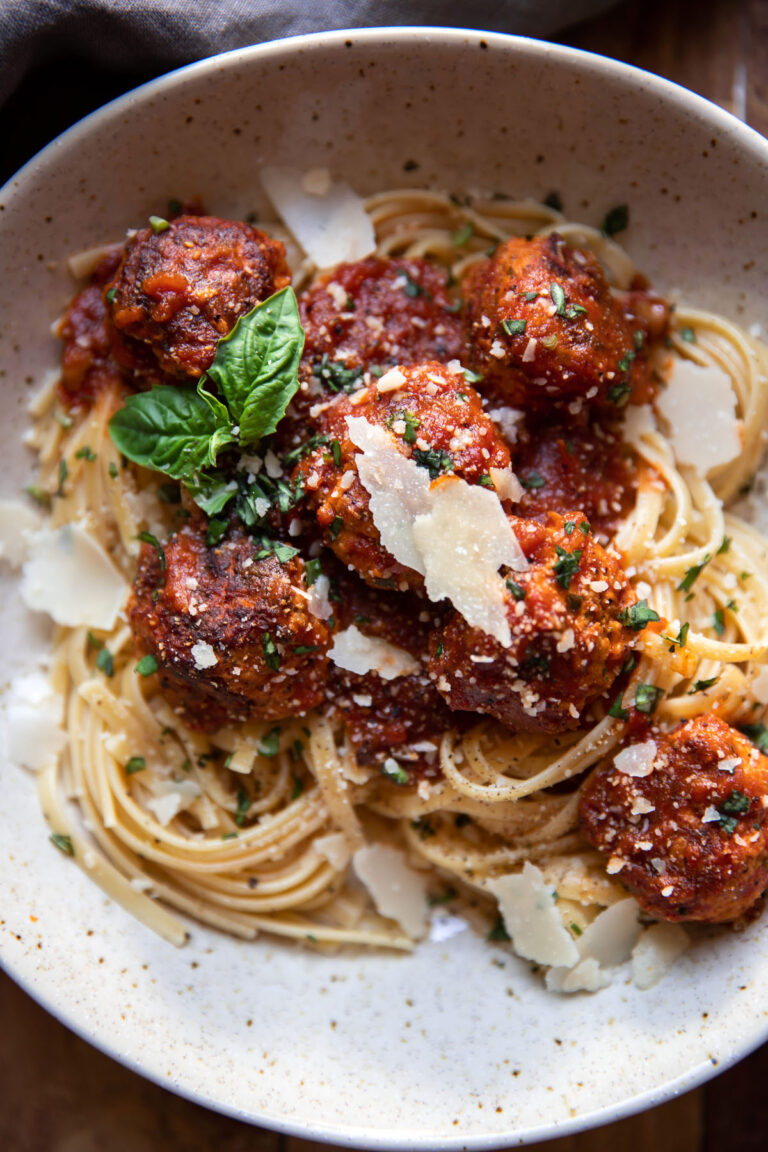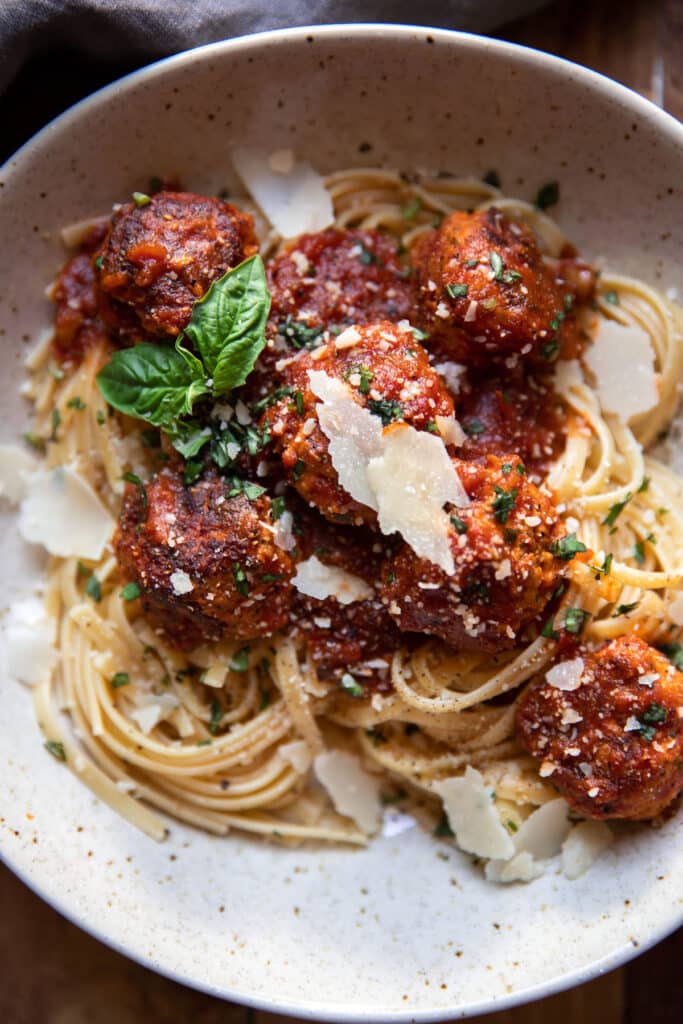 How To Make Turkey Meatballs
There are tons of methods to making meatballs.
And I really this recipe is fool proof. Here's the basics of making turkey meatballs.
Everything goes in a bowl. The turkey and all the ingredients, you use your hands to mix it around and form little balls.
Alternatively you could use an ice cream scoop for larger meatballs and small cookie scoop for mini meatballs. This is a good method to use so that all the meatballs cook evenly.
You don't have to worry about overworking the meat either, so sigh a relief at that.
What's Inside Turkey Meatballs
Here's a rundown of everything that's going in the world's best turkey meatballs recipe (snicker snicker).
ground turkey - your protein and the main ingredient
tomato paste - a bit of tomato flavor and gives it depth
cream - just a splash to make them moist
parmigiano cheese - go for the good stuff not the stuff in the plastic container, you will taste a huge difference
panko bread crumbs - acts as a binder
egg - another binder
garlic cloves - you have to have garlic in meatballs
onion - for flavor
parsley - fresh parsley is the perfect herb to elevate your meatballs and make them super delicious
salt - just a bit to enhance the flavors
pepper - a bit of pepper to kick it up a notch
Are Turkey Meatballs Healthy
Turkey is a great alternative to red meat.
Turkey is lean and full of protein, it's make for a healthy dinner option when you are watching what you eat.
Or when you aren't and you just want some really awesome meatballs.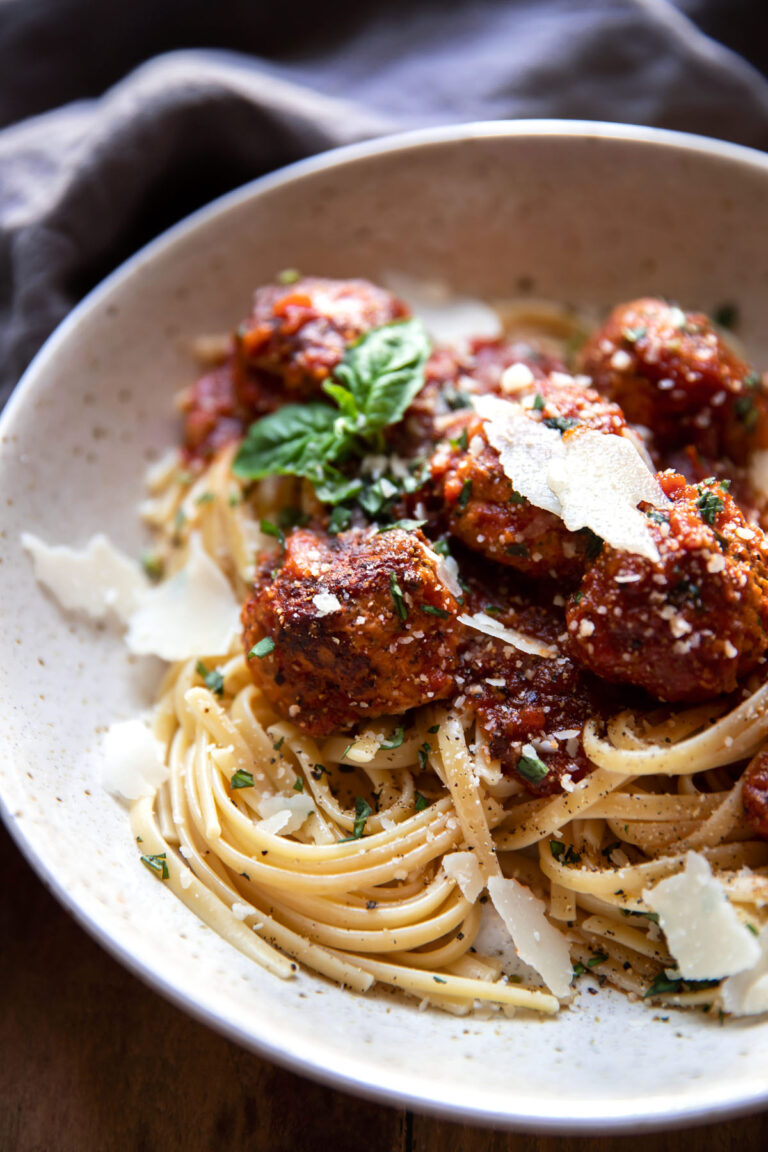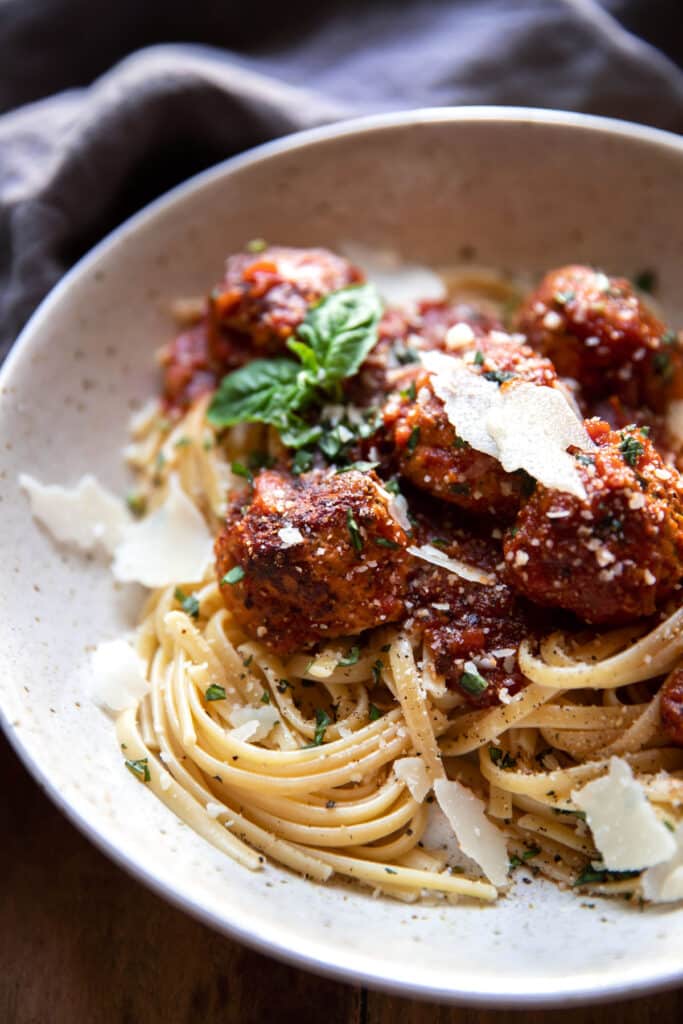 FAQ
Got questions? Let see if we can tackle them before you get to cooking.
Can I substitute the pasta for zoodles? Of course you can! I would make sure you plate the zoodles then add the meatballs and sauce on top to avoid the zoodles from getting mushy in the pan.
What temperature do turkey meatballs need to cook to? A google search says 165. I always just make sure there isn't any pink in the middle before serving by cutting in to one.
Can I use extra lean ground turkey? I wouldn't suggest it. They are dryer and absorb a ton more liquid. I've made them with extra lean a few times and always regret it. Just get the regular, lean ground turkey.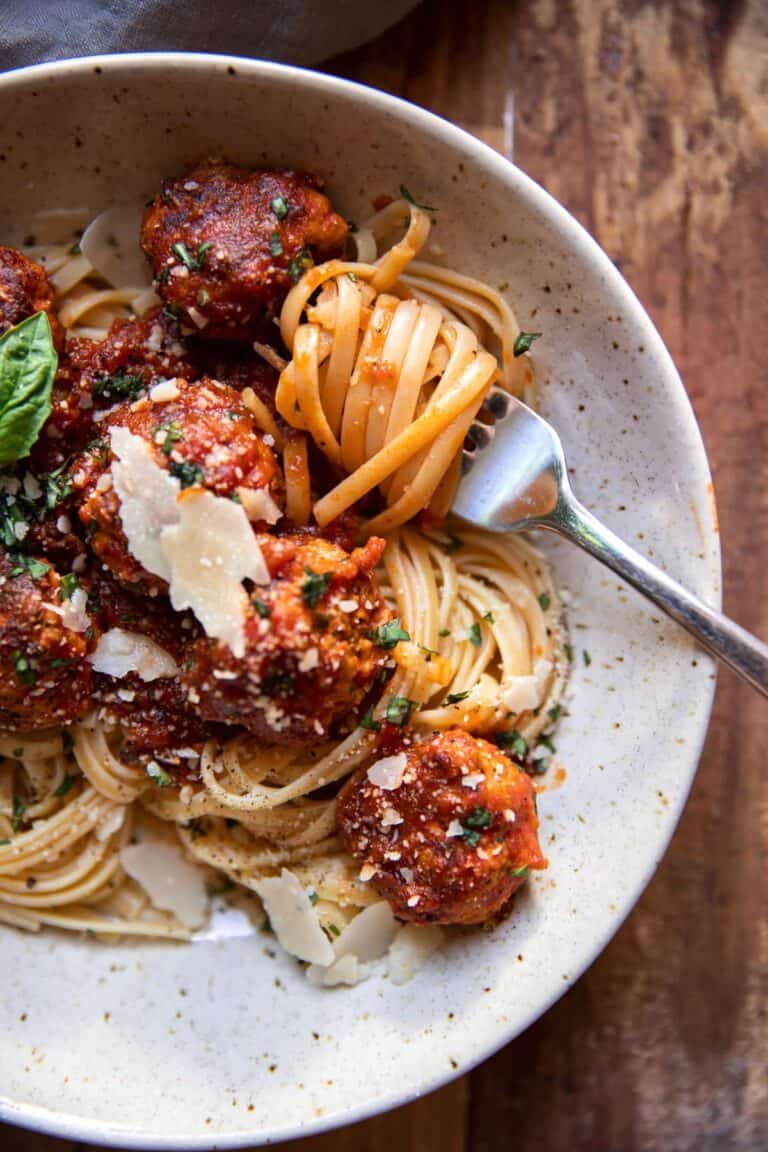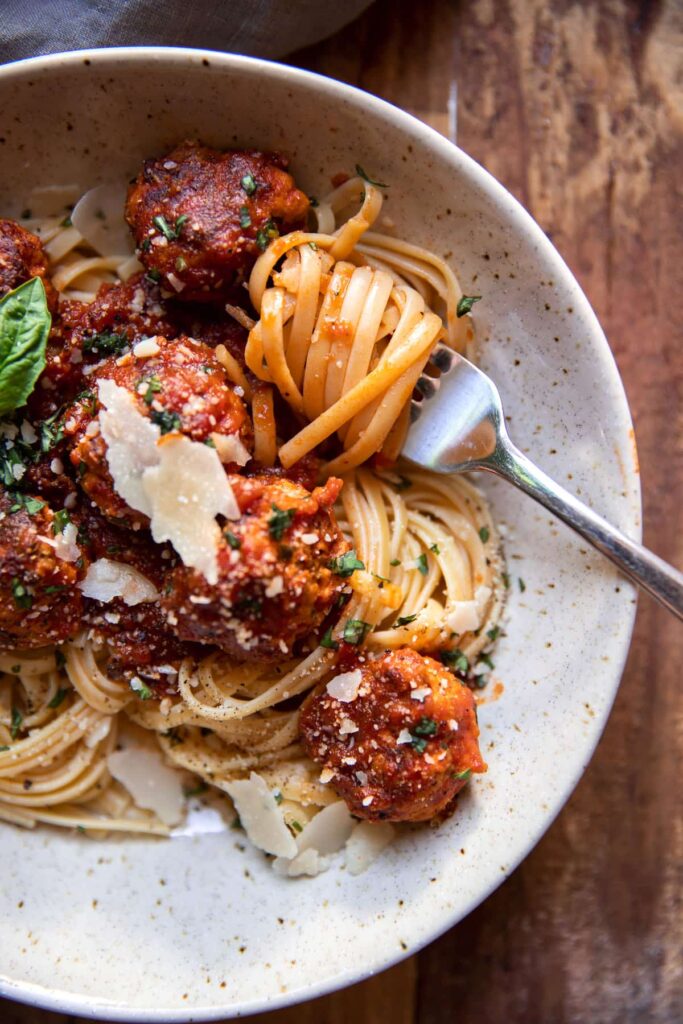 Pan searing the meatballs couldn't be any easier and you'll wind up with a nice golden crust on the outside.
The magic really happens once you let them slow cook in pasta sauce, then toss them with your pasta and some fresh chopped basil.
Is this a restaurant or moms kitchen? Your family will love this recipe!
To make dinner fun I use different shaped noodles for my pasta and meatballs every time.
Two kids under 5 you have to keep it fun and exciting and I like it when they get excited about what they are eating. With all the fun shapes available, why not!
More Family Friendly Pasta Recipes
Make sure to follow the Modern Crumb Board on Pinterest for lots of yummy meal inspiration!
And subscribe to the newsletter, below, to get updates when new recipes post.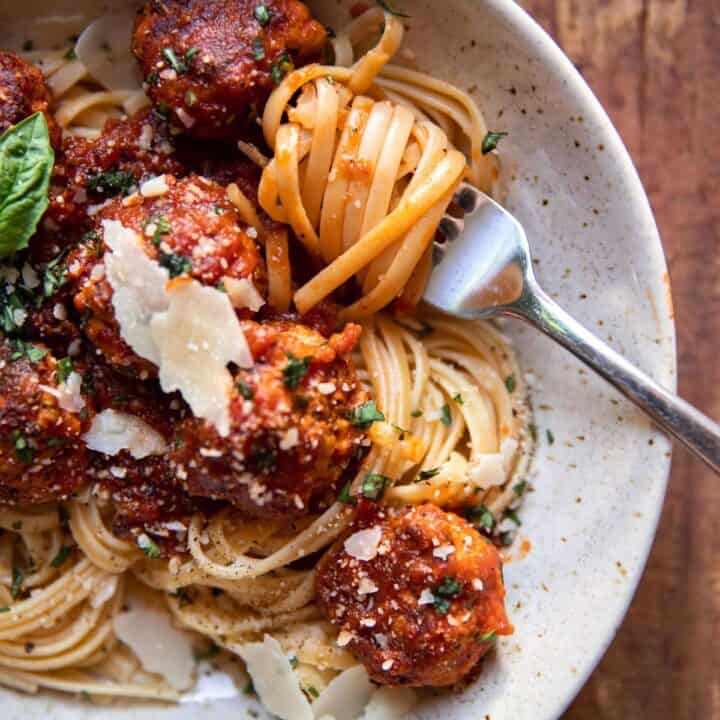 Ground Turkey Meatballs and Pasta
Pan seared herb turkey meatballs full of flavor and incredibly tender. You wouldn't even know these are made with lean ground turkey. Parsley, basil and parmesan cheese give these meatballs all the good flavor they need.
Ingredients
1 pkg ground turkey
1 tbsp tomato paste
splash of cream
¼ c parmigiano cheese
¼ c panko bread crumbs
1 egg
2 big garlic cloves, minced
½ small yellow onion, fine chop (pulsed)
3 tbsp Italian parsley
½ tsp salt
pepper
8 oz pasta noodles
jar of sauce
3 tbsp fresh basil
½ c pasta water
Instructions
In a bowl, mix together ground turkey, tomato paste, cream, parm cheese, panko, egg, garlic, onion, parsley, salt and pepper
Form into 1 tbsp round balls (easiest to use a tbsp cookie scoop)
Heat a large pan over medium heat
Drizzle the pan with olive oil
Place the meatballs in the pan, so they are not touching and have enough room to brown
Cook until the bottom is golden, turn over
Cook for a few minutes
Grab the pan by the handle and in a swirling motion, roll the meatballs around a bit, gently, getting all sides to cook a bit more
Transfer to a plate and do another batch
Continue this process until all the meatballs are cooked
Add the sauce to the pan and 2 tbsp of chopped fresh basil
Return meatballs to the sauce and cover with a lid
Bring the sauce up to a low bubble and cook for 20-25 minutes
Halfway through the meatballs cooking in the sauce bring a pot of water to a boil, add a few pinches of salt and the noodles
Once the noodles are al dente, take ½ c of the pasta water and add it to your sauce
Put pasta in a bowl, top it with the meatballs and some fresh basil and parm cheese
Nutrition Information:
Serving Size:

1 grams
Amount Per Serving:
Unsaturated Fat:

0g