This recipe for chicken pitas is so basic but so crazy delicious. A soft warm pita filled with savory well seasoned chicken breast, thick cut tomatoes, cucumbers, lettuce mix, tzatziki and some spicy sriracha.
Did I mention the pitas are homemade? Oh yeah, we're doing it today. And don't forget to serve it with a side of cilantro jalapeno hummus for dipping.
This recipe was originally published on July 21, 2020.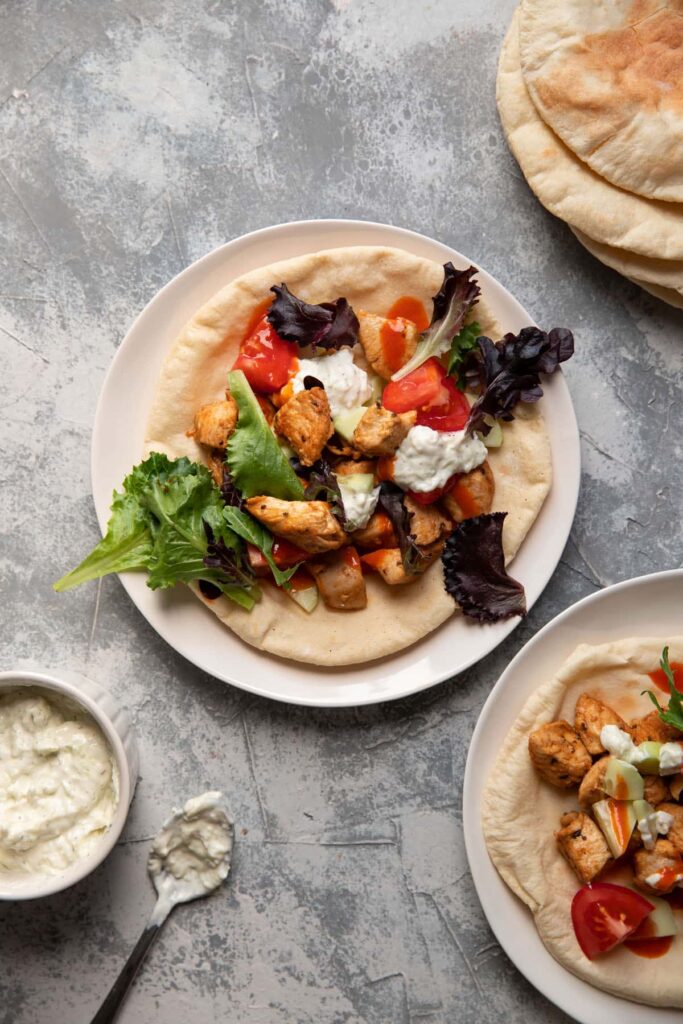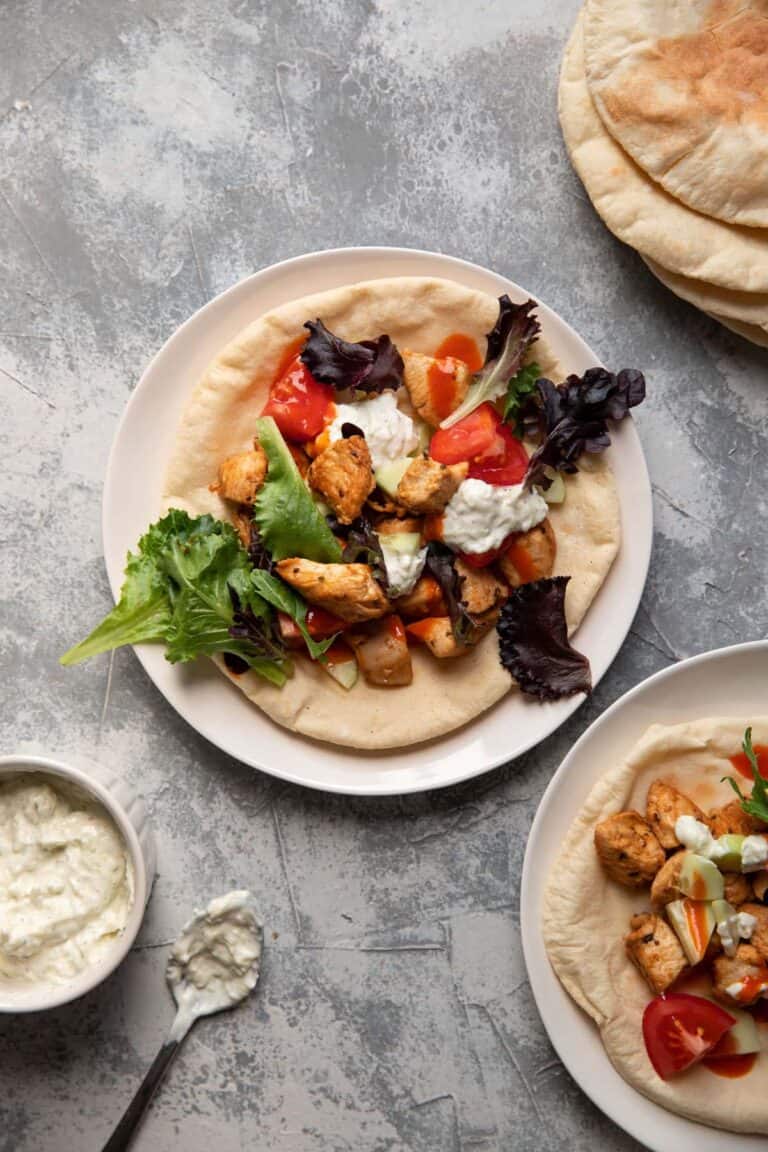 There are few family friendly recipes that I make on repeat every single week once the weather starts warming up. This recipe for chicken pitas is one of them!
And I don't why I've been holding on to this gem of a recipe for so many years without sharing.
Today, I'm finally sharing it with you. You're welcome. And you too will be joining the every week club for this dinner.
The real secret ingredient to a super yummy, just like the restaurant, chicken pita is...
The pita!!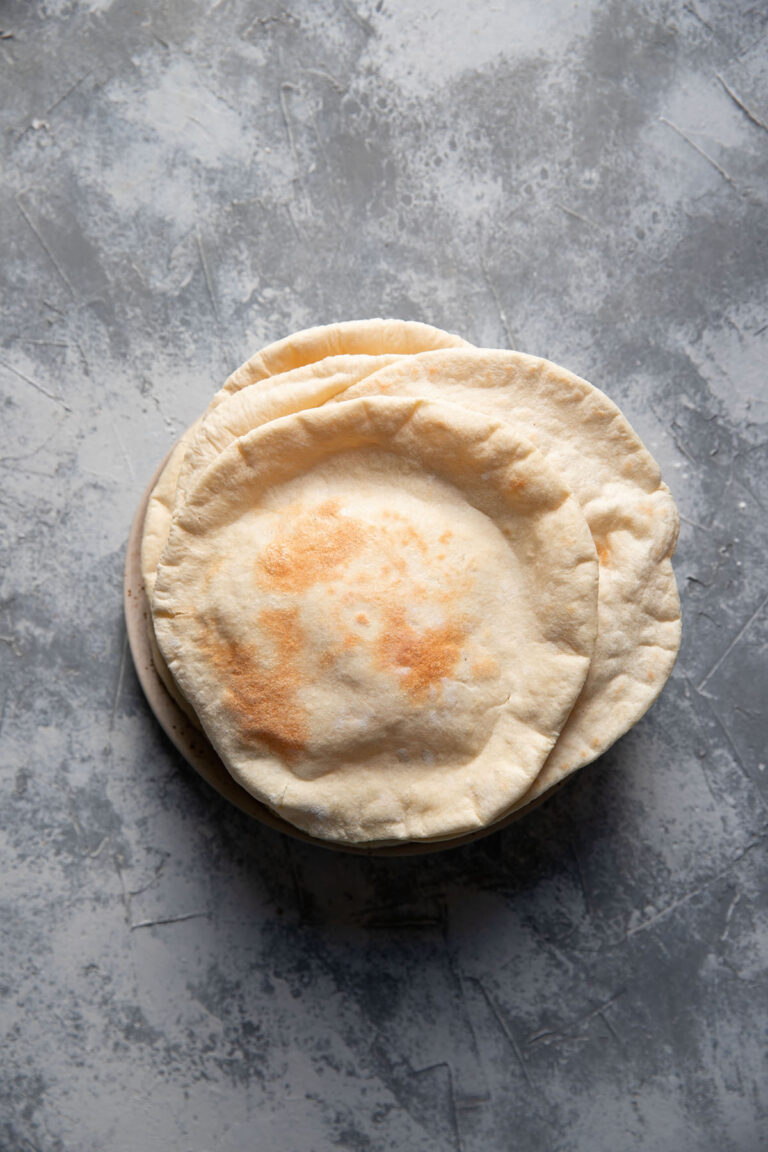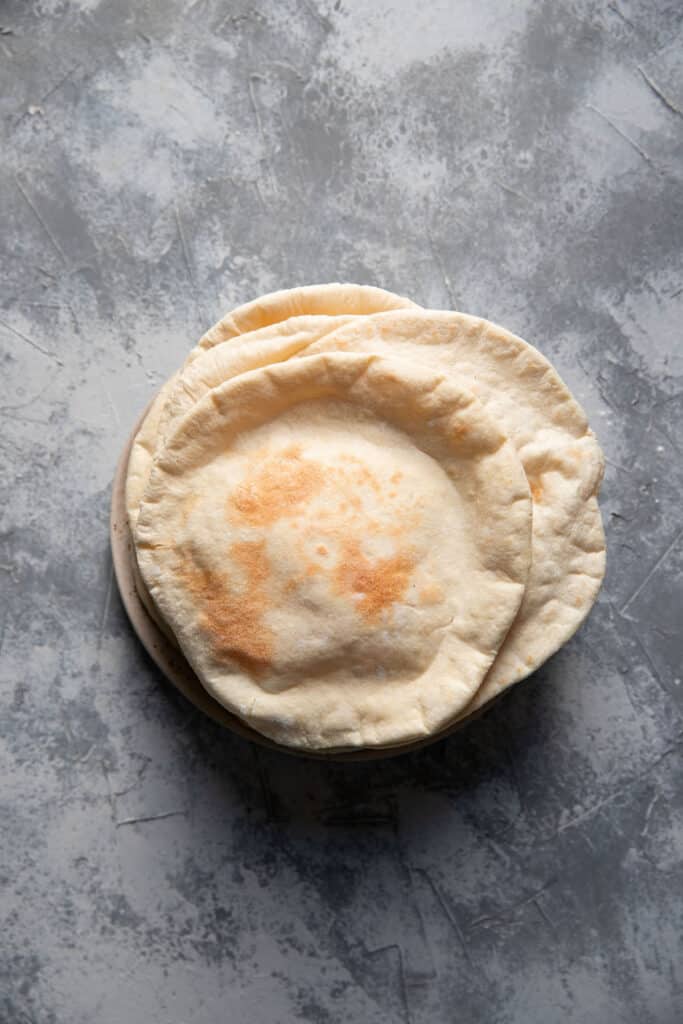 Mind blowing, I know. But it's the pita. Think of your favorite mediterranean style restaurant, their pitas are so good - right?
Super soft, flavorful, they just taste so good and fresh. Store bought pitas just can't compare. And it's worth the time it takes (because it's not quick).
My absolute favorite restaurant to get a chicken pita is Pita Jungle. Honestly everything on Pita's Jungles menu is awesome but this is hands down my favorite.
And I make it at home all the time, copying my favorite dish I get from there.
So really this is a Pita Jungle chicken pita recipe copycat - but I don't want to call it that since I don't put pickles or onions in it and you know someone is going to catch me on that!
So this is a Pita Jungle un-copycat recipe. Makes perfect sense.
If you like pickles and onions on your chicken pita - then add them in! You can add whatever pita toppings you love.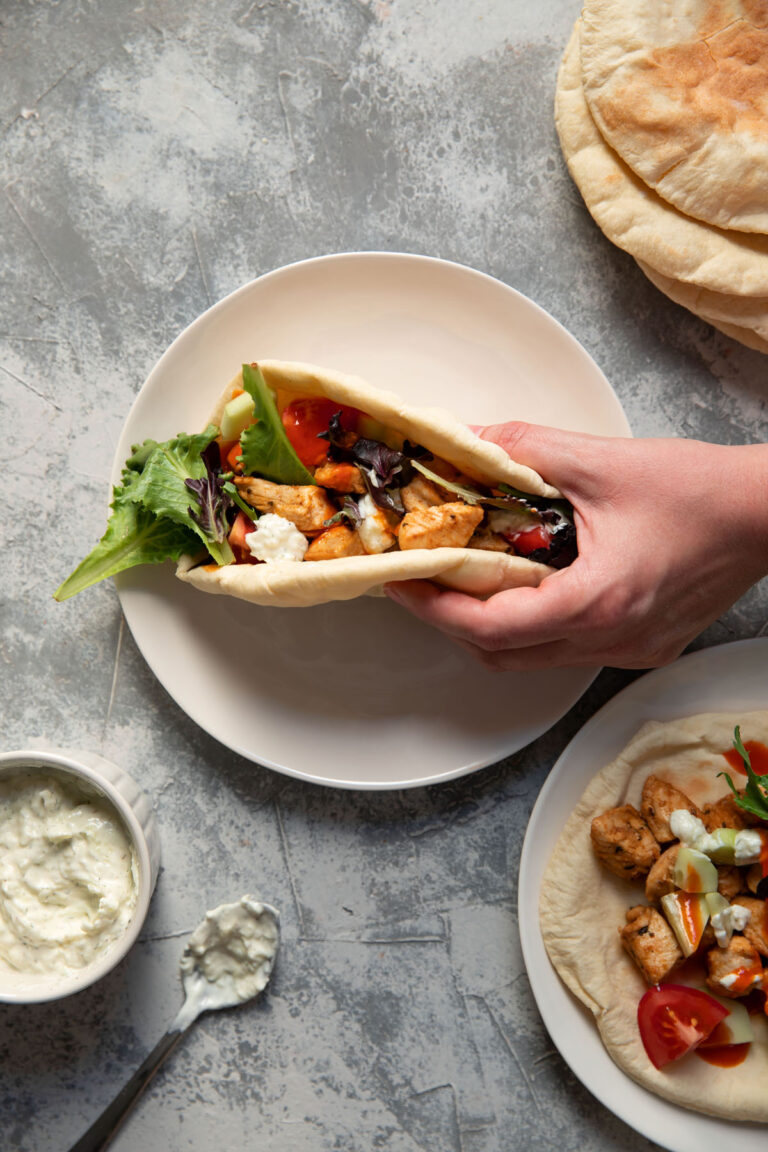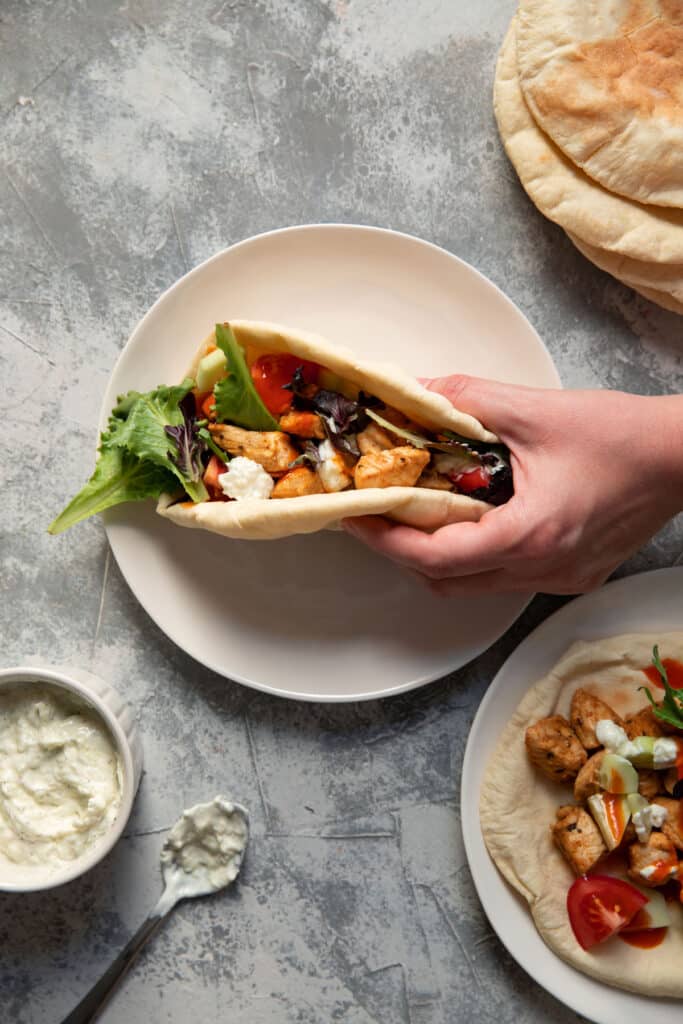 How To Make The Best Chicken Pitas
Making a chicken pita is beyond easy (the pita part is a bit time consuming but it's not hard, anyone can make them). Even with making your pita, which you should do and not skip.
Here are the things you'll need to prep, which is the majority of the work.
Making the pita dough, marinate the chicken and make your tzatziki.
If you absolutely want to cut back on prepping time then you can buy store bought pitas and store bought tzatziki. But I'm telling you it's worth it to do it yourself when you have the time.
The pita dough needs to rise for about an hour or else they will be a bit tough textured.
Also you'll want to let the chicken marinate a few hours at least so the flavors really set in to the meat.
Marinating the chicken is crucial to getting the best flavor and also getting juicy chicken. For the marinade you'll need olive oil, lemon juice, paprika, cumin, garlic powder, oregano and salt.
What's the lesson here? Marinate = good.
The tzatziki also should sit in the fridge for a few hours to get the flavors to come together. Tzatziki is a yogurt based sauce. You can find it in this recipe for greek chicken kabob orzo bowls too.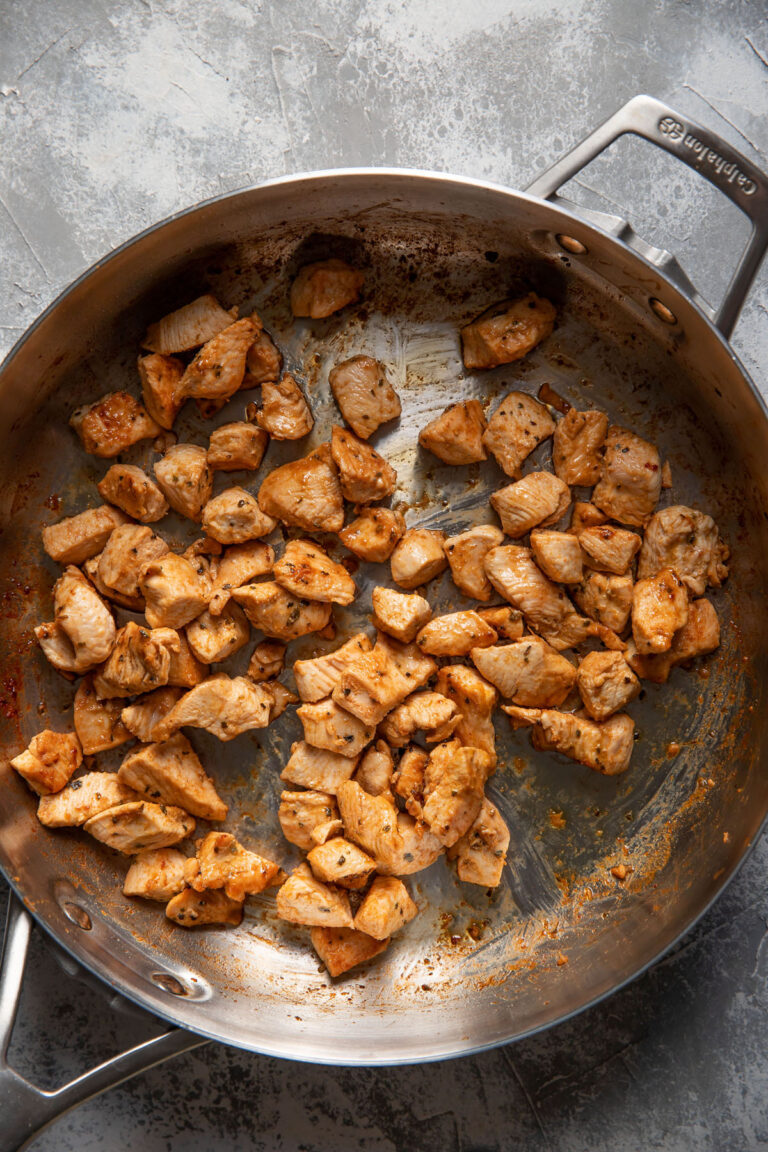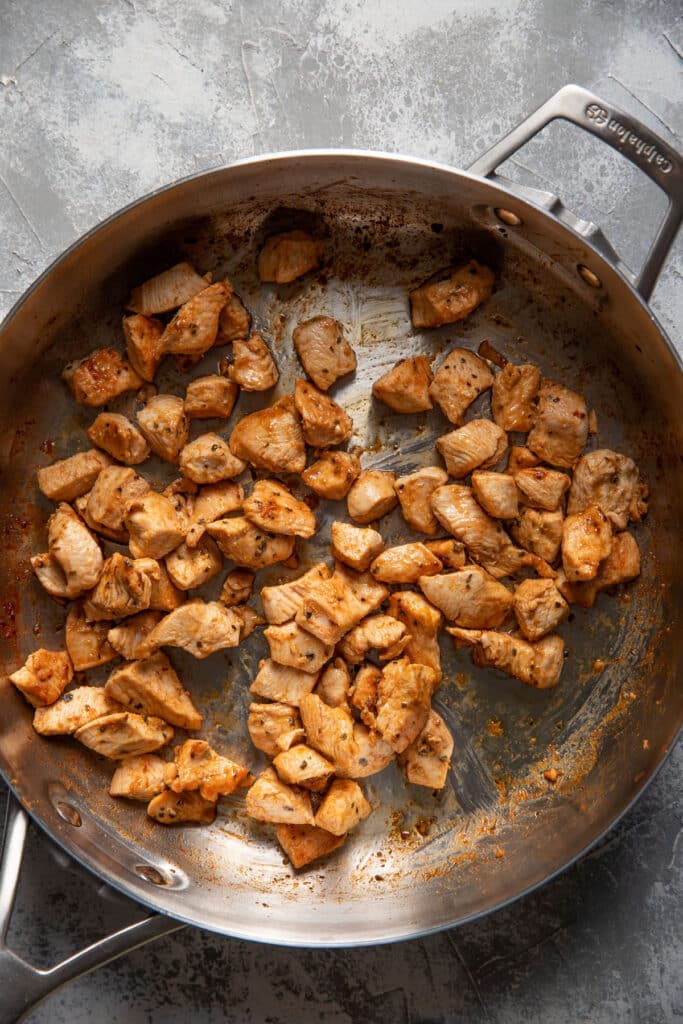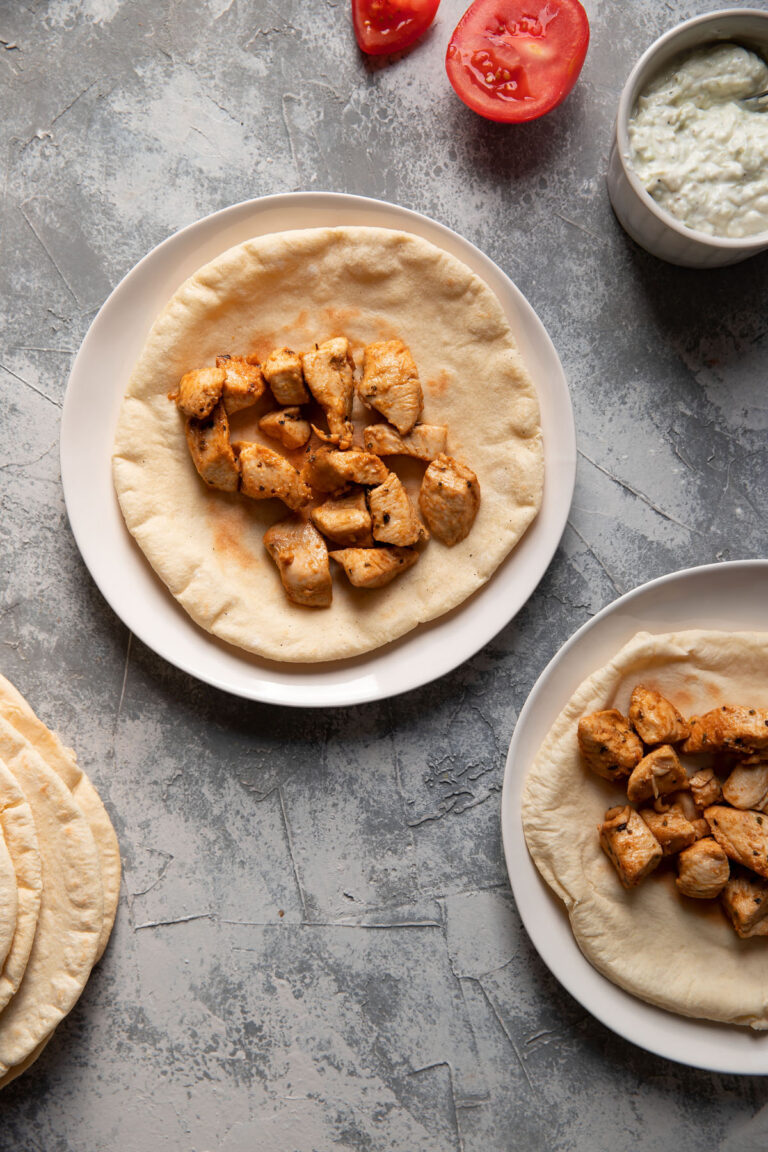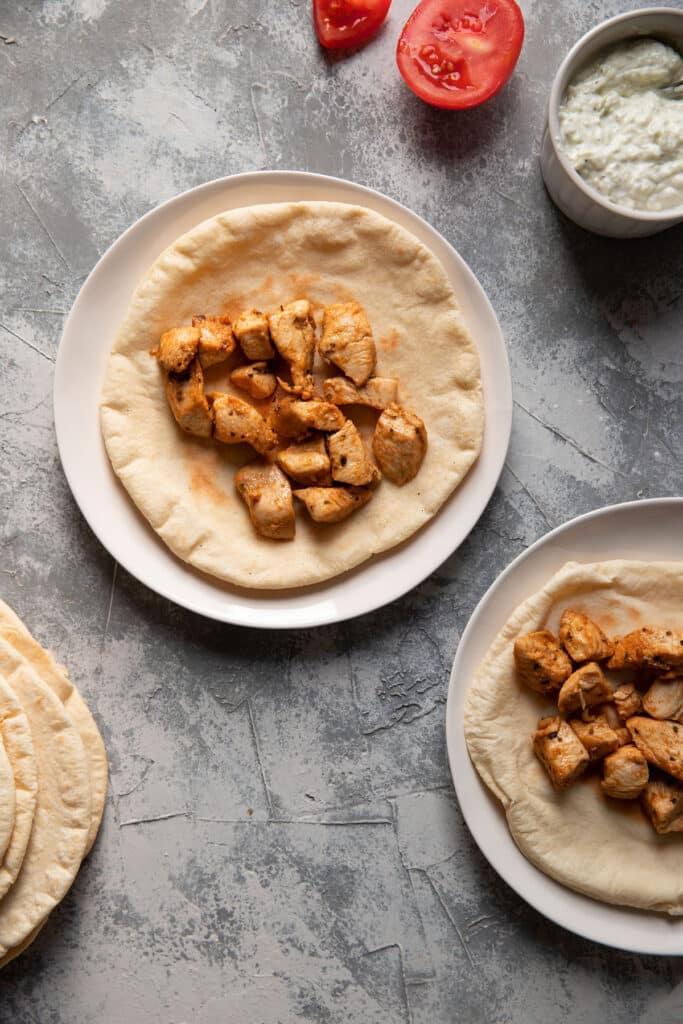 How To Get The Cool Pita Pocket
Have you ever wondered how restaurants get that super cool pita pocket?
If you aren't sure what I am talking about it, it literally looks like they stuffed everything inside of a pocket but it's a pita.
To get a pita pocket is quite simple.
You need to make sure your oven is hot and your using another somthing hot to cook them on. I use a pizza steel. A pizza stone also works. Or you can put a cast iron skill in to an oven.
But I like using the pizza steel better because it's easier to flip the pita since there are no edges on the steel.
While it's cooking if it puffs way up, you'll know the dough separated and you'll have your pocket.
After it cooks, let it cool a bit then cut it in half and there should be a pocket.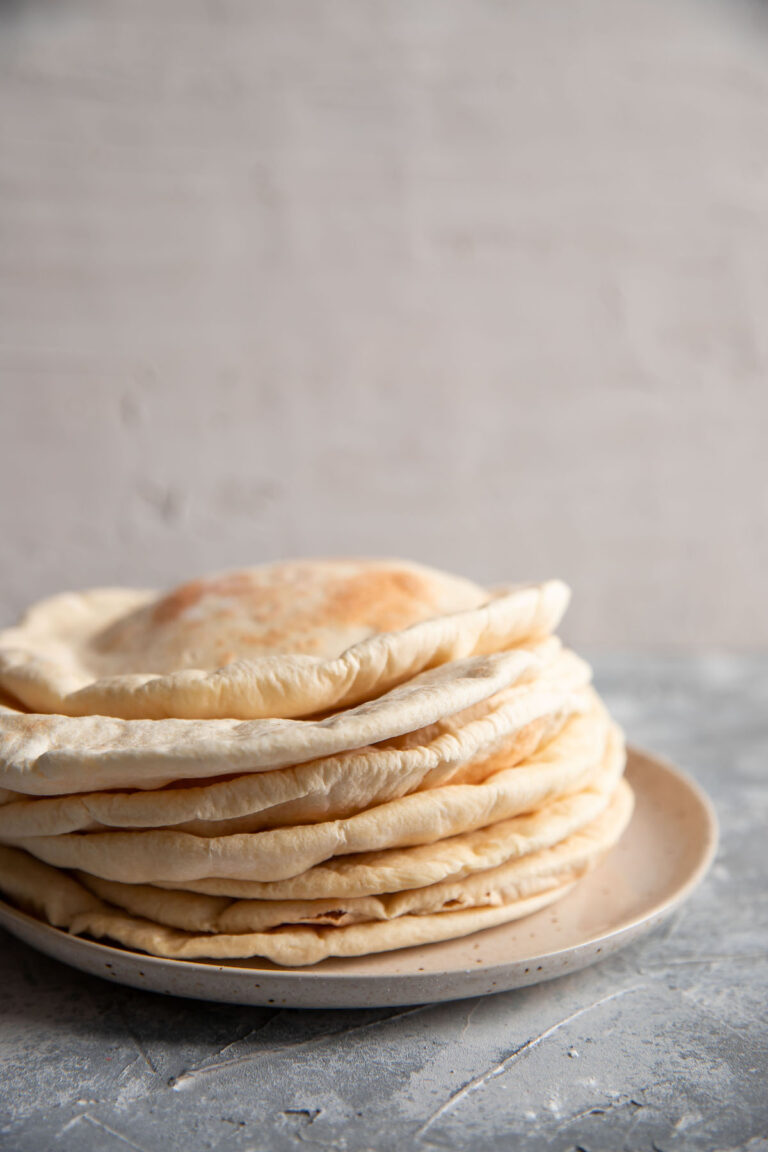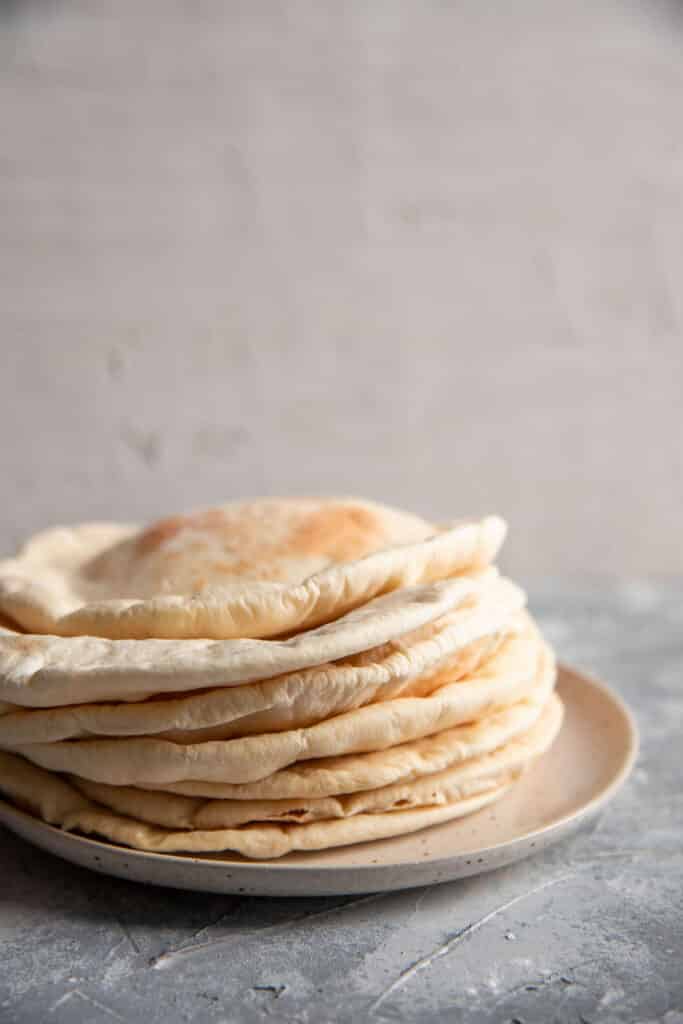 Are Chicken Pitas Healthy?
Totally.
And comparing it to a slice of pizza. Yes.
Want to make it even healthier? Skip the pita bread and turn this dinner into a salad.
Now I'm not a dietician so I can't give you any technical information but in my opinion as a cook and mom, it's a healthy dinner option and one that even kids will enjoy. It's my sons favorite right now and he's only 6.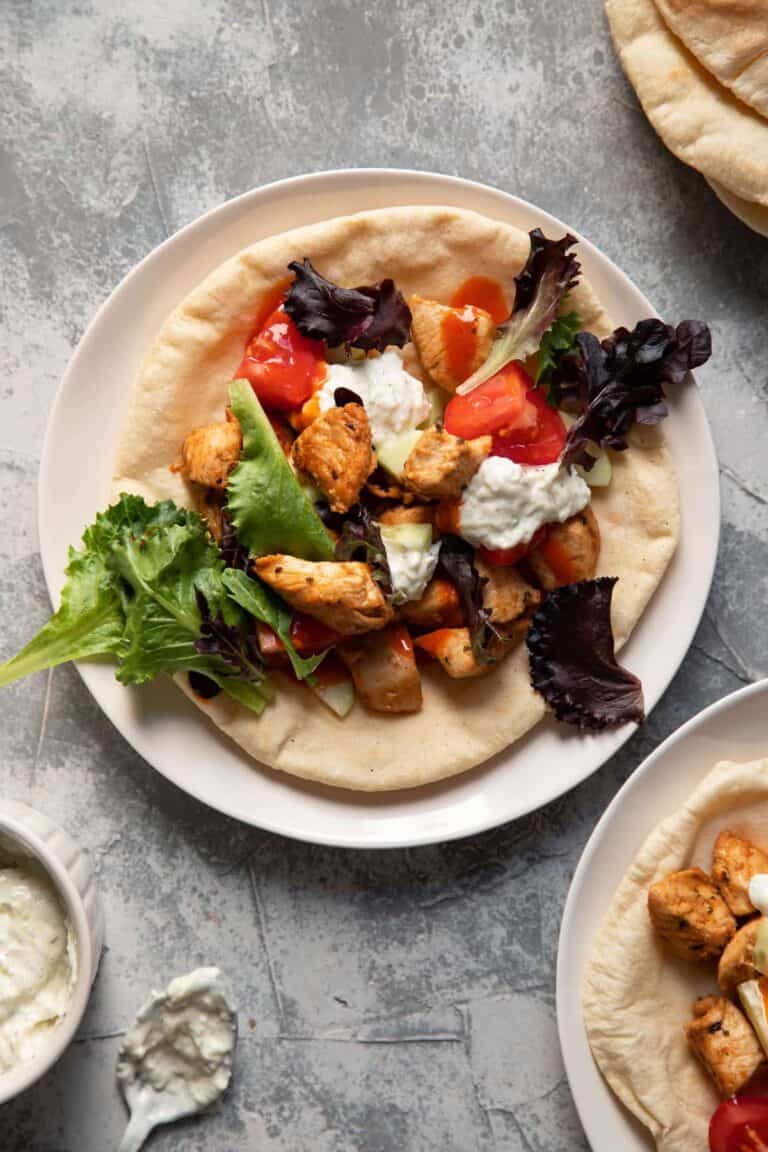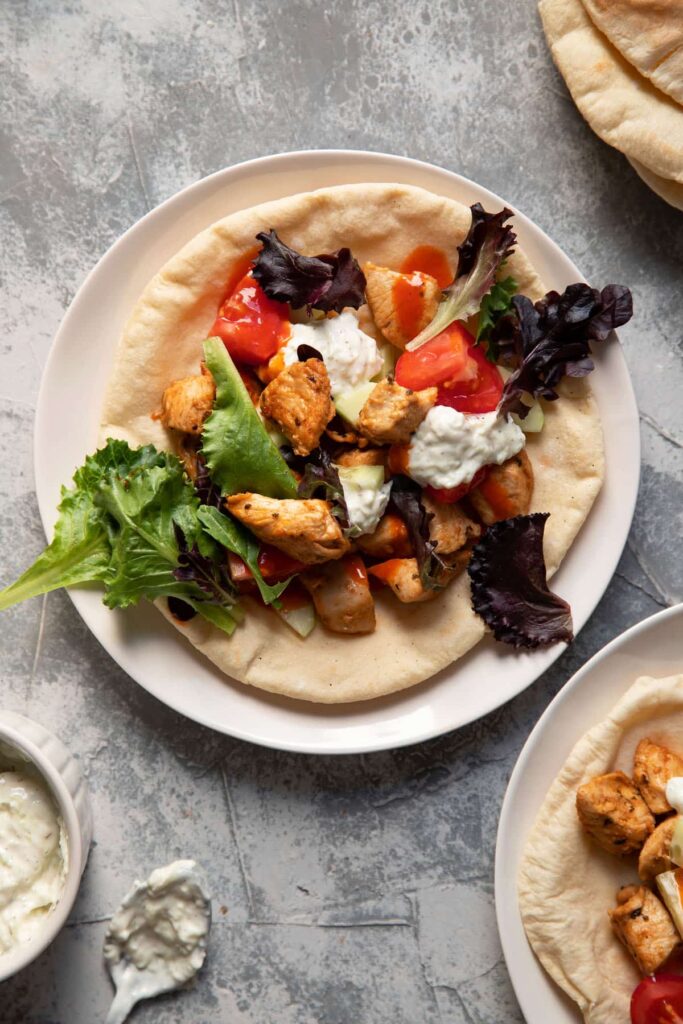 FAQ
Are pitas healthy?
Making food from scratch is always a healthy alternative to the store bought version.
Can you marinate the chicken overnight?
You don't want to marinate meat longer than 24 hours. The lemon juice will start to break down the protein and your meat will get tough.
Are there alternative ways to making pitas - without a baking stone?
Using a cast iron skillet would give you equal results since a skillet can get really hot.
More Family Friendly Dinners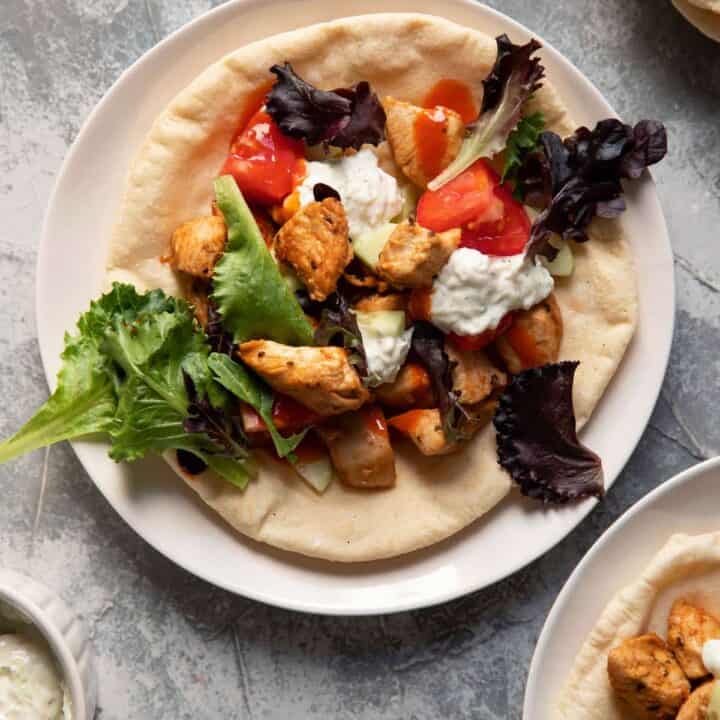 The Best Chicken Pitas With Tzatziki
Total Time:
3 hours
50 minutes
These chicken pitas are so basic but so crazy delicious. A soft warm pita filled with savory well seasoned chicken breast, thick cut tomatoes, cucumbers, lettuce mix, tzatziki and some spicy sriracha.
Ingredients
1 lb chicken breast, cut in to bite size pieces
2 tbsp olive oil
½ lemon, a juicy one, juiced
1 ½ tsp paprika
¼ tsp cumin
½ tsp garlic powder
½ tsp oregano
½ tsp salt
2 cucumbers, chopped
2-3 to matoes, chopped
Spring mix lettuce
Sriracha
Tzatziki Sauce
6 oz greek yogurt
½ lemon, juiced
Pinch of salt and pepper
½ English cucumber, peeled
2 garlic cloves, minced
¼ tsp dried dill
1 tbsp olive oil
Pita Bread
2 ¼ tsp active dry yeast
1 c water, warm
2 ½ c flour
2 tsp salt
2 tbsp olive oil
2 tsp sugar
Instructions
Start by cutting up the chicken breast into bite size 1" pieces and put it in a bowl
To the bowl add the olive oil, lemon juice, paprika, cumin, garlic powder, oregano and salt
Stir together
Cover and refrigerate at least 3 hours, but no more than 10 hours
Peel a cucumber and cut it in half lengthwise
Use a spoon to scoop out the seeds
Grate the cucumber on the small grate side
Use your hands or a paper towel to squeeze out all the excess liquid from the shredded cucumber
In another bowl stir together the greek yogurt, lemon juice, salt, pepper, garlic, dill, olive oil and shredded cucumber to make the tzatziki
Cover and chill in the fridge
*About an hour before you want to start dinner make the pita bread dough
Combine warm water and the active dry yeast plus a pinch of sugar, stir and let it proof for 5 minutes until puffy and frothy
To a bowl or stand mixer add the flour, salt and sugar
Add in the yeast mixture and olive oil
Stir until combined and smooth
The dough should spring back when you poke it
It should be very soft and pliable but not sticky
Cover with a tea towel, preferably near a warm area of the house (see tip below)
Preheat oven to 500
You'll need a pizza stone, pizza steel or cast iron skillet in the oven to cook the pitas on
Roll your dough out on the counter
Flour the surface
Cut the dough into 8 equal pieces
Use a floured rolling pin to roll them out very thin
Toss them on your surface, in the oven, after 2 minutes or so you can flip it, it should have puffed up
Cook an additional 1-2 minutes
Take the pita out of the oven, place it on a plate and cover it with a damp paper towel to keep it soft, warm and steamy (see note)
Repeat until they are all cooked
Cook the chicken in a pan over the stove, on medium/high heat until no longer pink in the center
Cut up the cucumbers and tomatoes
To assemble lay out a pita, top with chicken, tzatziki, cucumbers, tomatoes, sriracha and lettuce
Notes
You can turn your oven on for a minute or two to heat up, then make sure to turn it off, you can put your covered bowl of dough in the oven, door closed, to rise If the pita bread is still puffed up when you put it on the plate and cover it, don't worry it will deflate and you can just keep stacking them on
Recommended Products
As an Amazon Associate and member of other affiliate programs, I earn from qualifying purchases.
Nutrition Information:
Yield:

8
Serving Size:

1
Amount Per Serving:
Calories:

350
Total Fat:

11g
Saturated Fat:

2g
Trans Fat:

0g
Unsaturated Fat:

9g
Cholesterol:

49mg
Sodium:

813mg
Carbohydrates:

37g
Fiber:

2g
Sugar:

3g
Protein:

25g
This information comes from online calculators. Although moderncrumb.com attempts to provide accurate nutritional information, these figures are only estimates.
Make sure to follow the Modern Crumb Board on Pinterest and Facebook for lots of yummy meal inspiration!  And subscribe to the newsletter, below, to get updates when new recipes post.