Who says you can't have breakfast for dinner? Chicken and waffles combines a favorite breakfast item with dinner! Crispy baked chicken nuggets paired with fluffy buttermilk waffles and topped with a quick and easy homemade sriracha honey sauce!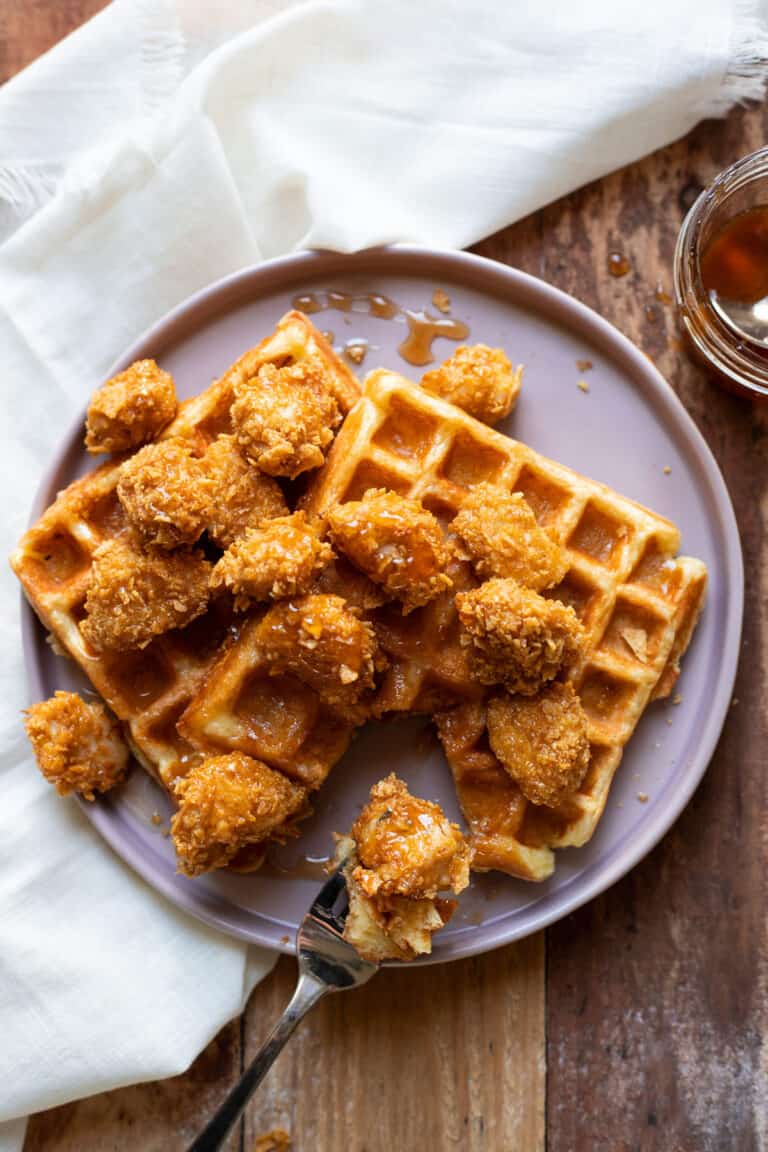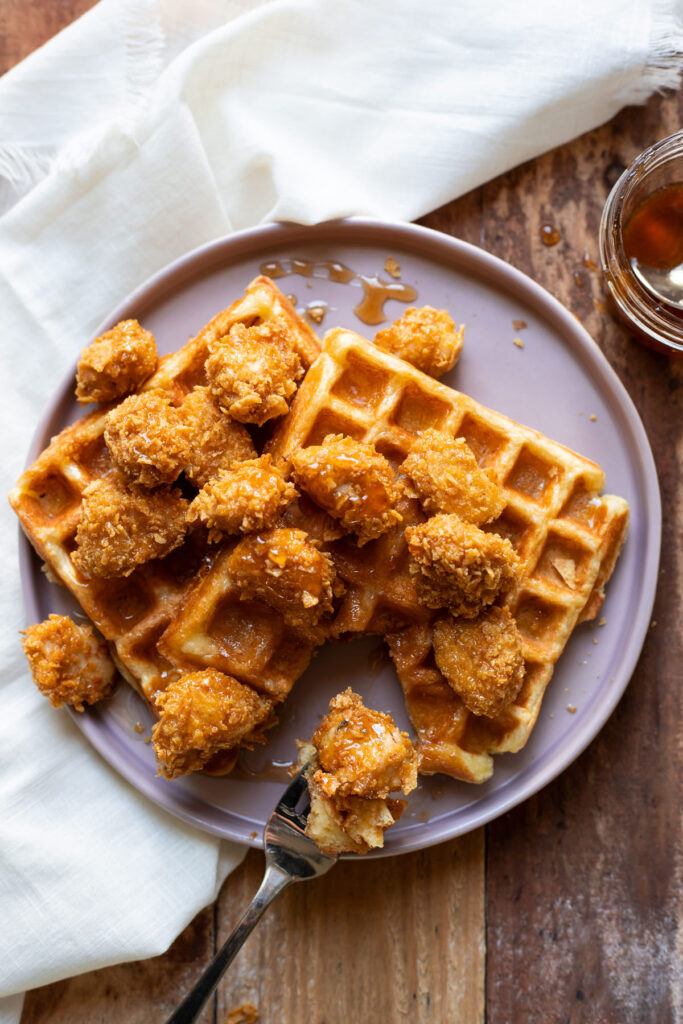 This chicken and waffle recipe is too good to be true! Who doesn't love chicken and waffles? My favorite thing about this recipe is that the chicken is baked, not fried.
Pair the chicken with a stack of delicious homemade buttermilk waffles. This recipe is really easy to make and pretty fool proof. All you need is a waffle iron.
The chicken is made as crispy chicken nuggets. They are the perfect bite sized portion, so you don't even need to worry about cutting a big piece of chicken.
The chicken is coated in sun chips and baked in the oven until the pieces are cooked and crispy.
If sriracha honey sounds daunting, it shouldn't be. All that's in it is honey and sriracha sauce. And you get to be the judge of the proportions. Some like it spicier, so add more sriracha.
Feel free to just use plain honey too.
My kids absolutely love this dinner! But we all do. I actually have an entire post highlighting 10 kid friendly recipes.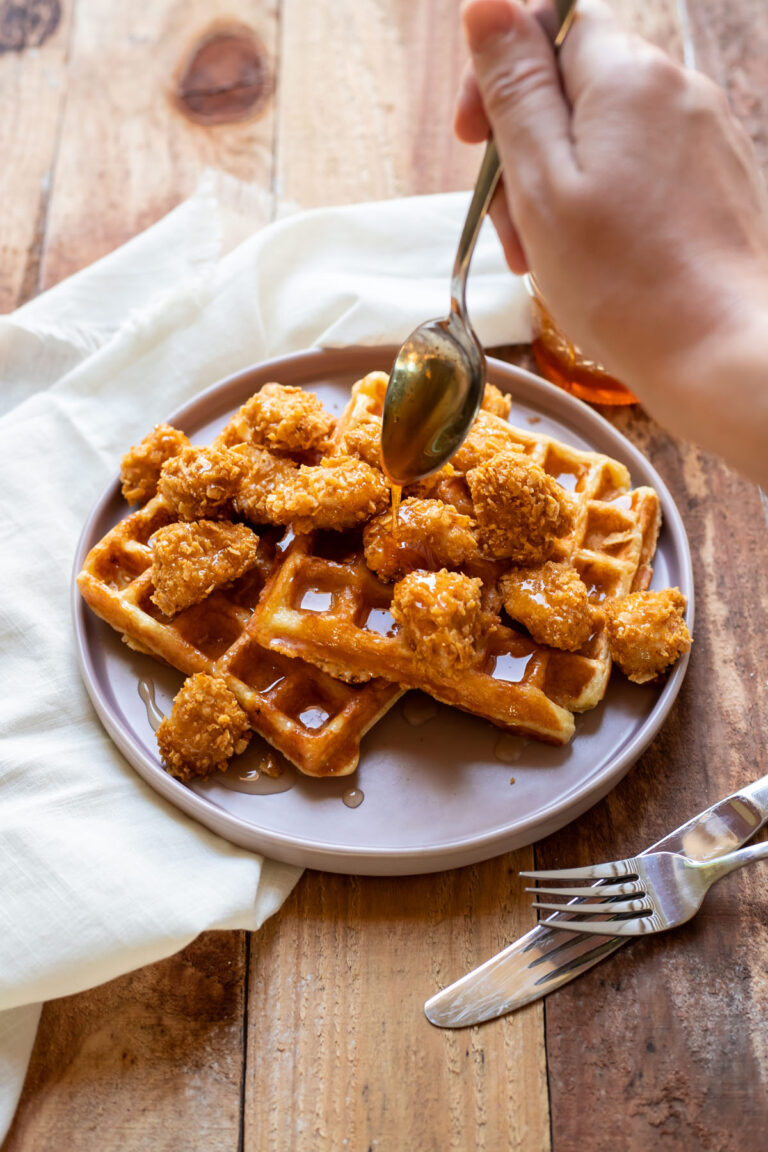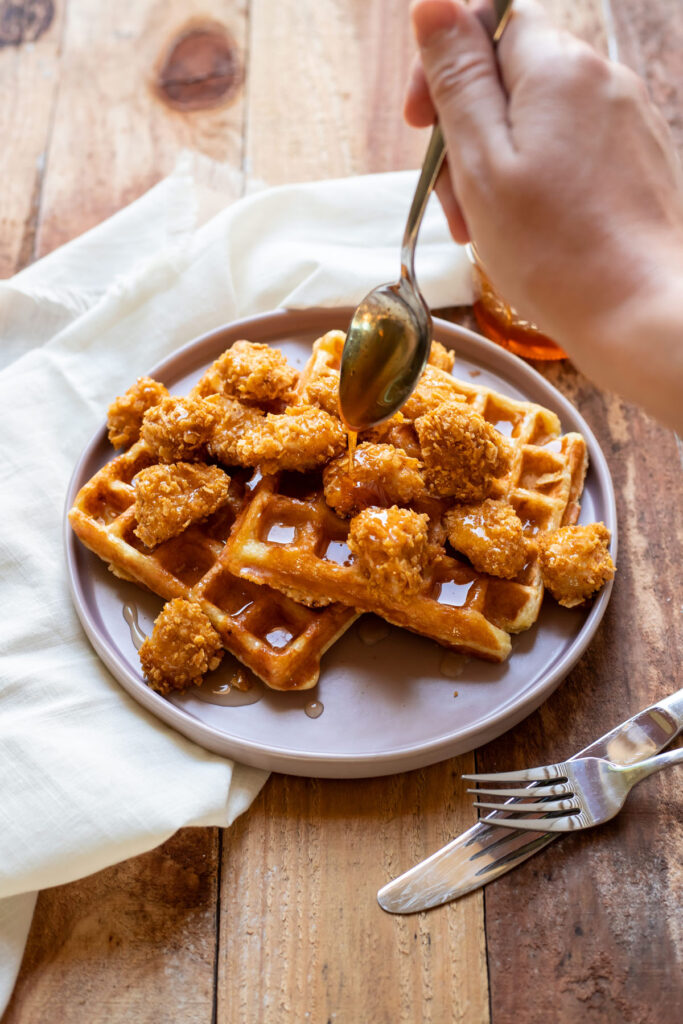 Crispy Homemade Chicken Nuggets
I have been making these chicken nuggets for ever. 
The original idea came about from a recipe in a pampered chef cookbook so many years ago. Through the years it's morphed into my own concoction.
The secret ingredient to make perfect crispy chicken nuggets without panko is by using sun chips.  Sun chips are what make these little chicken nuggets so crispy and perfect.  
And seriously, a lot more flavor than panko bread crumbs! Personally I think they turn out crispier too.
All you have to do is crunch them up, add a bit of seasoning, batter up your chicken and toss. 
Then I bake them at a high heat and they are super crispy and delicious and make the perfect topping on a waffle.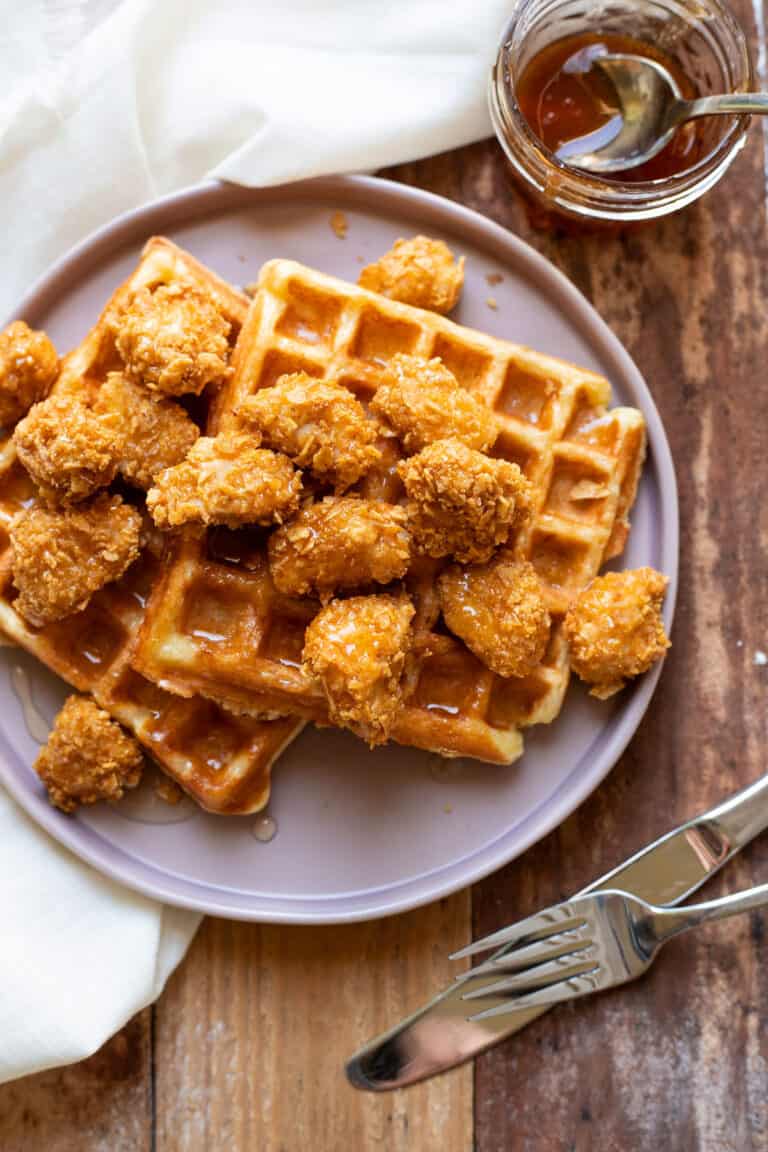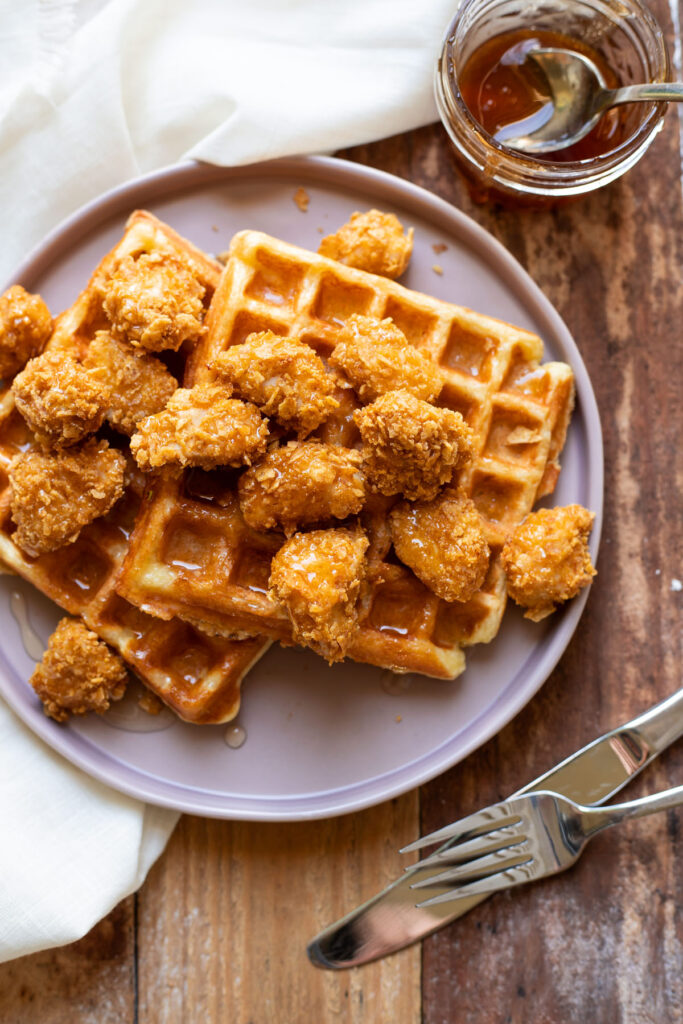 Sriracha Honey
Sriracha honey. It's addicting, and you just can't stop drizzling.
Have you had this stuff????  There's not even a recipe, it's just honey and a squeeze of sriracha. 
So easy but so darn good.
Depending on how spicy you like it you can add more sriracha or less sriracha. I'd caution against using too much sriracha, it can get overpowering.
So just add a squeeze at a time until it tastes how you want.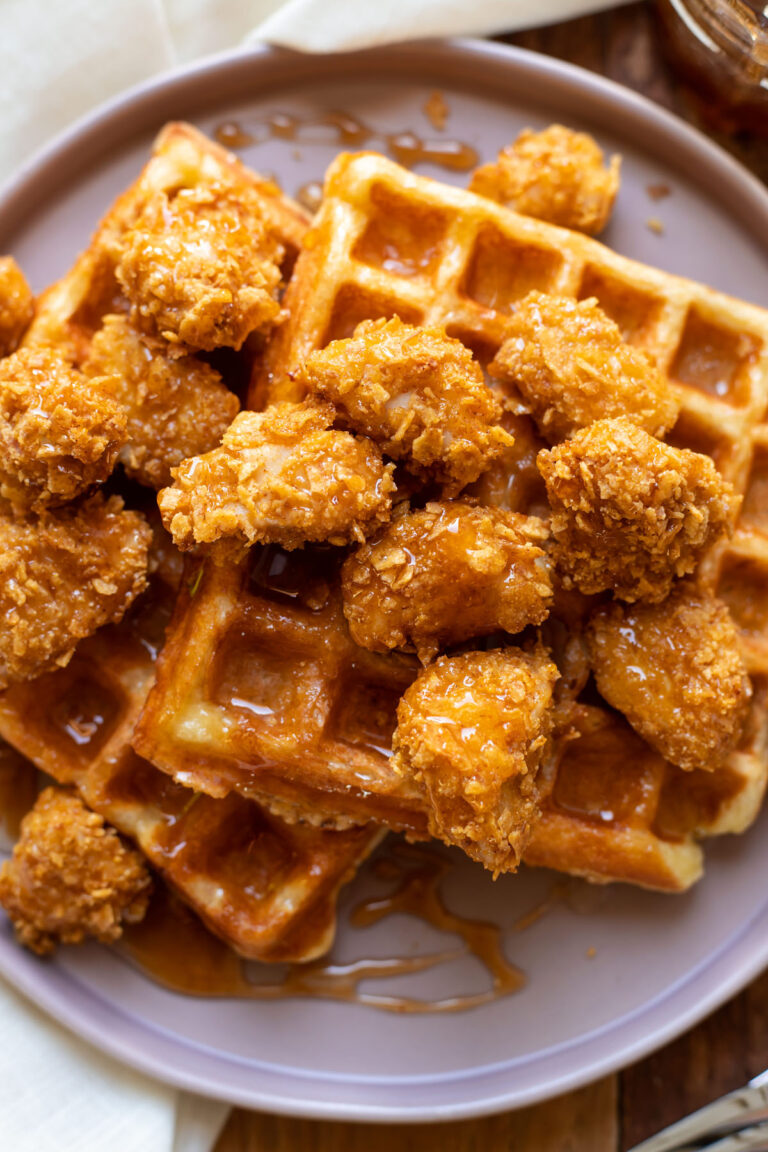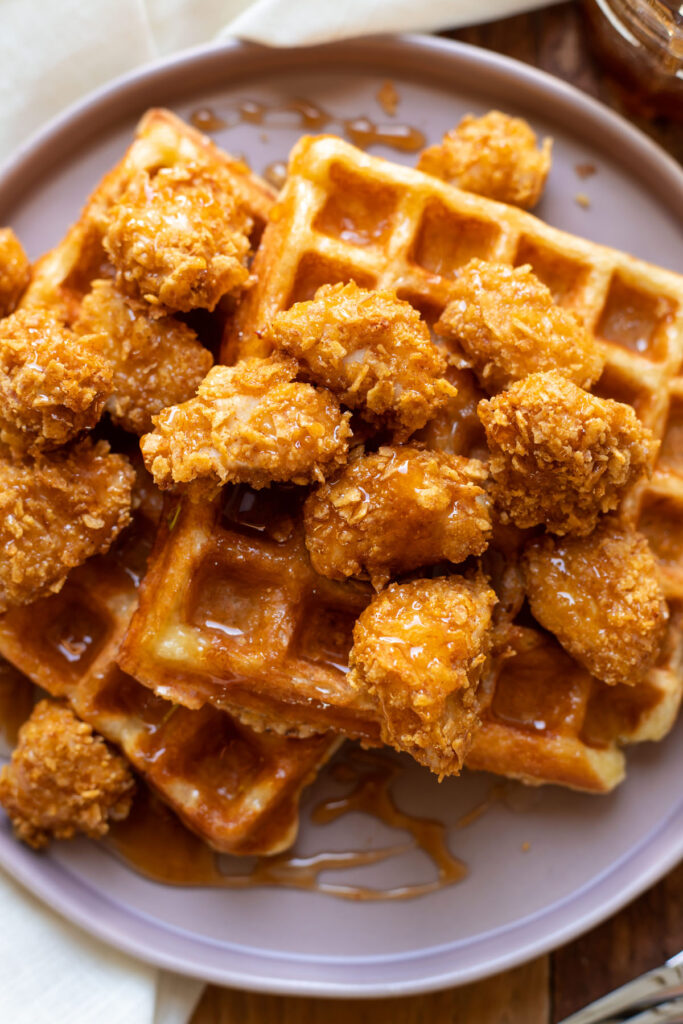 Pros Of Baked Chicken and Waffles
Chicken and waffles is one of the hardest things for a home cook. 
Most of us don't have giant fryers that we can drop the chicken in or want to use that much oil.  And for health benefits, it's a lot healthier to not fry the chicken.
And getting the chicken cooked throughout can be tricky.  It's a hassle and too time consuming for the likes of me.  
Baking the chicken is just more manageable.
This kid approved recipe will become a household favorite, just like this broccoli chicken cheese pasta.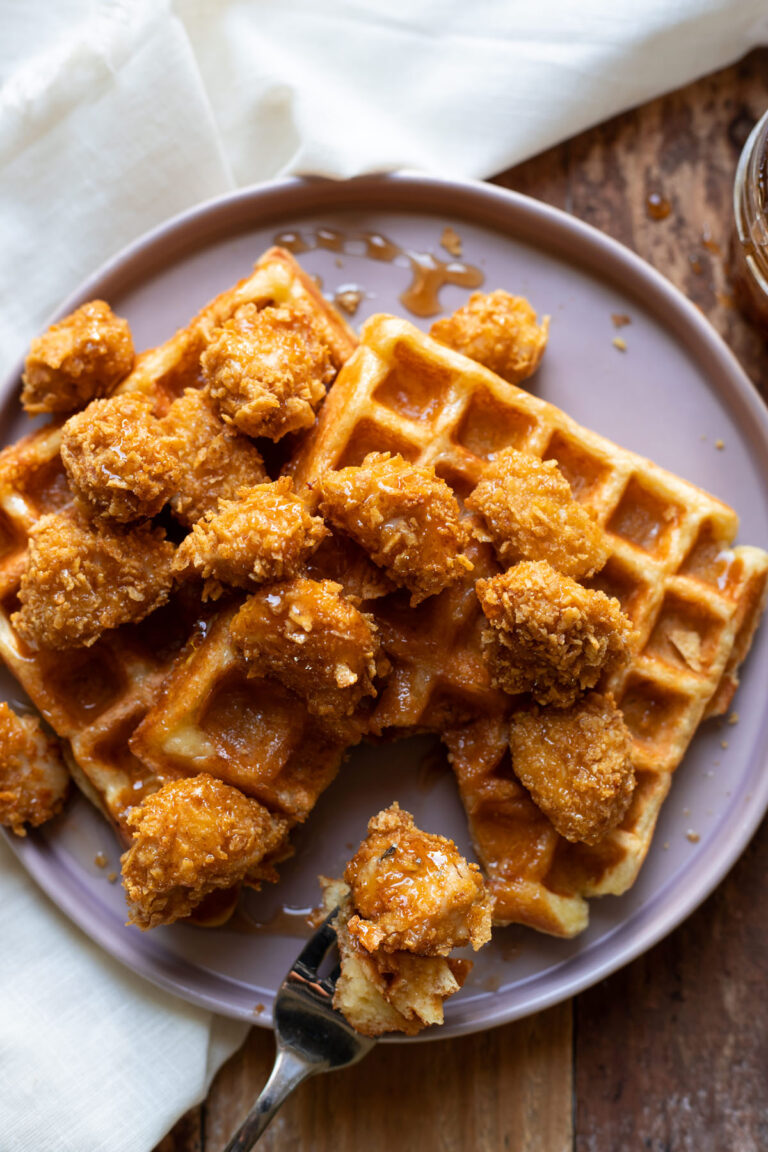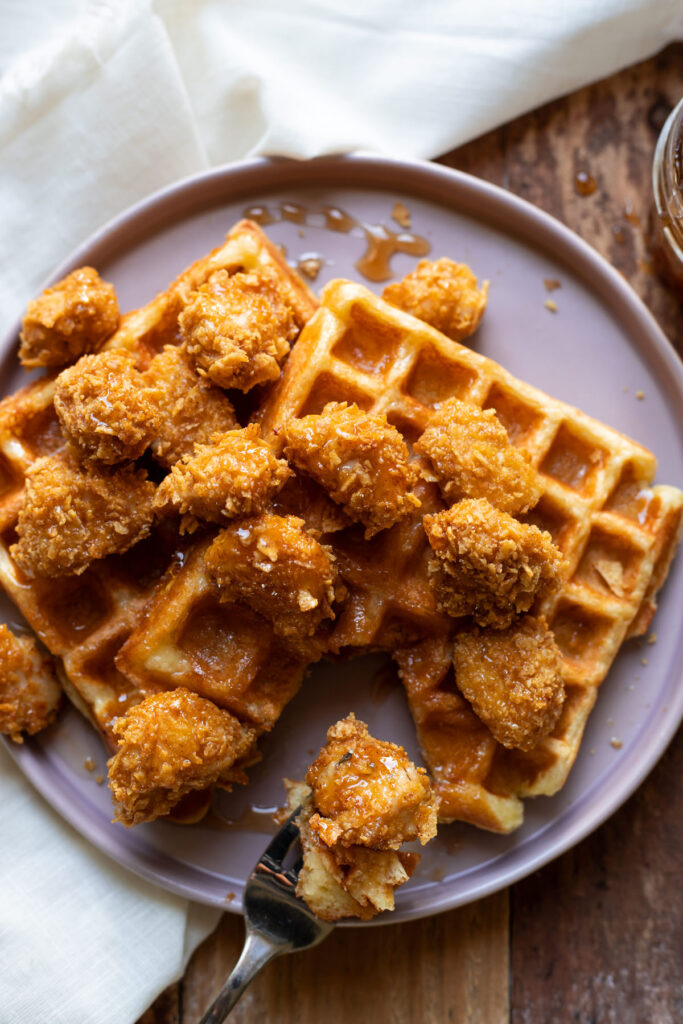 More Family Friendly Recipes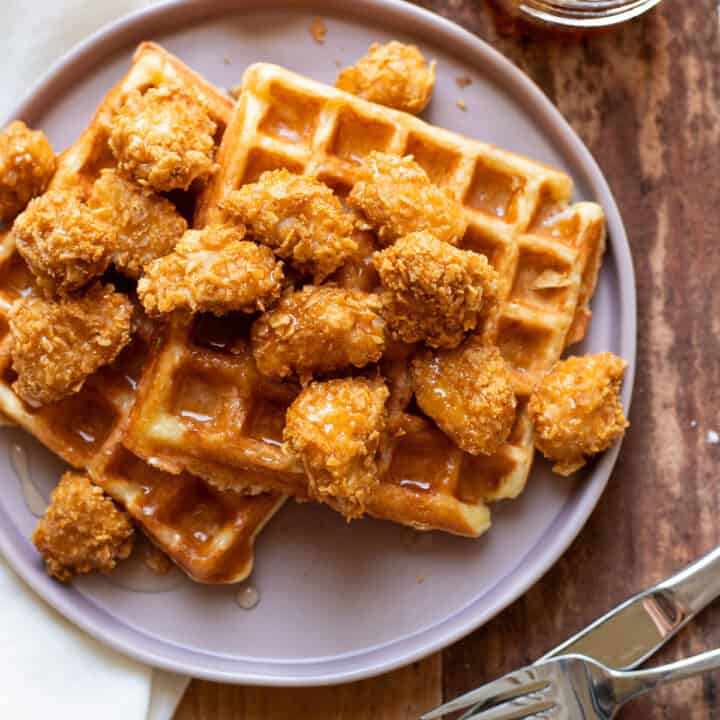 Crispy Chicken and Buttermilk Waffles With Sriracha Honey
Crispy baked chicken nuggets paired with buttermilk waffles and topped with a quick and easy homemade sriracha honey sauce!
Ingredients
1 lb chicken breast, cut into bite size pieces
5 c sun chips, crushed up
3/4 tsp paprika
1/2 tsp salt
1/4 tsp onion powder
1 egg
2 tbsp buttermilk
honey
sriracha
buttermilk waffles
2 c flour
1 tsp salt
1 tsp baking soda
1 tsp baking powder
2 c buttermilk, room temp
3 eggs, room temp
4 tbsp butter, melted
Instructions
Preheat oven to 400
Line a baking sheet with parchment paper
Sprinkle the cut up chicken with 1/4 tsp paprika, 1/2 tsp salt and 1/4 tsp onion powder, toss around
Crunch up the sun chips and add 1/2 tsp paprika in a large bowl
In a bowl whisk together the egg and 2 tbsp of buttermilk until combined
Add a handful of chicken to the wet batter, shake off the excess and then toss it into sun chips, toss this around to coat all the sides
Place them on the baking sheet, not touching
Hold off on putting them in the oven until the waffle batter is done
In a bowl combine the flour, salt, baking soda and baking powder, stir
In a separate bowl combine the butter, buttermilk and eggs, whisking together (if you add cold milk and eggs to warm butter the butter will sort of seize up and you don't want this)
Make a well in the flour mixture and pour in the liquid, mix just until combine, lumps are okay
Let it sit 10 minutes, give it another stir and start making your waffles in a waffle maker
Now put the chicken in the oven and bake for 20 minutes
Meanwhile mix up some sriracha honey, you only need a little squeeze of sriracha
Serve a buttermilk waffle with the crispy chicken nuggets on top drizzled with the sriracha honey
Nutrition Information:
Serving Size:

1 grams
Amount Per Serving:
Unsaturated Fat:

0g
Did you make this recipe? Please leave a review!
Make sure to follow Modern Crumb on Pinterest and Facebook for lots of yummy meal inspiration!  And subscribe to the newsletter, below, to get updates when new recipes post.