This homemade pizza dough is my go to recipe! Crisp bottom, soft puffy edges and the best texture. Plus it's ready in an hour. It's been tested hundreds of times and turns out perfect every single time.
It's the perfect base to all your favorite pizza recipes here on the Modern Crumb blog.
This post was first published June 18, 2018.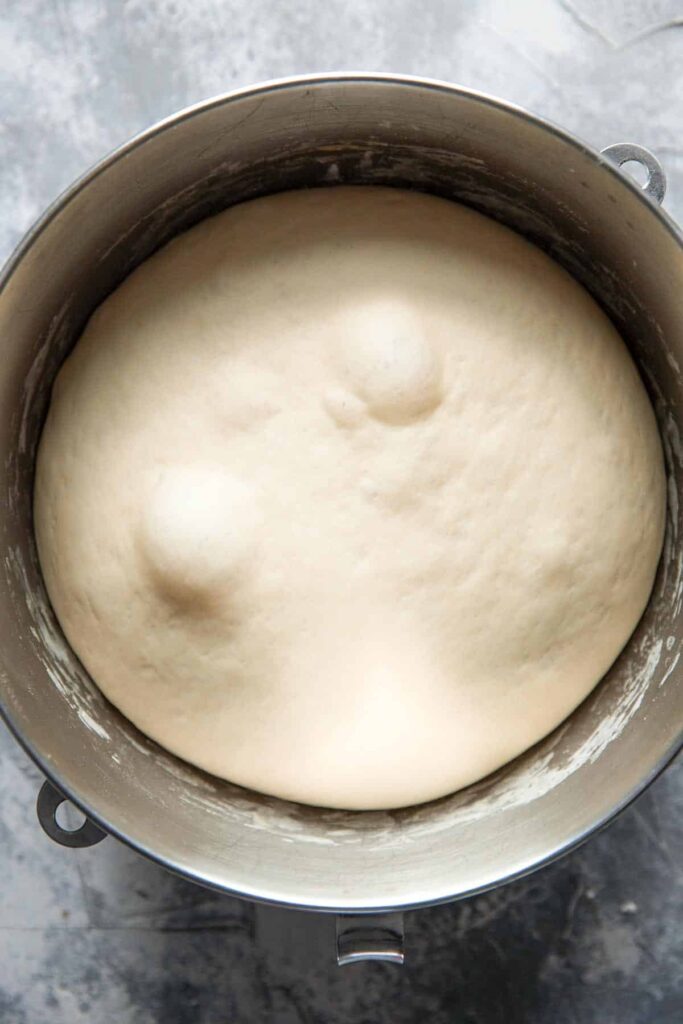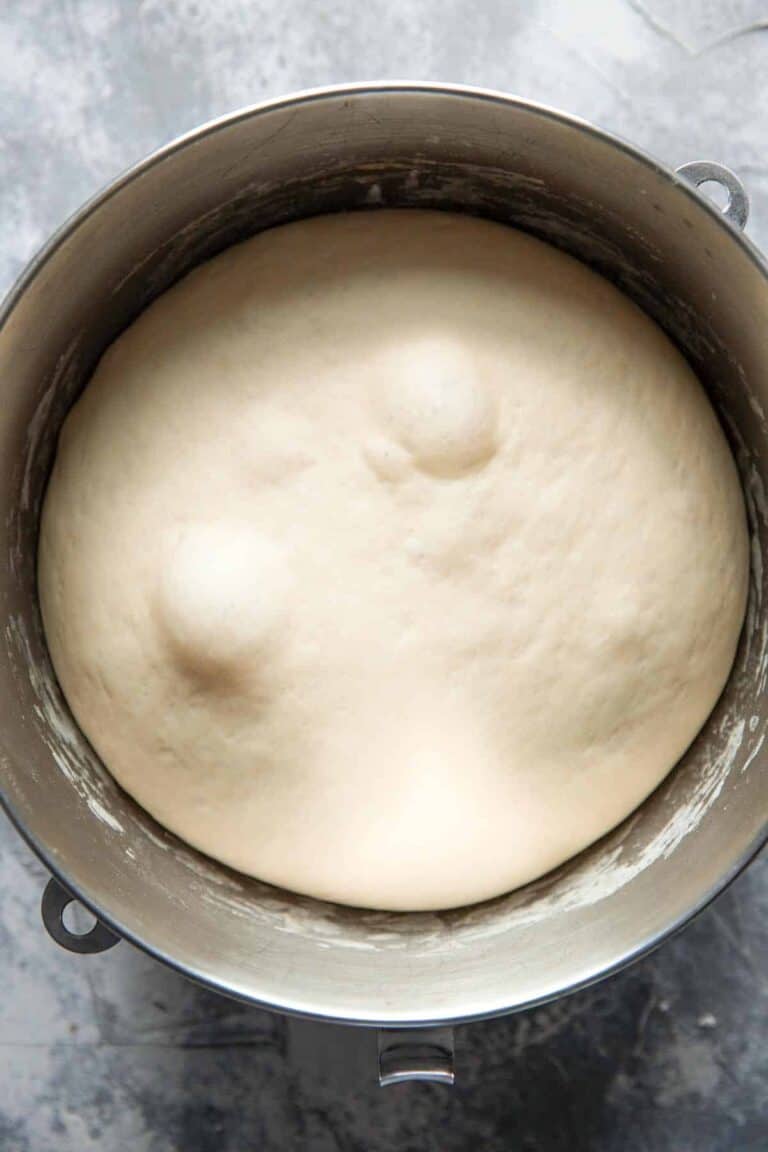 It dawned on me today that I have never dedicated an entire post to just pizza dough.
I'm sorry. Truly I am.
Because it is sincerely the most easy recipe.
Many many Christmas' ago my mother-in-law gifted my husband and I a pizza stone and peel (wooden board that slides pizza into the oven), it was right after we got married.
Up until then we ordered takeout pizza, which is totally fine, I love me a good takeout pie.
We both loved pizza so much, she thought we would have fun making our own homemade pizza. She was right! But I soon found out, getting the pizza dough right, was the hardest part.
Jump to: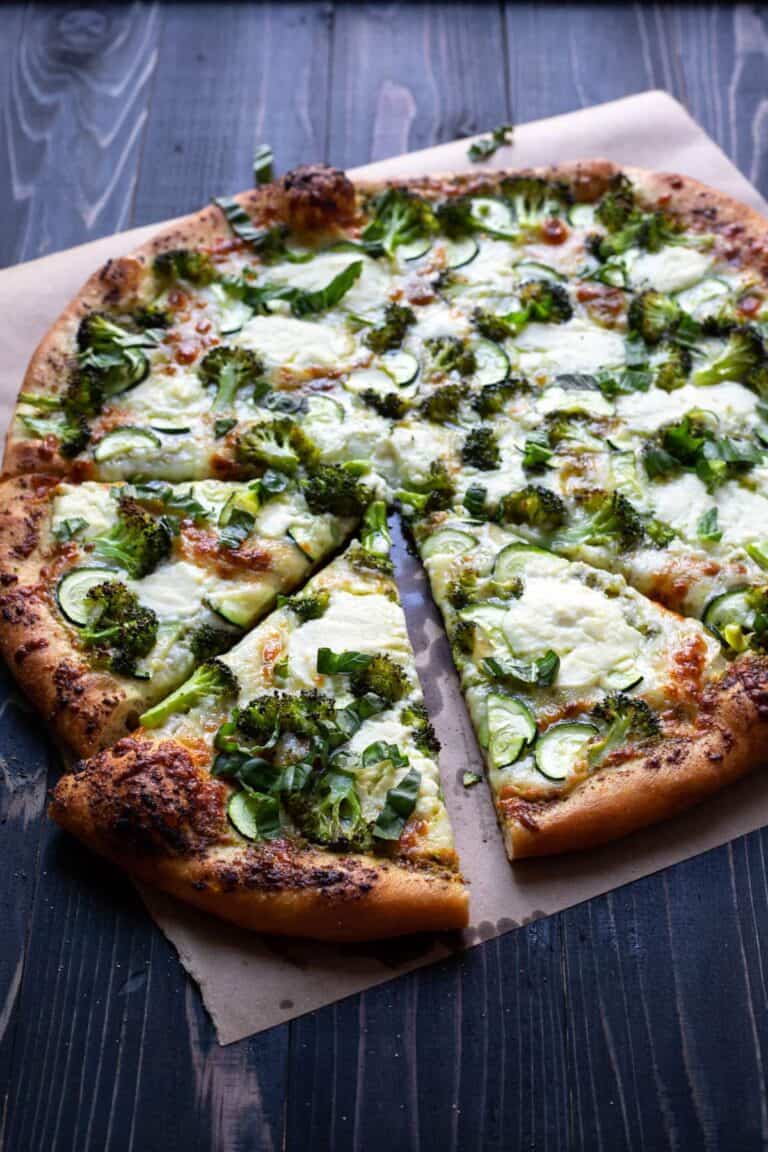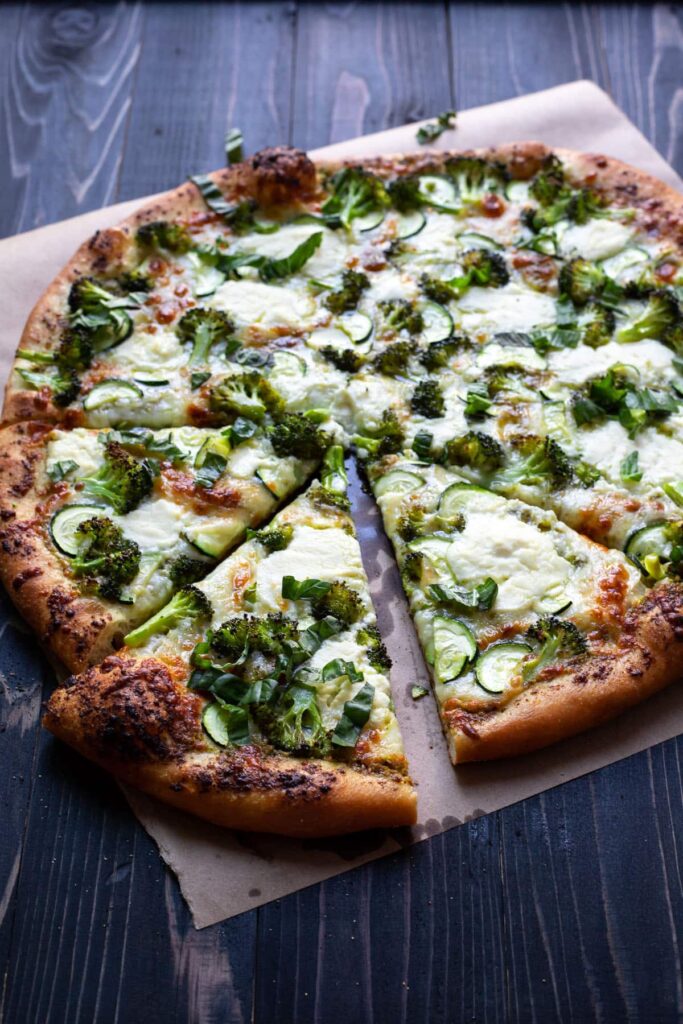 Green Vegetable Garden Party Pizza Recipe - hello vegetables, I know this combo sounds a bit different but golly gee wiz, this is one amazing pizza!
I could never seem to find a recipe that had consistent results and gave me the texture and flavor that I wanted.
This went on for years. And I settled. But my sweet beautiful friends, you don't have to.
Choosing the right ingredients, temperature, over kneading, under kneading, all of these things played a part. There is nothing more frustrating than spending time on pizza dough, to have it turn out poorly.
This recipe was created over years and years of my own personal trial and error, so you don't have to fuss about and can just enjoy your homemade pizza with your family.
This dough is fluffy and puffy around the edges and slightly crisp on the bottom but not injure the roof of your mouth crisp.
The taste is so fresh.
Can you tell I'm proud? I'm pretty darn proud! Pizza master may come to mind.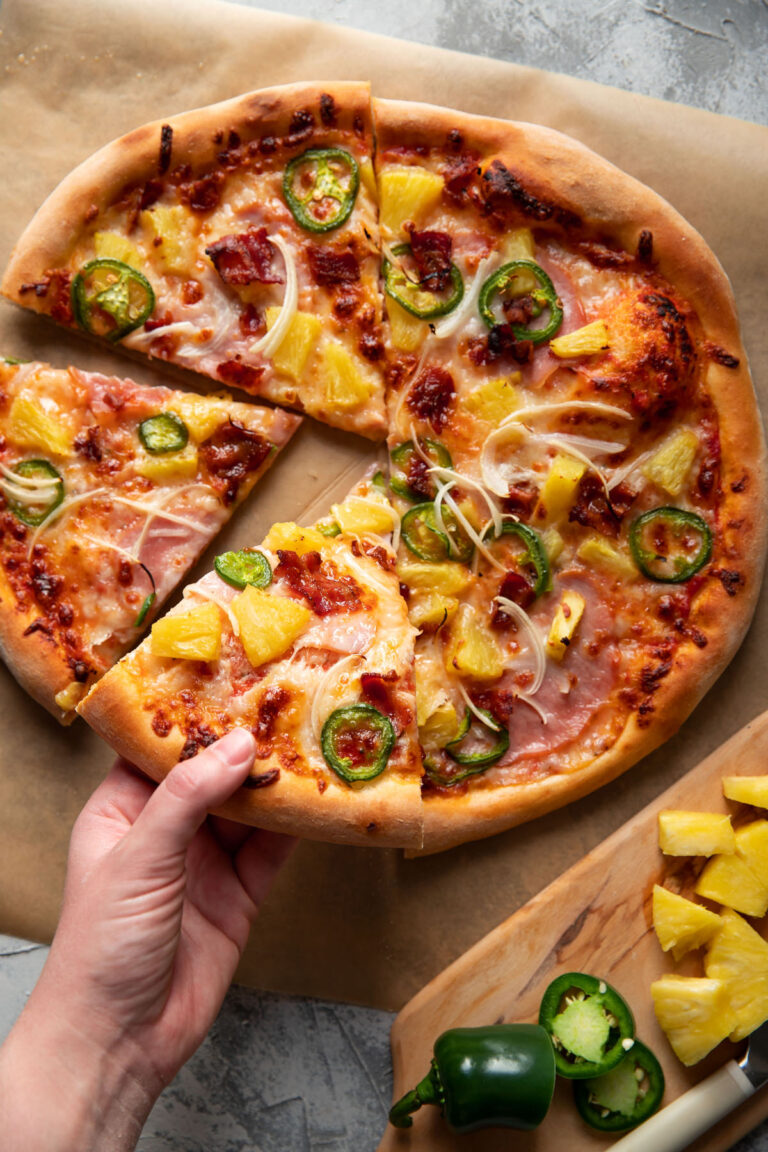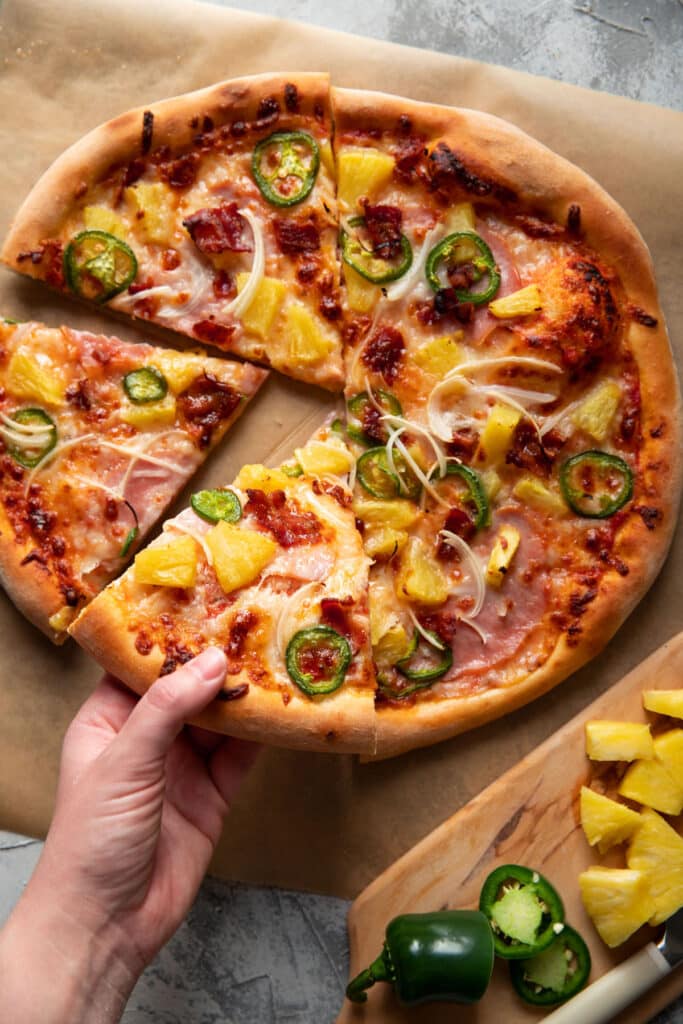 Mellow Mushroom Pacific Rim Pizza Copycat Recipe - if you love mellow mushroom pizza then you will love this pizza, it has canadian bacon (or ham), bacon, pineapple, jalapenos and onions.
How To Make Homemade Pizza Dough
A good pizza dough starts out with a nicely proofed yeast. What this means, is that you have combined warm water and yeast together, that yeast has activated and become frothy and foamy.
Then you'll add this and the rest of the ingredients to a bowl, to combine and you'll either be hand kneading (so much work) or using the bread tool on a kitchenaid stand mixer (the route to go).
After the dough comes together, you'll let it rest, covered for it to double in size. This takes about an hour. If your kitchen is cold you can set it by a warm stove or oven.
What I usually do is turn my oven on for a few minutes, just to get some heat flowing. Then, I turn the oven off and place my covered bowl with the dough in it, in to my oven. And I let it rise in there.
Once it's done, pour the dough out on to a floured counter top. Cut the dough in half, because this recipe makes two 16" pizzas or four personal size pizzas.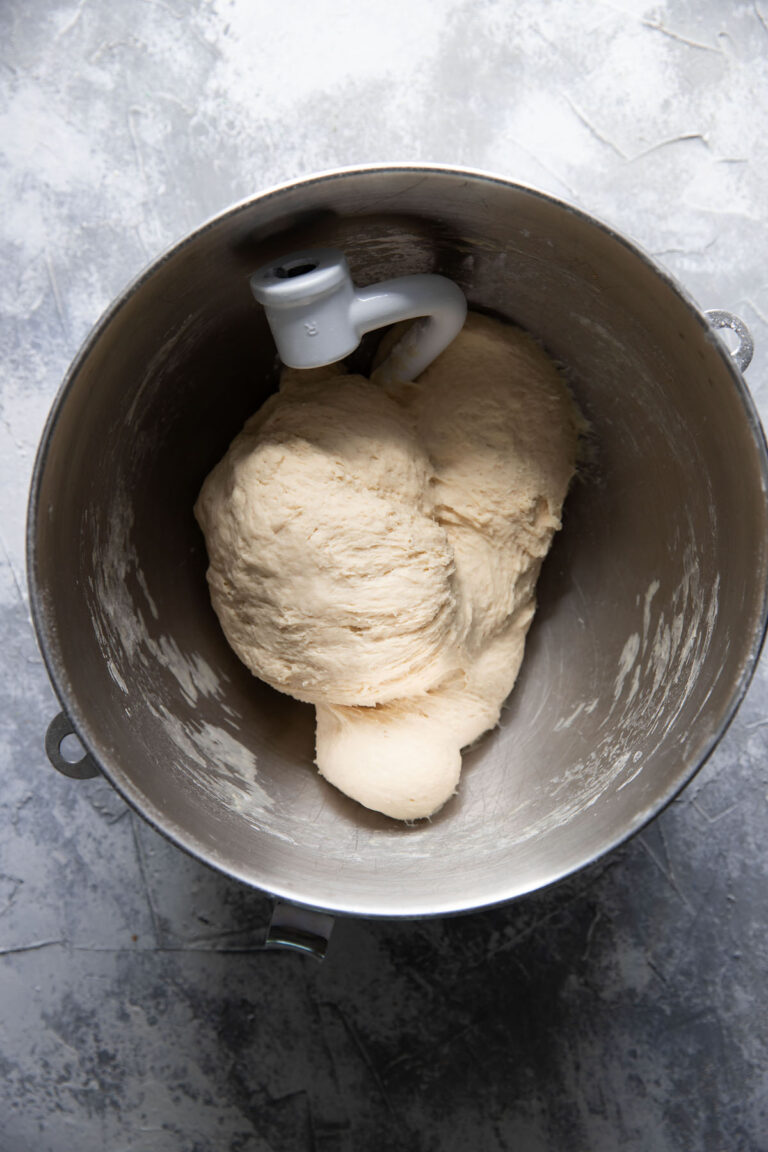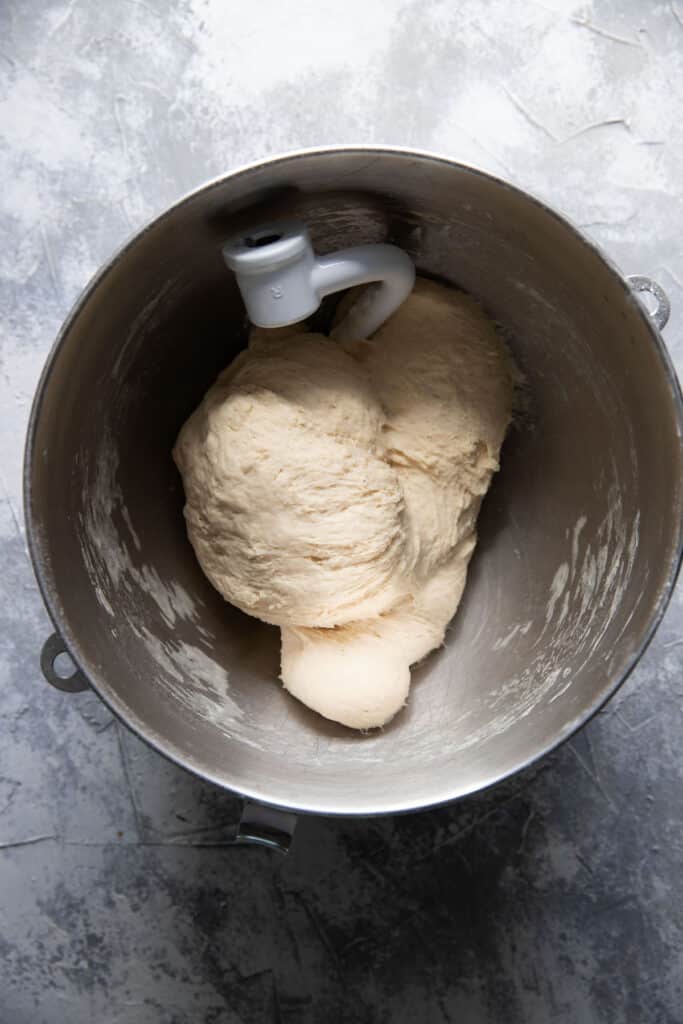 Pizza Dough Yeast Fermentation
It is crucial to have a properly activated yeast to make a good pizza. Without that, you run in to a lot of pizza problems later.
Yes, pizza problems. Like tough and chewy dough. Too crispy. Not fluffy. All sorts of undesirable pizza outcomes.
The warm water should not be too cold or too hot.
I have found that the ideal temperature, is like a warm bath, that has started to cool a bit. It should not feel hot at all.
Two cups of water, microwaved for sixty seconds has always steered me right.
One little trick I have is to add a pinch of sugar in to your yeast bath as it activates, the sugar aids in helping it ferment. One half teaspoon is all you need.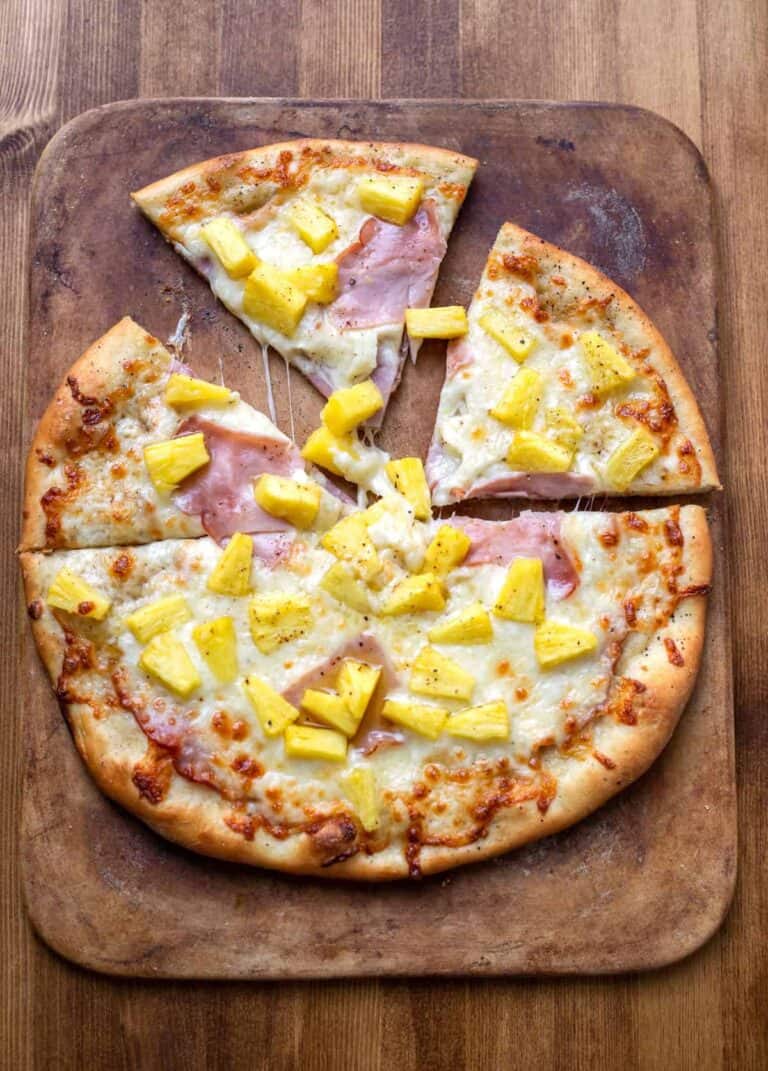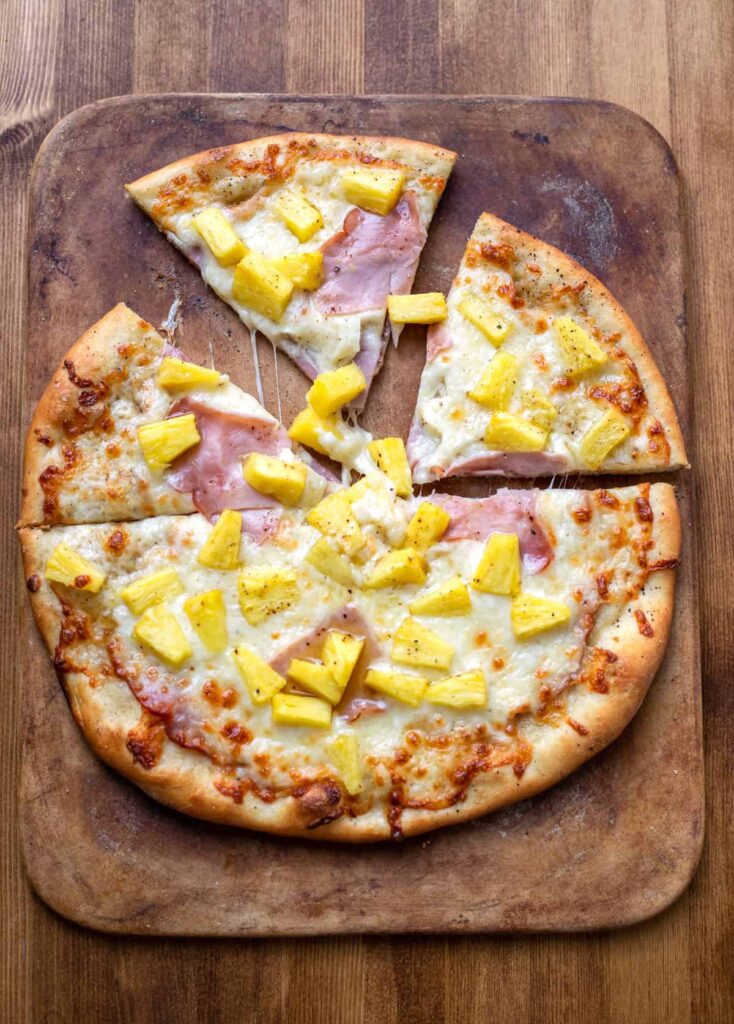 Hawaiian Pizza - this is a classic hawaiian pizza, with canadian bacon and pinepapple, but the twist is the olive oil base instead of a red sauce base.
Homemade Pizza Dough Ingredients
Making pizza from scratch becomes such instinct once you start making it more and more. I've found that I don't even need to check the ingredient list or instructions at this point.
Here's what you'll need to make the dough.
flour - all purpose flour
water - filtered or tap water works just fine
active dry yeast - make sure it says active dry yeast and not instant or bread yeast, these are different
olive oil - whatever olive oil you have on hand but a nice mild olive oil has a great flavor
salt - kosher salt, preferably
sugar - just a half teaspoon, because it helps to activate the yeast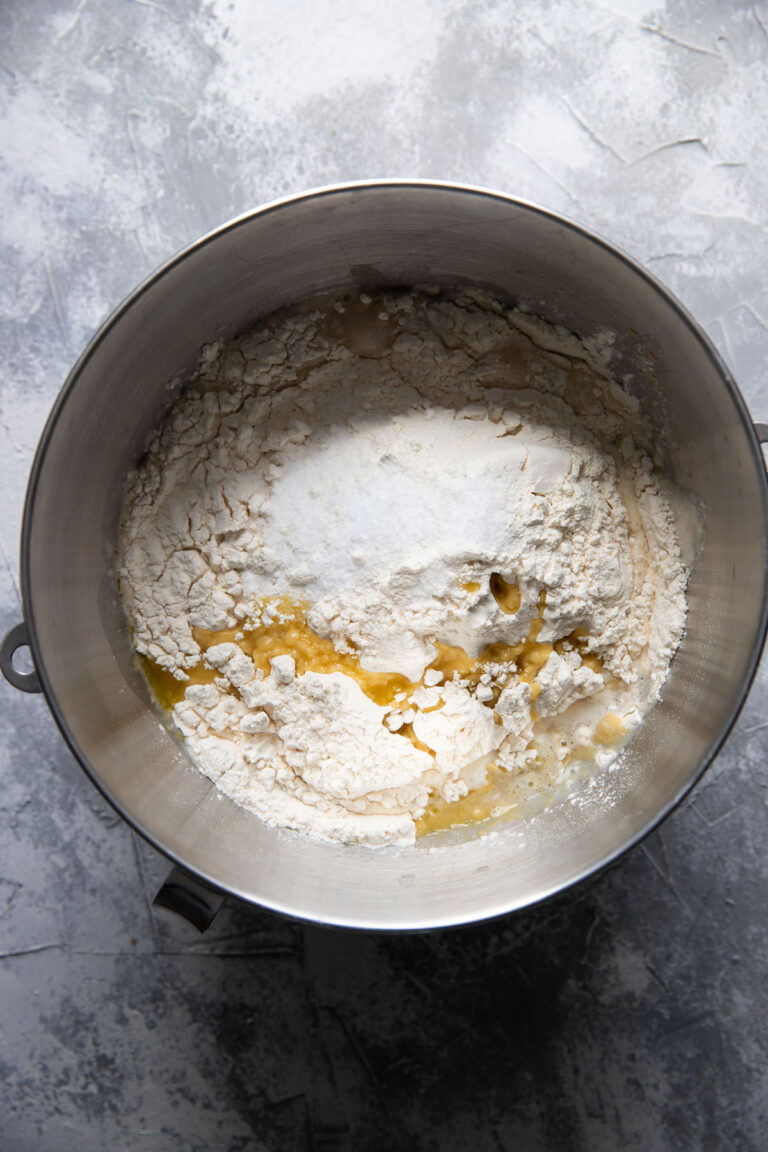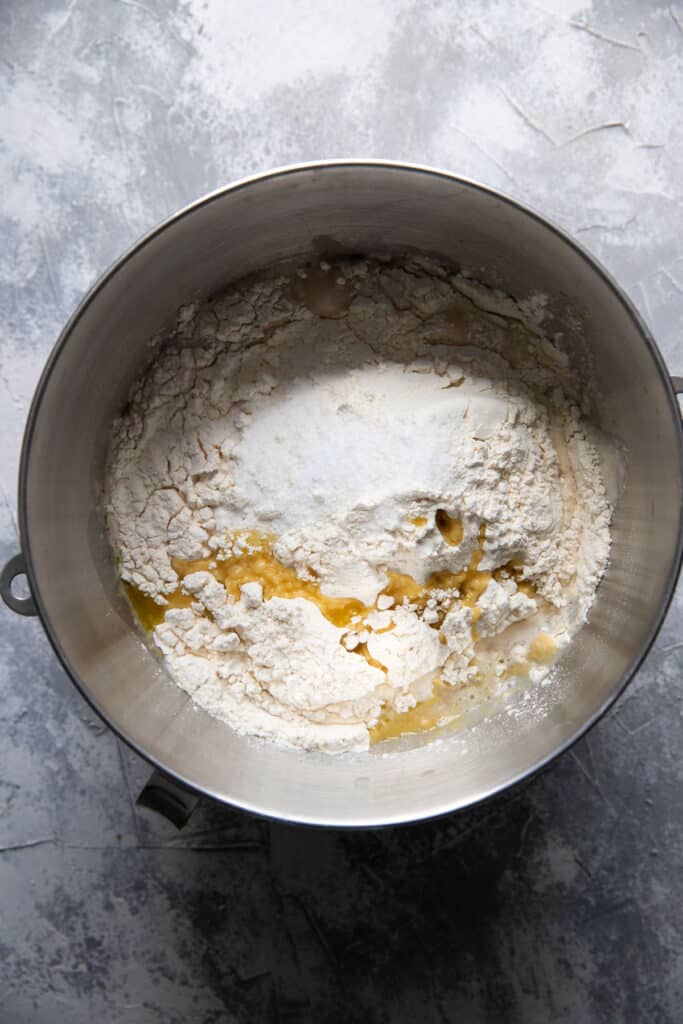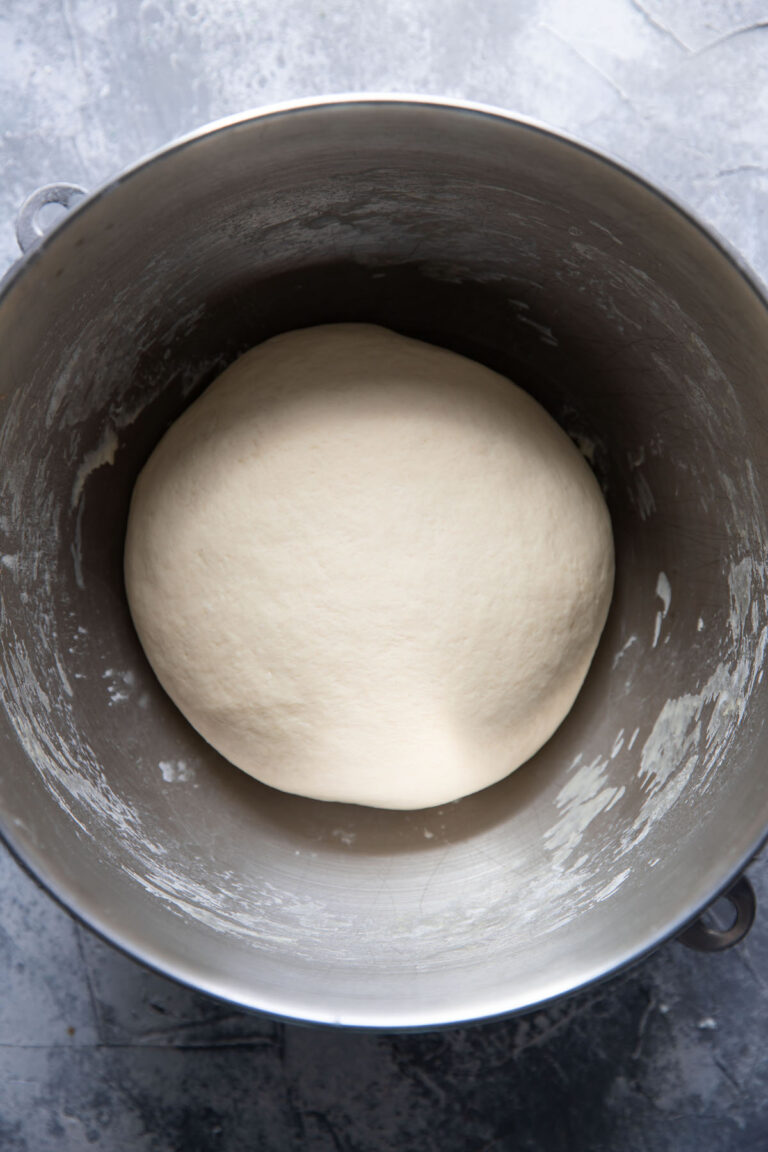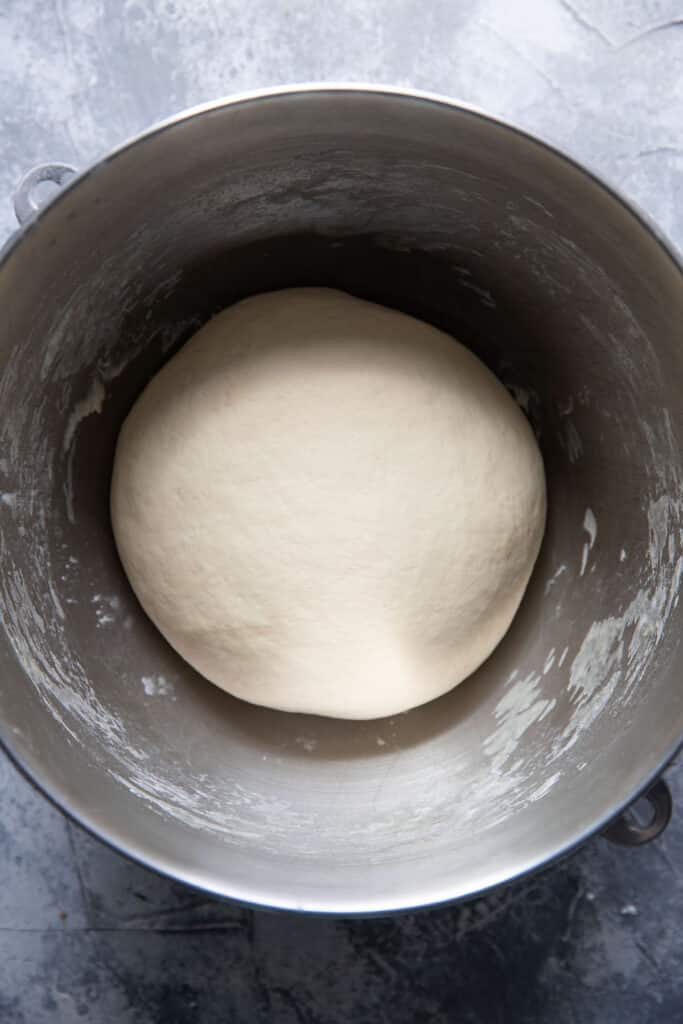 How Long Does Pizza Dough Last
This recipe is for a quick turnaround dough. You make it and eat it all in the same evening.
But there are many many thoughts on how long you should let your dough rest.
The longest I have been able to get away with, without my dough breaking down and giving me strange results, is four days in the fridge.
The taste of the dough will be a bit more, fermented, if that makes sense. It has a stronger smell and taste, because the yeast has been working so much longer.
It may not be as poofy either as if you make it right away.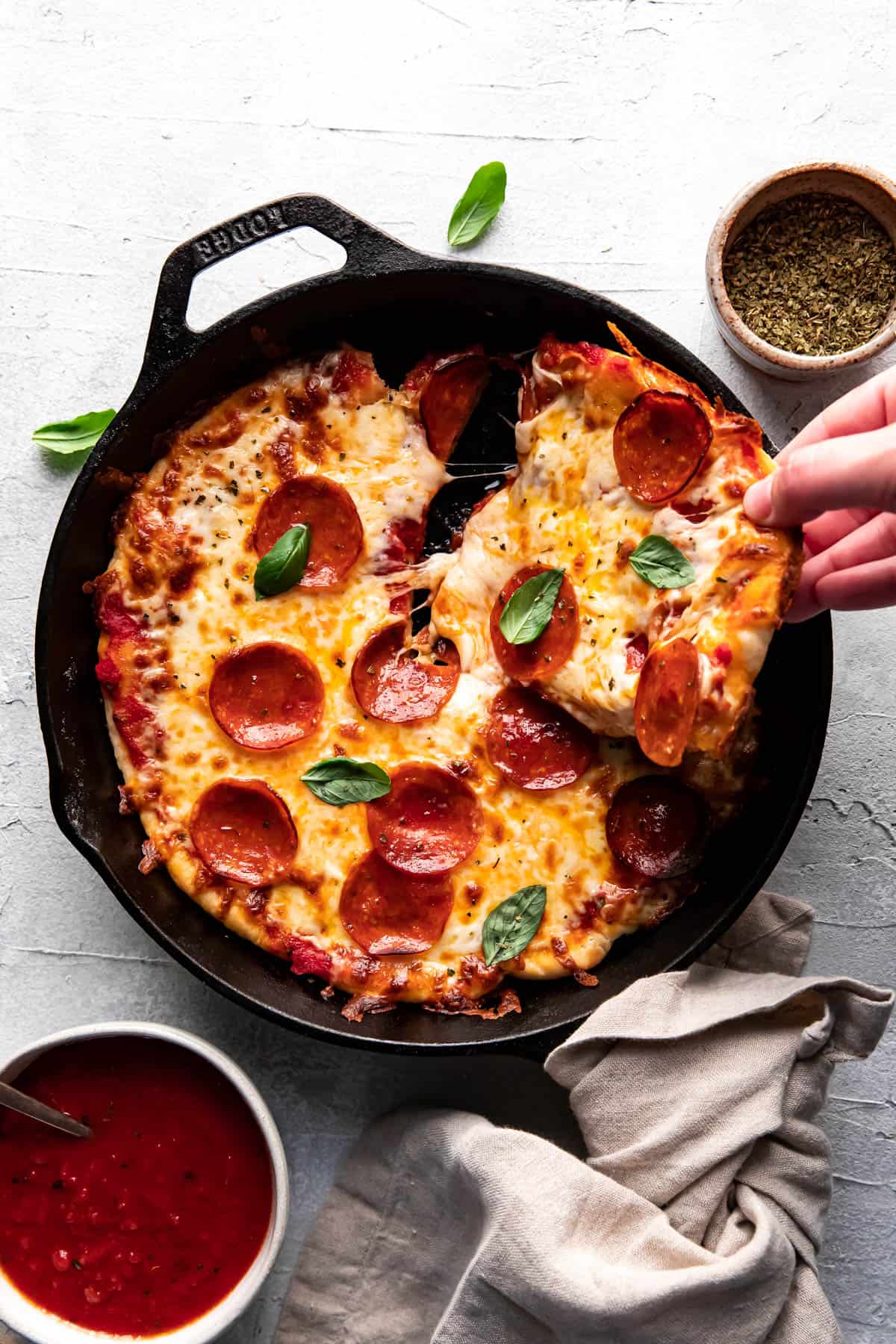 Cast Iron Pizza - A super easy way to make pizza is in your cast iron skillet, it's seriously the easiest method and so delicious.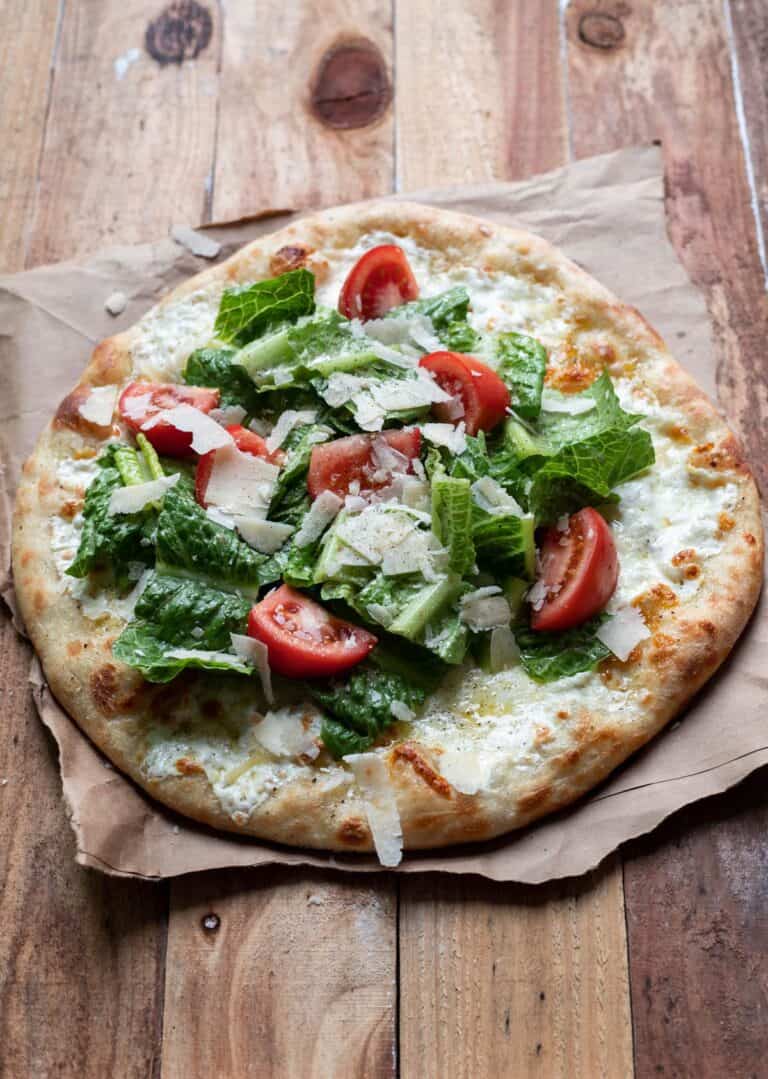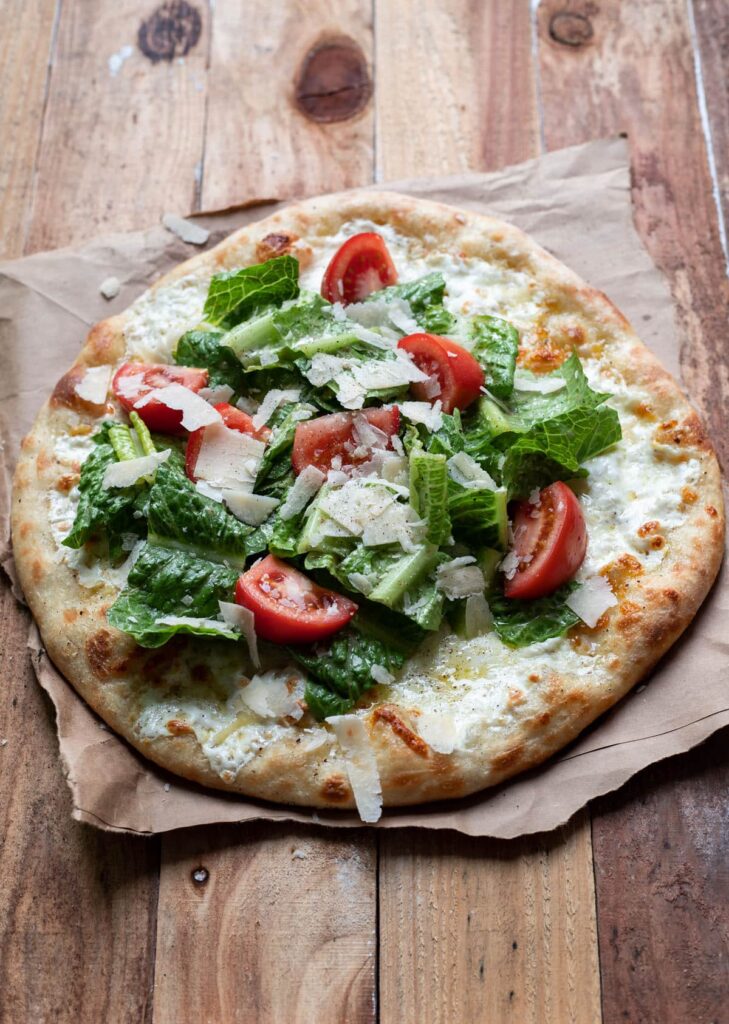 Caesar Salad Pizza - this light and refreshing pizza has an olive oil base, fresh mozzarella and a crisp romaine caesar salad on top, topped with caesar dressing of course!
How To Freeze Homemade Pizza Dough
One of my favorite things about this recipe, besides being wildly delicious, is that it makes two pizza dough balls.
So you can make one pizza that night and freeze the other dough ball for another night.
Freezing pizza dough is so easy.
Grab a ziploc bag, put the dough in the bag, seal it closed and voila. Well, don't forget to actually put it in the freezer!
When it comes time to use it again, transfer the bag of dough to your fridge to come to temperature. Then the day you want to use it, take it out of your fridge and let it come to room temperature on your counter.
For this, you'll want to take the dough out of the bag, knead it a bit with a sprinkle of flour. Roll it back into a tight dough ball and place it on a floured counter surface.
Cover it with a piece of plastic wrap that you have sprayed with cooking spray on one side.
That side will be the side facing your dough. As it comes to room temperature it will be the perfect shape again.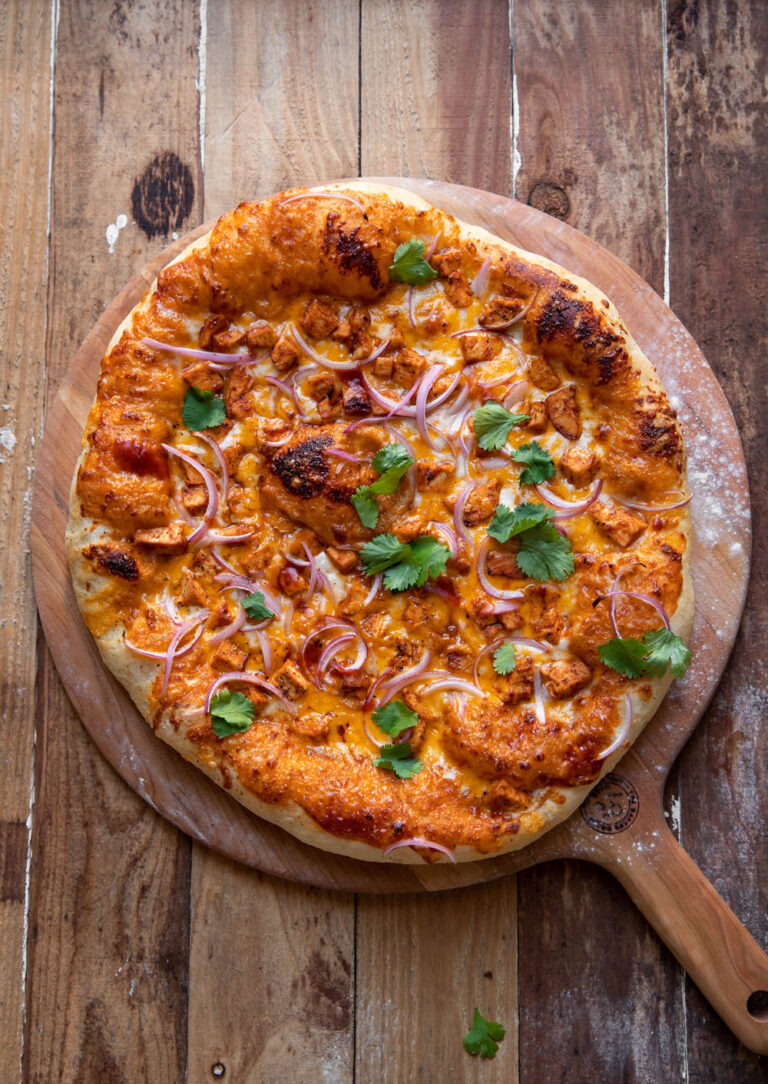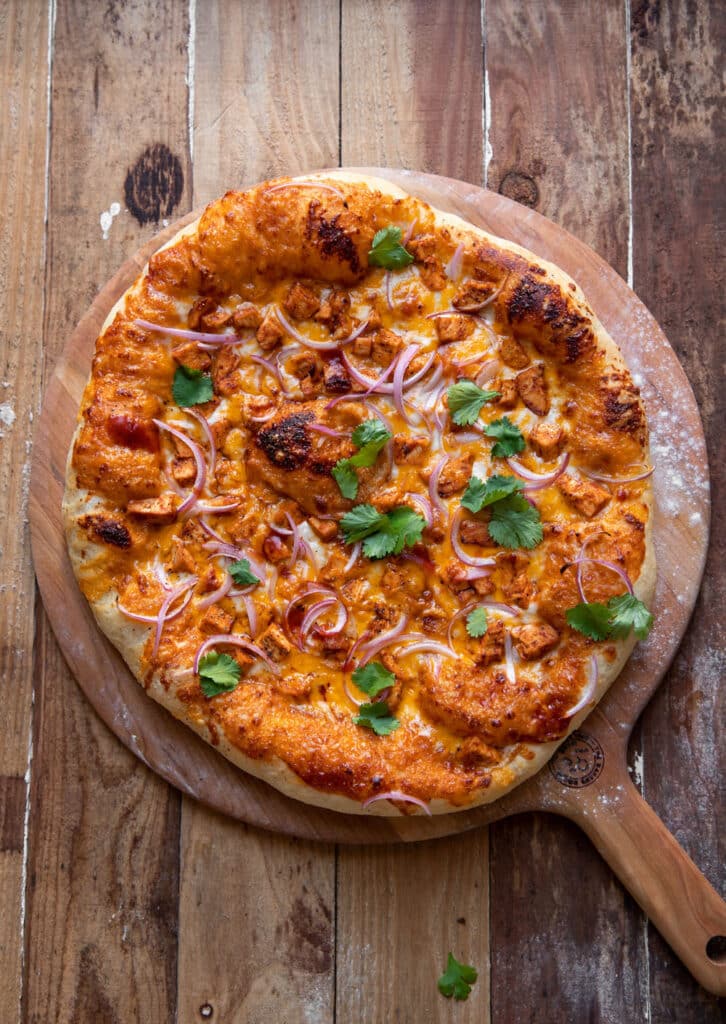 Homemade BBQ Chicken Pizza - the best bbq chicken pizza, it has cut up pieces of chicken breast, red onion, bbq sauce and cilantro on top.
What To Cook Homemade Pizza Dough On
Do yourself a favor, get a pizza stone or a pizza steel.
And enjoy pizza happiness.
If you have a pizza stone, then you'll want to get a pizza peel. A pizza peel is a wooden paddle used to transfer your pizza, in to your oven.
Ideally your pizza stone or pizza steel should be in your oven, from the moment you start preheating. Because it needs to heat up.
The heat from that baking stone helps to cook your pizza, it gives the crust the perfect texture and it also helps to cook it faster.
For example, cooking a 16" pizza on a baking stone takes about 10 minutes. Cooking a 16" pizza on a baking steel takes about 6 minutes.
You can definitely make a pizza by using a baking sheet.
Grease the baking sheet with olive oil, then spread out your dough, put your toppings on and bake. This method takes a lot longer, and it's hard to get the bottom of your pizza nice and crisp.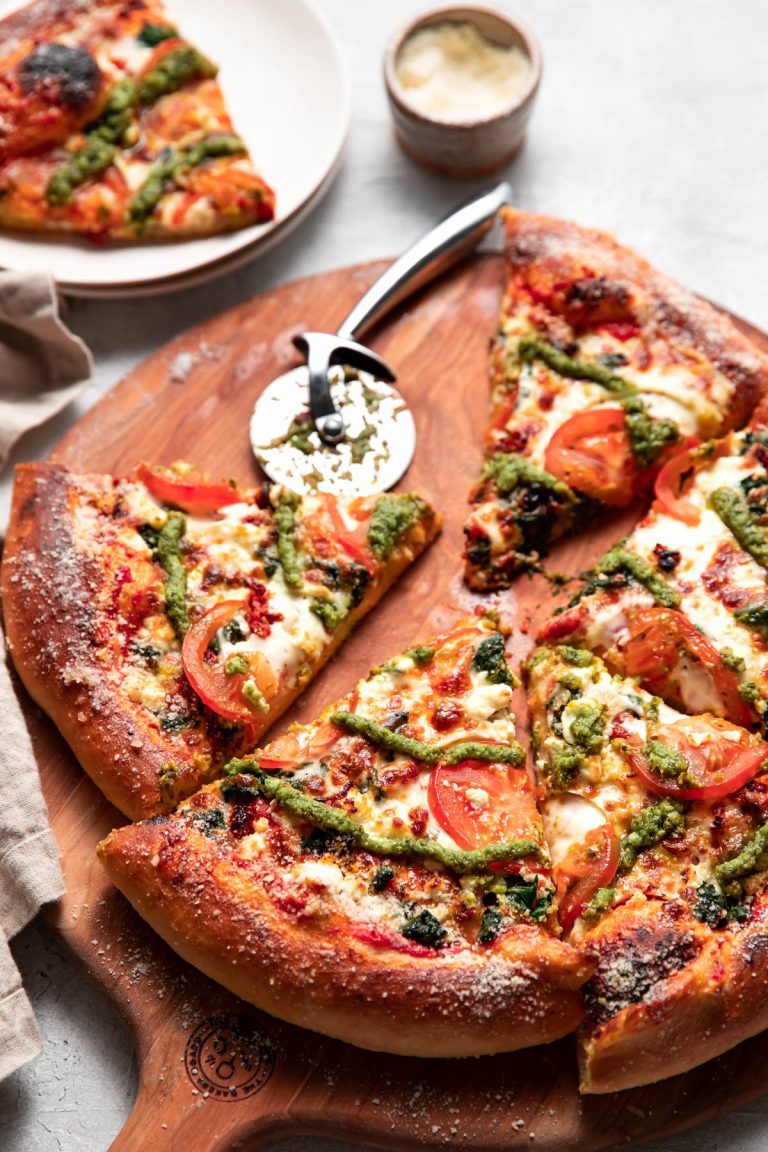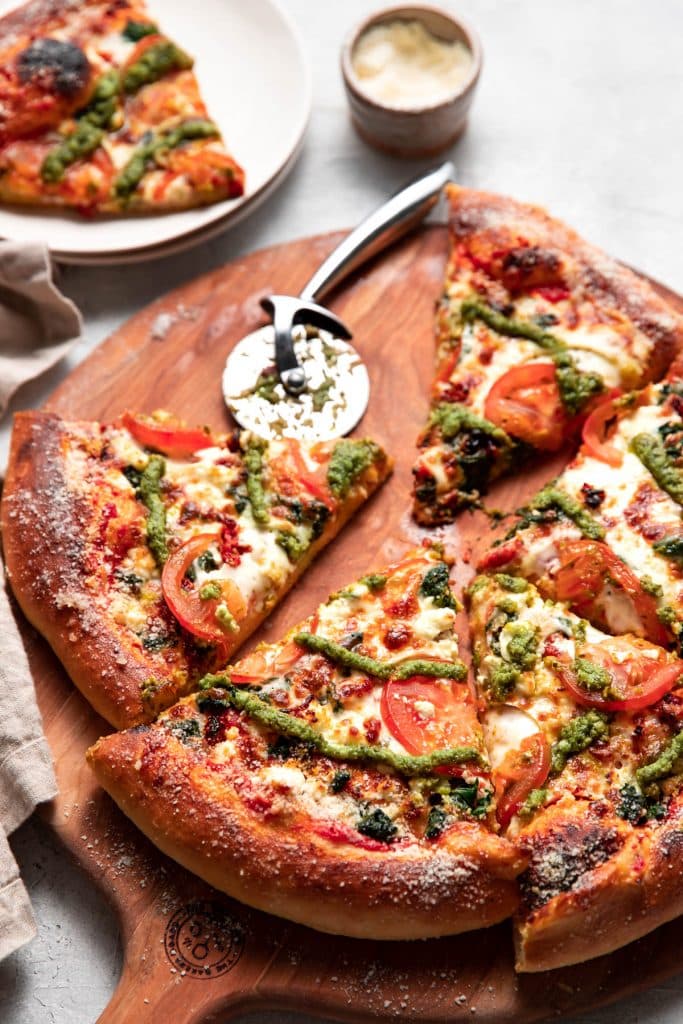 Kosmic Karma Mellow Mushroom Pizza Copycat Recipe - this gets rave reviews, it tastes just like the restaurant favorite! Made with a red sauce base, mozzarella, feta, sun dried tomatoes, spinach, tomatoes and pesto. And a copycat mellow mushroom pizza dough.
How Long Does It Take To Make Homemade Pizza Dough
It takes 15 minutes of active time spent making and another 45 minutes - 1 hour of resting and letting the dough rise.
If you compare the time it takes to make your own vs takeout pizza, it's not that much longer.
Because it's about an hour for delivery, or if you have to go pick it up.
And once it's home it's never as fresh as it was when they pulled it from the restaurant oven.
One of my favorite parts about making your own pizza, is digging in to a hot, fresh, straight from the oven pizza pie.
You just can't beat that.
Make sure to check out all the pizza recipes I have!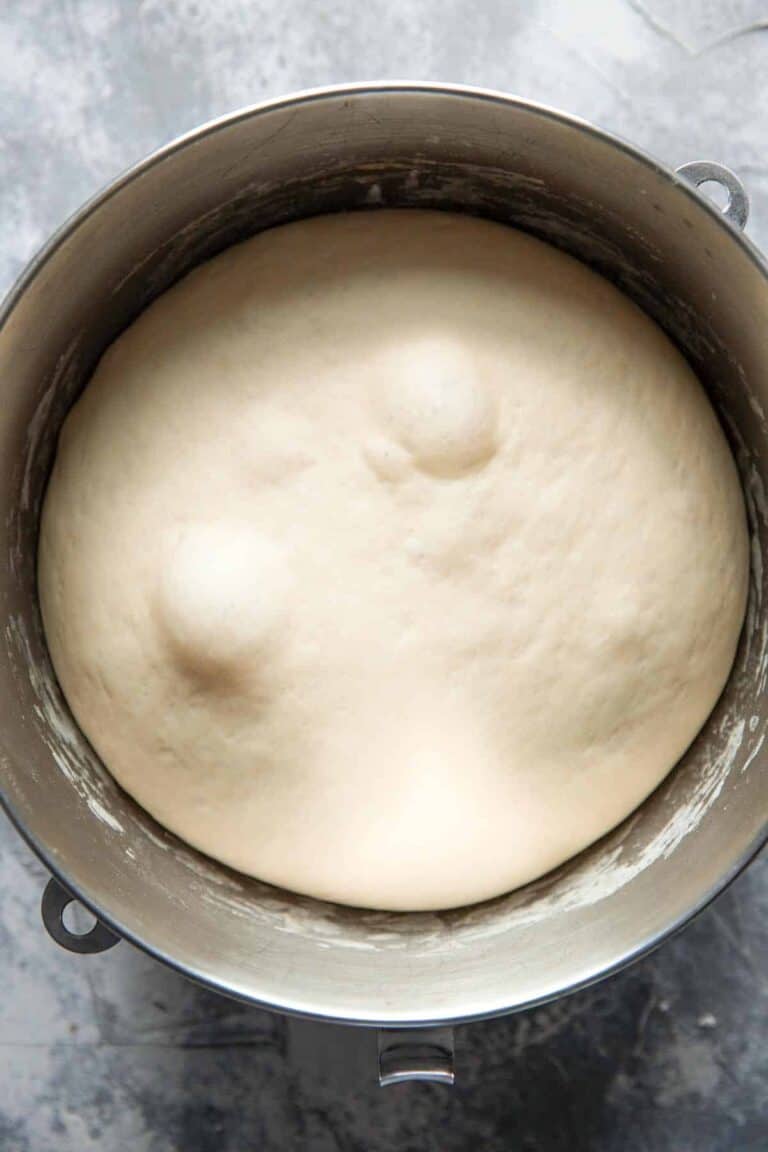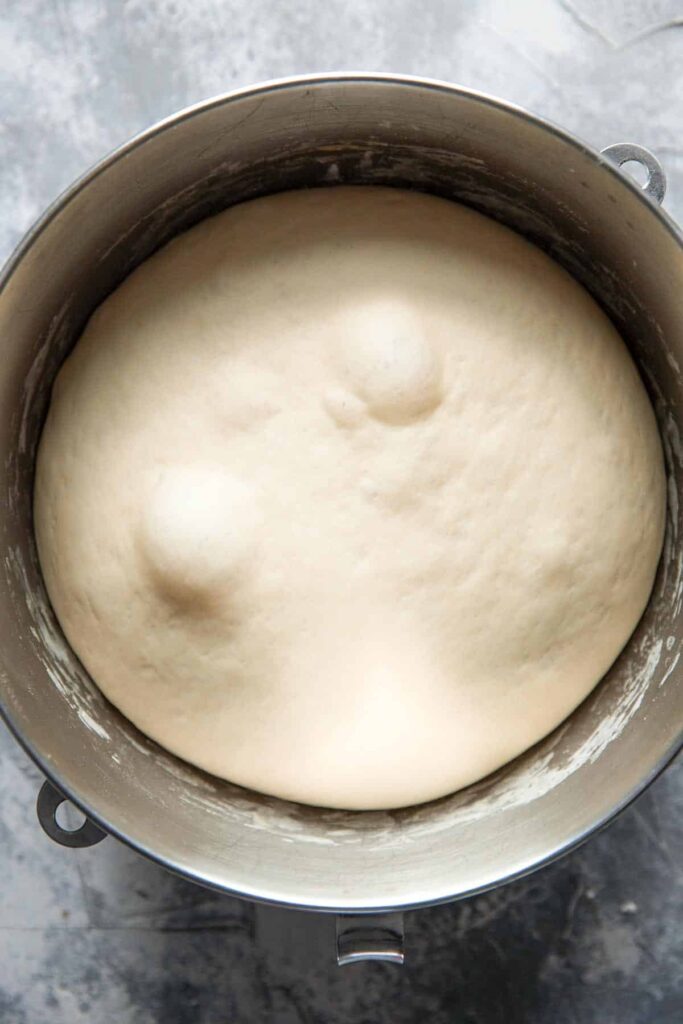 Homemade Pizza Recipes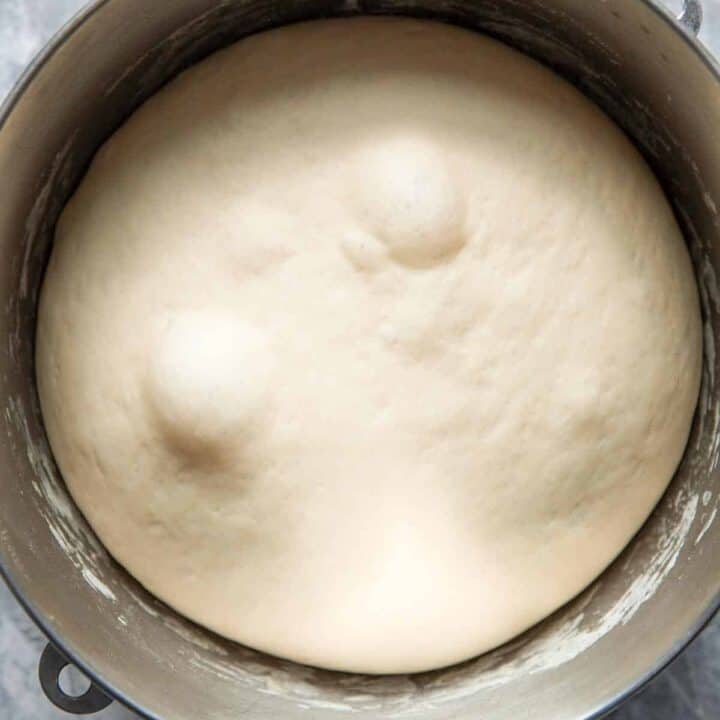 Perfect Homemade Pizza Dough - A Fool Proof Recipe
Total Time:
1 hour
15 minutes
This homemade pizza dough is my go to recipe! Crisp bottom, soft puffy edges and the best texture. Plus it's ready in an hour. It's been tested hundreds of times and turns out perfect every single time.
Ingredients
5 c flour + ½ c more if needed
2 c water
1 tbsp active dry yeast
1 tbsp olive oil
1 tbsp salt
½ tsp sugar
Instructions
Heat up 2 cups of water for 60 seconds in the microwave, the water should be pretty warm but not hot
Add the active dry yeast, give it a little stir and then sprinkle the ½ tsp of sugar over top
Let the yeast get foamy, about 5 minutes
In the bowl of a stand mixer add 4 cups of flour, salt and olive oil
Attach the dough hook
With the mixer on low start adding the yeast water
Once the water has started to combine with the dry ingredients, add another cup of flour
Mix this on med/low speed for a couple minutes
If you notice it's still sticky and not a smooth ball shape yet, add the last ½ c of flour little by little (don't add all of it and risk dry dough)
Check the consistency - press your finger into the dough, it should bounce back
Take the dough out of the bowl and rub olive oil around the inside of that same bowl
Put the dough back in the bowl, cover with plastic wrap or a towel
Let the dough rise for 45-60 minutes (once it's doubled, it's done)
After risen, pour the dough on to a floured surface
For two 16" pizzas, cut the dough in half
For four personal size pizzas, cut the dough in fourths
Use your hands to roll each piece tightly, tucking the edges into the bottom so its very taught
Place them on a floured counter and leave some space between them and cover each with a lightly oiled piece of plastic wrap, until you are ready to form them into pizzas
You can can skip the above step if you are just going to freeze the pizza dough, or if you just want to freeze one dough ball it can go straight into a ziploc bag then to the freezer
Notes
Adding the sugar to the water/yeast mixture helps it to activate, even more.
Make sure to check out all the pizza recipes I've linked throughout this post!