This cilantro jalapeño hummus is quick and easy to make in own your kitchen! The best part about it is knowing exactly what ingredients you are adding.
Filled with chickpeas, cilantro, jalapeño, lemon juice, lime juice, olive oil, garlic, tahini and cumin.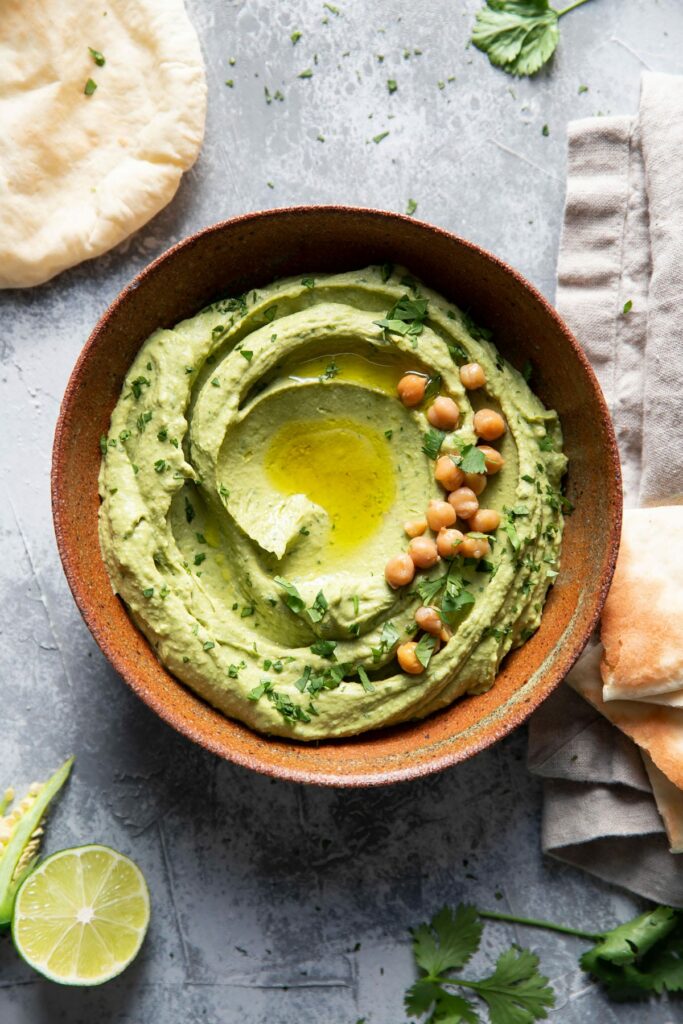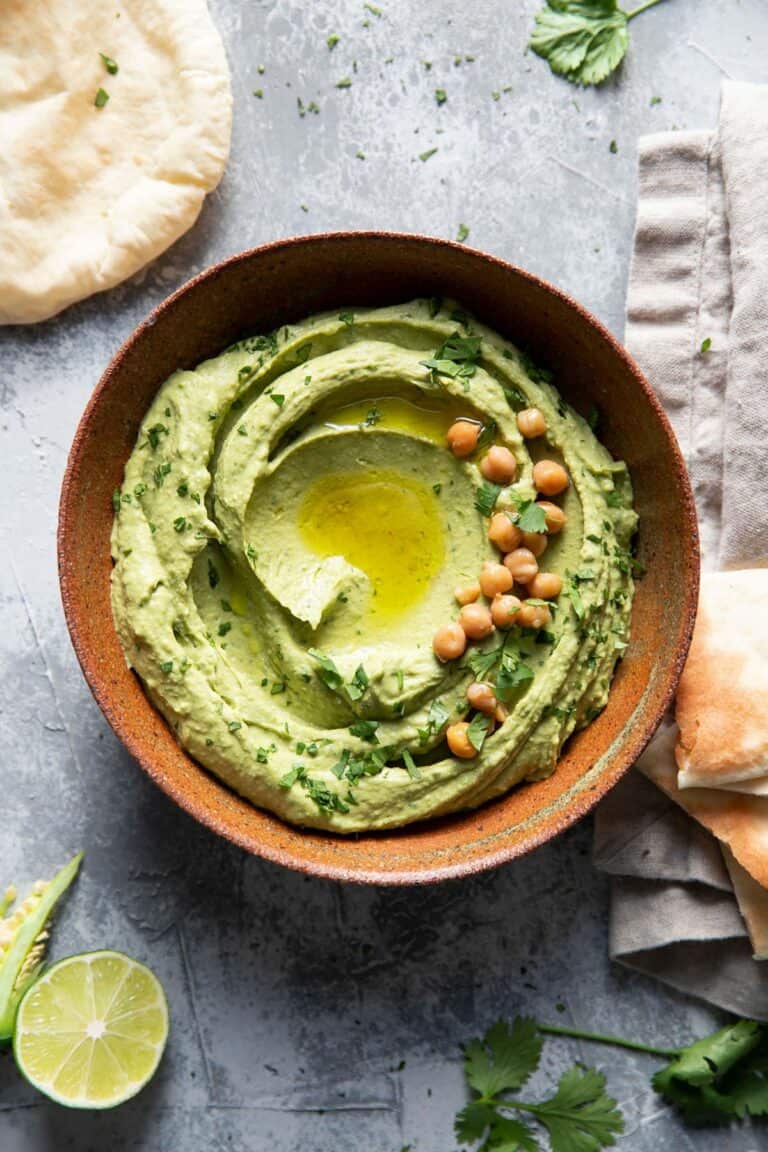 Hummus is the perfect snack.
It's extremely healthy and if you want to take it a step further you can skip the pitas and dip cucumber and carrot slices in it.
It's also a great appetizer for a party. This one is really close to Pita Jungle's cilantro jalapeño hummus.
I'm obsessed with pita jungle's hummus so this is the closest recipe to their amazing stuff!
Jump to:
What is Hummus?
If you've never made hummus here's a quick explanation.
Hummus is a mediterranean style dip made from chickpeas, which are also called garbanzo beans. Same exact thing, just another name for them.
Chickpeas are gluten free, which means if you have any allergies or sensitivities this would be the perfect snack to make yourself.
Especially because you know every single ingredient that you'll be putting in. You have full control of your hummus recipe.
Chickpeas are really good for you, they are high in protein and also make a wonderful vegetarian option instead of using meat.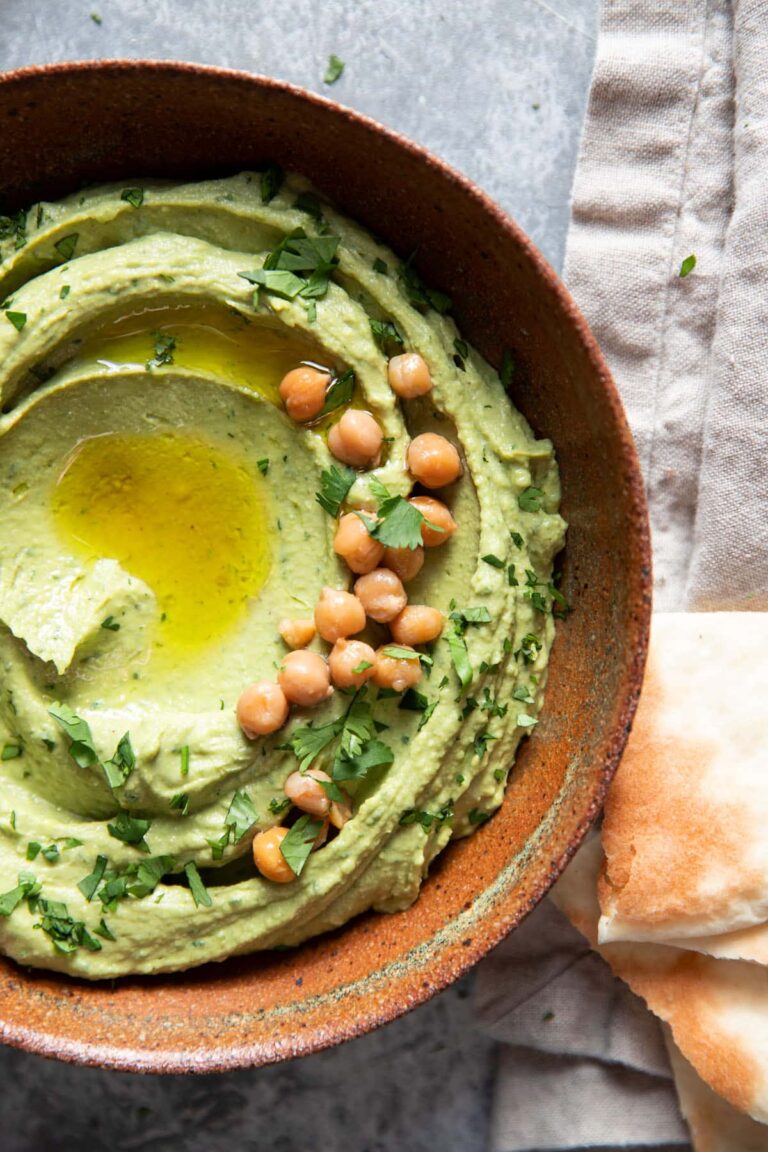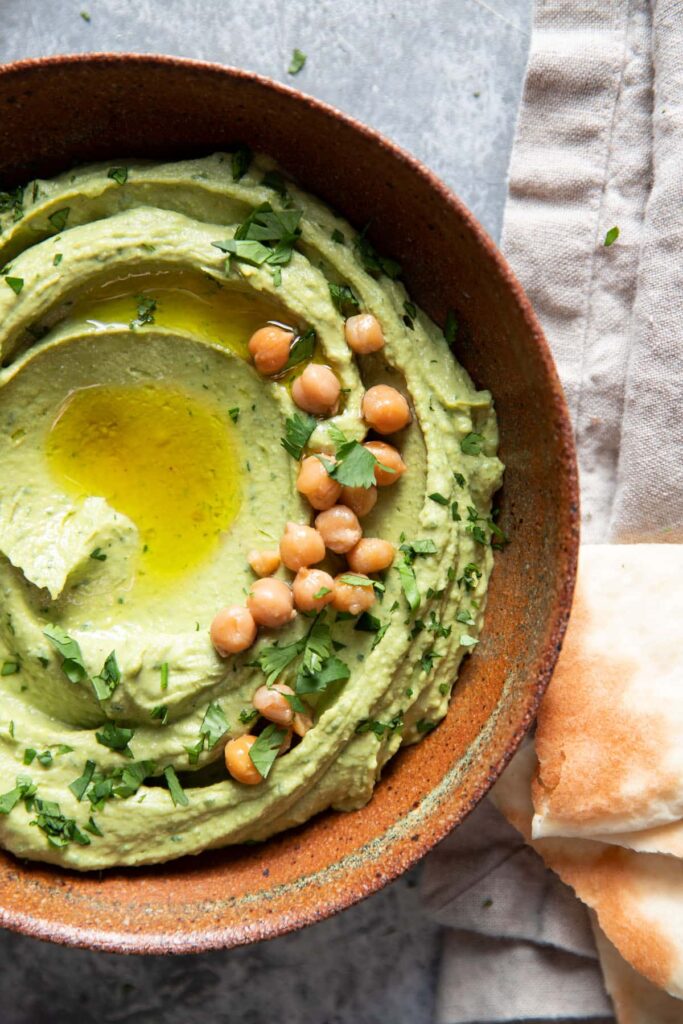 Ingredients In Hummus
All of the ingredients you'll need to make this cilantro jalapeño hummus.
This hummus is flavored with jalapeño, lemon juice and fresh cilantro. It's a little spicy and delicious.
garbanzo beans - these are also called chickpeas
water - used for simmering the chickpeas to soften them up prior to blending, you'll also need a bit of extra water if your hummus is too thick
baking soda - a tiny bit is used while simmering the chickpeas
cilantro - this fresh herb adds a lot of flavor and color, this is what is going to make your hummus that gorgeous green color
jalapeño - gives it the tiniest bit of spice
lemon juice - a bit of acid to give the hummus good flavor
lime juice - for flavor
garlic cloves - garlic makes everything better
tahini - paste made from sesame seeds, it's a big time ingredient in hummus
olive oil
cumin - a slightly spicy seasoning that pairs perfectly with jalapeño and cilantro
salt - to enhance the flavor
You'll also want to make sure you add salt because chickpeas are pretty bland.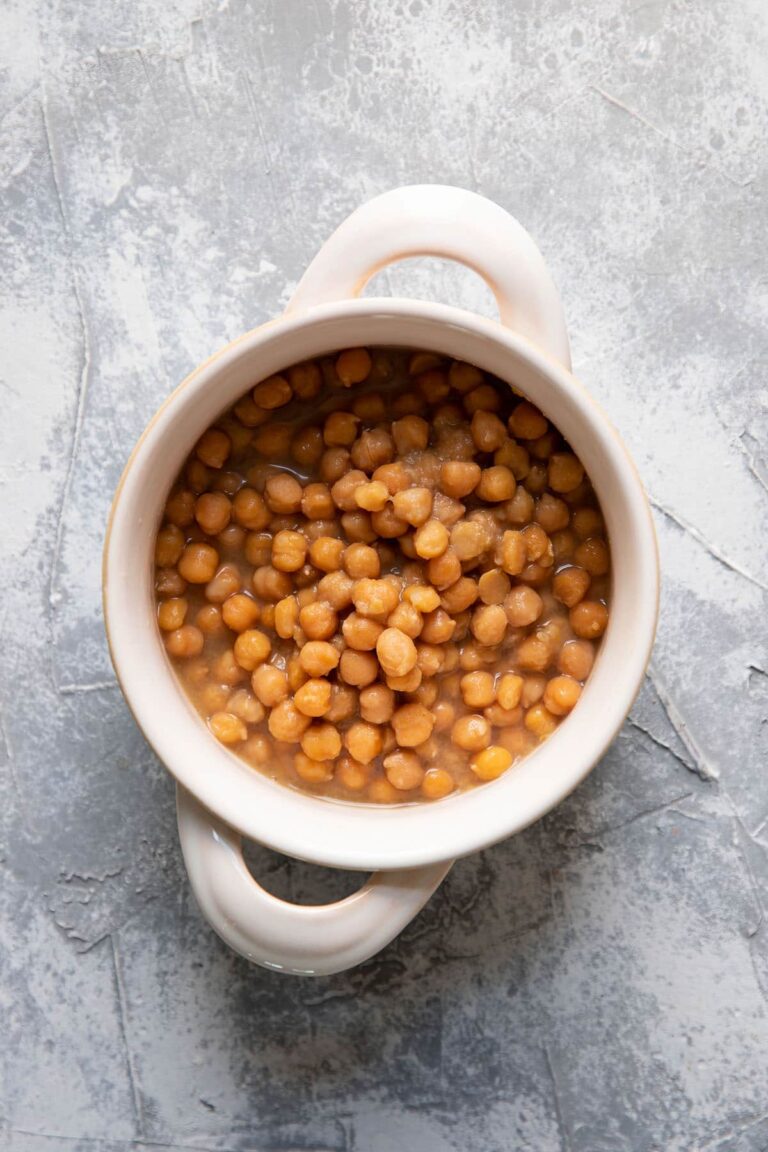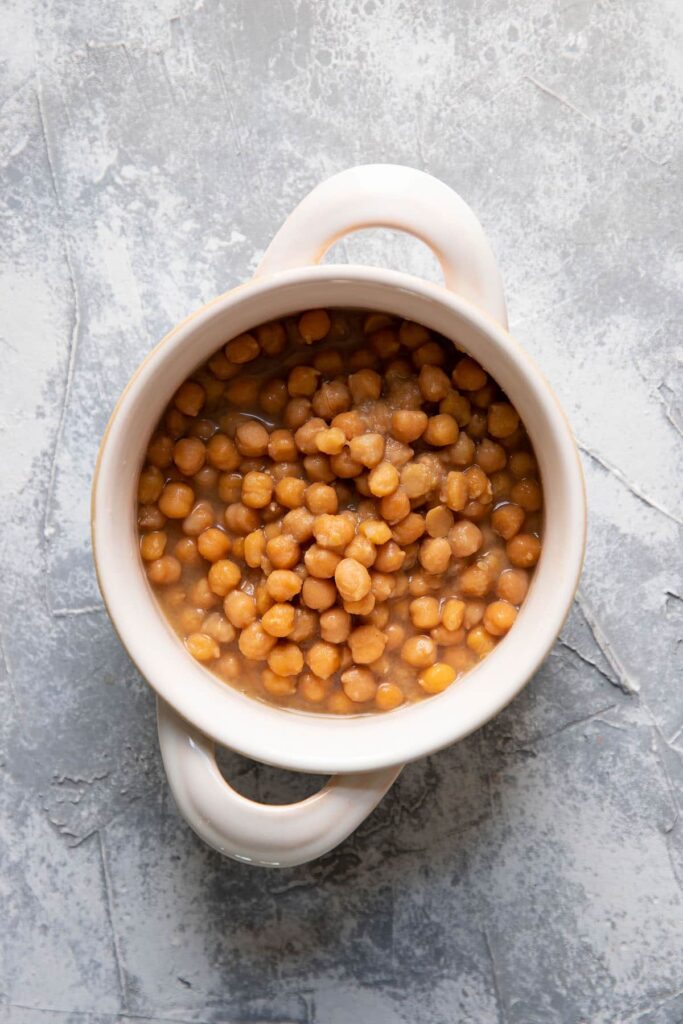 How To Make Hummus
Making homemade cilantro jalapeño hummus is easier than you'd think! You put all the ingredients in a blender.
I use a blendtec blender to make hummus because it comes out really smooth. But any blender will work.
Here's the gist of how to make hummus:
You simmer the chickpeas in water until they are soft enough to mash with a fork and the blend them up with other ingredients to give it all that delicious flavor.
One of my favorite recipes with chickpeas is this Italian chopped salad with crispy roasted chickpeas.
I really like making my own hummus. There's a few reasons why!
It can be healthier - you control what goes inside, a packaged hummus can have additives
Amount - you can make as much or as little as you want, half a recipe or double it!
Taste - I think homemade hummus tastes way better than store bought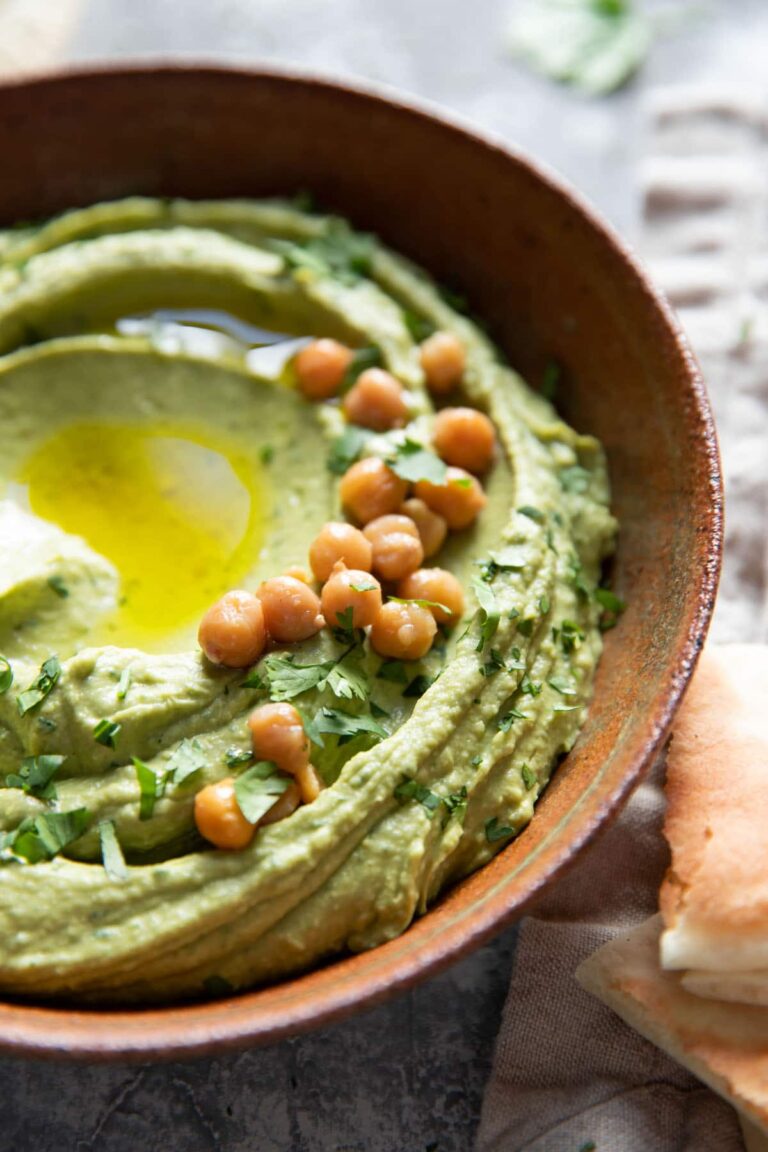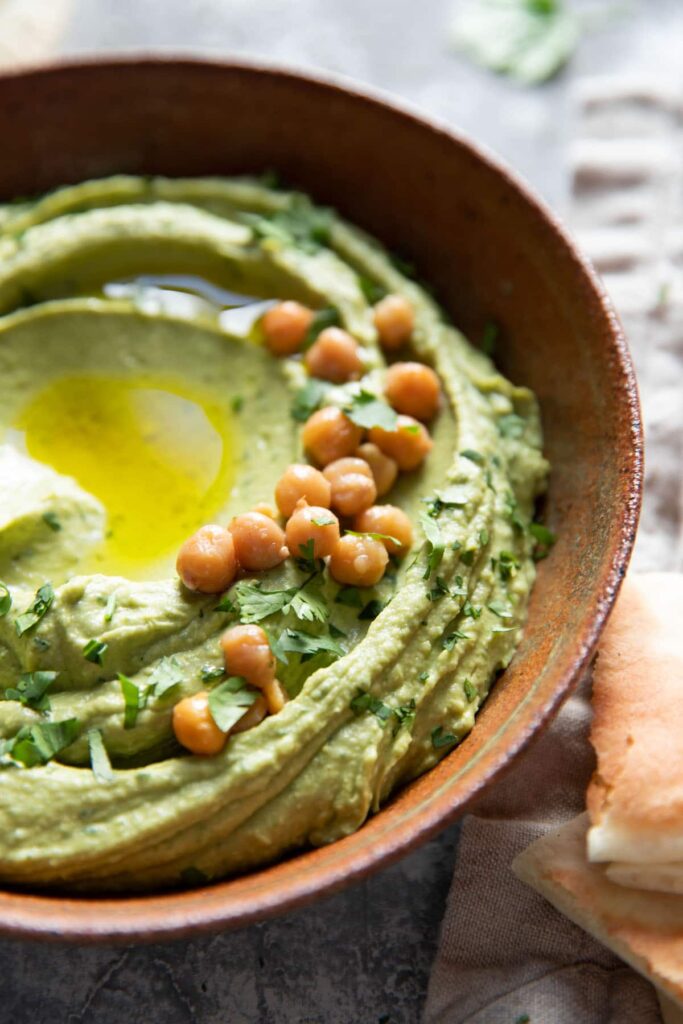 How To Get Really Smooth Hummus
A trick I've learned through the years is to heat the chickpeas on the stove with water and a tad bit of baking soda, this helps to soften them up.
And you want to cook them until they can easily be mashed with a fork. If you do that it will blend very smooth!
Another trick is to remove the chickpea shell. I've found that if you drain the chickpeas with a metal strainer you can toss them around to help loosen the shell.
The more you remove the smoother the hummus will be.
I love the smooth consistency and while you eat it you can't help but "mmmm" with every bite.
More Healthy Recipes To Try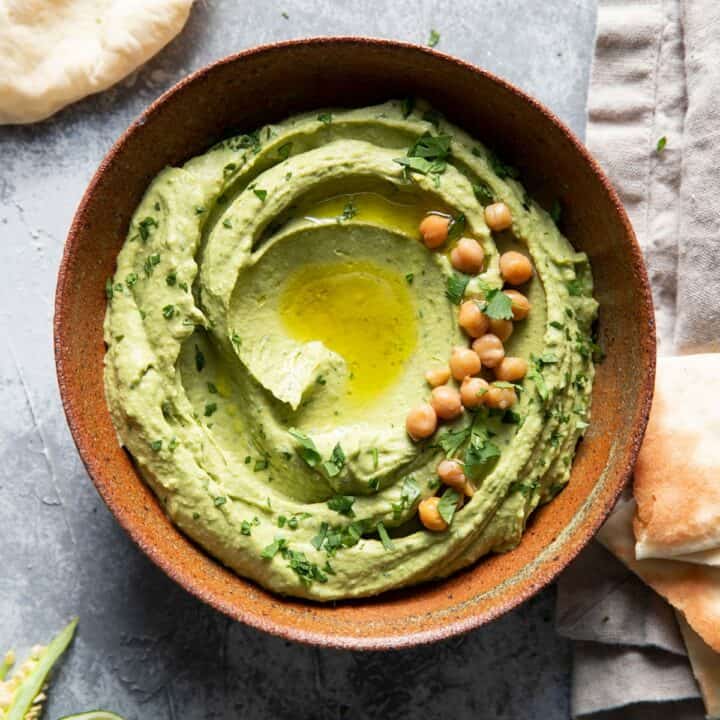 Cilantro Jalapeño Hummus Easy Homemade Recipe
Silky smooth hummus made with jalapeno, cilantro and lime juice. Inspired by Pita Jungle's popular Jalapeno Hummus.
Ingredients
1 can garbanzo beans, drained
2 c water, plus more if you want it thinner
½ tsp baking soda
½ bunch cilantro, stems removed
1 jalapeño, stem removed and seeded
juice of 1 lemon
juice of ½ lime
2 tbsp olive oil
3 garlic cloves, minced
¼ c + 1 tbsp tahini
¼ tsp cumin
¾ tsp salt
Instructions
In a small pot combine the drained garbanzo beans, baking soda and water; keep it at a rolling boil for 10-15 minutes.
The garbanzo beans are done when they can easily be mashed with a fork.
Using a blender add in the garbanzo beans, ½ cup of the water from the pot, tahini, olive oil, lime juice and lemon juice.
Blend.
Reserve the rest of the liquid
Add the rest of the ingredients to the blender and blend until smooth
For a thicker consistency use less water, for a thinner consistency (my preference) keep adding in more of the water
I prefer a pretty smooth consistency so I blend it for a few minutes. Transfer the hummus to a container and chill for at least 2-3 hours.
This will give it time to chill and the flavors to come together
Serve with some warm pitas and cucumber slices.
Nutrition Information:
Yield:

10
Serving Size:

1
Amount Per Serving:
Calories:

73
Total Fat:

3g
Saturated Fat:

0g
Trans Fat:

0g
Unsaturated Fat:

2g
Cholesterol:

0mg
Sodium:

318mg
Carbohydrates:

10g
Fiber:

2g
Sugar:

4g
Protein:

2g
This information comes from online calculators. Although moderncrumb.com attempts to provide accurate nutritional information, these figures are only estimates.