These s'mores cookie bars are the next best thing to a backyard campfire roast. All the same great flavors but less prep work. Loaded with chocolate chips, white chocolate chips, graham crackers and marshmallows. It's just like taking a big bite out of an ooey gooey s'mores.
Cookie bars are so easy to make! Just like these rocky road cookies bars and caramel apple bars.
This recipe was originally published on August 10, 2018. The recipe has not changed but the title was altered to reflect just how damn good these cookie bars are!!!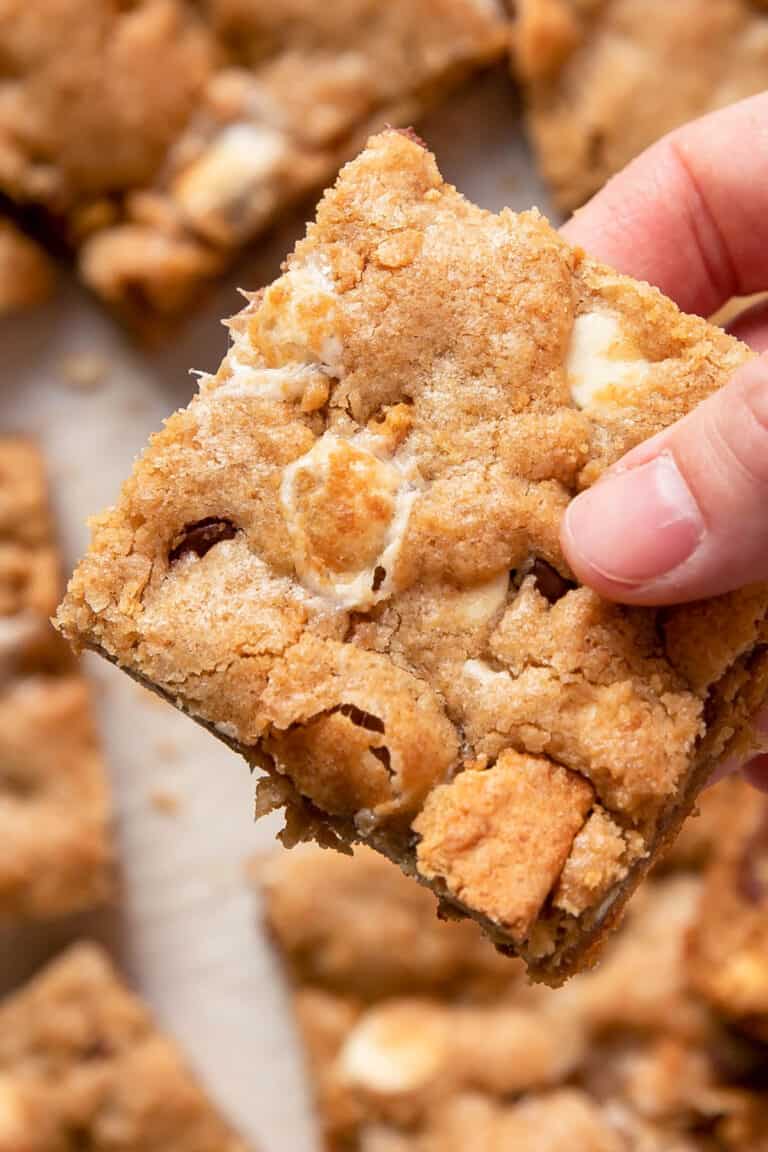 I want you to think of the most amazing cookies you've ever had. Got it?
Now, forget about it.
This easy s'mores cookie bar recipe will be your new favorite dessert! Everyone raves about this recipe, it is such a crowd pleaser!!
All your favorite ingredients like mini marshmallows, white chocolate chips, semi-sweet chocolate chips and chunks of graham crackers.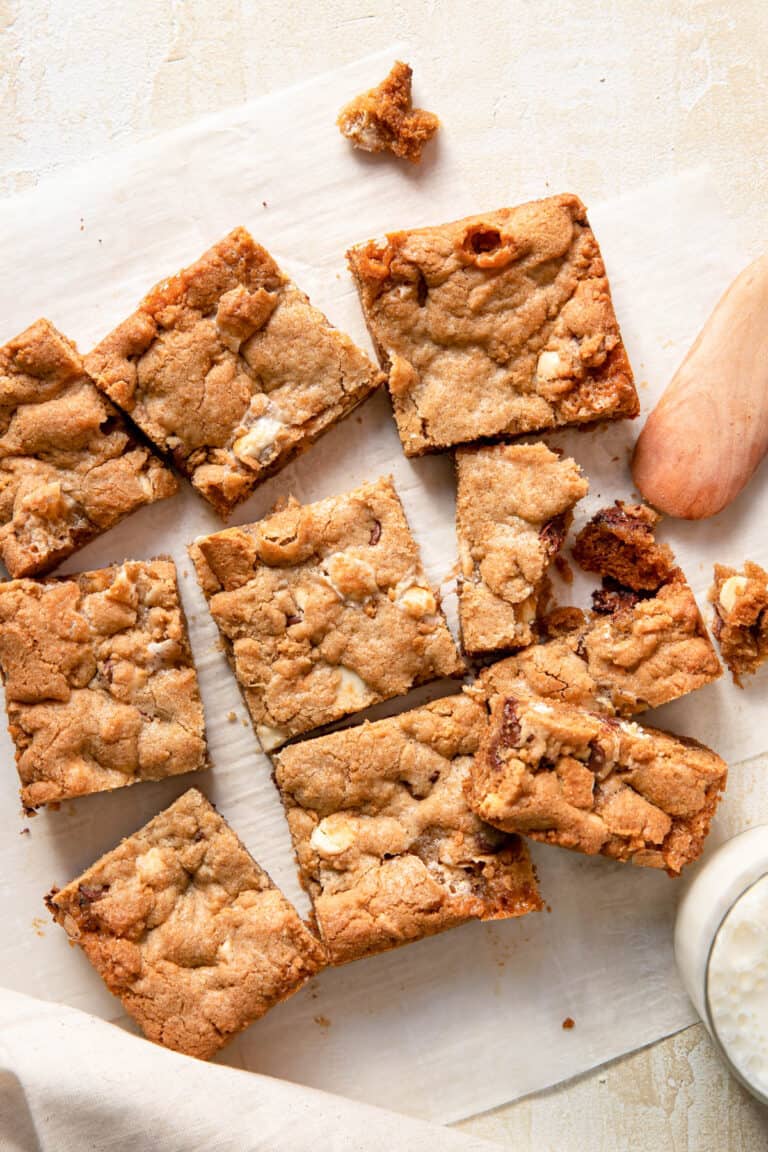 To get that real-life s'mores taste I take out a portion of the flour and replaced it with finely crushed graham crackers. That's the part that people are always trying to figure out, how exactly I got that s'mores taste into the cookie. Now you know my secret!
Cookies will never be the same. This is the way it's just meant to be my friends, the graham cracker base is amazing.
When I think of s'mores I think of sitting around a campfire, telling stories, singing songs and enjoying the company of my fellow marshmallow roasters.
But when you can't make that fire this is the next best thing. Even the girl scouts have a s'mores cookie now, so you know we are on to something here!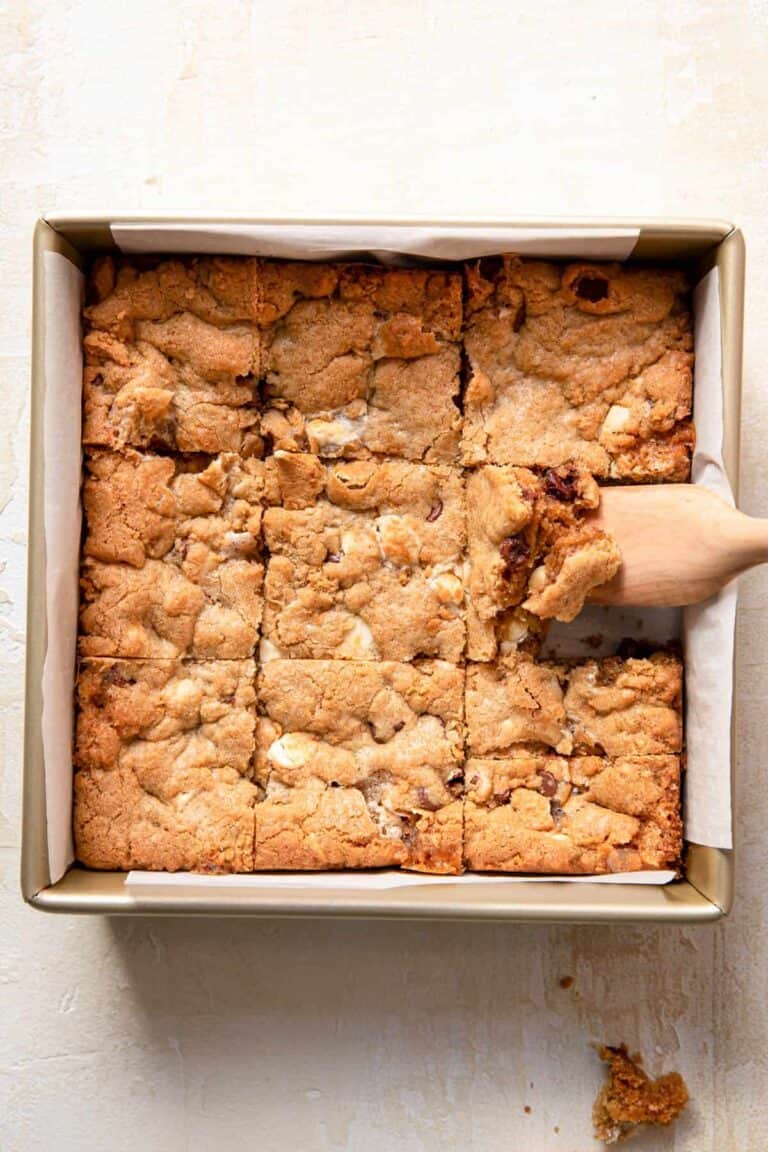 S'mores Cookie Bar Ingredients
Here's all the yummy extras inside of these cookies that give them that true s'mores flavor
graham crackers, pulsed - these get mixed in to the flour, substitute a bit of flour for pulsed graham crackers so the cookies really taste like a s'mores
graham crackers, crumbled - big chunks of graham crackers, gives you lots of graham cracker flavor, delicious!!
white chocolate chips - these give the cookies a nice sweetness
semi sweet chocolate chips - no s'mores is complete without chocolate
mini marshmallows - for the ooey gooey marshmallow goodness you have to have mini marshmallows
Baking With Marshmallows
I can't tell you how many times I've tried making cookies with marshmallows, it's a lot!
Honestly, it just doesn't always work, it can turn into a big glob of gooey marshmallow mess all over your cookie sheet.
I will say that these Mad Scientist Cookies actually stay in good form, these are the exception and some type of miracle.
If you think about a marshmallow, roasting over an open flame, it puffs up and expands. So when you bake them in the oven it's the exact same way.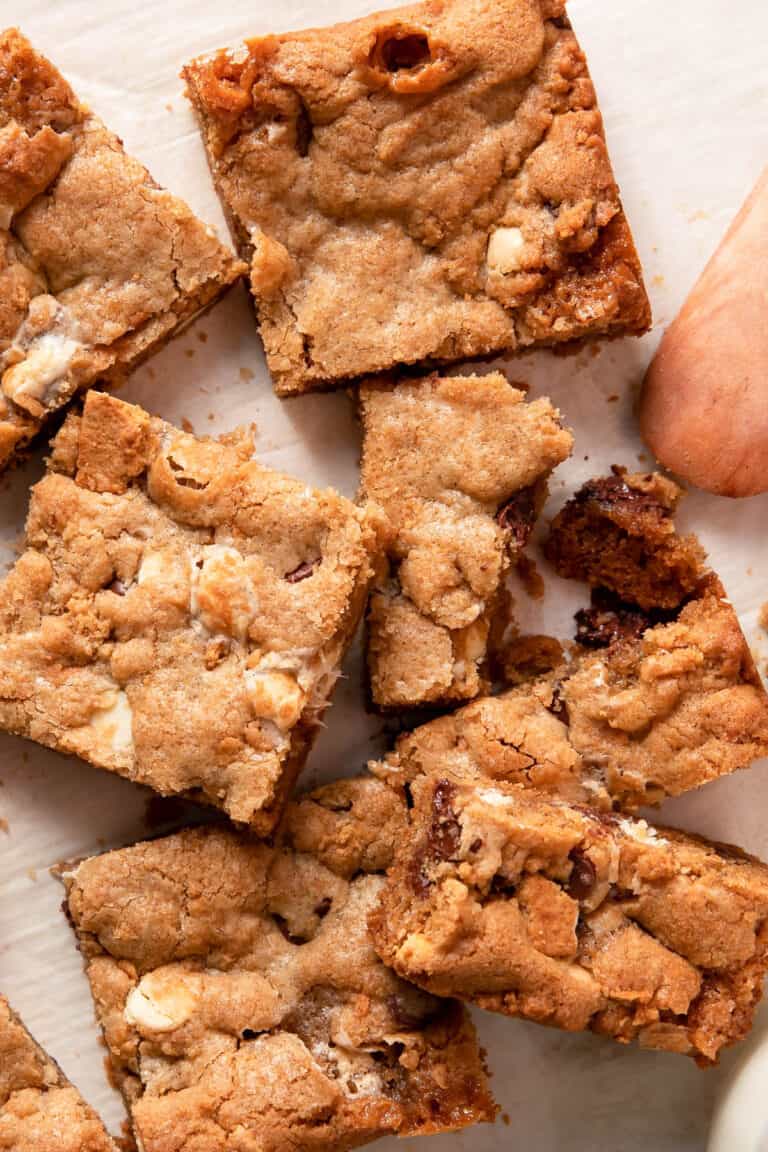 How To Make S'mores Cookie Bars
The easiest way (in my opinion) to make cookies is by making them in bar form! All you need is an 8x8 baking pan and some parchment paper.
Start by creaming together butter, white sugar and brown sugar. You are looking for a pale white color, almost like a whipped butter. Then add in the vanilla extract and egg. The egg will mix easier with the butter if you have a room temperature egg.
For the graham crackers, it's best to use a mini food processor. I love mine and use it for all sorts of recipes! Sift together (mesh colander works great) all the dry ingredients. Dump everything in to the bowl and mix together but not fully combined.
Add in the mini marshmallows, white chocolate chips, chocolate chips and chunks of graham crackers. Mix it all up.
For the 8x8 baking pan, line it with parchment paper so your s'mores cookie bars don't stick to the pan. Press the cookie dough in to the pan and bake for 20-22 minutes. Then let it cool in the pan before transferring to a wire rack to continue cooling.
If you want them extra extra chewy then you only need to let them cool briefly. But if you like your cookies to be more set up, than let them cool an hour.
You can cut these into bite size cookies, little finger food size. Or you can leave them giant cookie bar size and cut them into 9 or 12 squares. I think 16 squares is the perfect size for an individual portion.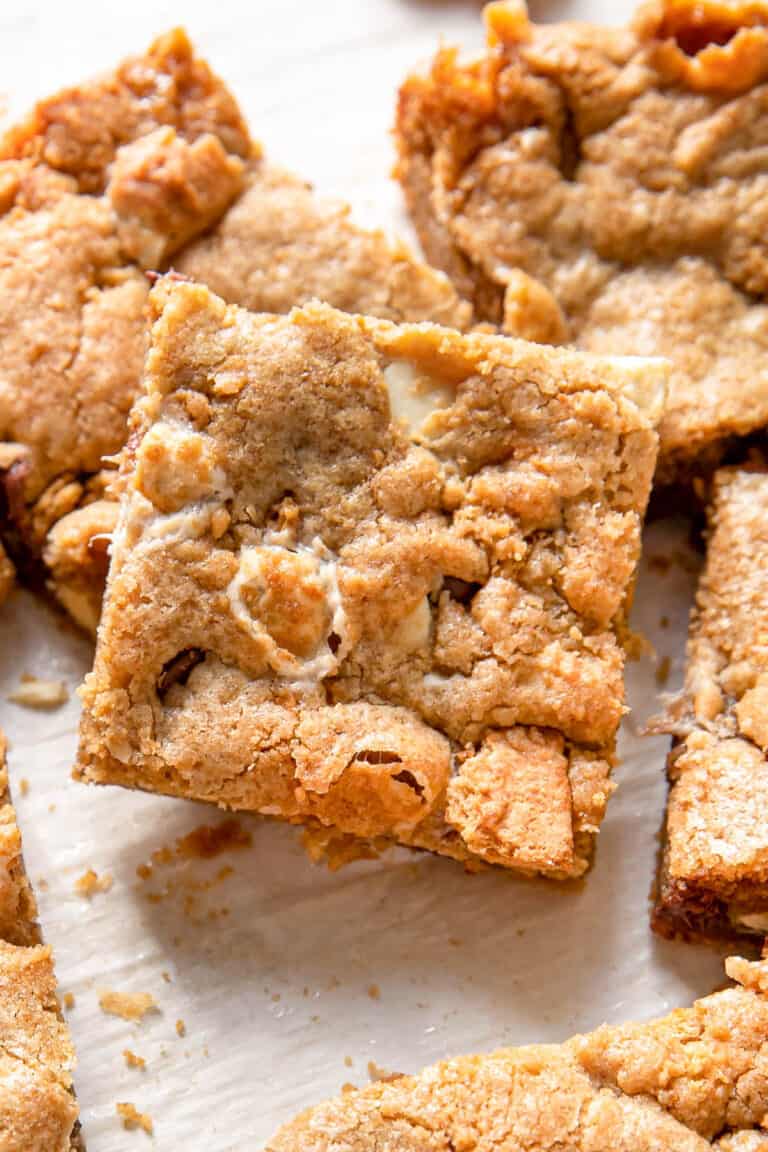 FAQ
Can I make s'mores cookie bars like a drop cookie?
No, because the marshmallows will expand and be all over the baking sheet. Cooking them in a square pan allows the marshmallows to expand without getting stuck to the bottom of a cookie sheet.
Can I substitute different chocolate chips?
Of course! Get creative.
Can I make s'mores cookie bars gluten free?
With gluten free alternatives to the flour and graham crackers, you can. I've had multiple friends have success in making these gluten free.
What size pan do you need to make s'mores cookie bars?
You will need an 8x8 baking pan to make the cookie bars.
My s'mores cookies aren't gooey, what happened?
Make sure to use the correct amount of brown sugar. Brown sugar has more moisture in it than white, which gives cookies the gooey texture. If you only use only white sugar then you get a crispy cookie that isn't as chewy ooey and gooey.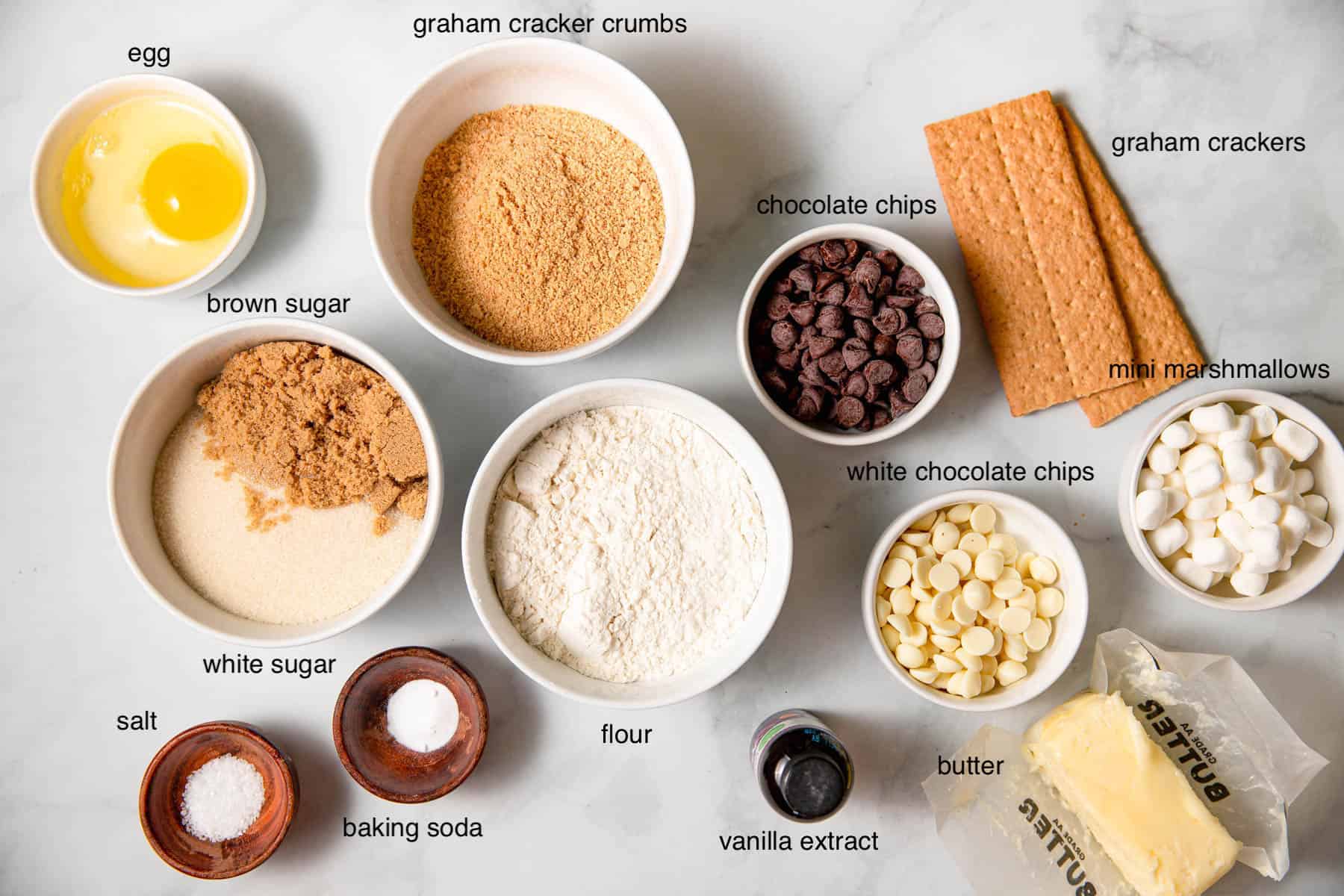 More Cookie Recipes
Damn Good S'mores Cookie Bars
These s'mores cookie bars are the next best thing to a backyard campfire roast. All the same great flavors but less prep work. Loaded with chocolate chips, white chocolate chips, graham crackers and marshmallows. It's just like taking a big bite out of an ooey gooey s'mores.
Ingredients
1/2 c butter
1/2 c white sugar
1/2 c brown sugar
1/2 tsp vanilla
1 egg
1/2 c graham crackers, about 5 crackers
1 c flour
1/2 tsp baking soda
1/2 tsp salt
1/3 c white chocolate chips
1/3 c semi sweet mini chocolate chips
1/2 c mini marshmallows
2 graham crackers, rough chopped
Instructions
Preheat oven to 350
Line a square baking pan with parchment paper
Using a mini food processor add the 1/2 c graham crackers and pulse until the consistency is fine, like flour
Cream butter and sugar on medium speed for 3 minutes
Add the vanilla and egg, mixing
Use a fine mesh colander to sift the flour, graham cracker crumbs, salt and baking soda over the bowl
Stir
Add the white chocolate chips, semi sweet chocolate chips, mini marshmallows and the 2 graham crackers that were rough chopped
Mix on low speed until just combined
Spread the batter evenly into the lined baking pan, pressing the batter down evenly
Bake for 20-22 minutes
Let cool on a wire rack for 1 hour prior to cutting
Remove the cookies by lifting up on the parchment paper
Set it on a cutting board and cut into squares
Serve
Notes
Measure the inner width of the baking pan, cut two pieces of parchment paper that are each that width, lay one down and then lay the other going to opposite direction.
By adding the dry ingredients plus the add-ins all at the same time you cut down on the possibility of overmixing the batter.
Recommended Products
As an Amazon Associate and member of other affiliate programs, I earn from qualifying purchases.
Nutrition Information:
Yield:

16
Serving Size:

1
Amount Per Serving:
Calories:

196
Total Fat:

9g
Saturated Fat:

5g
Trans Fat:

0g
Unsaturated Fat:

3g
Cholesterol:

28mg
Sodium:

198mg
Carbohydrates:

28g
Fiber:

1g
Sugar:

18g
Protein:

2g
This information comes from online calculators. Although moderncrumb.com attempts to provide accurate nutritional information, these figures are only estimates.