Mad scientist cookies are just as the name says! It's like a mad scientist dumped all sorts of goodies into a bowl and made cookies. These cookies have m&m's, oreos and marshmallows in them.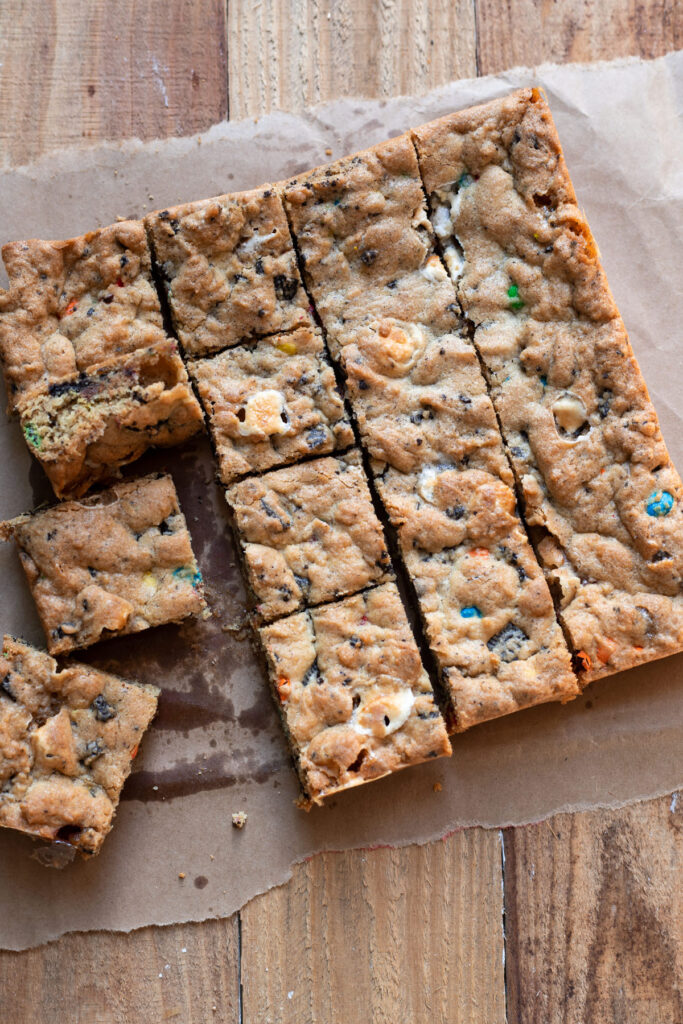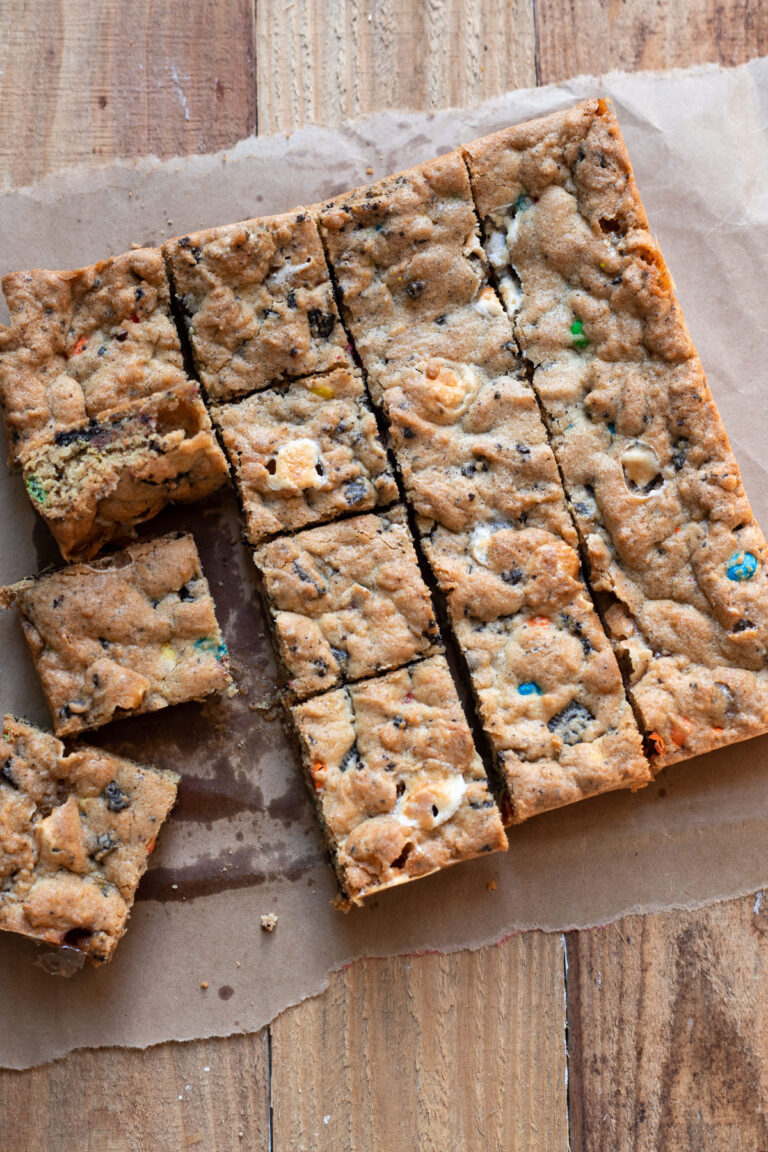 Mad scientist cookies are cookie bars filled with marshmallows, oreos and mms. The perfect mishmash of sweets for a special treat.
These mad scientist cookies were such a hit a few weeks ago when my son and I made them. The idea behind them was all him. 
We were having a new front door put in, the heavy duty all iron type and it was nonstop noise for hours so I thought a fun distraction would be a good idea.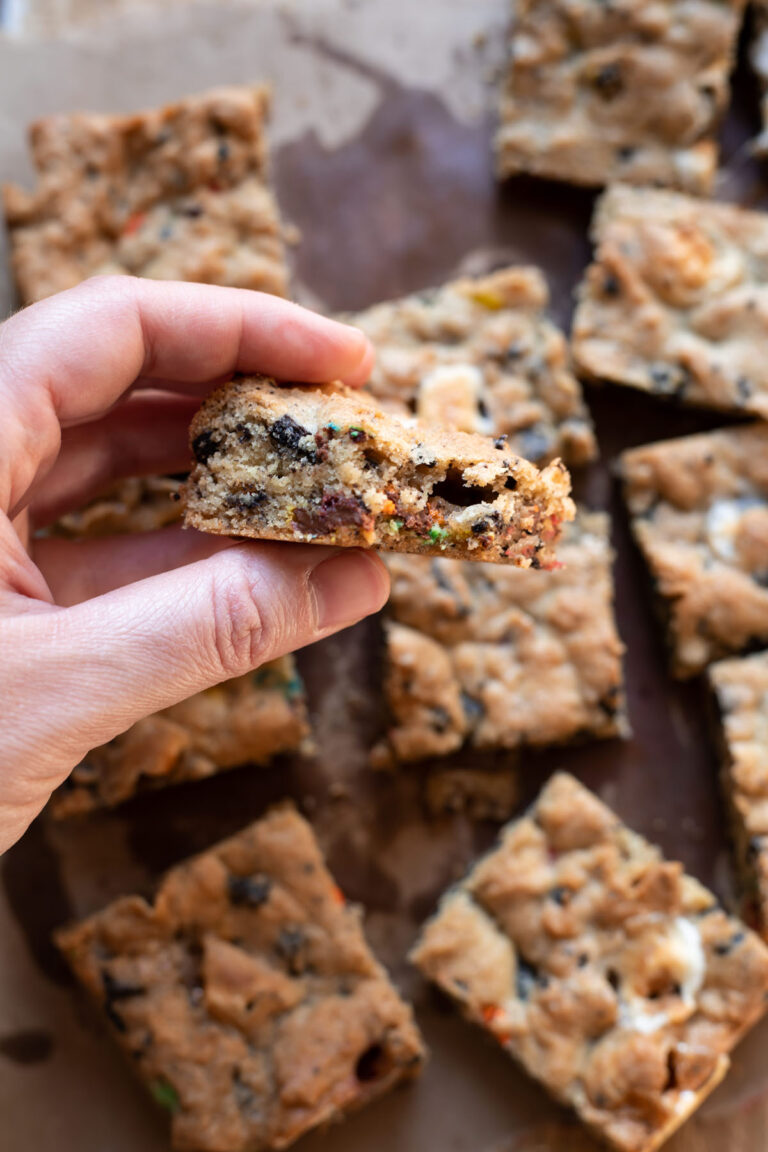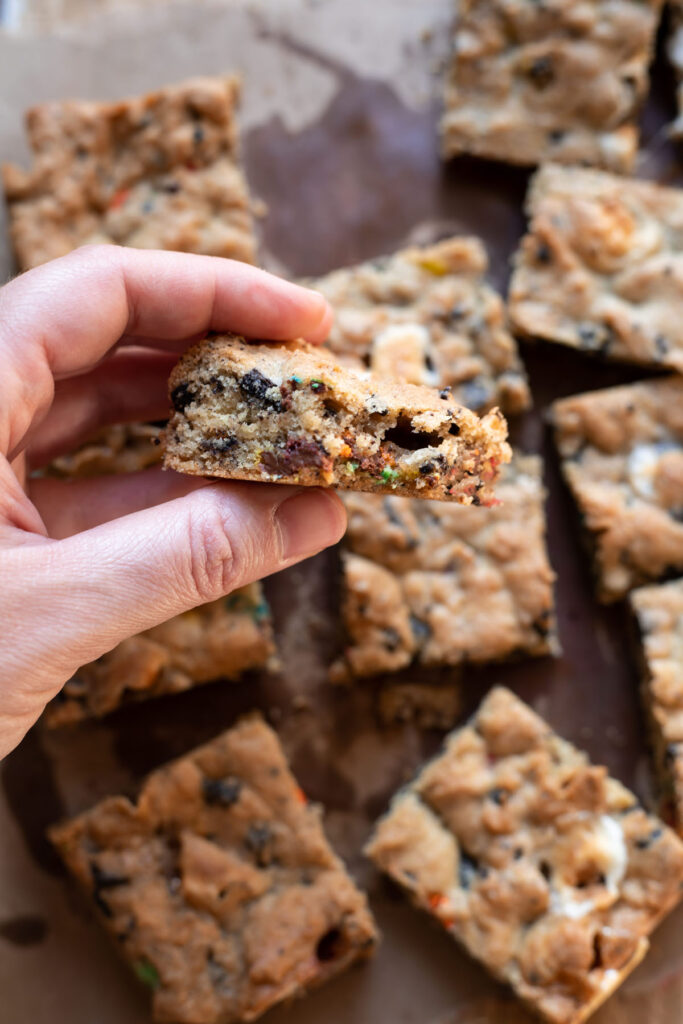 *updated 5/13/19. We now make them as cookie bars, which is better for the marshmallows!
It pretty much went like this:
Me: Colin do you want to go make cookies? (as if there was any answer but yes)
Colin: yes! cookies! (followed by a rambling of all the flavors he wanted)
Me: What do you want to put in them?
Colin: m&m's! marshmallows! chocolate! cake! sprinkles!
We scoured the pantry for supplies. I had a lot of treats from the previous week, my girlfriends came over and we made caramel apples and watched (talked throughout) Hocus Pocus.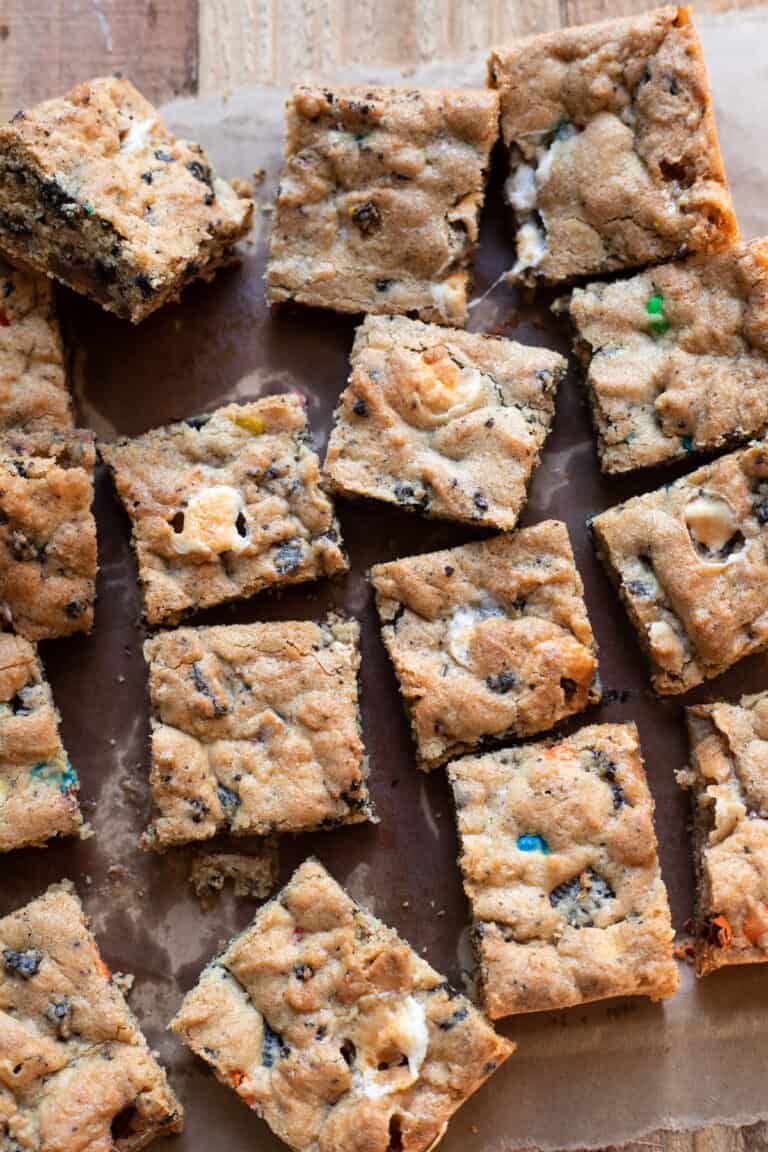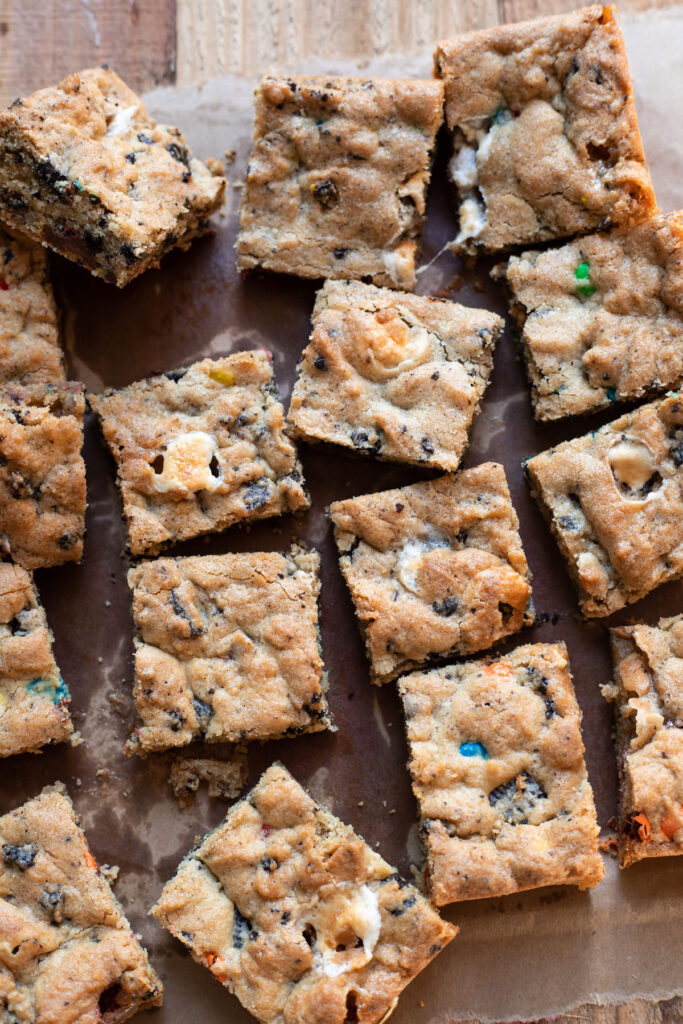 Colin wound up picking out m&m's, mini marshmallows and oreos for the cookies. 
It was a shot in the dark if this mixture would work. A few scenarios started running through my head.
First, was that when it bakes it could be a big flat blob of goop.
Second that they would completely stick (story of my life) to the pan and we couldn't pry them out.
Or third I'm not a baker I have no clue what I am doing.  In the end, all was good.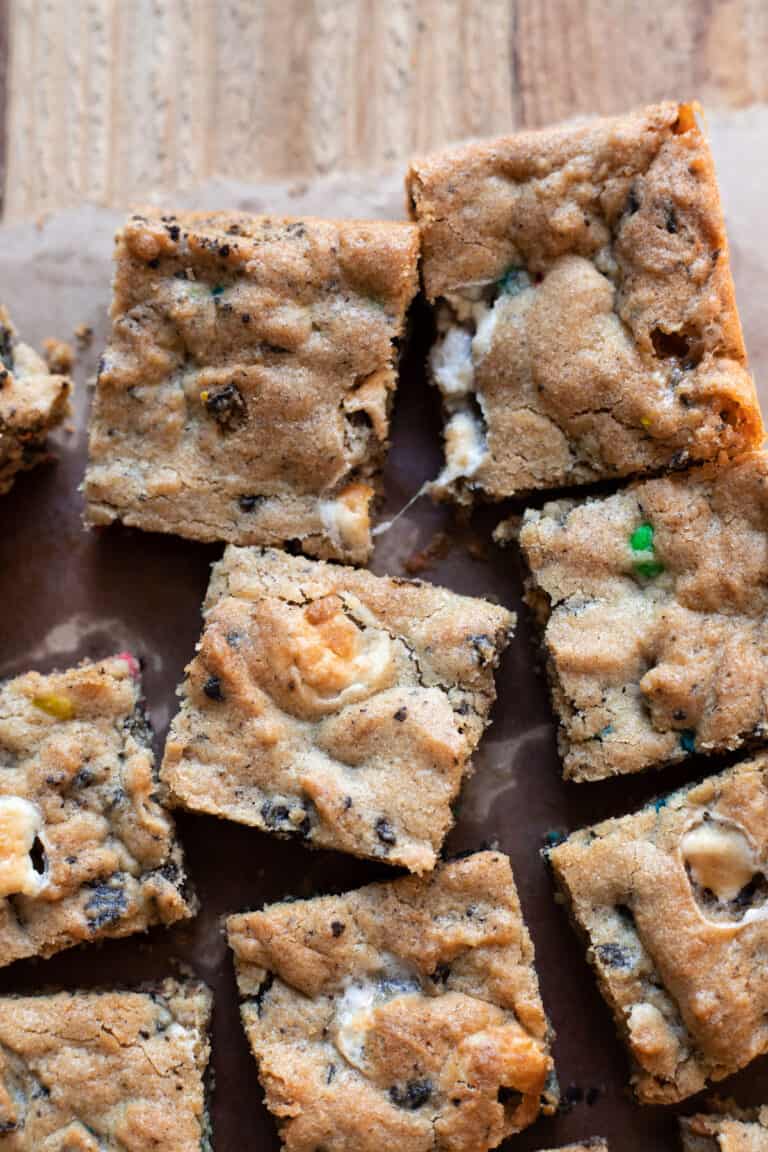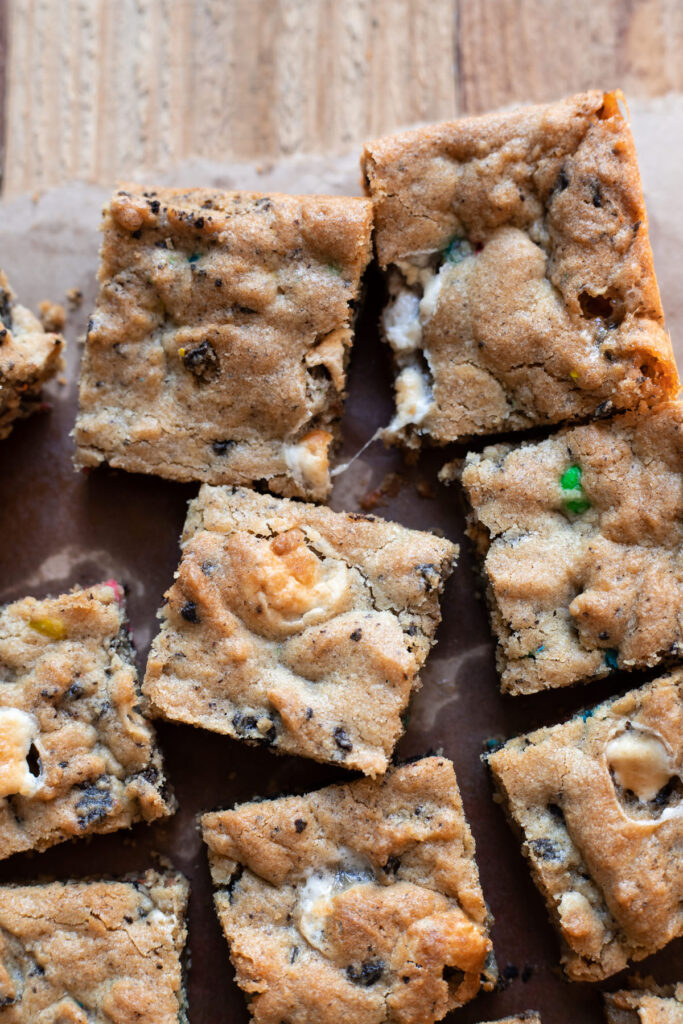 I have to tell you...these were awesome!  They were chewy and delicious and with each bite you got a little taste of each ingredient. 
I kept the oreos pretty chunky, I suggest this.  
If you can believe it, we ate the entire batch (with some help from a few friends)!  I'm pretty sure I went to boxing that night, working hard for all my cookie eating sins.
More Cookie Recipes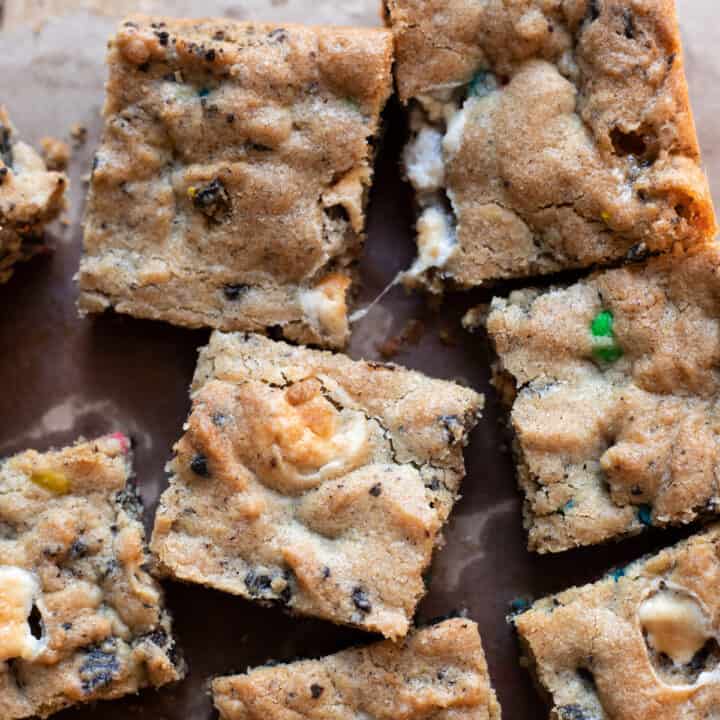 Mad Scientist Cookies
Scrumptious cookie bars filled with marshmallows, oreos and m&ms. The perfect mishmash of sweets for a special treat.
Ingredients
1 stick butter, 8 tbsp
⅓ c white sugar
⅓ c brown sugar
¾ tsp vanilla
1 egg
1 ⅓ c flour
½ tsp salt
½ tsp baking soda
½ c mini marshmallows
4 oreo cookies, chopped coarsely
¼ c mini m&ms
Instructions
Preheat oven to 375
Cream butter and sugar in the bowl of a stand mixer on medium unit light and fluffy
Scrape the sides of the bowl
Add in the egg and vanilla, mix until combined
In a separate bowl combine the dry ingredients
Add these to your sugar mixture, along with the marshmallows, m&ms and oreos
Mix on low just until incorporated.
Line a square baking pan with parchment paper and fill with the cookie dough, using your hands to spread it to the edges
Bake for 20 minutes
Cut into squares and serve!
Nutrition Information:
Serving Size:

1 grams
Amount Per Serving:
Unsaturated Fat:

0g