Crunchy on the outside, soft in the middle, these homemade iced oatmeal cookies will have you feeling nostalgic. Baking these cookies will fill your house with the most amazing oatmeal, brown sugar, cinnamon and nutmeg smell.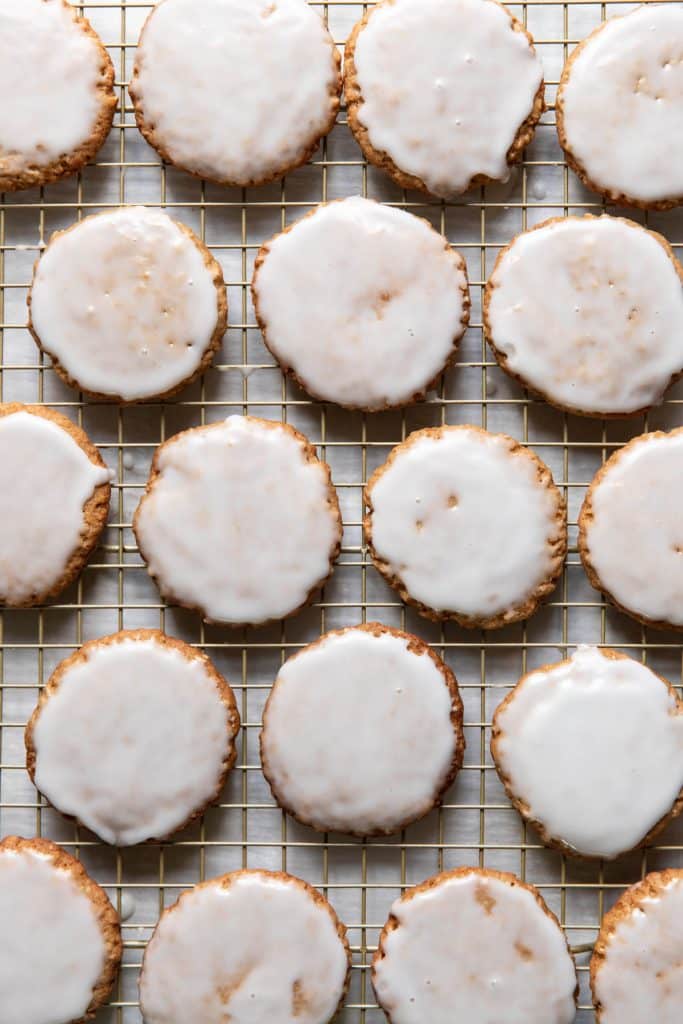 If you've ever had an iced oatmeal cookies then you'll know exactly what these are. You probably can even taste them just reading the title!
It always reminds me of the package of mother's cookies, with the purple and pink stripes on it. The packaging is so easy to spot, so you just knew if mom bought some.
But if you've never had one here's what you can expect. Think of a cookie very similar to an oatmeal raisin, minus the raisins and not as chewy. These also have a layer of icing on top of them.
For the classic texture you'll need to grind up some of the oats and leave some whole. I like mine less chunky but you can really control your cookies, if you want them smoother then grind your oats more but if you want them chunkier than leave more whole oats.
And if you love cookies with oats, like I do, then these soft and chewy monster cookies are just for you.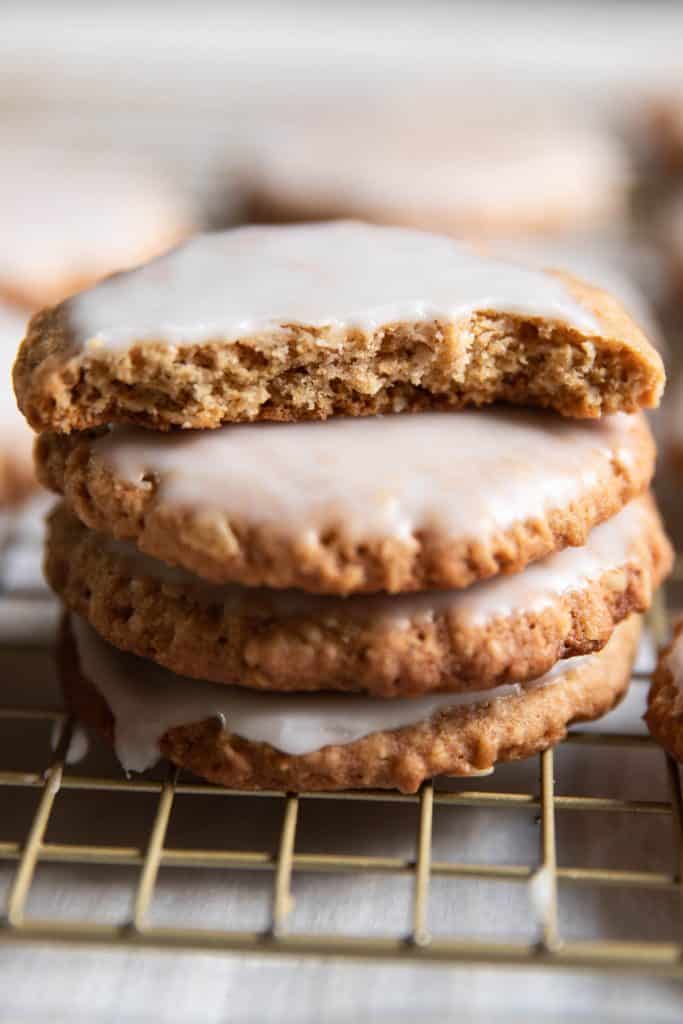 How To Make The Oatmeal Cookie Dough
These cookies come together like any other traditional cookie.
They are so easy to make! Despite looking a bit intimidating, I think it's because they have icing on top but I promise they are easy as long as you follow the instructions and the helpful photos.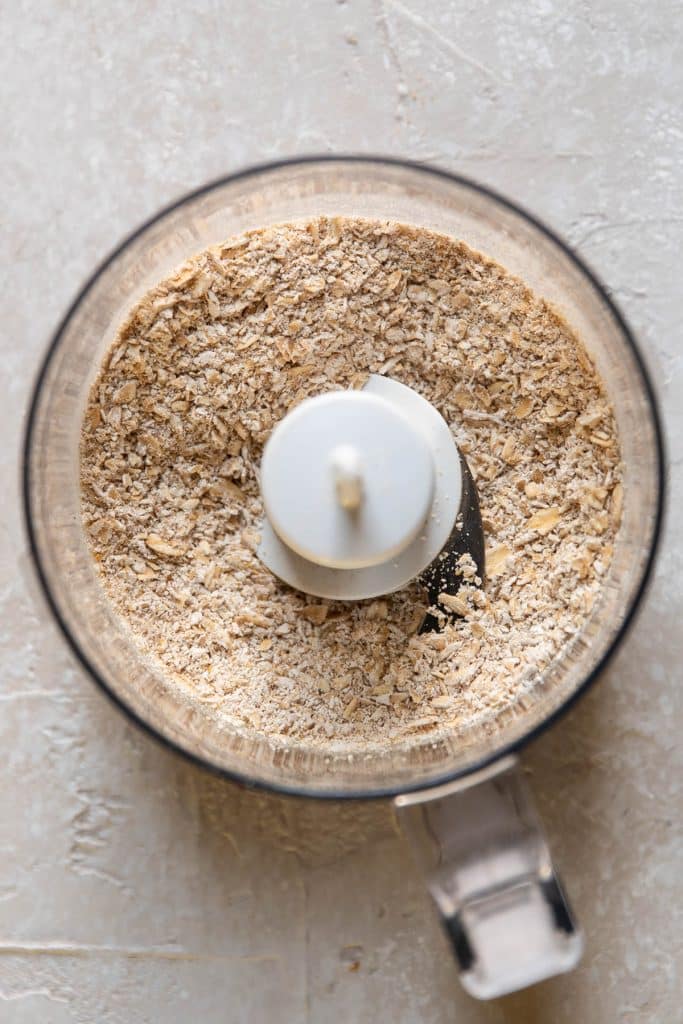 Obviously you'll need some oats. Not the quick oats, just the traditional. One thing different you do with these cookies versus an oatmeal raisin cookies is pulsing the oats in a food processor.
Now if you don't have a food processor you can chop them with a knife it may take you a bit longer and you won't get the oats as ground up but it will still work.
I like all of the oats pulsed well. But if you favor a chunkier cookie you can leave some of the oats whole.
Then mix into your cookie dough.
How To Shape The Iced Oatmeal Cookies
You will need to shape these cookies. If you just plop them on your baking sheet they will turn out like a chocolate chip cookie, puffy on top.
The first step is to roll the cookie dough into a ball. Line them all up on a parchment paper lined baking sheet, so they don't stick.
Use a small square piece of parchment paper, lay it on top of a cooking dough ball and use the bottom of a flat glass or a measuring cup to press down.
This will give your cookies the nice flat round shape just like the store bought ones.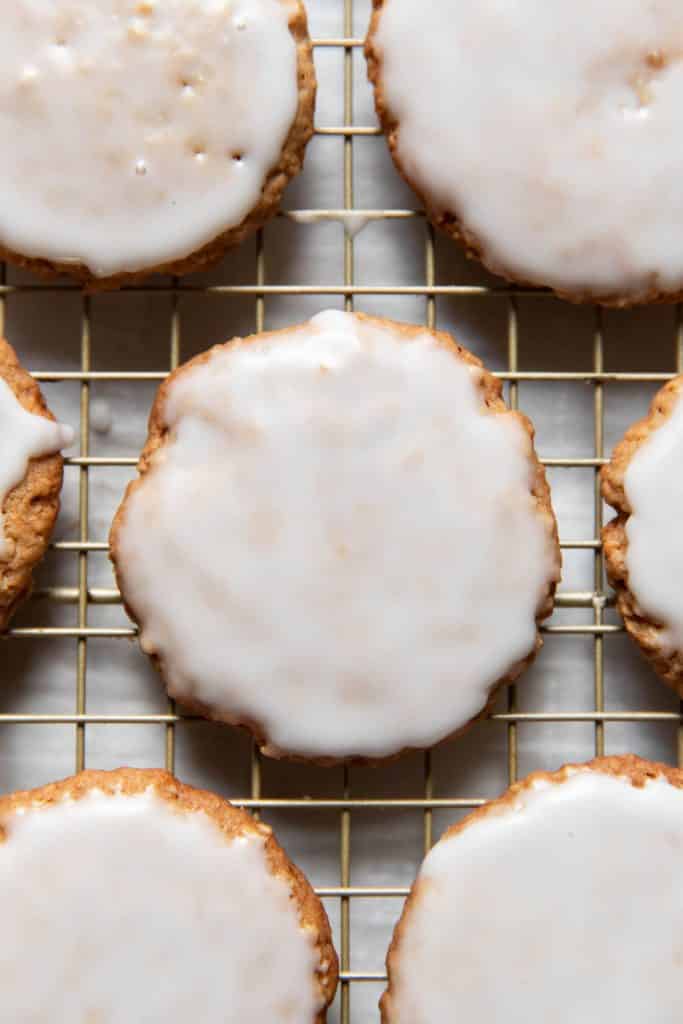 The Glaze For Iced Oatmeal Cookies
To make the icing glaze for the cookies you'll need powdered sugar and milk. I told you this was easy!
Add one cup of powdered sugar to a bowl with 1 tablespoon of milk. Use a whisk to stir it until there are no more lumps.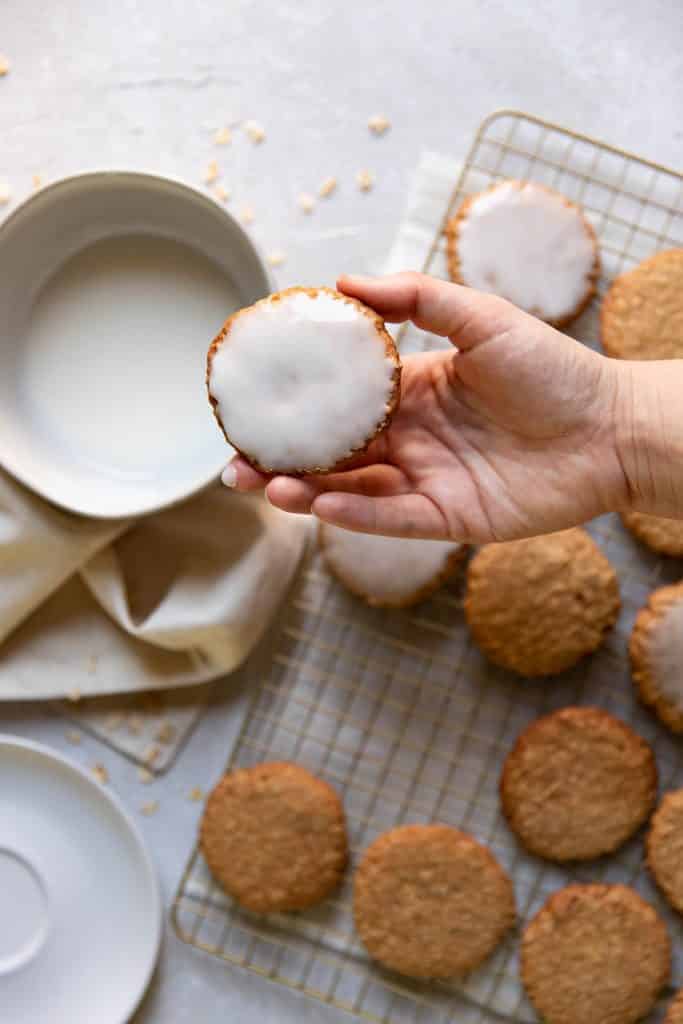 It's going to start off very thick, don't add more milk than you need, just wait until it's all combined. Add one more teaspoon of milk and this should give you the perfect consistency.
For some extra spicy flavor you can sprinkle in a bit of ginger honey crystals, made by Prince of Peace Ginger. You just shake some into the icing, stir it around it will melt! I love ginger flavors during the holidays.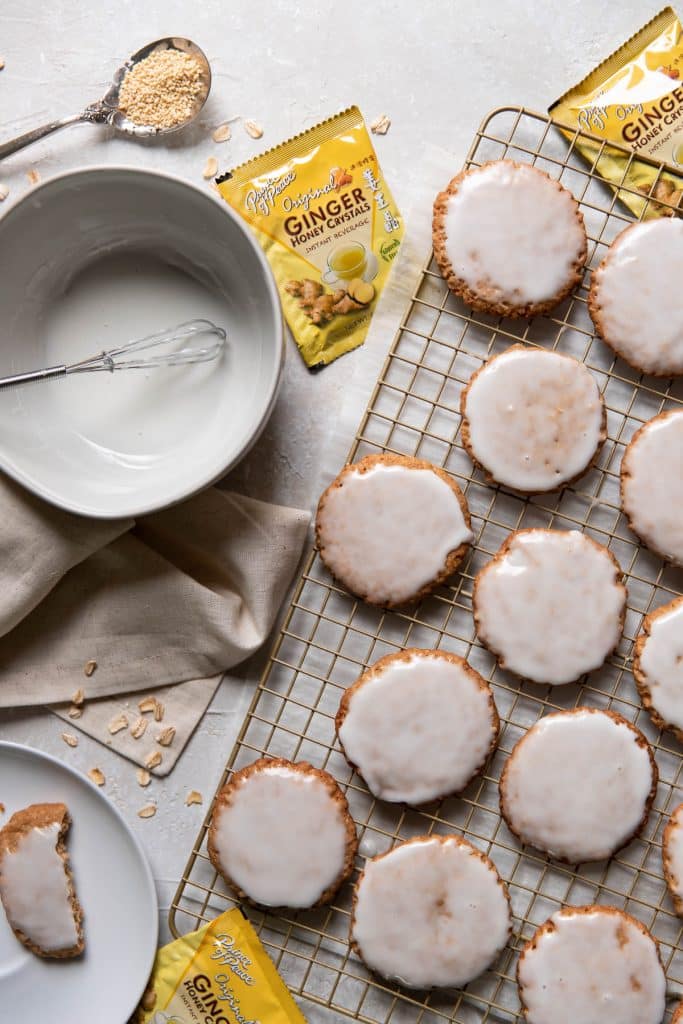 To ice the cookies you need to wait until they have cooled out of the oven.
Hold a cooking in your hand and gently press it into the icing glaze, lift straight up and let any excess icing drizzle off.
Transfer them to a wire rack to cool. It takes about an hour to harden.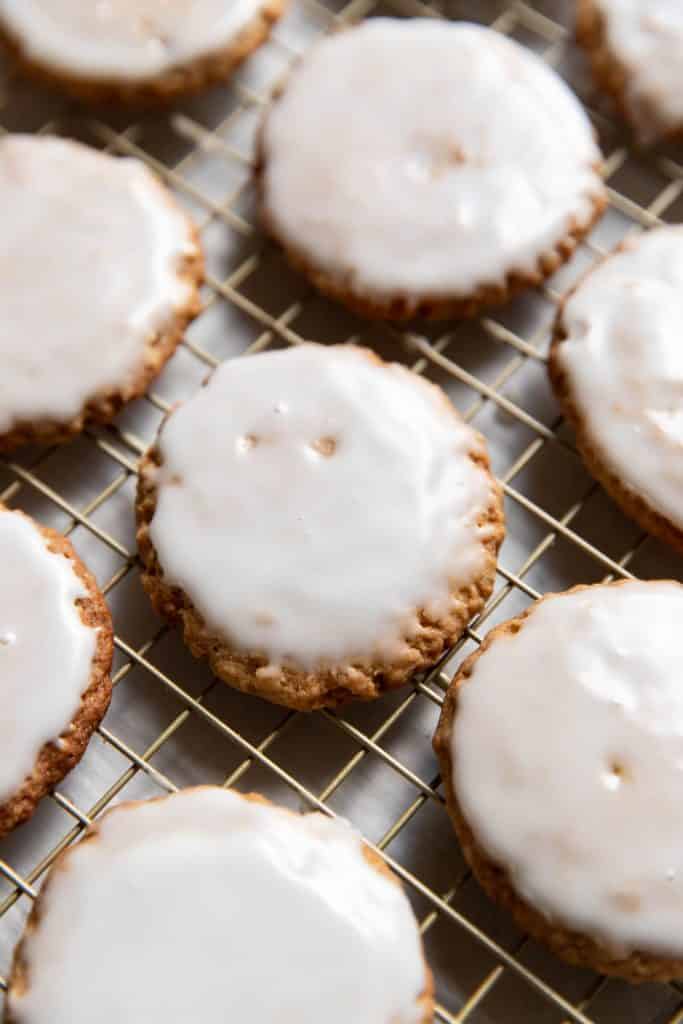 More Recipes
Iced Oatmeal Cookies
Crunchy on the outside, soft in the middle, these homemade iced oatmeal cookies will have you feeling nostalgic. Baking these cookies will fill your house with the most amazing oatmeal, brown sugar, cinnamon and nutmeg smell.
Ingredients
1

c

oats

pulsed

1

c

flour

1/2

tsp

baking soda

1/2

tsp

salt

1/2

tsp

cinnamon

1/8

tsp

nutmeg

1/2

c

butter

1/4

c

white sugar

1/2

c

brown sugar

1/2

tsp

vanilla

1

egg

1

c

powdered sugar

1

tbsp

+ 1 tsp milk

Sprinkle of prince of peace ginger crystals
Instructions
Preheat oven to 350

Cream together the butter, white sugars s brown sugar

Mix in the vanilla and egg

Stir until the egg is fully combined

Use a food processor to blend the oats, pulse until they are mostly chopped

In a separate bowl sift together the flour, baking soda, salt, cinnamon and nutmeg

Add the dry ingredients and oats to the wet

Mix

Use a cookie scoop and roll into balls

Use the bottom of a glass to press the cookie dough balls between two pieces of parchment paper

Arrange on a cookie sheet lined with parchment paper

Bake 8-10 minutes

To make the glaze whisk together the powdered sugar and milk (sprinkle in some honey ginger crystals for a ginger taste)

Pull cookies from oven

Cool and dip one side in the glaze

Let dry

Serve
Did you make this recipe? Please leave a review!