These overnight cinnamon rolls are perfect for the holidays! Prepare them the day or night before and then bake the cinnamon rolls the following day. Soft, fluffy and full of cinnamon, plus a thick cream cheese frosting slathered on top.
This recipe was first published on 09/29/2021.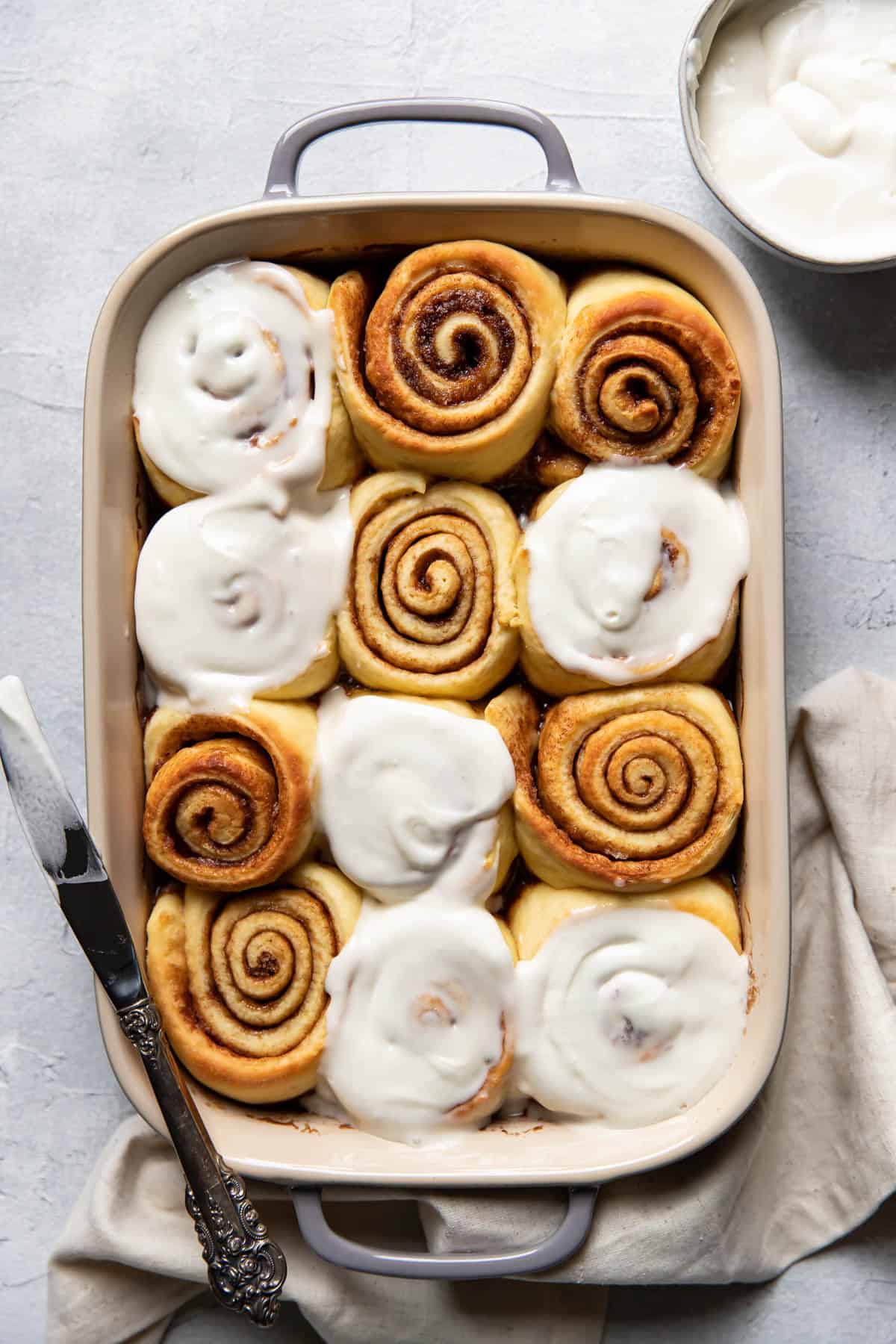 Our Christmas morning tradition is always egg, cheese and ham breakfast sandwiches on buttermilk biscuits and big fluffy cinnamon rolls. This is our yearly tradition that we've been doing for the last 15 years!
But if you are like me the last thing you want to do is spend hours in the kitchen the morning of when you'd rather be hanging out with family.
These overnight cinnamon rolls are the solution to that.
You can prepare them up to 24 hours before you want to bake them and they will turn out just as perfect as if you made them the same day.
Jump to: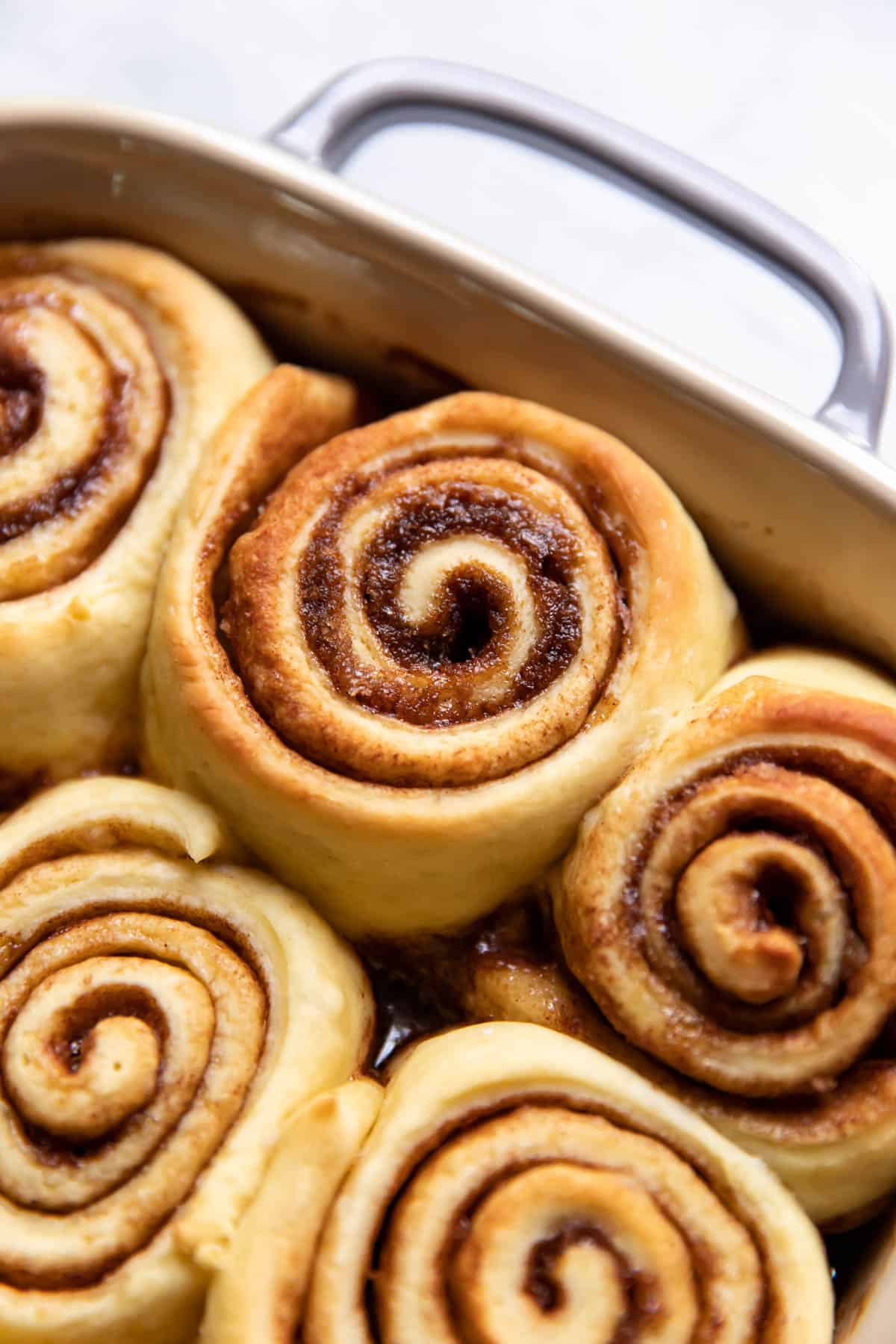 Ingredients
The full list of ingredients and the instructions are below in the recipe card, but here is a quick overview of what you will need.
milk
active dry yeast
butter
all purpose flour
egg and an egg yolk
cane sugar - can also use white sugar in place of cane sugar
brown sugar
cinnamon
cream cheese
powdered sugar
vanilla extract
kosher salt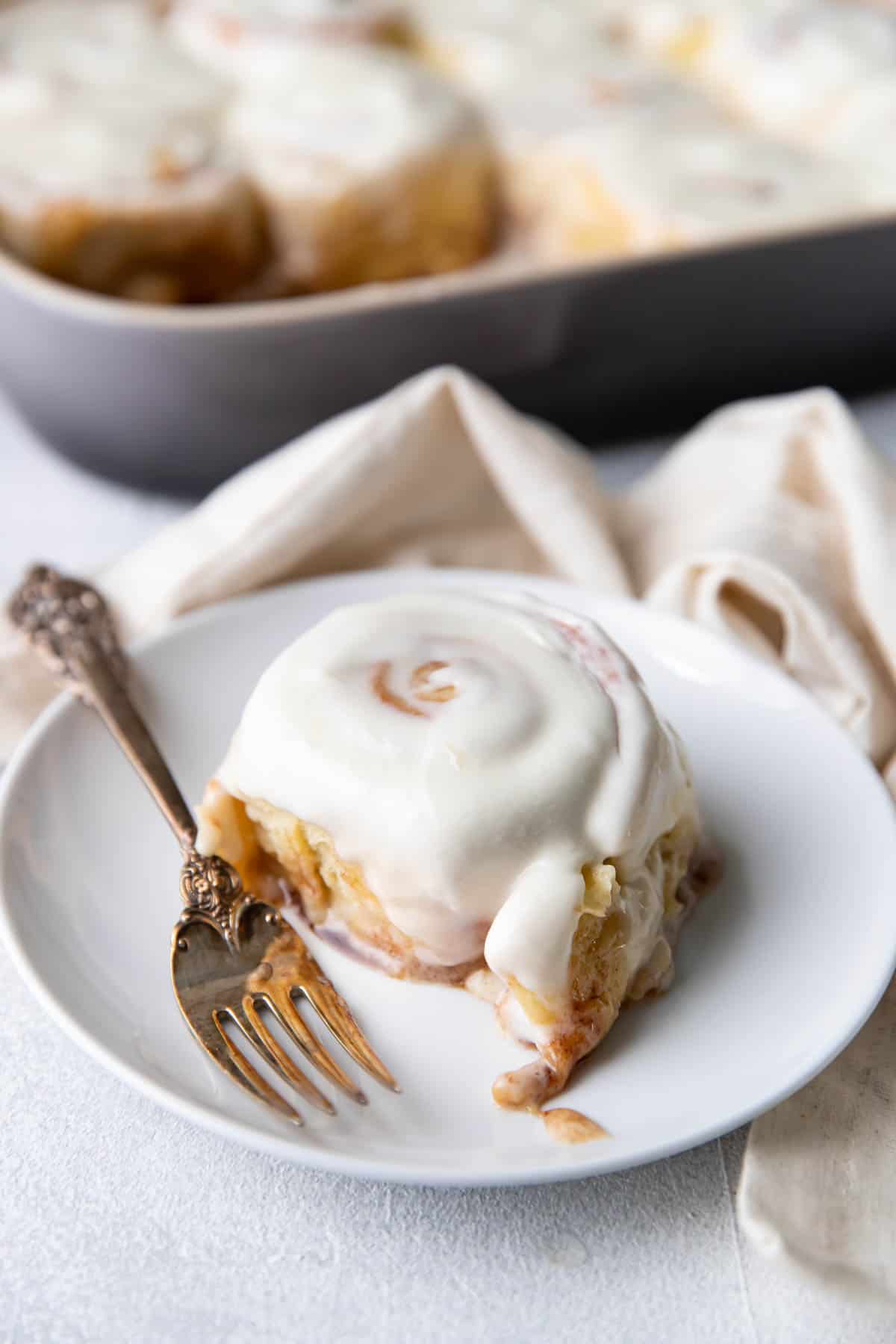 How To Make Overnight Cinnamon Rolls
Activating the yeast. Start by warming milk in the microwave in a microwave safe measuring glass cup. You want the milk to be warm but not hot. Keep in mind if the milk is too cold or too hot the yeast will not activate, the temperature needs to be just right.
According to Bob's Red Mill the general rule is 105-115 degrees as the optimum temperature.
Let this sit for 5-10 minutes or until the mixture is frothy.
Making the dough. Sift together the dry ingredients into your mixing bowl then add in the wet ingredients. Use a dough hook to knead everything together on med/low speed for about 5 minutes. Until the dough is nice and smooth in texture.
Rising the dough. Use your hands to lift out the dough and shape it into a ball. Put it back into the bowl and cover with a kitchen towel. Let the dough rise for 1 hour or until it has double in size.
You will need a warm area, so if your kitchen is running on the cold side you can turn your oven on for a few minutes then off. Place your covered bowl in the oven then close the door and let it rise in there. Don't let the oven get hot, it just needs to be warm.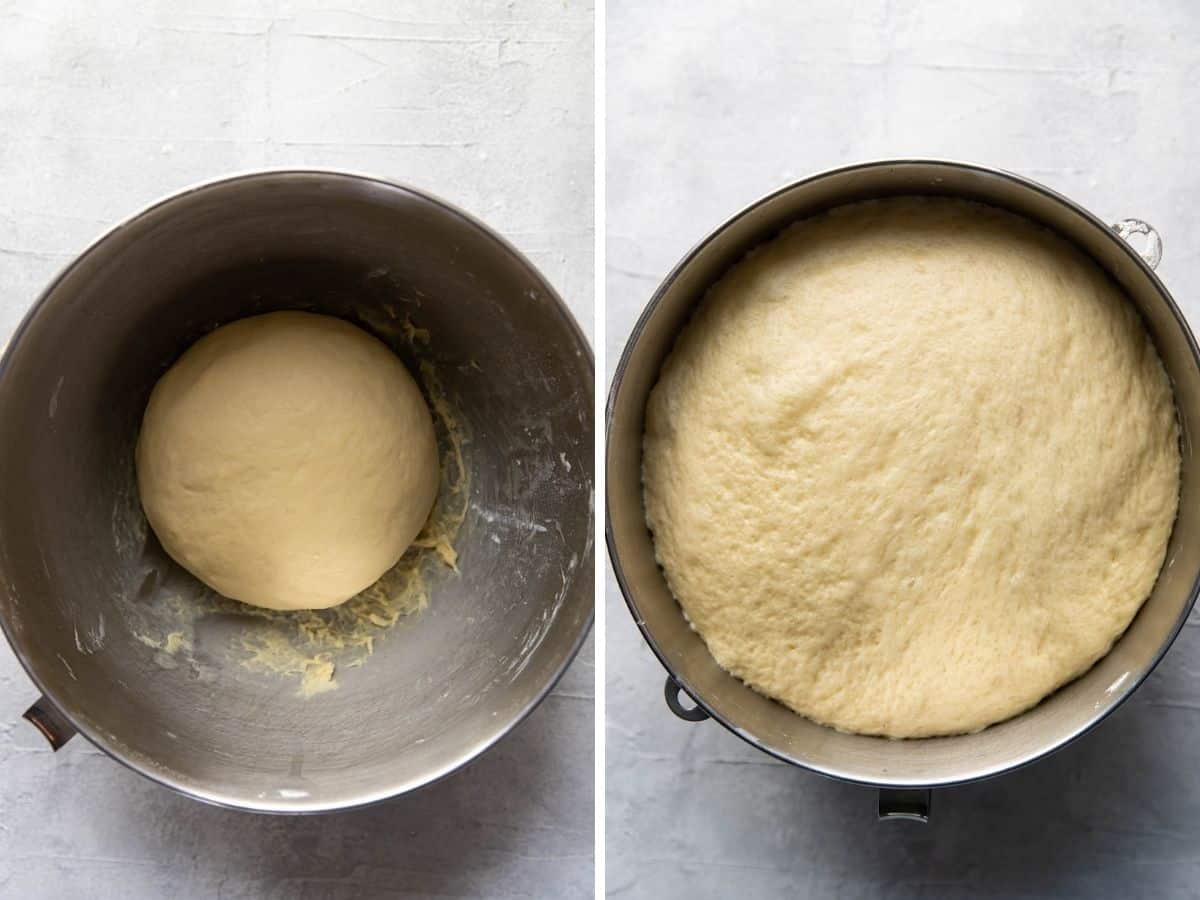 Shaping the cinnamon rolls. Roll the dough out on to a floured surface then spread over the soft butter, brown sugar and cinnamon. Use your hands to pat it down so the sugar adheres to the dough well.
Roll it tightly like a jelly roll, using your hands like a type writer motion to roll and tuck the dough.
Sewing thread works best to cut the cinnamon rolls because it gives you nice clean lines. Using a knife will smoosh the dough. In a pinch if you don't have sewing thread you could use some dental floss.
Line up the cinnamon rolls in a buttered baking dish.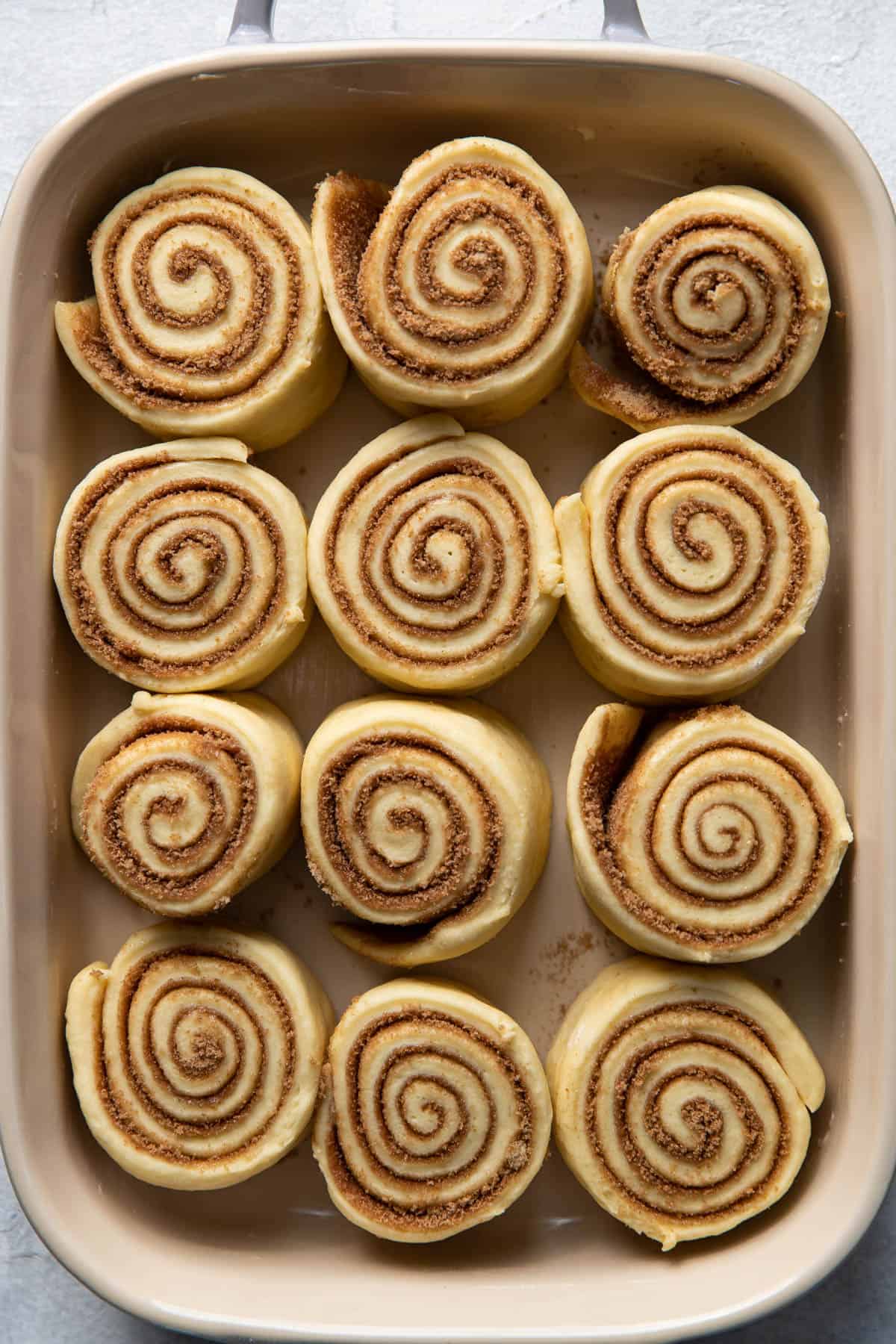 In the fridge. Cover the rolls with plastic wrap and refrigerate for up to 24 hours.
Coming to room temperature. A couple hours before you want to eat your cinnamon rolls take them out of the fridge and place them on your kitchen counter for 1 ½ hours so they can come to room temperature.
Baking. Take the plastic wrap off the cinnamon rolls and bake them for 25-27 minutes at 350 degrees. Make sure to allow time for the rolls to cool after the come out of the oven. This lets the filling firm up, or else it will spill all over if you try to eat them immediately. An hour is the perfect time to let them rest.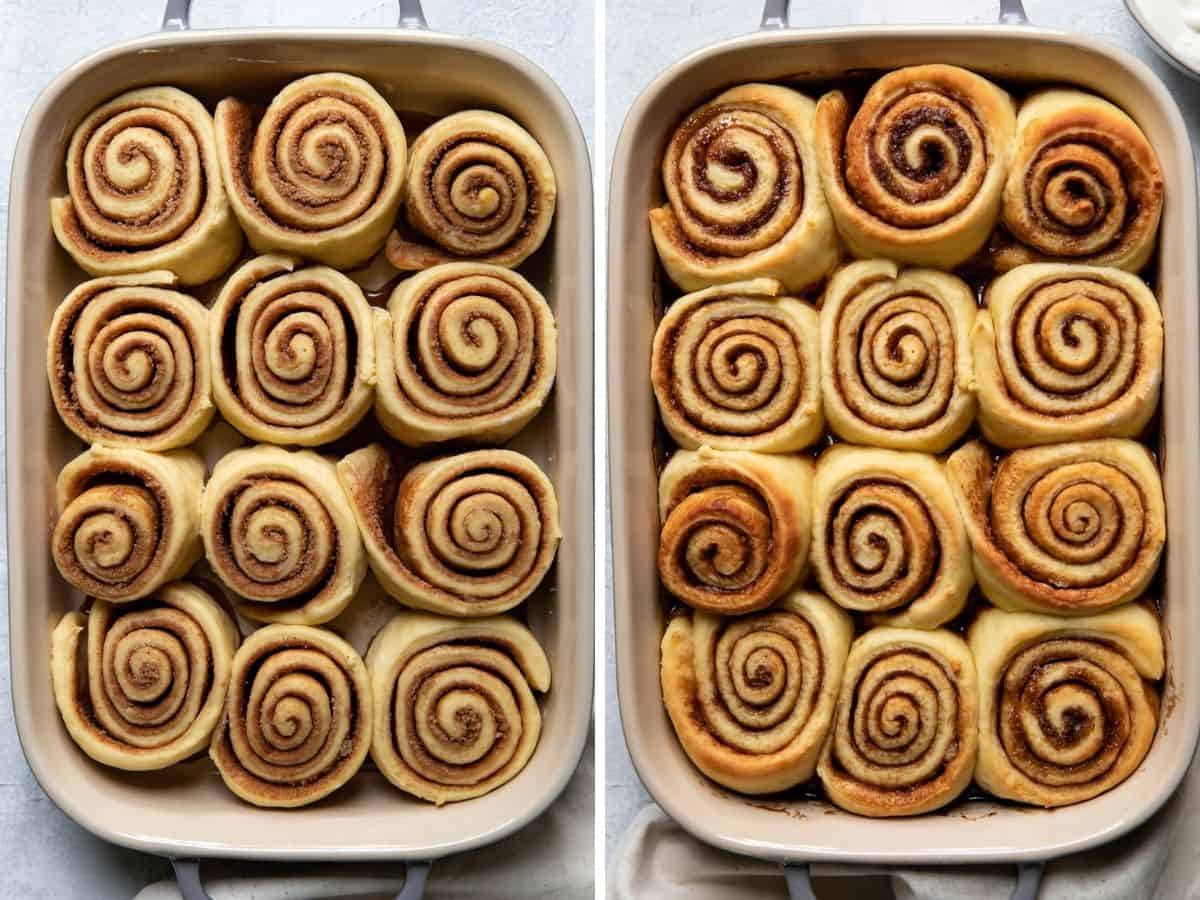 Frosting cinnamon rolls. Once your overnight cinnamon rolls have cooled you can frost them!
I actually like to frost them just a little bit right when they come out of the oven so the frosting seeps into the swirls (not a lot, just a little bit).
Beat together soft butter, cream cheese, powdered sugar, vanilla extra and a pinch of salt to make the cream cheese frosting.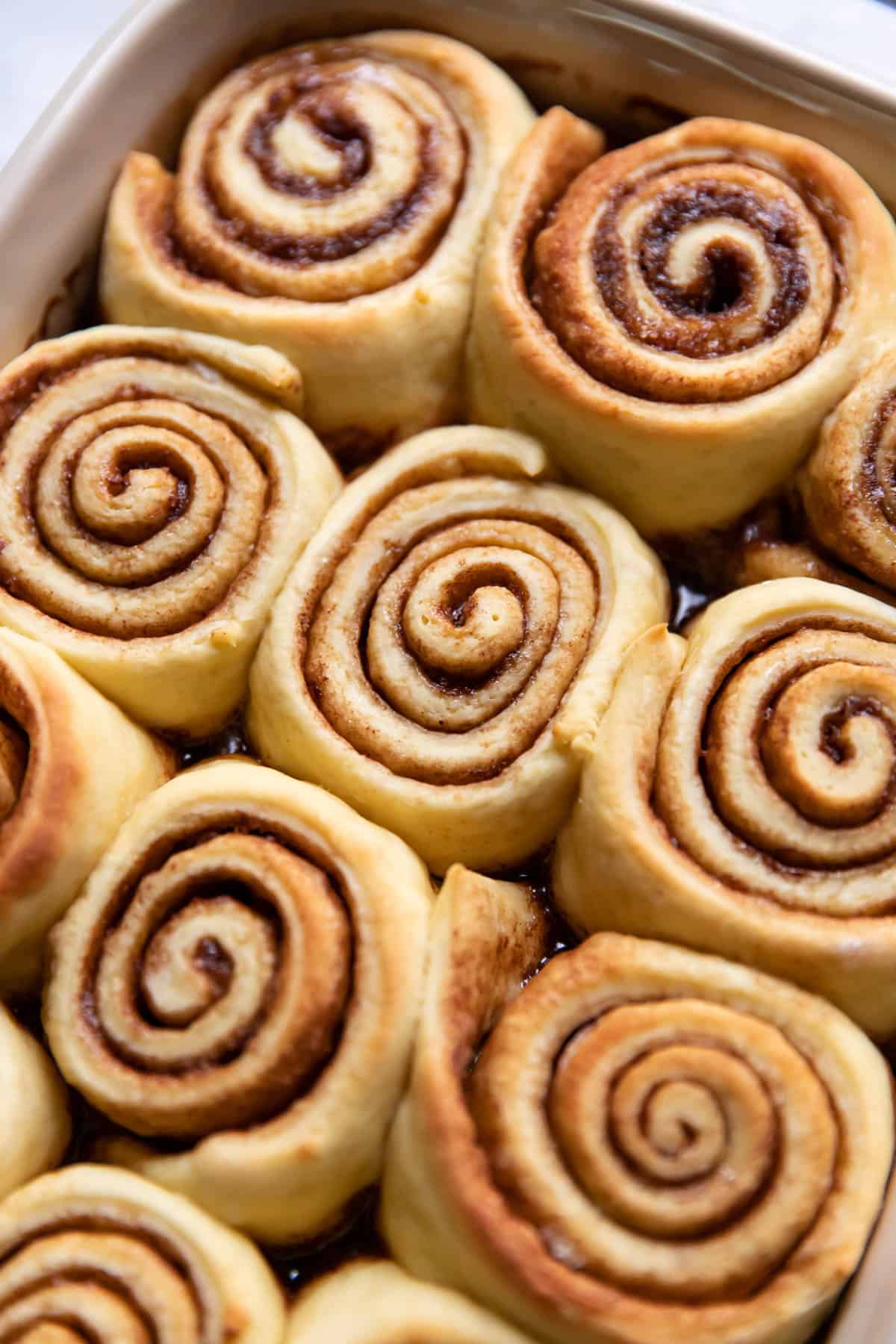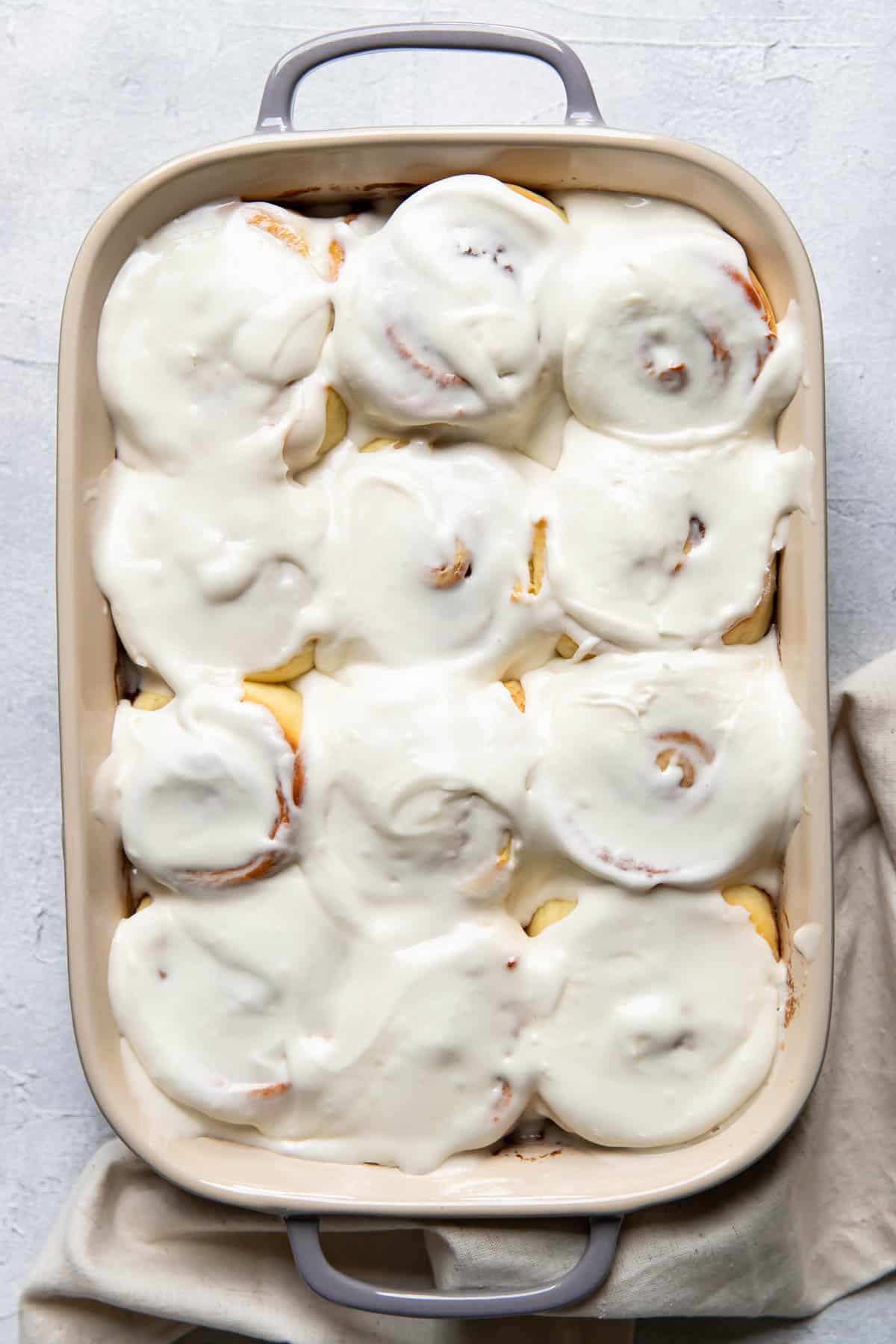 Storing
To store your overnight cinnamon rolls make sure to cover them with plastic wrap (or transfer to an airtight container) and place them in the fridge. Because the frosting is cream cheese based they will need to be refrigerated.
Do not store them on the counter overnight.
If you want to freeze a few for later you can. When you want to eat them transfer them from the freezer to the fridge to thaw.
FAQ
Can these be made the same day?
Yes! If you wish to make them the same day then omit step #6 where it instructs you to place them in the fridge. After placing the rolls in a greased baking dish, cover with a tea towel and let them rise an additional 1 hour in a warm spot then move on to step #7 for baking.
Can these be frozen?
Yes. Instead of placing them in the fridge in step #6, put them in the freezer. When you take them back out they will need longer to come to room temperature.
What size baking dish is recommended?
You could use a 9x13 or an 8x11.
Can I use instant yeast for this recipe?
I haven't tested this recipe out with instant yeast. I would recommend using active dry as the recipe is written.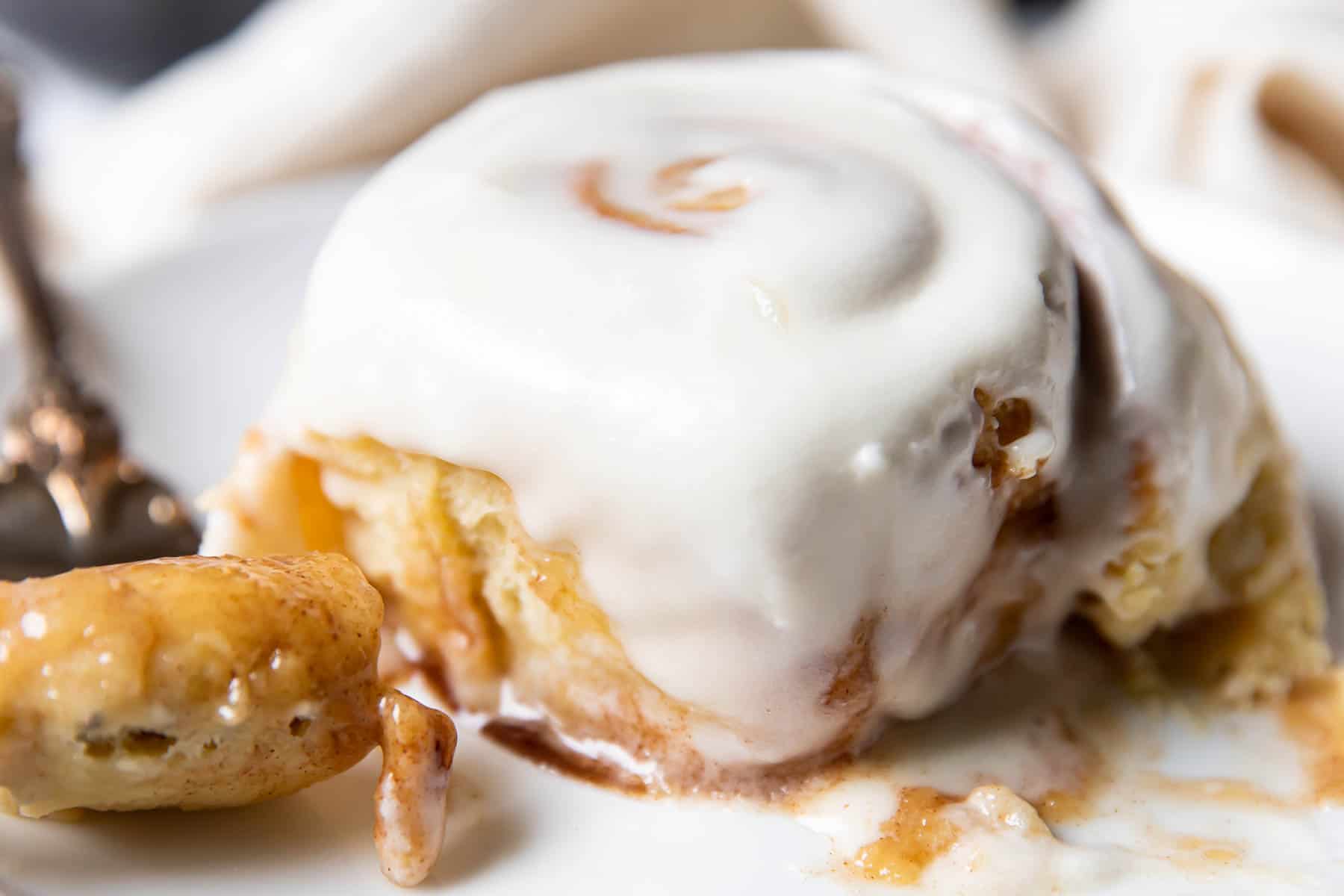 More Cinnamon Roll Recipes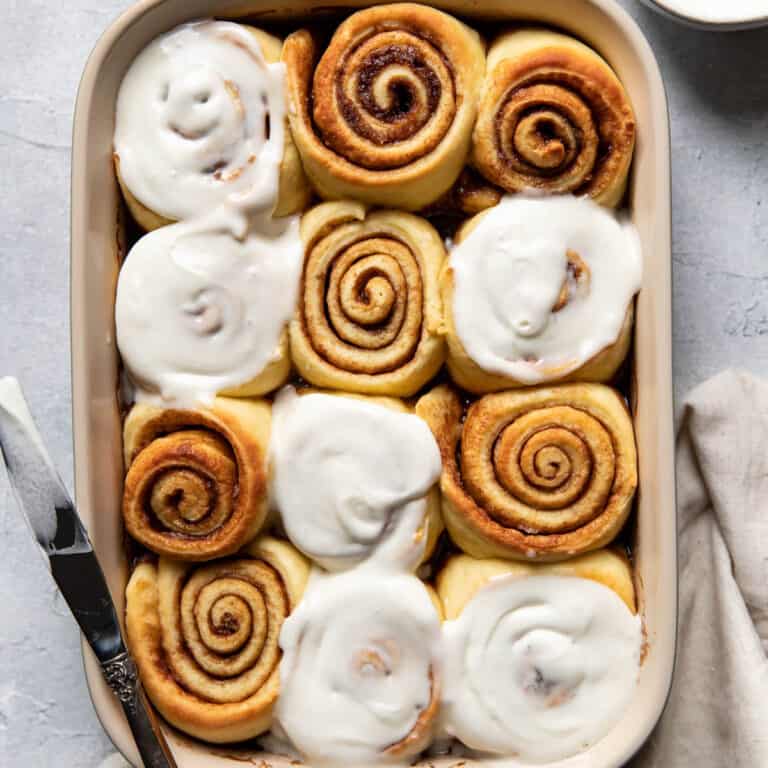 Overnight Cinnamon Rolls
Rising Time:
2 hours
30 minutes
Total Time:
3 hours
55 minutes
These overnight cinnamon rolls are perfect for the holidays! Prepare them the day or night before and then bake the cinnamon rolls the following day. Soft, fluffy and full of cinnamon, plus a thick cream cheese frosting slathered on top.
Ingredients
1 ½ c warm milk (not hot - see notes)
2 ¼ tsp active dry yeast
4 ½ c all purpose flour*
¼ c cane sugar (or white sugar)
1 ¼ tsp kosher salt
4 tbsp butter, soft
1 egg yolk
1 whole egg
Filling
4 tbsp butter, softened
1 c brown sugar
½ c white sugar
1 tbsp Cinnamon
Cream Cheese Frosting
2 tbsp butter, room temp
4 ounces cream cheese, room temp
1 ½ c powdered sugar
⅛ tsp vanilla extract
Pinch of salt
Instructions
Warm the milk and stir in the active dry yeast. Sprinkle over top a pinch of sugar (helps in the activation of the yeast). Let this mixture rest for 5-10 minutes until frothy.
In a large mixing bowl of a stand mixer fitted with the bread dough hook, sift together the 4 cups of the flour, sugar and salt. Add in the yeast mixture, softened butter, one whole egg and one egg yolk.
Add in, gradually, the other ½ cup of flour little by little - you may not need all of it
Stir on low/medium speed for 3-4 minutes until the texture is smooth (see notes if you do not have a stand mixer).
Use your hands to form the dough in to a ball and return it back to the mixing bowl. Cover the bowl with a kitchen towel and place it somewhere warm, let it rise for 60 minutes or doubled in size (see notes on kitchen temperature).
Stir together the filling, the white sugar, brown sugar and cinnamon.
Roll out the dough on a lightly floured surface with a rolling pin to about a 12" x 18" rectangle. Spread 4 tablespoons of softened butter over the dough and sprinkle on the sugar and cinnamon mixture. Gently press all over the dough to stick the sugar/cinnamon to it.
Starting with the edge furthest from you, roll the dough toward you in a typewriter motion, tightly tucking it as you go (the looser it is when rolling, the higher chance of the filling running out while baking). Grab a piece of floss or sewing thread for perfect cuts. Slide the thread under the rolled dough, lift up and cross the ends while pulling. This will slice each cinnamon roll. Continue until you have a total of 12 cinnamon rolls cut (see notes).
Lightly grease a 9x13 or an 8x11 (used in photos) baking dish with butter (butter leftover from the butter wrapper works well). Cover the baking dish tightly with plastic wrap and place in the fridge up to 24 hours. When you are ready to bake your cinnamon rolls, take them out of the fridge and let them rest on a counter at room temperature (or preferably near a warm area, like the oven) for 2-3 hours. Remove the plastic wrap before baking.
Preheat your oven to 350 degrees Fahrenheit and bake for 25-27 minutes or until the tops turn golden. Pull the rolls from the oven and let them cool for an hour or more so the filling can set up. If you try to eat them right away the filling will spill out.
To make the cream cheese frosting beat together the softened butter, cream cheese, powdered sugar, vanilla extract and a small pinch of salt. Once the cinnamon rolls have cooled spread on the frosting.
Notes
Milk should be warm and not hot.  If they milk is too hot it can kill the active dry yeast and the rolls won't rise properly.
Start with 4 cups of flour and gradually add in the extra ½ cup
If you do not have a stand mixer use your hands to knead the dough for 5-7 minutes until the dough has a smooth texture.
If your kitchen is very cold you can turn your oven on for a few minutes then turn it off and let your dough rise in the oven with the door closed.
To get perfectly even sized cinnamon rolls, make your first cut in the middle and work your way outward.
Recommended Products
As an Amazon Associate and member of other affiliate programs, I earn from qualifying purchases.
Nutrition Information:
Yield:

12
Serving Size:

1
Amount Per Serving:
Calories:

475
Total Fat:

15g
Saturated Fat:

9g
Trans Fat:

0g
Unsaturated Fat:

5g
Cholesterol:

68mg
Sodium:

277mg
Carbohydrates:

79g
Fiber:

2g
Sugar:

42g
Protein:

8g
This information comes from online calculators. Although moderncrumb.com attempts to provide accurate nutritional information, these figures are only estimates.