These gingerbread cinnamon rolls are soft, fluffy and taste just like Christmas. With hints of gingerbread flavors and festive sprinkles on top of the cream cheese frosting, you can't help but feel nostalgic eating one, or two!
It's a toss up which is better, these or the very popular big fat sticky pecan buns! What do you think?
This recipe was first published on 12/10/2020.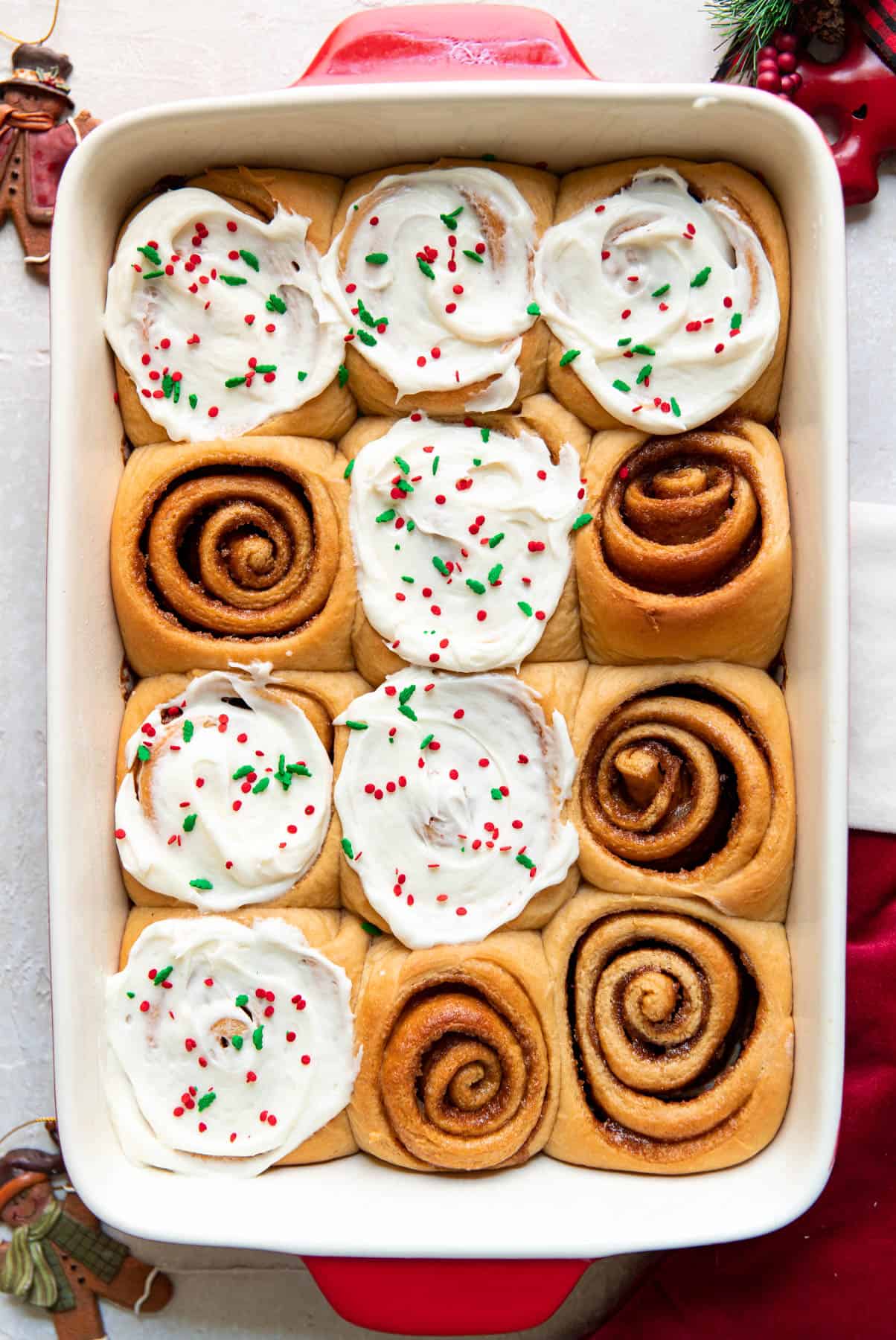 The hypnotizing scent of gingerbread is such a classic and familiar Christmas smell.
Whether you are making gingerbread cookies, decorating a gingerbread house with your kids or lighting a gingerbread scented candle - gingerbread is everywhere during the holidays!
Today we are making soft and fluffy gingerbread cinnamon rolls! They are the perfect balance between traditional cinnamon roll and gingerbread flavors.
Jump to: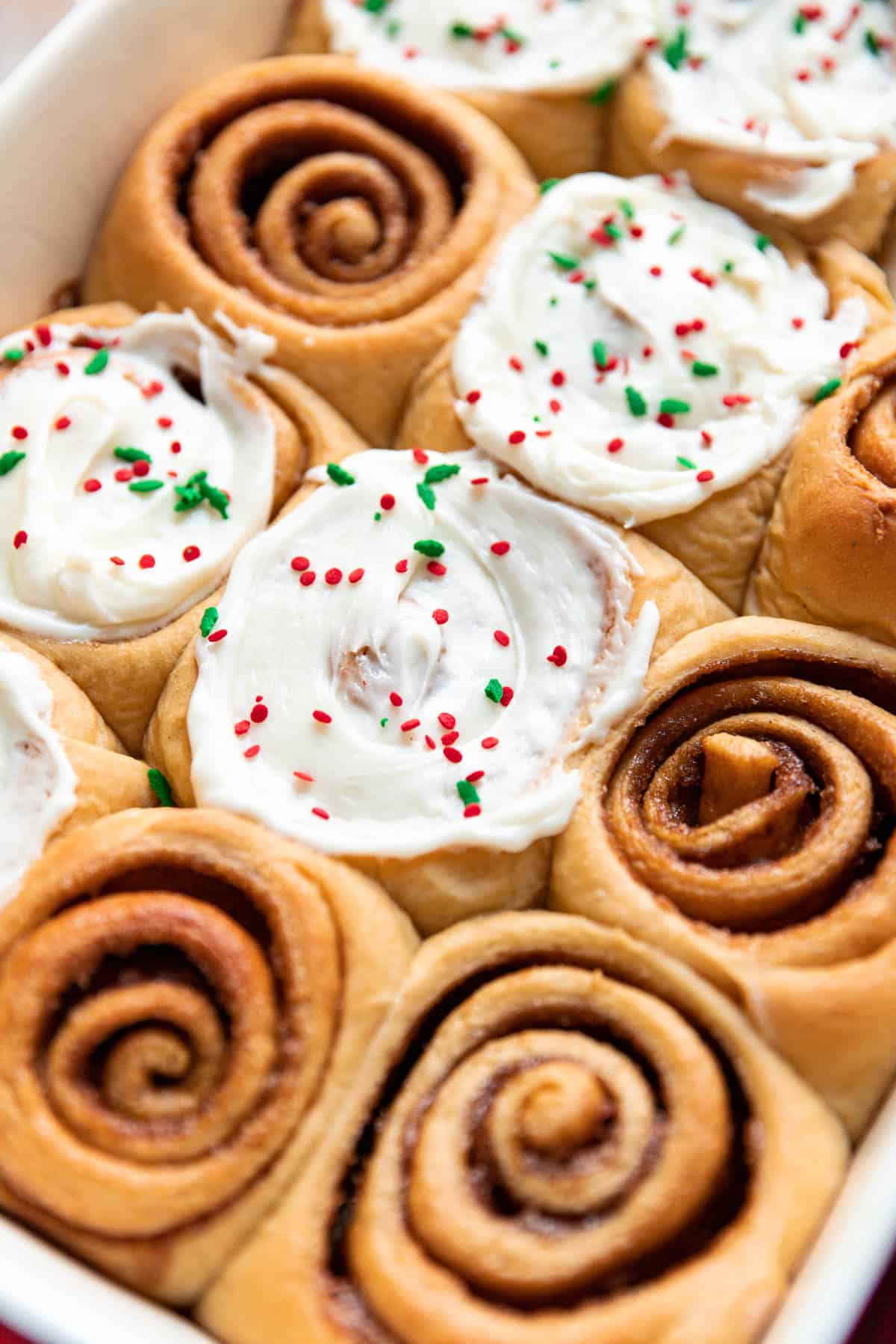 It's a mildly flavored gingerbread recipe. Too much gingerbread flavor can be a bit overwhelming, so this is ideal for everyones taste.
And you know I wouldn't leave off the cream cheese frosting. They've got the same luscious cream cheese frosting just like the pumpkin cream cheese cinnamon rolls and the maple cream cheese frosting cinnamon rolls.
My favorite thing about these, is the festive holiday sprinkles on top! These are perfect for a Christmas dessert.
Proofing The Yeast
Getting the dough correct is the most critical (and challenging) part of making cinnamon rolls.
First, you must get your milk temperature right. It needs to be warm but not hot. The milk is what you add your active dry yeast to.
This combination together is what gives the cinnamon rolls life, the fluffy texture. If the yeast isn't activated properly that's when you run in to problems.
Make sure to check out the frequently asked questions section below.
I like to sprinkle a bit of sugar into my milk/yeast mixture while it proofs (get's frothy). Once you have that foamy frothy appearance on top it's ready to get mixed with the dry ingredients.
How To Make Gingerbread Cinnamon Roll Dough
Using a stand mixer with a dough hook is going to be the easiest route for kneading the dough. But you can mix it by hand as well. You are looking for a very soft, smooth, pliable dough in the end.
Since we are making these with a gingerbread taste, you'll add in molasses, brown sugar, cinnamon, nutmeg and ginger to your dry ingredients.
You can pour everything in to your dry ingredients, followed by your milk/yeast mixture that you proofed.
Knead this on low for about 5 minutes. It's okay if it still seams a bit tacky, it will come together.
Dust a bit of flour on your counter and put the dough on it. Use your hands to press the dough into a tight ball, seam side down put this back into your mixing bowl.
Cover the dough with a tea towel and let it rise until doubled in size. The photo on the left is before the dough has risen, the photo on the right is after.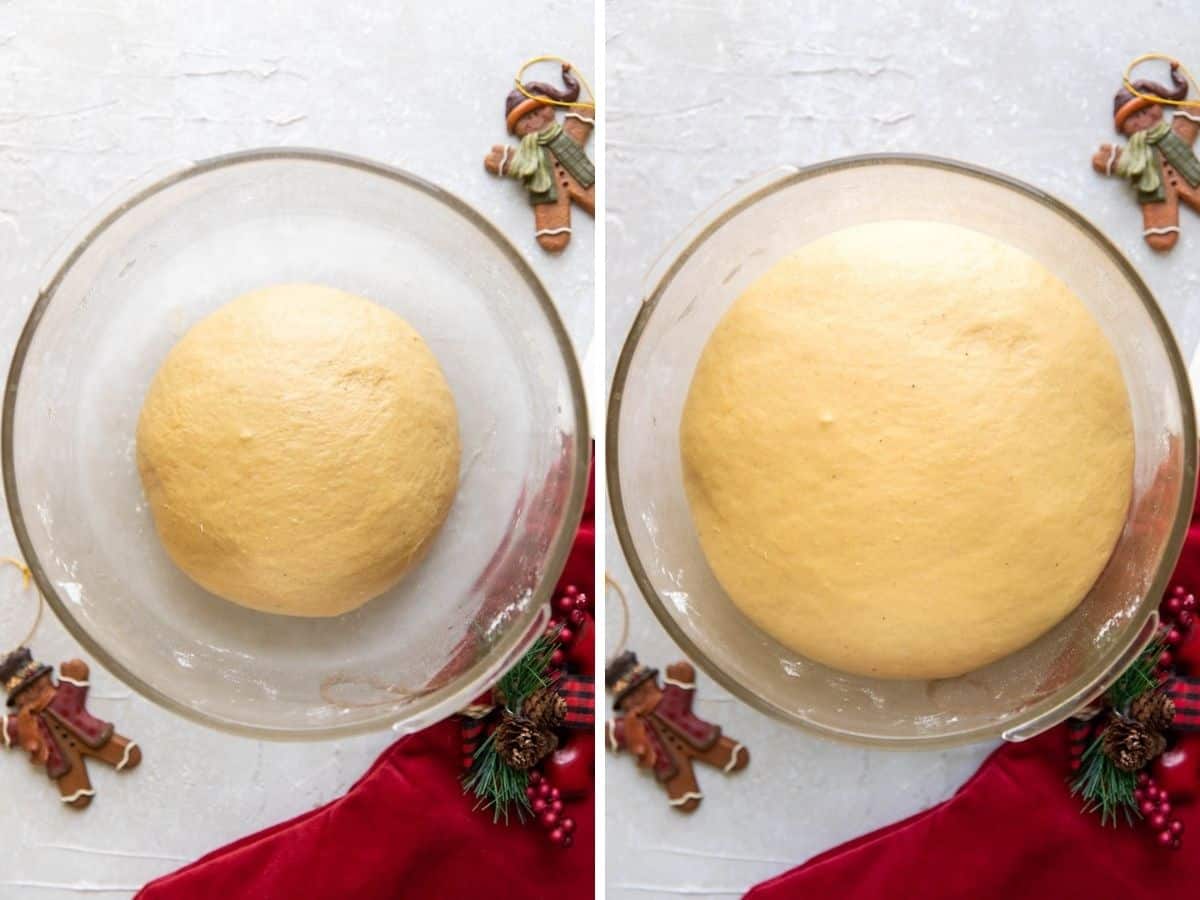 Gingerbread Cinnamon Roll Filling
After your dough has doubled, it's ready to roll it out and spread the filling.
You'll want to dust your counter with flour so the dough does not stick. I like to start rolling out my dough, lift it up, dust a bit more flour then turn the dough over and continue rolling.
This helps ensure the dough doesn't stick when you go to roll it up. Aim for 18" long x 15" wide (the long edge should be closest to you).
Pour on your melted butter and using a pastry brush or the back of a spoon, spread it all over. It's okay if you go to the edges but try to leave the edges closest to you with at least a half inch bare.
Use your hands to spread the filling evenly across the buttery dough. The filling is made up of brown sugar and cinnamon.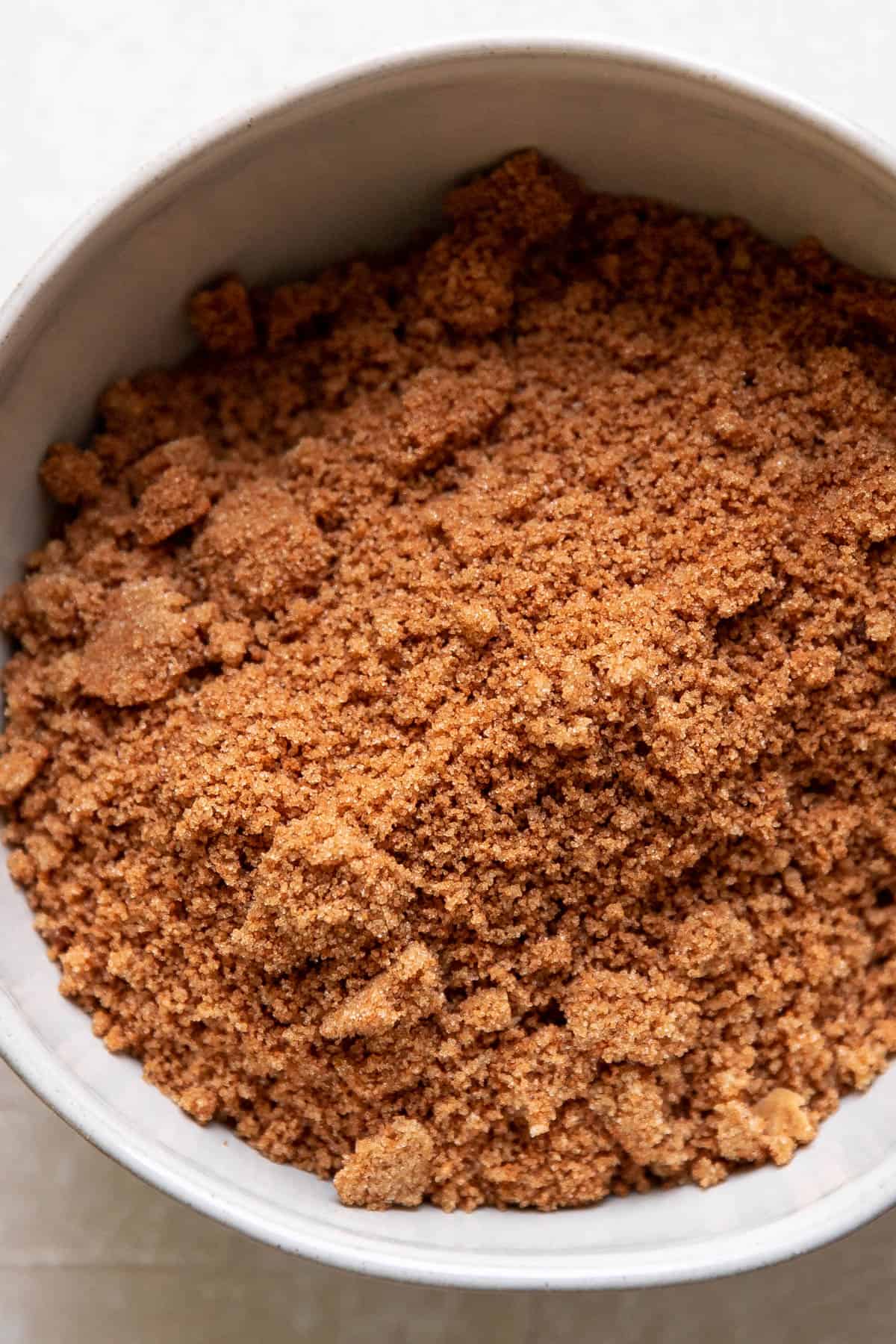 Rolling The Gingerbread Cinnamon Roll Dough
Starting with the edge furthest from you start rolling the dough toward you, like a jelly roll.
Keep rolling until you have reached the end and tuck the seam under so it's facing the counter.
I like to use a piece of sewing thread to make my cuts in the dough. Using a piece of sewing thread gives you really sharp, clean edges and beautiful swirls.
To get the most even size, start by making your first cut in the very middle. You want a total of 12 pieces. Just takes a little basic math.
Line them up in a greased 9x12 baking dish. Let them rise for 30 minutes to an hour. You want them to noticeably puffier then when you first put them in your pan.
After that, bake them! Let them cool a bit, then slather on all that good cream cheese frosting.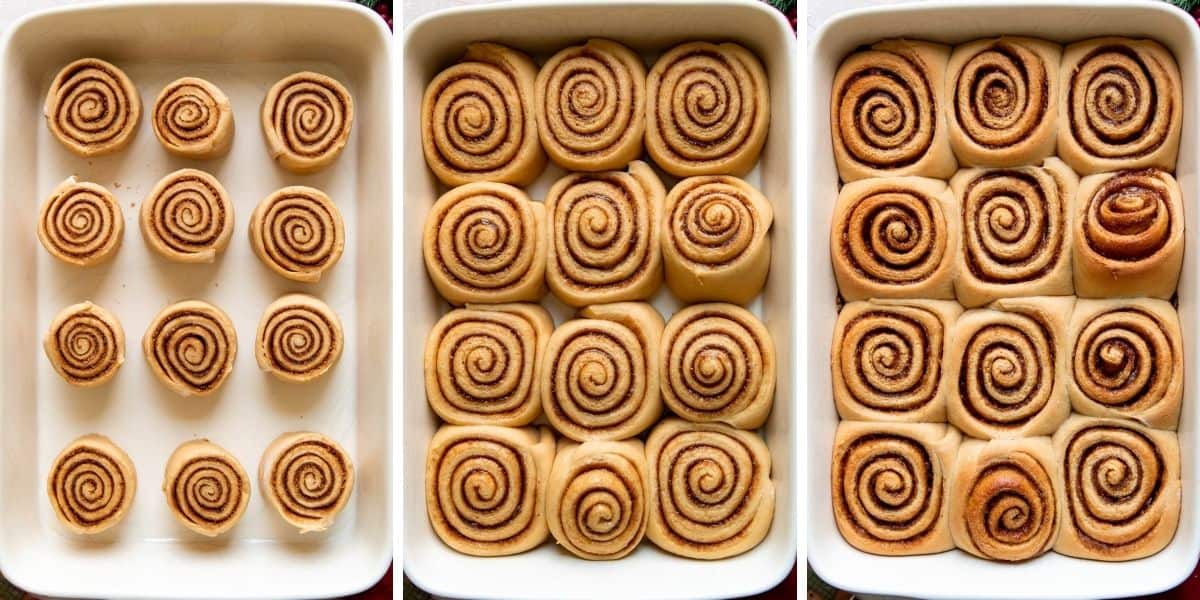 How To Make Cream Cheese Frosting
For the cream cheese frosting you will need cream cheese, powdered sugar, butter, vanilla extract and a pinch of salt.
If you want your frosting to be really silky and smooth (who doesn't?) then it's best to let your cream cheese come to room temperature before you use it.
Put everything in to a bowl and beat until its fluffy and creamy.
It's a good idea to wait until the gingerbread cinnamon rolls have cooled down a bit to put the frosting on.
Or what I like to do is wait about 10 minutes, put a little bit on so it seeps into the crevices while still warm, then let them cool and add the rest.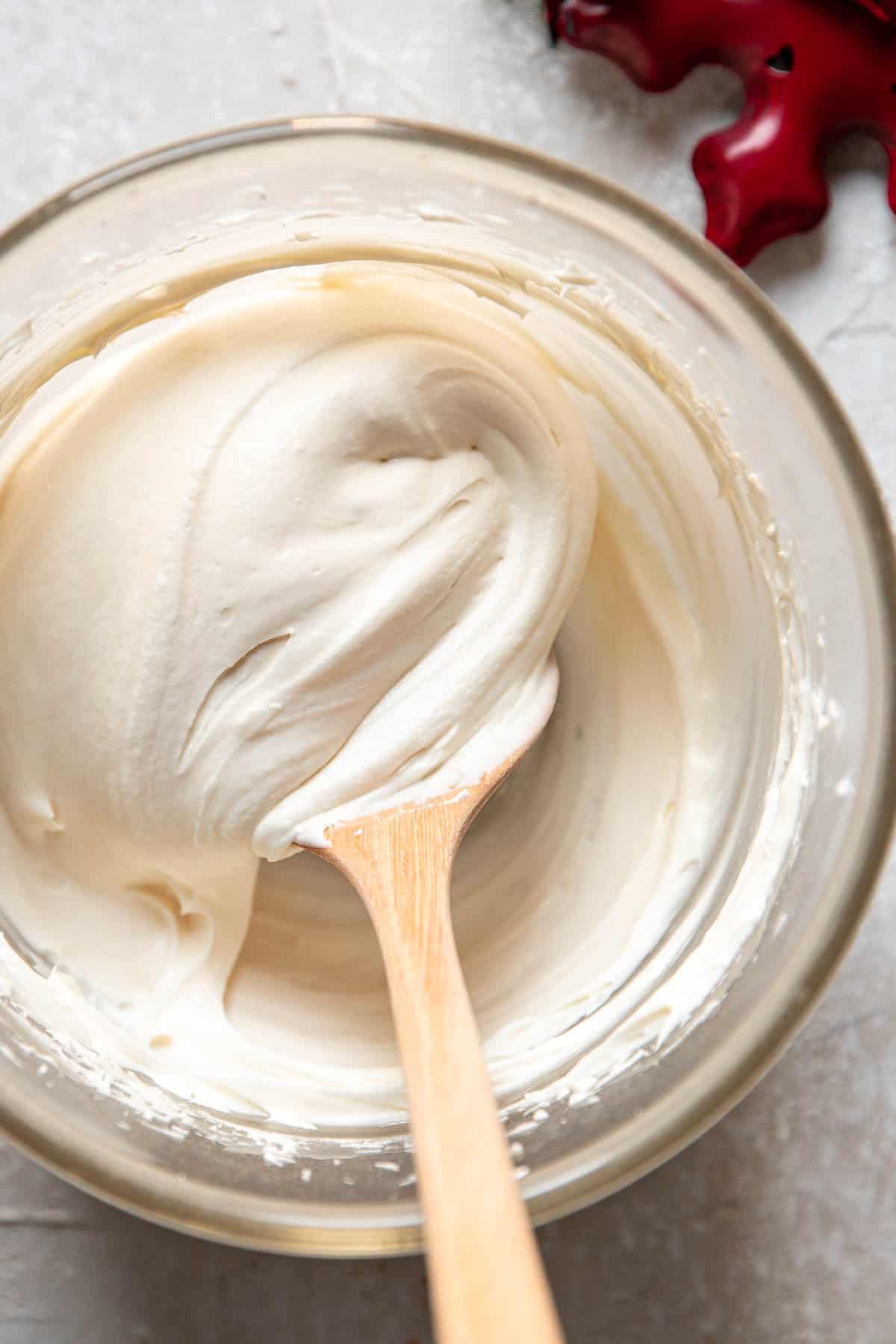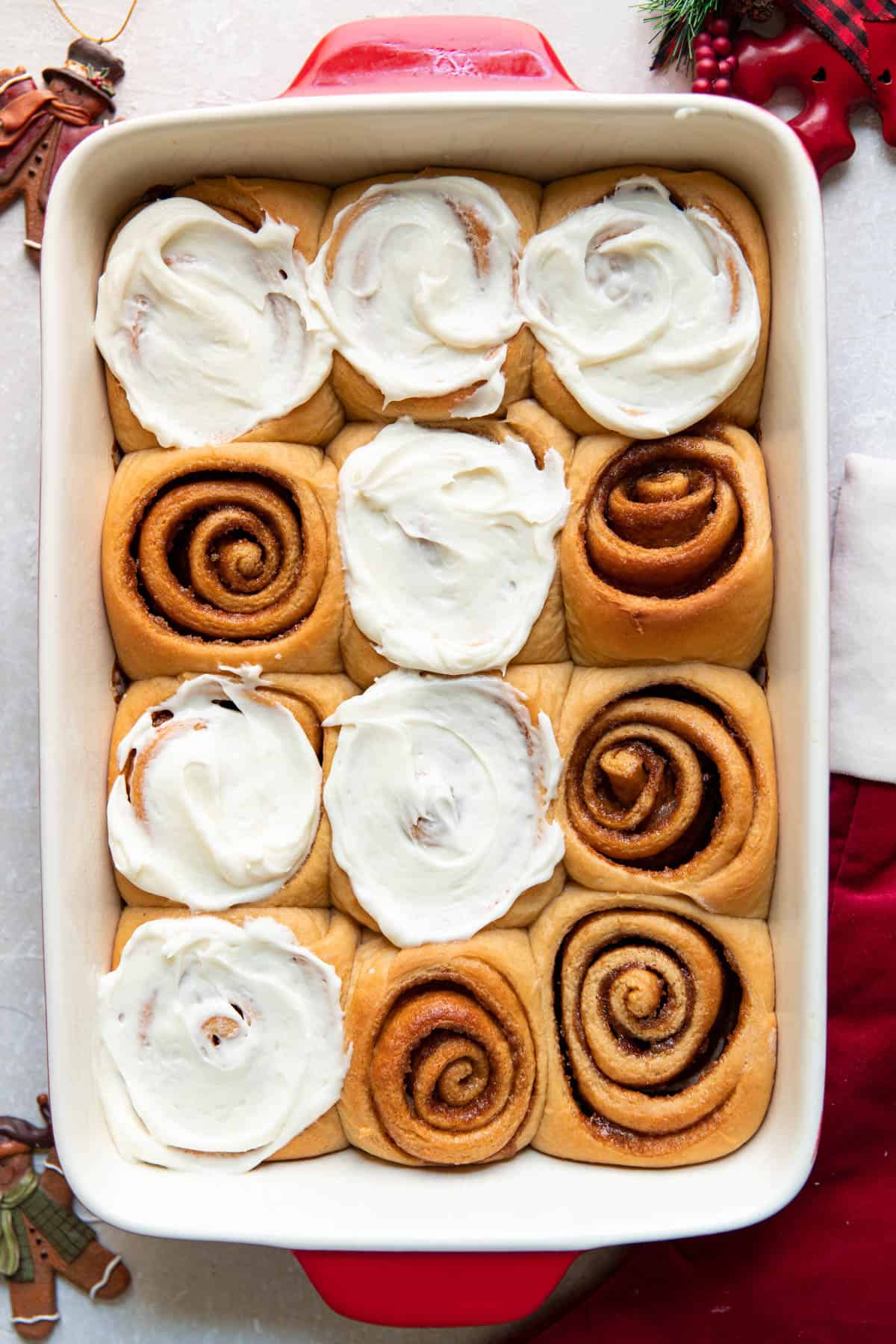 FAQ
My milk/yeast mixture isn't getting frothy?
There are a few reasons for this. The milk was either too cold or too hot. The other could be your yeast is expired.
What temperature should my milk be for perfect cinnamon roll dough?
Between 105-115 degrees for dry yeast is thought to be the correct temperature for proofing, according to Bob's Red Mill. It should feel just warm to the touch.
Why are my cinnamon rolls are raw underneath but dark on top?
This can be caused by an oven that is too hot, or a pan of cinnamon rolls that was cooked too close to the top of an oven. If your oven runs hot you can always add some tinfoil tented over the top if you notice them turning golden too quickly.
Can I make these gingerbread cinnamon rolls gluten free?
I haven't had the opportunity to test this recipe with gluten free flour, yet. Unfortunately I wouldn't be able to advise if would work out.
My gingerbread cinnamon rolls were dry, what happened?
They were baked too long, the dough was over mixed, there was too much flour added during the mixing process and the yeast didn't activate properly. All reasons for dry cinnamon rolls.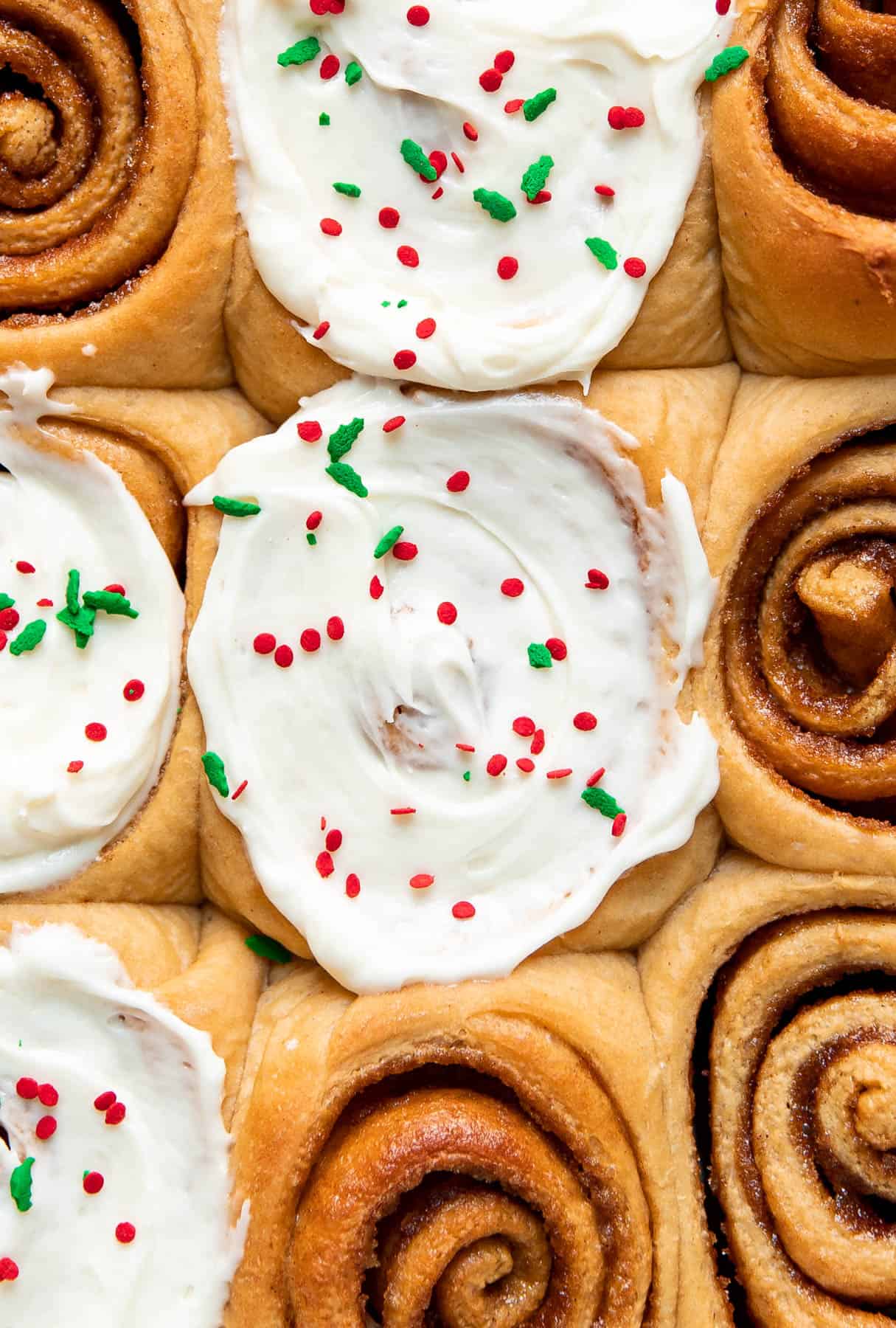 More Winter Dessert Recipes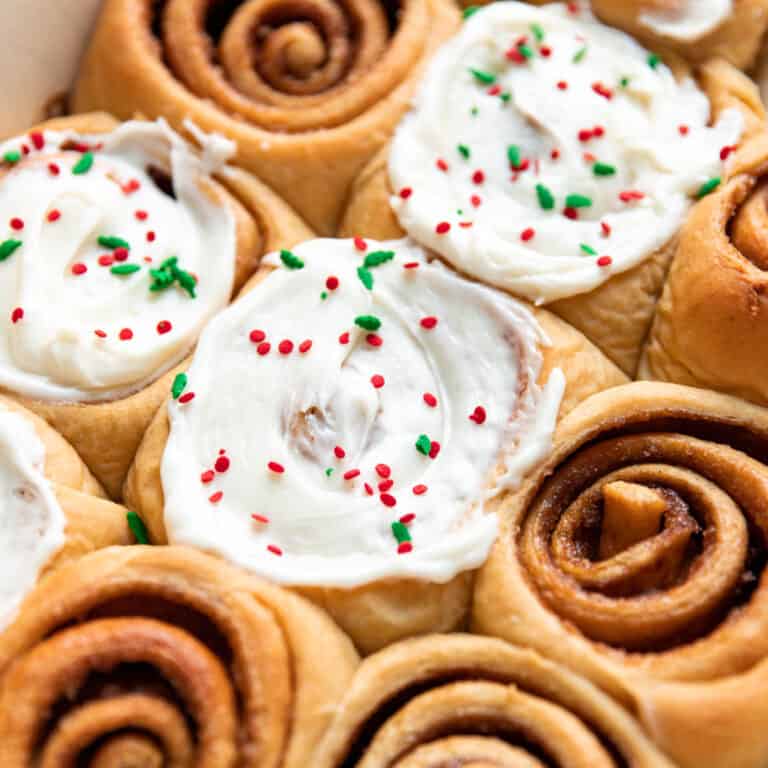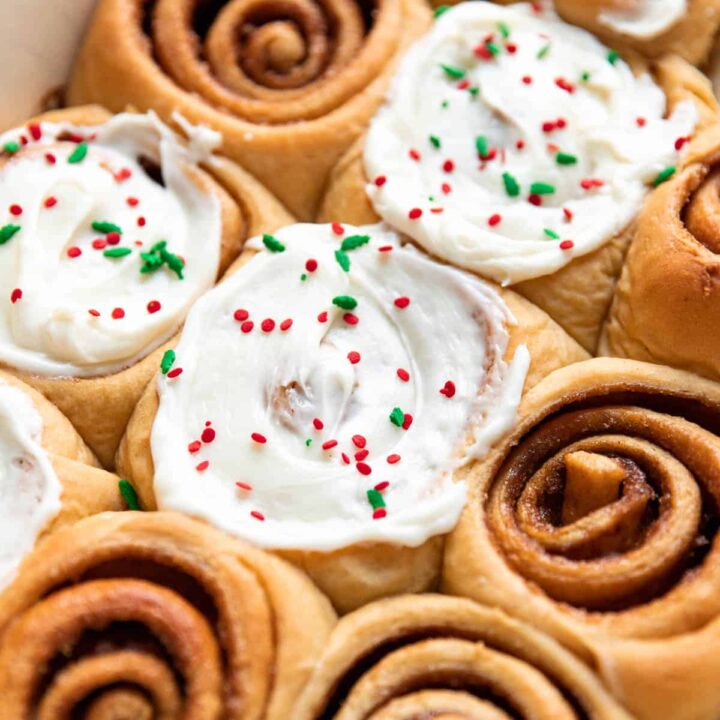 Christmas Gingerbread Cinnamon Rolls
Total Time:
2 hours
20 minutes
These gingerbread cinnamon rolls are soft, fluffy and taste just like Christmas. With hints of gingerbread flavors and festive sprinkles on top of the cream cheese frosting, you can't help but feel nostalgic eating one, or two!
Ingredients
Cinnamon Roll Dough
1 ¼ c milk heated until warm, not hot
2 ¼ tsp yeast
3 c flour
½ tsp cinnamon
½ tsp ginger powder
⅛ tsp nutmeg
1 tsp salt
4 tbsp butter, melted
3 tbsp molasses
¼ c brown sugar
Filling
4 tbsp butter melted
1 c brown sugar
1 tbsp cinnamon
Cream Cheese Frosting
½ stick cream cheese, softened (4 oz)
1 ½ c powdered sugar
2 tbsp cold butter
splash of vanilla
pinch of salt
Optional: holiday sprinkles
Instructions
Heat the milk in the microwave for 1 minute, or until warm
Add the yeast, stir and sprinkle with a pinch of sugar
Let this sit for 5-10 minutes, until foamy
In a stand mixer add the flour, cinnamon, ginger honey crystals, nutmeg, salt, molasses, brown sugar and melted butter
To this add the yeast mixture and the melted butter
Add in the milk/yeast mixture, use a spatula to start incorporating it, then turn your mixer on (using the bread hook attachment)
Knead for 3 minutes on med/low speed until the dough is smooth

Dump the dough out on to a floured surface, shape into a ball and place in a bowl, covered, for 30 minutes or until doubled in size

On a floured surface press out the dough into an 18" x 1"5 rectangle, you can use a rolling pin as well

Pour on the melted butter, spreading to all the edges
In a small bowl stir together the brown sugar and cinnamon
Use your hands to spread this over the melted butter, evenly
Roll up the cinnamon roll dough like a jelly roll and end with the seam side down toward the counter to hold it in place
Grab a piece of sewing thread, or a knife, and cut 12 equal pieces
Place the rolls in a greased 9×13 baking dish (alternatively you can line with parchment paper)
Preheat the oven to 350
Place the baking dish near the oven, covered, let them rise a bit while the oven preheats
When the oven has come to temperature, bake the rolls for 20 minutes
Meanwhile you can make the frosting
Beat together the "frosting" ingredients, cream cheese, powdered sugar, butter, vanilla extract and a pinch of salt
Remove the cinnamon rolls from the oven
Immediately spread a little of the frosting over the rolls, since they will be very hot the frosting will melt and coat the inner swirls of the cinnamon rolls
Wait 20 minutes until they have cooled, spread over the rest of the frosting
Sprinkle on the holiday sprinkles
Serve!
Recommended Products
As an Amazon Associate and member of other affiliate programs, I earn from qualifying purchases.
Nutrition Information:
Yield:

12
Serving Size:

1
Amount Per Serving:
Calories:

372
Total Fat:

11g
Saturated Fat:

7g
Trans Fat:

0g
Unsaturated Fat:

3g
Cholesterol:

29mg
Sodium:

307mg
Carbohydrates:

64g
Fiber:

1g
Sugar:

38g
Protein:

5g
This information comes from online calculators. Although moderncrumb.com attempts to provide accurate nutritional information, these figures are only estimates.