A beautiful, puffy cinnamon apple dutch baby. Crispy buttery edges and dreamy honey crisp apples makes this breakfast recipe total perfection. A dust of cinnamon sugar completes it.
Whether you're in to fluffy pancakes, buttermilk waffles or a brunch quiche, I think we can all agree breakfast reigns supreme!
This recipe was originally published on July 17, 2017.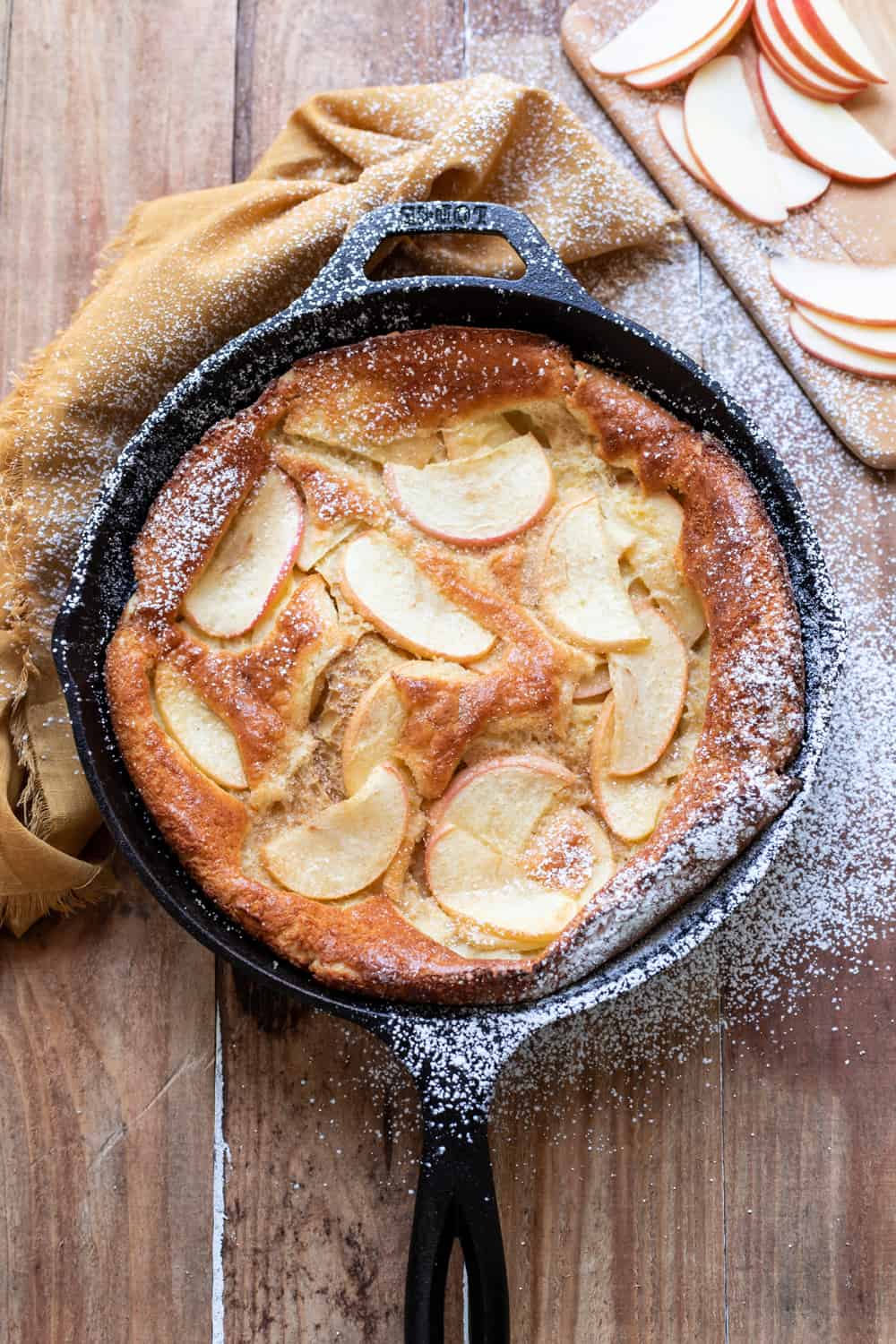 My absolute favorite way to eat pancakes, is by preparing my Great Grandmother's recipe for german pancakes with apples.
Although, I've come to find out that they are more commonly called dutch baby pancakes, how cute is that?
It's not your typical pancake but man is it good. Today we're going to make my Great Grandmothers recipe!
And as soon as fall rolls around it's my favorite breakfast, that and a batch of pecan sticky buns or a loaf of a banana bread. All of these are such yummy fall recipes.
How Do you Make A Dutch Baby?
This recipe couldn't be any simpler.
If you have a blender then it will be a breeze to prep because you can blend up your ingredients.
Once the batter is done pour it in your cast iron skillet and bake at high heat.
The edges rise way up and creates these crisp but puffy edges. Those crisp edges have a buttery taste to them, perfect.
15 years ago my mother handed down this recipe for german pancakes to me, the same recipe she made for me as a kid, and her mother made for her and my great grandmother made for my Oma.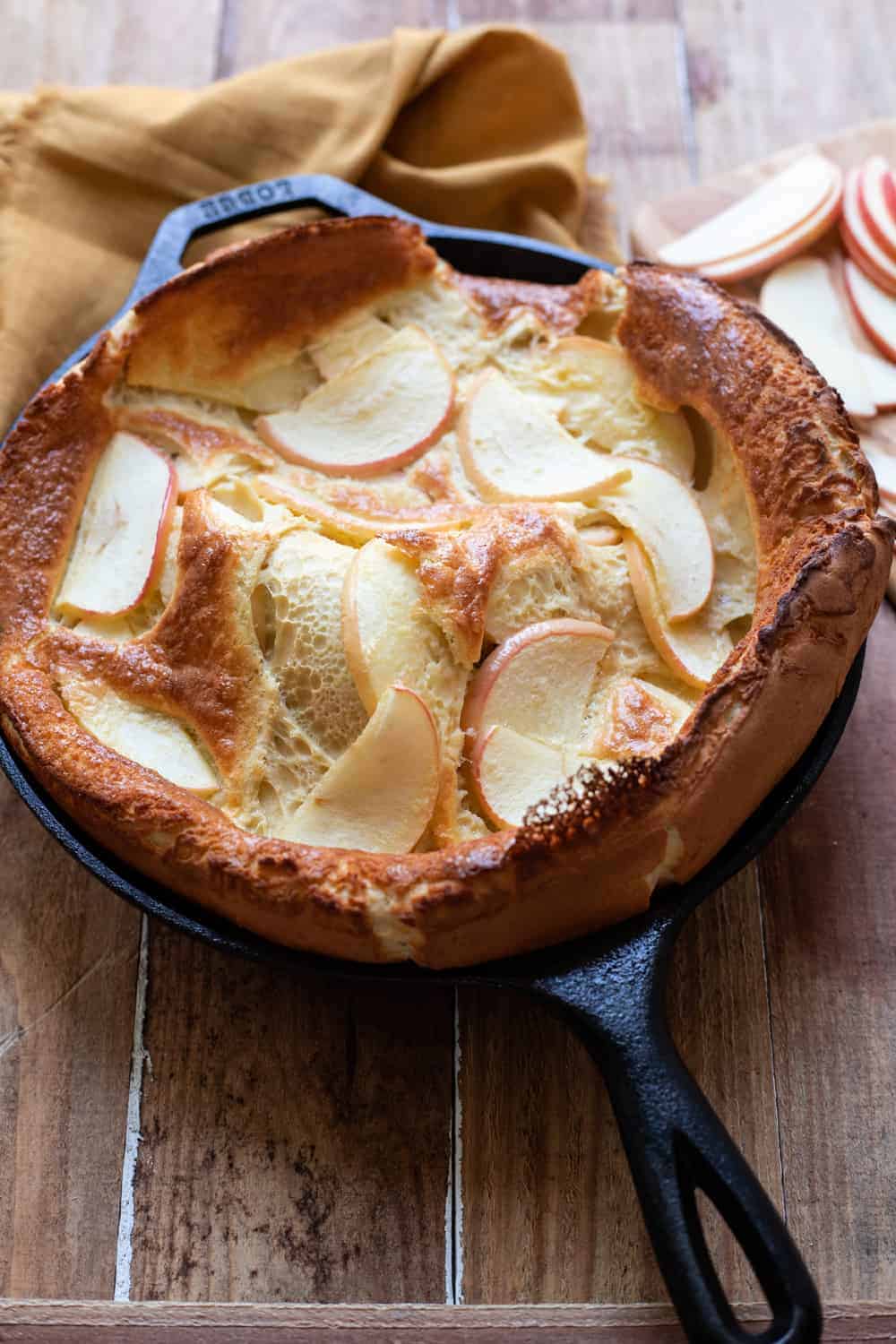 What is A German Pancake? What is A Dutch baby?
A german pancake and a dutch baby are the same thing, just different wording. It's made with more eggs than a traditional pancake.
It's a heartier pancake with an egg like texture. Typically you cook this in a cast iron skillet or a metal pan, when it bakes the edges rise way up! It's so fluffy and delicious.
The vanilla extract smells so intoxicating and the apples are the best balance.
A tip for cutting the apples, too thin they get mushy, too thick they don't fully cook. ⅛th inch is the perfect size and I don't get out a ruler (that's just crazy) I use a mandolin and set it to the ⅛th inch setting or you can use a sharp knife and just make thin slices.
If you like a bit of bite to them then cut them thicker.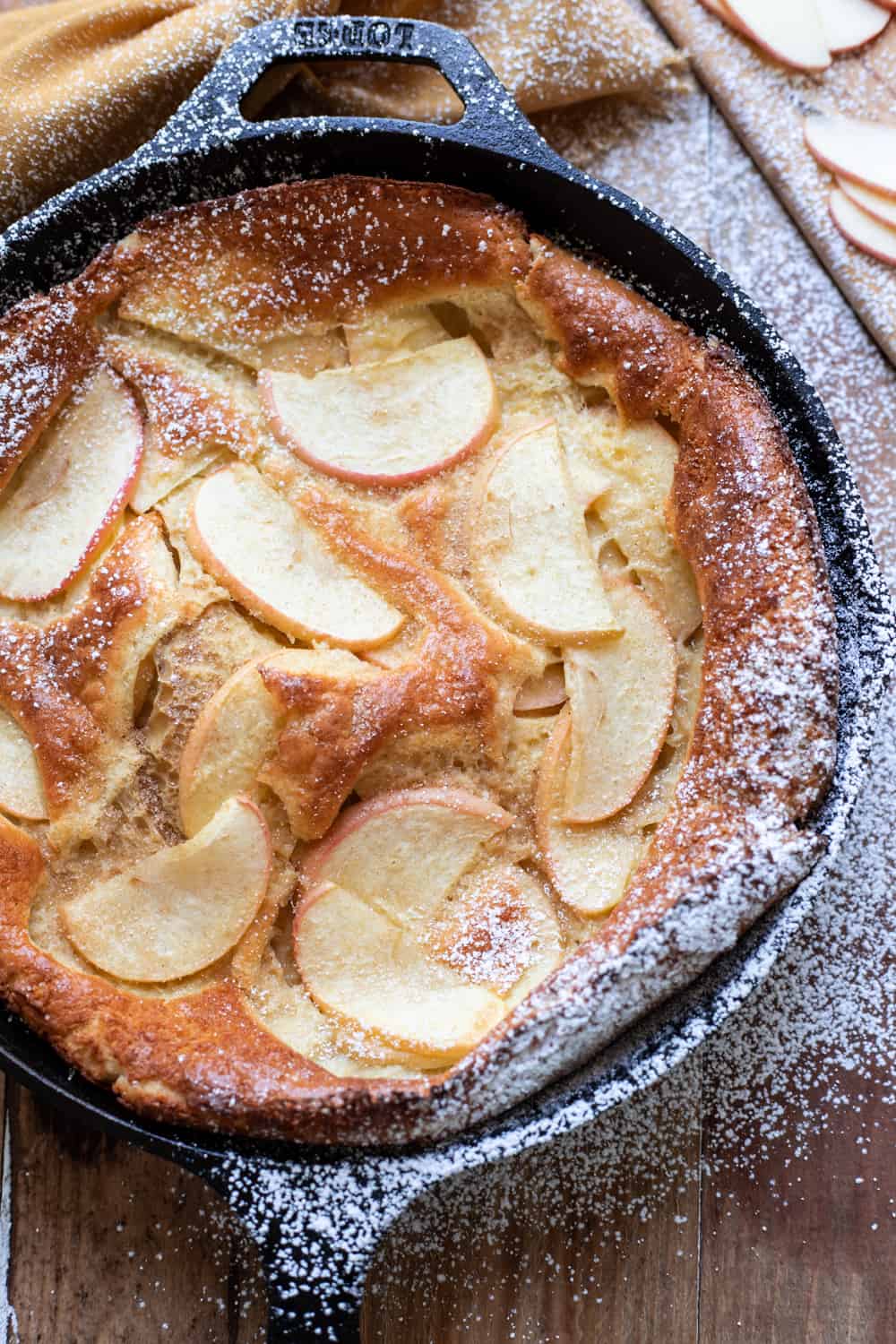 My favorite thing about making my great grandmothers cinnamon apple dutch baby recipe (besides being insanely delicious) is that you don't have to worry about combining wet/dry ingredients and question if you over-mixed the batter.
Can I get a hallelujah?
Once it comes out of the oven you hit it with a sprinkle of cinnamon and sugar and a dash of powdered sugar!
Most of the time I can't even wait to get the dutch baby out of the skillet and wind up eating it straight out of the pan.
If you eat it RIGHT AWAY then it's actually super puffy (photo below)! It starts to deflate pretty fast.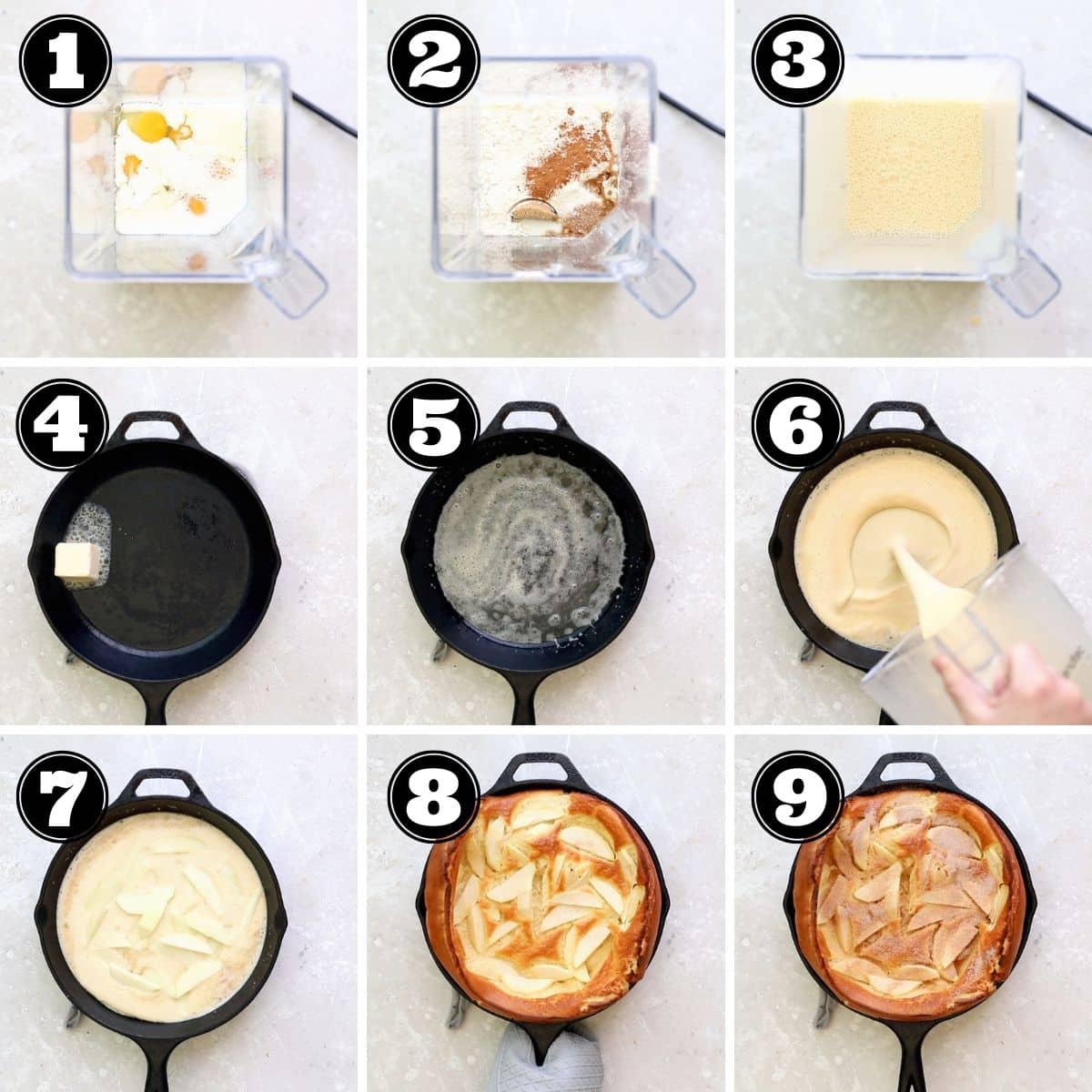 FAQ
My dutch baby didn't puff up?
You may not have whipped enough air into the batter, or did not let it cook long enough. It definitely takes 20 minutes to really puff up high, at 10 minutes it just barely starting to rise.
Can I use any kind of apple?
Certainly.
Can I peel my apple?
Yes, you can peel the apples if you want, it won't change the taste.
Do I have to use a skillet?
I'd recommend for the best results, but reviewers have use regular pans and sheet pans even with success.
more breakfast recipes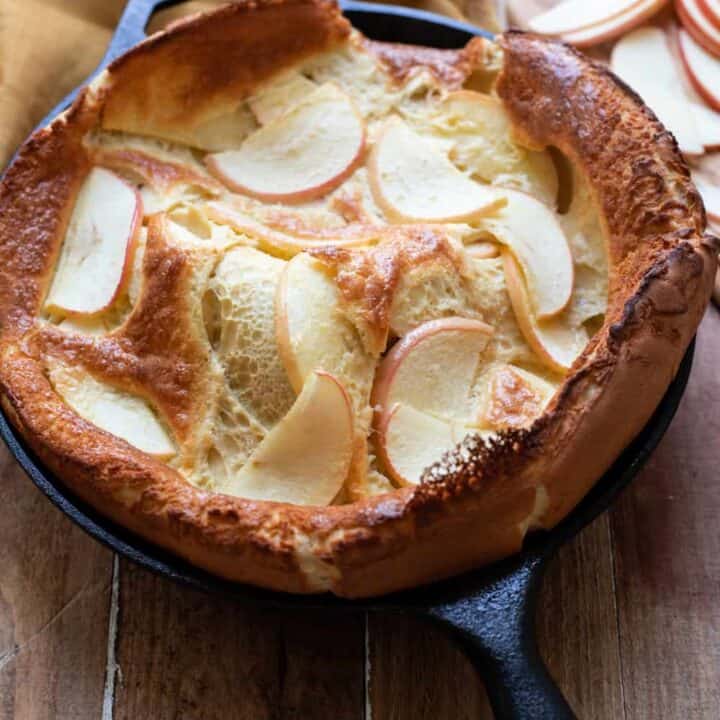 Cinnamon Apple Dutch Baby
A beautiful, puffy cinnamon apple dutch baby. Crispy buttery edges and dreamy honey crisp apples makes this breakfast recipe total perfection. A dust of cinnamon sugar completes it.
Ingredients
6 eggs
⅔ c milk
⅔ c flour
1 tsp vanilla extract
½ tsp salt
1 tbsp brown sugar
¼ tsp cinnamon
1 honey crisp apple, skin left on, thin sliced
3 tbsp butter
cinnamon and sugar mixture
powdered sugar
Instructions
Preheat oven to 425
Place a skillet in the oven from the start of the preheat
In a blender combine the eggs, flour, milk, vanilla, brown sugar, salt and cinnamon
Pulse until it's combined, about 20 seconds
Carefully remove the skillet from the oven
Put the 3 tbsp of butter in the pan, swirling it around until melted (it should be all foamy)
Pour the batter directly in the center of the skillet
Place the apples in the skillet, staying away from the out 1" edge, this helps maintain that big puffy dutch baby edge
Place the skillet back in the oven and bake for 20 minutes
Don't peek and don't remove it before 20 minutes! Between 15-20 minutes is where the edges really get that big rise
Remove from the oven and sprinkle over top cinnamon/sugar mixture and some powdered sugar
Serve immediately!
Notes
Items used in this recipe (affiliate links - I earn a very small commission) 
Recommended Products
As an Amazon Associate and member of other affiliate programs, I earn from qualifying purchases.
Nutrition Information:
Yield:

6
Serving Size:

1
Amount Per Serving:
Calories:

400
Total Fat:

11g
Saturated Fat:

6g
Trans Fat:

0g
Unsaturated Fat:

5g
Cholesterol:

203mg
Sodium:

327mg
Carbohydrates:

68g
Fiber:

4g
Sugar:

50g
Protein:

9g
This information comes from online calculators. Although moderncrumb.com attempts to provide accurate nutritional information, these figures are only estimates.