This puffy blueberry dutch baby looks extra fancy but comes together so easily. All you need is a blender and something to bake it in. For extra decadence spread on some homemade lemon curd.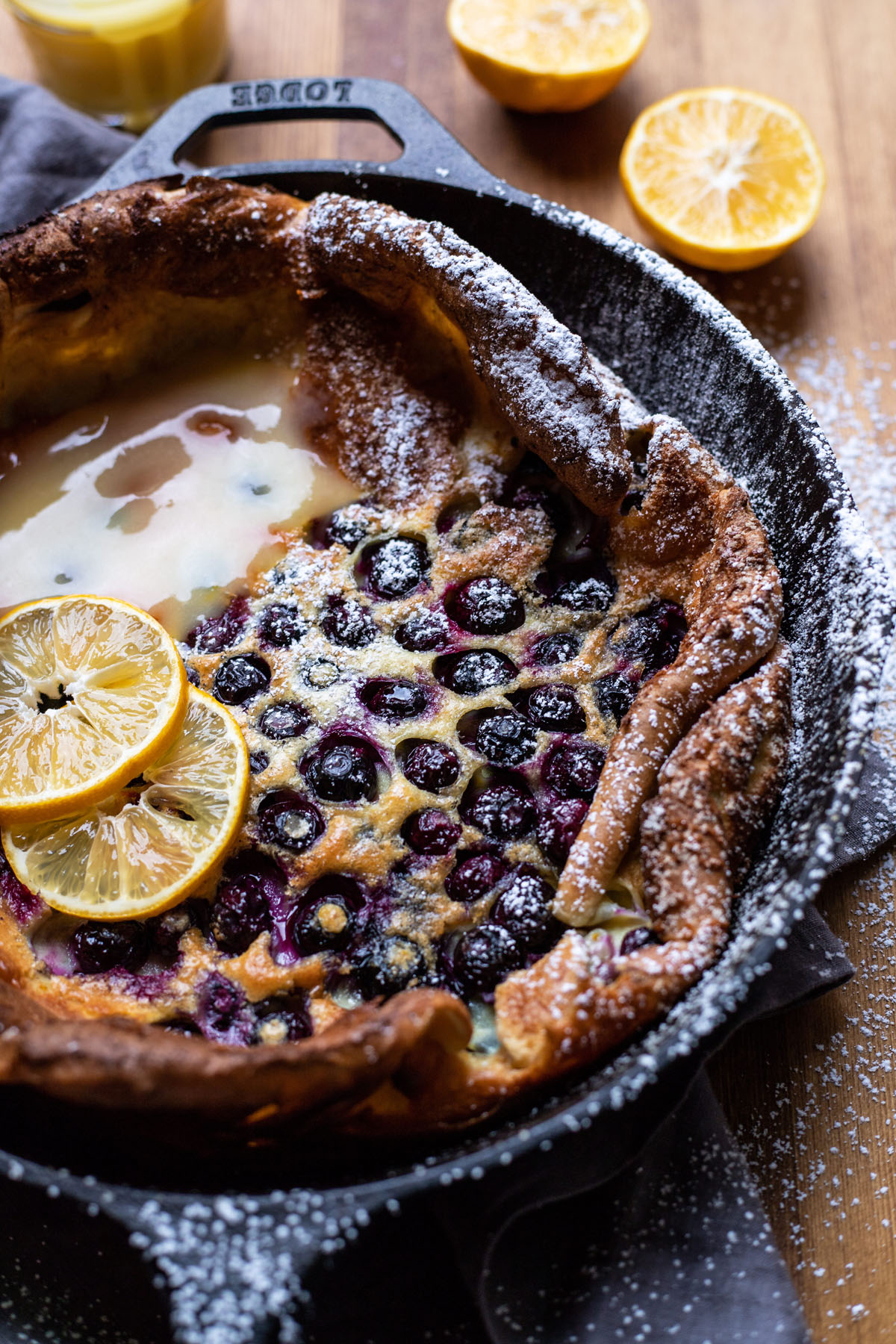 The one breakfast item you should try at least once in your life is a dutch baby! It's a huge pancake, made with extra eggs. So it's super hearty and filling, I like to tell myself it's healthier from all the extra eggs.
Jump to:
I make this beautiful little blueberry and lemon curd dutch baby when my  mother in law visits, it's her favorite and requests it by name. 
And do you want to know a secret? We can eat the whole thing. Yep. Just the two of us.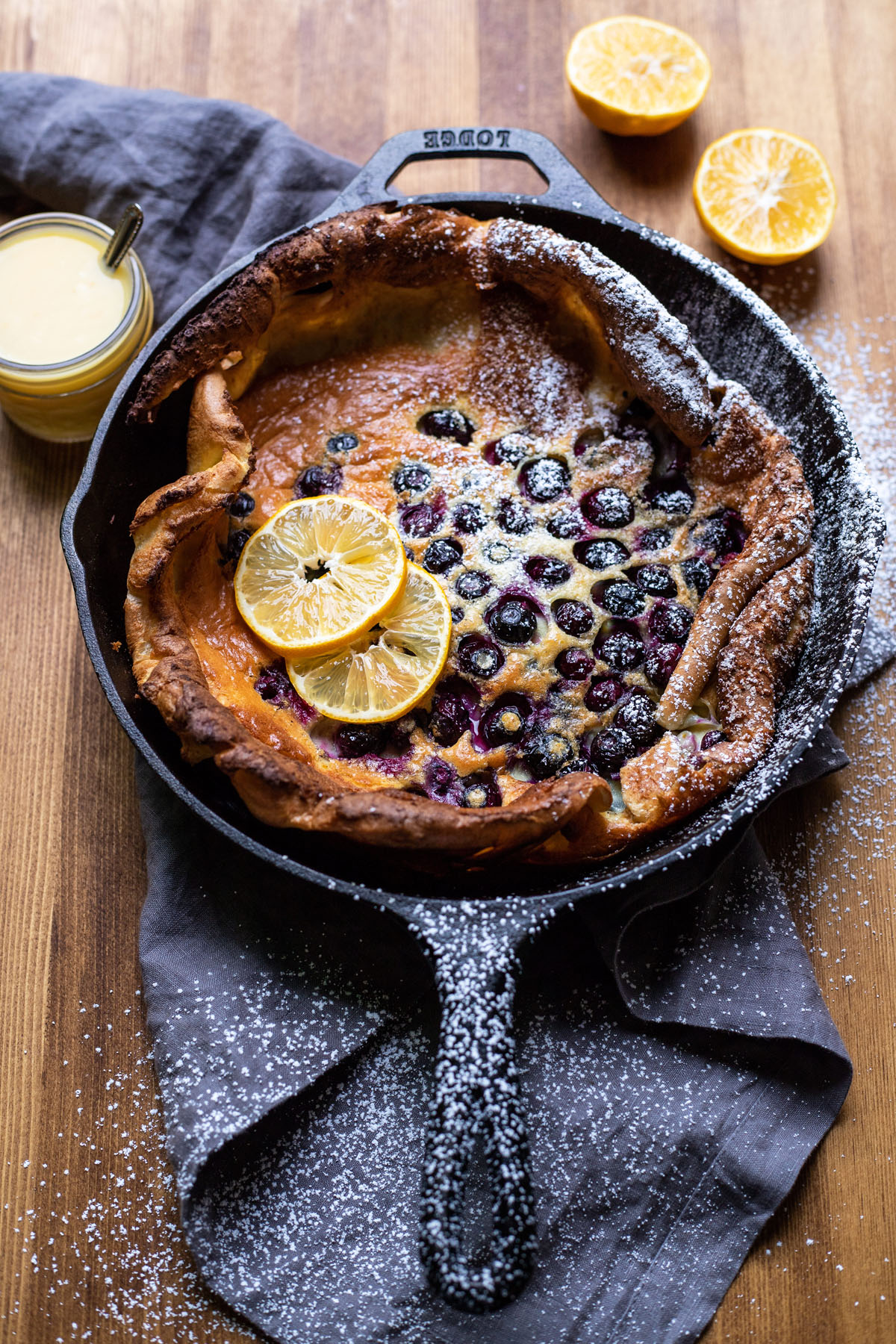 What Is A Dutch Baby?
A dutch baby pancake is made with more eggs than a traditional pancake. It's a hearty pancake with an egg like texture. 
Typically you would want tp cook this in a cast iron skillet, when it bakes the edges rise way up! It's so fluffy and delicious.
And the dutch baby is actually not even dutch, it's german and you'll see them go by german pancake. Which is what we called them growing up, or just egg pancakes.
This dutch baby is really similar to my lemon dutch baby recipe.  The only difference is that this has blueberries in it and lemon curd on top.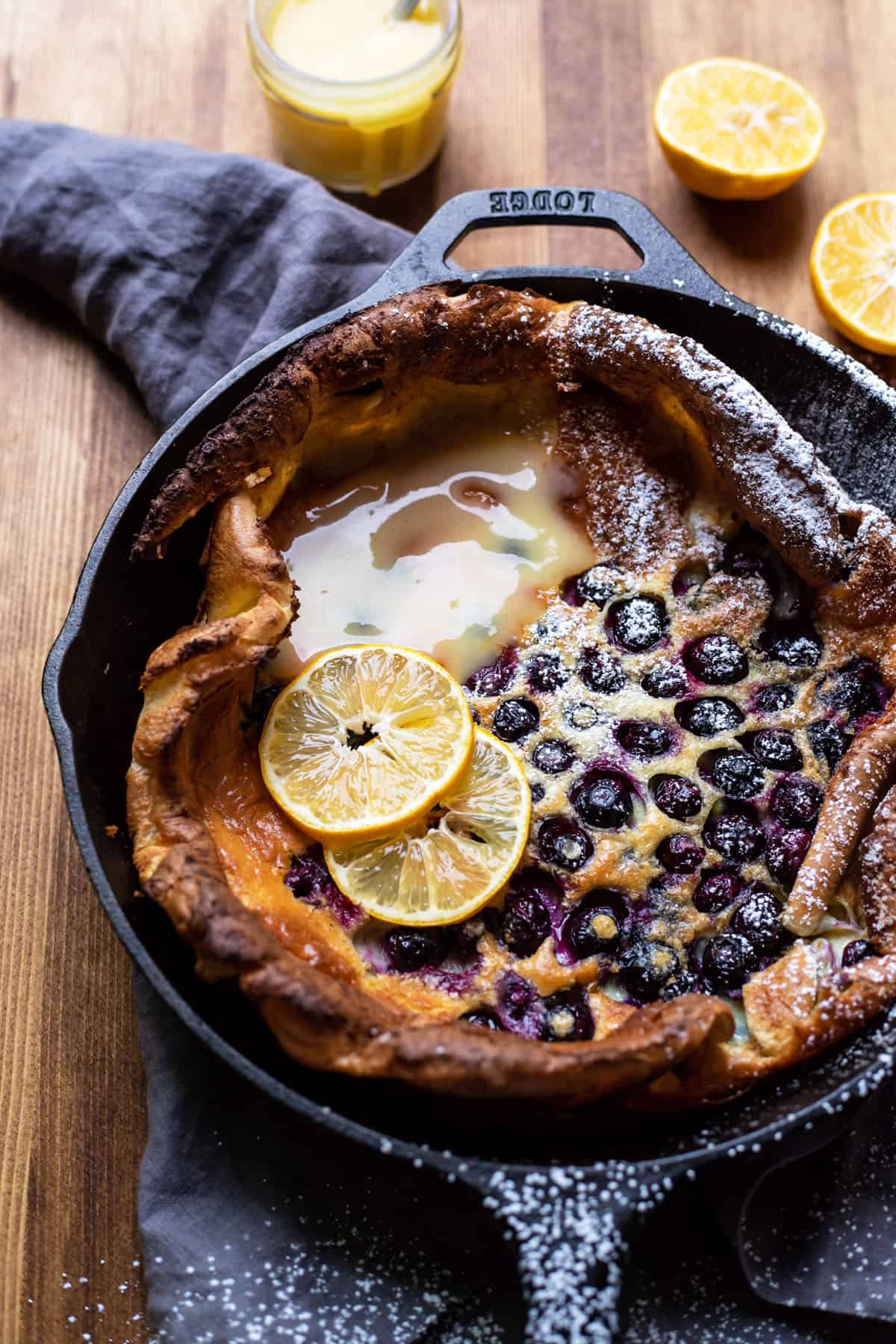 How Many People Does This Feed?
This particular recipe is the perfect size for two to share, whereas the other ones are for a party of 4. 
Or could it be a party of 5 and just laugh about how punny that is?
I really enjoy the ease of a blueberry dutch baby pancake.
Everyone will think you went to extreme lengths to make this elaborately gorgeous breakfast/brunch item for them when in fact it takes minutes to prep and minutes to bake.
Just a tip, as soon as you pull the dutch baby from the oven the edges will start to fall a bit.
When I pulled this one (pictured) from the oven the sides were a good 2" above the pans brim! But gravity took its course.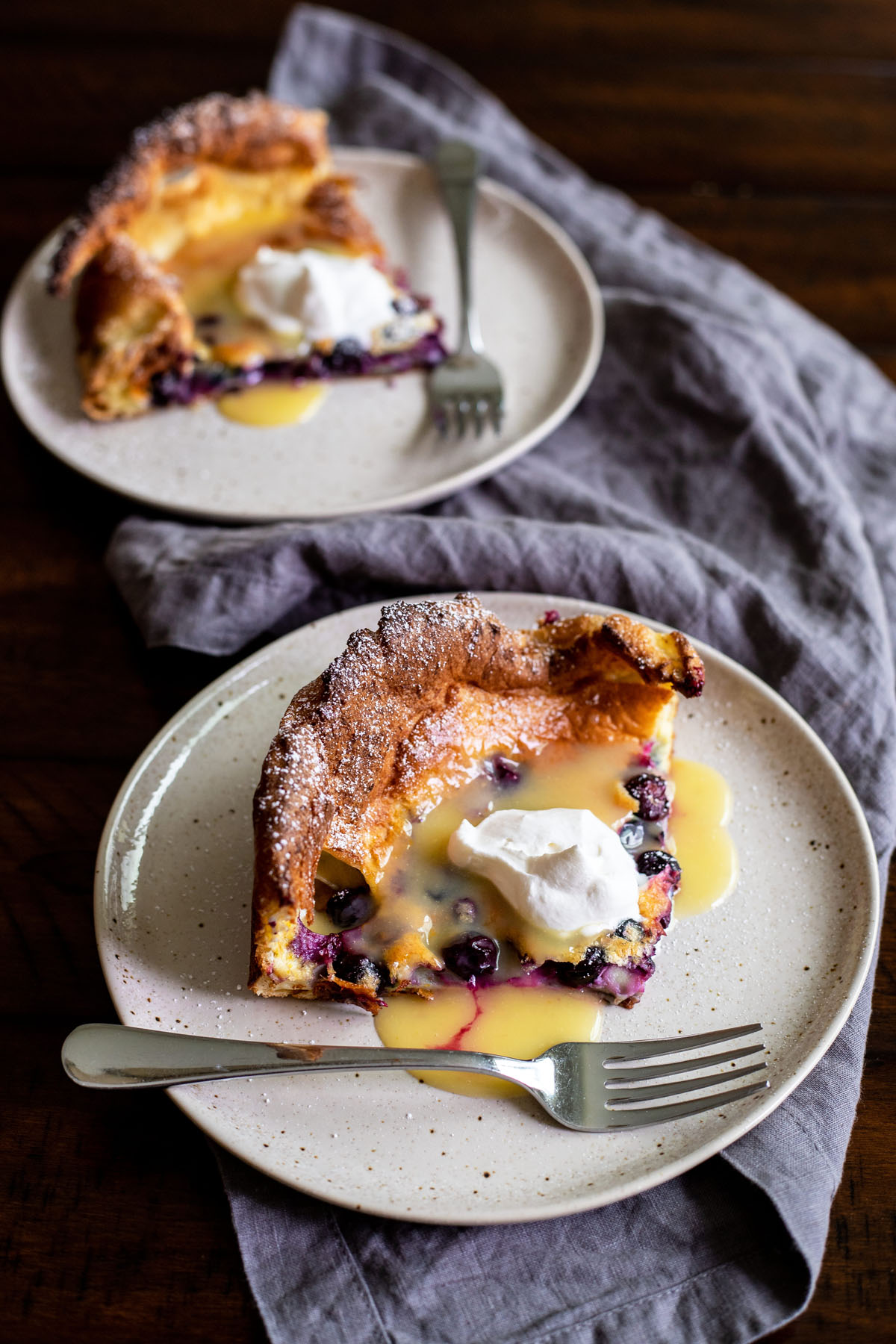 For the lemon curd I have the most delicious and super duper easy recipe.
Don't be daunted, it shouldn't be a scary thing to make lemon curd and I assure you it is so simple. 
Again, it just looks like it would be hard to make, but if you have eggs, sugar and lemons then you will be golden. In my recipe I used an easy method that you have to try!
So grab that pan, gather your family and get ready to breakfast in style.
FAQ
My dutch baby didn't rise?
The batter didn't get blended enough (or too much) or you didn't cook it long enough in the oven. It takes at the least, a full, 20 minutes. You may not even see the edges rise until around the 13-15 minute mark.
Can you make a dutch baby dairy free?
Multiple reviewers have had success subbing out the milk/butter for dairy free options.
Breakfast Recipes To Try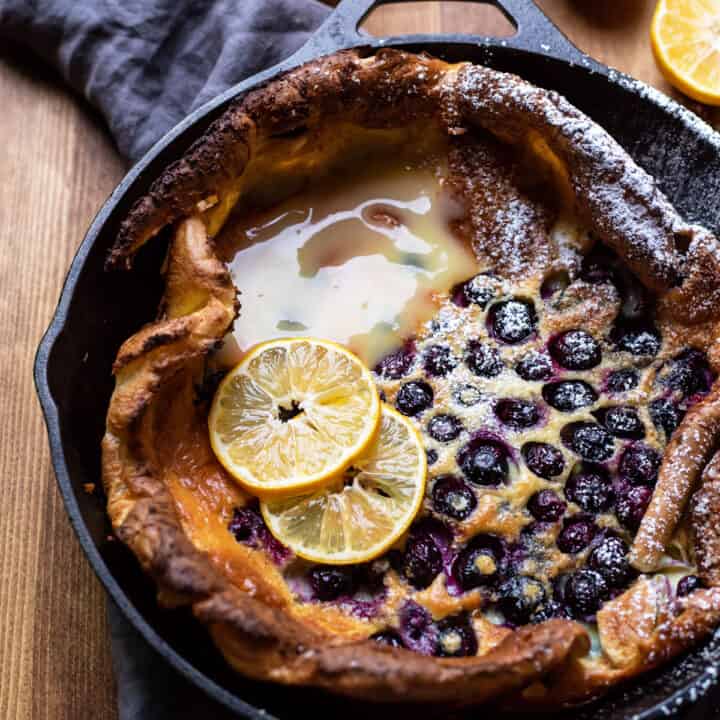 Blueberry Dutch Baby Pancake
This puffy blueberry dutch baby looks extra fancy but comes together so easily. All you need is a blender and something to bake it in. For extra decadence spread on some homemade lemon curd.
Ingredients
3 tbsp butter
3 eggs
⅓ c milk
⅓ c flour
½ tbsp sugar
¼ tsp salt
½ tsp vanilla extract
½ tbsp lemon zest
1 c fresh blueberries, rinsed and drained
Lemon Curd bought or premade
optional: powdered sugar, i like it for a bit of sweetness
Instructions
Preheat oven to 400 and let a skillet heat in the oven until it reaches temperature
Combine the eggs, milk, flour, sugar, salt, vanilla and lemon zest in a blender and pulse until combined (alternately a bowl and whisk work just as well)
Carefully remove the skillet with an oven mitt
Add 3 tbsp of butter to the hot skillet swirling around the pan
Pour in the batter and top with with blueberries (keeping them in the center vs the edge)
Place the skillet back in the oven and cook for the dutch baby for 20 minutes or until the edges have puffed way up
Pull from the oven, let it cool a minute or two
Sprinkle with powdered sugar and a drizzle of lemon curd
Recommended Products
As an Amazon Associate and member of other affiliate programs, I earn from qualifying purchases.
Nutrition Information:
Yield:

6
Serving Size:

1
Amount Per Serving:
Calories:

343
Total Fat:

15g
Saturated Fat:

8g
Trans Fat:

0g
Unsaturated Fat:

5g
Cholesterol:

164mg
Sodium:

260mg
Carbohydrates:

48g
Fiber:

1g
Sugar:

40g
Protein:

6g
This information comes from online calculators. Although moderncrumb.com attempts to provide accurate nutritional information, these figures are only estimates.