A lemon dutch baby topped with powdered sugar and fresh berries. This dutch baby pancake is so refreshing and makes for the perfect brunch recipe!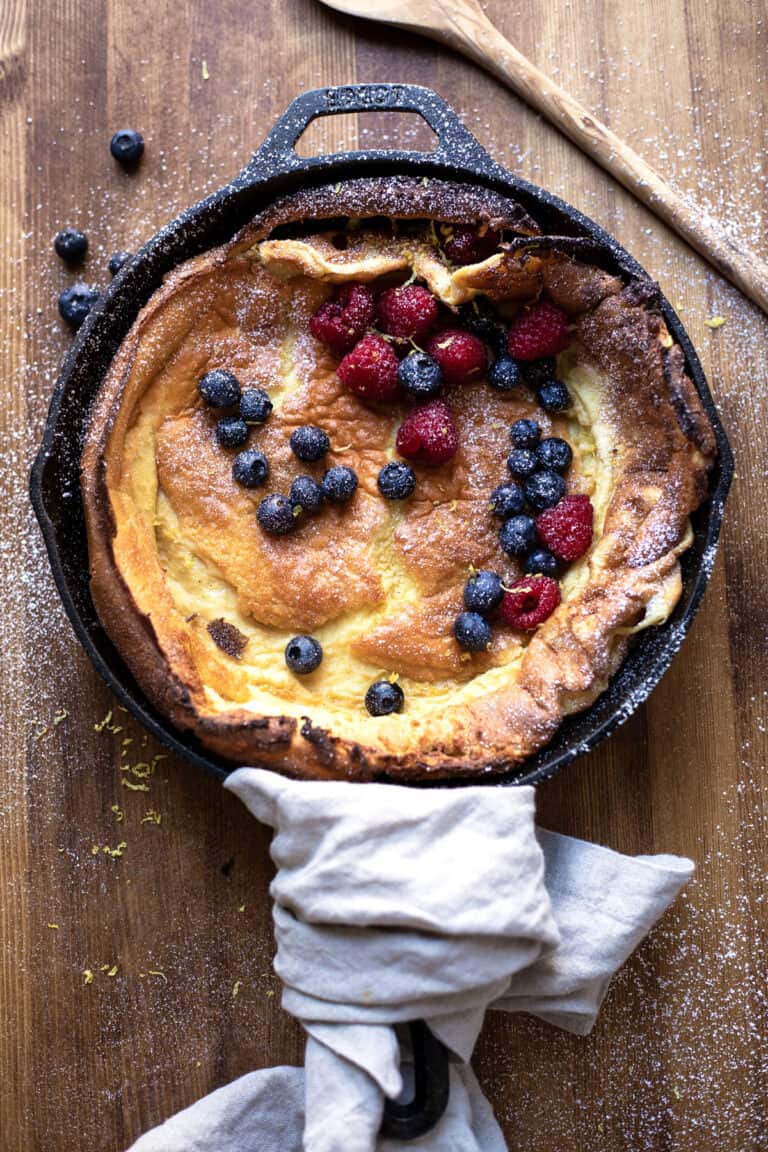 This lemon dutch baby has all your favorite features of a dutch baby, like hearty egg bites and big puffy edges.
It has a lemony undertone which makes it such a refreshing and bright breakfast in the spring time.
I've been eating dutch babies since I was little, still living in Alaska.  My mom used to make them for us as a treat.  She got the recipe from her mother who used to make them for her and her brothers and sister. 
Egg pancakes is what we called them, rightfully so, they are loaded with eggs! Also known as a german pancake.
This pancake variation is baked in the oven in a skillet instead of on the stovetop. It's like a large popover.
This is really similar to my popular apple dutch baby recipe I shared with you when I first started this blog.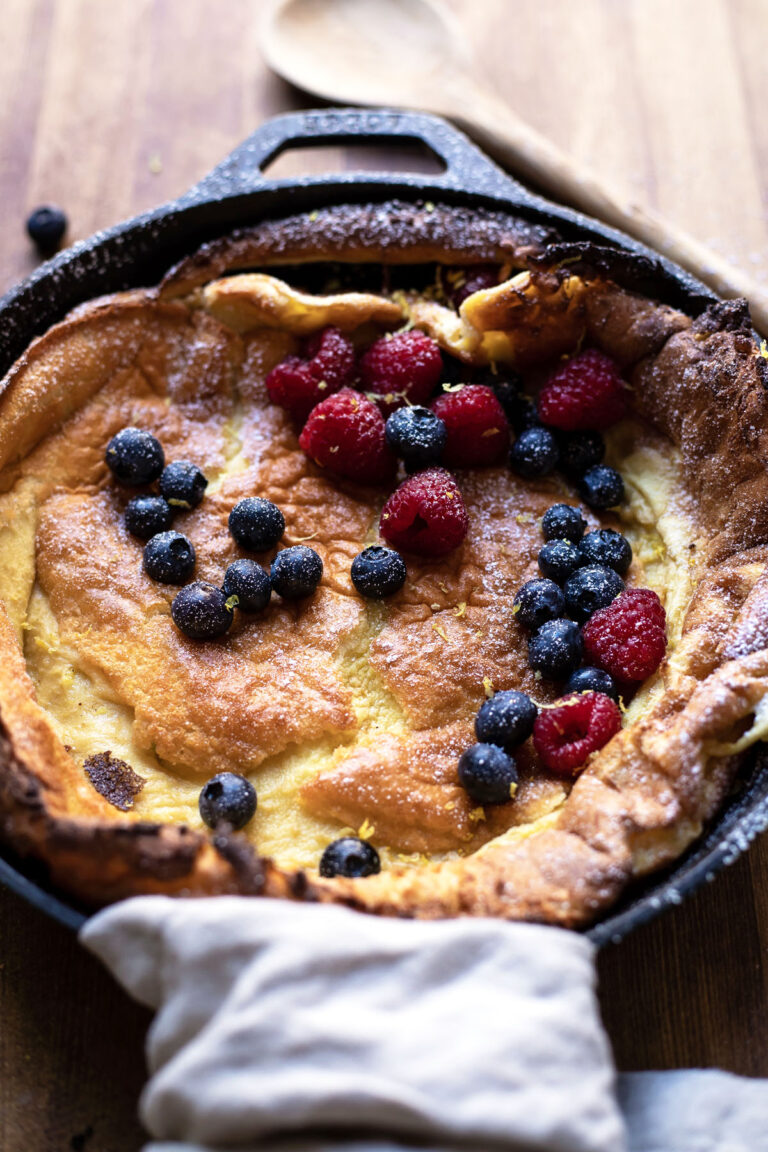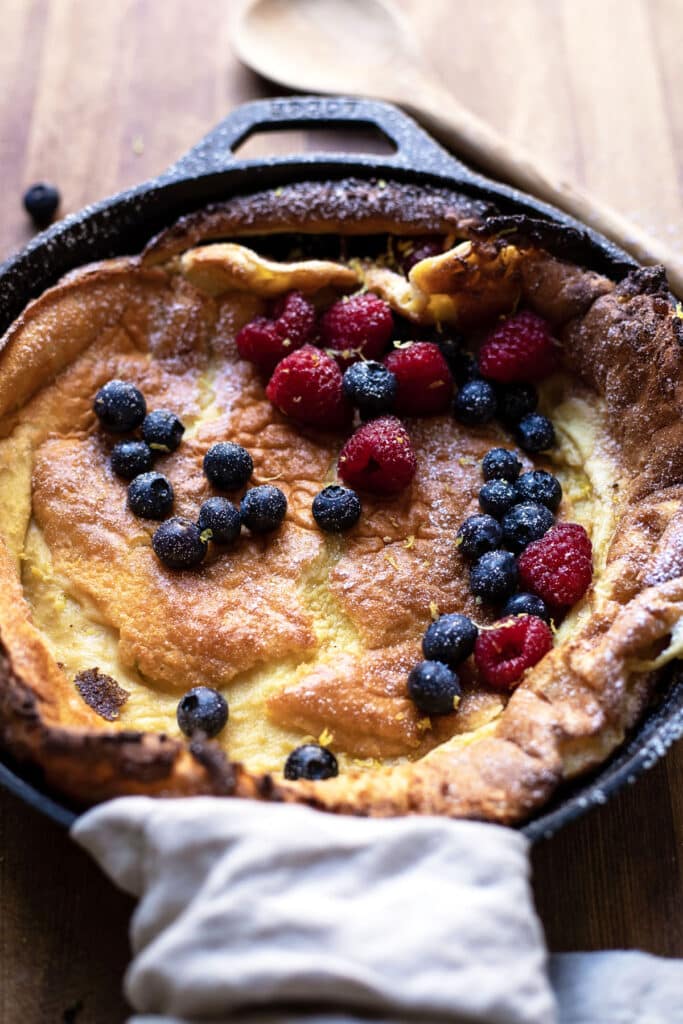 What Ingredients Are in a Dutch Baby?
This dutch baby is a spin off my grandmothers.  I don't use any baking powder, all the lift comes from the oodles and oodles of whipped up eggs.  
The lemon zest in it gives it a nice zippy pep.  Because truth be told this is not a super sweet pancake.  And I wouldn't have it any other way.
But adding zest from any type of citrus will always give you much more flavor than just adding the juice of the fruit. Like in this recipe for lemon poppyseed pound cake.
And it would be so delicious topped with a bit of homemade lemon curd.
eggs - lost of eggs is the main ingredient in a dutch baby
milk
flour
sugar
salt - I always like to use kosher salt in my recipes, it brings out the most flavor
vanilla extract
lemon zest
butter
berries - blueberries and raspberries but you could add any other berry you want
Dutch Baby Tips
Your lemon dutch baby will rise like crazy in the oven.  Try to serve it as fast as possible for that awe inspiring look of amazement. 
It will be so puffy with big tall edges but it does start to drop quickly!
As it leaves the oven it starts to deflate, especially once you start putting toppings on it. So maybe gather the family by the oven while you take it out, for the brief show.
Using a cast iron skillet with give you the best results!
How To Make A Lemon Dutch Baby
You can whisk everything in a bowl but I prefer to blend it up. Not a ton. Just until its incorporated plus a few extra seconds.
You want your pan to be extra hot when you pour the batter in, so be sure to put your skillet in the oven while it preheats. 
Once it's reached temperature, carefully pull it out. Add the butter, swirling all around so it coats even the edges of the pan.
Then pour in the dutch baby batter and bake for 20 minutes. It's tempting to take it out before the 20 minutes but most of the rise, the really tall edges, form between the 15-20 minute mark.
I love how the hot dutch baby heats up the fresh berries, because when you bite in its like a warm berry syrup. 
The bit of lemon zest with the fresh fruit is so refreshing.  Since this recipe isn't heavy on the sugar, I like to add just a bit of powdered sugar on top for sweetness.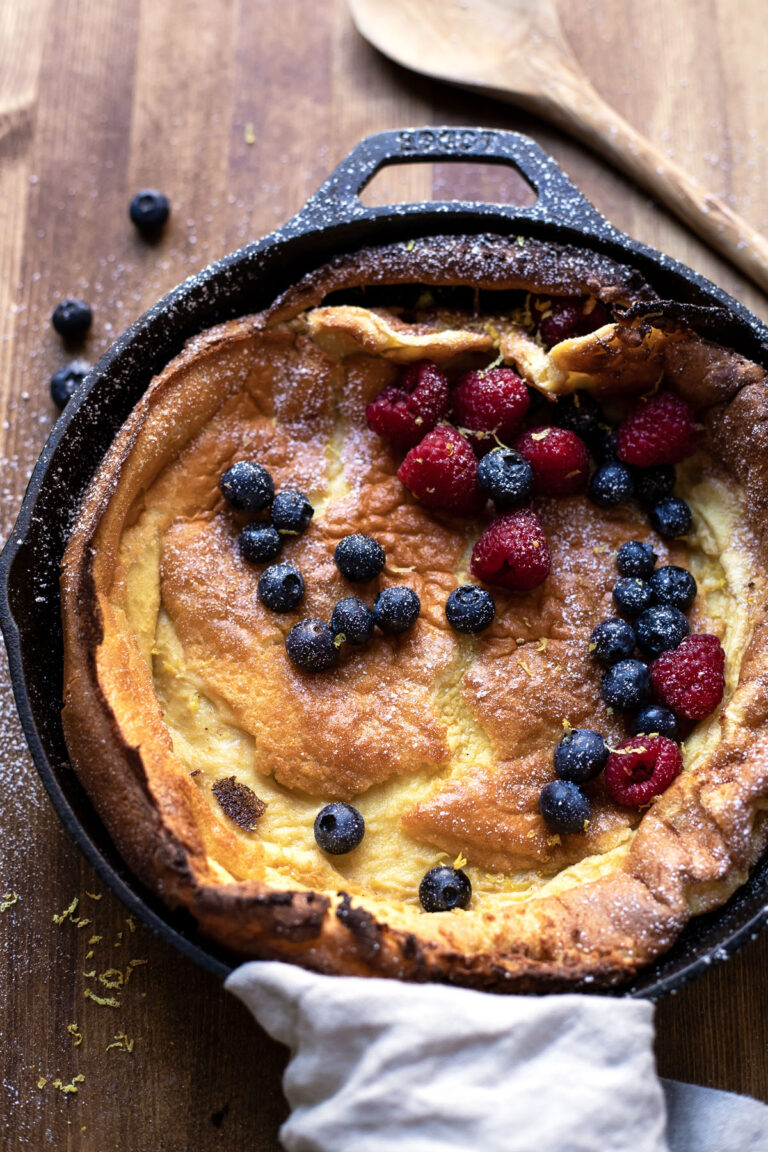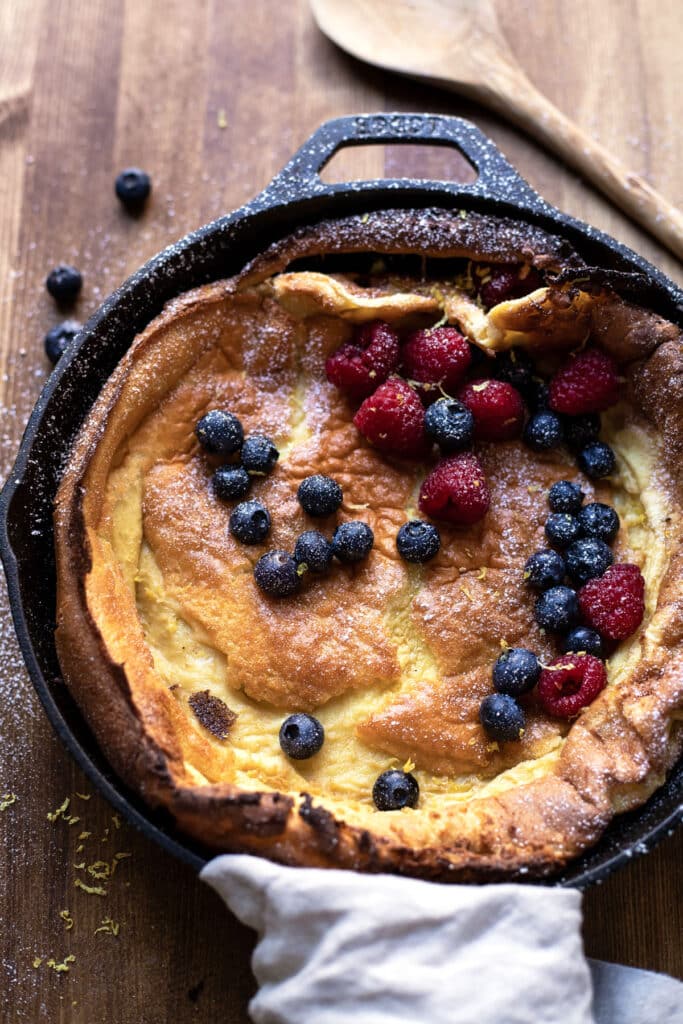 FAQ
What does a dutch baby taste like?
A dutch baby tastes a little bit similar to a pancake but overall has an egg taste to it. If you took a bite of pancake and a bite of an omelet all at once, that's what a dutch baby tastes like.
What makes a dutch baby rise?
Beating the eggs in the batter is what gives the dutch baby it's rise.
Why is it called a dutch baby?
The name dutch baby originated here in the United States, being based off the german pancake. A german pancake is an egg based pancake and resembles an english popover.
Why is my dutch baby flat?
Did you leave it in the oven the full 20 minutes? If you did and it's still flat it is most likely an issue with how the batter got mixed. And sometimes it's just bad luck - I've had them turn out flat for me with no rhyme or reason.
Can you reheat a dutch baby pancake?
Yes.
Can you make a dutch baby in a glass pan?
You can, the results may not be as impressive if using a cast iron skillet (because the skillet holds the heat and helps cook and rise) but many reviews have had success using a glass pan to bake their dutch babies.
How do I make this dutch baby for 2?
Half the recipe and it is the perfect size for 2 people.
More Breakfast Recipes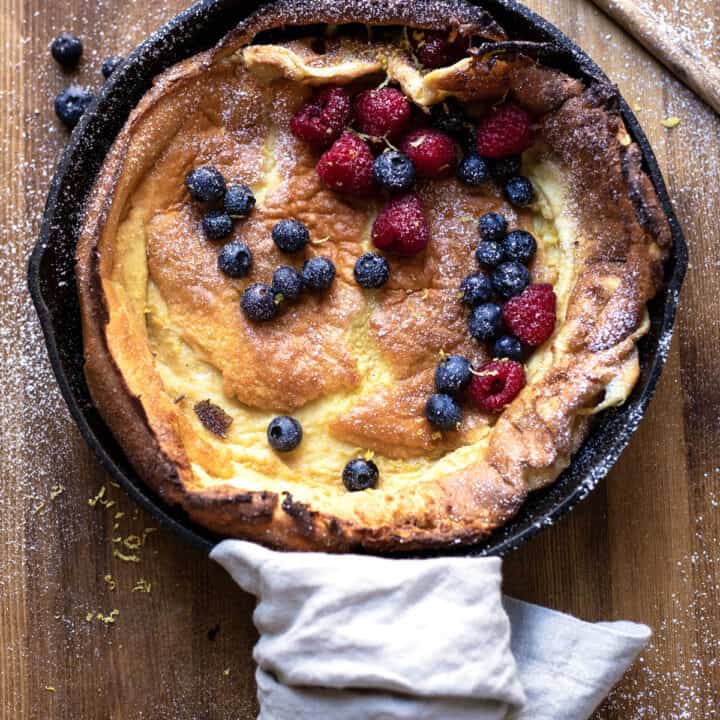 Lemon Dutch Baby With Berries
A lemon dutch baby topped with powdered sugar and fresh berries. This dutch baby pancake is so refreshing and makes for the perfect brunch recipe!
Ingredients
6 eggs
⅔ c milk
⅔ c flour
1 tbsp sugar
½ tsp salt
1 tsp vanilla extract
1 tbsp lemon zest
3 tbsp butter
toppings: powdered sugar, blueberries, raspberries
Instructions
Preheat oven to 425.
Place your skillet in the oven
In a blender add all ingredients (not the butter)
Alternatively you can use a bowl and whisk
Blend until everything is incorporated about 15 seconds
Carefully remove the skillet with oven mitts once the oven has reached 425
Put the butter in the pan, swirl it all around until it's melted, golden and bubbly
Pour all of the batter into the skillet and place it back in the oven
Cook for 20 minutes until the dutch baby edges have risen up
It may look flat for the first 10 minutes, don't be alarmed it will puff up
Serve right away with a dusting of powdered sugar and fresh berries
The dutch baby will heat up the berries and it will be so gooey and delicious!
Nutrition Information:
Serving Size:

1 grams
Amount Per Serving:
Unsaturated Fat:

0g