Get ready to learn how to make the most delicious sweet crepes from scratch. Flavored with sugar and vanilla these breakfast crepes can be used with plenty of filling variations.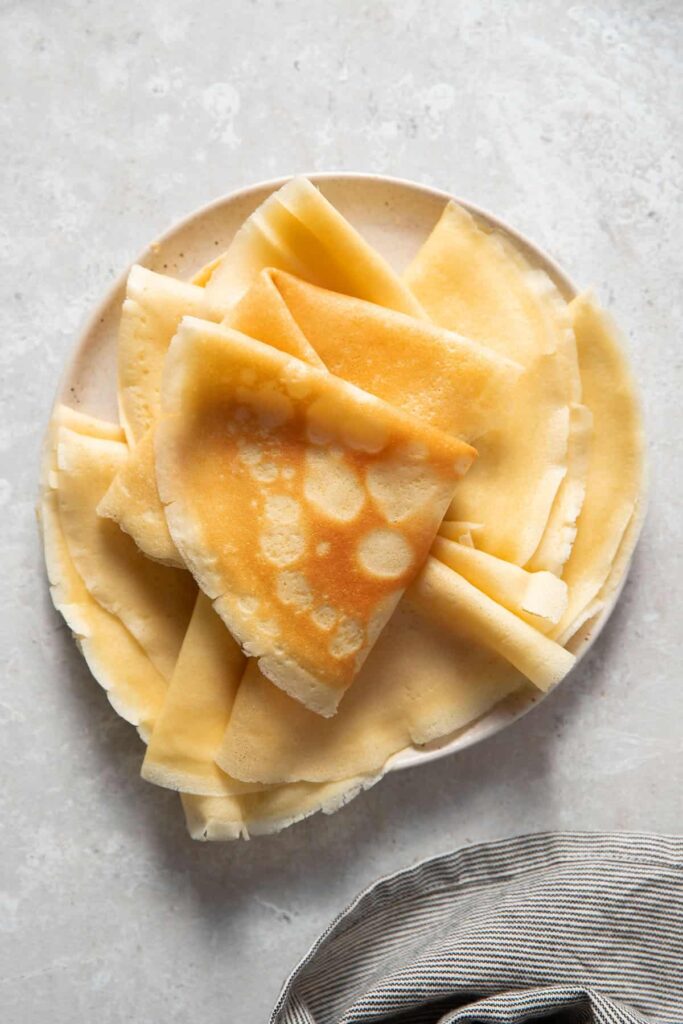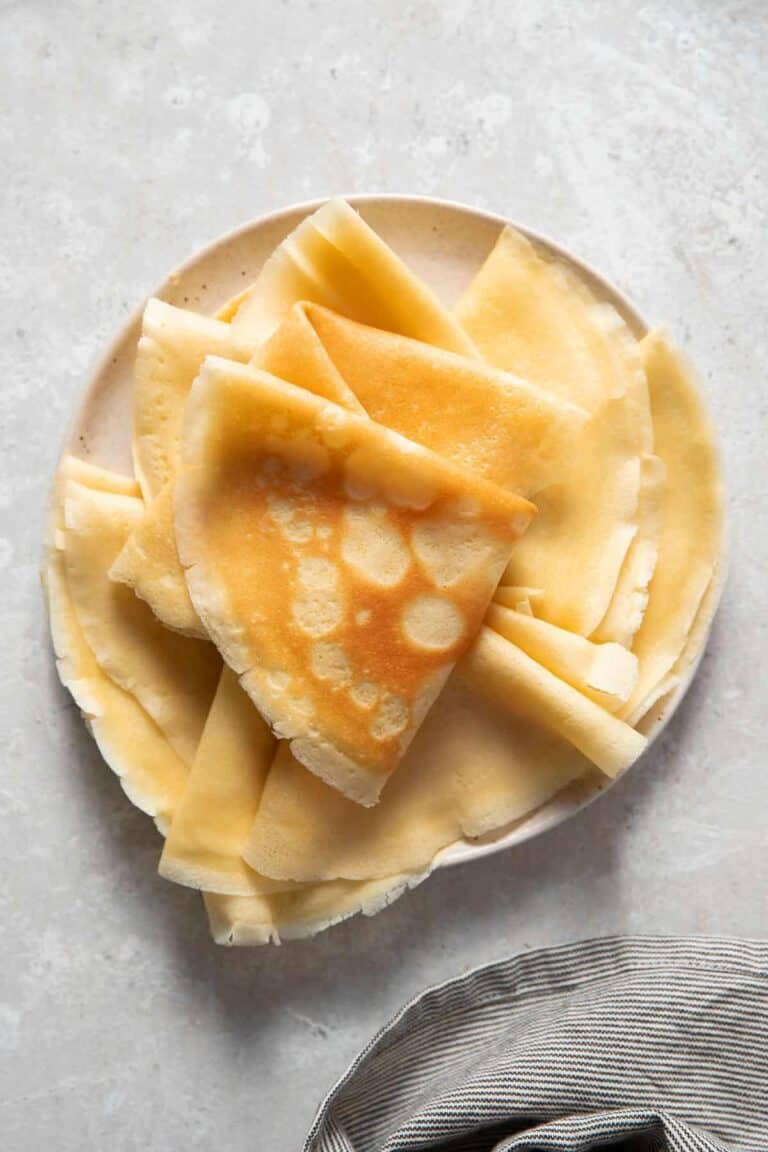 Crepes are such a treat to have for breakfast or brunch. They require a handful of ingredients, similar ingredients to pancakes, so you can make them on the fly whenever a craving strikes.
If you've never had a crepe they are flat, a super thin pancake. Which makes them easy to fold and fill.
This is a sweet crepe recipe, so they are made with vanilla and sugar.
You'll want to eat them with fillings like nutella, strawberries and bananas (just to name a few). You can fill them with anything you want! I always go for cottage cheese and blueberry sauce.
I've been making crepes for as long as I can remember, it may be the first thing I've ever made all by myself. We grew up eating these and I feel like I may be a low key expert.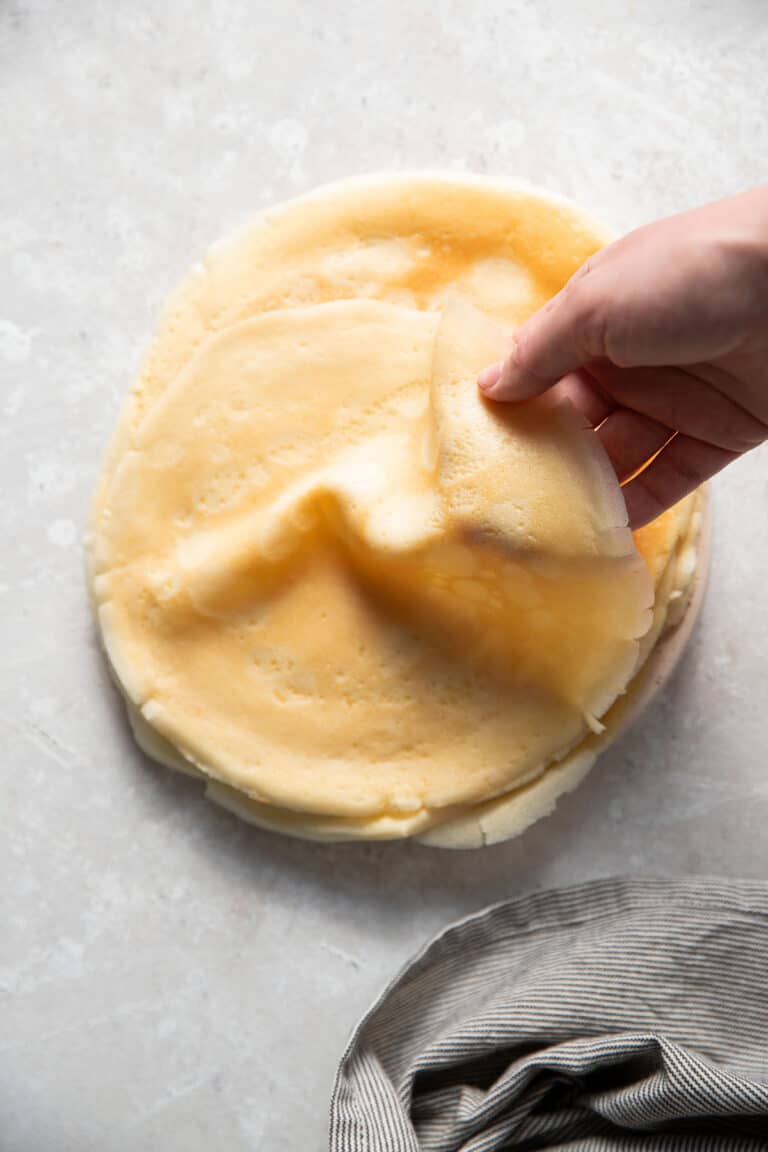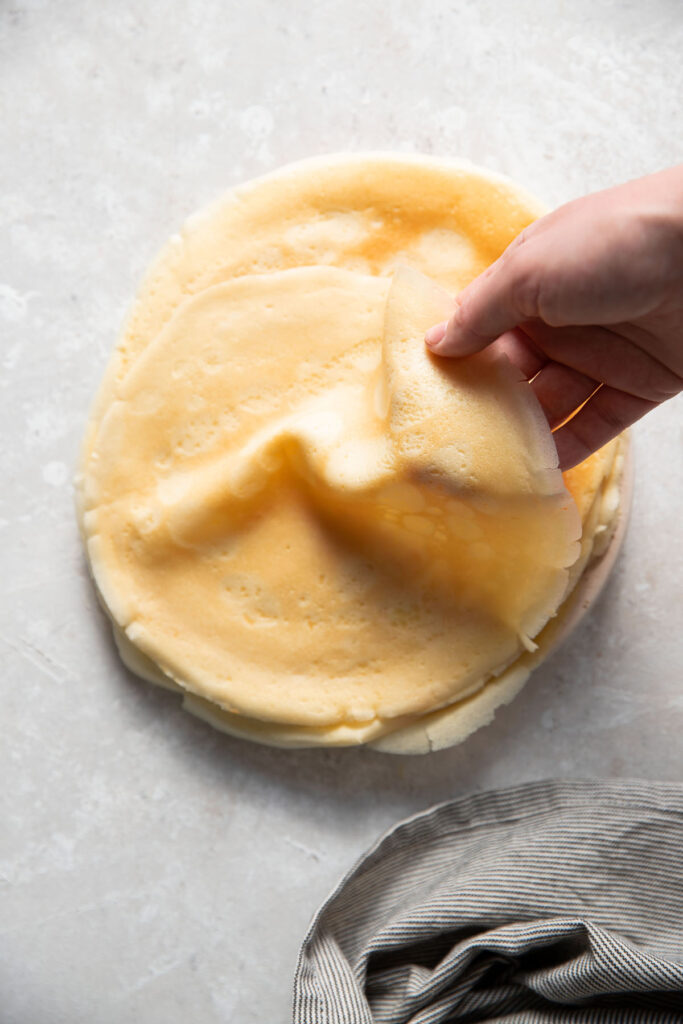 What Are Sweet Crepes?
A sweet crepe is a variation of a very thin pancake. It's flavored with sugar and vanilla extract to make it sweet. If you wanted to make a savory crepe you would leave out those two ingredients in the batter.
They are the perfect thing to serve for breakfast or brunch! And with a little bit of know how, you can be a crepe making master.
Crepe is pronounced, "kr-ep". However everyone seems to have their own variation, which is fine.
You can fill sweet crepes with any type of filling you like! My preferred crepes have cottage cheese rolled up inside and are topped with warm fresh blueberry sauce.
This is how we've eaten them my entire life, my mom used to make us crepes all the time. This cottage cheese filling is reminiscent of a blintz. It may sound a bit strange but I promise it's amazing!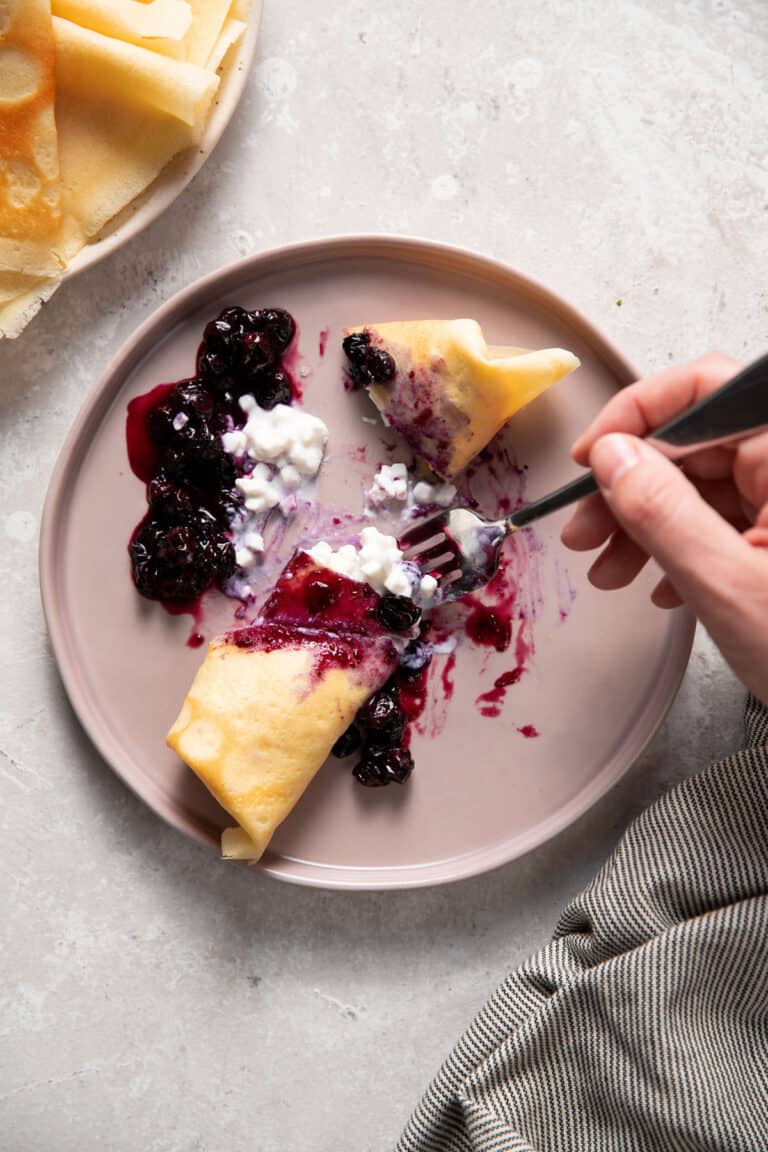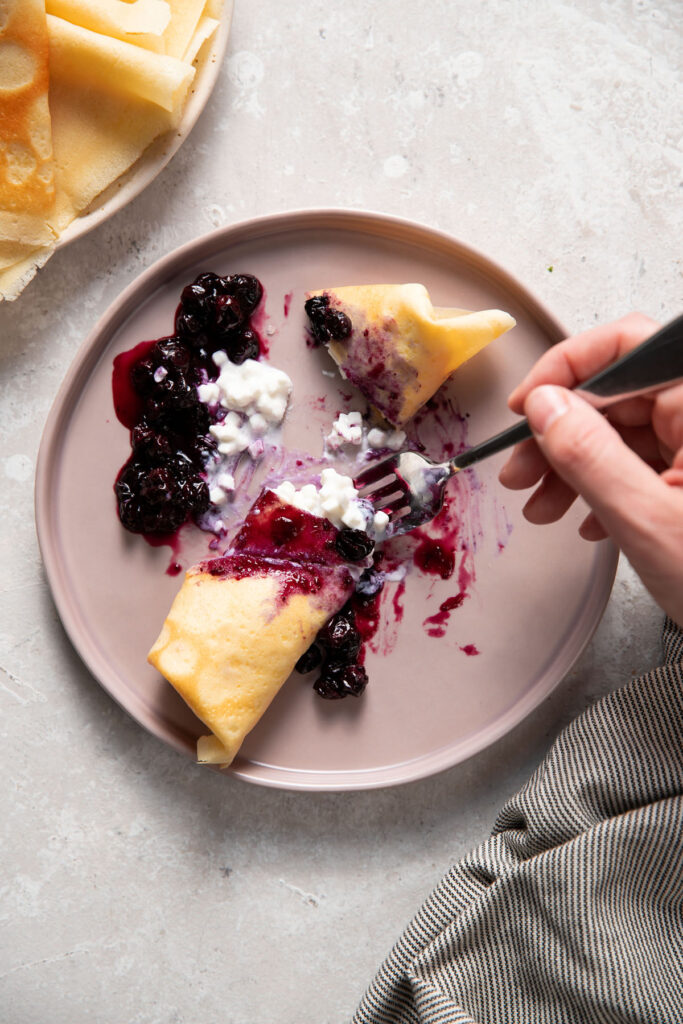 Sweet Crepes Fillings
The possibilities are endless for filling options! Anything you can dream of, you can stuff in a crepe. You can do a fancy triangle fold or an easy burrito style fold.
Here's a few crepe filling ideas.
nutella
strawberries
chocolate
cream cheese
bananas
lemon curd - this is a homemade recipe and easy to make
If you want to make a savory crepe, just leave out the sugar in the recipe. Savory crepe fillings could be ham and cheese, sunny side up eggs and vegetables. Again, whatever you can think up, you can put in your crepes.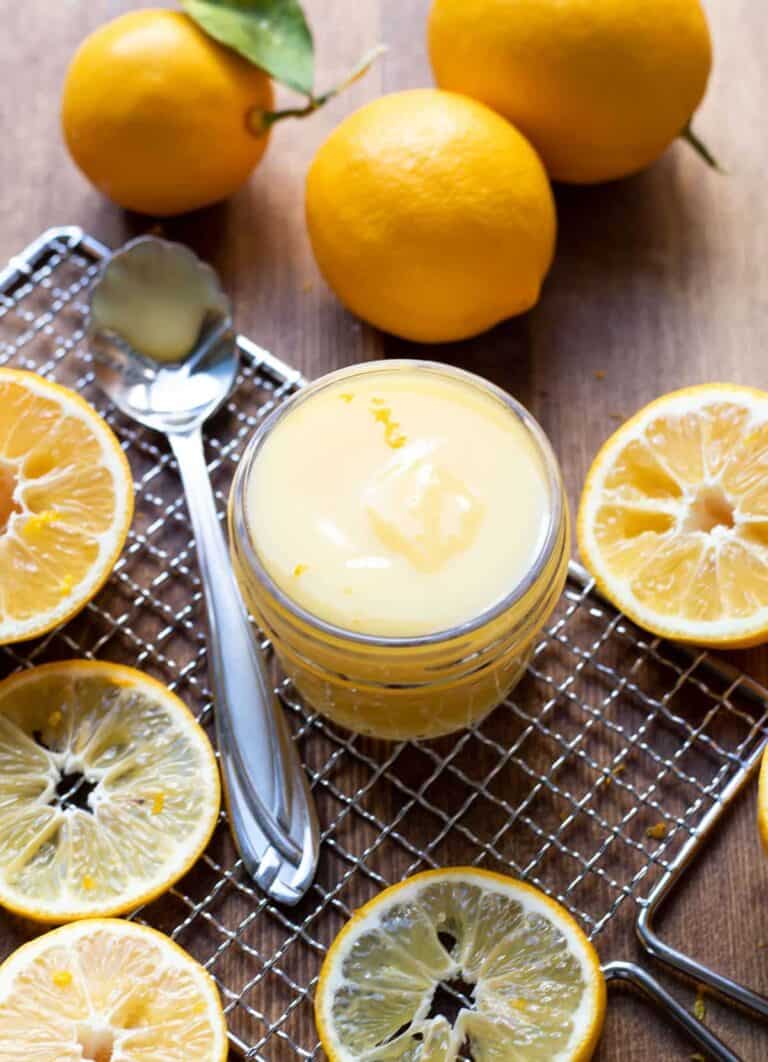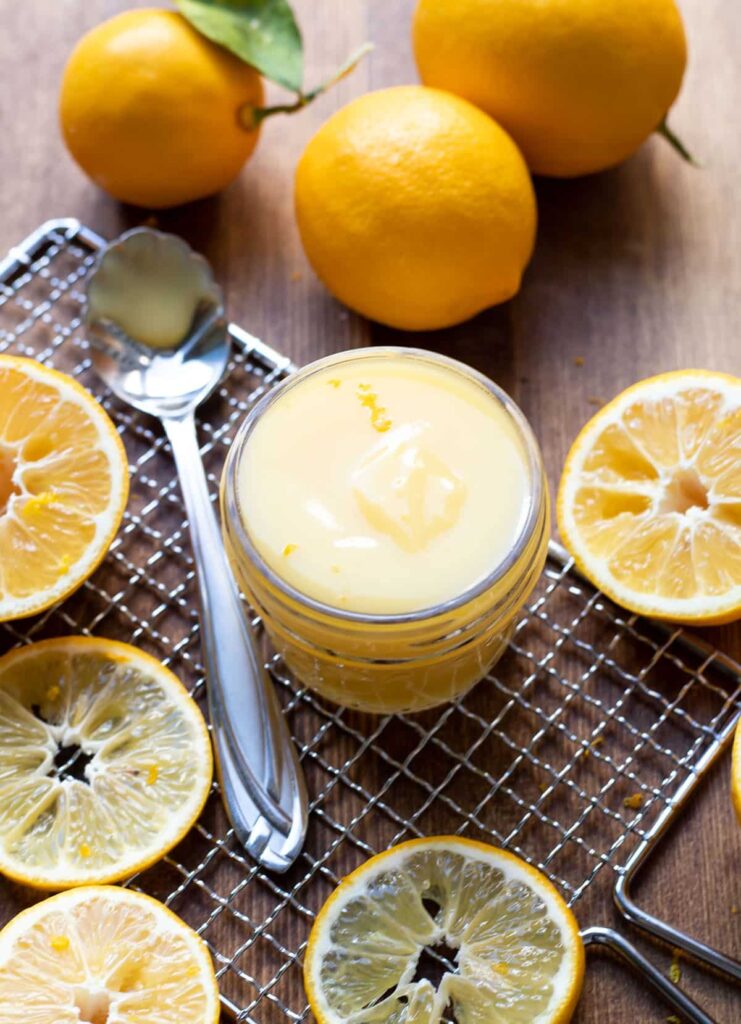 Ingredients Needed For Sweet Crepes
To make sweet crepes here's what you'll need.
eggs - regular large eggs, these do not need to be room temperature
flour - all purpose flour
milk - whatever milk you like it doesn't need to be whole milk or anything particular
salt - to enhance the flavor
butter - melted butter goes in the batter
baking powder - for a little bit of lift
vanilla extract - main ingredient for making this a sweet crepe vs savory
sugar - another main ingredient needed for making this a sweet crepe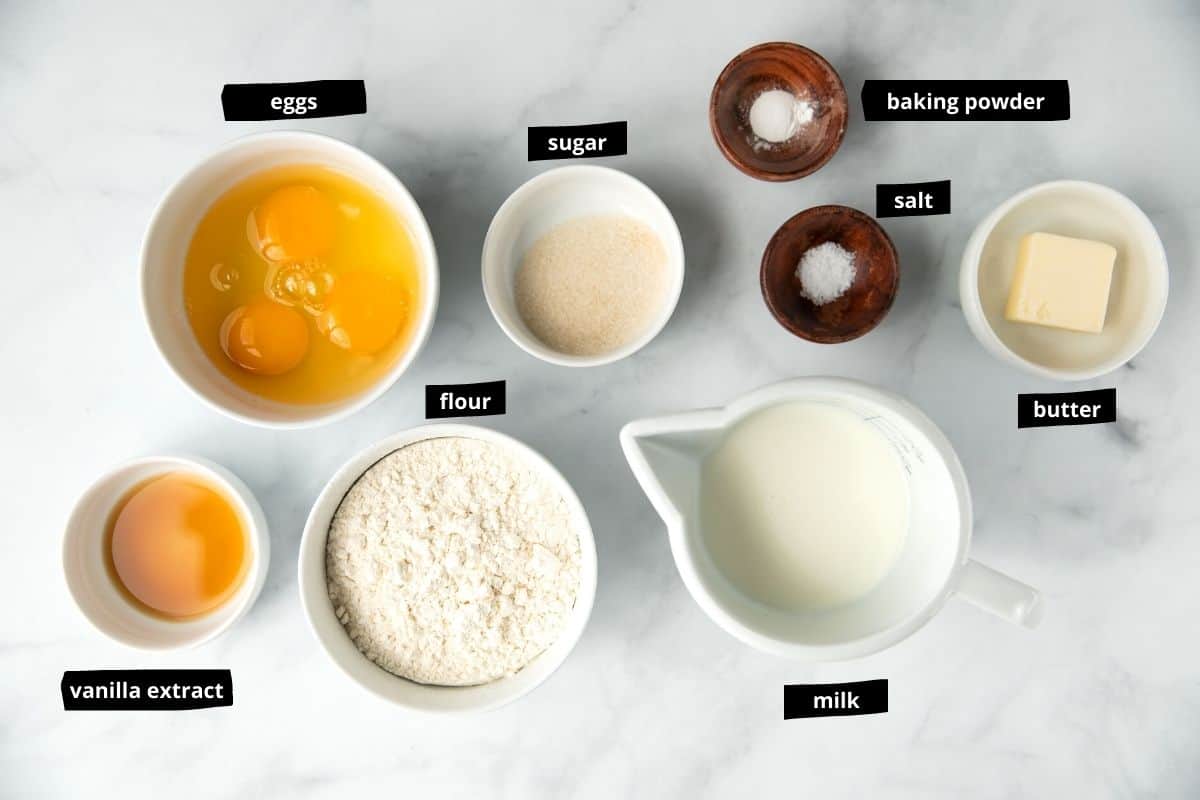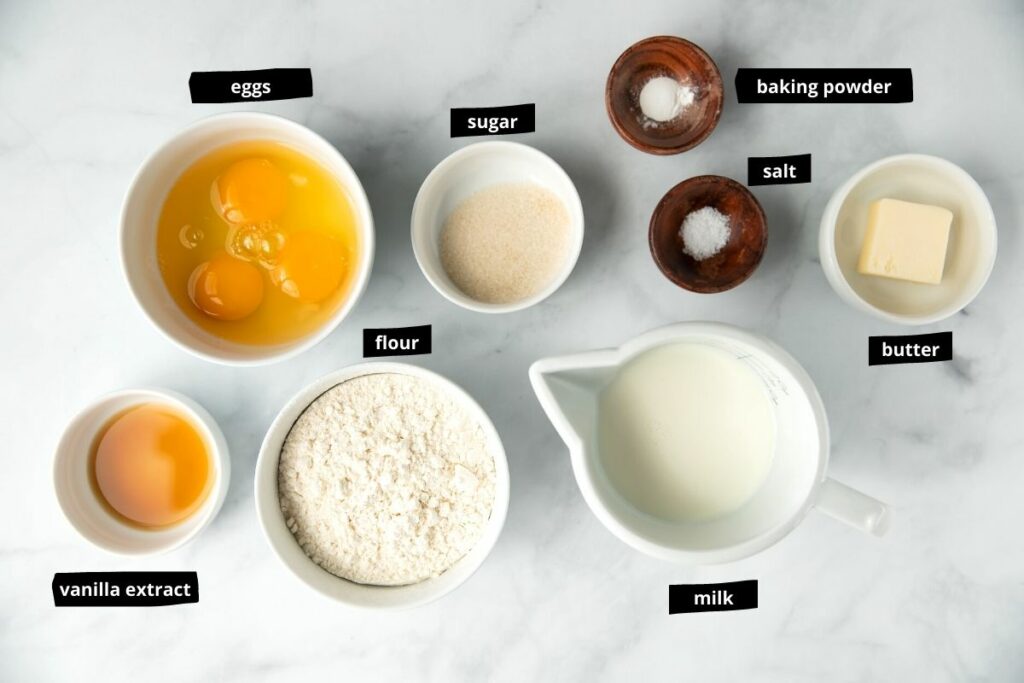 The Batter
Making crepe batter is quick and effortless. Gather all of your ingredients and place them in a blender.
Whirl your blender for about 15 seconds so everything is mixed together. Avoiding any lumps. The batter should be silky smooth.
The texture of crepe batter is much thinner than pancake batter. Don't be alarmed if it's your first time making crepes and the batter is thin. Totally normal and what you want.
Keep in mind the batter should not be as thin as water, it should have a little bit of body to it.
These sweet crepes have the most delicious vanilla smell to them.
Helpful Tips
The pan you use will need to be small. An 8" pan works best and this is a common size everyone has at home. It's also easier to flip than if you use a larger size pan.
Your pan must be the right temperature. Medium/low/low is a good place to start. As time goes on it will heat up more and more and you can always turn the heat up if your burner runs cool.
If your pan is too hot as soon as you pour in the batter it will be hard to swirl around, keep that in mind.
For an 8" pan a ¼ cup measuring cup works really well for the batter. You'll get consistent size crepes if you use a measuring cup instead of eyeballing pouring the batter from the blender.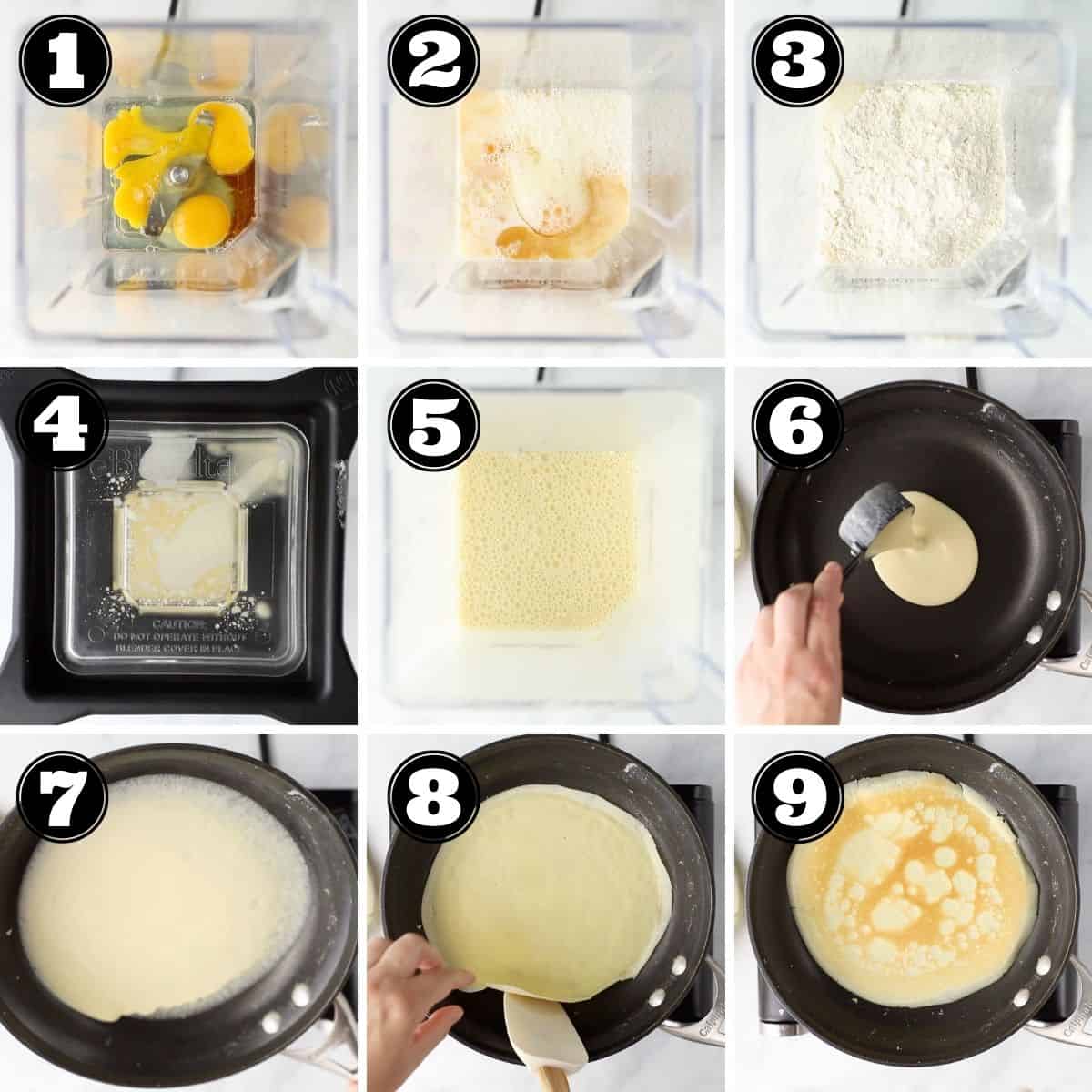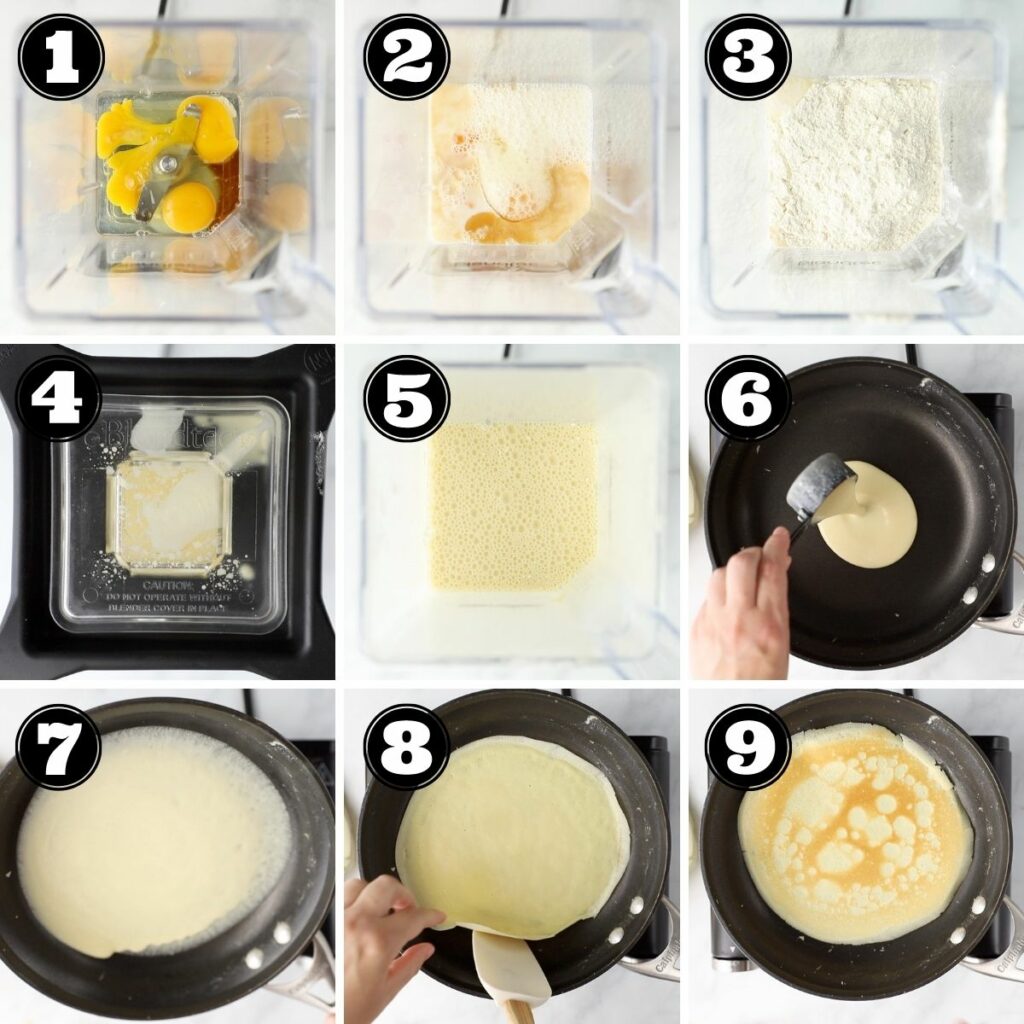 How To Make Sweet Crepes - Technique
Once you get the technique of making crepes, it will come so naturally! It does take a bit of practice but hopefully with my tips you'll be a crepe master in no time.
The trickiest part of making crepes is pouring the batter. So you want to be well educated for the best results!
Heat your pan to the right temperature (see tips above).
Use a ¼ c measuring cup to scoop the batter. With one hand holding the pans handle and the other holding the measuring cup, pour the batter directly in the center.
Lift up the pan by the handle and start swirling the pan around. Just keep swirling until there isn't any more loose batter liquid left and it has settled.
Put it back down to cook. Once the edges start to separate from the side of the pan, it's ready to flip. Carefully flip it and let it cook an additional minute or two. Once you flip it, it doesn't need a lot more time.
Transfer it over to a plate and keep making them. Stack them up on a plate like you would pancakes.
Storing Crepes
Storing crepes after you make them is a cinch.
Wrap them in plastic wrap or an airtight container and refrigerate. They should be good for a week.
Alternatively you can freeze them as well! To freeze them, lay them flat in a ziploc bag. When you are ready to use them again, transfer them to the fridge to thaw.
Voila, you have premade crepes for breakfast.
If you are worried about sticking you can always add a small piece of parchment paper between each crepe prior to freezing.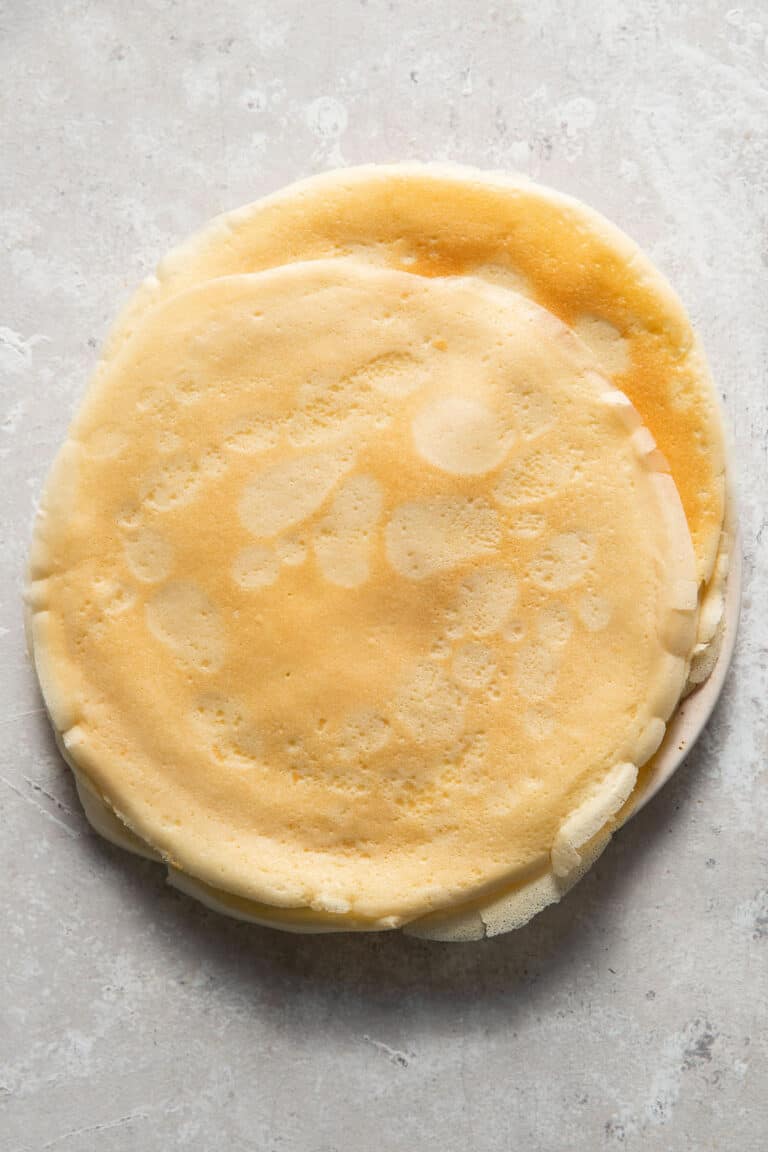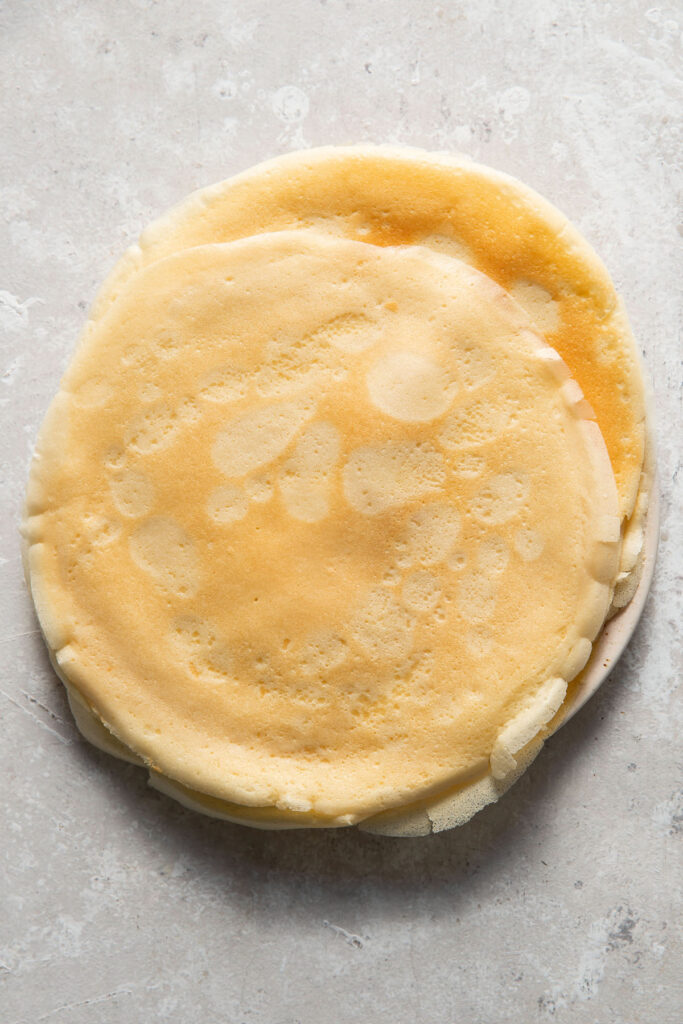 FAQ
My crepes are breaking, what am I doing wrong?
If it's just the first one two don't be alarmed, the first crepe usually turns out less than perfect. Just watch my how to make crepes video in this post. If you struggled with all of your crepes keep in mind it takes practice. But check things like the pans temperature, are they sticking to the pan, is the batter too thin?
What is a dessert crepe?
A sweet crepe is also called a dessert crepe because it is made with vanilla and sugar in the batter. The two are the same, just different names.
How to make crepes without a blender?
If you don't have a blender, that's okay. Use a whisk to vigorously mix the crepe batter in a bowl.
Are crepes sweet or savory?
They can be both. This recipe is for a sweet crepe but if you would like savory crepes just leave out the vanilla and sugar.
Can I use this recipe to make savory crepes?
Yes! Just leave out the vanilla and the sugar. In this photo I filled these savory crepes with guacamole, jack cheese, ham and a sunny side up egg. I sprinkled a little bit of chili powder on the egg for heat. Perfect for lunch!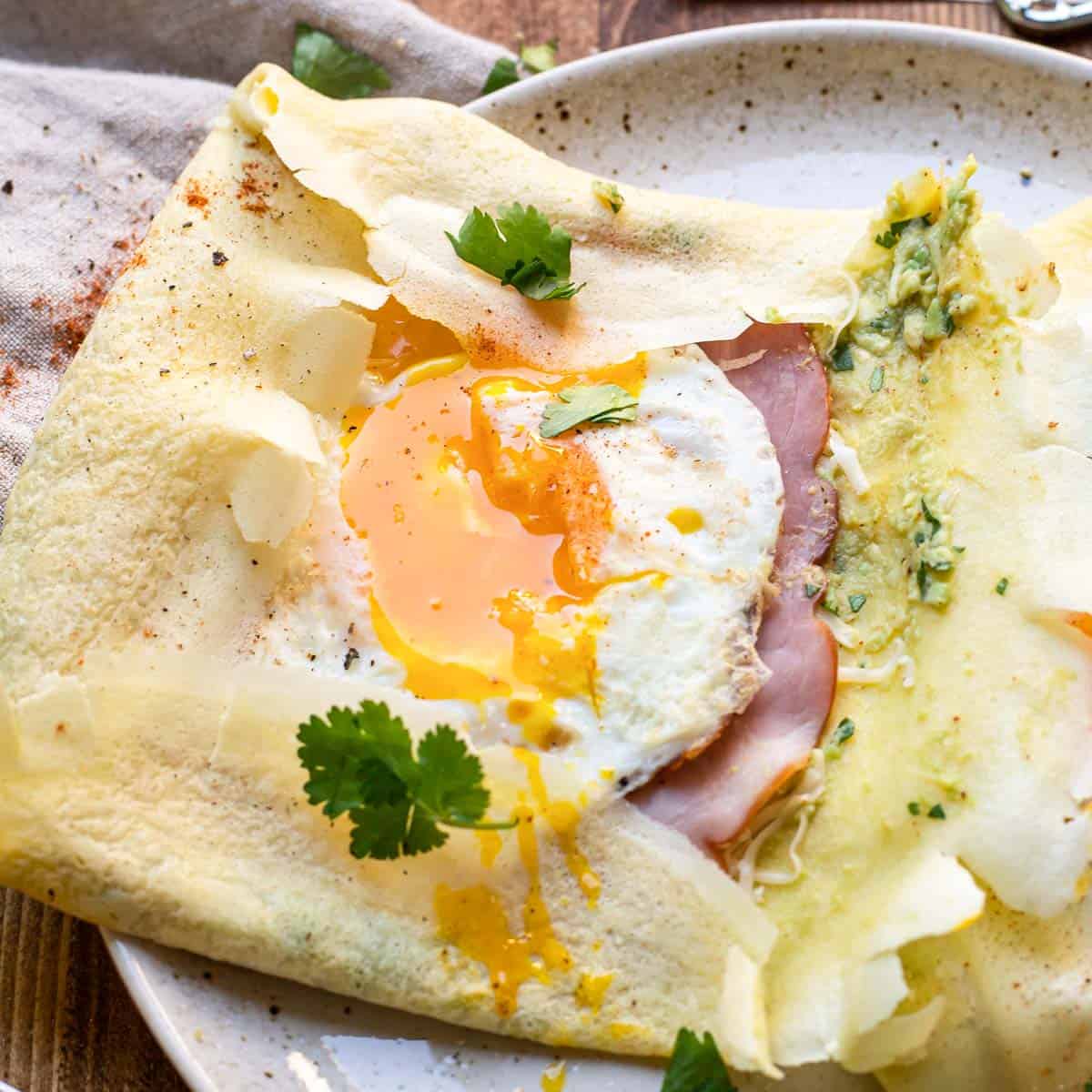 What can I make with sweet crepes?
If you are looking for something to make with sweet crepes, I love this homemade lemon curd. You can fill the crepes with them or put it on top.
More Breakfast Recipes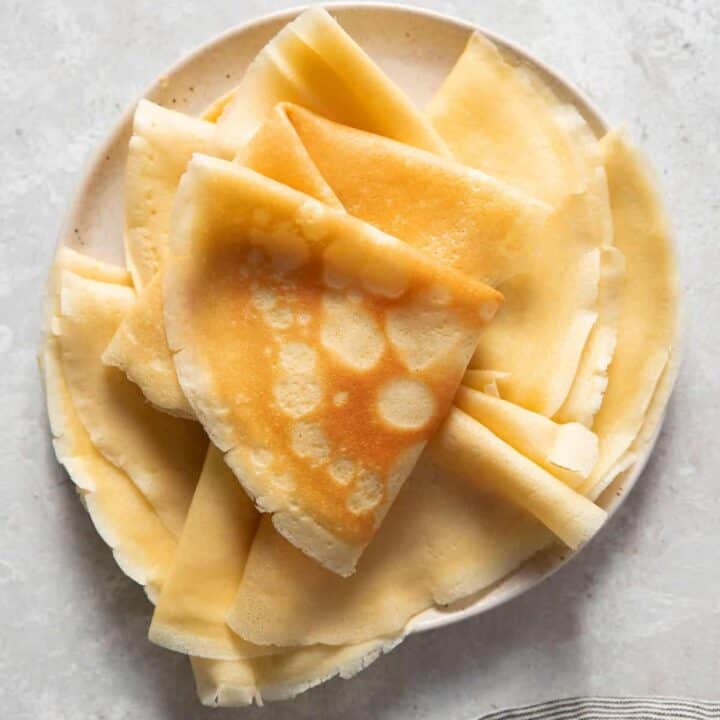 How To Make Sweet Crepes
Get ready to learn how to make the most delicious sweet crepes from scratch. Flavored with sugar and vanilla these breakfast crepes can be used with plenty of filling variations.
Ingredients
3 eggs
1 ⅓ c flour
1 ⅓ c milk
¼ tsp salt
2 tbsp butter, melted
¼ tsp baking powder
1 tsp vanilla
2 tbsp sugar, (white or cane sugar)
Instructions
Blend together all of the crepe ingredients for 15 seconds, leaving no lumps
Heat an 8" round pan over med/low/low heat, grease the pan with a little butter
Use a ¼ c measuring cup to ladle the batter to the middle of the pan
Hold the pan by the handle and swirl the batter around, twirling your wrist, until it starts to come up the side of the pan
Keep swirling the batter until it's no longer wet
The crepe is ready to flip when the edges start looking dry and are pulling away from the sides of the pan
Use a spatula to pull the edge out and your fingers to grab on, flip it over, careful not to burn your fingers (this is why it's on low heat)
Cook an additional minute then transfer to a plate
Repeat until all the batter is gone
Notes
The very first crepe doesn't always turn out good, just snack on that one while you work on the rest (watch the how to video in this post - you can see a clip of me failing at the very first crepe, like normal).
Med/low/low heat just means a bit warmer than all the way low - you can adjust this as you start making them, just make sure your pan is not too hot
Please make sure to read through the post to see all the tips, FAQ, and techniques
If you'd like to make this filled with my favorite filling, its plain cottage cheese on the inside, folded up and topped with fresh blueberry sauce, here's the recipe for my blueberry sauce I make.  Cook it in a pan on your stovetop.
½ c water
2 c fresh or frozen blueberries
2 tsp sugar
1 tsp corn starch + splash of water
Recommended Products
As an Amazon Associate and member of other affiliate programs, I earn from qualifying purchases.
Nutrition Information:
Yield:

8
Serving Size:

2
Amount Per Serving:
Calories:

162
Total Fat:

6g
Saturated Fat:

3g
Trans Fat:

0g
Unsaturated Fat:

2g
Cholesterol:

81mg
Sodium:

159mg
Carbohydrates:

21g
Fiber:

1g
Sugar:

3g
Protein:

6g
This information comes from online calculators. Although moderncrumb.com attempts to provide accurate nutritional information, these figures are only estimates.