This recipe for buttermilk biscuits is so quick and easy, they take only 45 minutes to make! You can make them as a traditional biscuit (my favorite) or a drop biscuit and they require just a few simple ingredients. They are fluffy, with lots of layers and they always get rave reviews. I make these biscuits every weekend for my family and I know your family will love them too!
I have a full tutorial, with photos on how to make buttermilk biscuits below. So make sure to check out the visual and the easy to follow steps!
This recipe was first published 12/14/2020.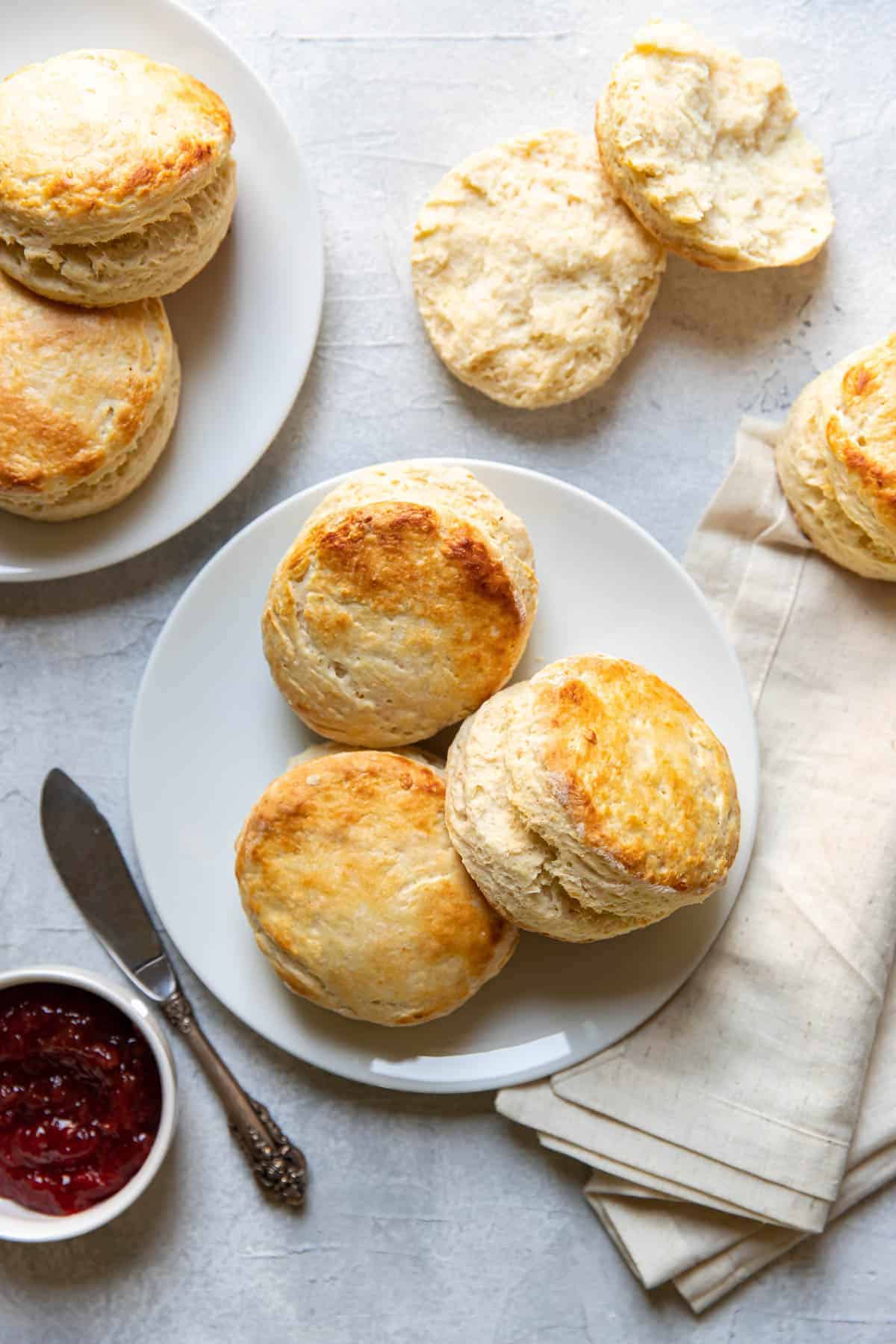 My family loves these buttermilk biscuits! I've been making them for years and they always turn out great. But I really love how easy and quick they are to make. So easy that I make them just about every single weekend. It's a rare occasion that I skip a weekend.
One thing you will notice is that this recipe doesn't call for a lot of butter. When I first came up with it I wanted something that didn't go overboard but you could still enjoy a yummy tender biscuit.
I've never had any complaints though and I feel a bit less guilty eating them!
Jump to: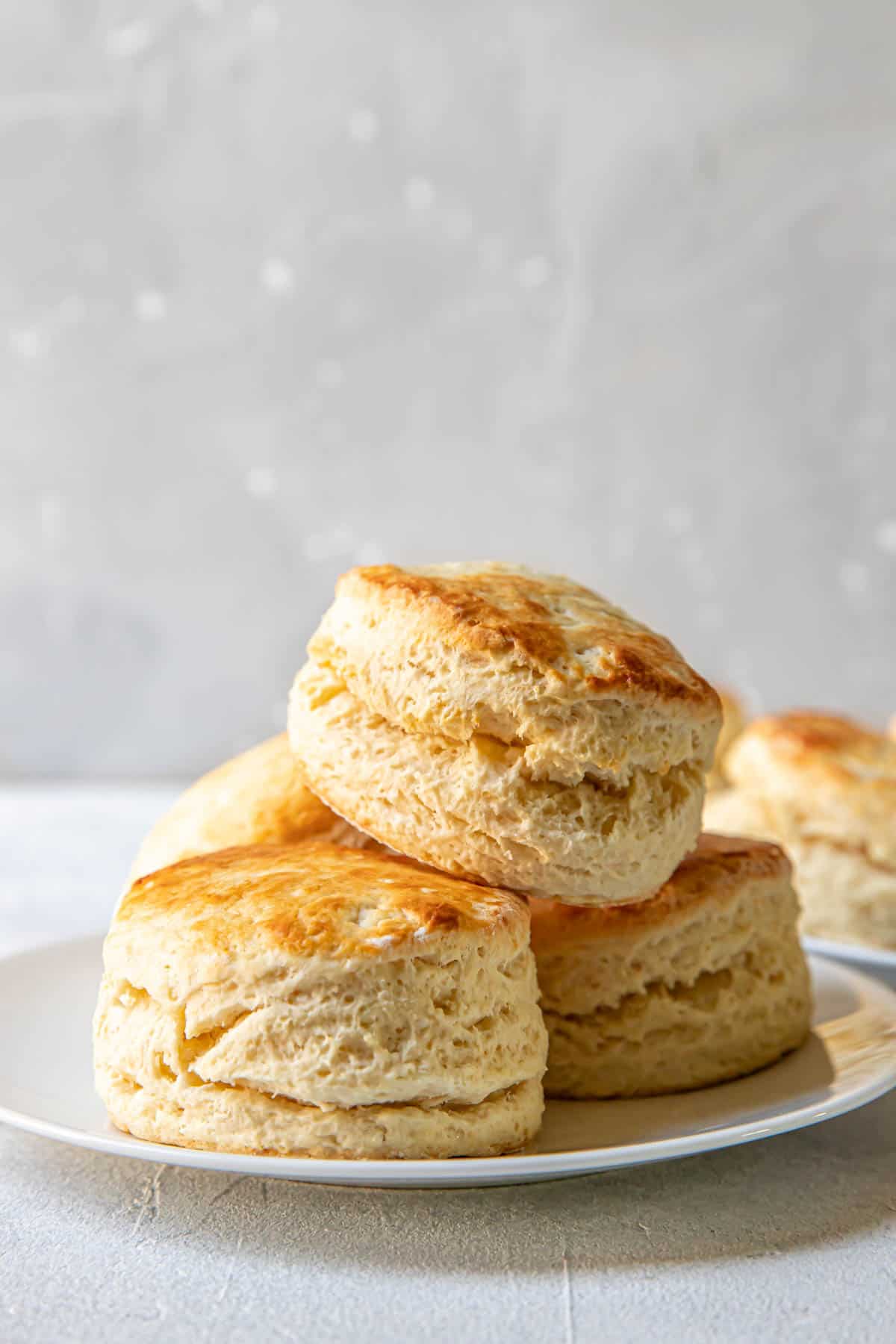 But if you really want to indulge then waffles with strawberries and whipped cream is the way to go.
It's an all butter recipe, meaning the biscuits are made without shortening (crisco). And while shortening can create a very tender biscuit, the intention was still to make something a bit healthier than the norm.
Everyone loves buttermilk biscuits, I mean they even made a buttermilk biscuits song forever ago.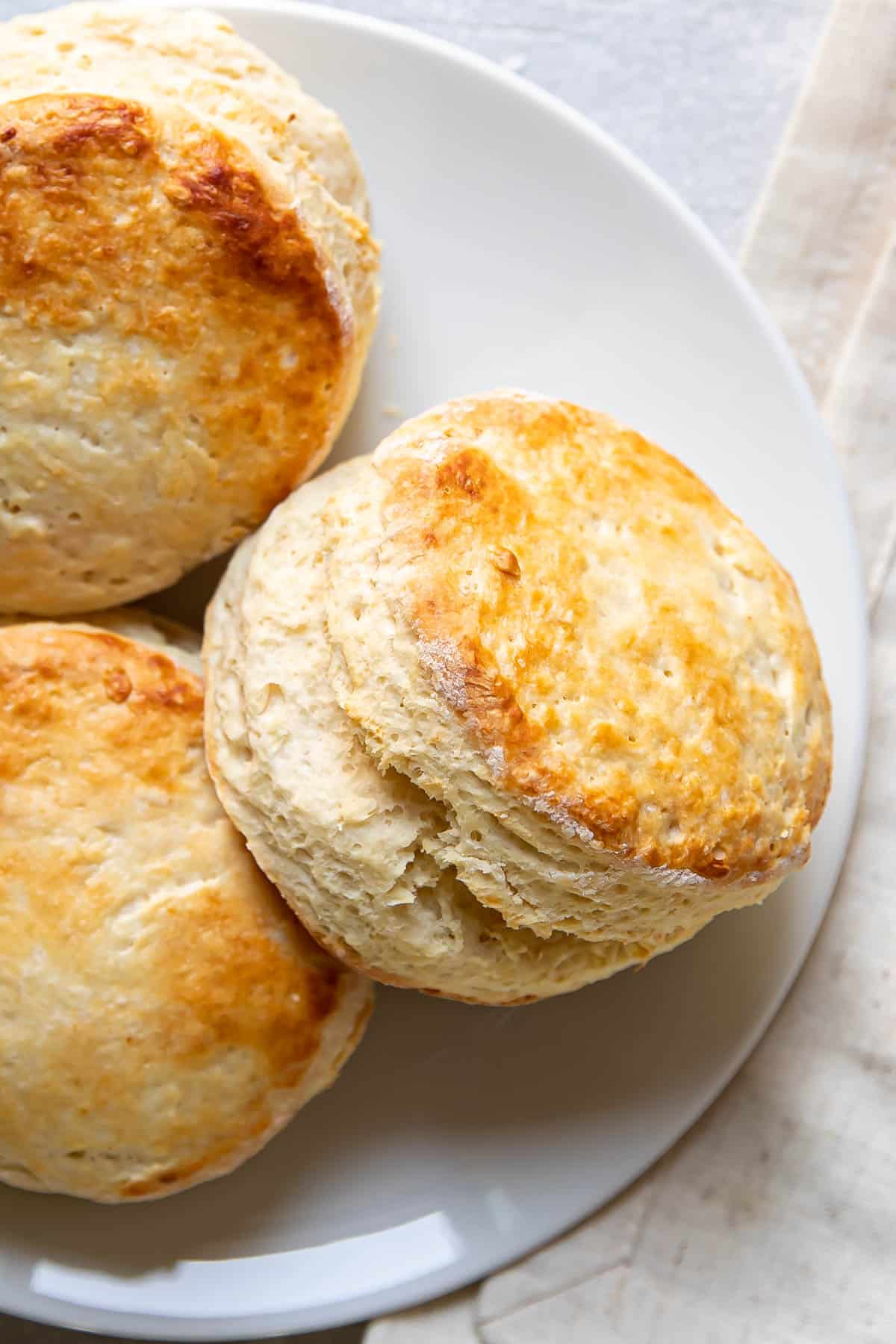 What Ingredients are In Buttermilk Biscuits
As I mentioned, you only need a few basic ingredients.
flour - all purpose flour
kosher salt - for flavor, I like to use kosher salt in all my recipes
cane sugar - can sugar is my go to sugar, if you don't have cane sugar that's fine you can use whatever variety you like, since cane sugar has bigger granules you may need to decrease the amount of sugar depending if you use a traditional white sugar
baking soda - this helps to rise the biscuits and since we are using buttermilk, baking soda is necessary
baking powder - gives rise to the biscuits
butter - start with cold, right out of the fridge, butter (I prefer salted butter)
buttermilk - this can be cold too, right out of the fridge. I use buttermilk in some of my most favorite recipes, like these pancakes, waffles and these cranberry orange poppyseed muffins.
For this recipe it's not necessary to have any room temperature ingredients. The butter and buttermilk can be cold, right out of the fridge to use.
Biscuits are always better homemade.
In the winter, I pretty much always have these ingredients on hand to make a batch in the morning. We also love to use these for breakfast sandwiches on Christmas morning or you can slather them with butter and strawberry jam.
We also make these maple cream cheese cinnamon rolls on Christmas morning, a family tradition.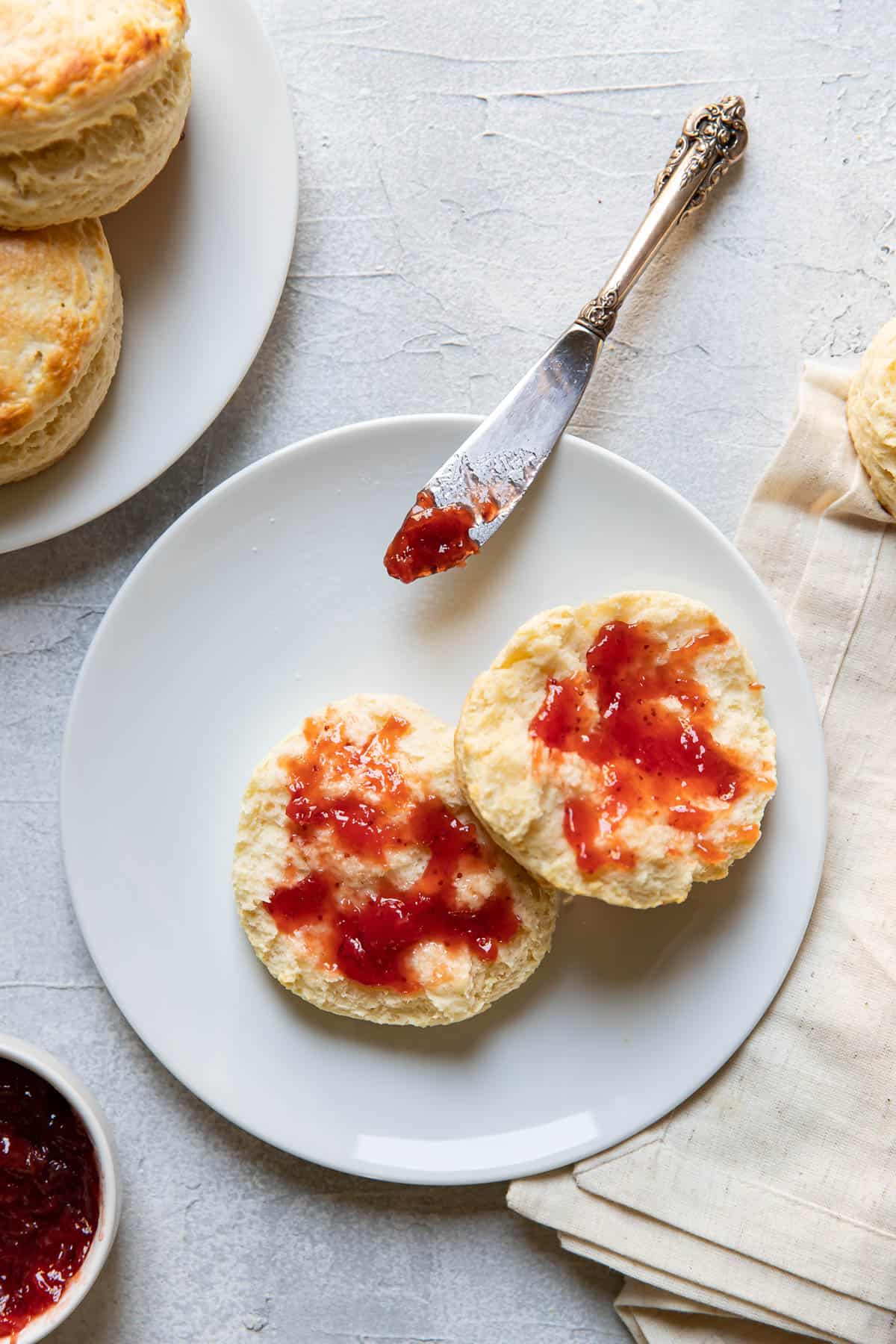 How To Make Buttermilk Biscuits
I've made these biscuits so much, I hope this visual step by step helps you make really good buttermilk biscuits! For the step by step in this 'how to make buttermilk biscuits' example I used a 2 ¾ inch biscuit cutter. But normally I use a 3 ¼" (see the section below this for that size).
Step 1. Grab a large bowl and sift together (or whisk together) flour, kosher salt, baking soda, baking powder and sugar.
Step 2. Cut the butter into little cubes and use your hands to mix it into the flour. You could use a pastry cutter or a fork, but I've found that your hands are your best tools for this.
If you use a food processor the results of the biscuits are a little different. They aren't as flaky. But that's just in my experience trying it that way.
Step 3. Pour in the buttermilk and use a large spoon to mix it together. You may be tempted to add more buttermilk but resist - the dough will come together!
Any excess buttermilk in your measuring cup you can use to brush on top of the biscuits before they bake, so don't wash that out yet.
Step 4. It's time to roll out the dough. Use your counter top, I used a cutting board just for picture purposes. Dust flour all over your counter. You can be generous with the flour, so it doesn't stick while rolling.
Dump out the dough. Using a rolling pin to gently roll the dough out.
Tip* If you notice your dough is a bit too wet you can sprinkle flour on top, it just means you used too much buttermilk.
Step 5. Fold the dough over 2 times (like folding a letter). Now roll it a little bit more and fold it over another 2 times.
Step 6. Lift up the dough, sprinkle a bit more flour on your counter. Roll this out so the dough is 1" thick.
Use a biscuit cutter, press straight down and then wiggle a bit to separate. Put the biscuits on a baking sheet lined with parchment paper.
Tip * Dip your biscuit cutter into flour after each biscuit cut.
With any excess dough roll it back up and repeat the above steps, folding a few times and rolling out. Cut more biscuits out.
Step 7. Once all the biscuits are on your pan, brush the tops with some buttermilk and bake at 425 for about 15-17 minutes. They will be golden on top when done. Serve right away!
This was with a 2 ¾ inch biscuit cutter and makes about 15 biscuits. A 3 ¼ inch biscuit cutter cooks for 18-19 minutes and makes 8 big biscuits (these are perfect for egg, ham and cheese breakfast sandwiches).
Breakfast Sandwich Sized Biscuits
If you want to make big biscuits that are perfect for breakfast sandwiches (eggs, cheese and ham or bacon) then I recommend using a 3 ¼" biscuit cutter.
They are slightly bigger but a bit more substantial and this size is better for a fried egg or just an impressive big flaky biscuit.
You will get about 9 big biscuits total and will need to bake them for 18-20 minutes.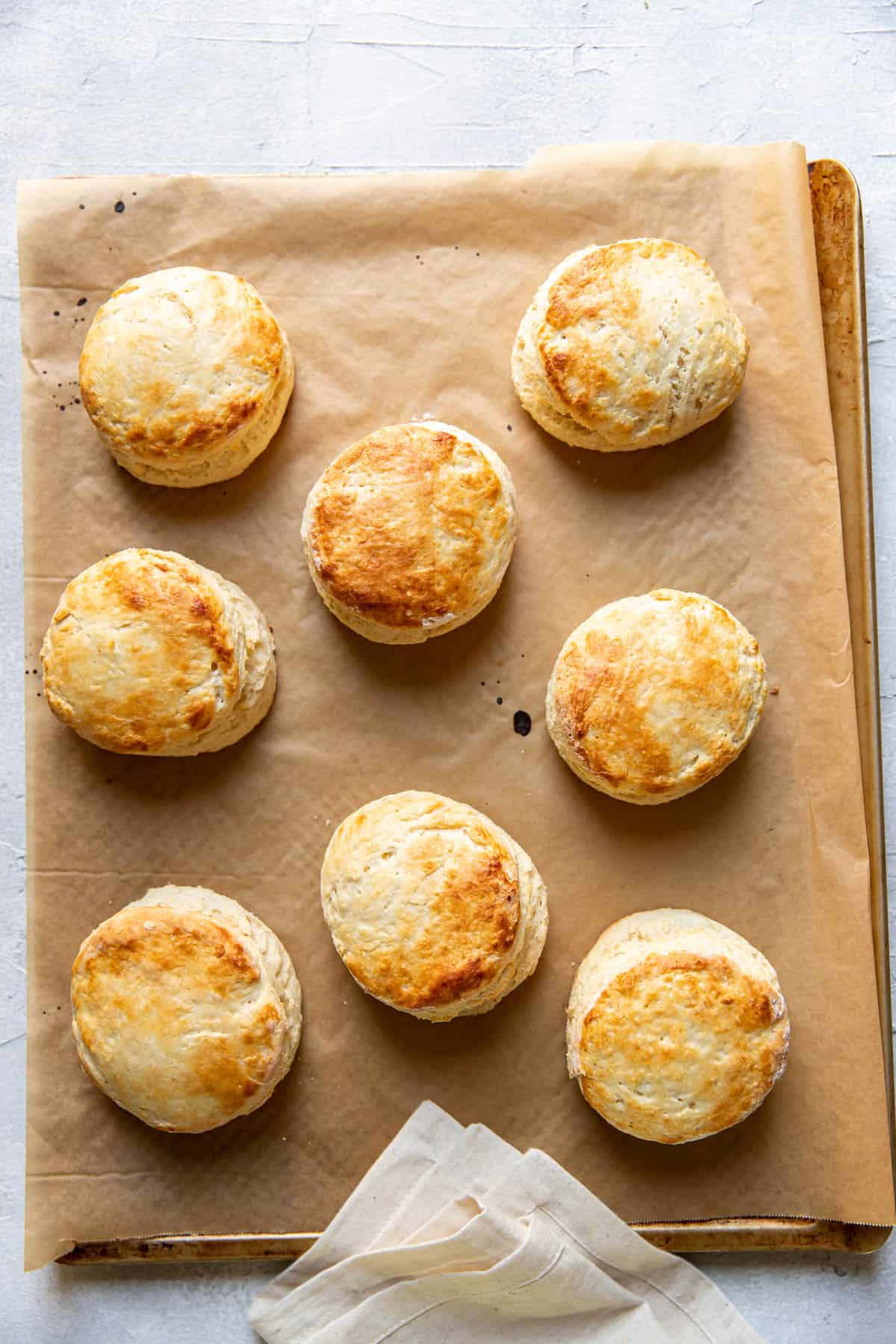 Storing
You can store these buttermilk biscuits in an airtight container on your kitchen counter. You can also store them in the fridge.
They are best eaten within 3 days of making them.
Putting them in a toaster or toaster oven is an easy way to reheat them and get a bit of that crispness you first had straight out of the oven.
FAQ
I don't have buttermilk, what can I use?
If you don't have any buttermilk you can substitute 2 cups of milk (minus 2 tablespoons) and to it add 2 tablespoons white vinegar or lemon juice. Let it sit for 10 minutes then use it in the recipe. It won't be exactly the same, but close when you are in a bind.
My biscuits did not rise after baking?
Check your baking soda and baking powder, is one of them expired or been sitting out for too long? It may be time to replace. Old baking soda/powder doesn't work as well for lifting baked goods.
Can I make these as a half batch?
Yes! I make them as a half batch all the time, halving the recipe works great.
Should the biscuits be touching while they bake?
They don't have to be touching when they go to bake. You can leave space between them too. If I'm baking them the same day as other things I'll stuff them all on to one pan. It doesn't make too much of a difference.
Can I use a different biscuit cutter sizes?
Yes! You can use whatever size you want, you just need to adjust the baking time. The recipe reflects using a 3 ¼ inch biscuit cutter for 18-19 minutes. If you use a smaller size, reduce the baking time.
My biscuit edges stuck together when I cut my biscuit dough out, what happened?
Make sure to dip your biscuit cutter in flour before each cut of biscuits, it helps the biscuit cutter release from the sticky dough.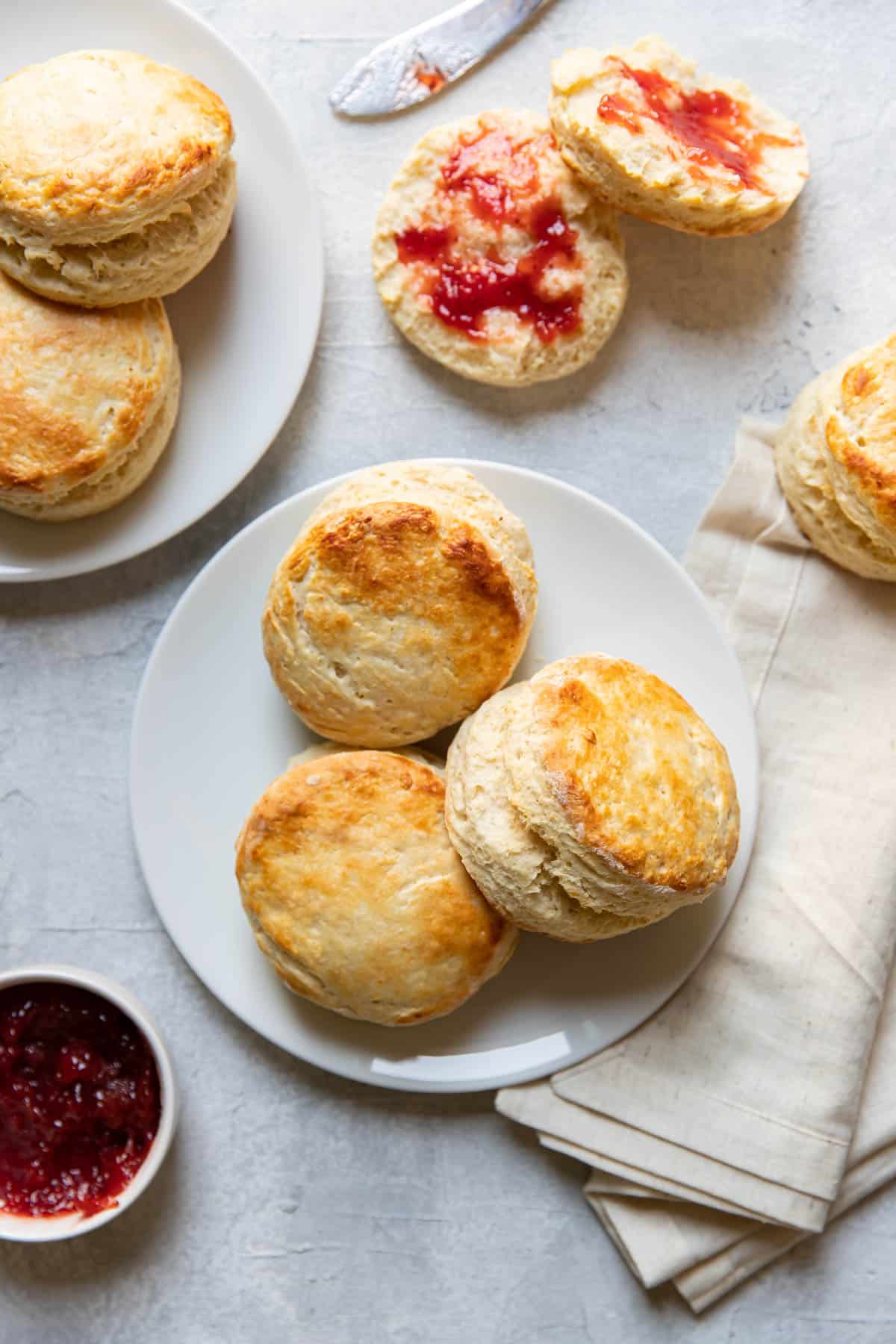 More Breakfast Recipes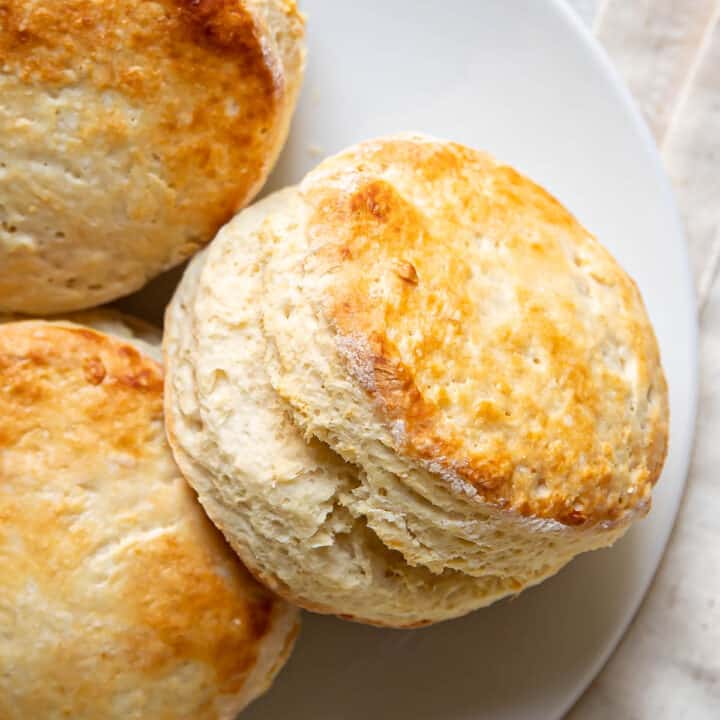 Buttermilk Biscuits
This recipe for buttermilk biscuits is so quick and easy, taking only 30 minutes to make! You can make them as a traditional biscuit or a drop biscuit and they require just a few basic ingredients. They are fluffy and delicious.
Ingredients
4 c all purpose flour
2 tsp kosher salt
1 tbsp cane sugar
½ tsp baking soda
3 tsp baking powder
8 tbsp butter, cold and cubed
2 c buttermilk + more for brushing on biscuits before baking
Instructions
Preheat the oven to 425
Sift together flour, salt, baking soda, baking powder and sugar into a large bowl
Use your hands to mix in the cold cubed butter until fine crumbs form
Use a large spoon to mix in the buttermilk
Dump the dough on to your counter top, dusted with enough flour the dough won't stick
Use a rolling pin and roll out the dough until it's about 1" thick
Fold the dough over 2 times (like a letter)
Use a rolling pin to lightly flatten the dough (just a bit)
Fold the dough over 2 times again, you'll be left with a square shape of dough
Pick up the dough and re-flour your surface, put the dough back down with the seam side down
Use a floured rolling pin to roll out until the dough is about a ¾" - 1" thickness (the taller you keep it when rolling, the taller the biscuit)
Use a 3 ¼" biscuit cutter
Press the biscuit cutter down, wiggle until it separates (do not twist), and transfer to a baking sheet lined with parchment paper
Dip the biscuit cutter into flour before each biscuit cut (do not skip this step, it helps the biscuit glide smoothly as you make the cut, if you don't dip in flour the biscuit cutter will stick and your biscuits will not be super tall with wonderful edges)
Line up all the biscuit on your baking pan, leaving some space between each one
With the excess dough, form it back together, using your rolling pin to seal the edges up
Fold the dough over twice and roll it out to ¾" - 1" thickness again, make your biscuit cuts again
Keep repeating until all the dough is gone
Brush the tops of the biscuits with buttermilk
Bake for 18-20 minutes or until they are golden
Remove from the oven and serve right away
Notes
This recipe makes 15 biscuits with a 2 ¾" biscuit cutter
You can easily half this recipe
If the dough is too dry you can add a splash extra of buttermilk, be careful not too add too much extra - sticky biscuit dough will be harder to work with
And alternatively if you added too much buttermilk, you can use extra flour to dust your surface when rolling out the dough
Recommended Products
As an Amazon Associate and member of other affiliate programs, I earn from qualifying purchases.
Nutrition Information:
Yield:

9
Serving Size:

1
Amount Per Serving:
Calories:

344
Total Fat:

12g
Saturated Fat:

7g
Trans Fat:

0g
Unsaturated Fat:

4g
Cholesterol:

30mg
Sodium:

736mg
Carbohydrates:

50g
Fiber:

2g
Sugar:

4g
Protein:

8g
This information comes from online calculators. Although moderncrumb.com attempts to provide accurate nutritional information, these figures are only estimates.