These traditional Irish scones are delicious! They are so easy to make and take just a handful of ingredients that you are bound to have on hand such as flour, butter, buttermilk, sugar and egg. Irish butter is the star of this recipe, making the scones light and buttery.
This recipe was first published March 17, 2021.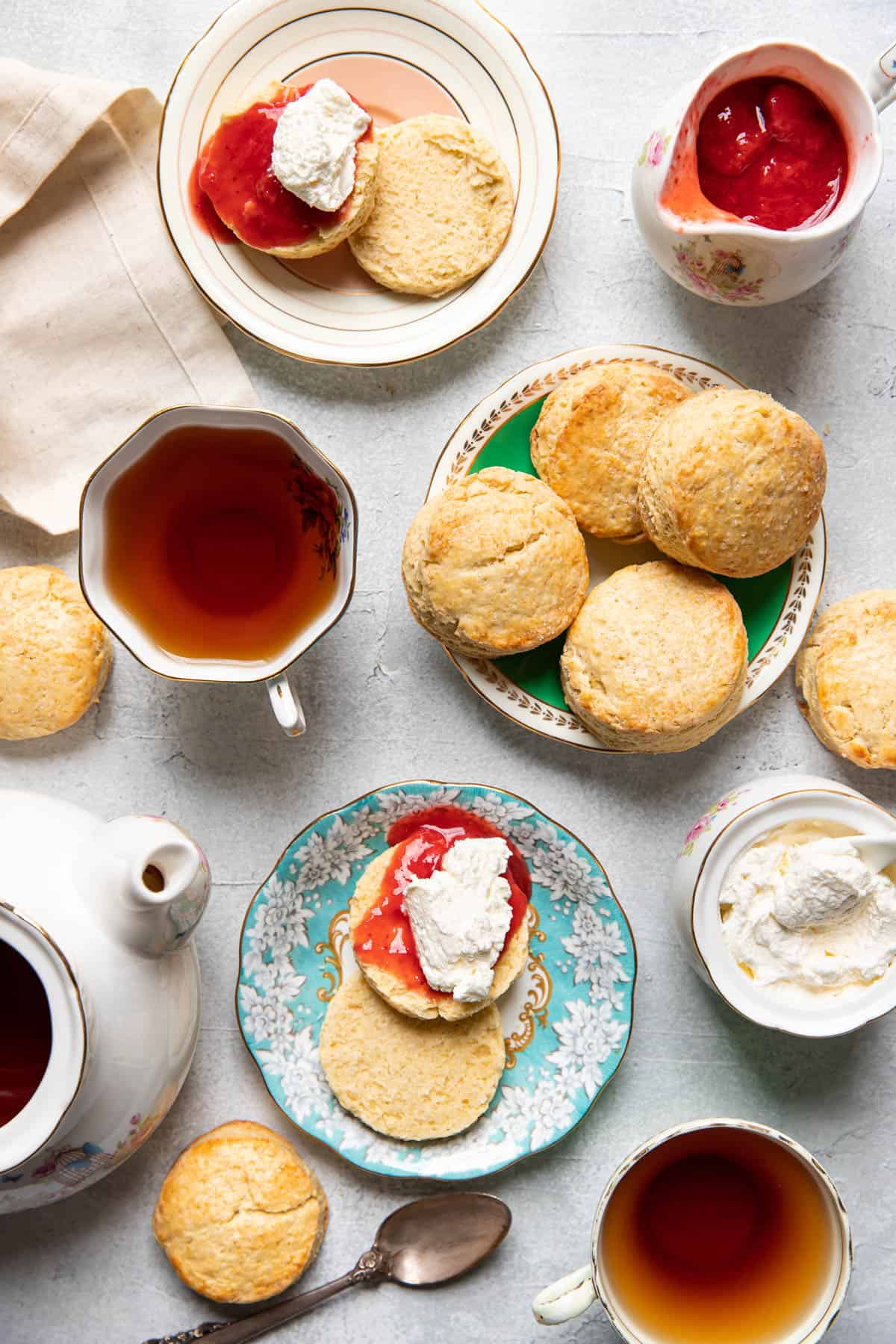 I can't stop with just one of these delicious Irish scones, they are just too good!
The first thing you may be wondering is what are Irish scones and how are they different than a traditional English or American scone? Everywhere in the world makes there scones different and each person makes there's just a bit different too.
The best way to describe the taste and texture of an Irish scone is a cross between an English style scone and an American biscuit.
An Irish scone differs from an English scone (or an American scone) in a few ways. There is usually more sugar in the batter and sometimes sprinkled on top, the Irish butter and the use of raisins.
Let's get one thing straight, these are not dry or overly floured scones. This Irish scone recipe makes soft, buttery and melt in your mouth scones.
While one person may make Irish scones one way, another person could make it completely different. I like to think there's no right or wrong, since cooking is an expression.
There is one thing that everyone can agree on though, using Irish butter.
Jump to: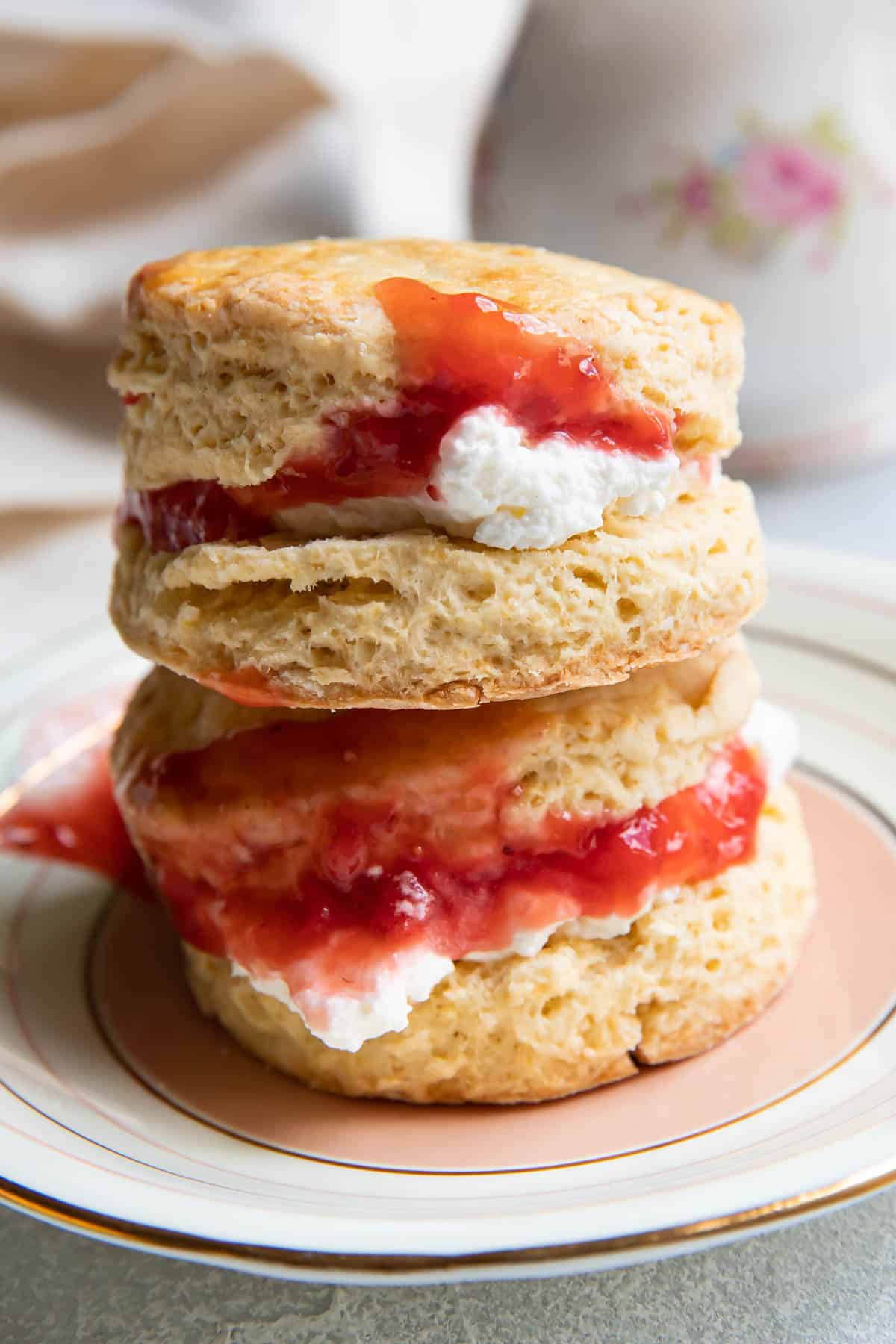 What's In Irish Scones?
My guess is you have almost everything you need to make the Irish scones already in your pantry and fridge.
You will need some Irish butter and the most commonly sold will be Kerrygold, which most grocery stores have. Look for the gold packaging in the butter section.
irish butter - the key ingredient
flour - all purpose flour is what this recipe calls for
baking powder - used for lift
baking soda - needed since we are using buttermilk to get that big lift
sugar - Irish scones are a bit sweet, so you'll be adding sugar to the recipe and also sprinkling some on top, I prefer to use cane sugar instead of white sugar
egg - just one egg
buttermilk - is there anything better than buttermilk when it comes to a scone or biscuit, buttermilk makes these Irish scones so light and gives them a nice taste
salt - to enhance flavors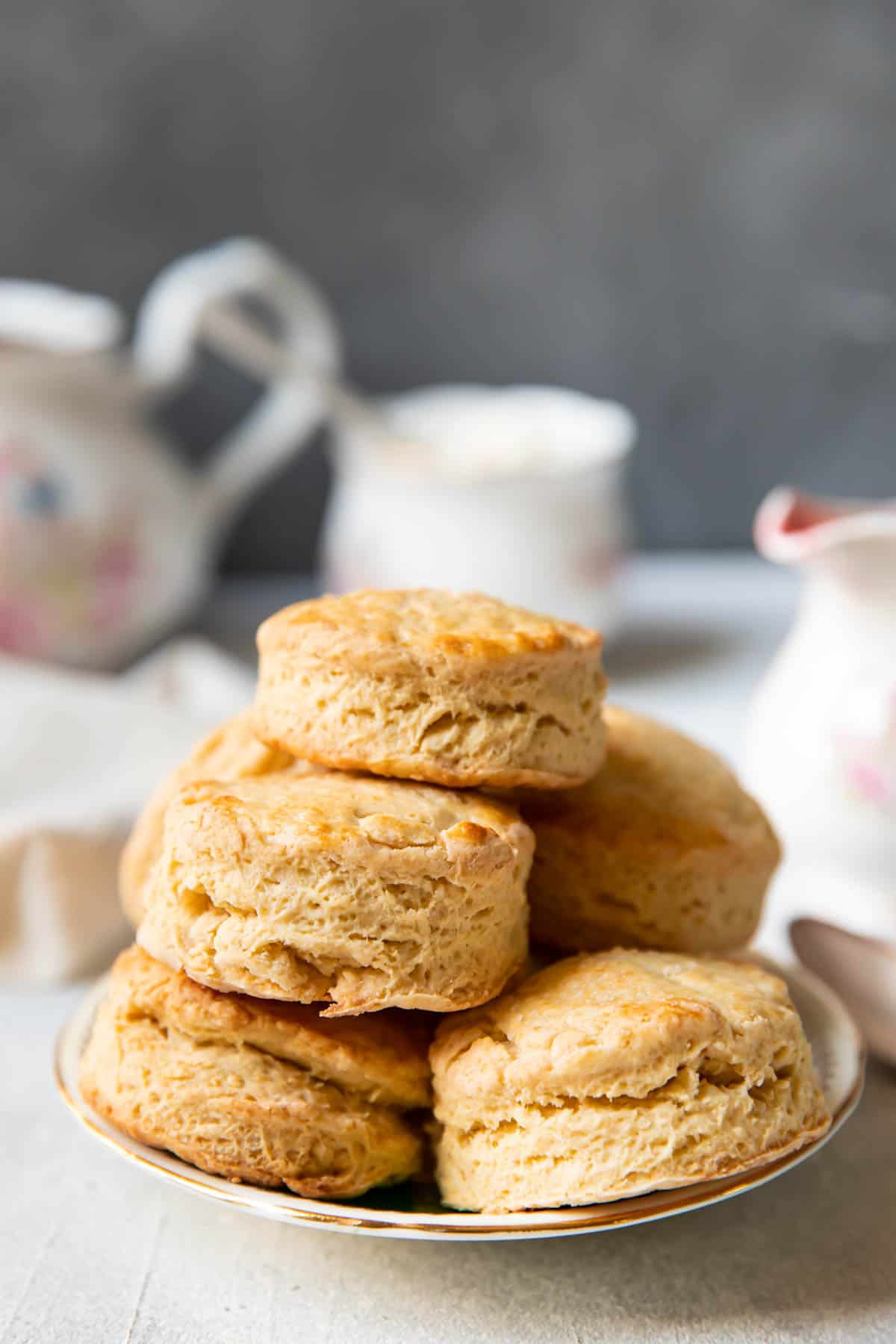 Why Is Irish Butter Yellow?
Irish butter has so much more flavor than regular butter. Kerrygold is my favorite to use (not sponsored).
Irish butter comes from Ireland (obviously) and is a bright yellow color. According to Kerrygold, it's because the cows are grass fed, giving the butter it's rich yellow tone.
It has a deep rich buttery flavor and you don't want to substitute this out. To get a true Irish scone, you need Irish butter.
I love using Irish butter in this shepherd's pie recipe. The mashed potatoes are extra fluffy, made with sharp white cheddar and Irish butter! The flavor can't be beat.
Tips For Making Irish Scones
Light hands. You want to have light hands when you make these, meaning don't be too aggressive with your scone dough.
Just like in making these buttermilk biscuits, use your hands to incorporate the butter pieces into the dry ingredients. Don't leave large lumps but fully combine into the flour.
It takes a few minutes getting the butter worked in but worth it when you bite into those fluffy scones.
Once you combine the wet and dry ingredients you can again use your hands or a large spoon. Don't use any kind of electric mixer, you want to mix this by hand. Over mixing will cause your scones to turn out hard.
Using biscuit cutters can be intimidating but let's not let it be today. My tip for perfect biscuit cuts is to dip the biscuit cutter back into your jar of flour between each press.
That way the dough isn't sticking to the cutter and you'll get perfect Irish scones.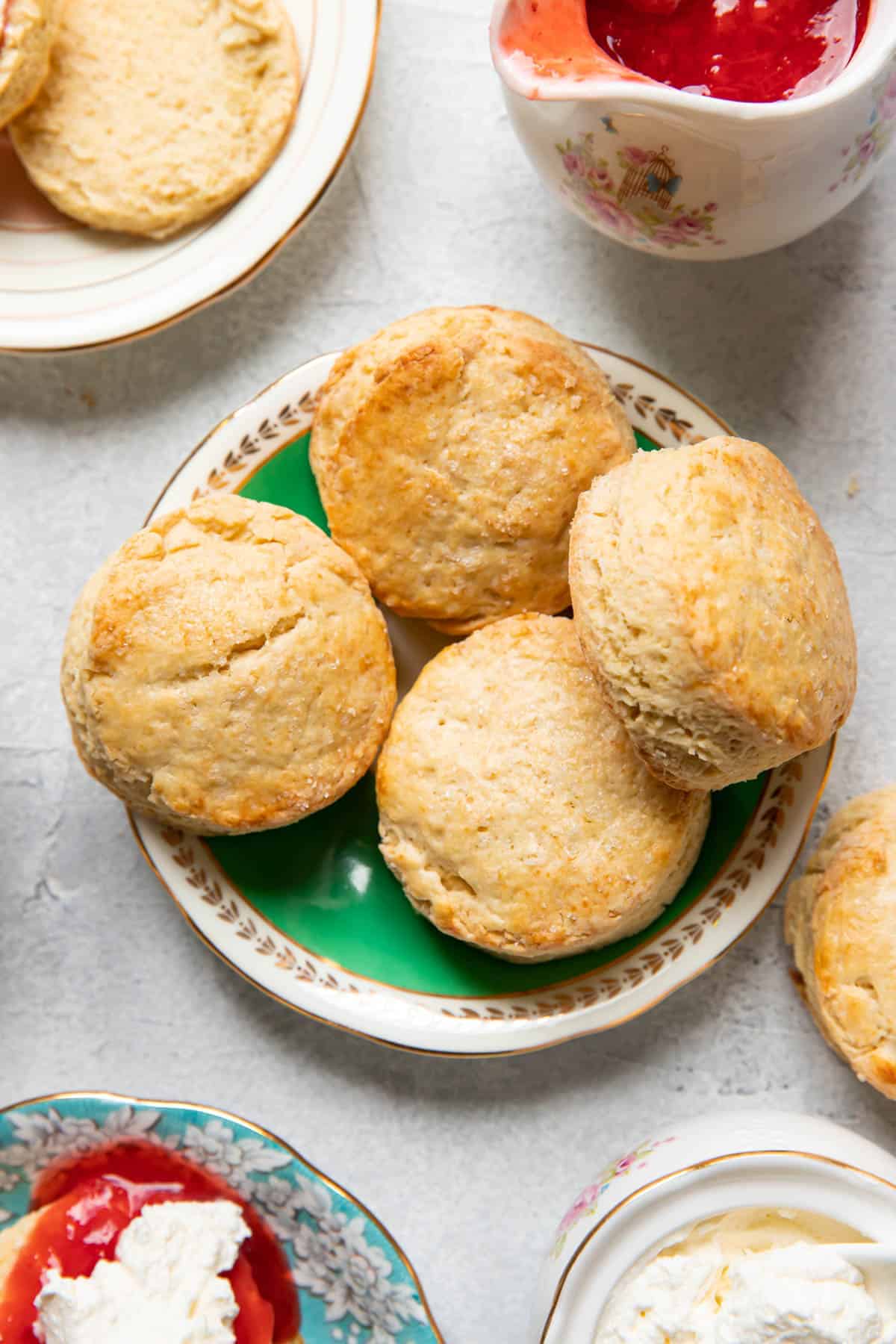 How To Make Irish Scones
Start by sifting all the dry ingredients (flour, salt, sugar, baking soda, baking powder) together three times. That's right, sift it three times.
Add in cubes of cold butter and use your hands to fully mix it in. No lumps! It will feel like rough corn meal when you are done.
Pour in the wet ingredients (buttermilk and egg) and use a big spoon to mix it together.
Roll the dough out on to a floured surface, form it into a disc with your hands then roll it out. How thick you want your Irish scones will be determined by how thick or thin you roll the dough.
Use a biscuit cutter to cut out the scones. Dip the biscuit cutter in flour after each cut, so it doesn't stick.
Set the scones on a parchment paper lined baking sheet.
Brush each top with some buttermilk and bake for 15 minutes at 425 degrees.
Baking them at a high temperature (425) makes them rise up and be extra tall.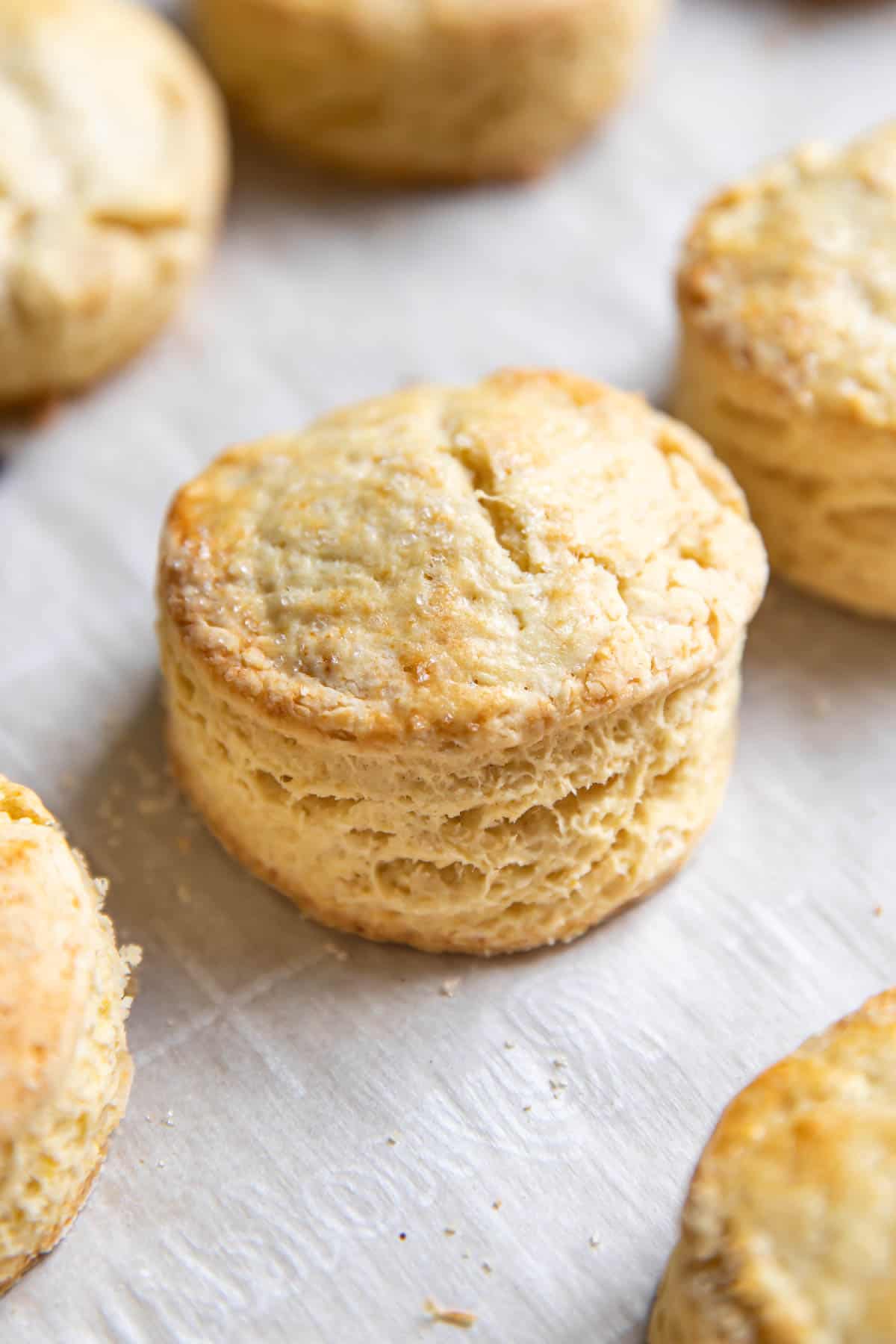 What To Serve With Irish Scones
This recipe for Irish scones is so delicious you could eat them plain! But if you are feeling like you want to jazz them up, here are a few ideas.
Serving your scones with warm homemade strawberry jam and cream is my absolute favorite way to eat these! It is reminiscent of strawberry shortcake but better.
Clotted cream is a traditional scone topping but in the U.S. an easy homemade variation is whipped cream (made from heavy cream).
To make whipped cream you'll need to combine heavy cream with a few pinches of sugar and a splash of vanilla. Whip this up until thickened. I actually like to use the same jam recipe as this waffles and strawberry jam recipe uses.
I have some quick instructions on making both the strawberry jam and cream in the recipe card, check the notes section.
Another yummy option is to serve your Irish scones with lemon curd. This lemon curd recipe is so easy to make, I could eat it plain!
Fill up a tea pot with your favorite tea and serve these to all your friends and family members.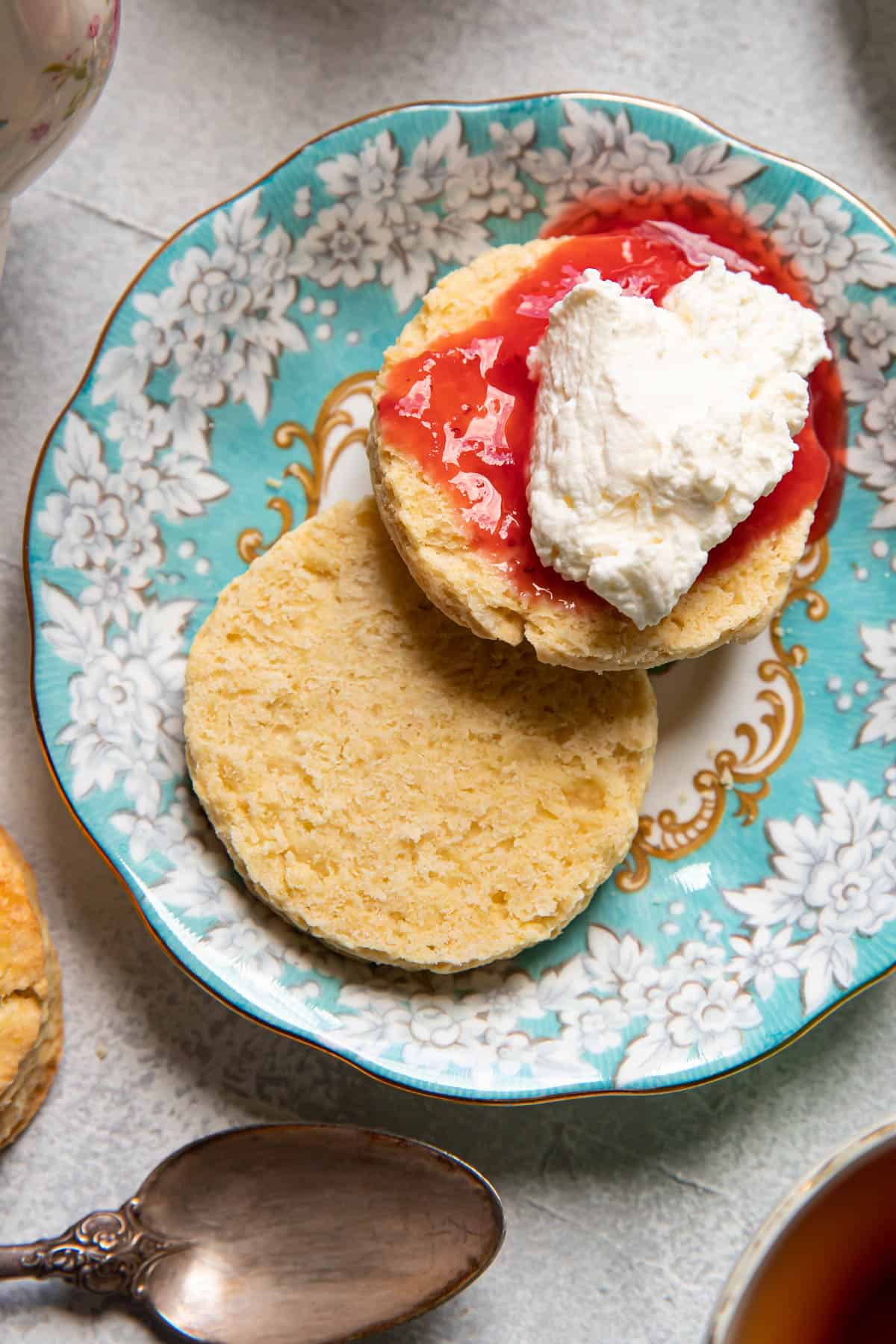 FAQ
Why are they called scones?
It's believed scone comes from Scottish decent. They used to be made as one big round disc, then cut into sections after baking.
How do you make the whipped cream?
An easy way to make whipped cream is to beat together heavy whipping cream and a sprinkle of sugar. Obviously the more sugar you add the sweeter. Use a handheld beaters until it's thickened. You can store it in the fridge a few days in a sealed container.
How do you make the strawberry jam?
Boil fresh or frozen strawberries with some water, sugar and corn starch. Once it's bubbling just let it simmer until the strawberries have softened. You can leave the strawberries as whole or broken up as you like.
My scones are too dry, what happened?
Using too much flour is often the reason for a dried out scone. Next time use less flour. Avoid packing down the flour when you scoop it. Over baking is another reason. Make sure to pull the scones out once they are a light golden brown.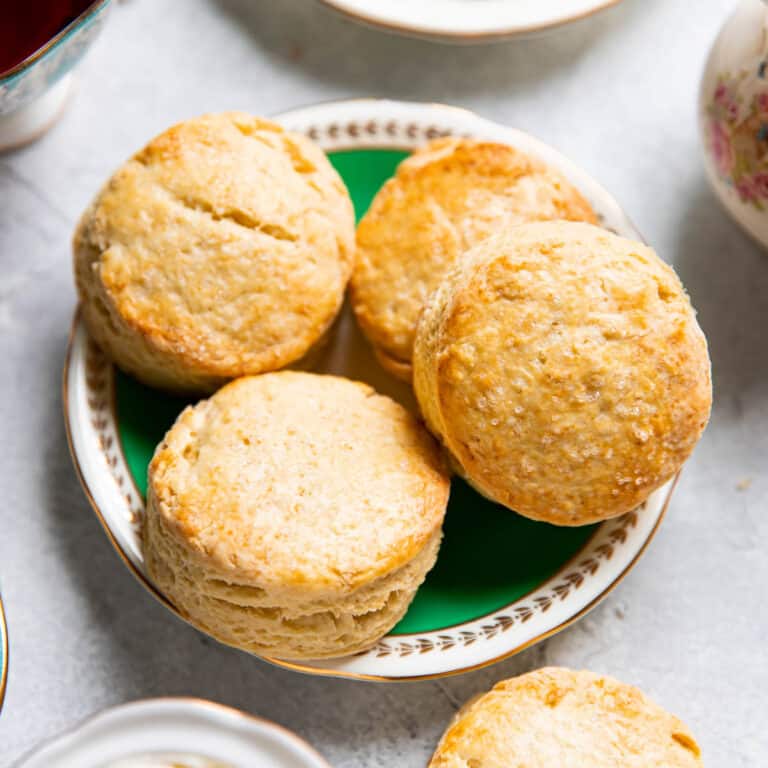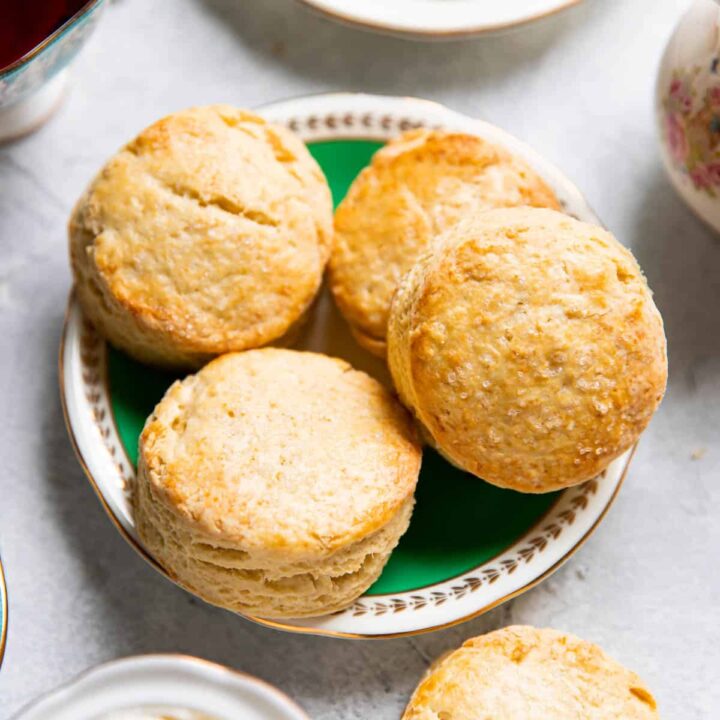 Irish Scones: A Recipe For St. Patricks Day
Baking Irish scones is so much easier than you'd think and they are delicious! You only need a few basic ingredients to make them. Irish butter is the star of this recipe, making the scones light and buttery.
Ingredients
3 c flour
2 tsp baking powder
½ tsp baking soda
1 tsp salt
3 tbsp sugar + more for sprinkling on top
½ c Irish butter, cold and cubed
1 egg
¾ c buttermilk + 2 tbsp
Instructions
Preheat oven to 425
Line a baking sheet with parchment paper
Sift the flour, baking powder, baking soda, salt and sugar together - sift three times into a large bowl
Add the cold butter and use your fingers to combine, there shouldn't be any lumps, totally combine it (see photos)
Whisk together the buttermilk and egg, pour this into the dry ingredients
Use a large spoon to mix it together
Dump out on to a floured counter
Use your hands to form it into a disc and use a rolling pin to roll it out to desired thickness
Use biscuit cutters to cut out circles, dip the cutter into flour after each cut so it doesn't stick
Place all of the scones onto the baking sheet
Use a pastry brush to brush on some additional buttermilk to the tops
Sprinkle with sugar
Bake for 15 minutes or until golden brown
Serve with whatever toppings you like or plain
Notes
The dough may seem a bit crumbly at first, just keep forming into a disc
Topping ideas: jam, whipped cream, lemon curd, butter
Easy whipped cream recipe - Beat together heavy whipping cream and a sprinkle of sugar until thickened.  The more sugar you add, the sweeter the cream.
Easy strawberry jam recipe - Boil fresh or frozen strawberries with some water and sugar (you control how sweet it is). Once it's bubbling just let it simmer until the strawberries have softened. Mix a bit of cornstarch with water then add it to the strawberries to thicken.
Nutrition Information:
Yield:

12
Serving Size:

1
Amount Per Serving:
Calories:

201
Total Fat:

8g
Saturated Fat:

5g
Trans Fat:

0g
Unsaturated Fat:

3g
Cholesterol:

36mg
Sodium:

400mg
Carbohydrates:

27g
Fiber:

1g
Sugar:

3g
Protein:

4g
This information comes from online calculators. Although moderncrumb.com attempts to provide accurate nutritional information, these figures are only estimates.