This cucumber avocado salad is bursting with fresh flavor! All fresh ingredients make this a healthy, family dinner option. Plus a quick and easy homemade lemon vinaigrette really brightens things up.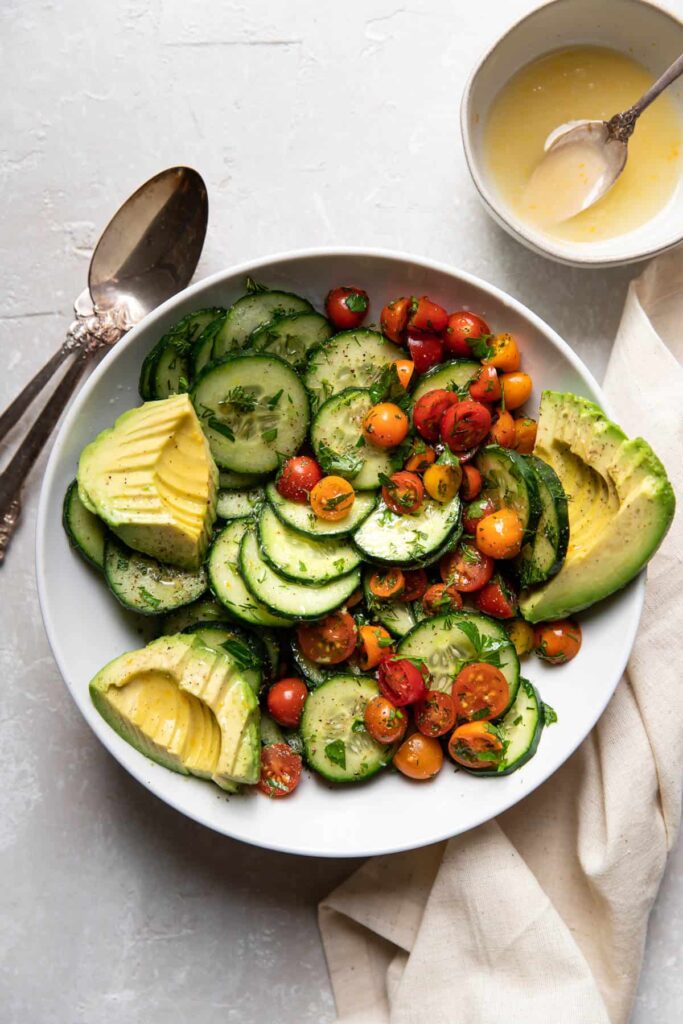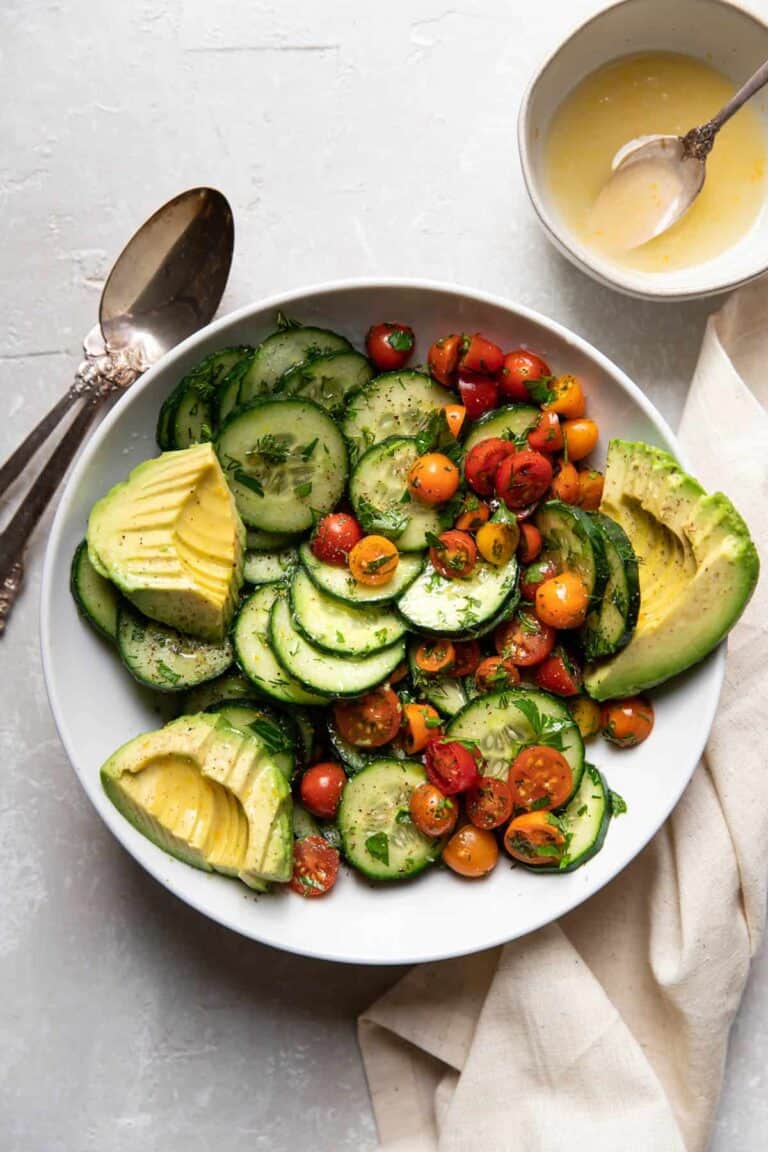 This cucumber avocado salad is made up of cucumbers, avocado, a medley of colorful cherry tomatoes, fresh parsley, fresh dill and an easy to make lemon vinaigrette.
I pulled a bit of inspiration from this recipe for greek chicken and rice bowls with avocado feta dip. But solely focusing on all the produce for this salad recipe.
It couldn't be any easier to whip this up for a side dish at dinner or to serve at a backyard BBQ. It's so light but has so much flavor.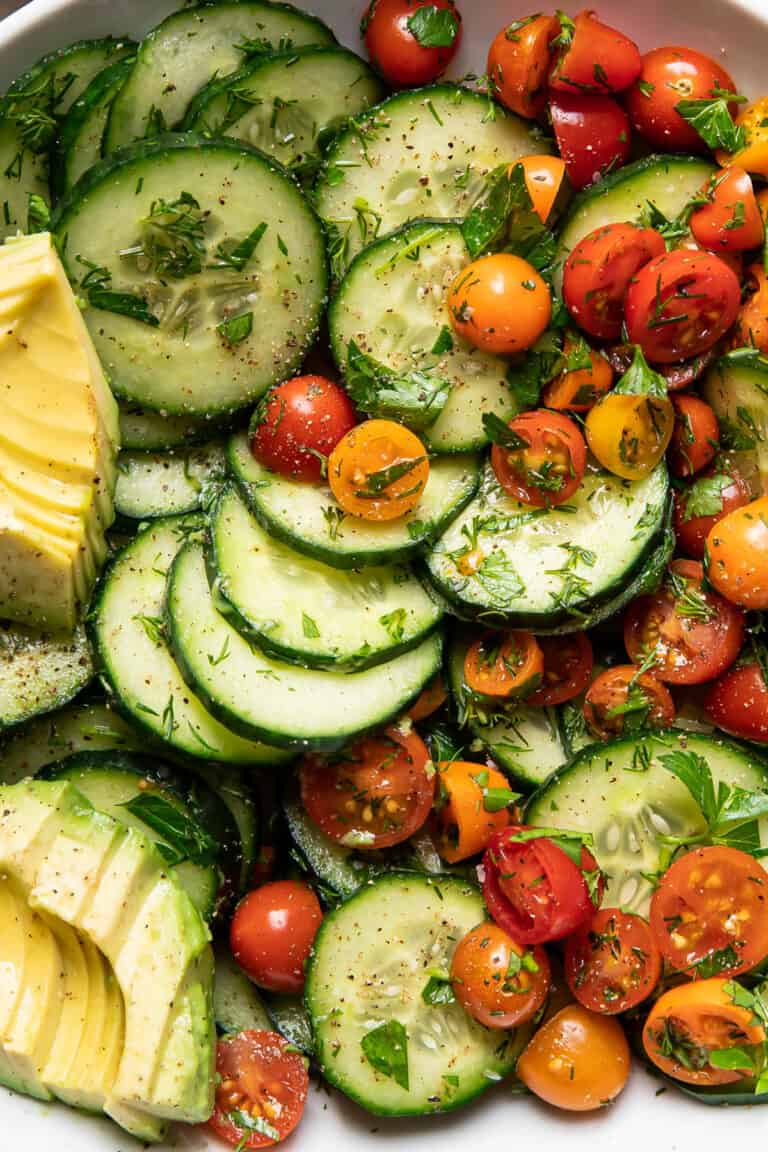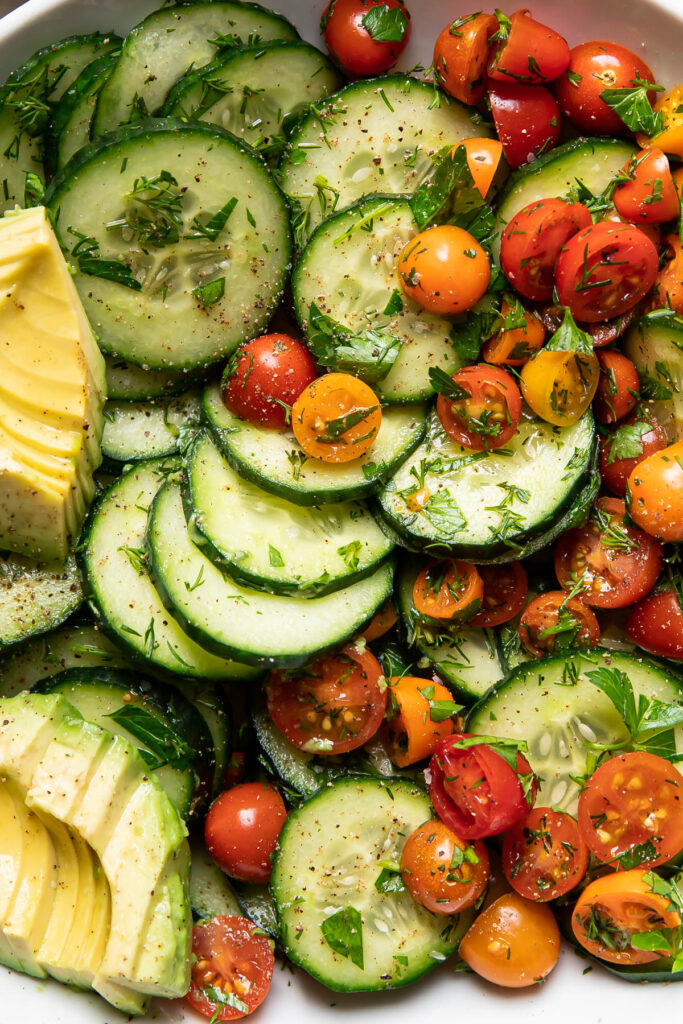 The fresh herbs make this salad come to life, the dill is perfect with the lemon vinaigrette.
If for some reason you don't like dill you could leave it out, or replace it with another fresh herb like cilantro for a southwest type of taste. Which would be perfect to serve with a plate of skillet white chicken enchiladas.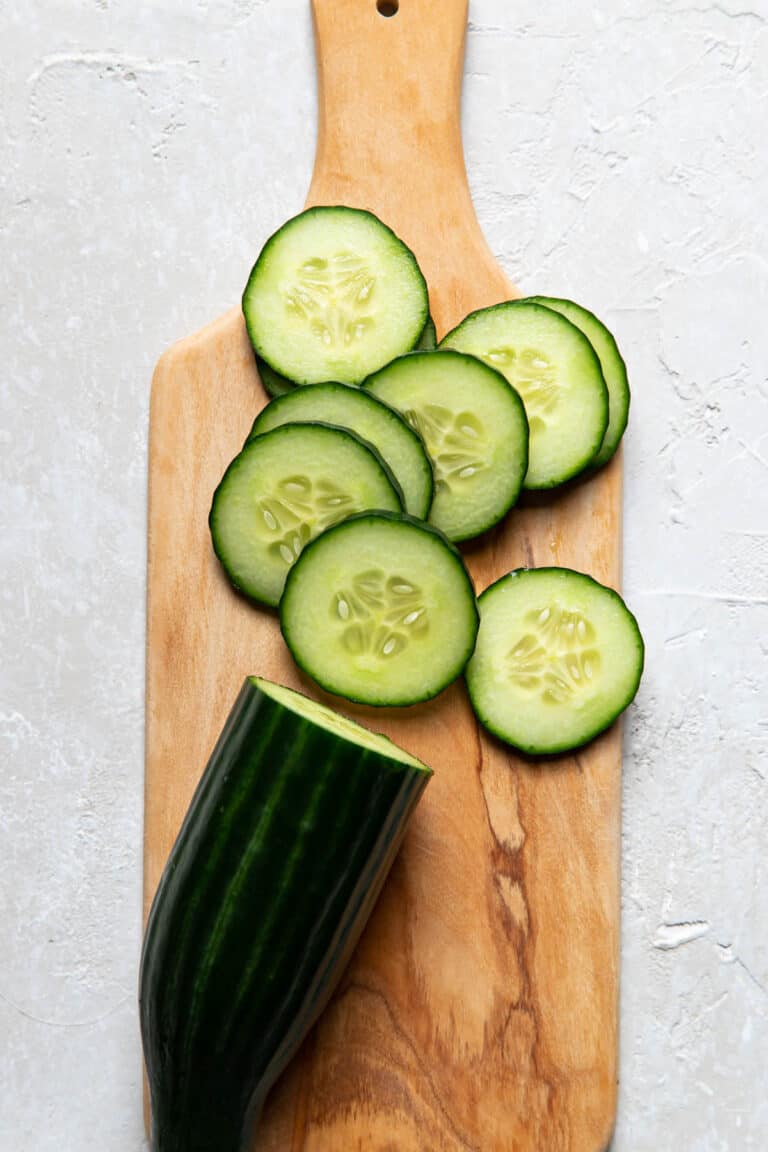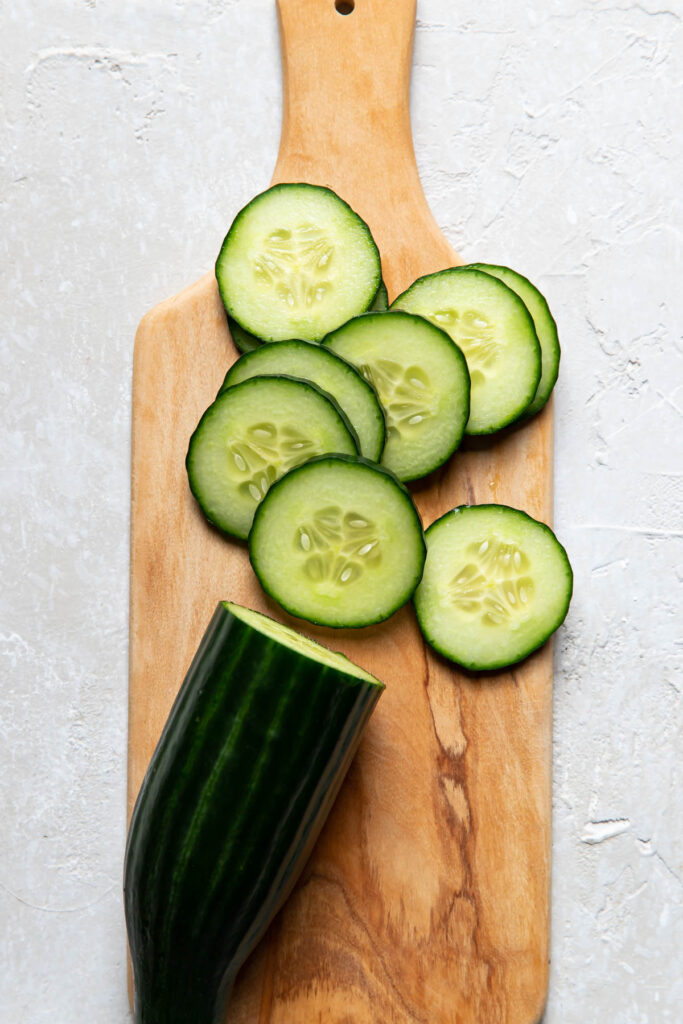 Ingredients For Cucumber Avocado Salad
Here's what you'll need to make this cucumber avocado salad. The full ingredient list with amounts needed is below in the recipe card along with the instructions.
Since this such an easy recipe you can really decide how much of each ingredient you want. If you love avocados then add more! Take away anything you don't.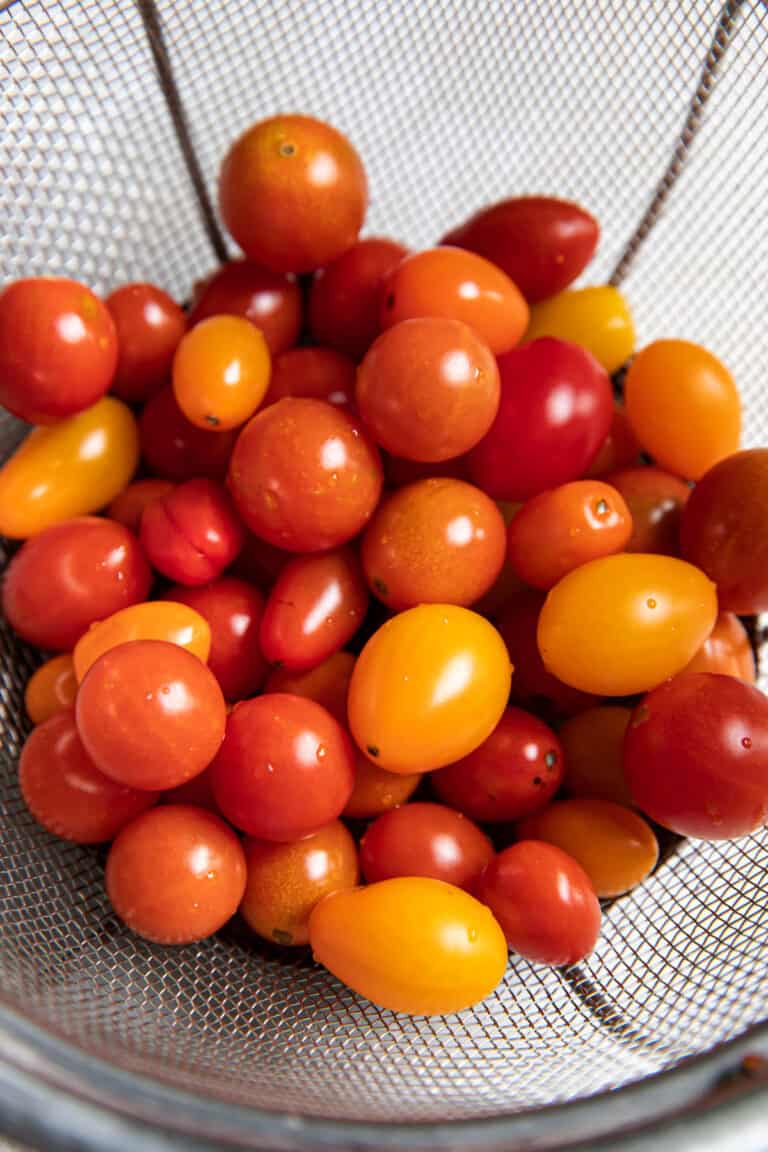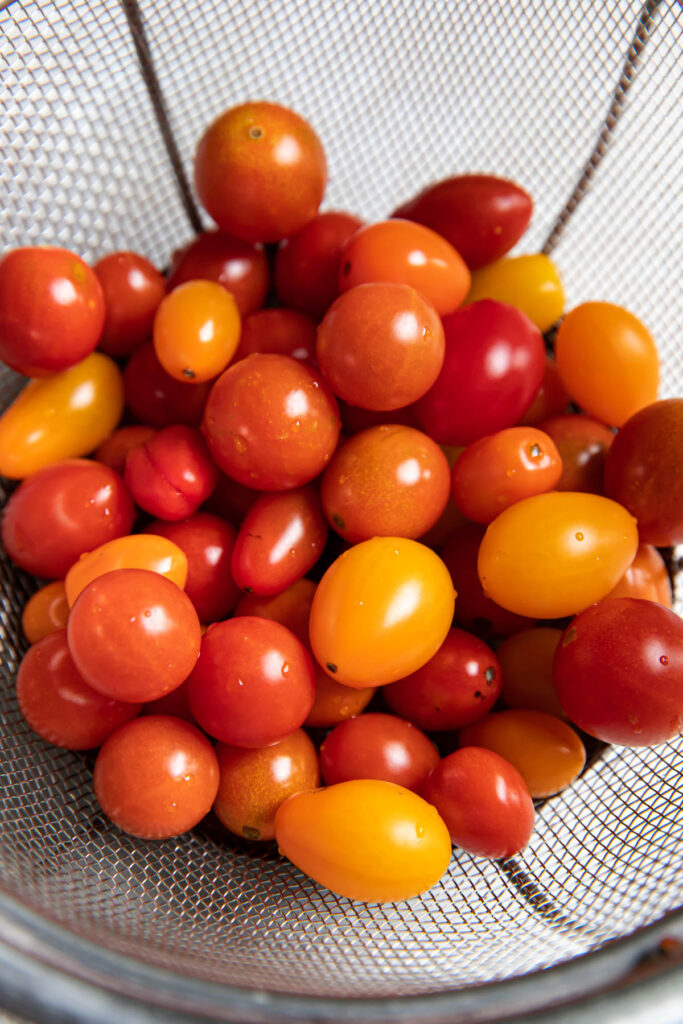 avocados - large or small avocados are perfect, if you love avocado go for the large ones
english cucumber - the reason to use an english cucumber vs regular cucumber is because an english cucumber has less seeds and is less watery, I also find them to be more crisp
cherry tomatoes - have fun with the cherry tomatoes, I love buying the colorful ones so you get red, orange and yellow in your bunch
dill - opt for fresh dill
parsley - and fresh parsley as well
salt and pepper - for flavor
sunflower oil - this is for the vinaigrette, it's a flavorless oil that is healthy and works well for salad dressing
lemon juice - you'll need 1-2 lemons
lemon zest - just a little zest from your lemons, a little will go a long way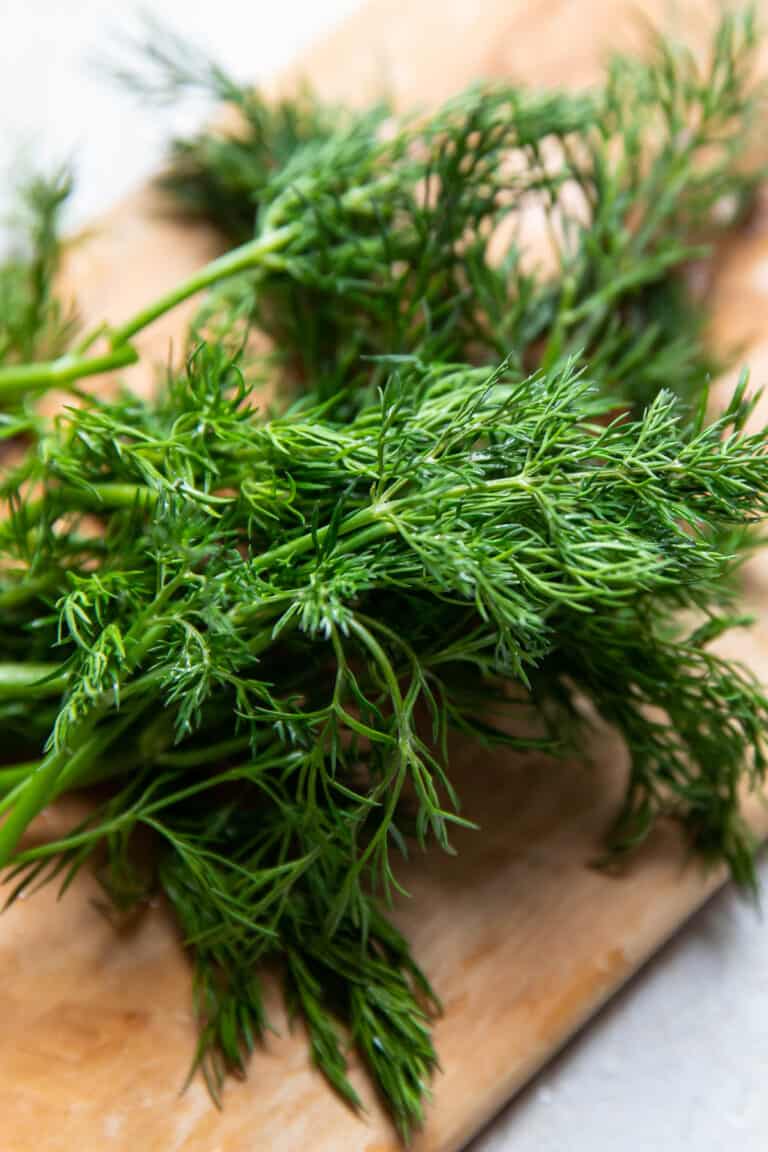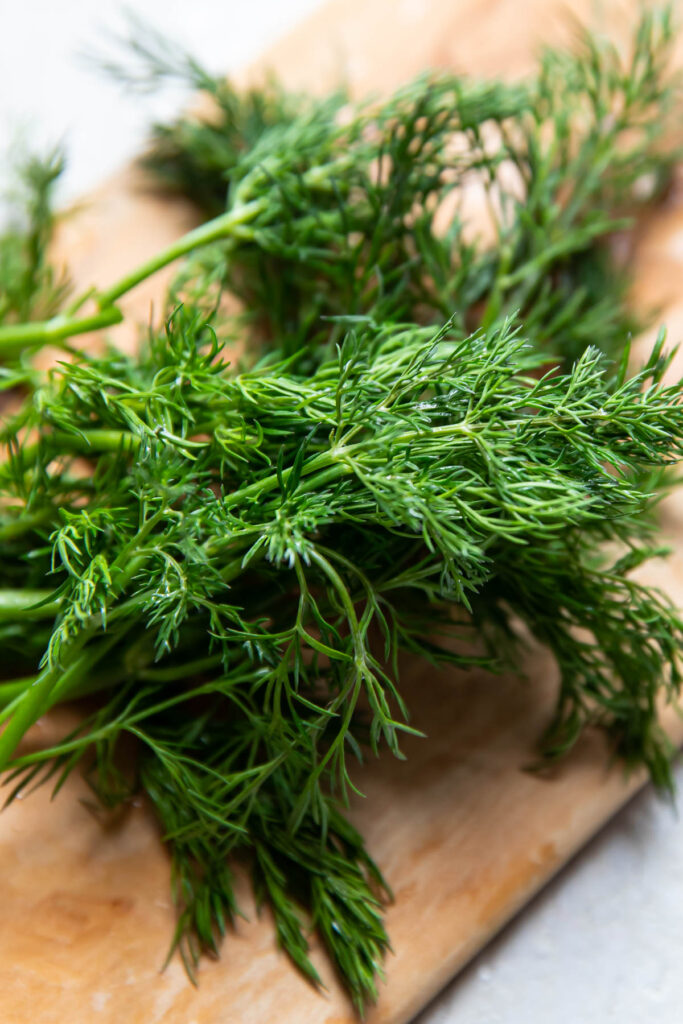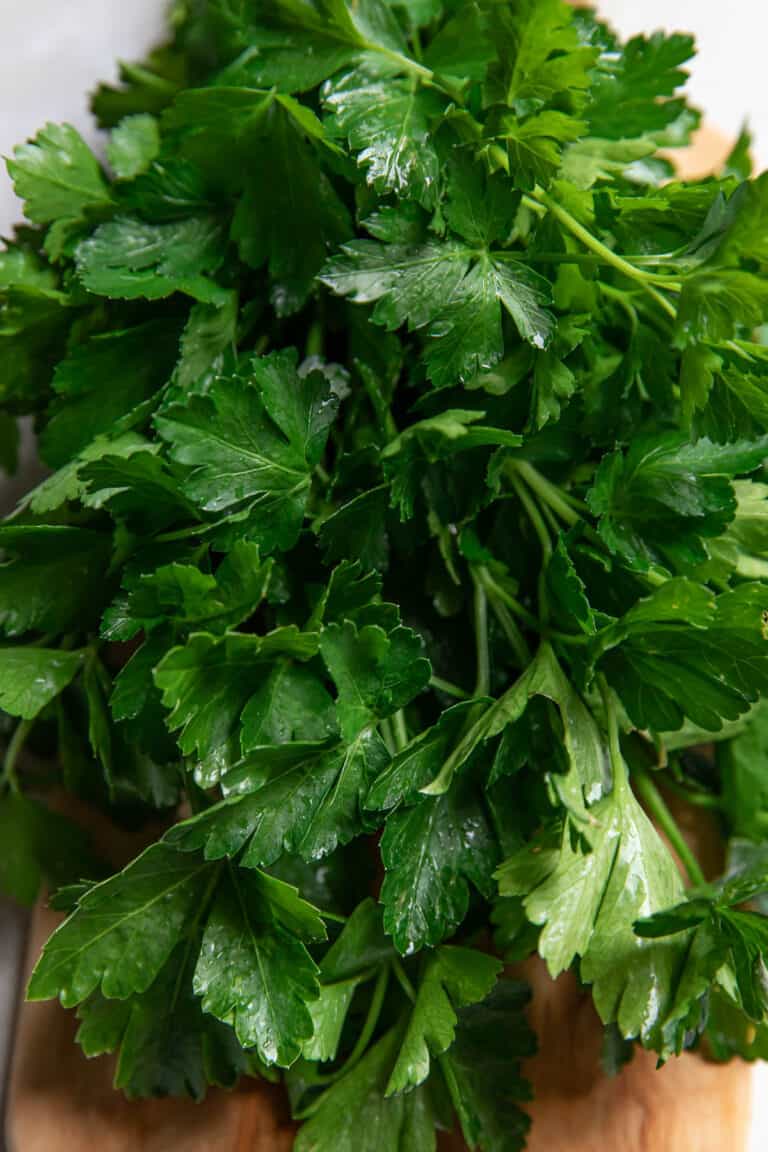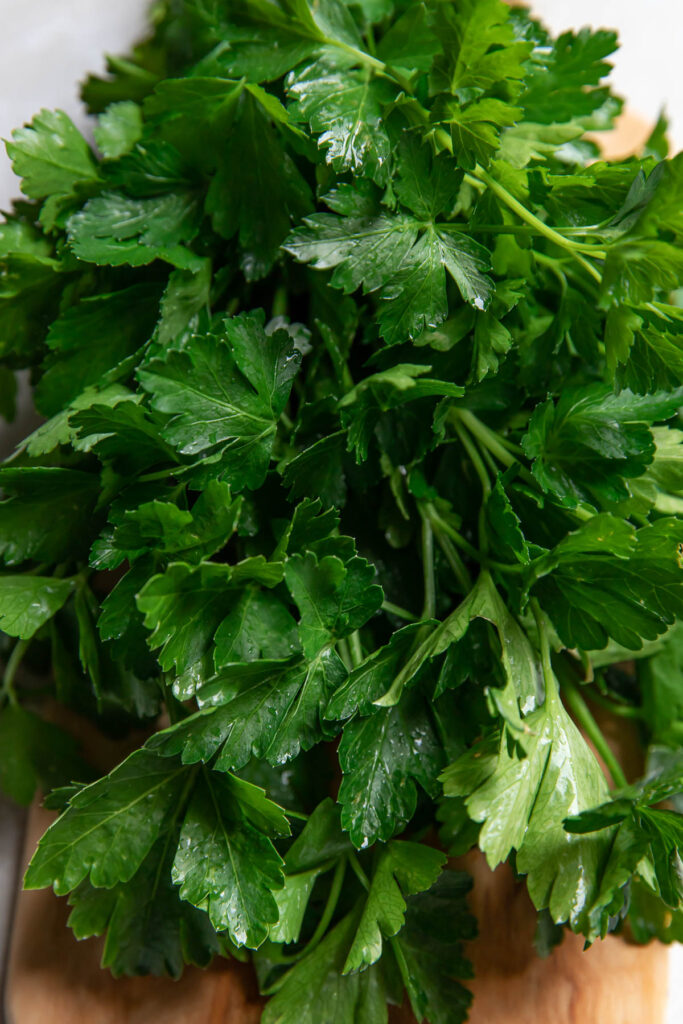 Avocados
Did you know that an avocado is a fruit? It has a pit in it, which classifies it as a fruit. Technically cucumbers and tomatoes are also fruits. I guess that makes this a fruit salad???
To tell if an avocado is ripe all you need to do is give it a little squeeze. It should have a bit of give to it, firm but soft, if that makes sense. If it feels like a rock, it's not ripened yet.
Another way to tell if your avocado is ripe is to take out that little nub on the end of it. If it comes right off, it's ready. If it's sort of stuck on, the avocado needs more time to ripen.
How to quickly ripen an avocado you ask? Place it in a brown paper bag and close the bag. The ethylene it naturally produces will circulate in the bag and help it ripen faster.
Avocados grow on a tree but ripen off the tree. They are so good for you, containing healthy fats and antioxidants. I use them in a lot of recipes, like this buffalo chicken avocado salad and this steak and vegetable salad.
And if you've ever noticed the strings inside an avocado when you cut into it, don't be alarmed, it's normal (according to this article from Health). Those strings bring nutrients to the avocado. Some varieties are bound to have them, where others, like Hass avocados are not as likely to.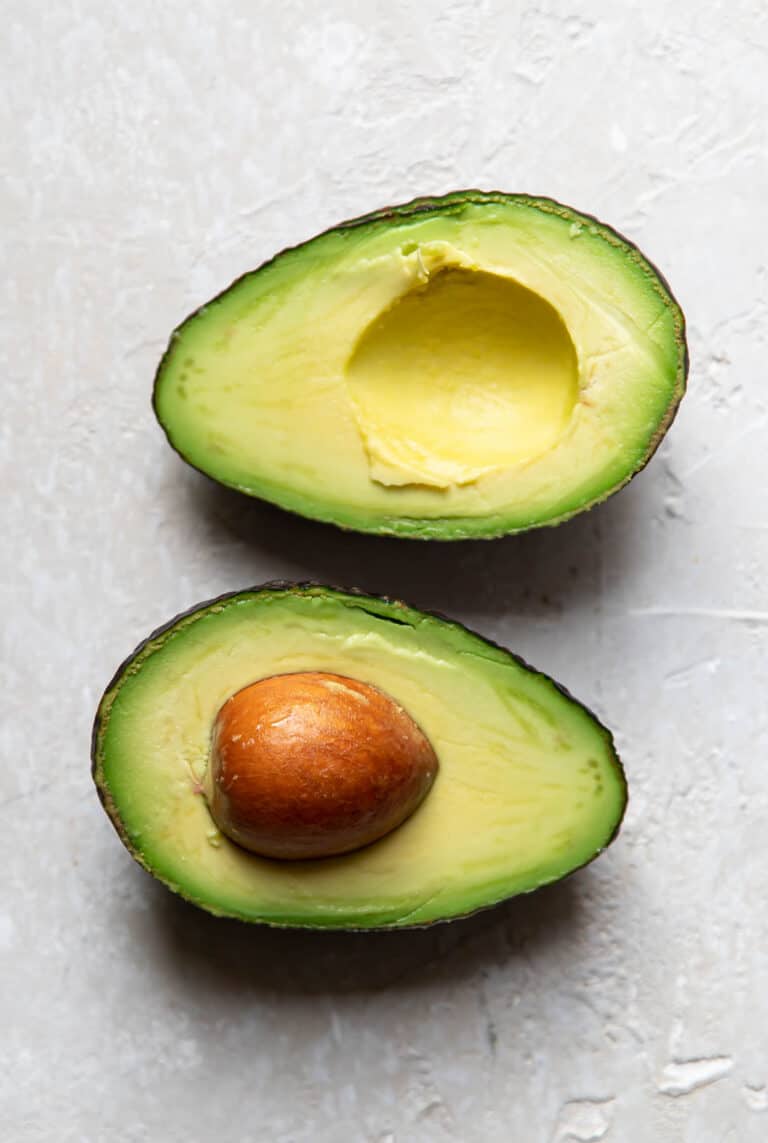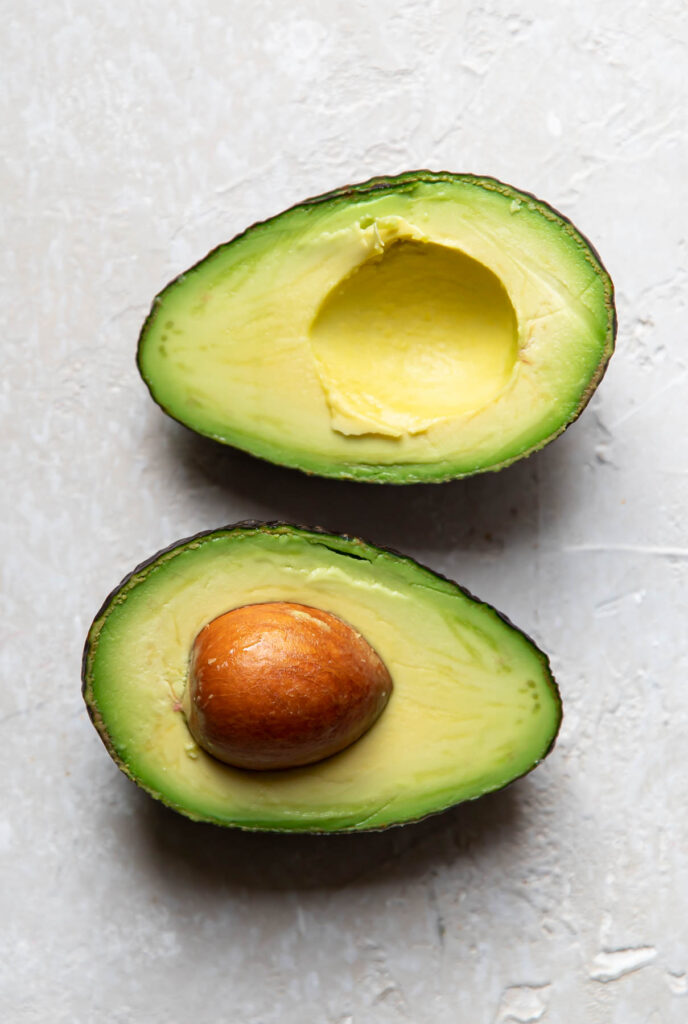 How To Make Cucumber Avocado Salad
Start by making the vinaigrette. Whisk together the sunflower oil, lemon juice and lemon zest in a bowl until its come together then let it chill in the fridge while you make the salad.
Grab a large bowl and add the sliced cucumbers. If you want the cucumbers to be a uniform size, then you can use a mandolin slicer but it's not necessary.
Next cut the cherry tomatoes in half, this is a bit tedious but doesn't take too long. In to the bowl they go. Chop up the fresh herbs and add them as well followed by a few pinches of salt and pepper.
Toss this all around before adding the avocado, so they don't get mushy. Add the avocado last. If you are worried about the avocado browning, you can squeeze some lemon juice on top of them.
Drizzle the vinaigrette over everything and you are done.
What To Serve Cucumber Avocado Salad With
Since this is such a healthy, refreshing salad you can serve it with just about anything! It really is the perfect salad to bring to a get together.
You could pair this with a pizza, like a BBQ chicken pizza or if you are keeping it vegetarian you could do this green vegetable pizza, which has broccoli, zucchini and basil on it.
Or use this recipe for homemade pizza dough to come up with your own pizza creation!
This would also make a nice side salad for slow cooker pulled pork or sheet pan sausage peppers and onion. If you are trying to add something healthy to the dinner.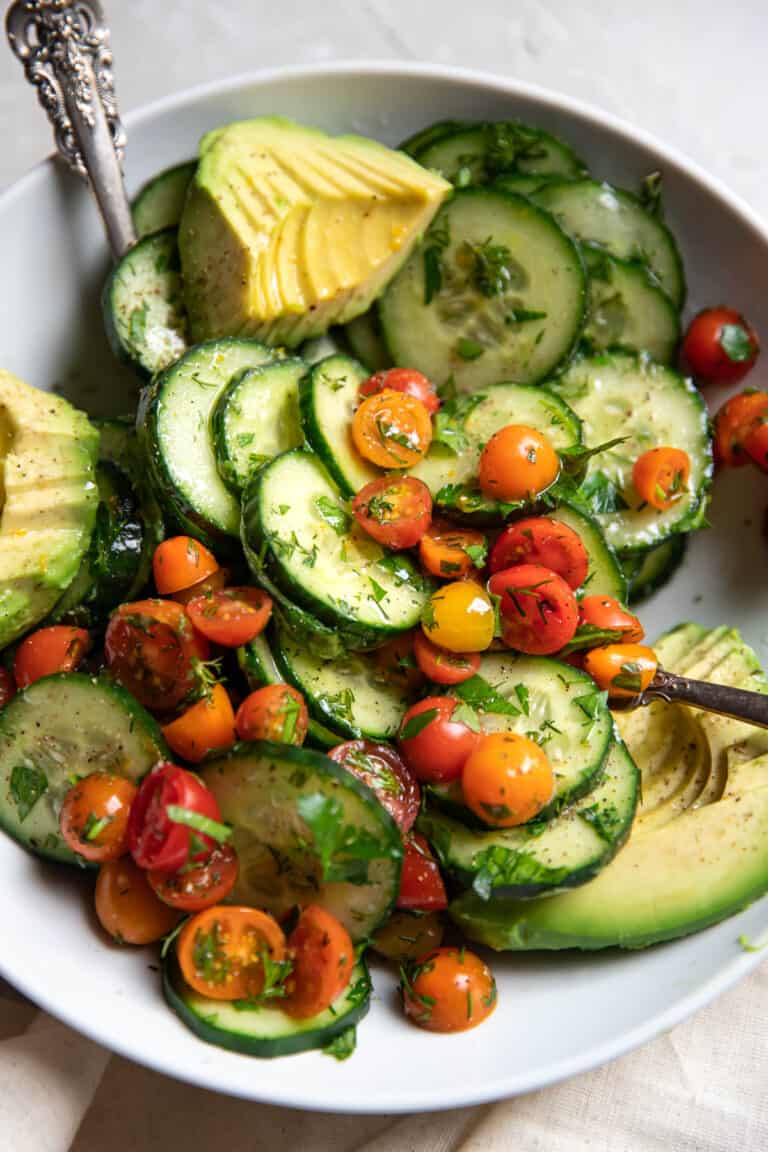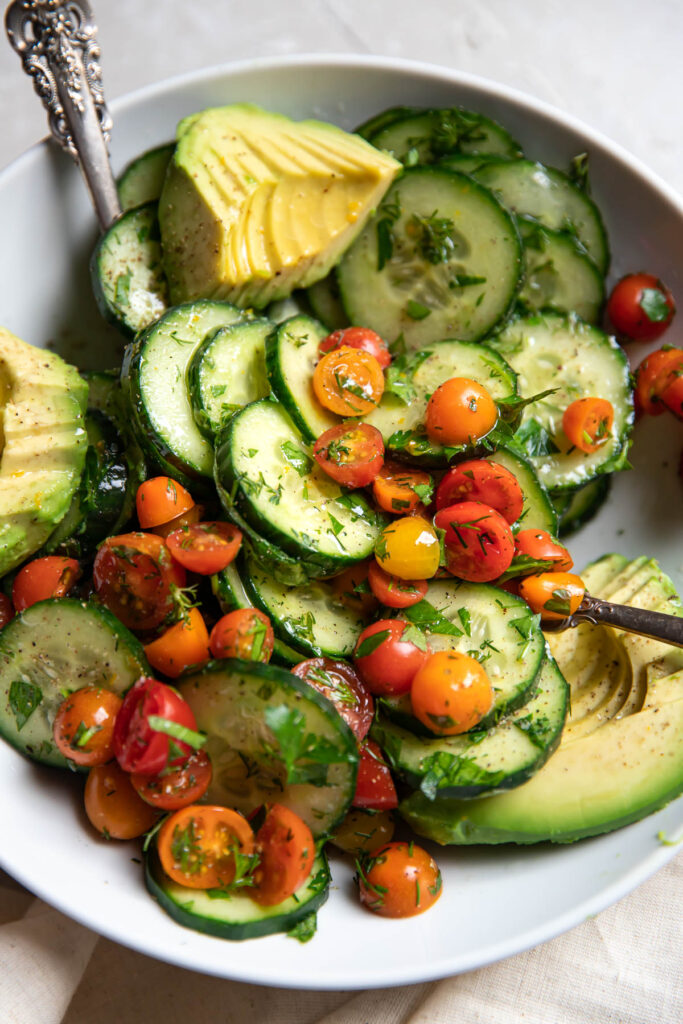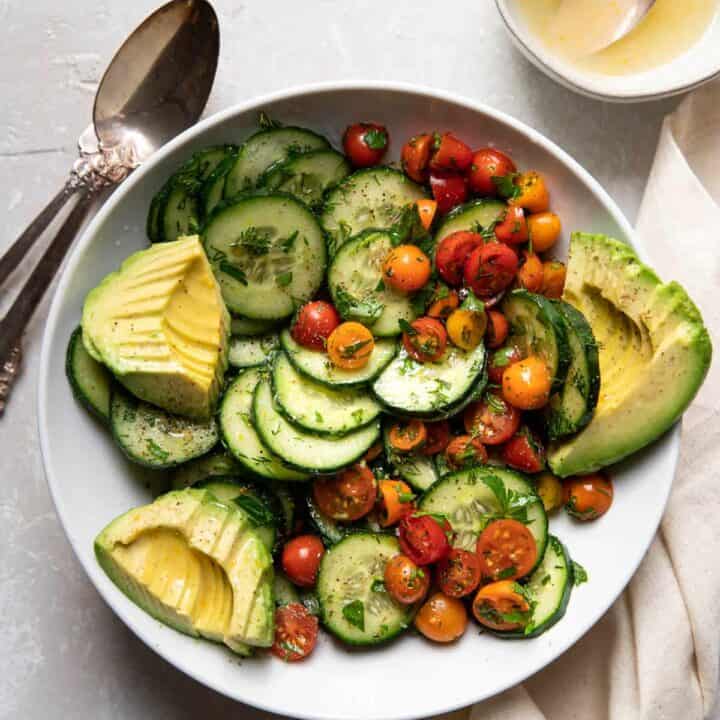 20 Minute Cucumber Avocado Salad With Fresh Herbs
This cucumber avocado salad is bursting with fresh flavor! All fresh ingredients make this a healthy, family dinner option. Plus a quick and easy homemade lemon vinaigrette really brightens things up.
Ingredients
1 English cucumber, washed and sliced
cherry tomatoes, cut in half
2 large avocados, pitted and sliced
fresh dill, a few bunches, chopped (a little dill goes a long way) *see note
fresh parsley, a handful, chopped
salt, pinch
pepper, pinch
Dressing:
2 tbsp sunflower oil
4 tbsp lemon juice, 1-2 lemons
Zest of a lemon, can be as little or as much as you want
Instructions
Prepare the vinaigrette by whisking together the sunflower oil, lemon juice and lemon zest, chill in the fridge
Grab a large bowl
Wash your produce
Slice the cucumbers thinly, add to the bowl
Cut the cherry tomatoes in half, add to the bowl
Chop up the dill and parsley, add to the bowl
Sprinkle with a few pinches of salt and pepper
Toss together
Cut the avocados in half, remove the pit and use a spoon to scoop it out, following the skin of the avocado as a guide
Slice the avocado, add it to the bowl
Drizzle the vinaigrette over everything
Serve
Notes
When using fresh dill, a little goes a long way, if you are unsure about how much dill flavor you would like, then I suggest starting with less and working your way up - too much dill can overpower the salad
Nutrition Information:
Yield:

8
Serving Size:

1
Amount Per Serving:
Calories:

128
Total Fat:

11g
Saturated Fat:

1g
Trans Fat:

0g
Unsaturated Fat:

9g
Cholesterol:

0mg
Sodium:

27mg
Carbohydrates:

9g
Fiber:

5g
Sugar:

2g
Protein:

2g
This information comes from online calculators. Although moderncrumb.com attempts to provide accurate nutritional information, these figures are only estimates.