Backyard BBQ just got even easier with these 30 minute instant pot BBQ ribs. No marinating necessary, just a simple dry spice rub before they get cooked. These BBQ ribs come out juicy and tender while still sticking to the bone.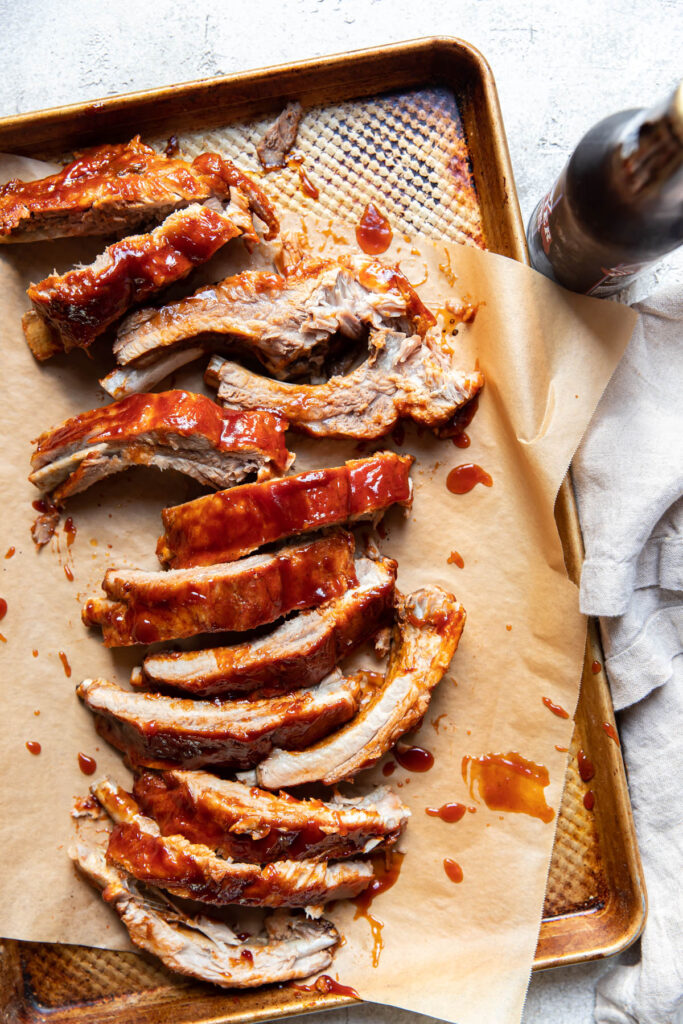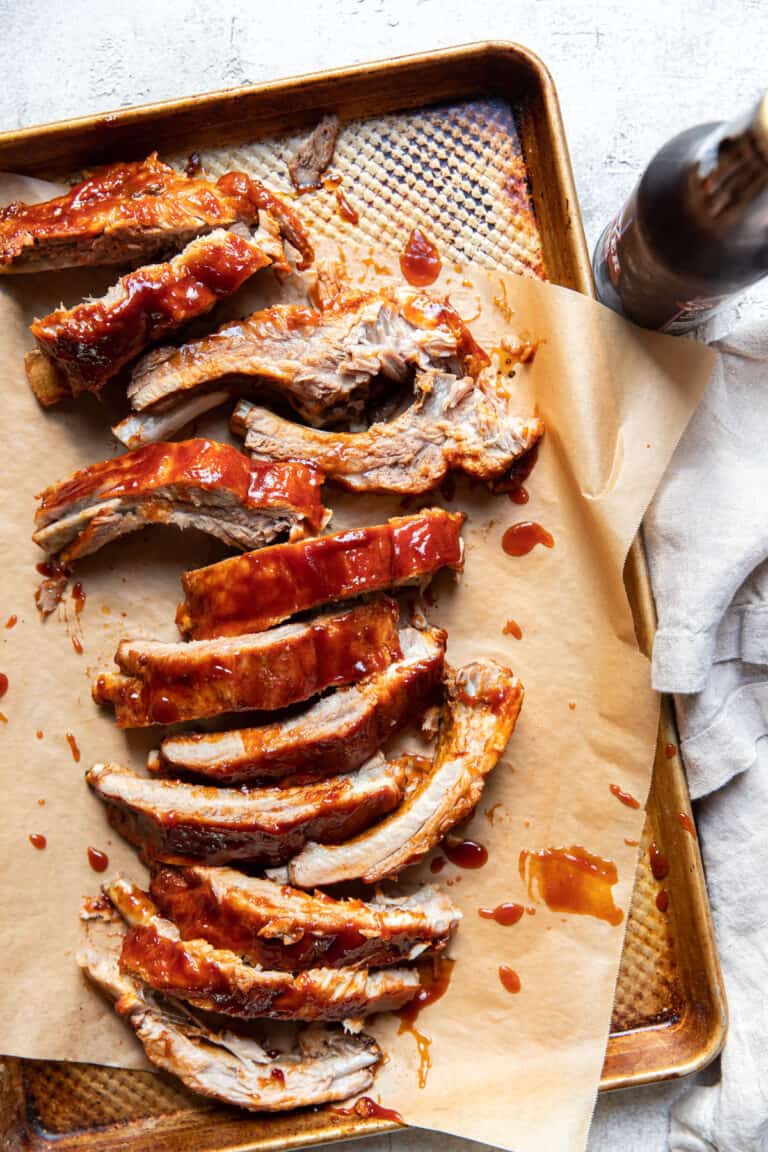 BBQ ribs are one of my favorite foods to have during the summer. And you gotta serve them with this four cheese creamy baked mac and cheese. But cooking them can be intimidating and sometimes time consuming. That's why I started making them in my instant pot!
30 minutes is all you need to cook a rack of ribs in the instant pot. It couldn't get any easier and they are so good, the whole family will be begging for more.
It starts with a few minutes of prep work, to ensure your ribs will have the best texture. Then a simple dry rub goes over the entire rack of ribs. In the instant pot they go, with water in the bottom. Once they come out they will be so tender! Slather on your favorite BBQ sauce and that's it.
In an 8qt instant pot you could fit 2 racks of ribs. In a 6qt instant pot you may only be able to fit 1 rack of ribs.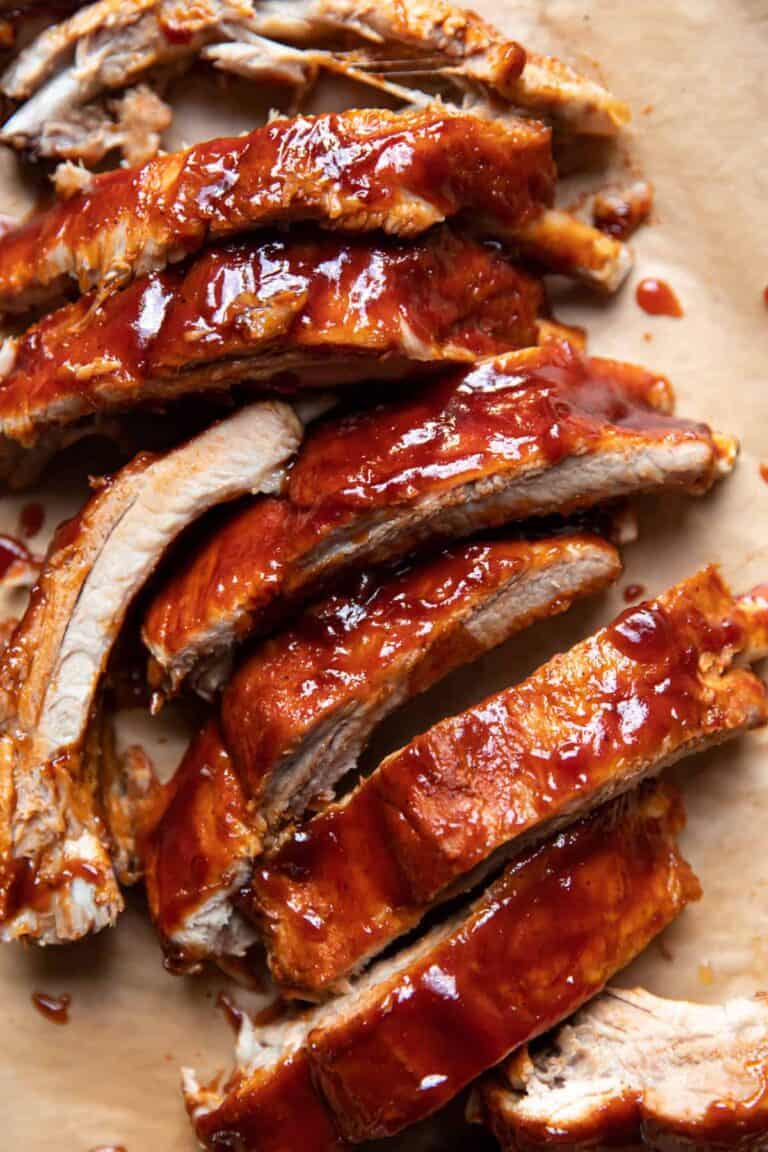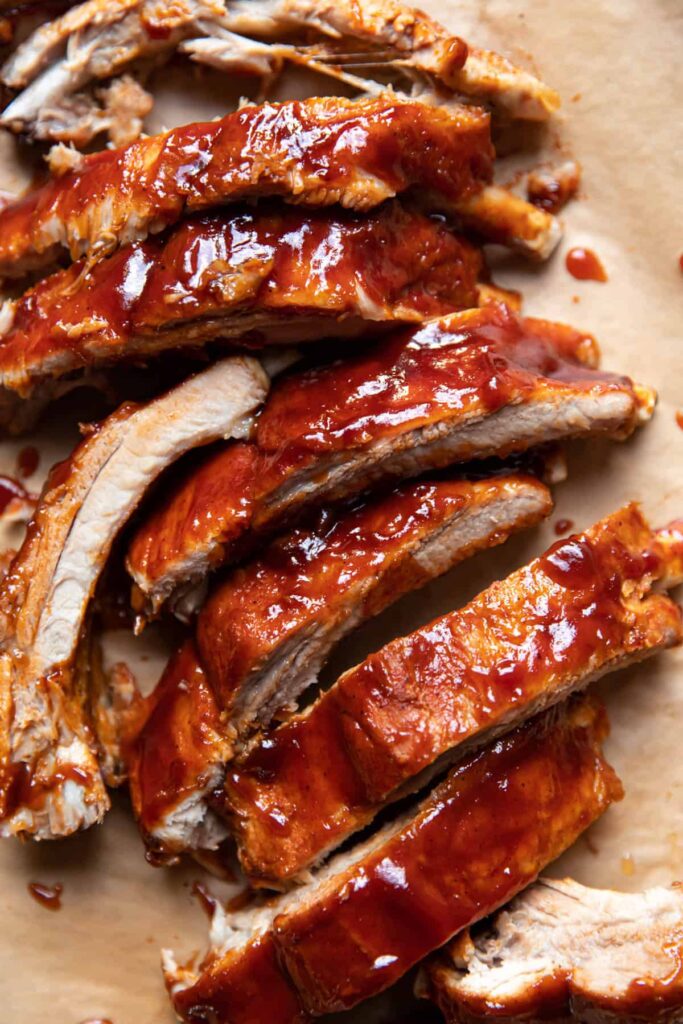 Preparing Instant Pot Ribs
To make the best ribs you need to do one simple thing to prep them. That is to remove the membrane on the underside.
It's a fatty looking membrane that is tissue thin. If you leave it on you'll be able to tell a big difference than if you were to remove it.
To remove the membrane take a knife and make a slit somewhere near an end ribs, now pull up on that thin layer and pull it off. If you can't get a grip on it, using a paper towel helps for traction.
Toss in the garbage and you're good to go! Time to apply the dry rub.
Instant Pot Ribs Dry Rub
For these instant pot ribs we'll be using a dry rub. 'What's a dry rub', you ask? A dry rub is just as it sounds, dry ingredients rubbed onto the meat.
There will be no marinating for this dry rub, you smother it on right before the ribs pressure cook.
For the dry rub you'll need brown sugar, salt, pepper, dry mustard, paprika, garlic powder and onion powder. Pretty simple, pretty easy.
Slather it all over the ribs, even the under side.
Cooking Ribs In The Instant Pot
Cooking BBQ ribs in the instant pot couldn't be any easier! It's a quick method for really tender ribs.
Start by placing the trivet in the bottom of the instant pot.
Pour in the recommended amount of water for your instant pot size. Mine is an 8 quart instant pot, so I add 2 cups of water. Make sure you know how much the minimum is for yours, if there isn't enough water it won't pressurize correct.
Place the seasoned ribs in the ribs in the instant pot, curling them around to fit. Put the lid on, close it and turn the knob closed so it's not venting. They will cook for 30 minutes and no need to do a slow release, just turn push the venting knob over and let all the steam out.
After that put them on a big cutting board and slather on some BBQ sauce. If you want them to have a bit of crisp to them you can place it under the broiler, on a baking sheet, for 2 minutes in the oven. Then add more BBQ sauce once they are out.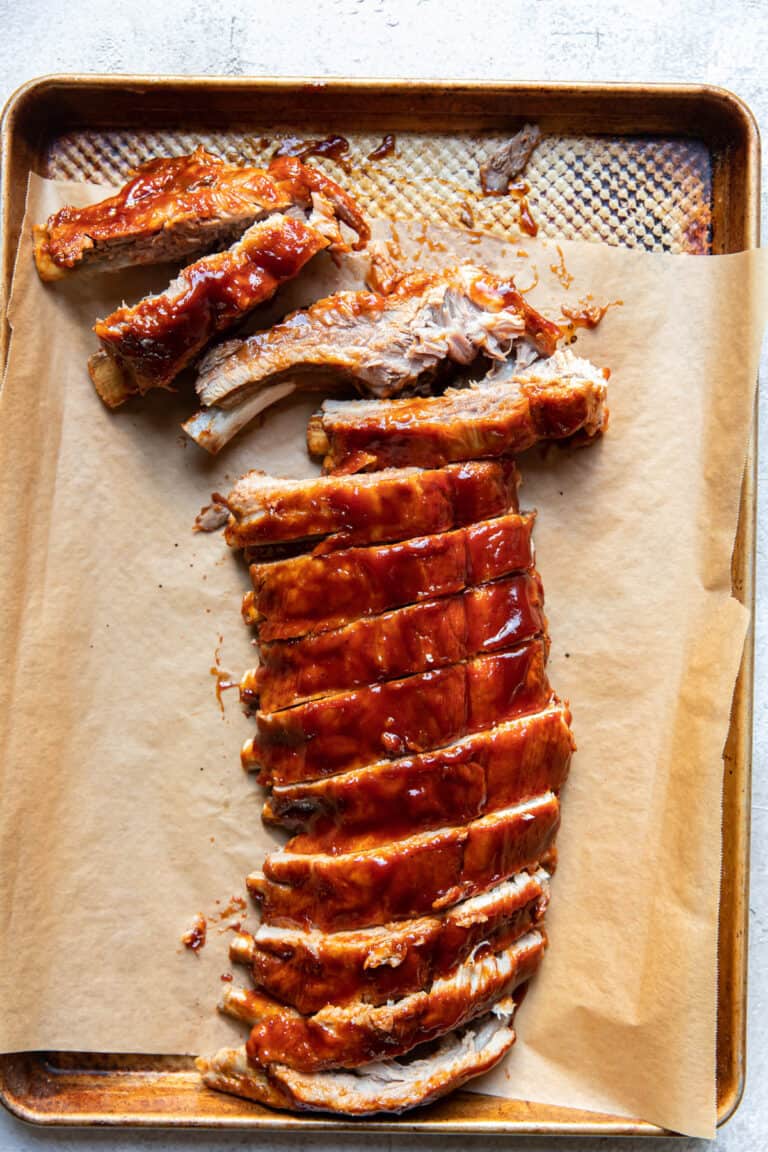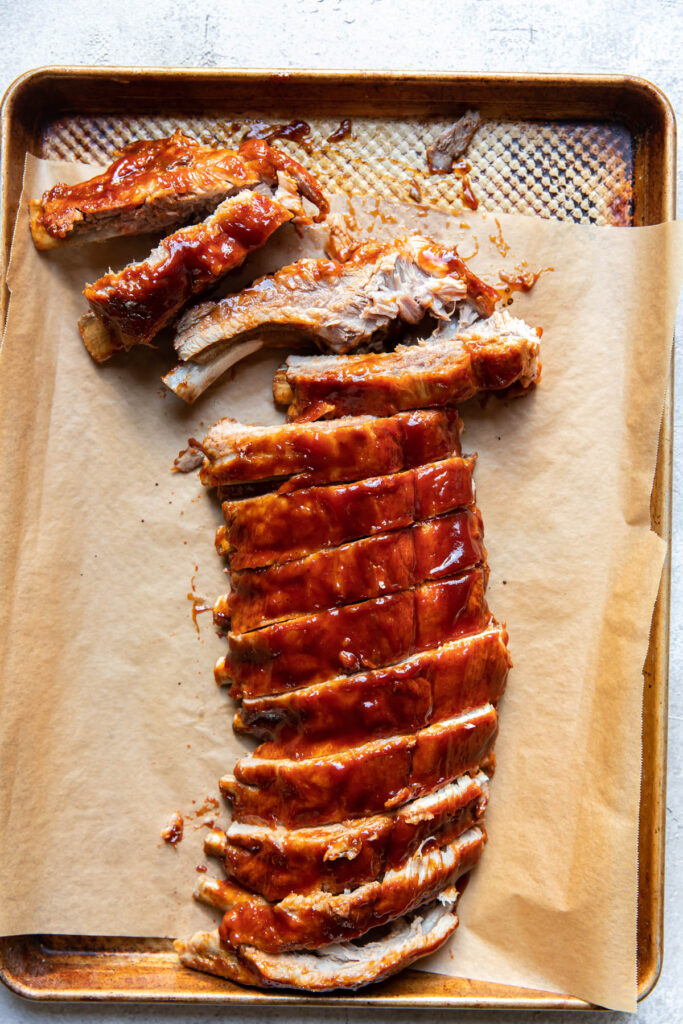 What To Serve With Instant Pot Ribs
A few of my favorite things to serve with ribs are baked macaroni and cheese and corn bread!
If you want to keep it a lighter an easy garden salad or a very summery avocado corn salad would be yummy.
And for dessert you can never go wrong with an apple crisp, blueberry and peach crisp, or maybe some iced oatmeal cookies. The iced oatmeal cookies would be great for a BBQ.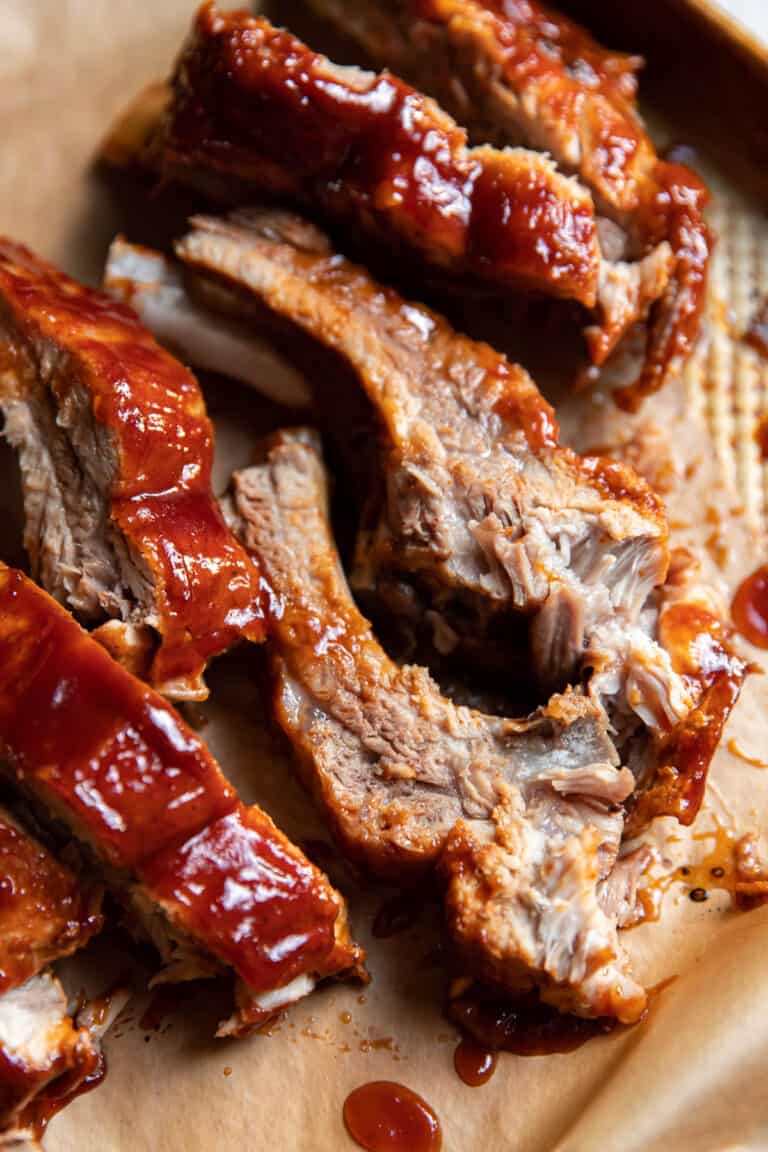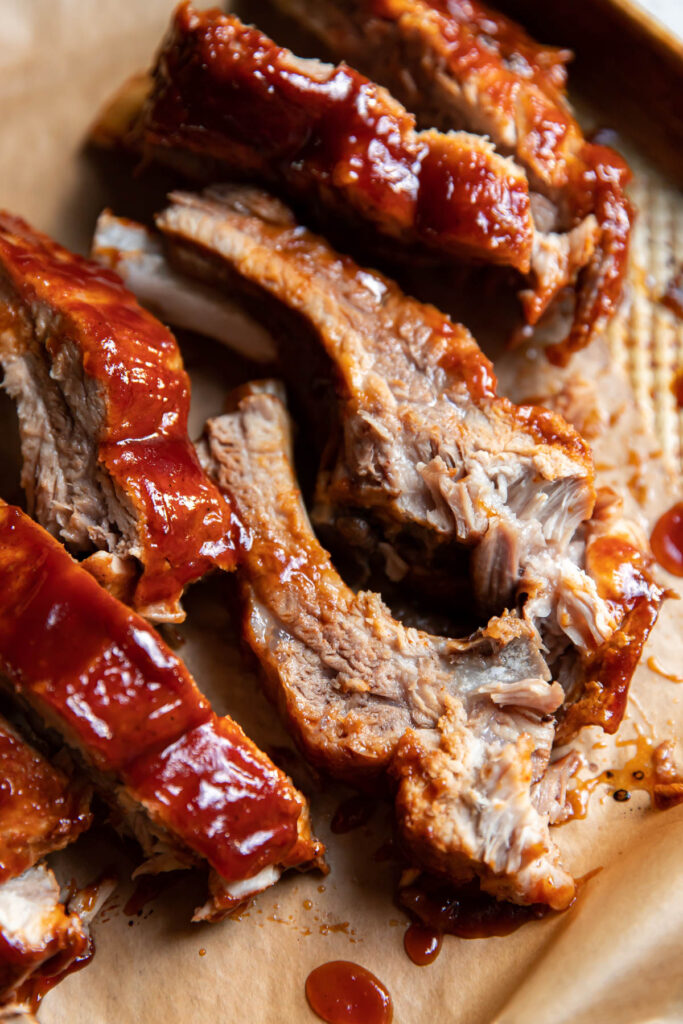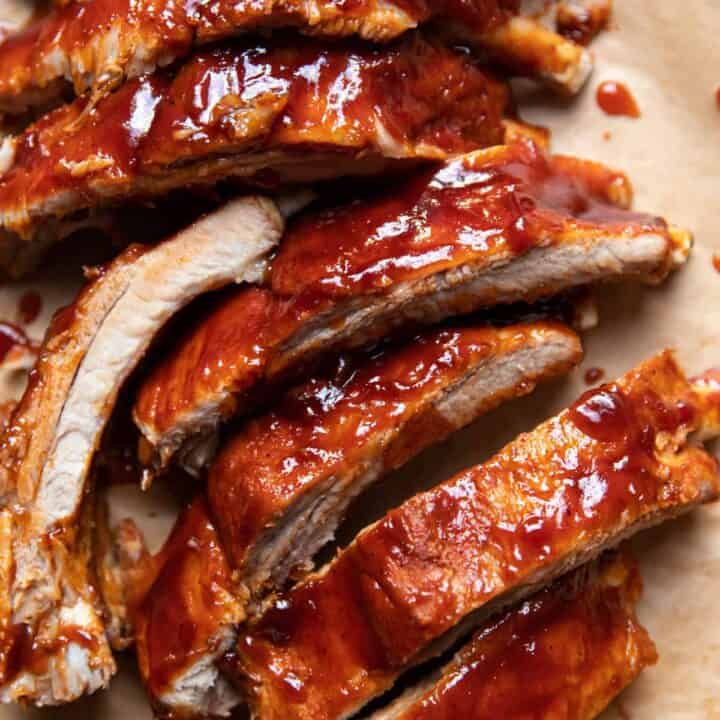 30 Minute Instant Pot BBQ Ribs
Backyard BBQ just got even easier with these 30 minute instant pot BBQ ribs. No marinating necessary, just a simple dry spice rub before they get cooked. These BBQ ribs come out juicy and tender while still sticking to the bone.
Ingredients
1 rack pork ribs
½ c BBQ sauce
Water (amount varies - see notes)
Dry rub
2 tbsp brown sugar
1 tsp kosher salt
Black pepper
¼ tsp dry mustard
1 tsp paprika
½ tsp garlic powder
½ tsp onion powder
Instructions
Pat the ribs dry with paper towels
On the backside of the ribs peel off the paper thin membrane (see section in post about preparing ribs if you don't know how to do this)
Mix the ingredients together to make the dry rub and rub it all over the rack of ribs
Add the water to the bottom of the instant pot and insert the trivet
Place the ribs in a spiral direction in the instant pot and cover with the lid, make sure the valve is not set to venting
Set the time for 30 minutes
When it's done, there is no need to slow release, push the valve to venting and wait until you can open the lid
At this point you can brush on your favorite BBQ sauce or you can lay the ribs on a baking pan, brush on BBQ sauce and place them under the oven broiler for 2 minutes to get some char on it
Follow that up with another slather of BBQ sauce and serve
Notes
6 qt instant pot needs 1 cup of water in the bottom
8 qt instant pot needs 2 cups of water in the bottom
Recommended Products
As an Amazon Associate and member of other affiliate programs, I earn from qualifying purchases.
Nutrition Information:
Yield:

4
Serving Size:

3
Amount Per Serving:
Calories:

118
Total Fat:

3g
Saturated Fat:

1g
Trans Fat:

0g
Unsaturated Fat:

1g
Cholesterol:

9mg
Sodium:

683mg
Carbohydrates:

21g
Fiber:

1g
Sugar:

17g
Protein:

2g
This information comes from online calculators. Although moderncrumb.com attempts to provide accurate nutritional information, these figures are only estimates.