Nothing beats a summer dessert like a berry crisp. This blueberry and peach crisp is sweet, tangy and has all that good oats and brown sugar crisp on top. Made with fresh blueberries and peaches.
It's arguable which part is better, the juicy berry filling or the sugary buttery crisp topping!
This recipe was first published on July 29, 2020.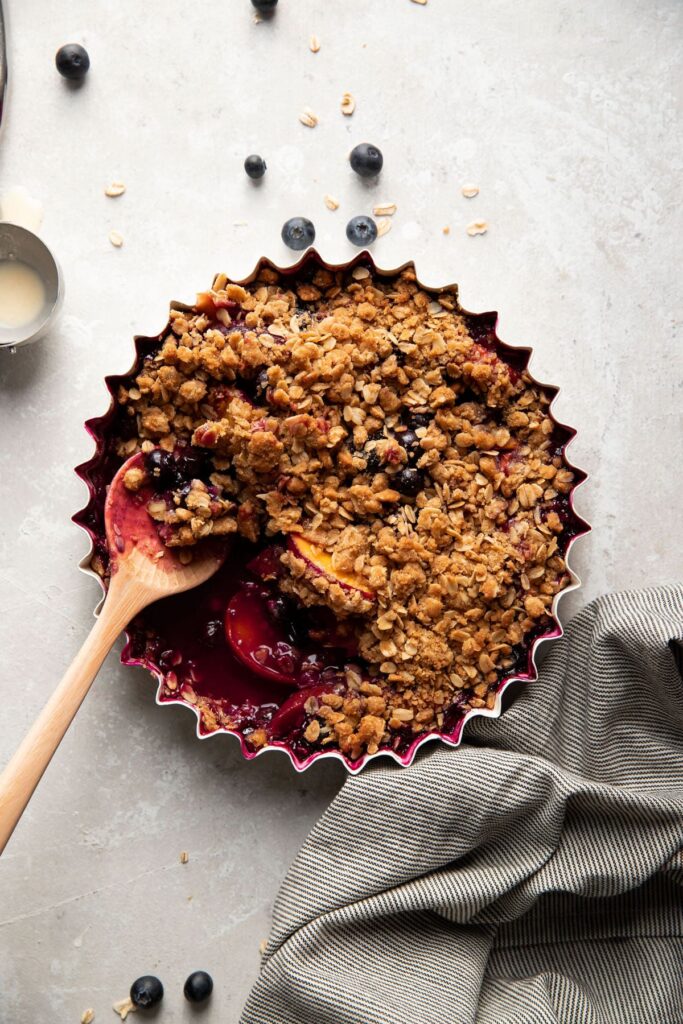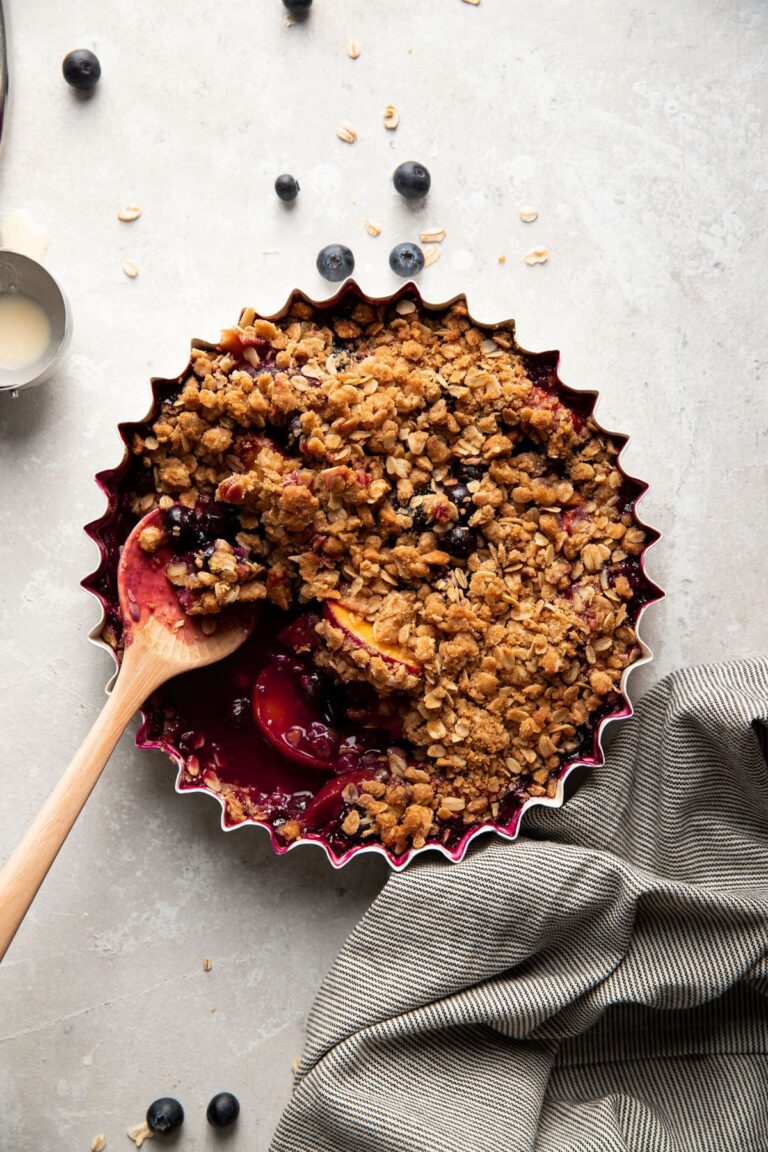 When I think of peaches, I think of summer.
And what's more iconic than a berry crisp. In particular, today, we are making this super juicy blueberry and peach crisp.
I'm so excited to share this with you!
A big bowl of crisp served with vanilla ice cream is the perfect way to welcome the hottest months of summer.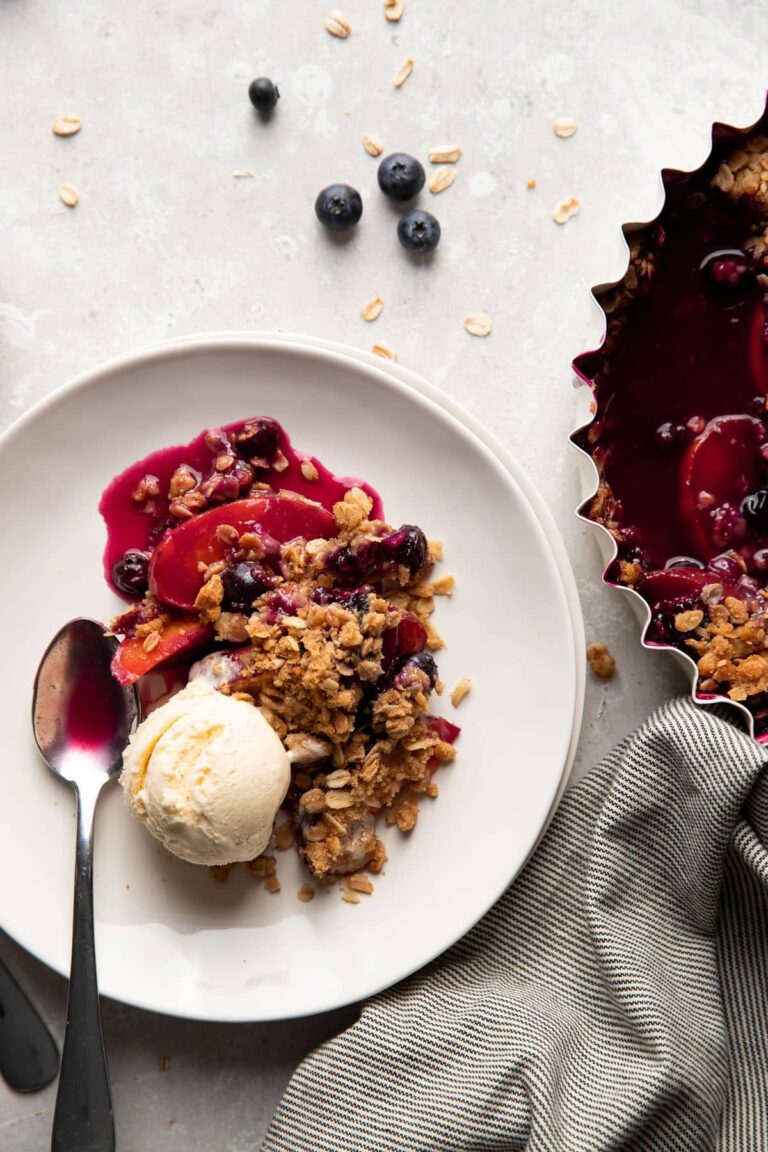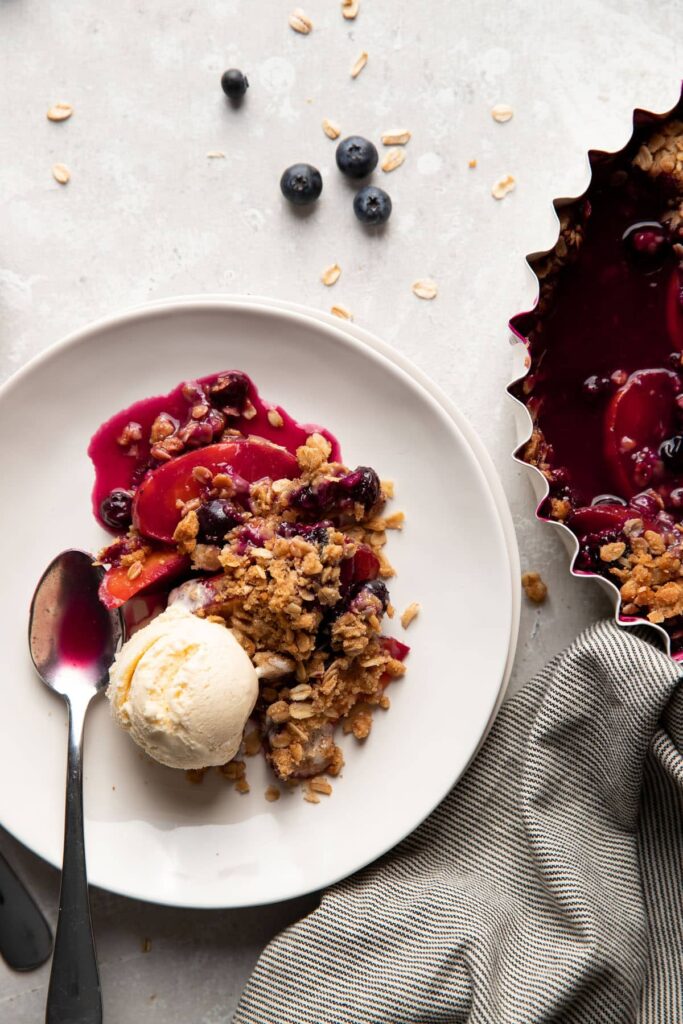 How To Tell When A Peach Is Ripe
For this crisp recipe you'll be using fresh peaches, not canned peaches.
Usually you can give it a gentle squeeze and know that it is ready. It's soft to the touch and very fragrant!
If it still feels firm like a tennis ball then it's not ready.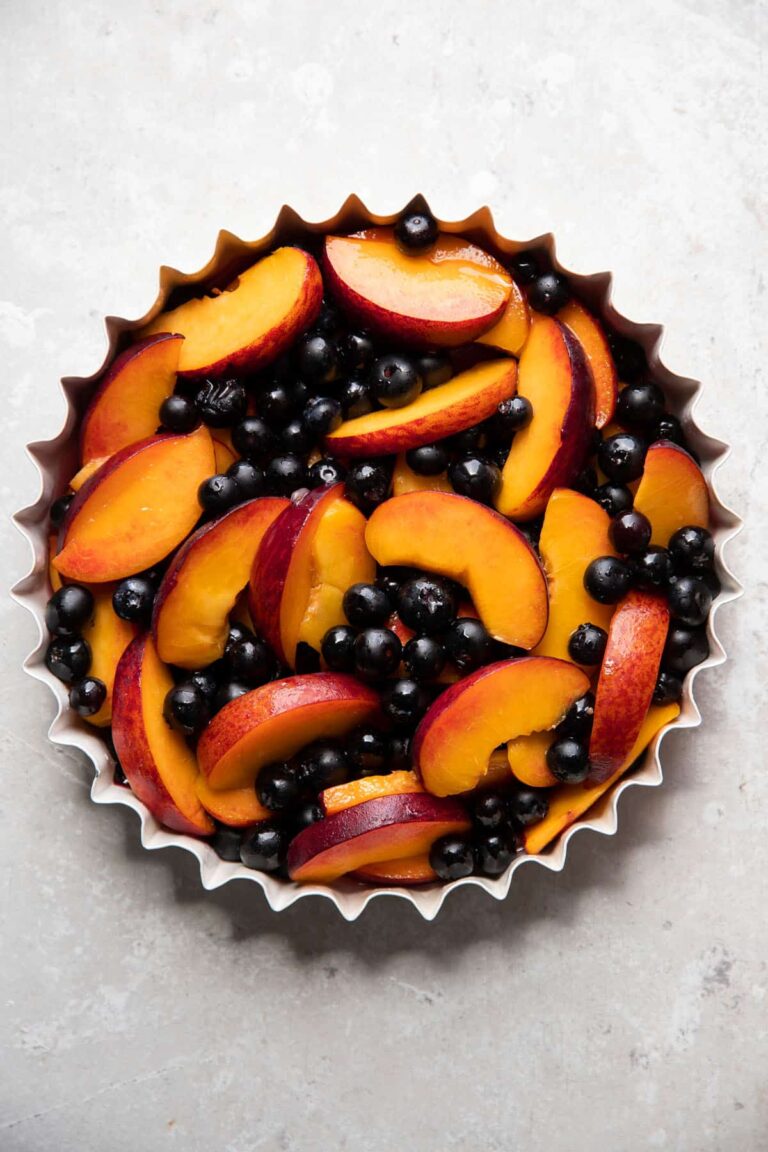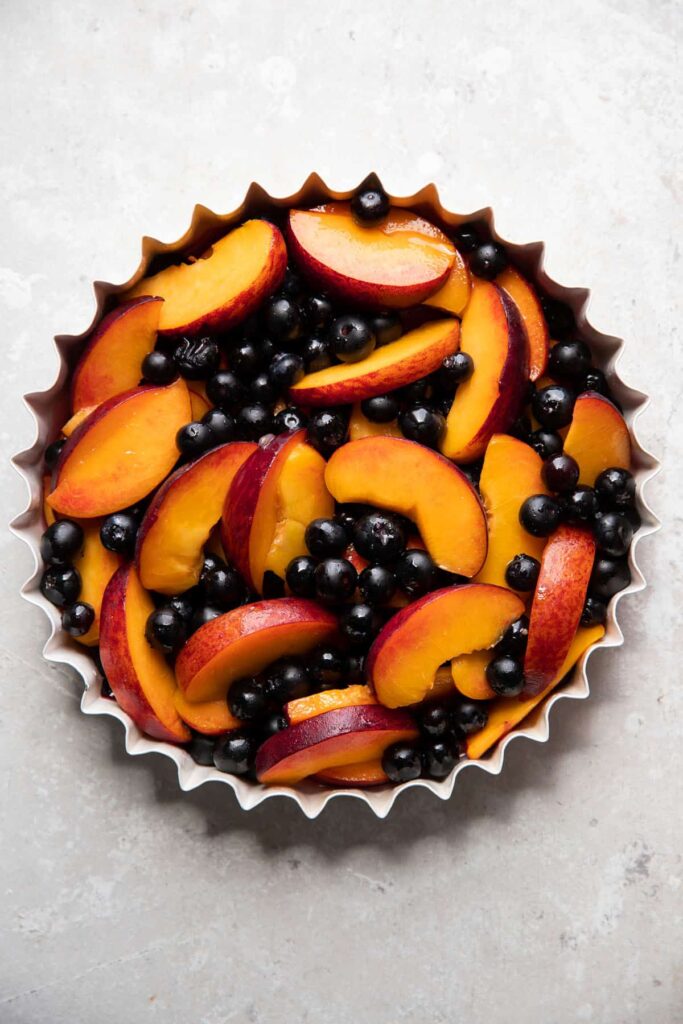 Once it's ready you will be able to cut it in half, and easily twist to remove it from the pit.
It's worth noting that the above mentioned is not always the case. Sometimes you get those pesky peaches that are not freestones, meaning the pit clings on to the peach for dear life!
If you are able to choose, get freestone peaches.
And if you just can't get the peach to separate from the pit, take a small paring knife and cut around it, carefully.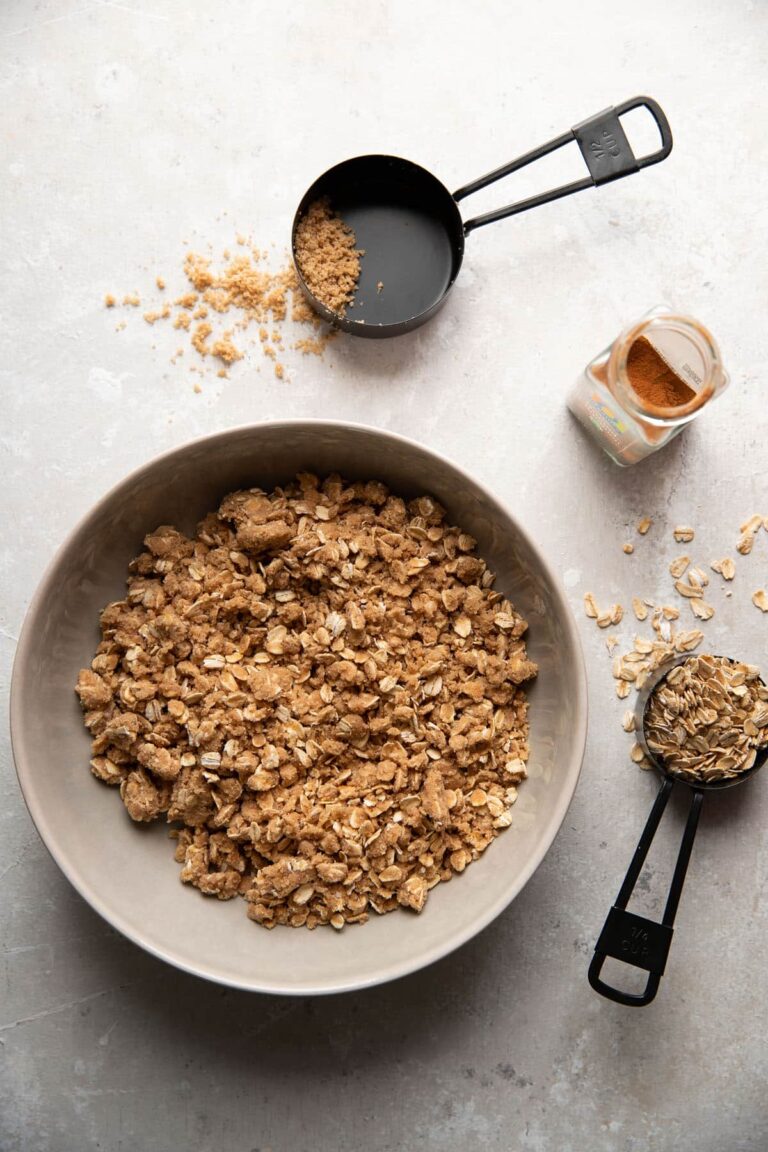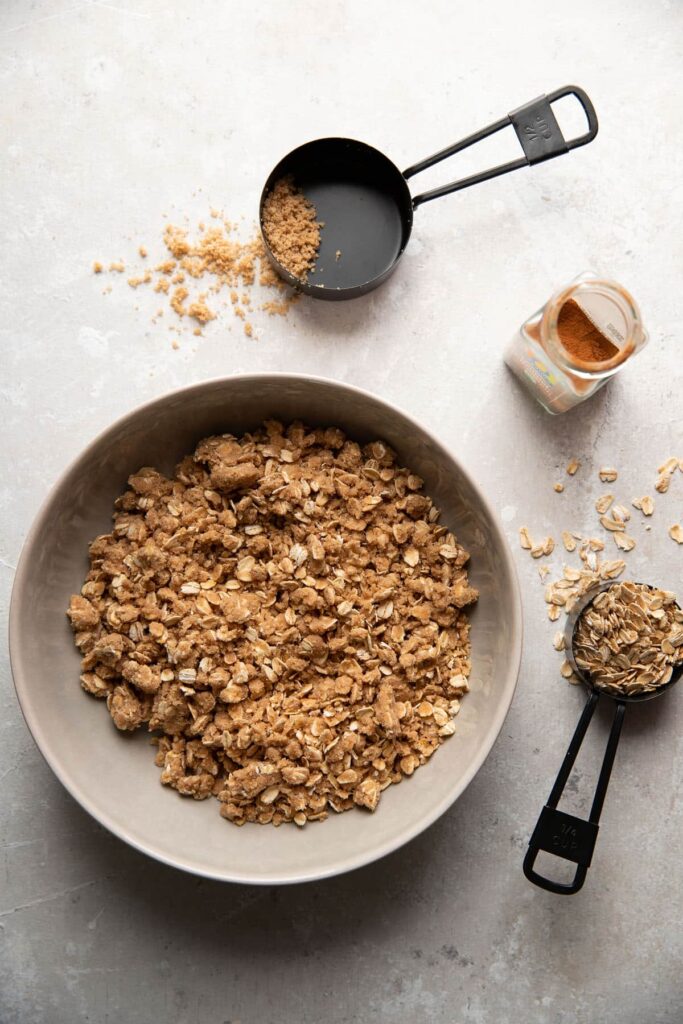 Crisp, Cobbler Or Crumble?
The big debate.
Should I make a crisp, a cobbler or a crumble and what in the world is the difference between them all?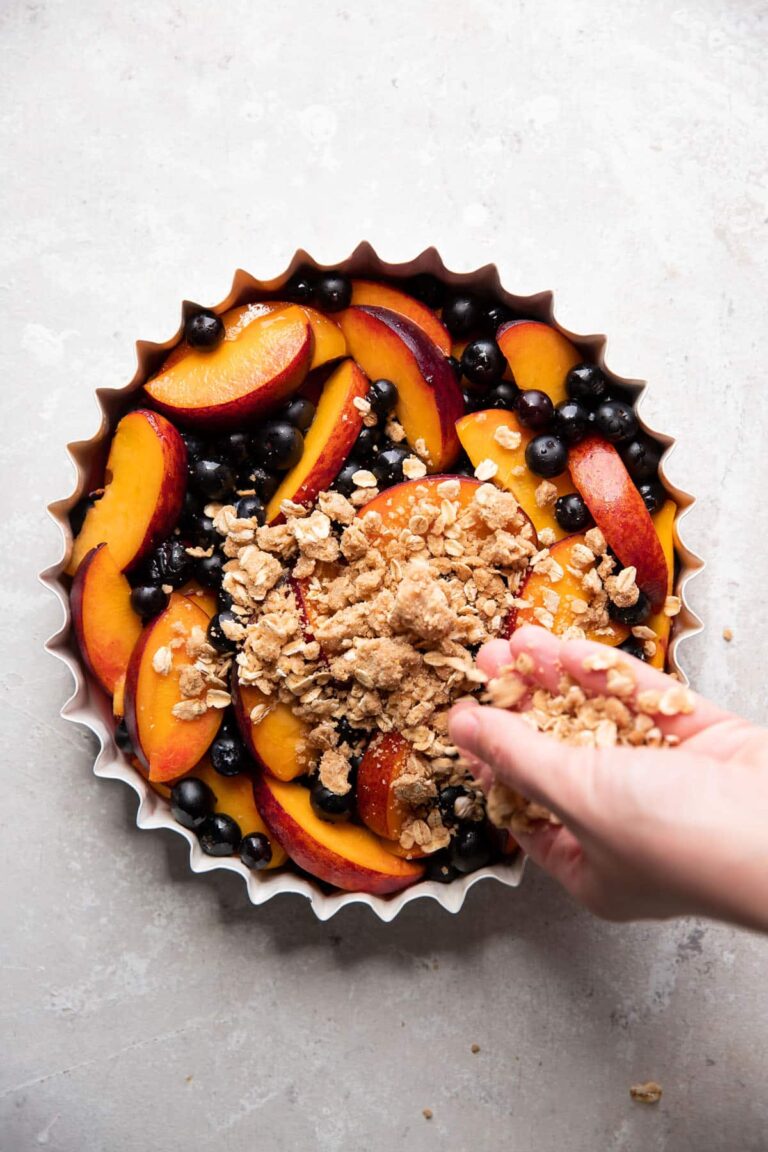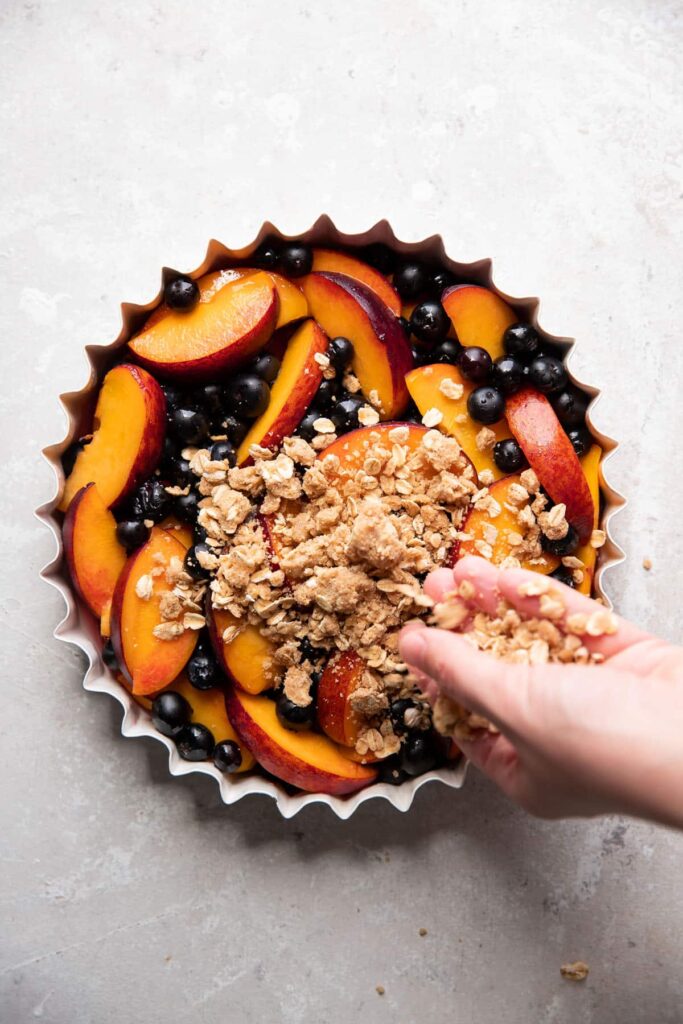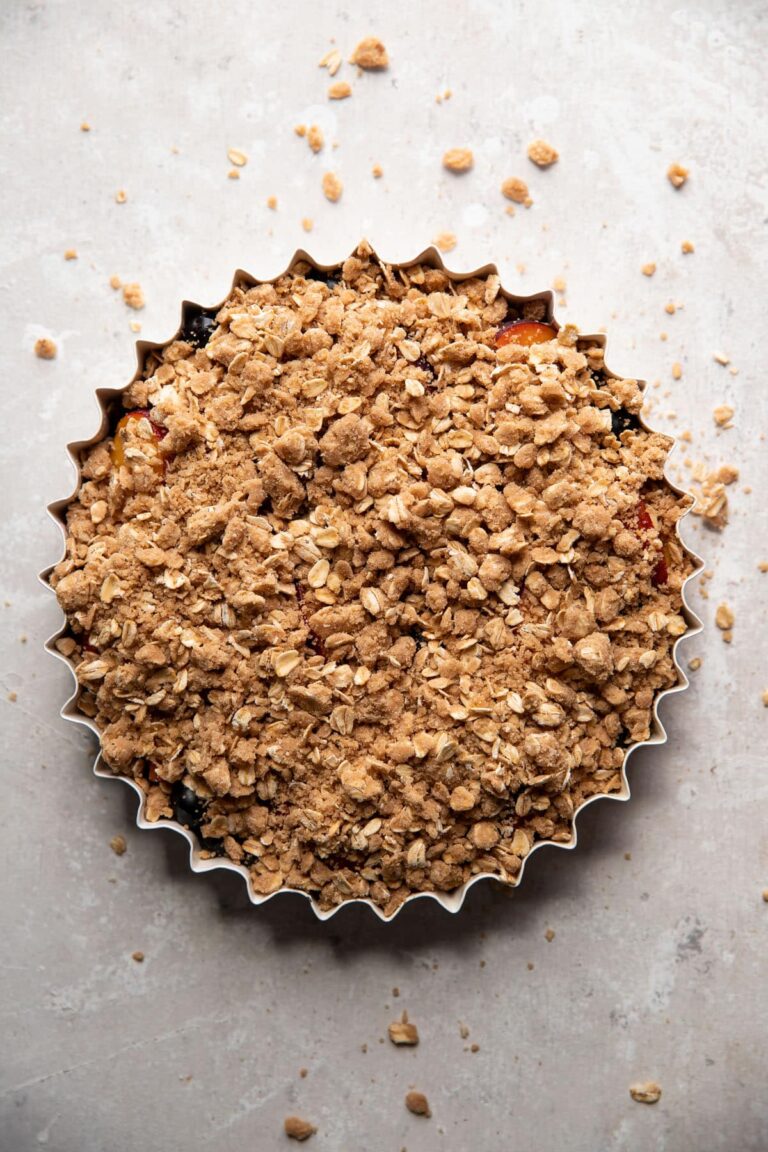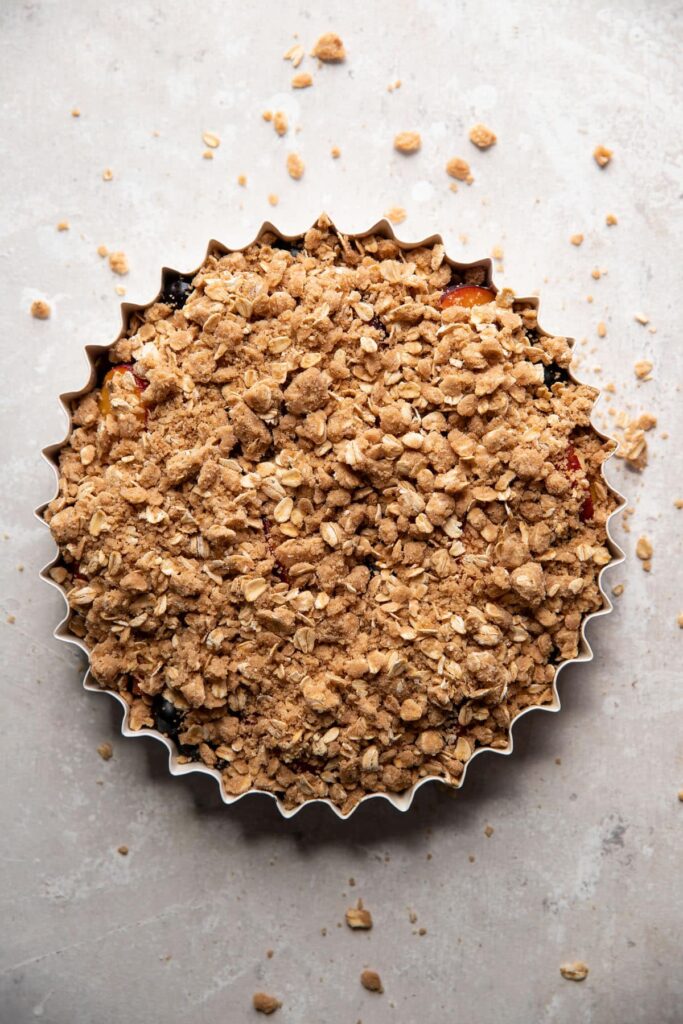 Crisp - a crisp is a flour and butter based topping that includes oats in it, it's a dry crumbly looking topping
Crumble - a crumble is just like a crisp except the big difference is there are no oats in a crumble
Cobbler - a cobbler is more of a wet batter type of topping, kind of like a biscuit
So there you go, the choice is purely preference.
I, myself, am partial a crisp, like this heavenly apple crisp.
How To Make A Blueberry Peach Crisp
Making a berry crisp is quite simple. I believe it's the simplest of all pies, crisps, crumbles and cobblers.
Well, maybe it ties with a crumble since they are basically one in the same (minus the oats).
To make this blueberry peach crisp.
Toss the fruit with sugar, honey, lemon juice and corn starch
Pour that in to a baking dish
Use your hands to mix together a crisp topping, which is flour, oats, brown sugar, butter, baking powder, cinnamon and salt
It's seriously that easy.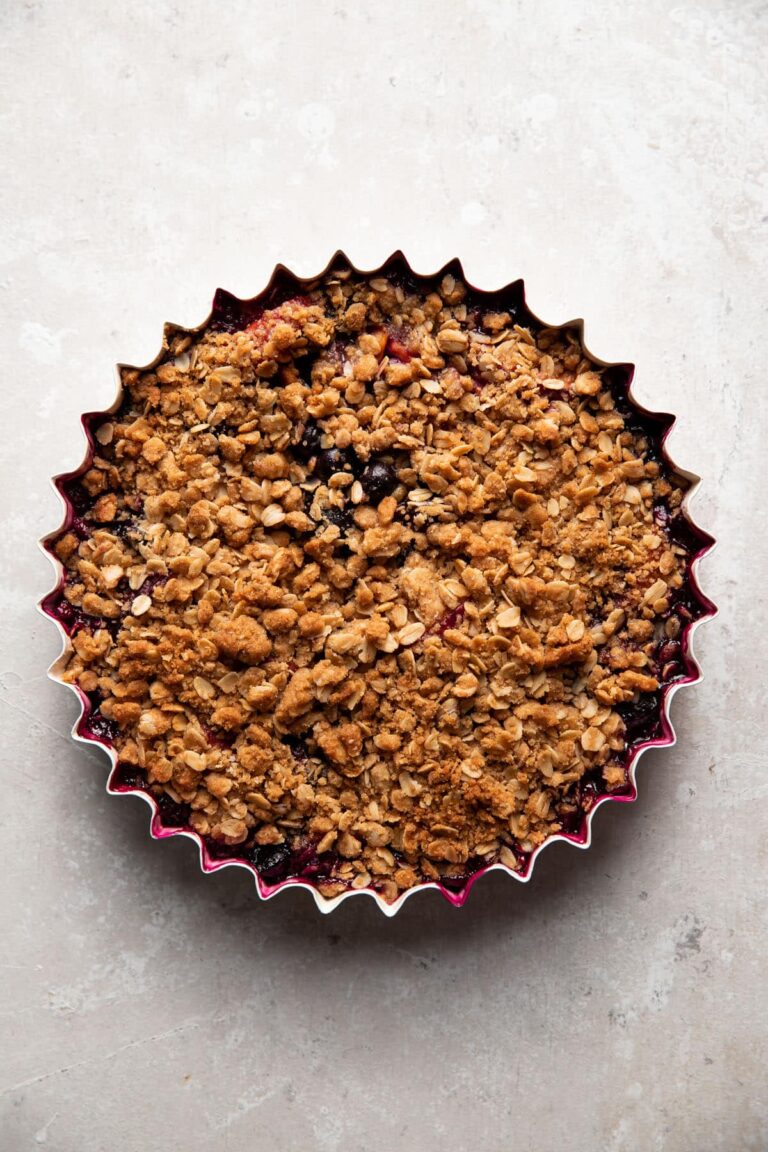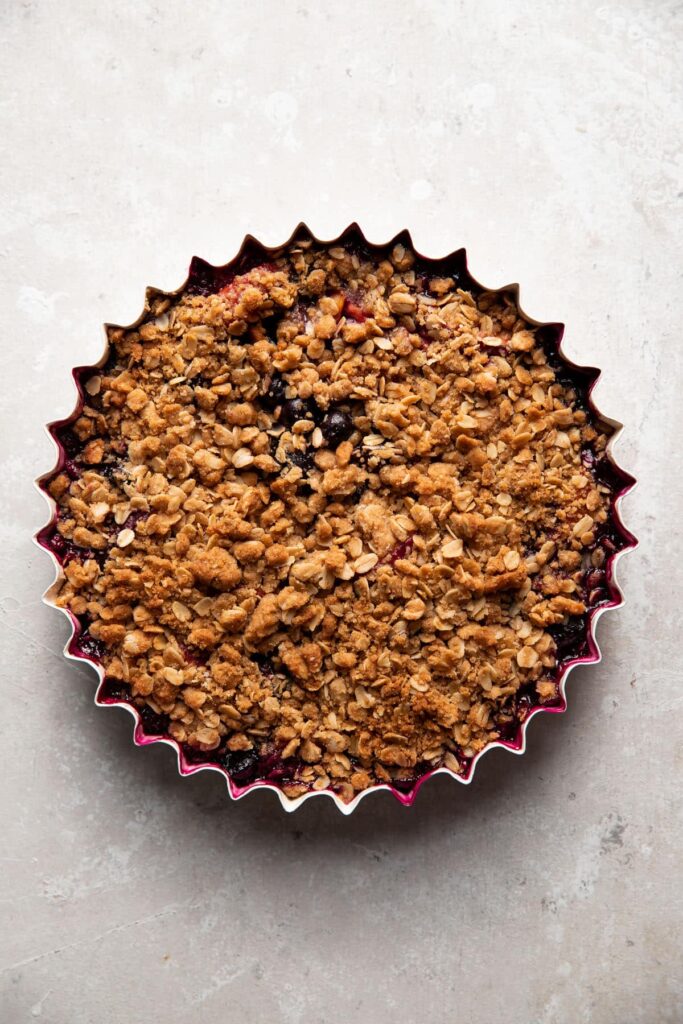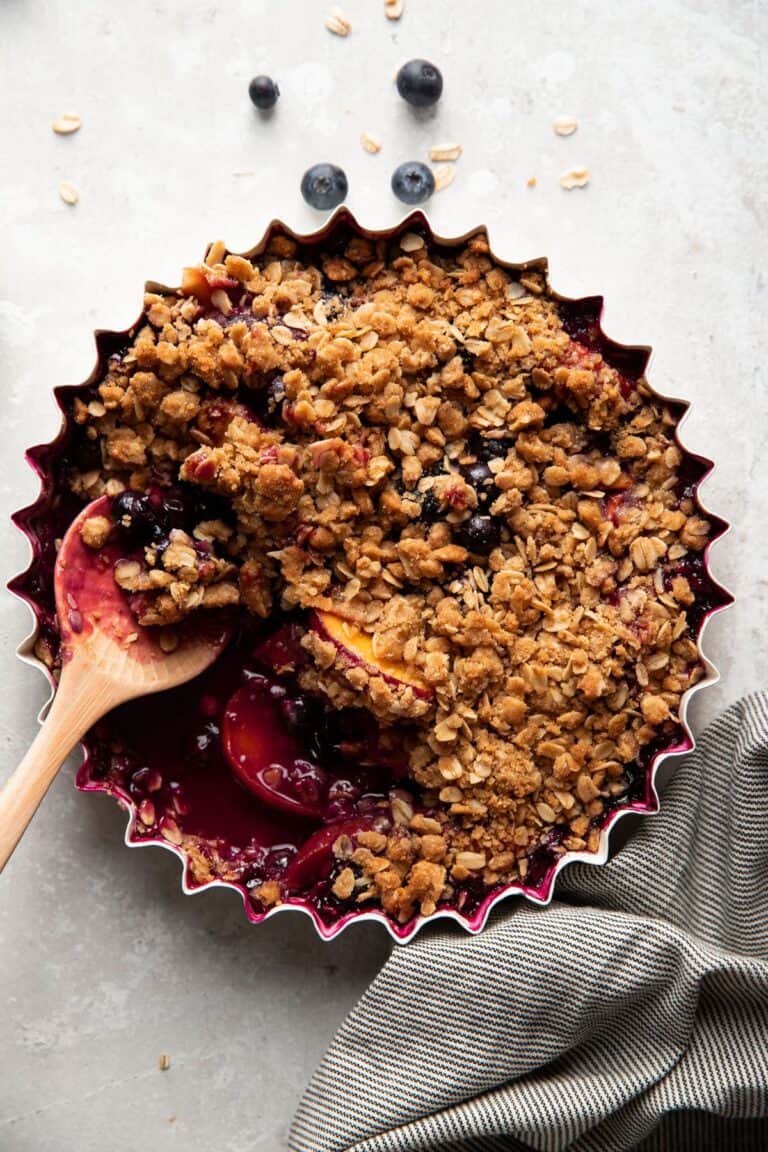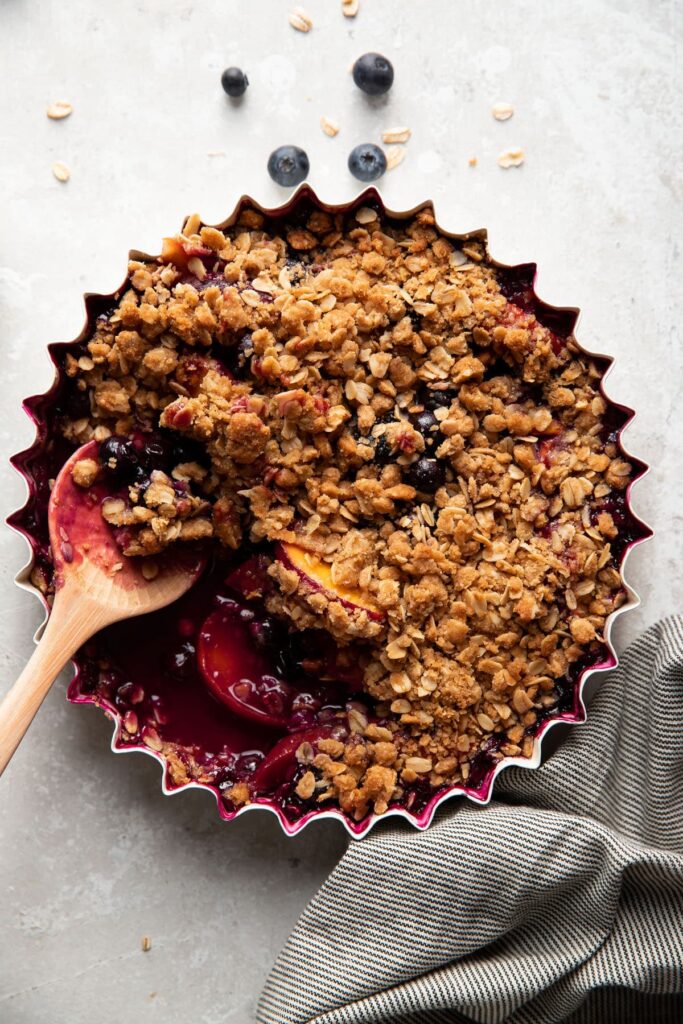 Frequently Asked Questions
I could write a book about frequently asked questions when it comes to making any variation of a pie.
And since I'm not an expert pie maker, that should have read, "I could write a book about FAQ because I've goofed up so many times." So here goes a few important ones.
My filling is too runny - you needed to add cornstarch or flour, this could also be because you didn't let it set up long enough once it was out of the oven before serving
My peaches aren't soft after baking - it didn't bake long enough, if you start with extra firm peaches it will take longer, not to fret, you can always cover the top with foil if it starts to get too golden and use a fork to poke a peach and check for doneness
My topping cooked faster than the filling - use foil to cover it, this will slow the topping getting too dark too fast, you could also have your baking rack too close to the top of the oven
Can I make this gluten free - you sure can, instead of using the flour in the crumb topping substitute a gluten free alternative like bob's red mill 1:1, the thickening agent is corn starch (made from corn) but if you have a severe allergy maybe steer clear unless you know for sure the plant that manufactures the cornstarch doesn't also run wheat as well, for cross contamination reasons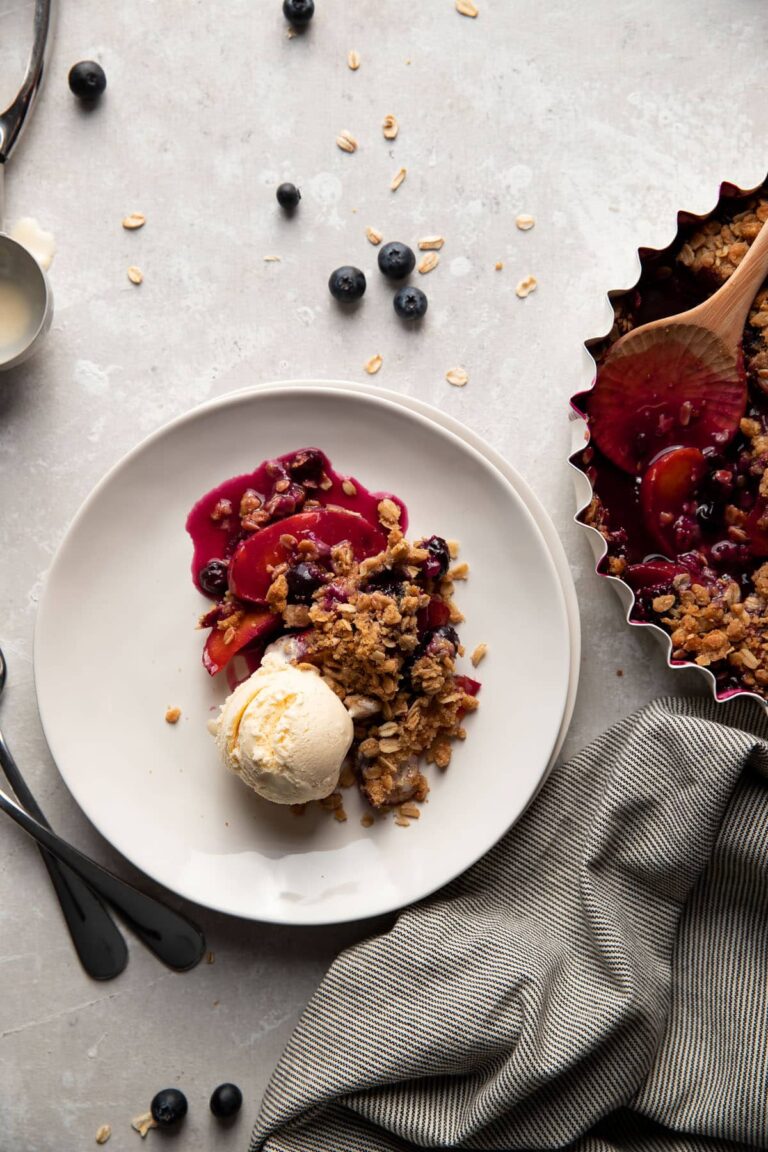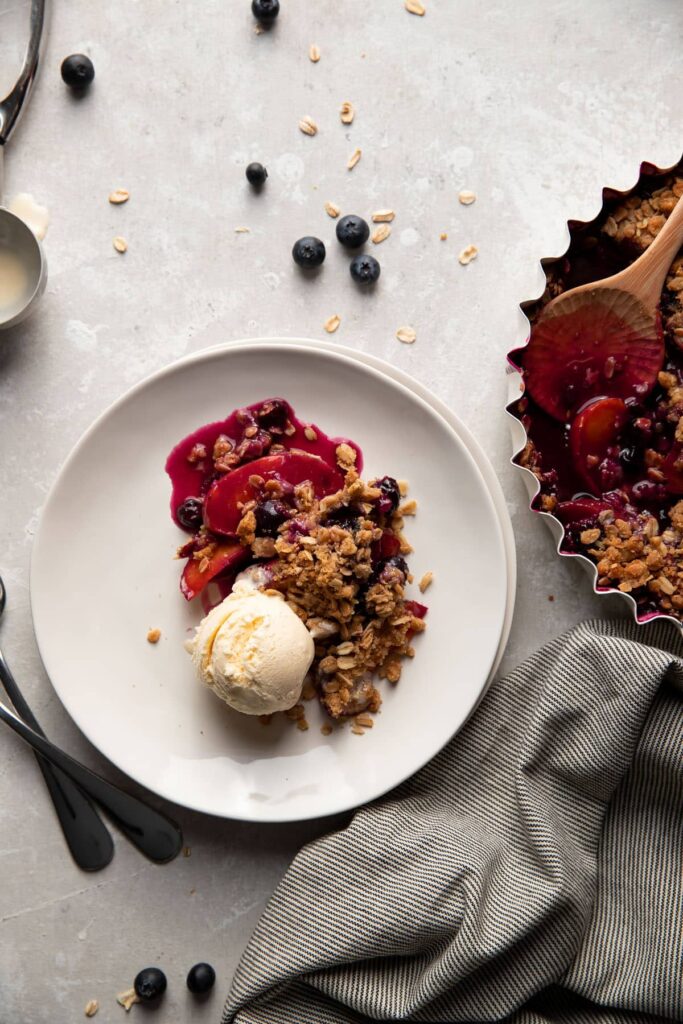 Summer Recipes To try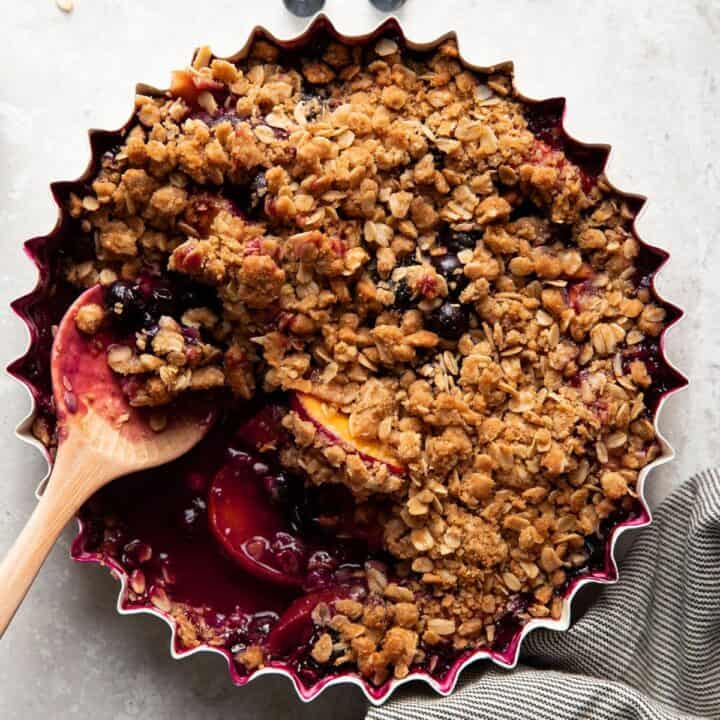 Blueberry Peach Crisp
Total Time:
2 hours
50 minutes
Nothing beats a summer dessert like a berry crisp. This blueberry and peach crisp is sweet, tangy and has all that good oats and brown sugar crisp flavor.
Ingredients
3 fresh ripe peaches, pit removed and sliced
2 c blueberries
1 tbsp lemon juice
¼ c sugar
2 tsp corn starch
1 tbsp honey
crisp topping
⅓ c flour
¾ c oats, traditional style
½ c brown sugar
¼ c butter, softened not melted
¼ tsp cinnamon
½ tsp baking powder
¼ tsp salt
optional: vanilla ice cream
Instructions
Preheat the oven to 350
In a bowl combine the flour, brown sugar, butter, cinnamon, baking powder, salt and oats
Use your hands to combine this, leaving some larger chunks
Put the crisp topping in the fridge for now
In a sepparate large bowl toss together the sliced peaches, blueberries, lemon juice, sugar, corn starch and honey
Pour this in to baking dish
Sprinkle the crumb topping over the berries
Bake in the oven for 30 minutes
The filling should be bubbly before you pull it out
Let it rest 1-2 hours for the sauce to fully thicken
Serve with vanilla ice cream
Notes
Depending on the ripeness of your peaches they may need to cook less or more time. If they are very ripe it will be closer to 30 minutes, if they are still pretty firm you may need to cook it closer to 50-60 minutes to soften the peaches up
If the crust gets too dark, too quickly, cover with foil
Nutrition Information:
Yield:

8
Serving Size:

1
Amount Per Serving:
Calories:

275
Total Fat:

10g
Saturated Fat:

5g
Trans Fat:

0g
Unsaturated Fat:

4g
Cholesterol:

23mg
Sodium:

185mg
Carbohydrates:

47g
Fiber:

3g
Sugar:

32g
Protein:

3g
This information comes from online calculators. Although moderncrumb.com attempts to provide accurate nutritional information, these figures are only estimates.