These apple chai hand pies are so much fun to eat! Gooey apple filling with chai spices nestled inside of sweet, buttery and flaky pie crusts. It's baked to perfection and will have the entire house smelling delicious.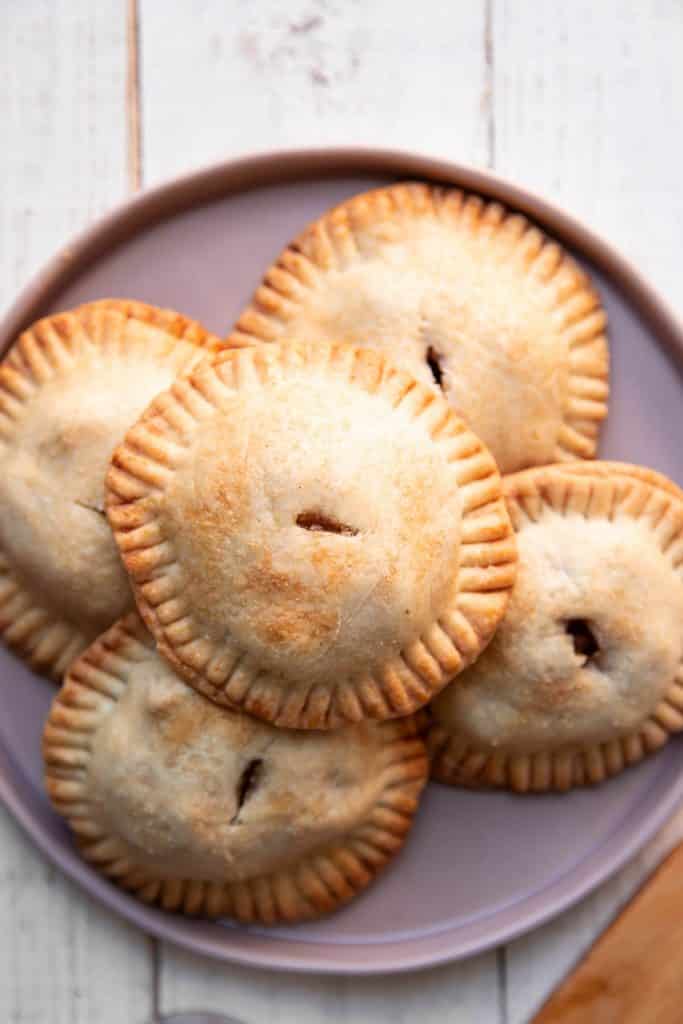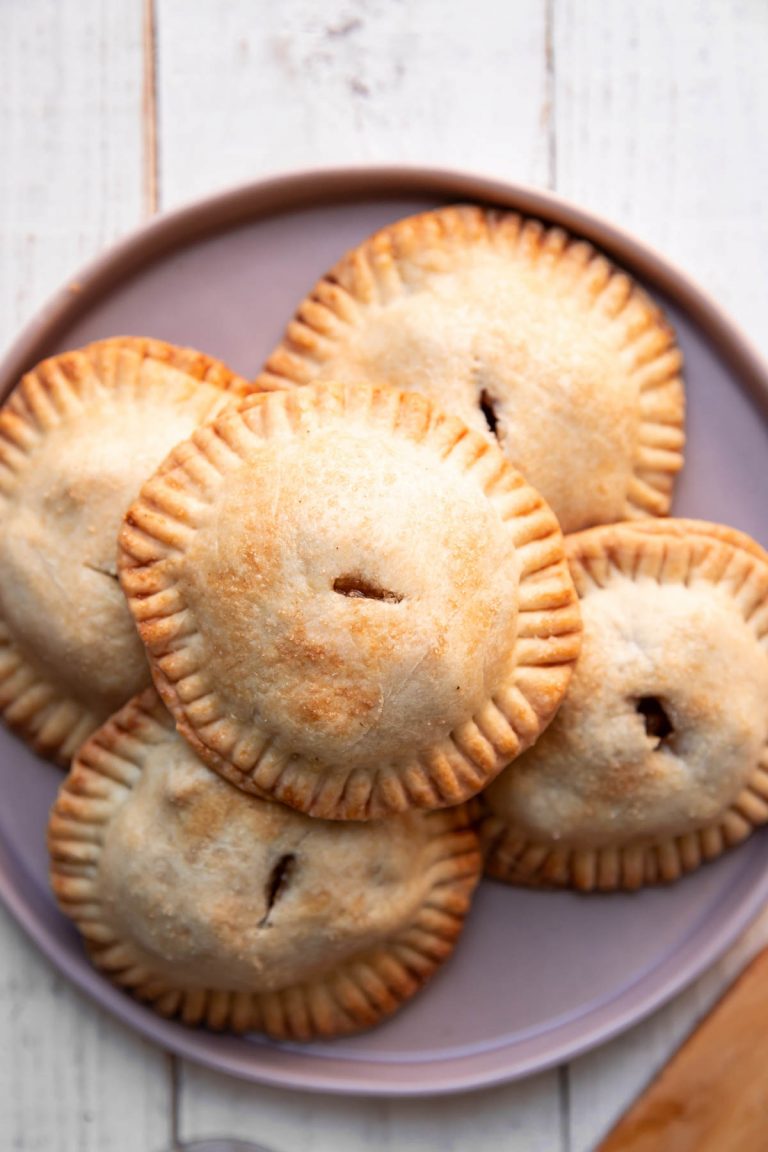 Not only are these absolutely amazing and addicting but the aroma that fills your house is so festive, it gets you right in the holiday spirit.
These are something that you eat on a bear skin rug, in front of a fireplace, after opening Christmas presents.
According to my sister-in-law that is. And who can argue with that explanation!?
I totally agree.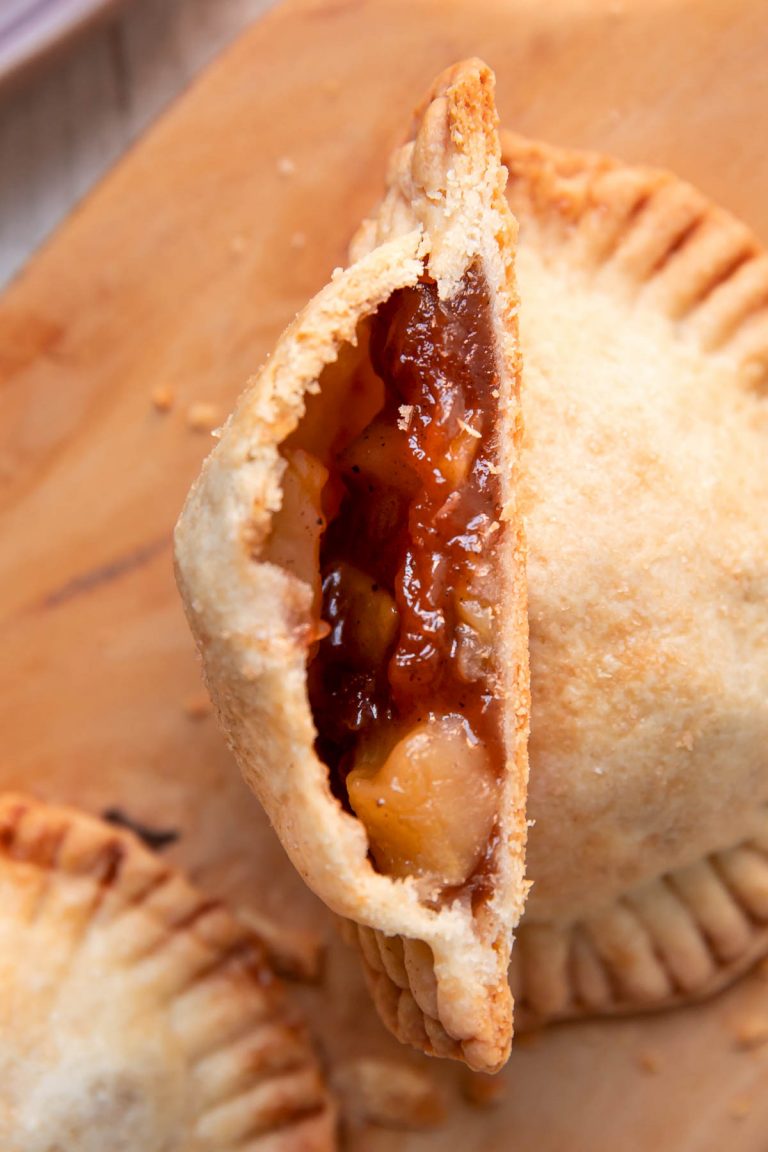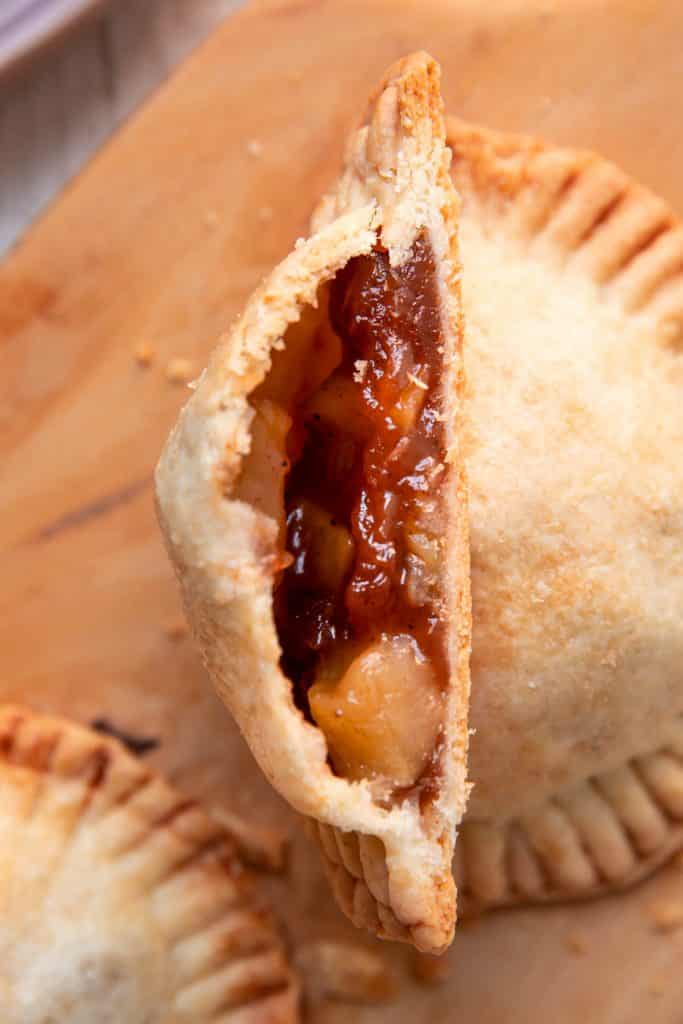 It all starts off with the well-known hand pie filling, and if you ever had these as a kid in school you know exactly what I'm talking about.
I don't know if it was an Alaska thing, or a 90's thing, but we were never in short supply of them.
Hand pies are a really fun holiday treat to make with your family or with your kids. Because they can help cut out the circles from the dough, put the filling in and it's so simple to crimp the edges with a fork!
Anything that they can do on their own, my kids are all for that and they love to help me bake treats.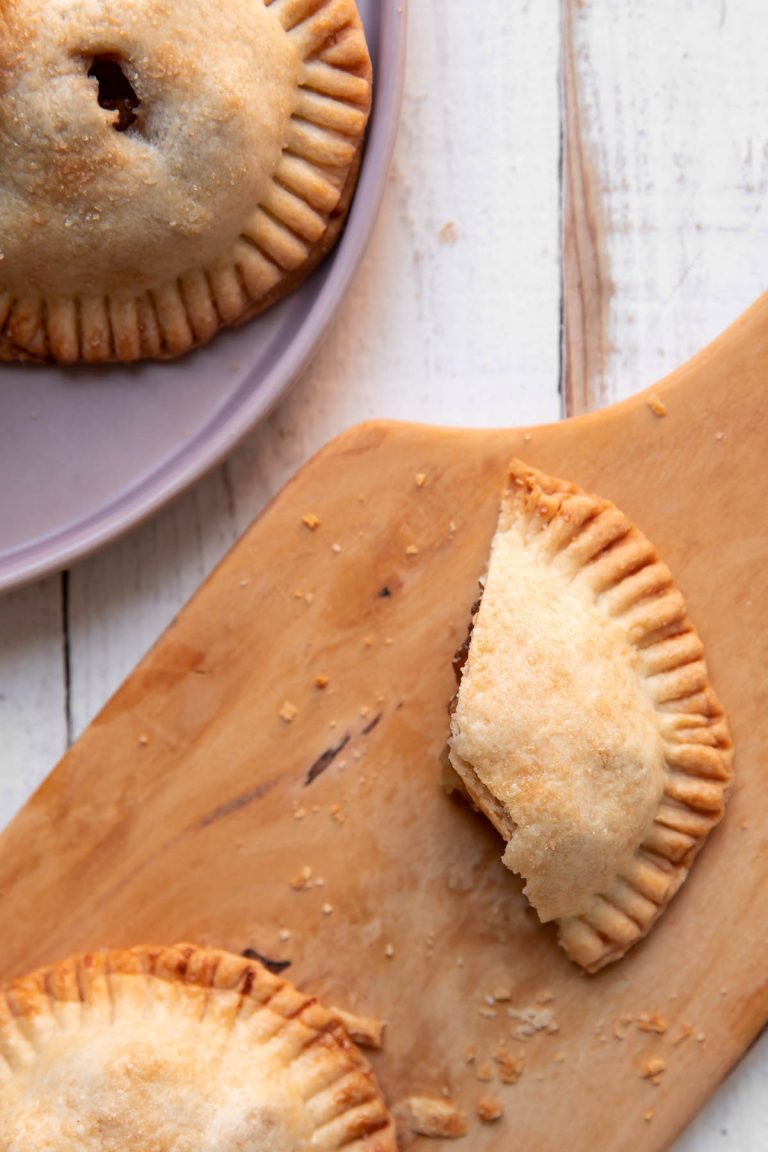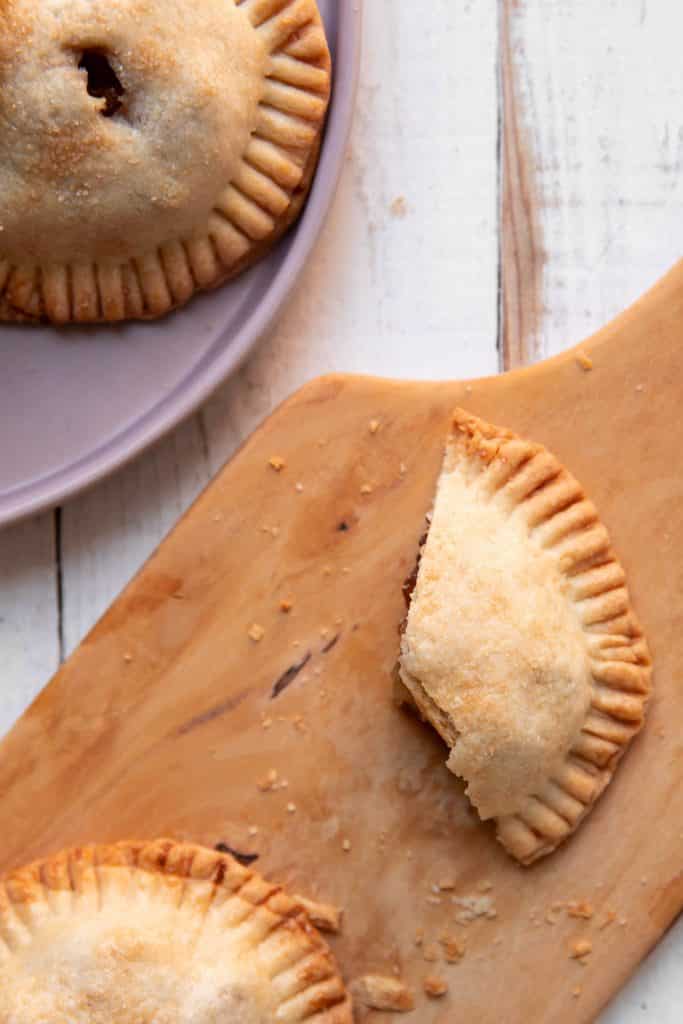 The Hand Pie Dough
It helps to have a food processor when making the dough. It's an easy way to mix your dry ingredients with the butter.
If not you can mix everything in a bowl and use your fingers to incorporate the butter.
Once it has come together, roll it out onto a floured surface and form it into a ball.
Cover this with plastic wrap and chill it in the fridge for 30 minutes to 1 hour.
Roll the dough out onto a very generously floured surface and using a large biscuit cutter or cookie cutter to cut out your circles.
It's a good idea to put those dough circles back in the fridge for just 10 minutes to cool them off before filling.
Apple Chai Filling
The thing I remember most about eating hand pies as a kid was the filling, it was thick and gooey.
So for these we'll use corn starch to achieve that consistency because as the apples cook you don't want them to get soggy inside of the pies.
Since these are chai apple hand pies, the spices are a blend of ginger, cinnamon, clove, cardamom and nutmeg.
Seriously, it's just intoxicating.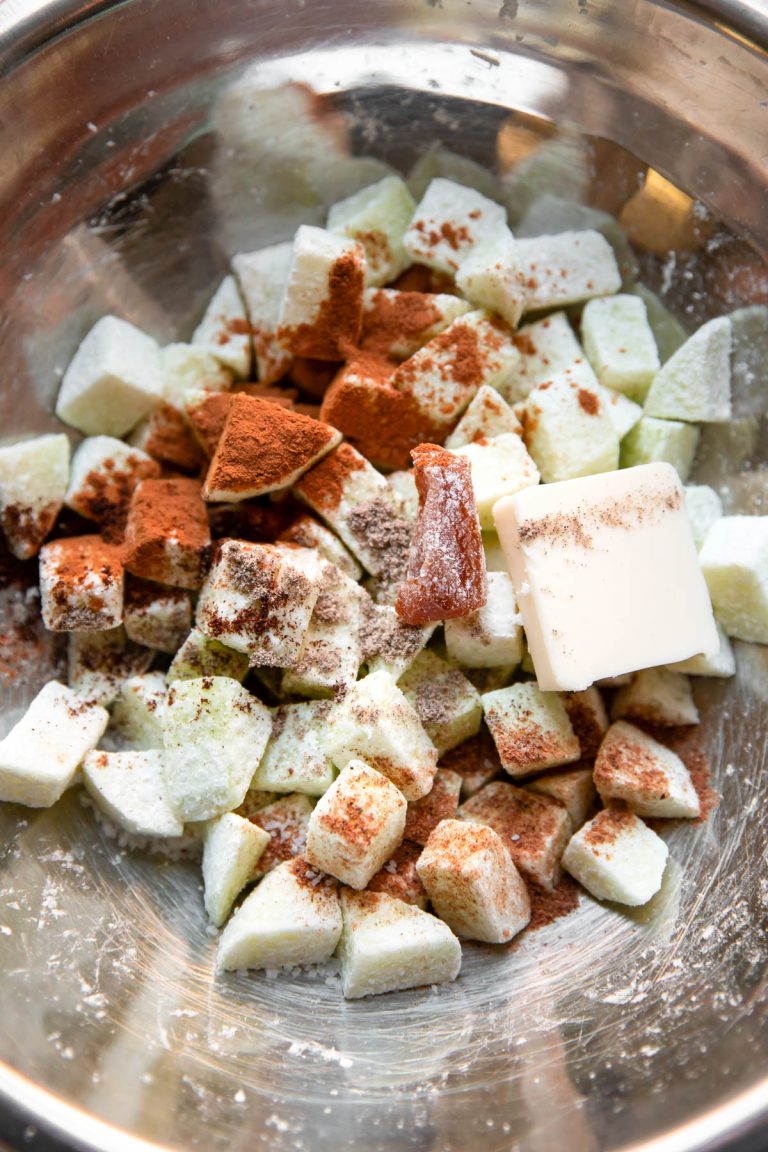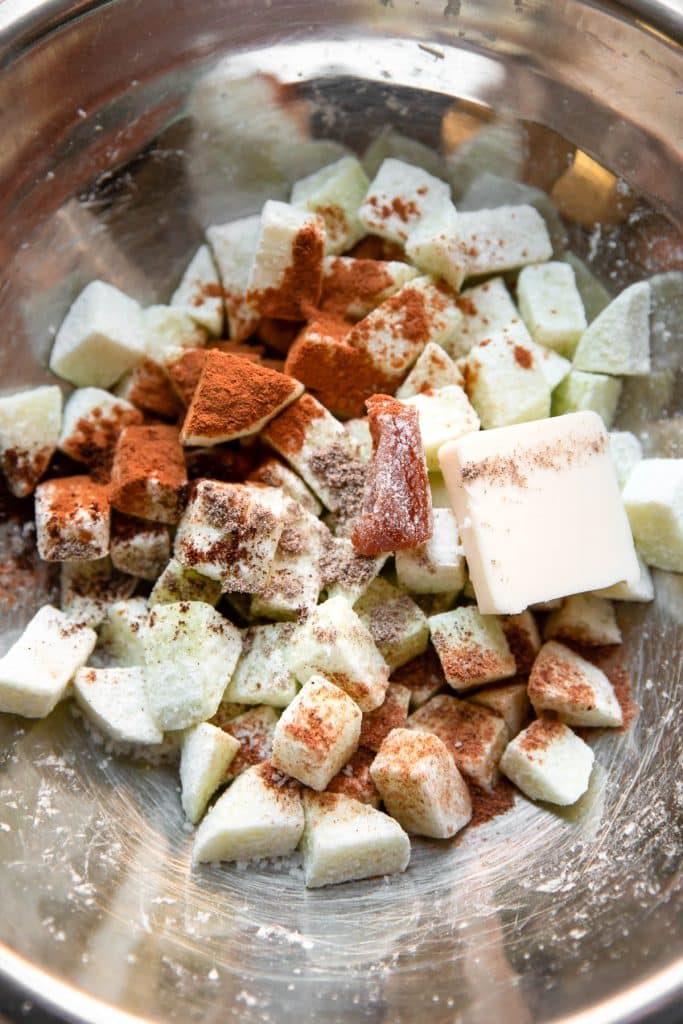 Preparing The Apples
When you prepare the apples you are going to do a partial cook on the stovetop.
They cook just a bit then you turn the heat off, covered, so they can steam and keep warm while the dough chills.
This way it cooks down just a bit, you can get more filling in your pies since it will have condensed and you don't have to worry about the apples not being cooked while the crust has already turned golden.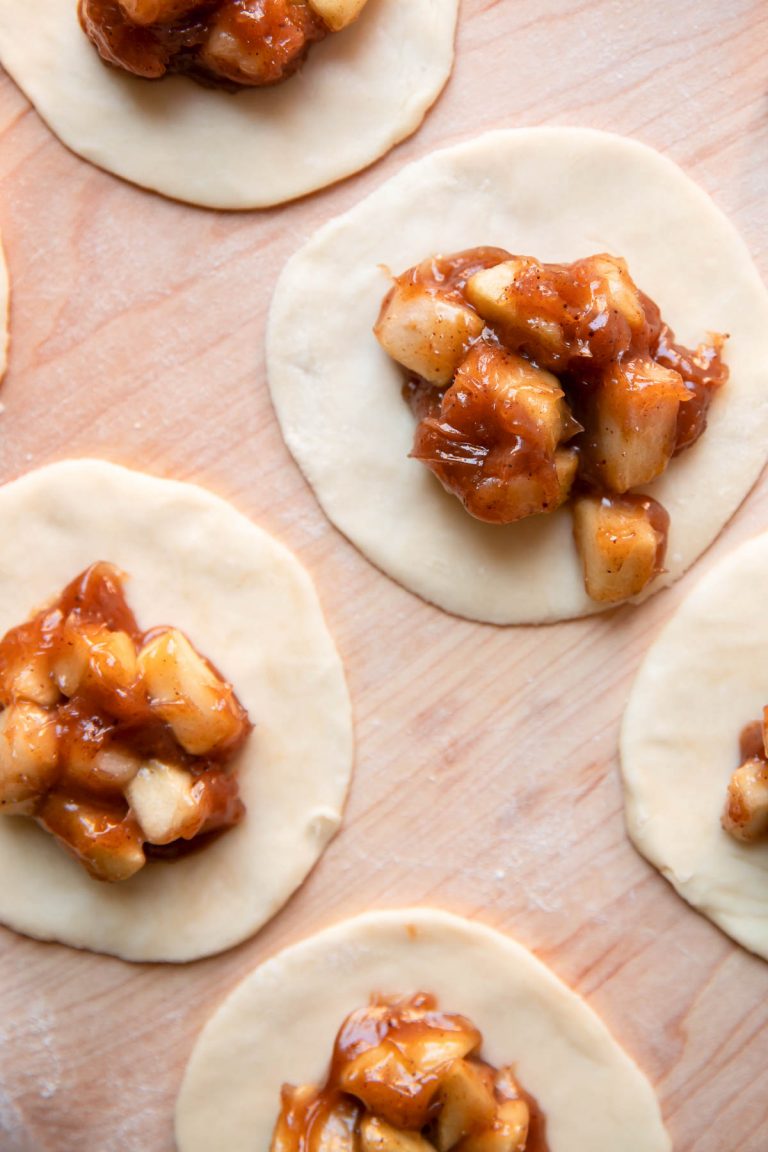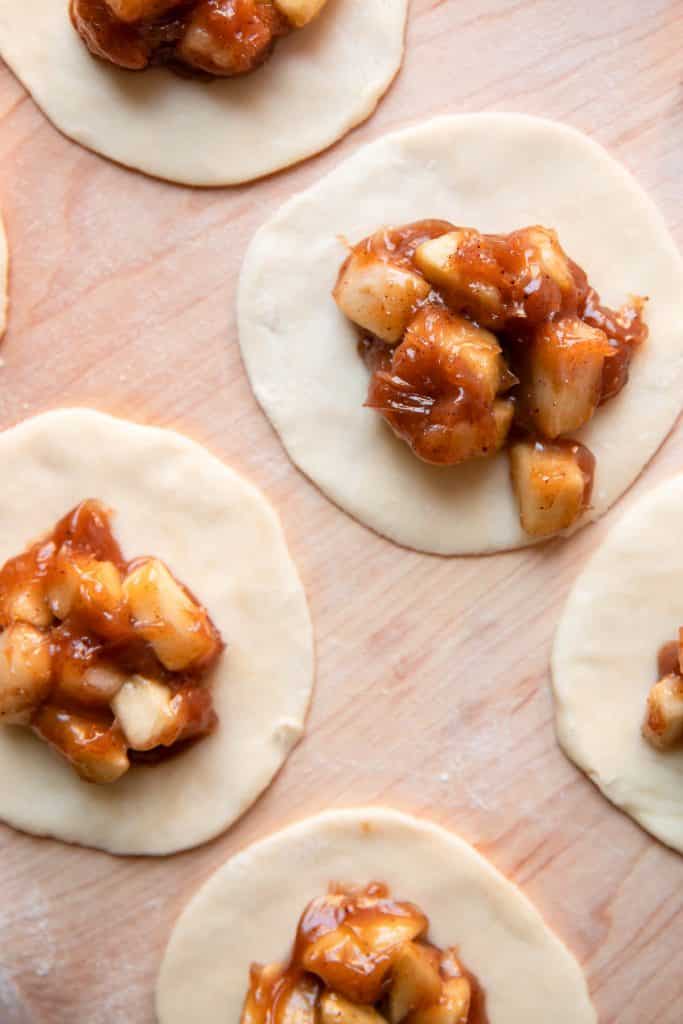 Assembling The Apple Chai Hand Pies
To assemble your hand pies you'll need two flat circles of the dough. Spoon some filling on to one, then cover it with another circle of dough.
Running your finger around the edge of the dough before crimping the two pieces together can be a good idea to help seal them up.
Take a fork and press it all the way down to crimp the edges together.
Use a knife to cut a little slit in the top of the hand pie. This helps steam to escape.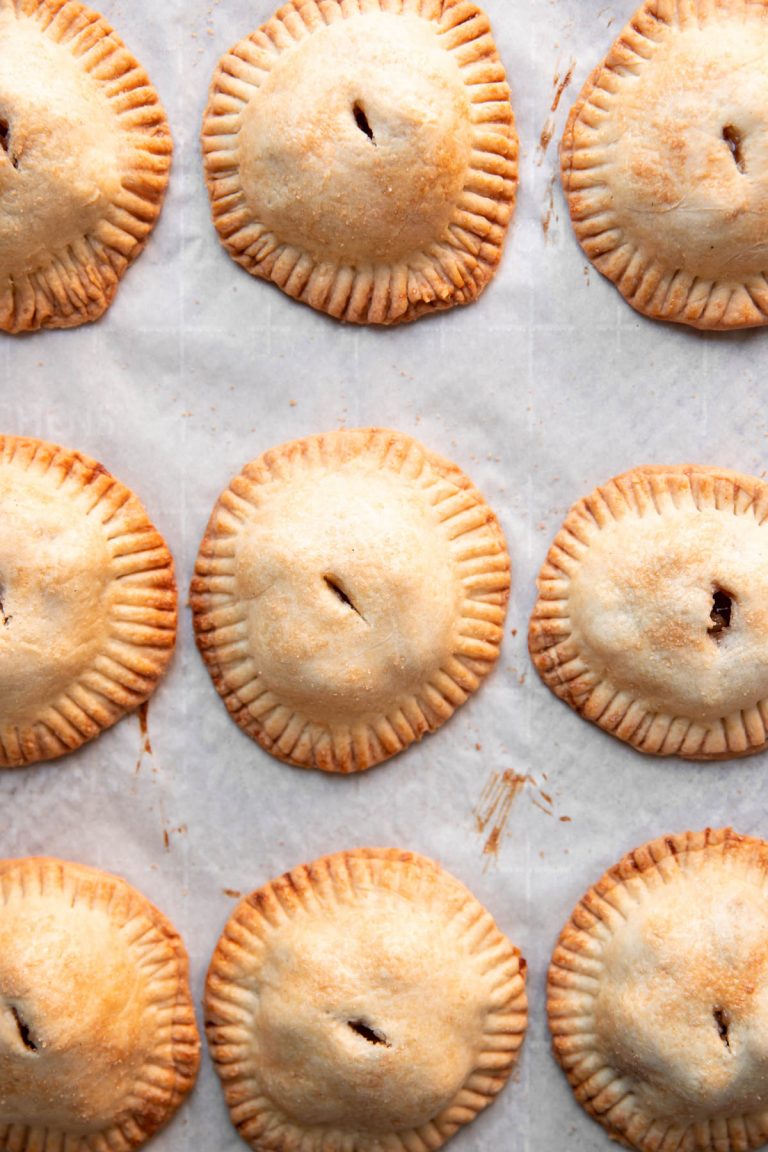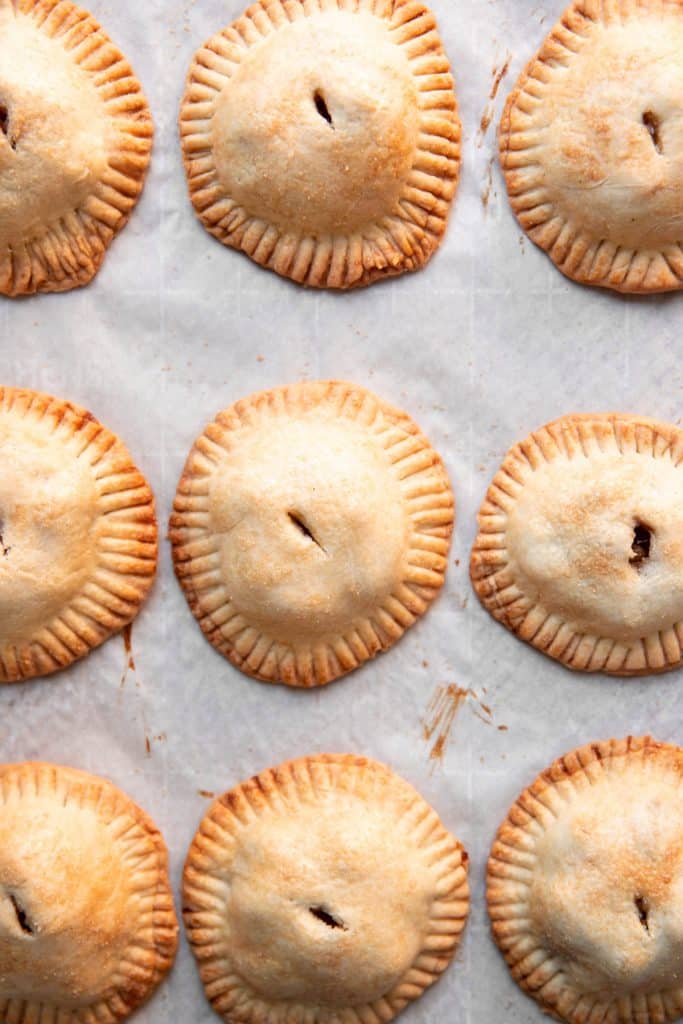 More Apple Recipes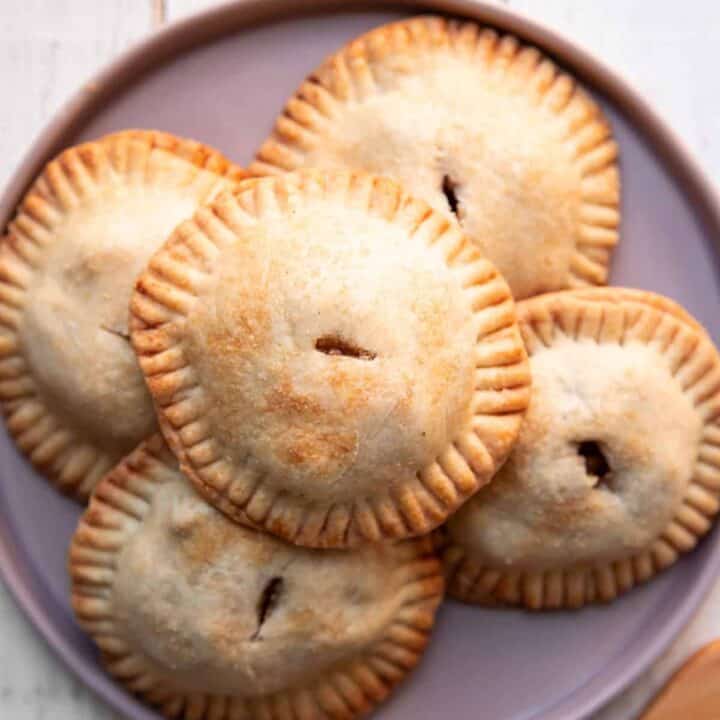 Apple Chai Hand Pies
Chill Time:
1 hour
10 minutes
Total Time:
2 hours
25 minutes
These apple chai hand pies are so much fun to eat! Gooey apple filling with chai spices nestled inside of sweet, buttery and flaky pie crusts. It's baked to perfection and will have the entire house smelling delicious.
Ingredients
filling
2 large Granny Smith apples, peeled and cubed
1 tbsp corn starch
¼ c water
¼ c sugar
1 tbsp brown sugar
1 tbsp butter
¼ tsp salt
½ tsp cinnamon
¼ tsp ground cloves
¼ tsp cardamom
¼ tsp nutmeg
¼ tsp ginger powder
pie dough
1 ½ c flour
8 tbsp butter, cold and cubed
½ tsp salt
½ tsp baking powder
⅓ c ice cold water
heavy cream
cinnamon + sugar combined
Instructions
Use a food processor to combine the pie dough ingredients until it resembles sand, adding the cold water last
Roll out onto a floured surface and form into a ball, wrap in plastic wrap
Chill for 1 hour
Preheat oven to 350
In a sauce pan combine all filling ingredients, turn heat to low, stirring until everything has melted
Cook for 10 minutes, turn the heat off and cover
Roll the pie dough out and use a cookie cutter to cut out circles, with excess dough form back in to a ball, roll it out again and cut more circles
You should end up with about 20 circles total, for 10 hand pies
Place these on a baking sheet lined with parchment paper and place in the fridge to chill for 10 minutes
After 10 minutes, take the pie dough back out of the fridge and fill 10 of the circles with the apple mixture, distributing evenly (run your finger around the edge with a bit of water on it, this helps keep the pies sealed while baking)
Place an empty circle on top and crimp with a fork to seal
Cut a slit in the top with a knife
Brush on some heavy cream and a sprinkle of cinnamon and sugar
Bake for 30-35 minutes or until golden, remove from oven and let cool slightly
Serve!
Nutrition Information:
Serving Size:

1 grams
Amount Per Serving:
Unsaturated Fat:

0g