These Christmas monster cookies are thick, chewy and full of goodies! They are a peanut butter base cookie with oats, chocolate chips, m&m's and lots of red and green sprinkles.
Today is day 8 of the '12 days of Christmas Cookies' here on Modern Crumb!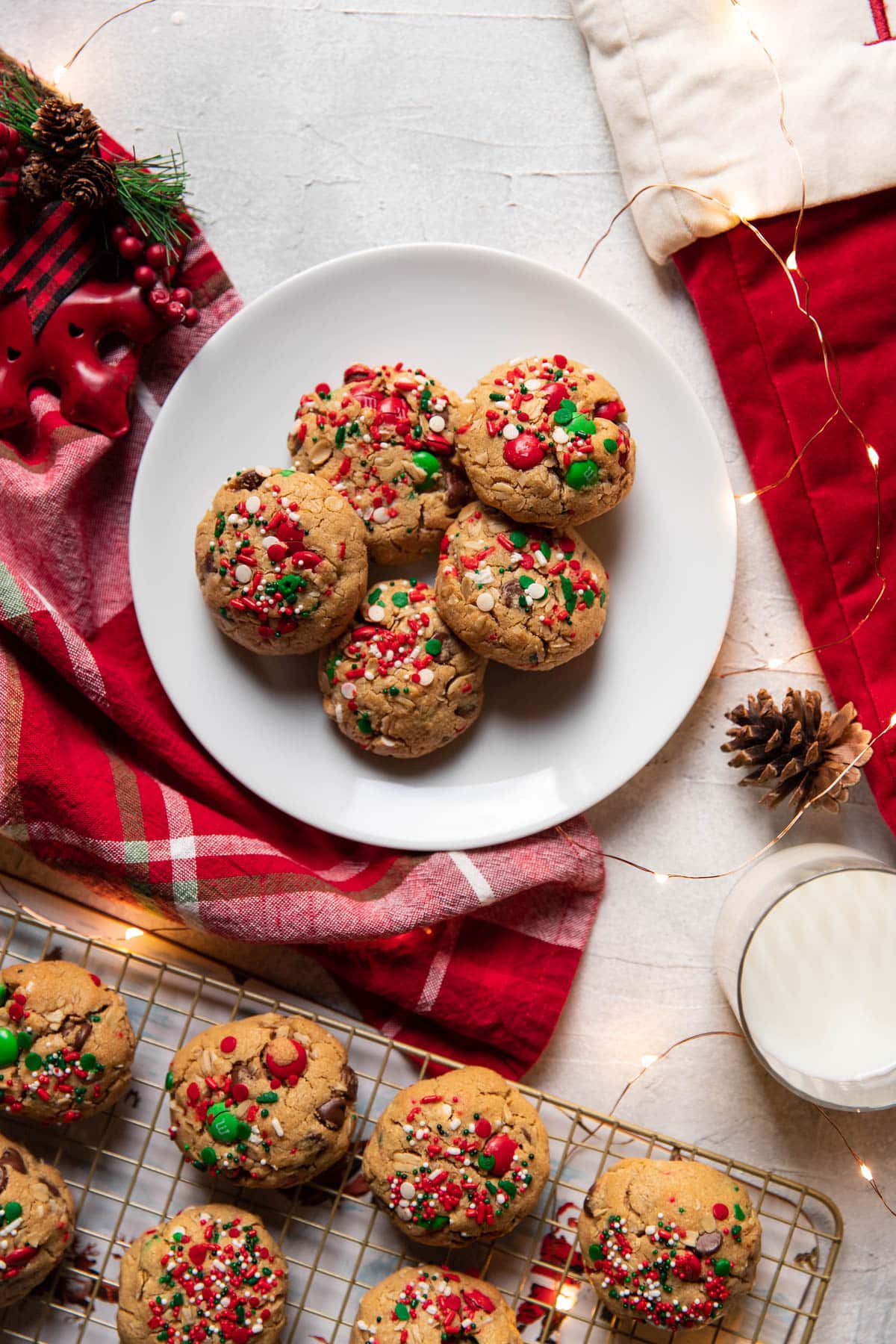 Christmas monster cookies are all about having fun! My kids love to make monster cookies and we knew we needed a Christmas variation.
Of course we added every single Christmas sprinkle in the pantry. Because you can. Get crazy with these.
If you love peanut butter cookies, these Christmas peanut butter cookie bars would also be a good one to try.
Jump to:
When you pull a batch of these from the oven you can definitely understand why they are called monster cookies. They are huge!
And they are monster looking thanks to all the mix-ins. My thought behind all the festive mix-ins is the more the merrier. Punny?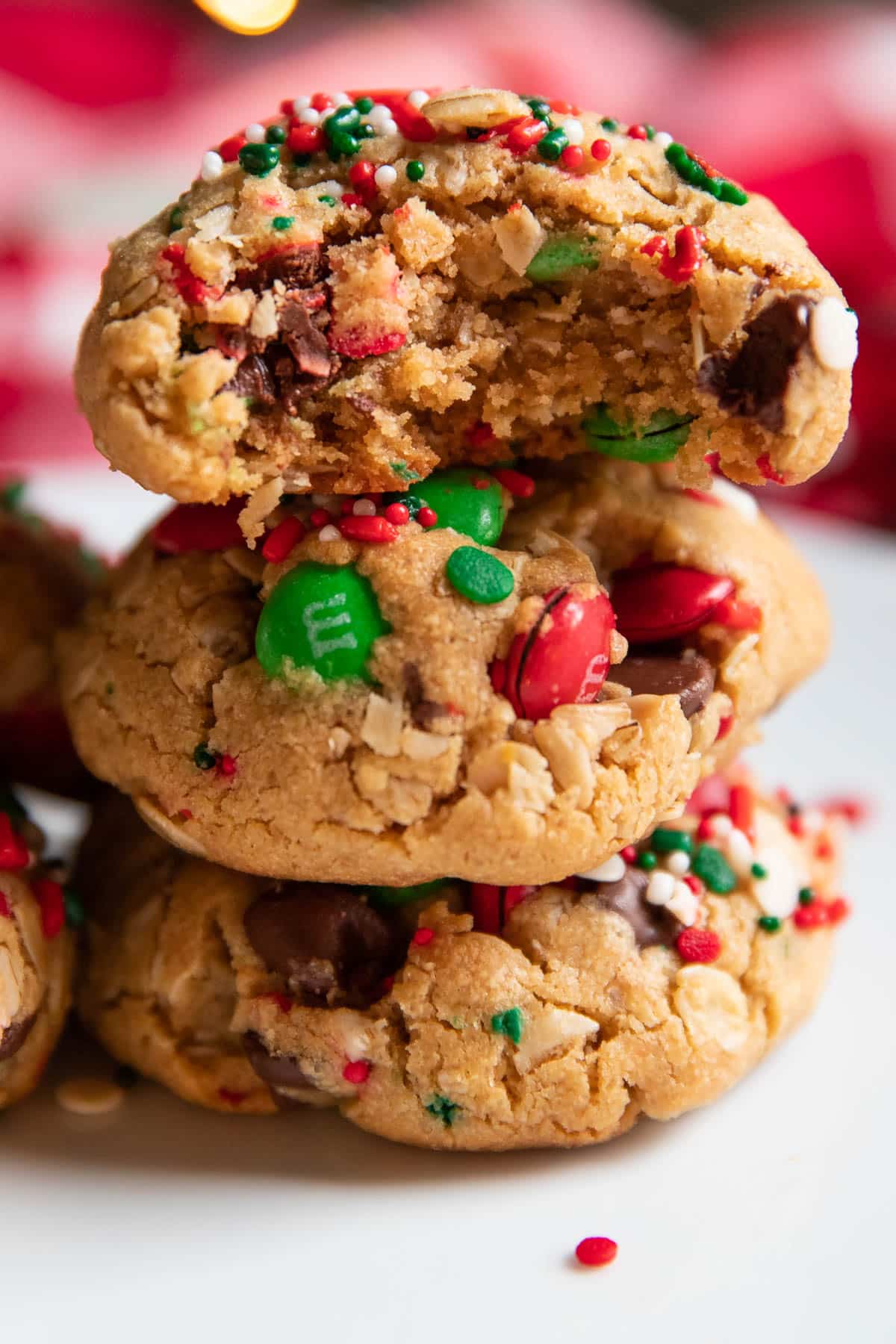 Christmas Monster Cookie Recipe Tips
Here are some of my best tips when making these cookies. So that way you have the perfect cookie baking day.
These do not need to be refrigerated. As soon as the cookie dough comes together you can put them right in the oven.
This recipe is for a 3 tablespoon size cookie (an ice cream scoop). Which winds up being about a 2 inch cookie dough ball.
Because of that the cooking time is longer than my classic monster cookie recipe. When I said these were huge, I meant it.
They don't spread a ton, so if you'd like a flatter cookie you can press them down with your hand a bit prior to baking.
If you want them to be extra chewy, under bake them. The instructions are for cookies that have reached an internal temperature of 187 degrees in my oven, yours could vary.
This gave me a 17 minute bake time for a 3 tablespoon ball of cookie dough.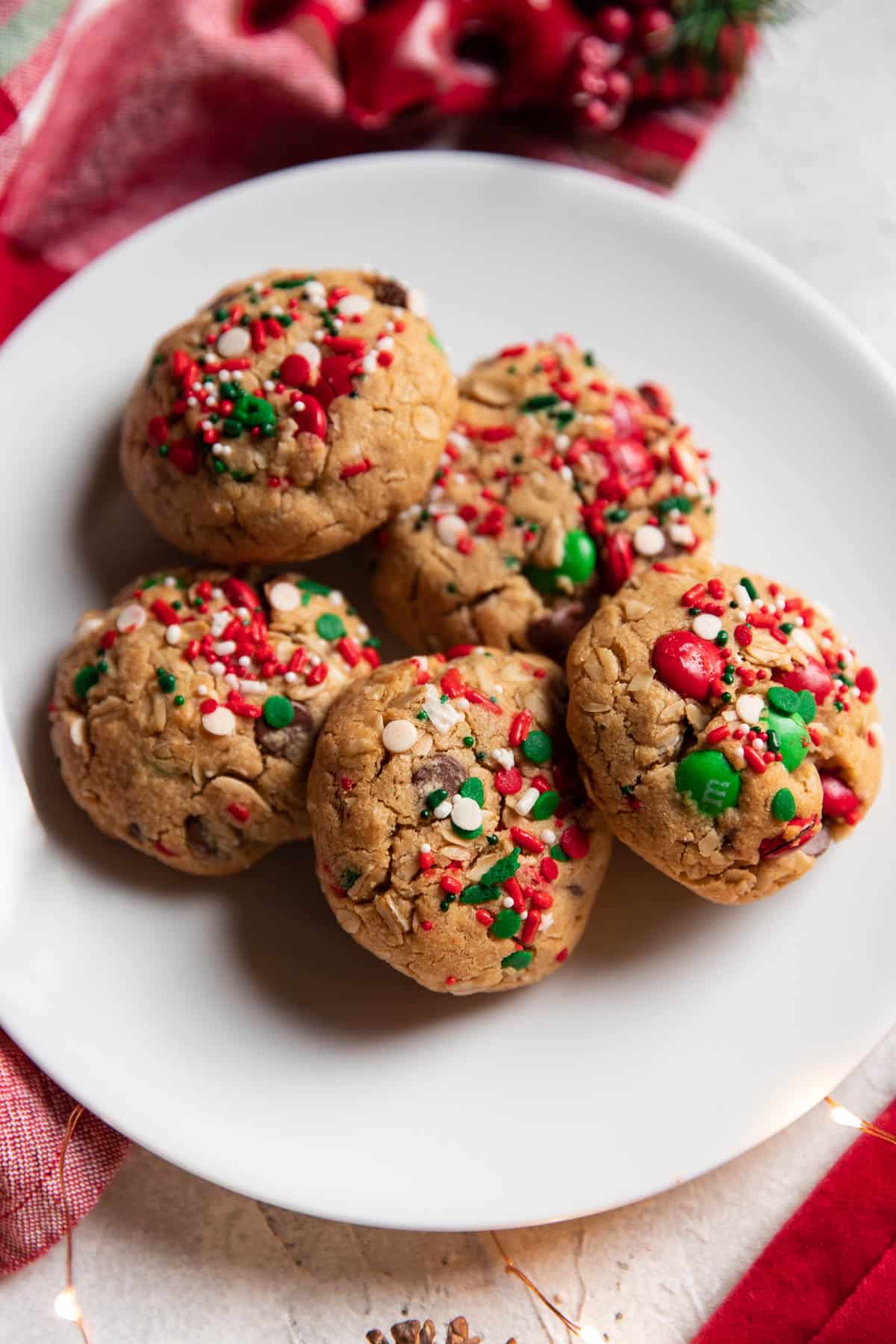 Why Are They Called Monster Cookies?
Monster cookies earned their title because they have so much going on! There are so many ingredients, they just look a hot mess - but in the best way possible.
Here's what's inside these Christmas themed monster cookies that makes them just so special and monster-ific.
creamy peanut butter - a smooth creamy peanut butter works best in this recipe
traditional style oatmeal oats - opt for the classic oats, not the quick oats
semi sweet chocolate chips - we love semi sweet chocolate chips in here since the m&m's are milk chocolate, but if you'd rather do milk chocolate chips that works too
red and green milk chocolate m&m's - if you can't find the Christmas theme m&m's at the store you can always grab a regular bag and just pick out the red and green ones and save the others for later
lots of random Christmas sprinkles - we took sprinkles from 4 different sprinkle jars to make our sprinkle mix
FAQ
I've rounded up a list of frequently asked monster cookie questions. Some of these answers could help you when you go to bake up a batch of cookies.
My cookies are hard and dry
This could be from adding too much flour, an oven that's too hot, or over baking
Can I use instant oats?
I haven't tested this recipe with instant oats, so I would not be able to say.
Can I make these gluten free?
I've had a lot of success using Bobs Red Mill 1:1 baking gluten free flour, if you want to make it gluten free that's the flour I would use.
Can I make monster cookies without peanut butter?
Without the peanut butter they aren't really a monster cookie anymore since it's the main ingredient. However, if it's for allergy reasons, subbing in something like an almond butter or sunbutter may work but I haven't tested the recipe yet with this variation (please let me know if you do and have success).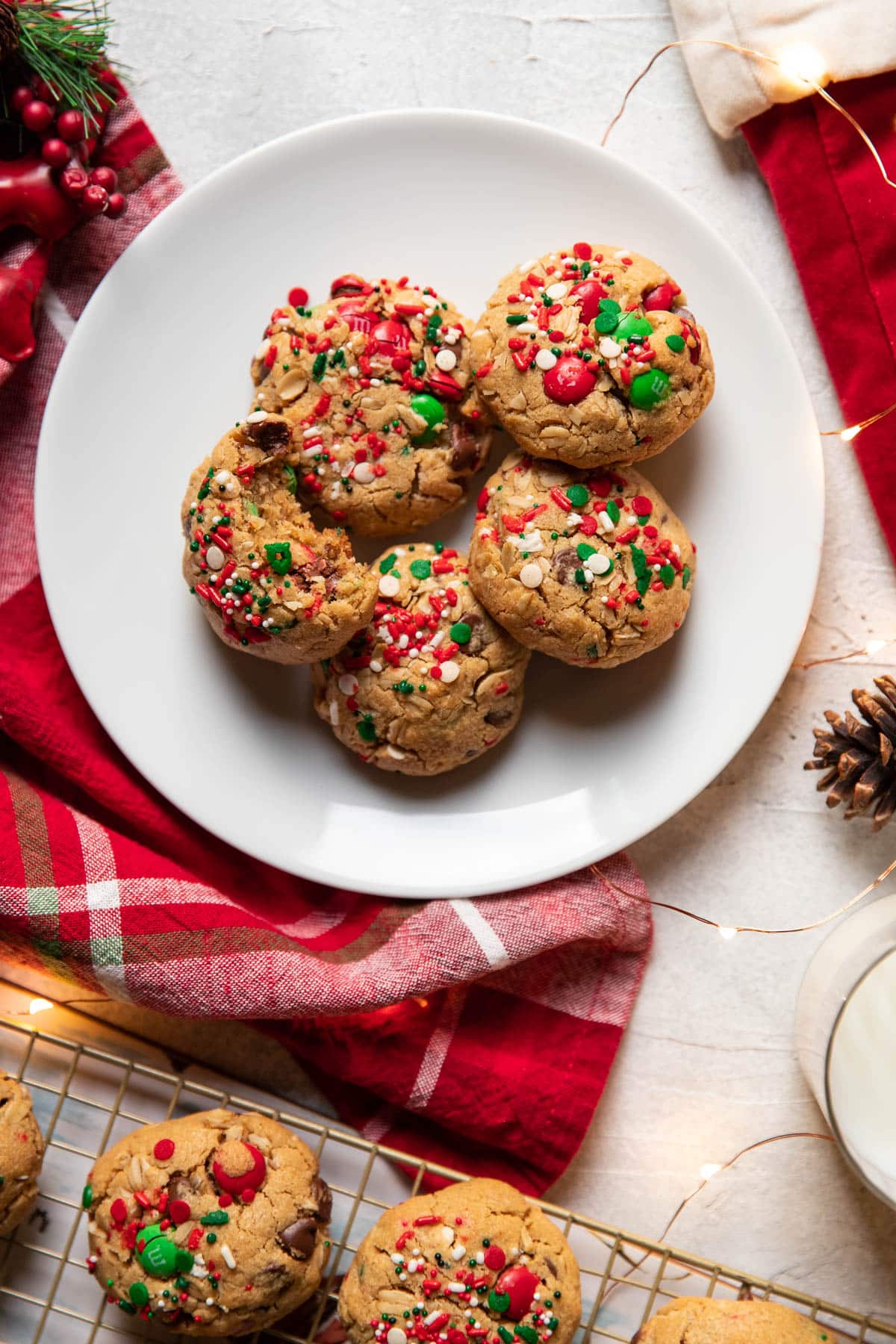 12 Days of Christmas Cookies Recipes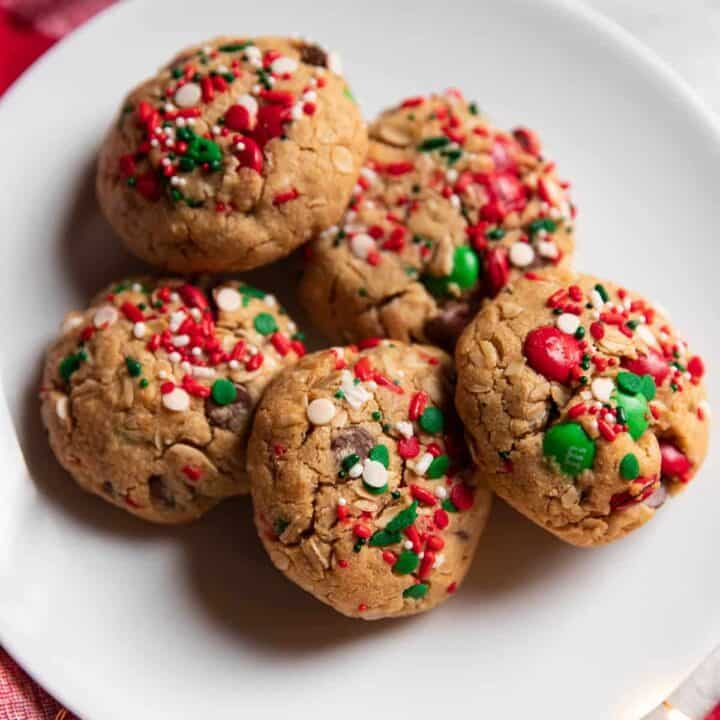 Christmas Monster Cookies
These Christmas monster cookies are thick, chewy and full of goodies! They are a peanut butter base cookie with oats, chocolate chips, m&m's and lots of red and green sprinkles.
Ingredients
1/2 c butter
1/2 c white sugar
1/2 c brown sugar
1 egg
1/2 tsp vanilla
1/2 c peanut butter
1 1/4 c flour
3/4 c oats
1/2 tsp baking soda
1/2 tsp salt
1/2 c semi sweet chocolate chips
1/2 c m&m's, green and red only
2 tbsp Christmas sprinkles
Instructions
Preheat oven to 350
Cream the butter, white sugar and brown sugar together until light and fluffy
Mix in the vanilla and peanut butter
Add the egg, mix until just combined
In a separate bowl sift together the flour, baking soda and salt
Add the oats to the dry ingredients
Pour the dry ingredients in to the mixing bowl, mix
Reserve some of the sprinkles, to dip the cookies in after they've been formed into balls
Add the chocolate chips, m&m's, sprinkles stir to combine
Line a cookie sheet with parchment paper
Use a 3 tbsp cookie scoop to get equal size amounts, roll these into balls and press the tops into the sprinkles you set aside
Place them on the baking sheet
Bake for 15-17 minutes
Remove them from the oven and transfer the cookies to a wire rack
Recommended Products
As an Amazon Associate and member of other affiliate programs, I earn from qualifying purchases.