This fluffy homemade buttermilk pumpkin pancake recipe is all you need for the perfect fall breakfast! Light and fluffy spiced pumpkin pancakes, topped with butter, thick maple syrup and a sprinkle of powdered sugar.
The official day of fall has happened so we can really enjoy all things pumpkin! Just like this recipe for 20 minute pumpkin ravioli and pumpkin roll with silky cream cheese frosting, yum!!
This recipe was first published on September 27, 2020.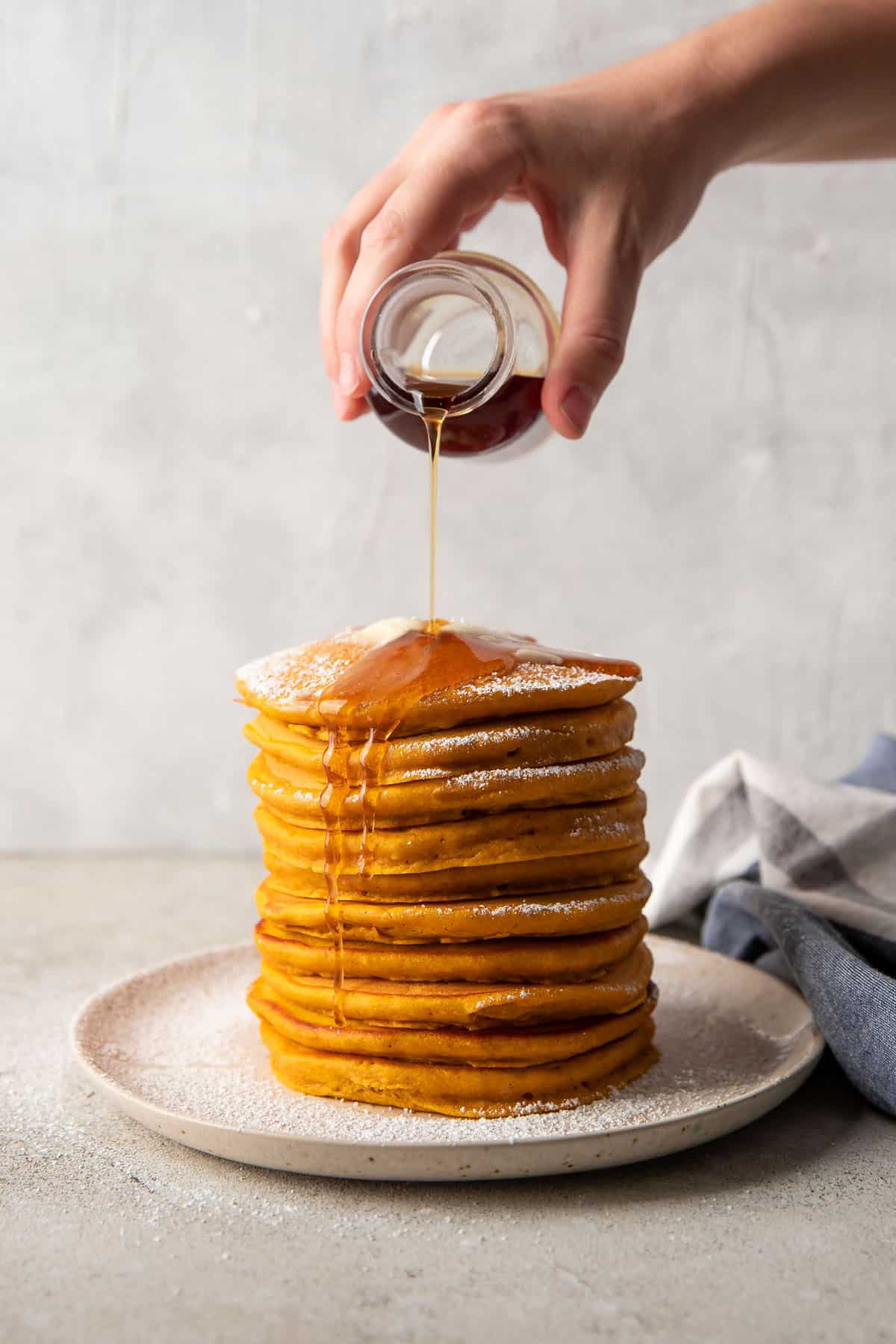 My family never had pumpkin pancakes growing up, just good old fashioned plain pancakes. If you are looking for a solid pancake recipe you have to try this one for buttermilk pancakes.
Move over Aunt Jemima, move over bisquick. This recipe for pumpkin pancakes is way better than anything from a mix, homemade is definitely the way to go.
This recipe is beyond easy. They take 10 minutes to prepare.
And everyone will gobble them up. But that's all things pumpkin around this time, it's hard to keep them on the table. Try keeping around a batch of pumpkin snickerdoodles, just doesn't happen.
Jump to: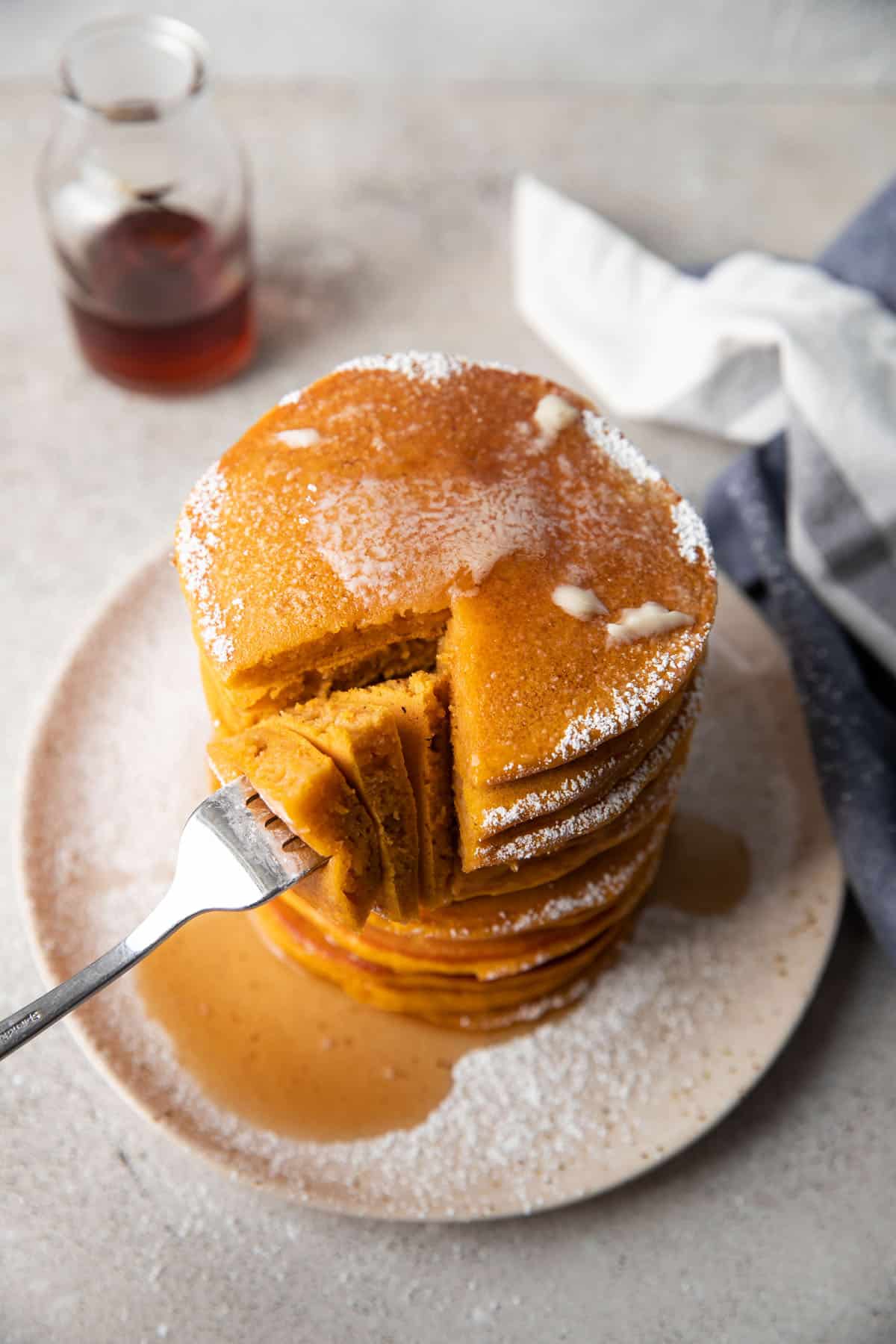 How To Make Pumpkin Pancakes
Since we are adding in pumpkin puree, you'll notice the wet ingredients list is going to be less than a typical pancake recipe since pumpkin puree holds a lot of excess moisture. So we need less buttermilk.
To get the good pumpkin flavor we're going to add pumpkin pie spice.
Along with subbing out some of the liquid for pumpkin puree and adding the spices, you'll also be adding a bit extra salt.
And that's thanks to the pumpkin puree, which tends to be bland on it's own. There's one teaspoon of salt in this recipe.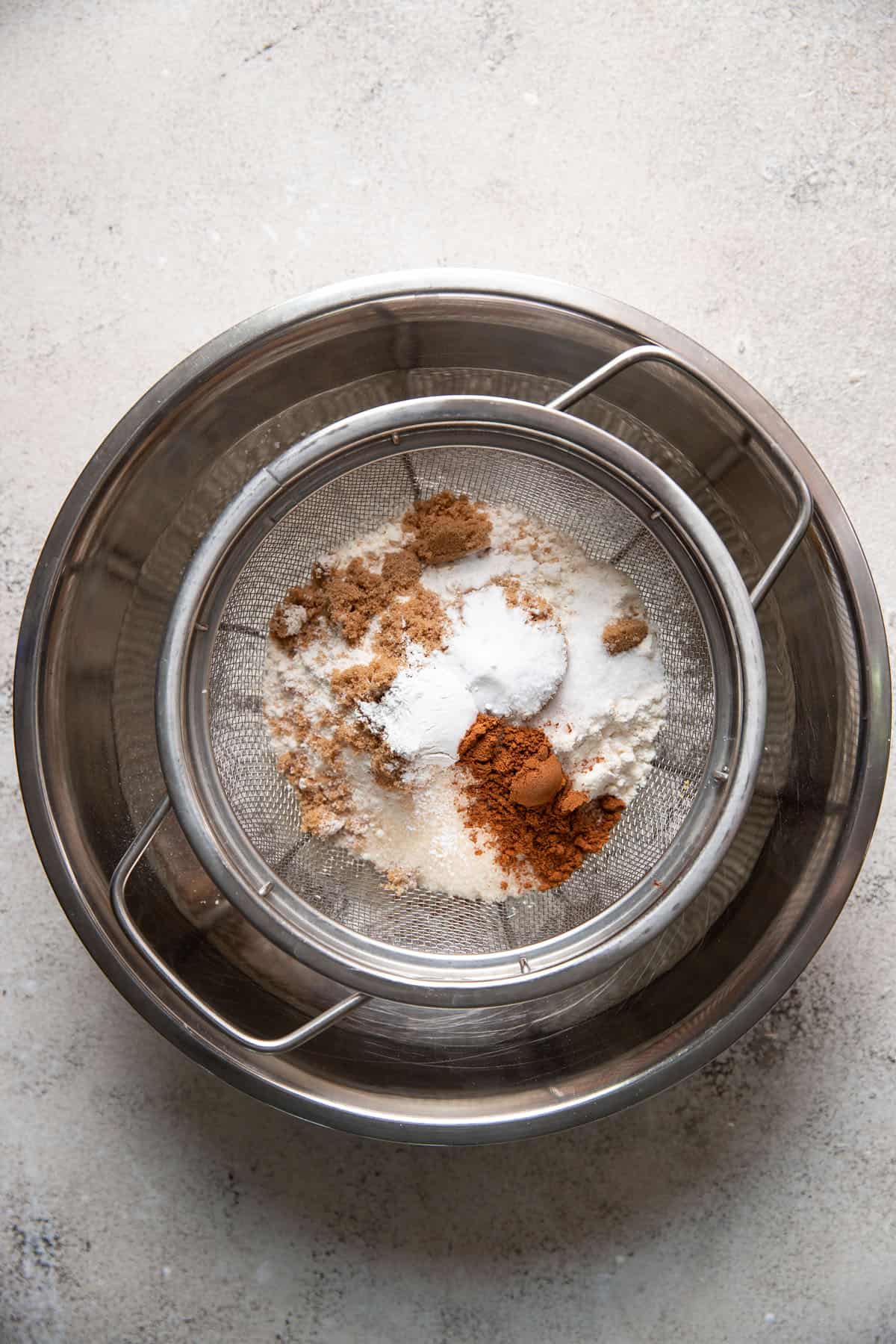 How To Get Fluffy Pancakes
The ultimate question of all pancake questions! How can I get my pancakes fluffy?!
Does anyone else think of the Despicable Me movie where she says 'it's so fluffy!', every time I do. Or when I make my grandmother's apple dutch baby pancake and it puffs way up high! It's always followed by an it's so fluffy quote.
Getting super fluffy pancakes isn't hard. I promise. But you have to be mindful of a few techniques and tips.
First. Check expiration dates.
The expiration date on your baking soda and baking powder. The fresher they are the better rise your pancakes will have.
The older these are, the less leavening power they have. So you'll have flat baked goods, no matter how much you followed the instructions.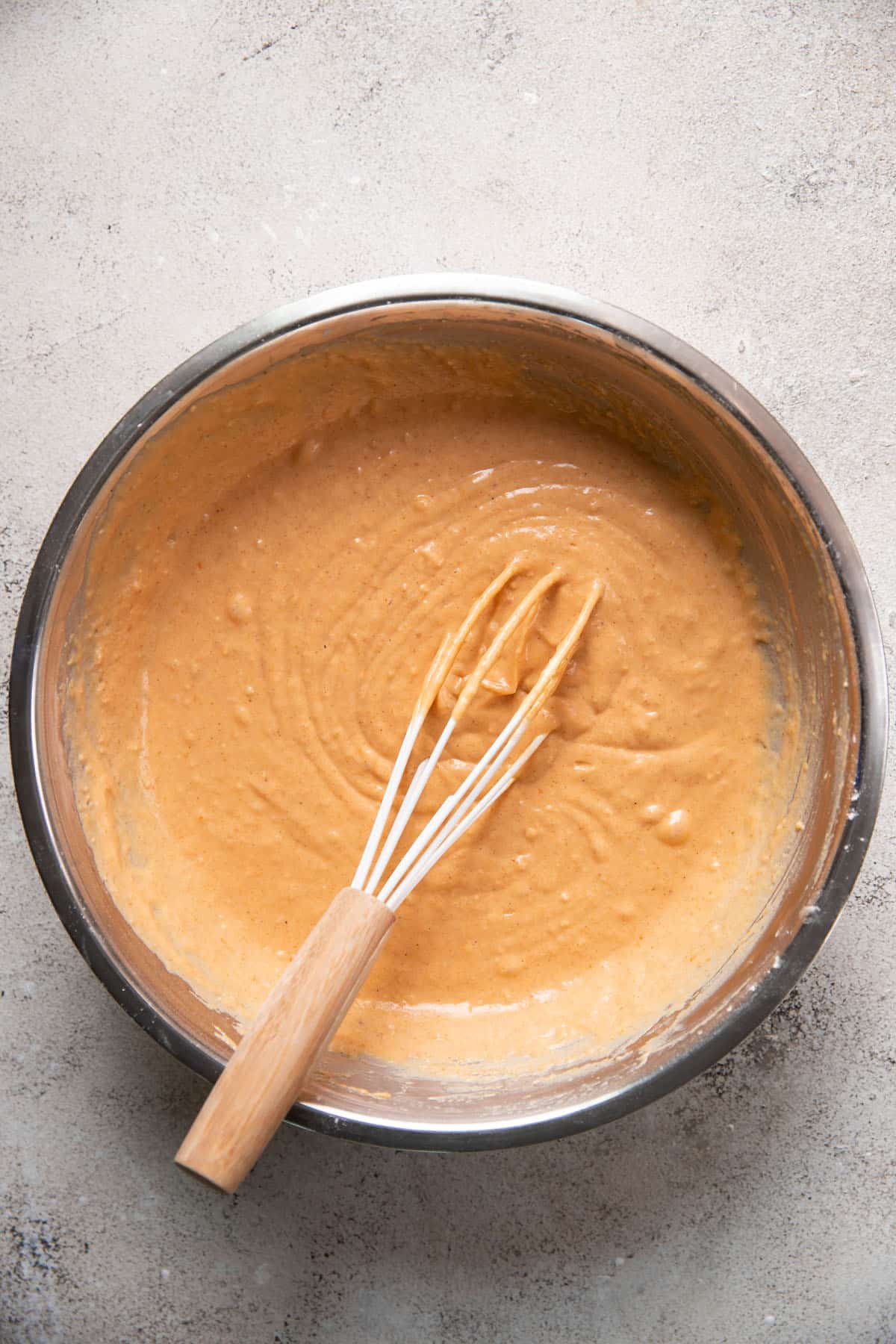 Second. Don't over mix.
Are you tired of seeing that on recipes? But you still do it, don't you? Shakes head yes. My daughter loves to stir the batter, but I know our pancakes probably won't be fluffy when she's in charge of the pancake batter.
For those extra fluffy pancakes, stir the batter just until it's combined. All those extra stirs, well, just imagine the pancakes getting flatter and flatter.
Third. Warm the buttermilk.
I honestly don't know if this is a proven scientific baking fact, but when I don't heat up my buttermilk and use straight from fridge, cold, buttermilk, my pancakes are not as fluffy. Same thing goes for these buttermilk waffles.
Use a small measuring glass (glass so you can heat it, ceramic works too, it needs to be microwave safe) and microwave your buttermilk until it's warmed.
Your family will adore this recipe for pumpkin pancakes!!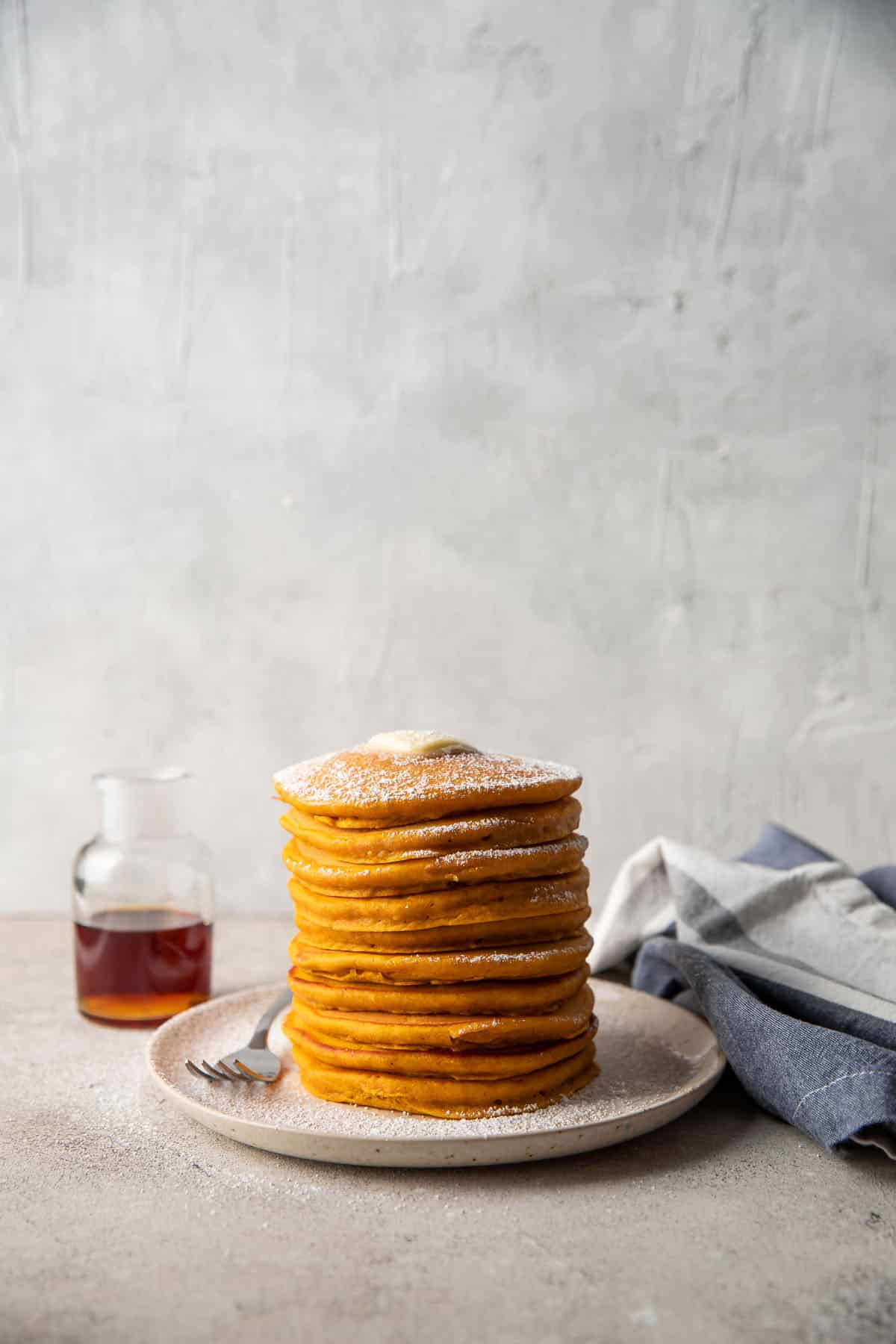 FAQ
A roundup of some important frequently asked question when it comes to pancakes and getting them just right. Check out these questions to help avoid some 'oopsies'.
Can you freeze pumpkin pancakes?
Sure can, make sure they are in an airtight container of some sort.
Substitute for buttermilk?
You can use 1 cup of milk and 1 tablespoon of either lemon juice or vinegar. Let this sit, combined, for 10 minutes.
Why didn't my pumpkin pancakes get fluffy?
Here's a few top reasons. Over mixing the batter, old baking soda or old baking powder.
When do I flip the pancakes?
Wait until there are bubbles on top.
How hot should the pan be for making pancakes?
Your butter should be sizzling when you put it on, but the pan should not be smoking, if so it's too hot.
Can pumpkin pancakes be made gluten free?
I have not tested a gluten free version but you would need to substitute the all purpose flour for gluten free flour. Bobs red mill 1:1 makes a decent flour sub.
Can I add chocolate chips?
Totally. Pour your batter on to the pan and sprinkle some on if you only want a few chocolate chip pumpkin pancakes.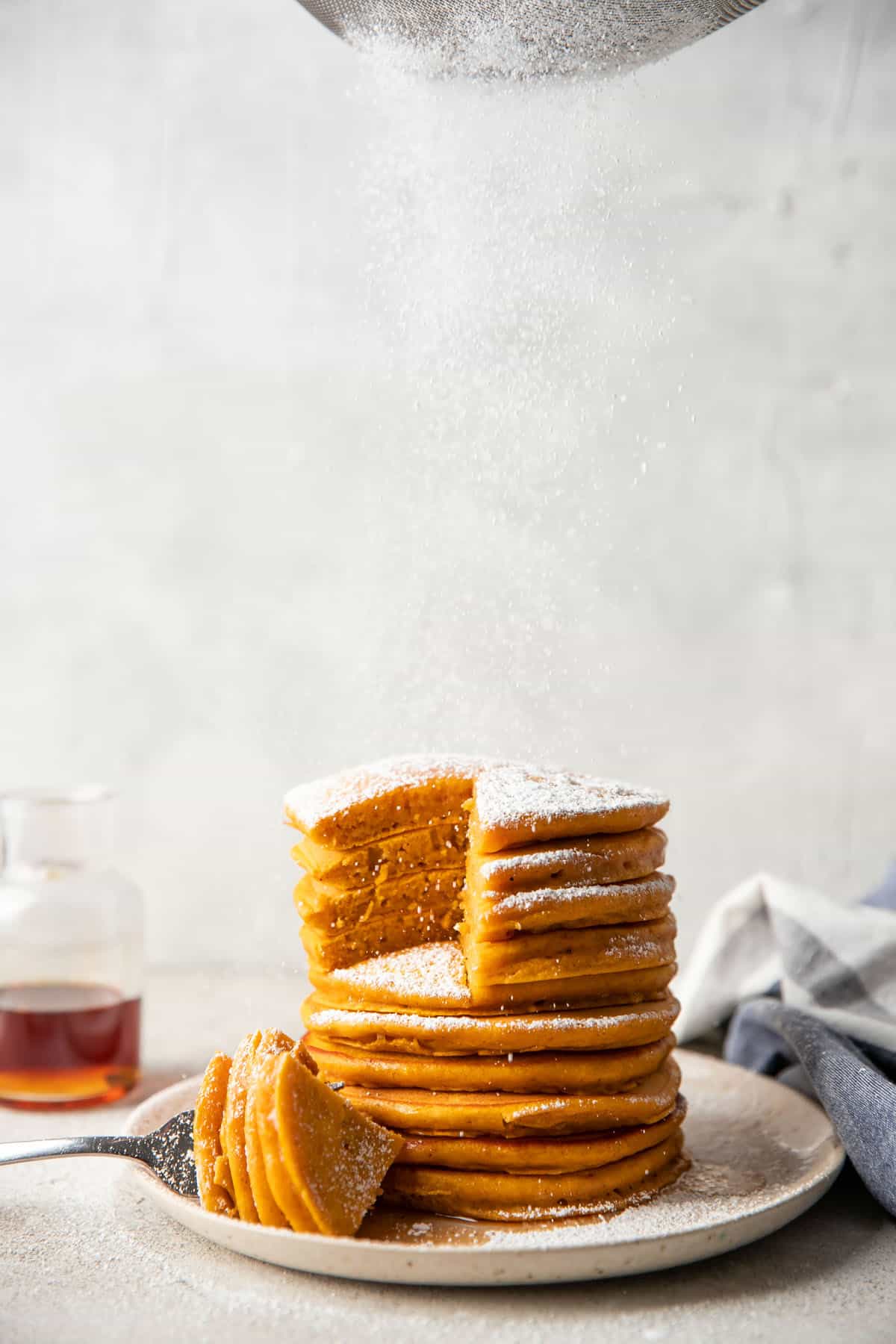 Fall Recipes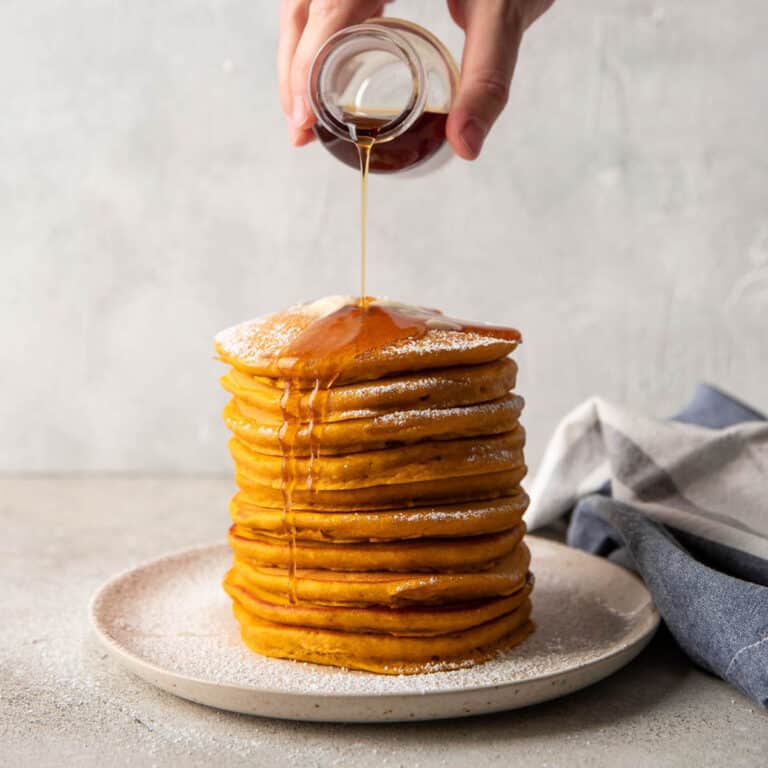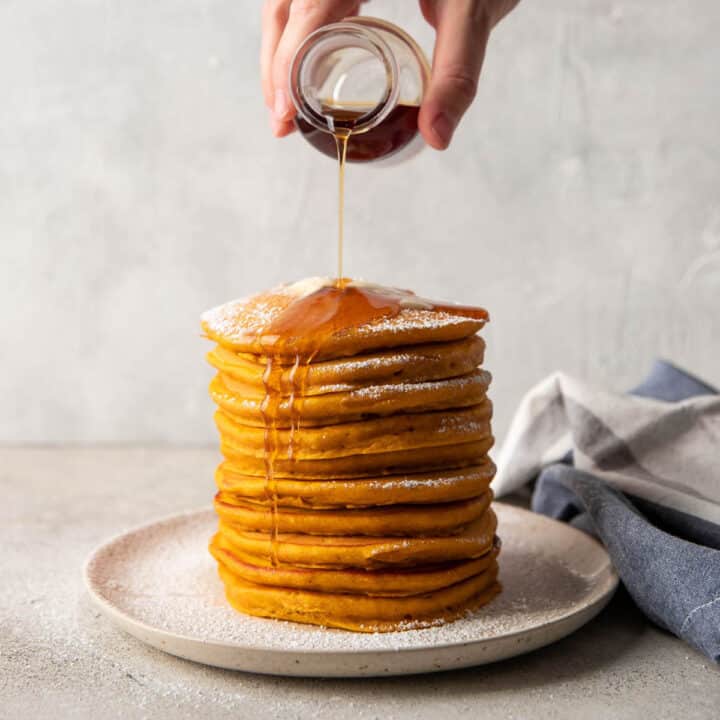 Fluffy Buttermilk Pumpkin Pancakes
This fluffy buttermilk pumpkin pancake recipe is what you need for the perfect fall breakfast! Light and fluffy spiced pumpkin pancakes, topped with butter, thick maple syrup and a sprinkle of powdered sugar.
Ingredients
3 tbsp butter
2 eggs
¾ c buttermilk
¾ c milk
¾ c pumpkin purée
2 c flour
2 tbsp white sugar
¼ c brown sugar
1 tsp salt
½ tsp baking soda
1 tsp baking powder
1 tsp pumpkin pie spice
⅛ tsp ginger powder
Instructions
In a large bowl sift together the flour, white sugar, brown sugar, salt, baking soda, baking powder, pumpkin pie spice and ginger powder
In a separate large bowl, melt the butter
Use a glass measuring cup to heat the buttermilk and milk, together, for 1 minute
Whisk the eggs in to the butter
To the wet ingredients stir in the pumpkin puree, buttermilk and milk mixture
Make a well in the dry ingredients and pour in the wet ingredients
Whisk this together until combined, it doesn't have to be fully smooth, but most of the big lumps out
Heat a griddle over the stove on medium/low heat
Grease with butter (it should sizzle but not be smoky)
Use a ¼ c measuring spoon to ladle batter on to the griddle for perfect sized pancakes
Flip the pancakes when bubbles have formed on the top
Remove when fully cooked through
Serve with a dusting of powdered sugar and maple syrup!
Recommended Products
As an Amazon Associate and member of other affiliate programs, I earn from qualifying purchases.
Nutrition Information:
Yield:

16
Serving Size:

2
Amount Per Serving:
Calories:

121
Total Fat:

3g
Saturated Fat:

2g
Trans Fat:

0g
Unsaturated Fat:

1g
Cholesterol:

30mg
Sodium:

271mg
Carbohydrates:

20g
Fiber:

1g
Sugar:

6g
Protein:

3g
This information comes from online calculators. Although moderncrumb.com attempts to provide accurate nutritional information, these figures are only estimates.