These grilled steak, potato and bell pepper kabobs are easy to cook up and so much fun to eat. An 8 hour marinade does wonders to the steak and at the end of grilling the kabobs get's brushed with a homemade buttery herb oil.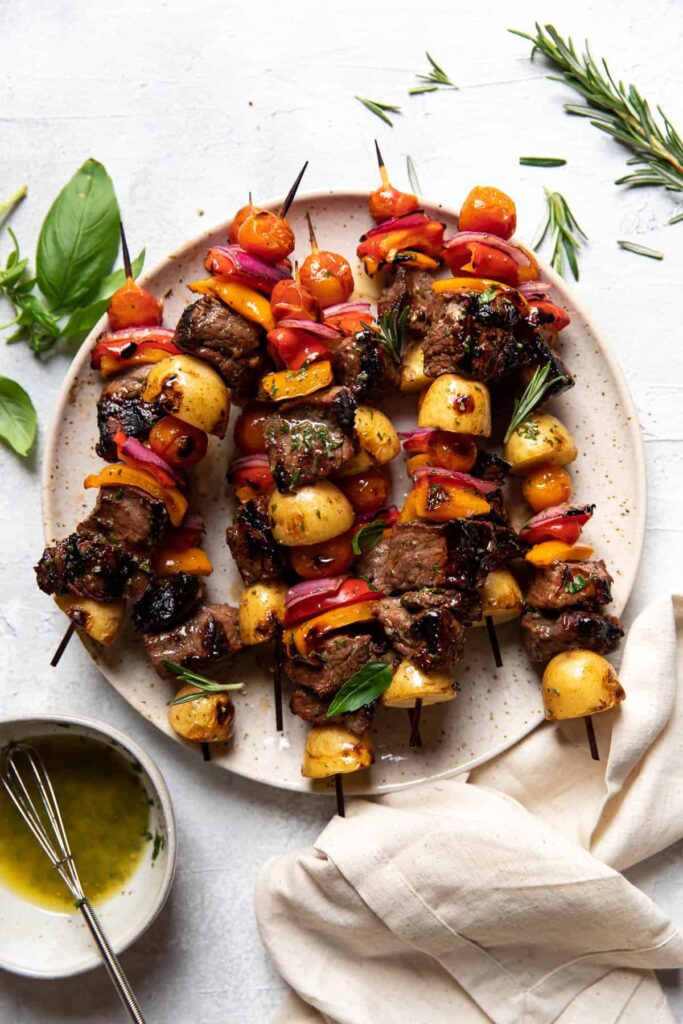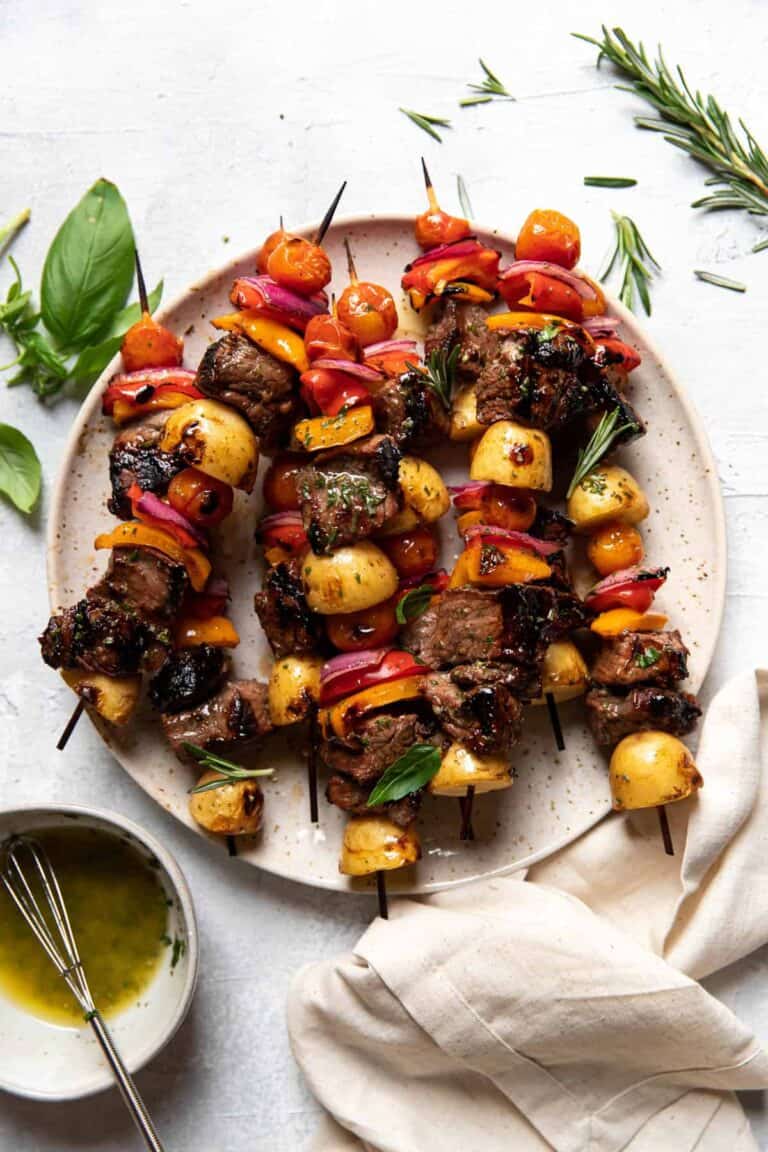 The world's prettiest looking kabobs! The orange and red from the bell pepper, also the red from the cherry tomatoes, the yellow from the petite potatoes and purple from the onion.
Not to mention the green from the chopped rosemary and basil in the buttery herb oil that you slater over top!
You can serve these with an italian pasta salad or maybe even a tomato corn salad.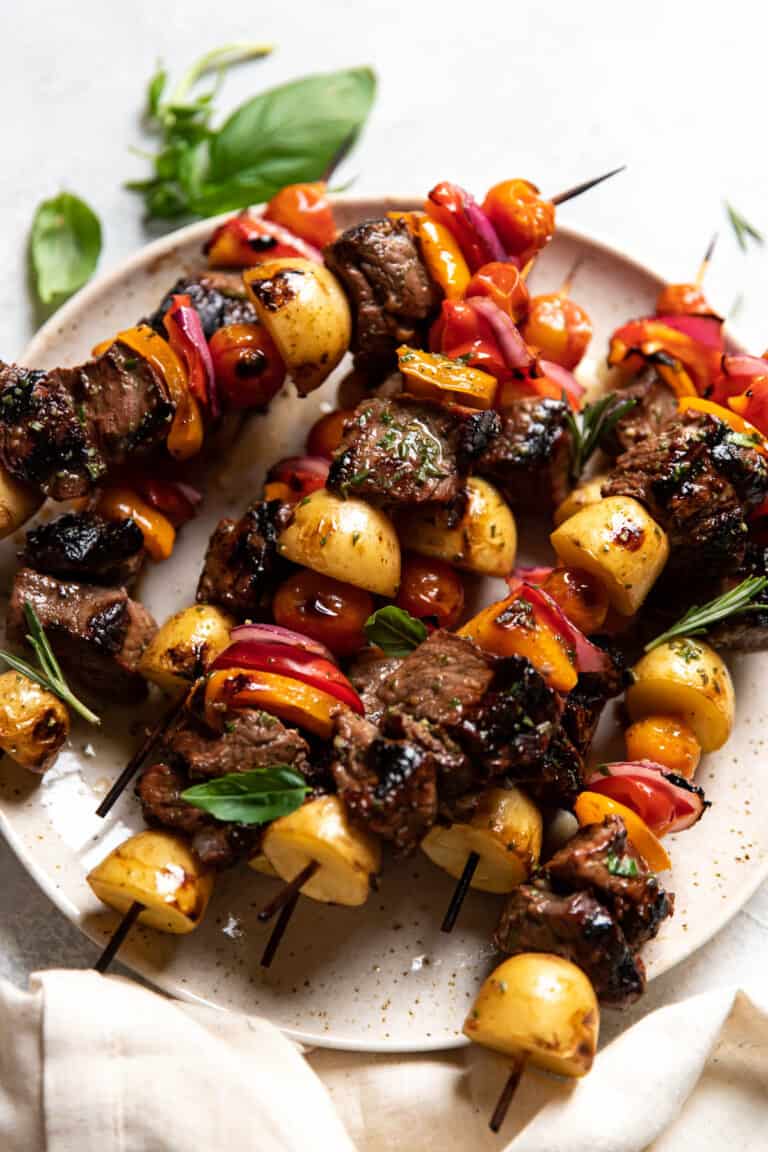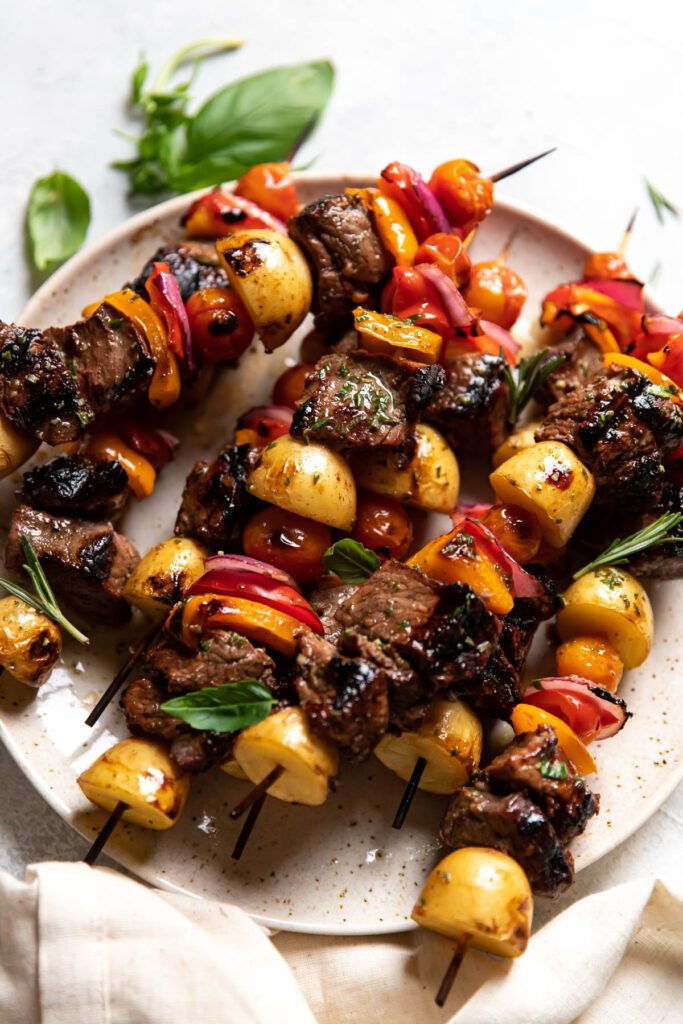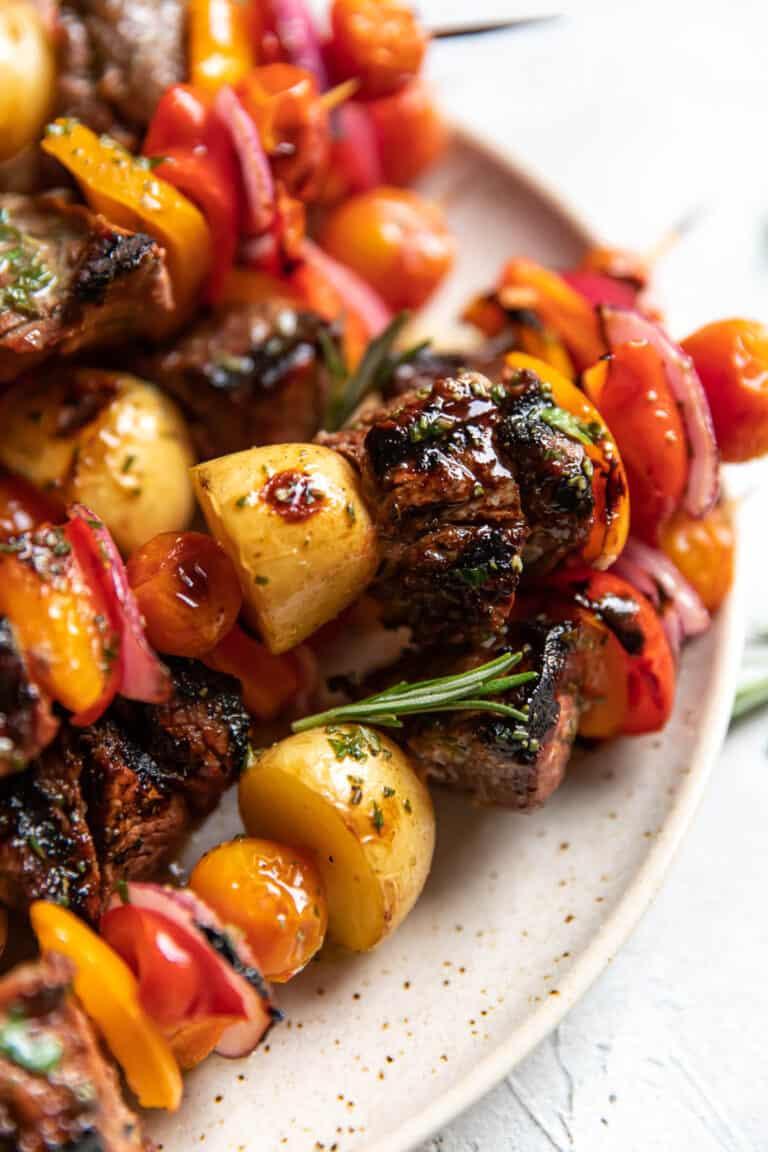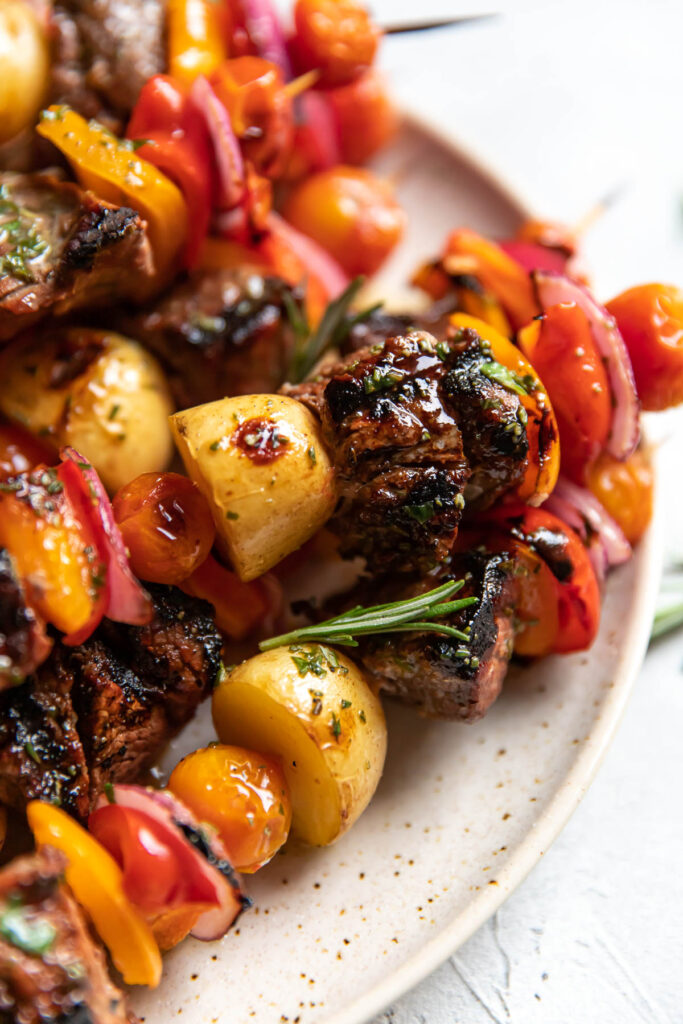 The Steak Marinade
To start the kabob process you'll need to cut up and marinate the steak. It's a petite sirloin which can be a bit tough, there is very little fat on this cut of meat! During the summer you can get this steak on sale a lot, so keep an eye out and that's the best time to make steak kabobs.
Cut your steak pieces fairly large, larger than a bit size piece. Because there are potatoes on the skewer you don't want the meat to overcook and if you use really small pieces of steak you'll have raw potatoes and overcooked meat.
8 hours is the optimum time for marinating, so before you leave for work or just when you start your day get these marinating.
In a big bowl combine oil, lemon juice, balsamic vinegar, worcestershire, soy sauce, fresh chopped rosemary, minced garlic, salt and pepper.
Dredge the steak in it, tossing everything around, cover and put it in your fridge until you are ready to use it.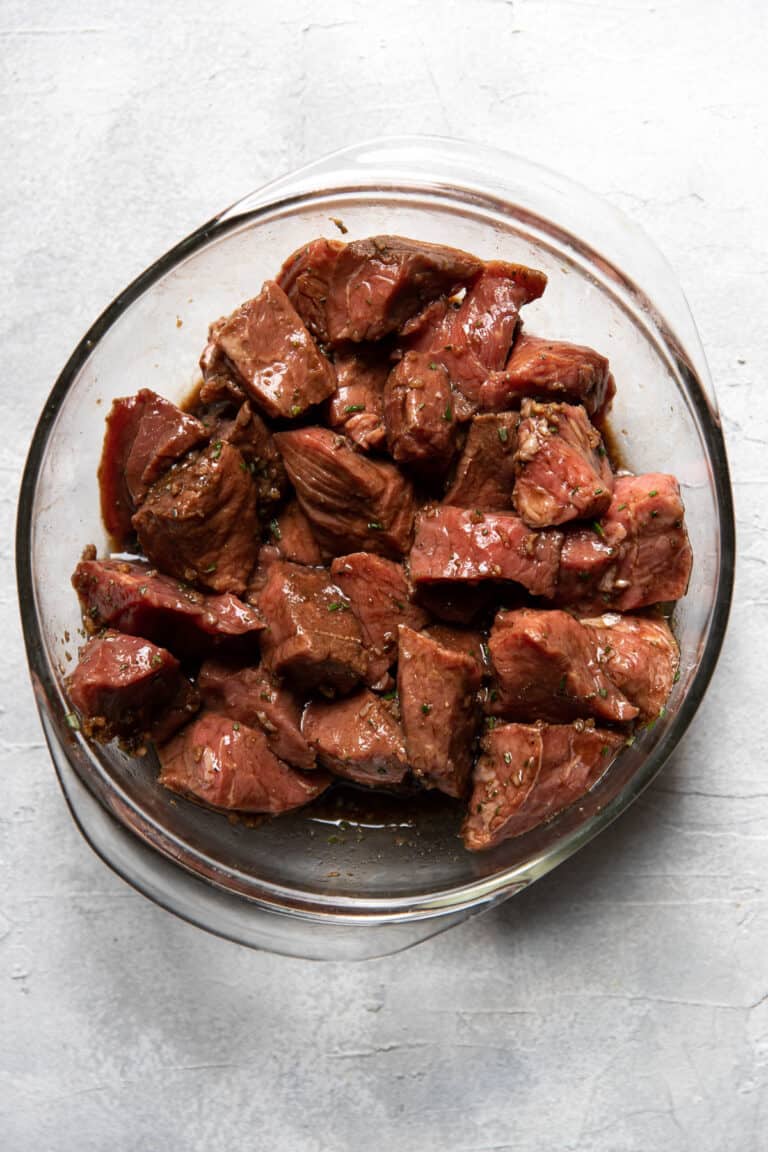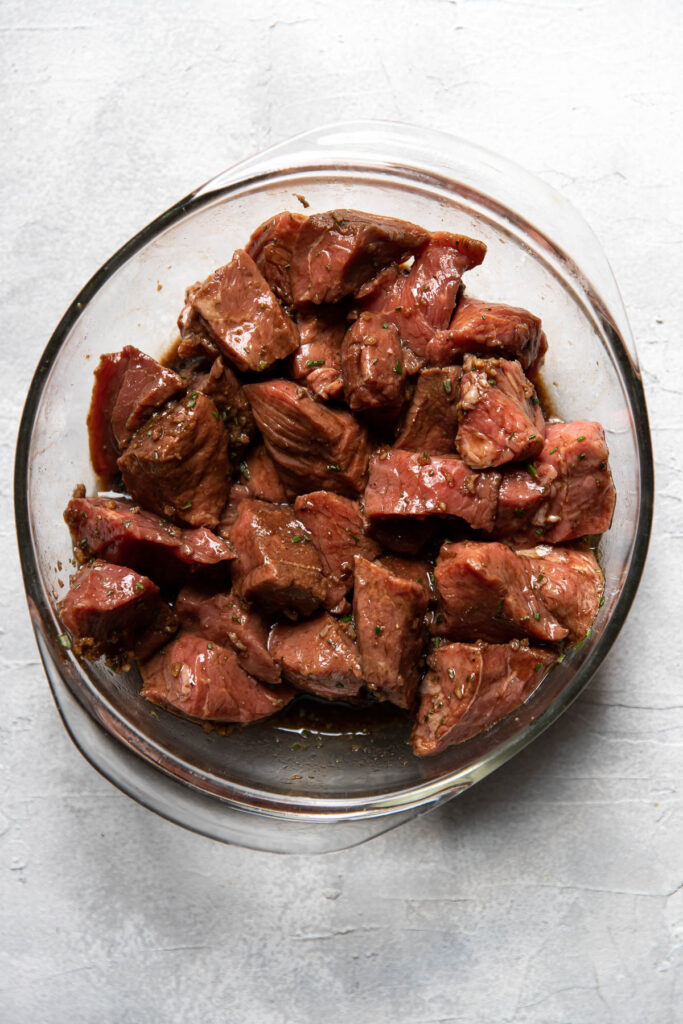 Cutting The Vegetables
The vegetables don't need to be cut as big as the steak, so you can keep those a bite size square size.
The petite potatoes can vary in size a bit. Sometimes you get small ones and other times they are pretty big. You'll have to use your best judgement and if they look larger than the other ones, go ahead and cut them into quarters instead of halves.
Keep the cherry tomatoes whole, those do not need to be cut up because if you do they will just disintegrate on the grill. It also works best if they are toward the middle of the skewers vs the outside.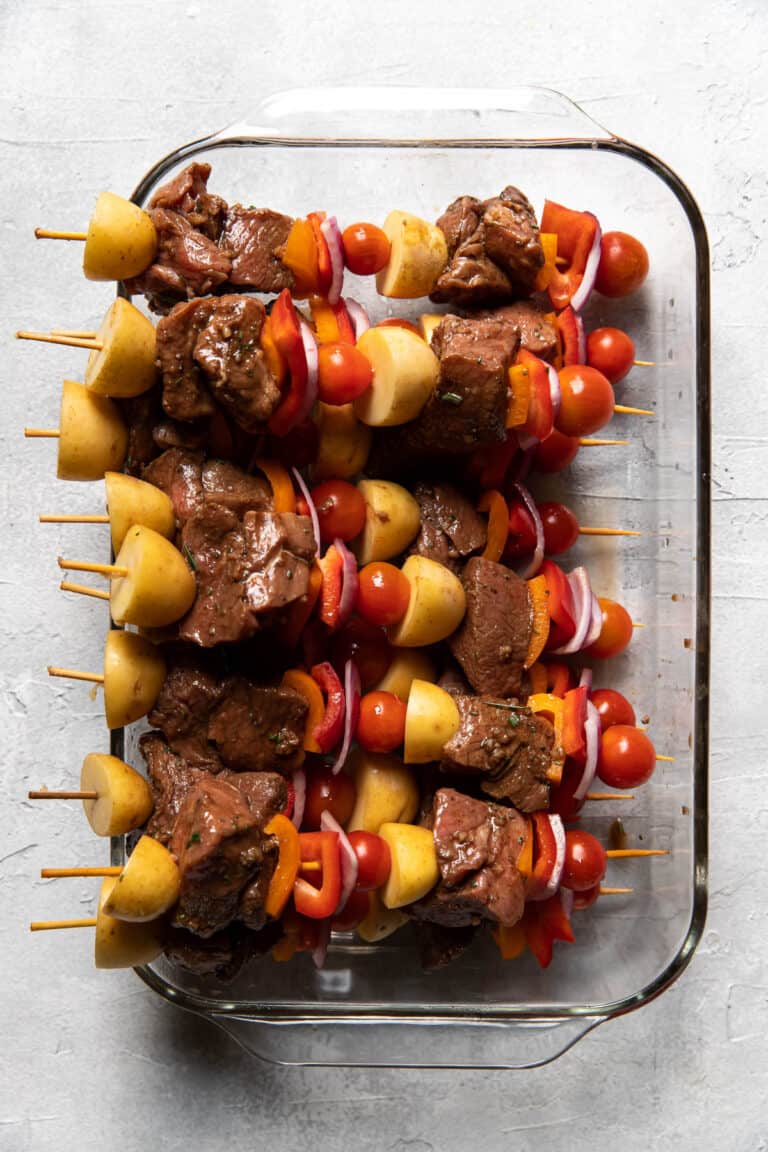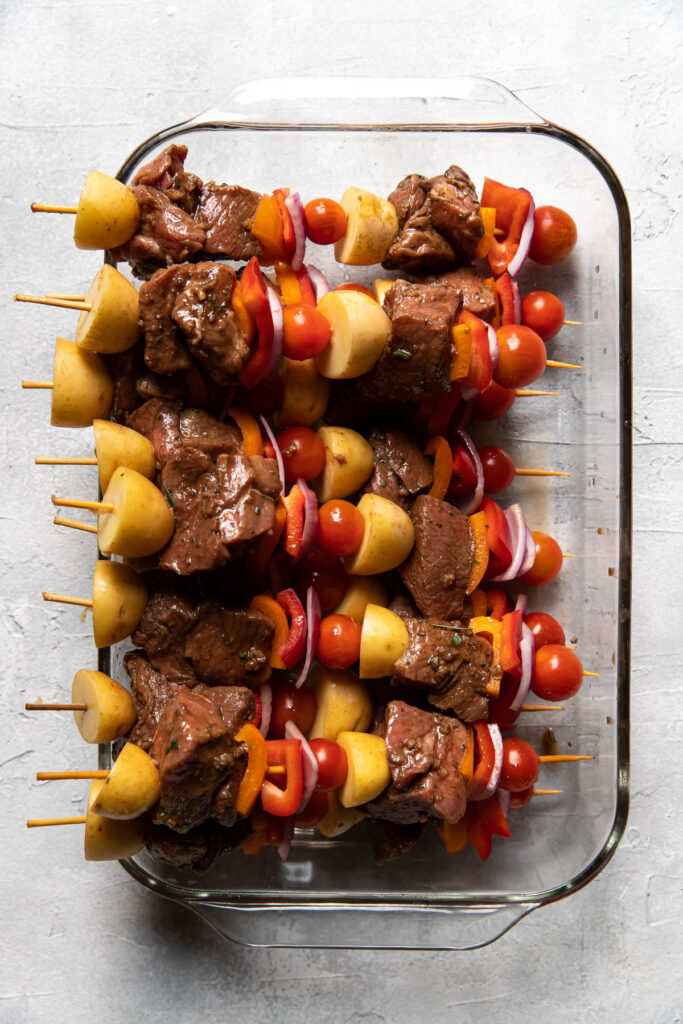 Grilling The Steak Kabobs
Whatever vegetables are toward the outer edges of the skewers will cook more. So keep that in mind, it's a smart idea to put the potatoes on the ends.
Kabobs tend to cook pretty fast so make sure if you aren't staying at the grill that you set a timer. Nothing is more devastating than accidentally overcooking your steak kabobs and the meat being really tough!
Start with 5 minutes on the first side then flip. I usually do another 5 minutes. But depending on how you like your meat cooked you may like less time or more.
Pull them off the grill and brush on that dreamy buttery herb oil.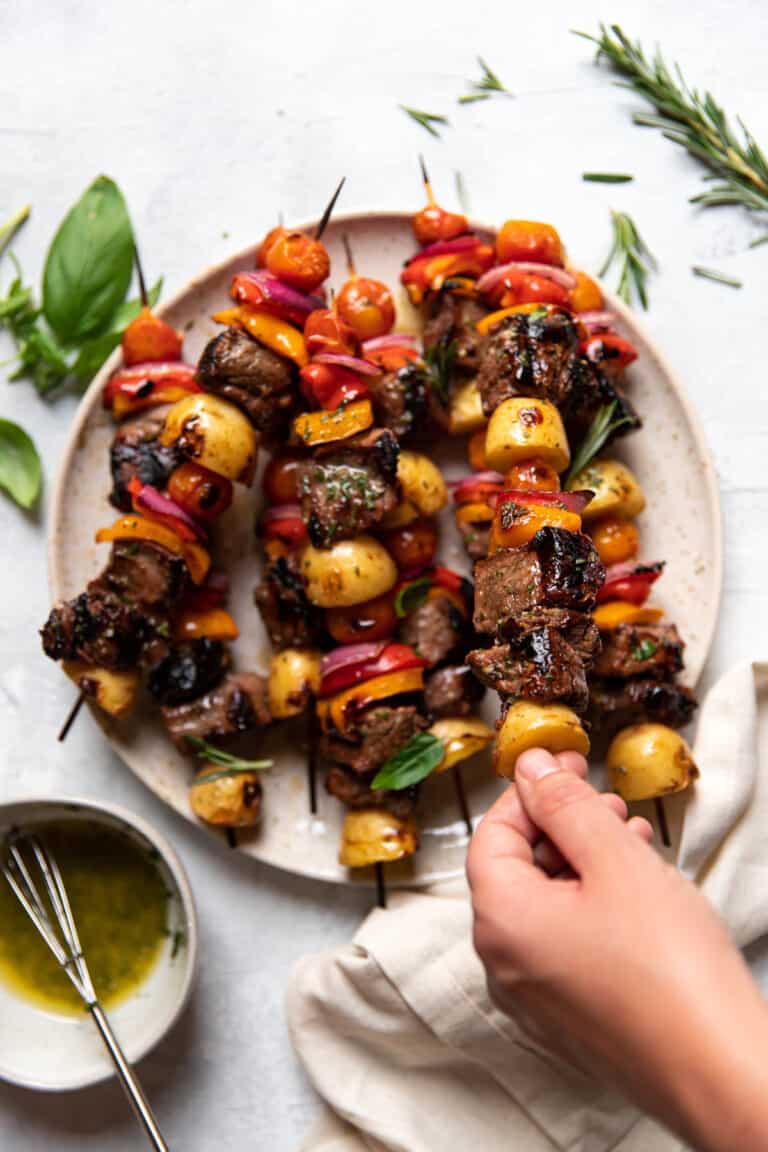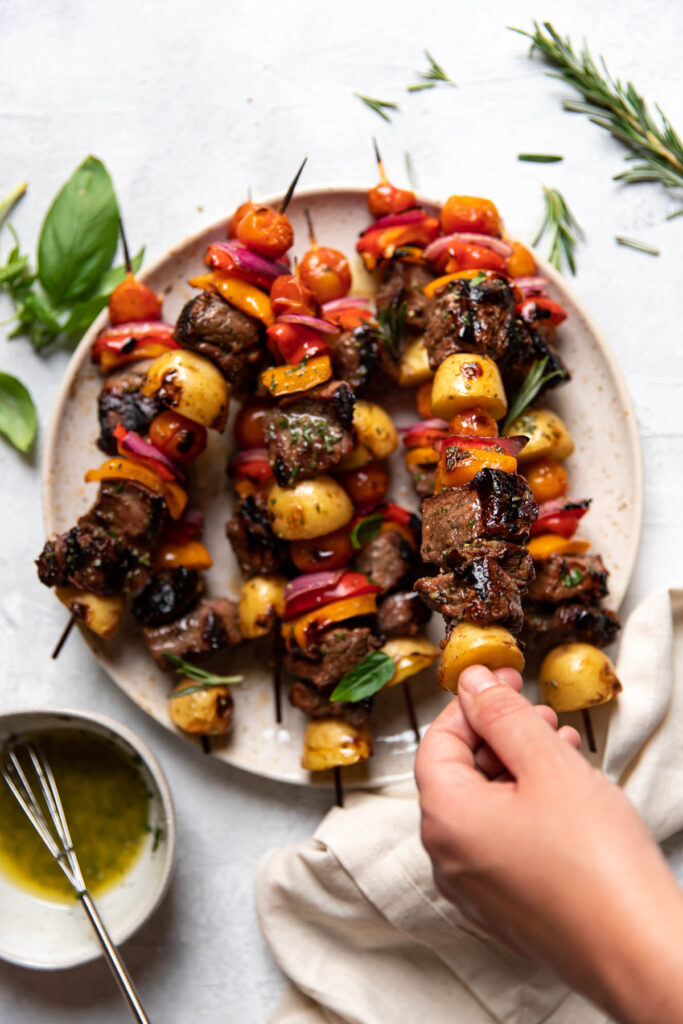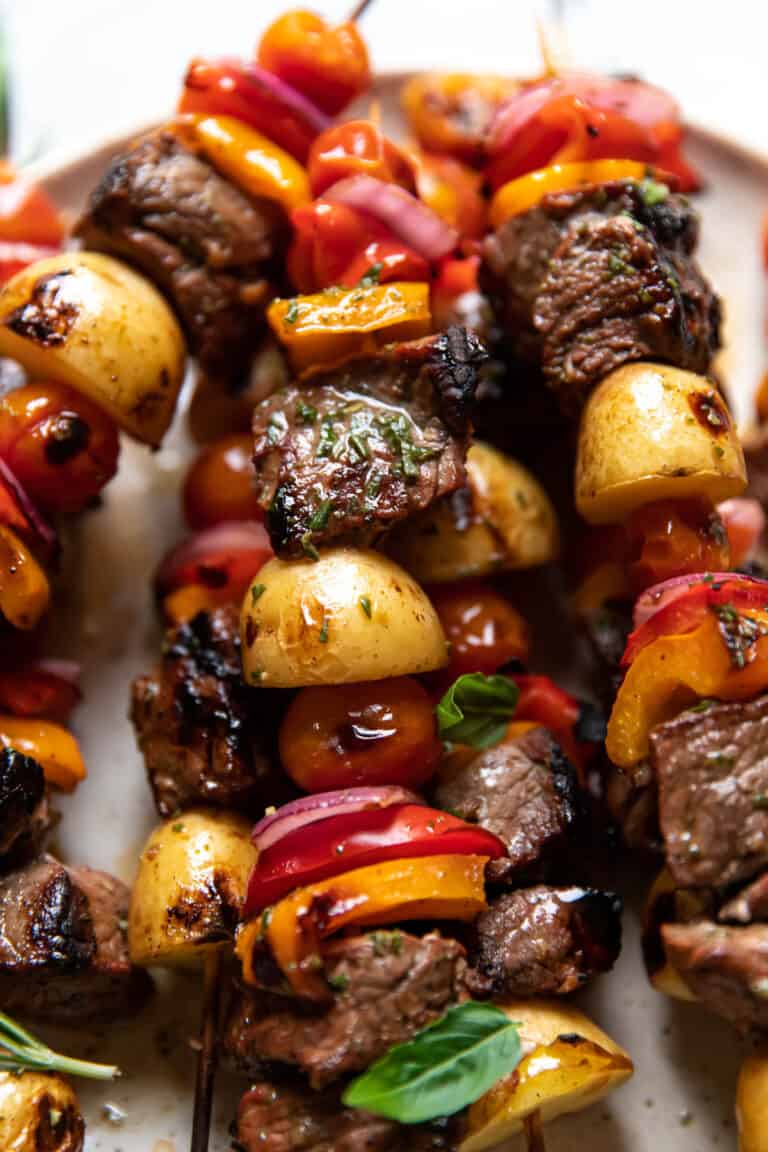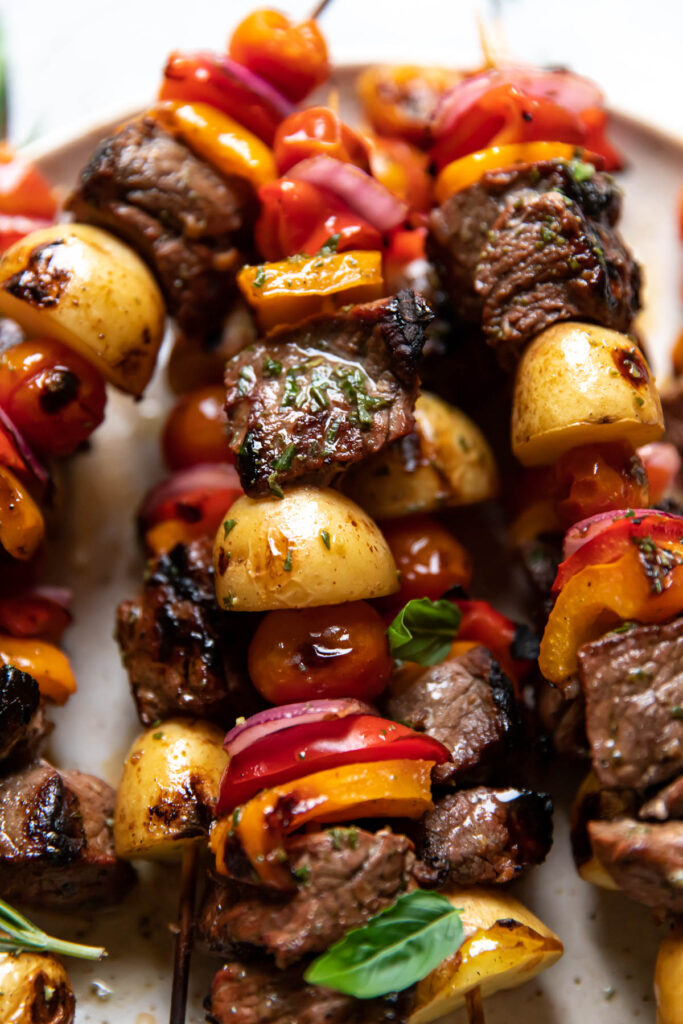 Summer Recipes To Try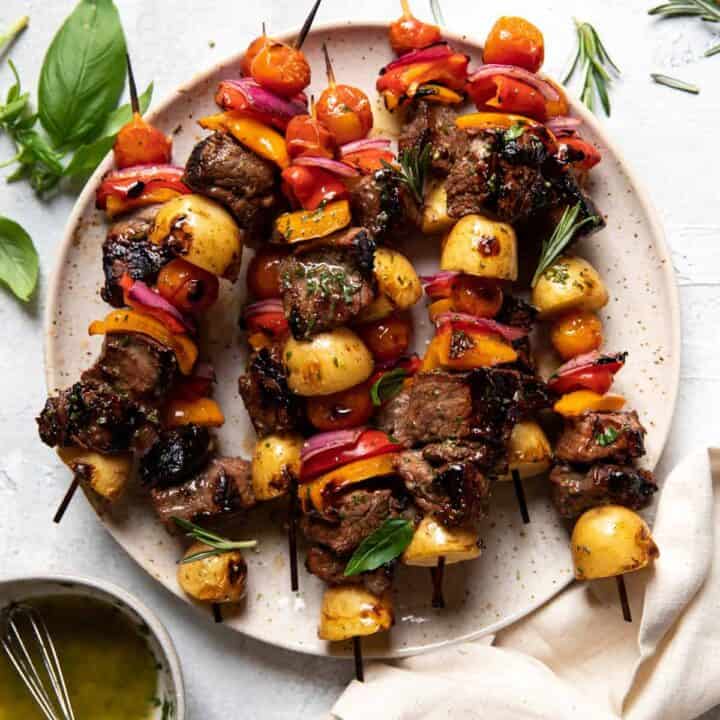 Steak Potato Bell Pepper Kabobs
Total Time:
8 hours
30 minutes
These grilled steak, potato and bell pepper kabobs are easy to cook up and so much fun to eat. An 8 hour marinade does wonders to the steak and at the end of grilling the kabobs get's brushed with a homemade buttery herb oil.
Ingredients
3 lbs petite sirloin steak, cubed
1 red bell pepper, cut into squares
1 orange bell pepper, cut into squares
1 pint cherry tomatoes
½ onion, cut into squares
Petite potatoes, halved*
Marinade
2 tbsp sunflower oil
½ lemon, juiced
2 tbsp balsamic vinegar
1 tsp worcestershire
2 tsp soy sauce
1 sprig rosemary, chopped
2 garlic cloves, minced
Pinch of salt
Pinch of pepper
Buttery Herb Oil
2 tbsp oil (any flavorless oil)
2 tbsp butter
1 rosemary sprig, leaves chopped
4 basil leaves, chopped
½ lemon, juiced
⅛ tsp garlic powder
Pinch of pepper
Pinch of salt
Instructions
8 hours prior to cooking, cut up the steak into large cube pieces
In a big bowl whisk together the marinade ingredients
Add the steak to this, cover and refrigerate for 8 hours (the meat may be tough if you don't)
If using wooden skewers, soak them in water 10 minutes prior to assembling
Cut up the red bell pepper, orange bell pepper, onion and potatoes
Add the steak, bell peppers, onion, whole cherry tomato and potato onto the skewers
Turn the grill on to 400 degrees
Cook for 10 minutes total, flipping at 5 minutes (give or take, you may need less time and you may need a bit more since grills can vary)
Mix together the buttery herb oil
Take the kabobs off the grill and immediately brush with the buttery herb oil
Notes
*For larger petite potatoes you may want to cut them into quarters, but the smaller ones just halve
Recommended Products
As an Amazon Associate and member of other affiliate programs, I earn from qualifying purchases.
Nutrition Information:
Yield:

10
Serving Size:

1
Amount Per Serving:
Calories:

437
Total Fat:

27g
Saturated Fat:

10g
Trans Fat:

0g
Unsaturated Fat:

15g
Cholesterol:

131mg
Sodium:

190mg
Carbohydrates:

8g
Fiber:

1g
Sugar:

3g
Protein:

38g
This information comes from online calculators. Although moderncrumb.com attempts to provide accurate nutritional information, these figures are only estimates.