These pumpkin cheesecake cookies are super soft, filled with white chocolate chips and as you guessed, have a cake like texture. So, we're calling them cakey cookies. They are so much fun to make and really easy!
For all you pumpkin lovers, make sure to try this pumpkin roll with cream cheese frosting (there's even a how to video).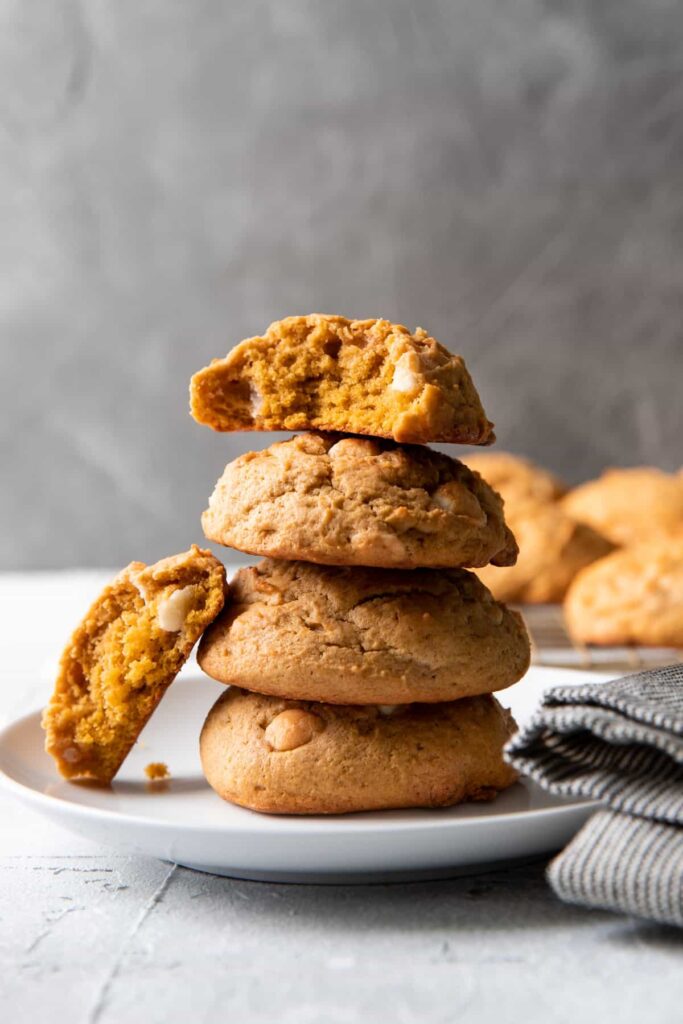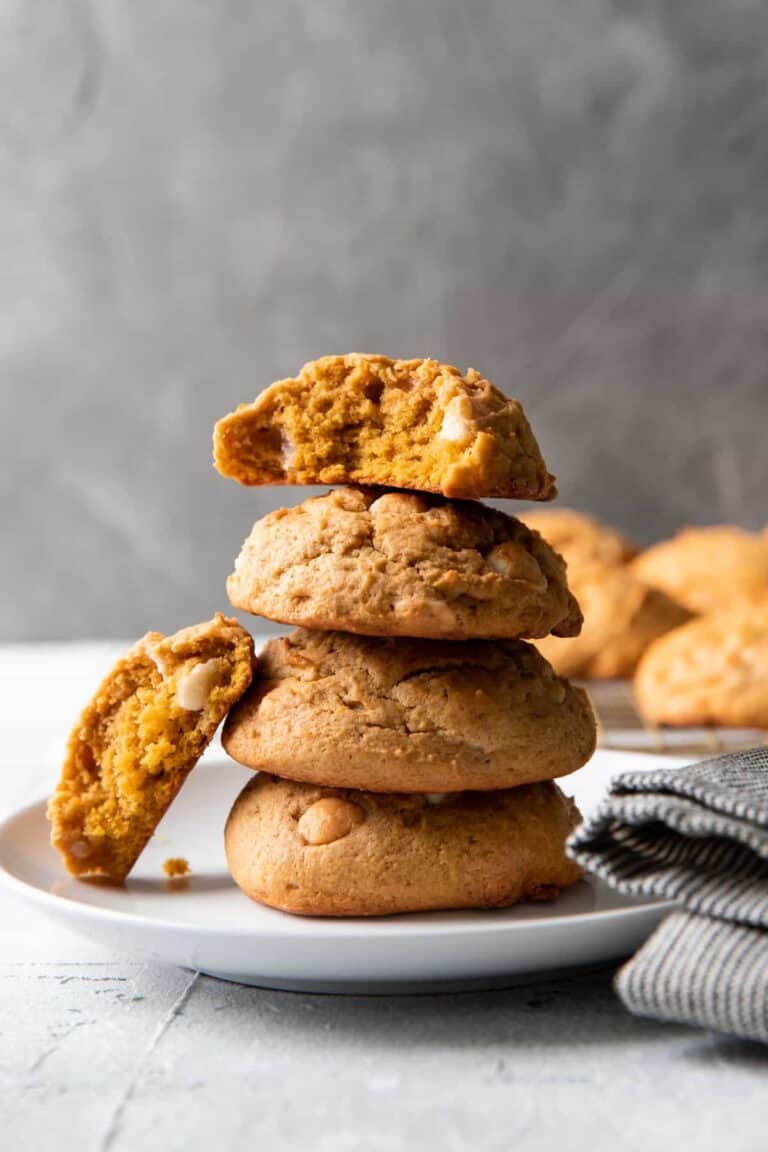 This post is sponsored by Prince of Peace Ginger, all oppinions and reviews are my own.
These pumpkin cheesecake white chocolate chip cakey cookies are seriously, the best!
It's kind of like a fun surprise, are they a cookie are they a cake? They are both! They have a cookie appearance on the outside, with a soft cake texture inside. Cookies made from scratch are always the best.
With an iconic pumpkin spice flavor thanks to some pumpkin pie spice and a bit of cream cheese and white chocolate chips, the combination is perfect and super addicting.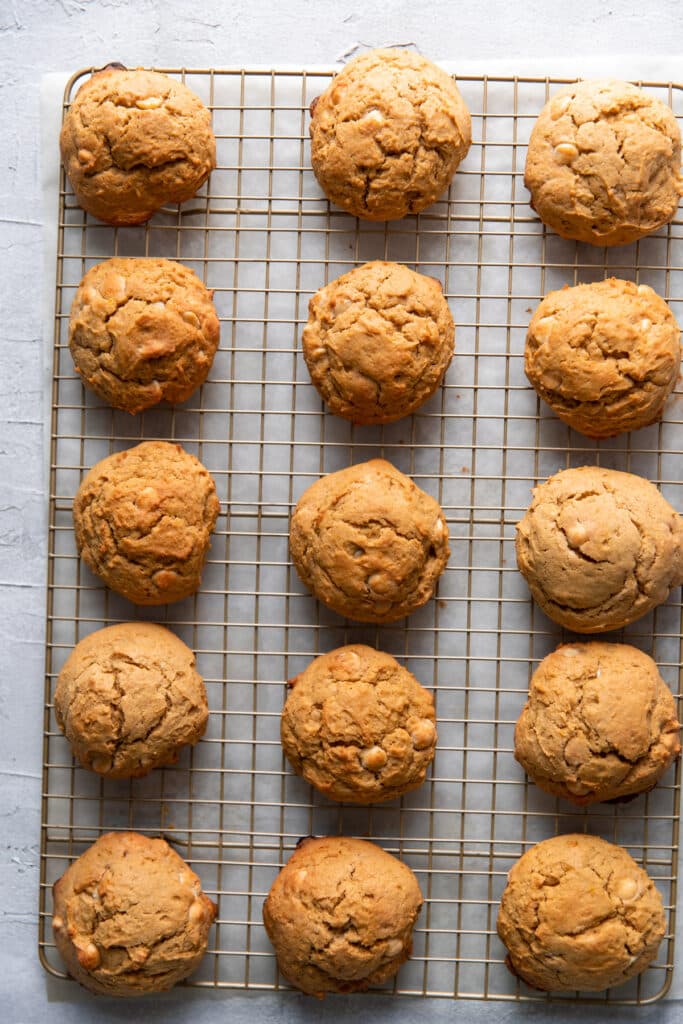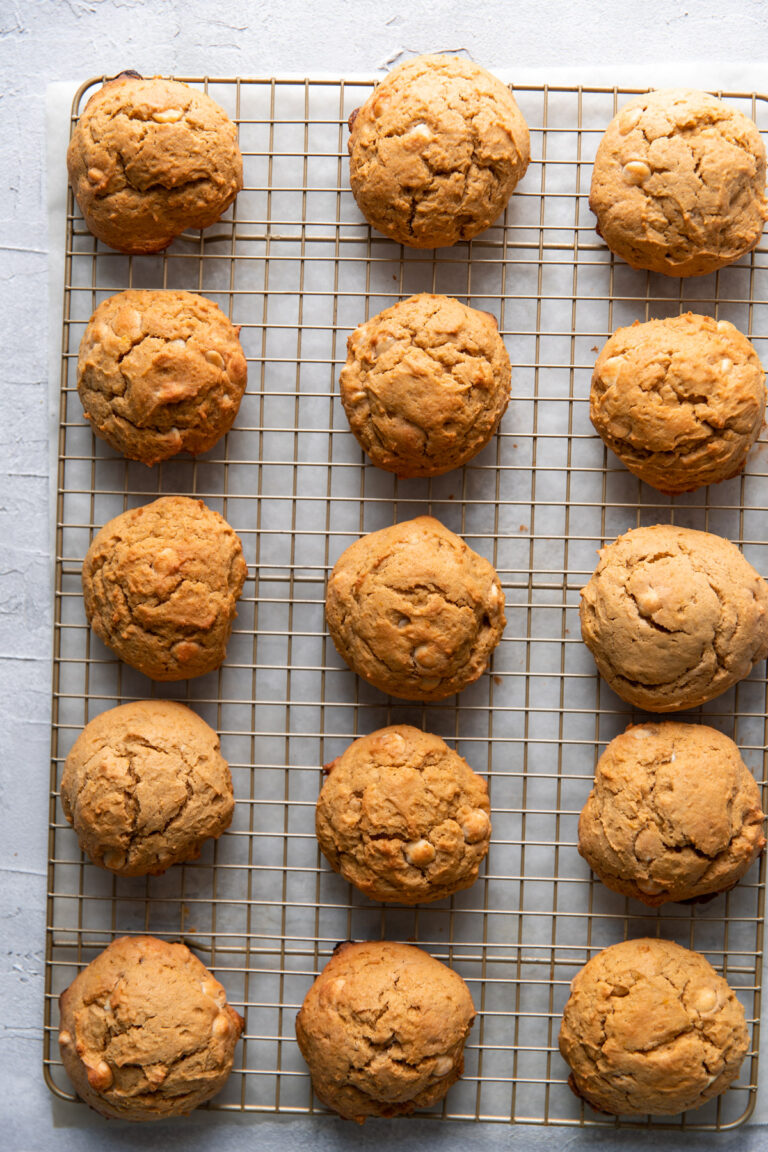 These get a little bit more spiced up because I added in a spoonful of ginger honey crystals, made by Prince of Peace Ginger, traditionally this is a tea, but they melt away in baked goods and I love ginger in my fall baking. Spicy and delicious!
My husband says these remind him of the pumpkin cake you get at Starbucks. And I just love how easy it is to snack on them without getting cake crumbs all over your hands.
These are the perfect fall treat to bring to a family gathering, maybe a halloween party or just an after dinner dessert.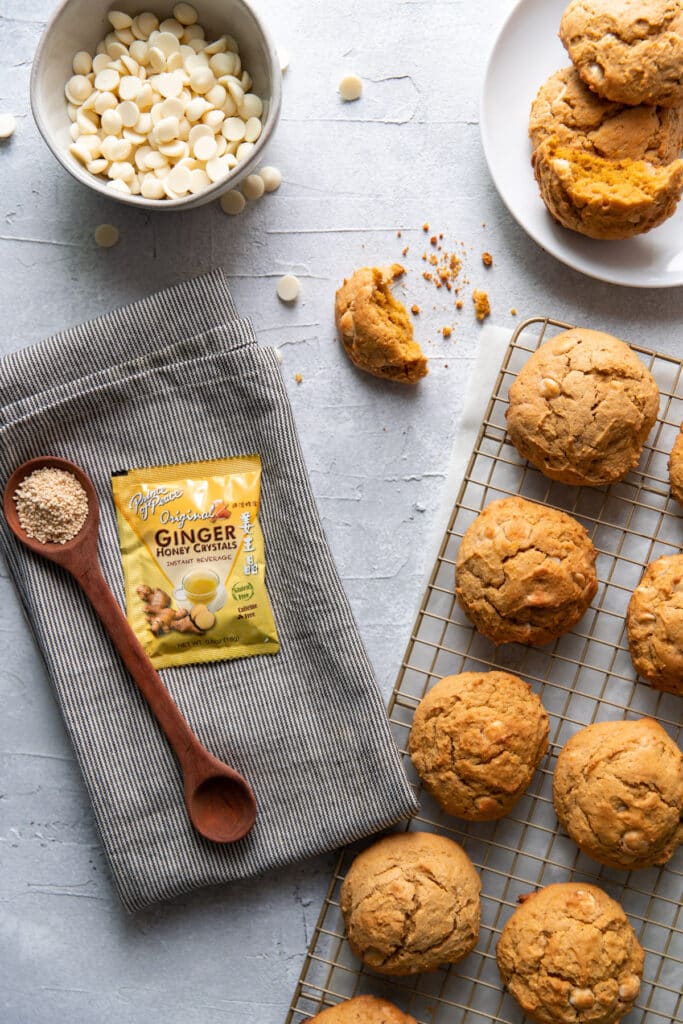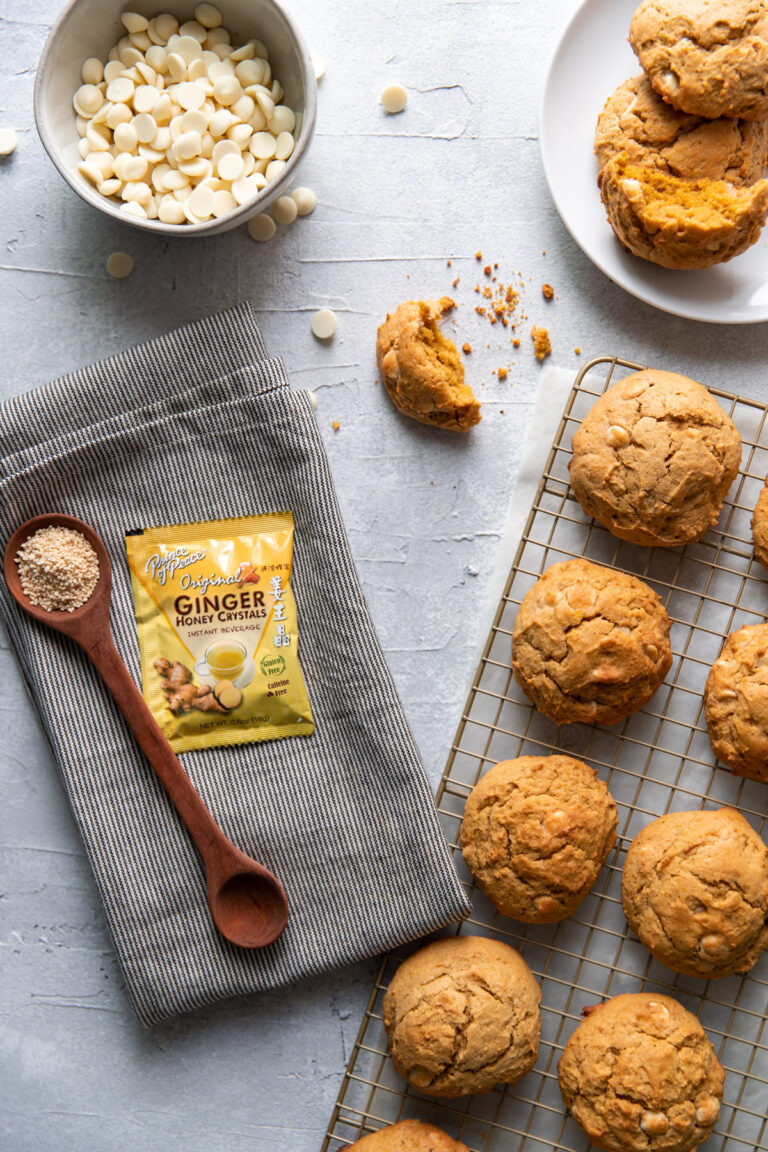 How To Make Pumpkin Cheesecake White Chocolate Cakey Cookies
It starts with softened butter and softened cream cheese getting mixed together until they are lighter in color and a bit thick. Instead of stuffing the cookies with cream cheese, it all just get's mixed in – because that's easier.
Pumpkin puree is our pumpkin of choice. Just a can of Libby's. And you can freeze the extra pumpkin and use it for this 20 minute pumpkin ravioli, it's just the right amount.
You'll add a bunch of traditional cookie ingredients. But these cakey cookies have a few extra ingredients that you may be wondering about.
Corn starch is one, it's just a little bit but I love how light it makes them. I add corn starch in to my recipe for pumpkin cheesecake also. Another addition is baking powder for extra lift.
Did you see how puffy these pumpkin cheesecake cookies are???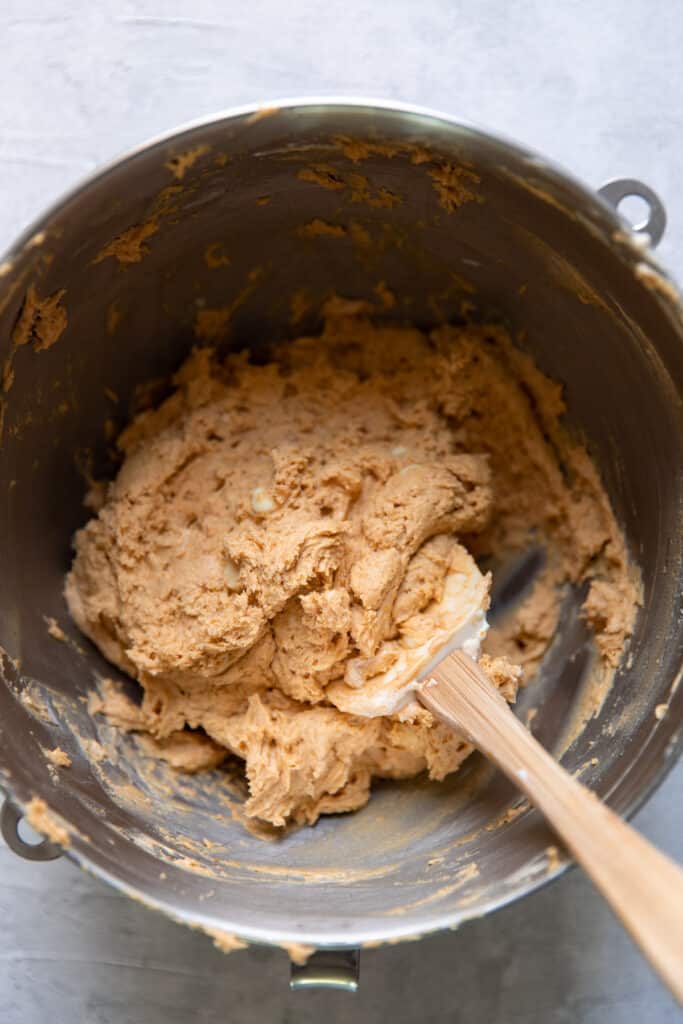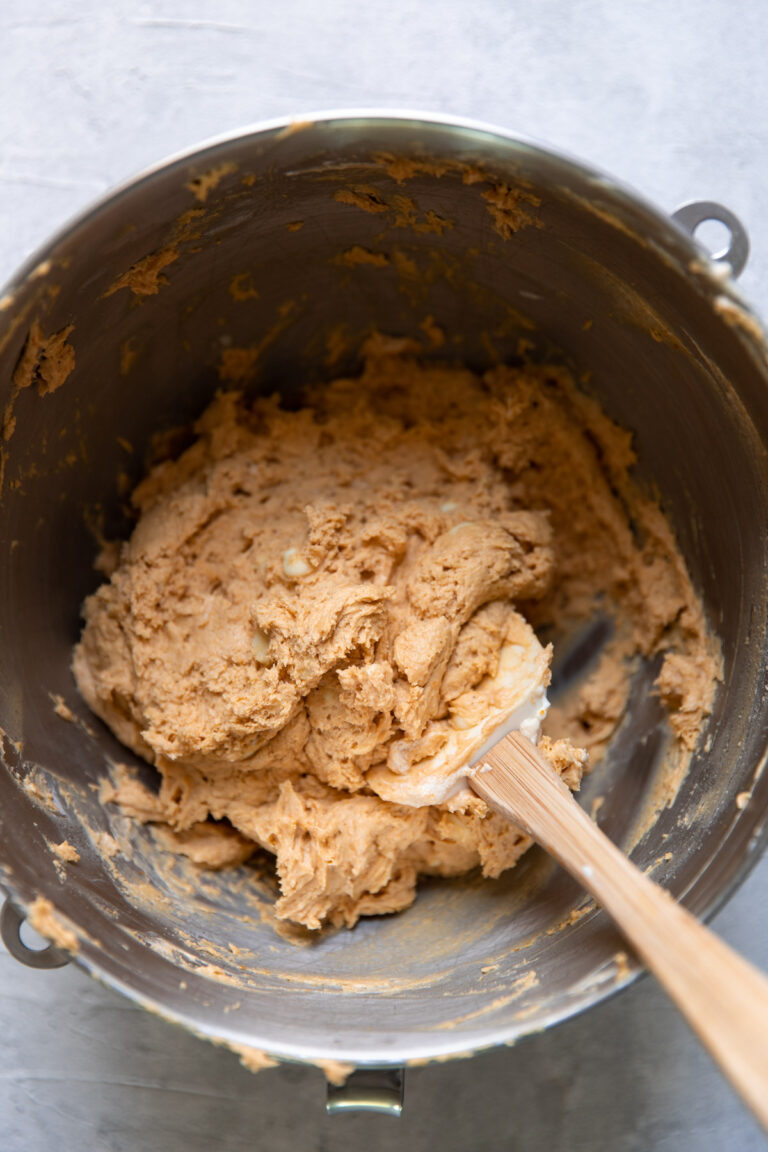 What Ingredients Are In These?
This is just a helpful list with explanation of how some ingredients in this recipe play an important part, for those with questions.
butter – I like to start out with softened butter, it creams better
cream cheese – full fat cream cheese, at room temperature, or else you will get blobs of cream cheese – you want it to be silky smooth when mixing
brown sugar – make sure to pack the brown sugar when measuring
white sugar – you can use any type you want
egg – just one egg
vanilla – a good vanilla extract is always nice for cookies
pumpkin puree – you will only half a cup, but can freeze the remaining
flour – all purpose flour
corn starch – this gives the pumpkin cookies a nice light texture
baking soda – for rise
baking powder – for more rise
pumpkin pie spice – one whole teaspoon, if you dont have pumpkin pie spice you can see this recipe for pumpkin loaf with pie crust crumble where I use individual spices to make one up
ginger honey crystals – for extra gingery spice
salt – for flavor
white chocolate chips – these are amazing in these cookies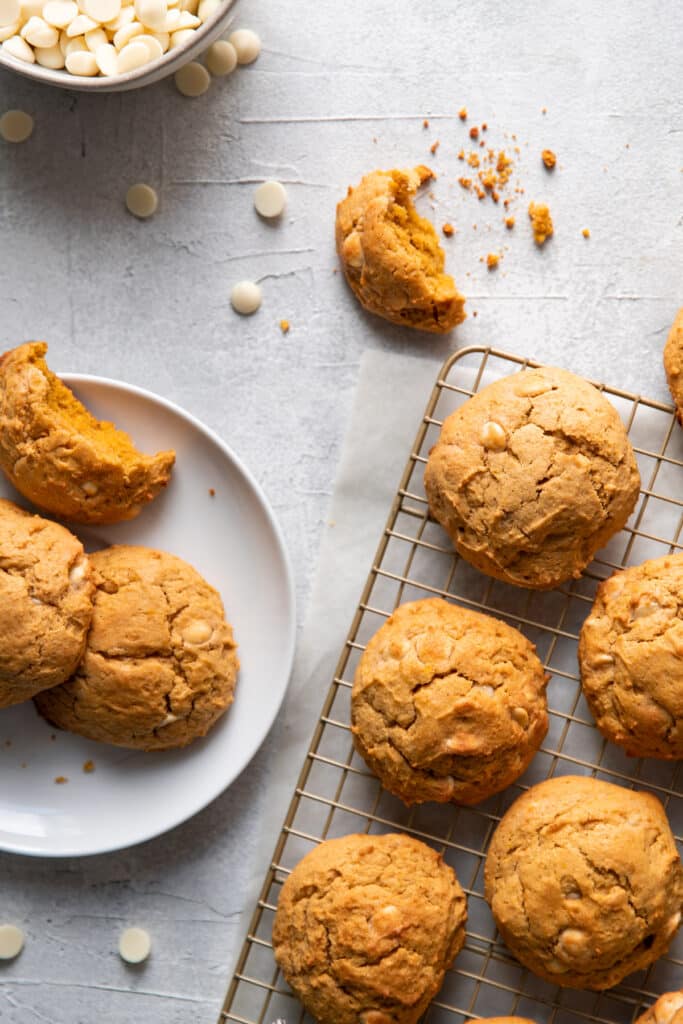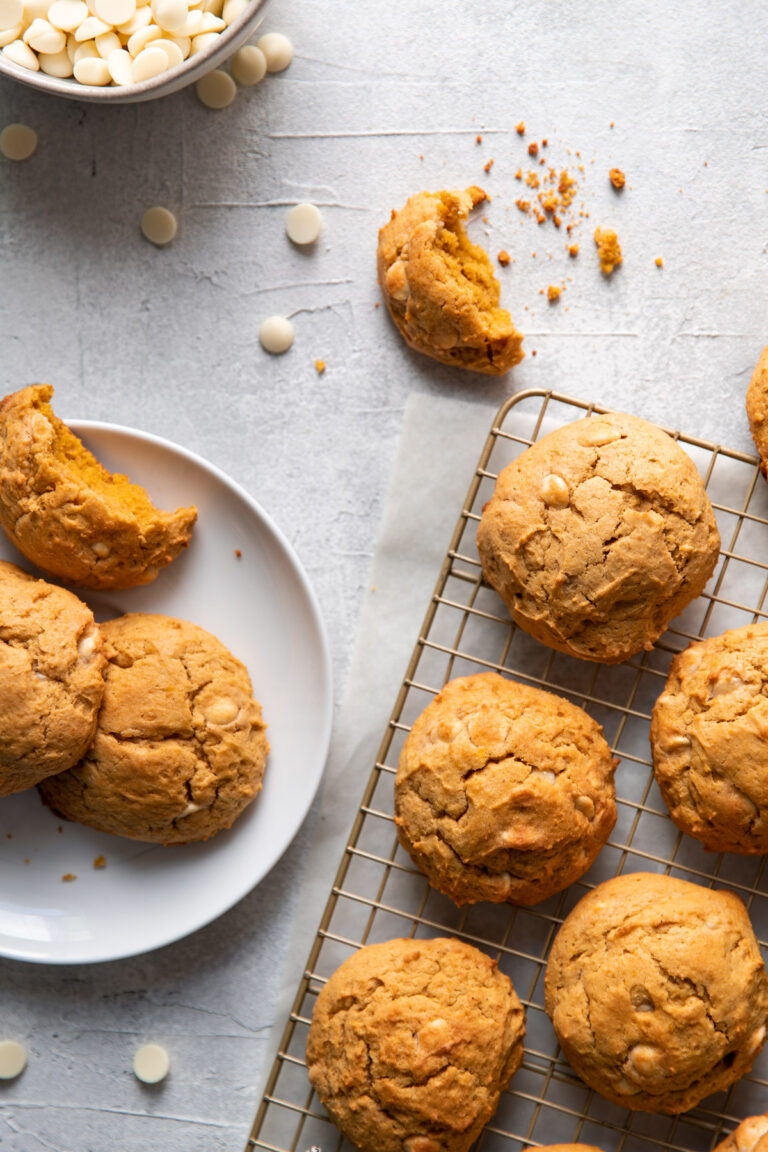 If you are trying to step up your fall baking game then make sure to check out these pumpkin cream cheese cinnamon rolls, pumpkin roll with silky cream cheese frosting, or these better than starbucks pumpkin scones.
And if you are going the apple route then you can't go wring with an old fashioned apple crisp with oats topping or these caramel apple white chocolate blondie bars.
Pumpkin Cheesecake White Chocolate Cakey Cookies
These pumpkin cheesecake cookies are super soft, filled with white chocolate chips and as you guessed, have a cake like texture. So, we're calling them cakey cookies. They are so much fun to make and really easy!
Ingredients
1/2

c

butter

softened

4

oz

cream cheese

softened

1/2

c

packed brown sugar

1/4

white sugar

1

egg

1/2

tsp

vanilla

1/2

c

pumpkin puree

1 1/2

c

flour

1/2

tbsp

corn starch

1/2

tsp

baking soda

1/2

tsp

baking powder

1

tsp

pumpkin pie spice

1

tsp

ginger honey crystals

prince of peace ginger brand

1/2

tsp

salt

3/4

c

white chocolate chips
Instructions
Preheat oven to 375

Beat together the softened butter, cream cheese, brown sugar and white sugar until lighter in color and thick, about 3 minutes

Add in the vanilla and egg, mixing well

Mix in the pumpkin puree (see note)

Sift together the flour, corn starch, baking soda, baking powder, pumpkin pie spice, ginger honey crystals and salt

Pour the dry ingredients in to the wet, mix until almost combined

Add the white chocolate chips and finish the mixing until it is combined

Chill in the refrigerator for 30 minutes

Drop by rounded 2 tbsp onto a parchment lined cookie sheet

Bake for 12-15 minutes, once the top and sides start turning golden they are done

Remove from the oven and transfer to a wire rack immediately

Serve
Notes
It's okay that after mixing in the pumpkin puree it looks curdled, this is normal, it will smooth out once you add the dry ingredients
Chilling the dough allows it to set up, and helps to keep the cookies tall and puffy when baking
If you do not have ginger honey crystals you can omit this from the recipe
Did you make this recipe? Please leave your review in the comments below!
Make sure to follow Modern Crumb on Pinterest, Facebook and Instagram for lots of yummy meal inspiration!  And subscribe to the newsletter, below, to get updates when new recipes post.