The most delicious soft frosted sugar cookies you will ever have! They are a super soft and chewy almond and vanilla flavored cookie with a fluffy thick pink frosting on top. These sugar cookies always get rave reviews from everyone who tries them and it's impossible to eat just one.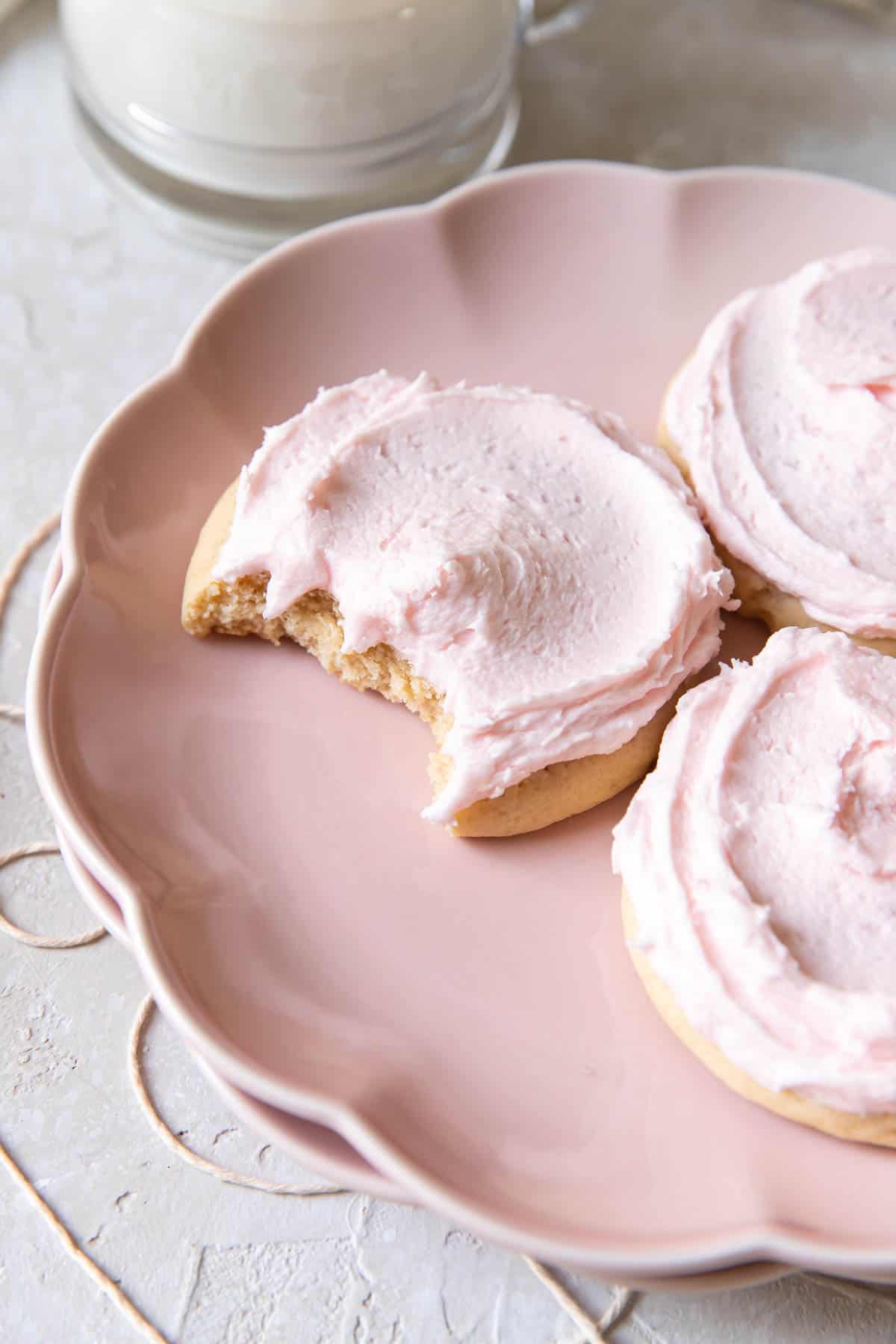 These secret recipe frosted sugar cookies are not so much of a secret anymore! I'm sharing my favorite cookie recipe with everyone today. These are often described as "the best cookie I've ever eaten" by everyone who eats them.
These sugar cookies are big, super soft in the middle and have a very very generous swirl of pink frosting on top.
They are the perfect dessert to bring to a party, make for a special occasion (think Holiday's and changing out the frosting color - see section below) or just to have for a Friday night movie night at home.
My favorite thing about these cookies is the fact that they taste like something you'd get from a fancy bakery or the store, like those lofthouse cookies. My mother in law actually said that she "could eat that frosting even without the cookie, it's soo good!".
Jump to: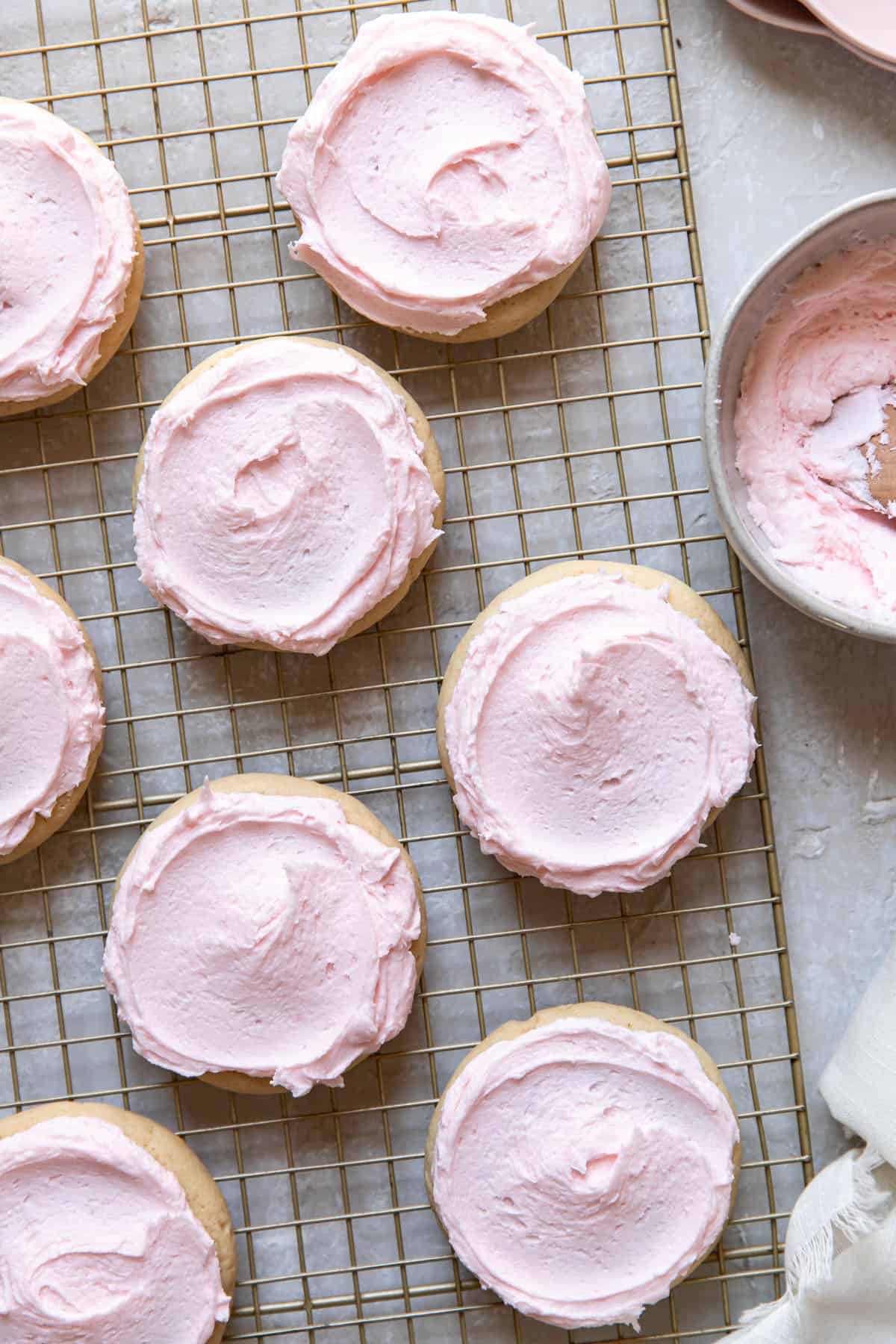 And on the subject of lofthouse cookies, which I'm a fan-ish of (I'll get to that), these are way way better. The biggest reason why is that they don't taste fake like a lofthouse cookie does, if that makes sense. Lofthouse cookies tend to have that artificial taste to them, but these frosted sugar cookies you can taste the difference in quality.
With this recipe you can make as many loft house style, cookies at home as you want and for a fraction of the cost!!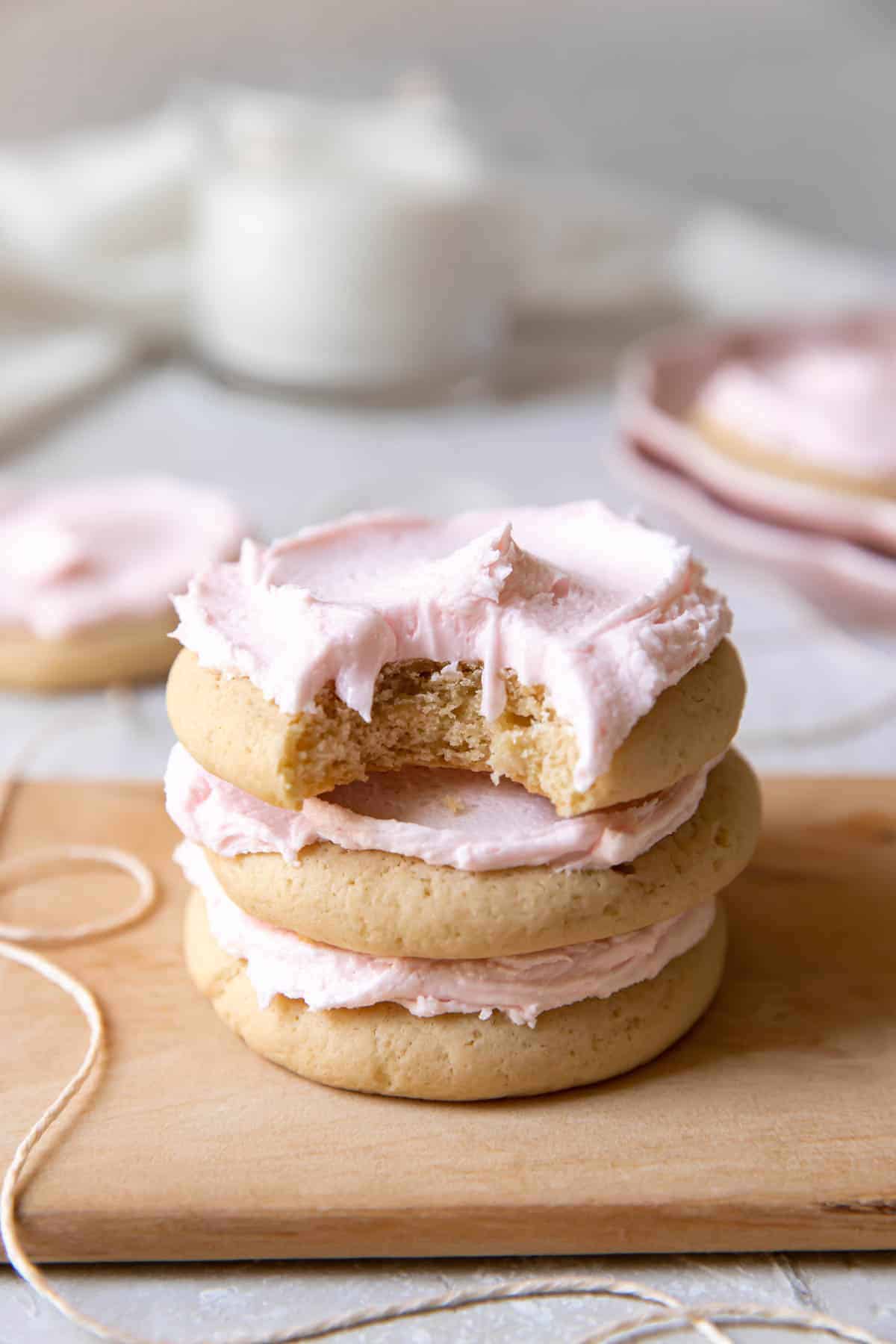 Sugar Cookie Dough
It's important to completely incorporate the cookie dough. Most cookie recipes tell you to mix just until combined and this is not that kind of recipe. You want to make sure it's totally blended and smooth.
This cookie dough is sticky and tacky looking. Don't fret though, they will not spread when you bake them! And don't be tempted to add more flour, they will be fine.
Use a 3 tbsp scoop (the size of an ice cream scoop) for the cookie dough balls. Then roll it in your hands so its a smooth ball. Grab a piece of parchment paper and a flat bottomed cup to press them down. They will puff up slightly in the oven.
Make sure to let them cool completely before frosting them.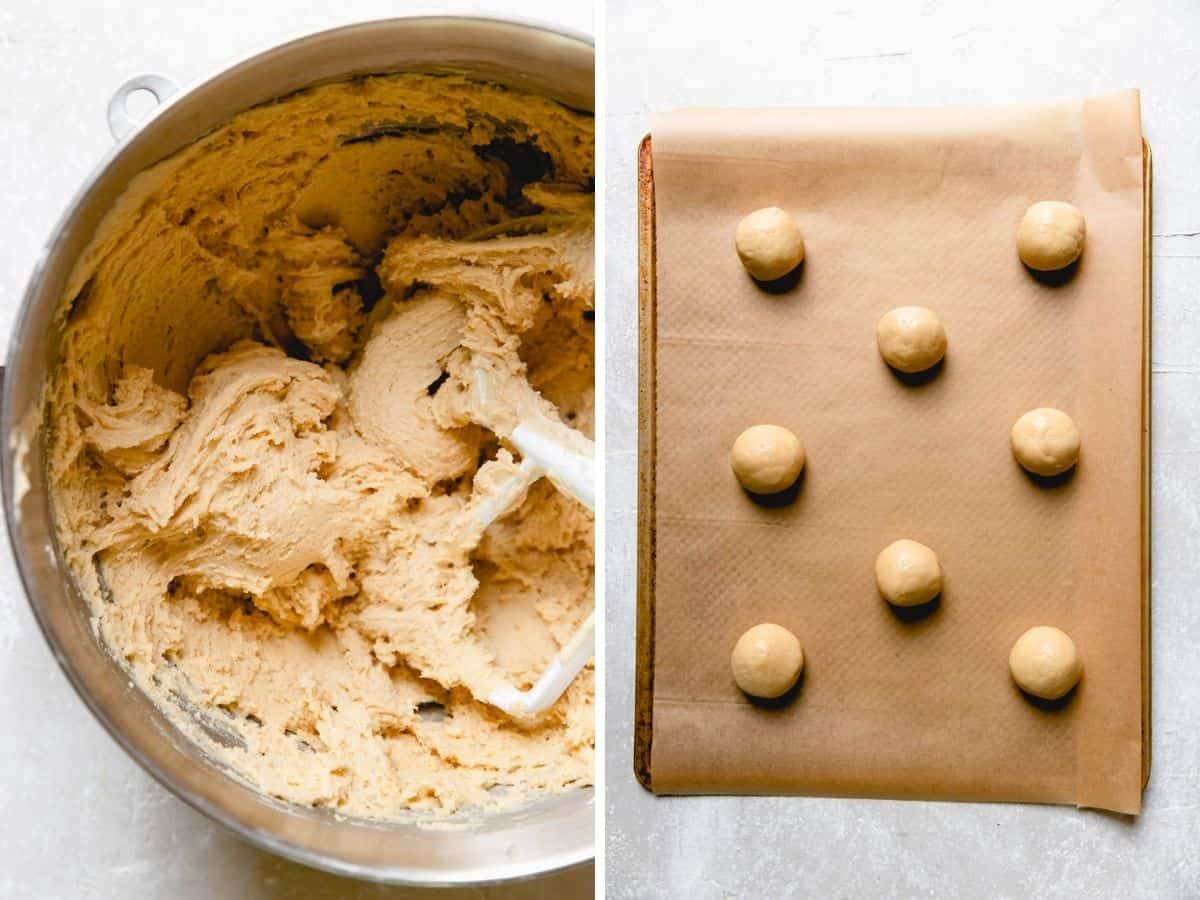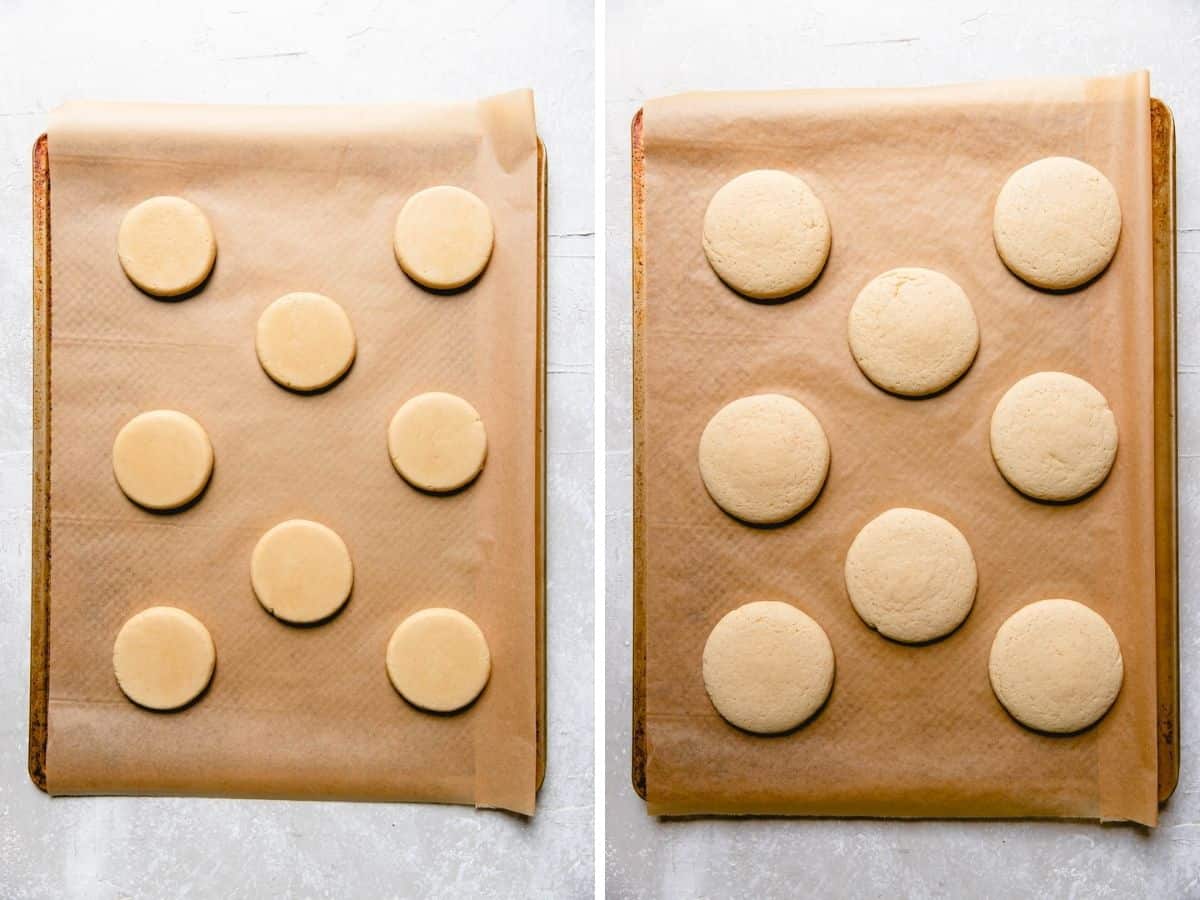 Preparing The Frosting
To get the best texture for the frosting there a few simple steps to follow.
Start with soft butter and beat it with one cup of powdered sugar at a time. Then add in the vanilla extract, salt and sour cream. Keep whipping everything together while slowly pouring in some heavy cream. Just a slow drizzle at a time.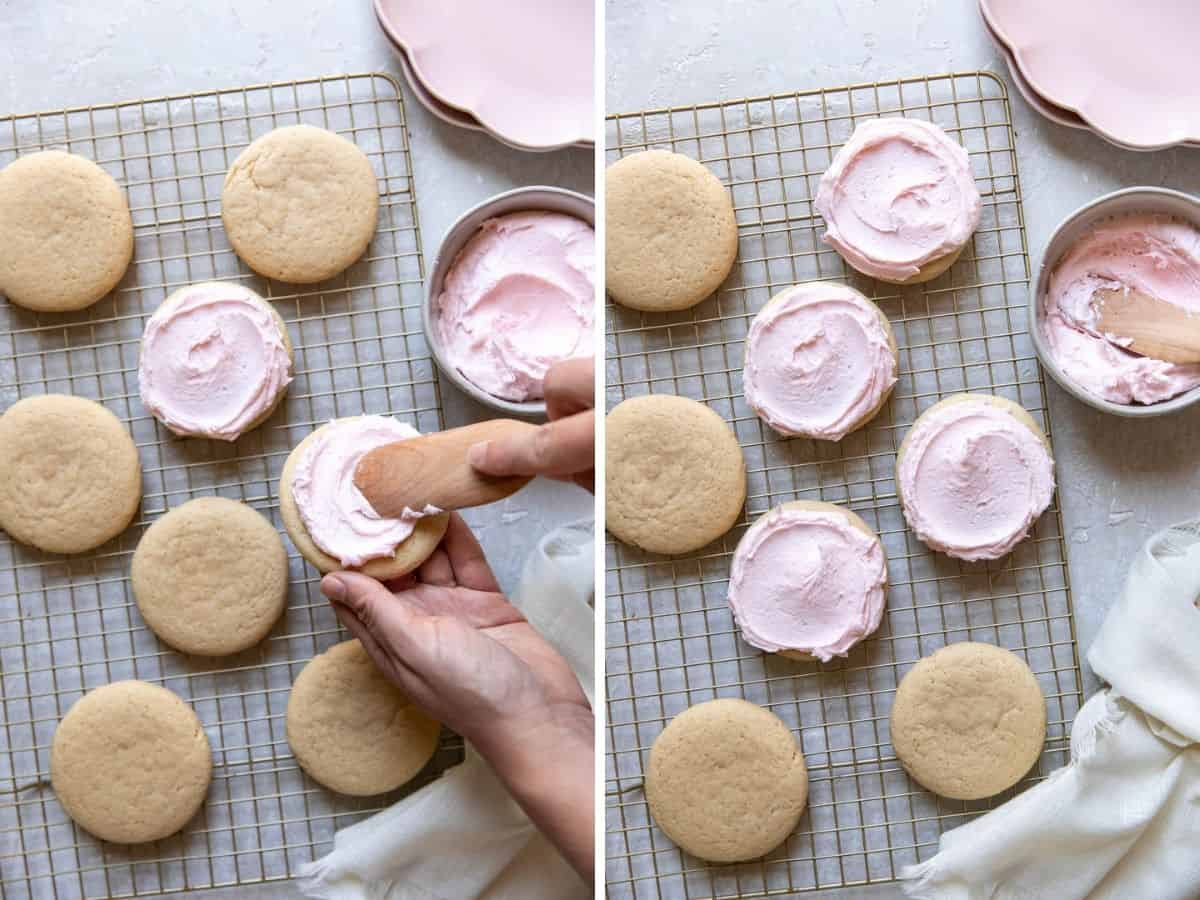 Alternatively you could use milk, which is a lot thinner, so you just need to be careful not to add too much or it will thin out real fast.
Now add a bit of food coloring. I like the gel coloring in the little pots. Take a toothpick, dip it in and swirl it through the frosting. It's better to start with just a dot, you can always add more.
Just as a tip, if you leave your frosting in the fridge, it will start to darken the longer it sits in there.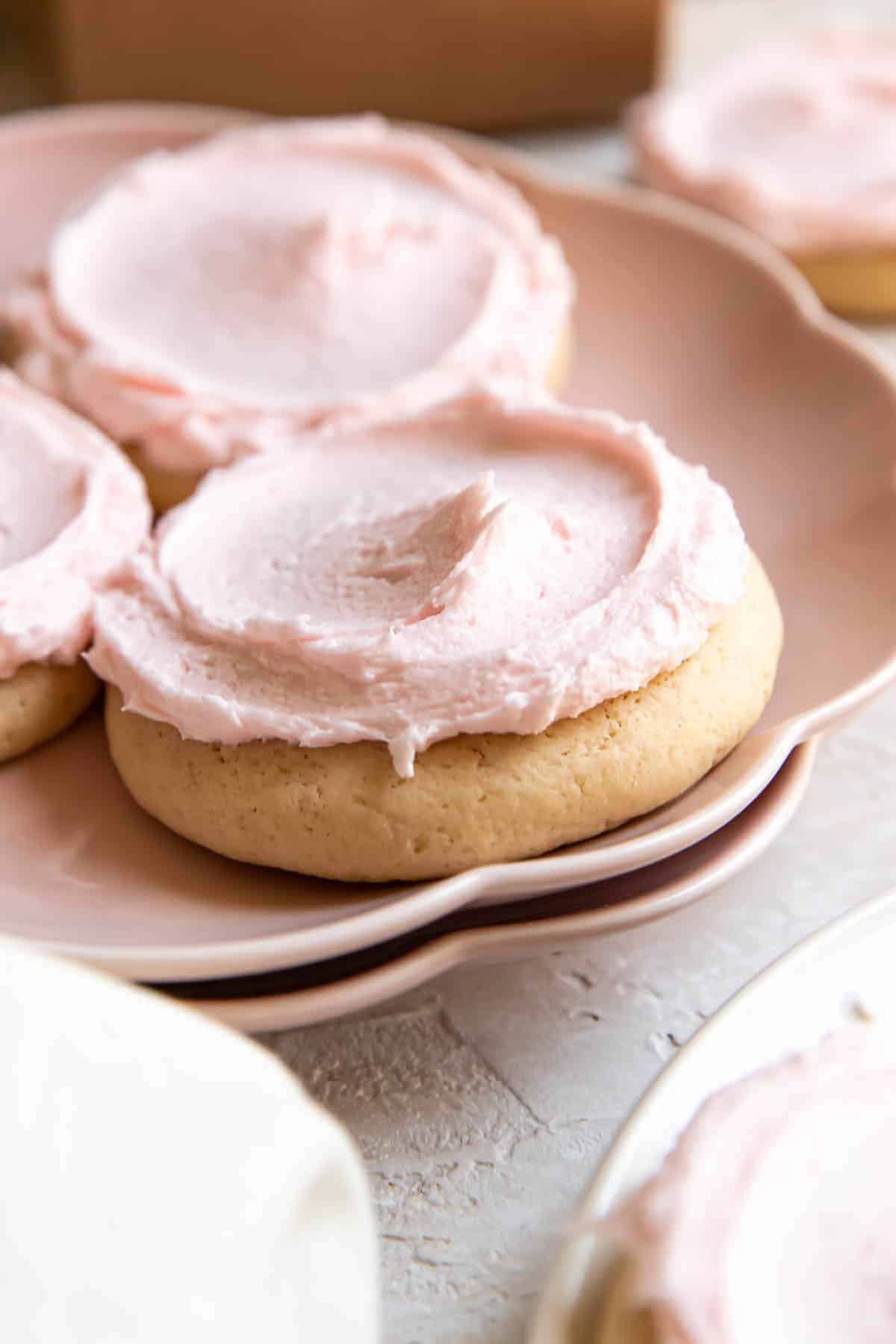 Special Occassion Cookies
It's really easy to make these cookies for any occasion! Swap out the pink frosting for another color.
Here's some great holiday themed examples! White frosting and red, white and blue sprinkles for Memorial Day and 4th of July. Red and green frosting for Christmas.
For Halloween, color the frosting different spooky shades. In the photo below you can see I used purple, green and orange to make different colored frosting. Then I used black and orange sugar sprinkles and candy googly eyes to complete the look.
These soft frosted sugar cookies are such a fun gift to give! Wrap them up in a cute little paper box with a window and hand them out to your friends. I like to tie them with some natural twine for a cute rustic look. Wait until the frosting has set on the cookie to package them.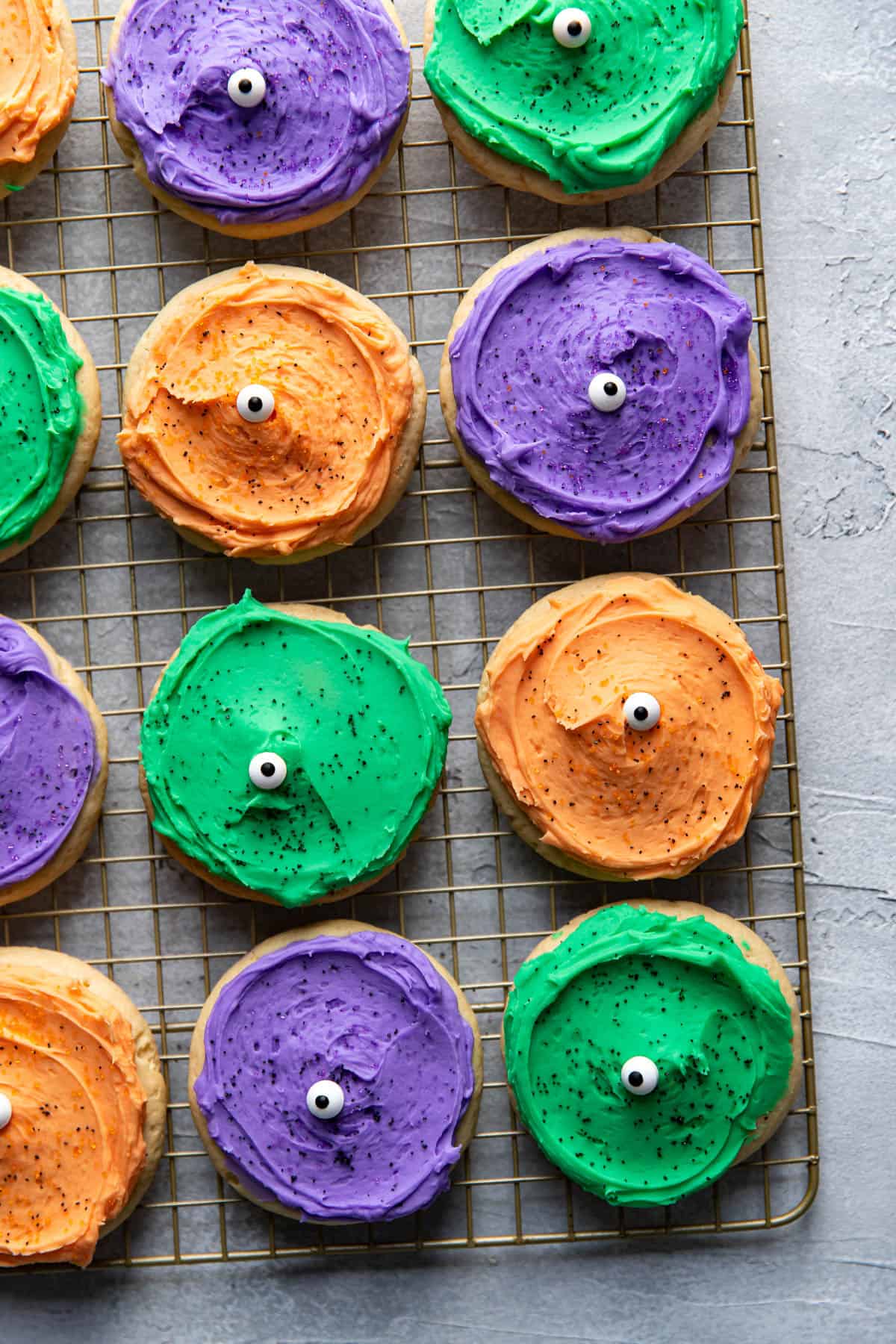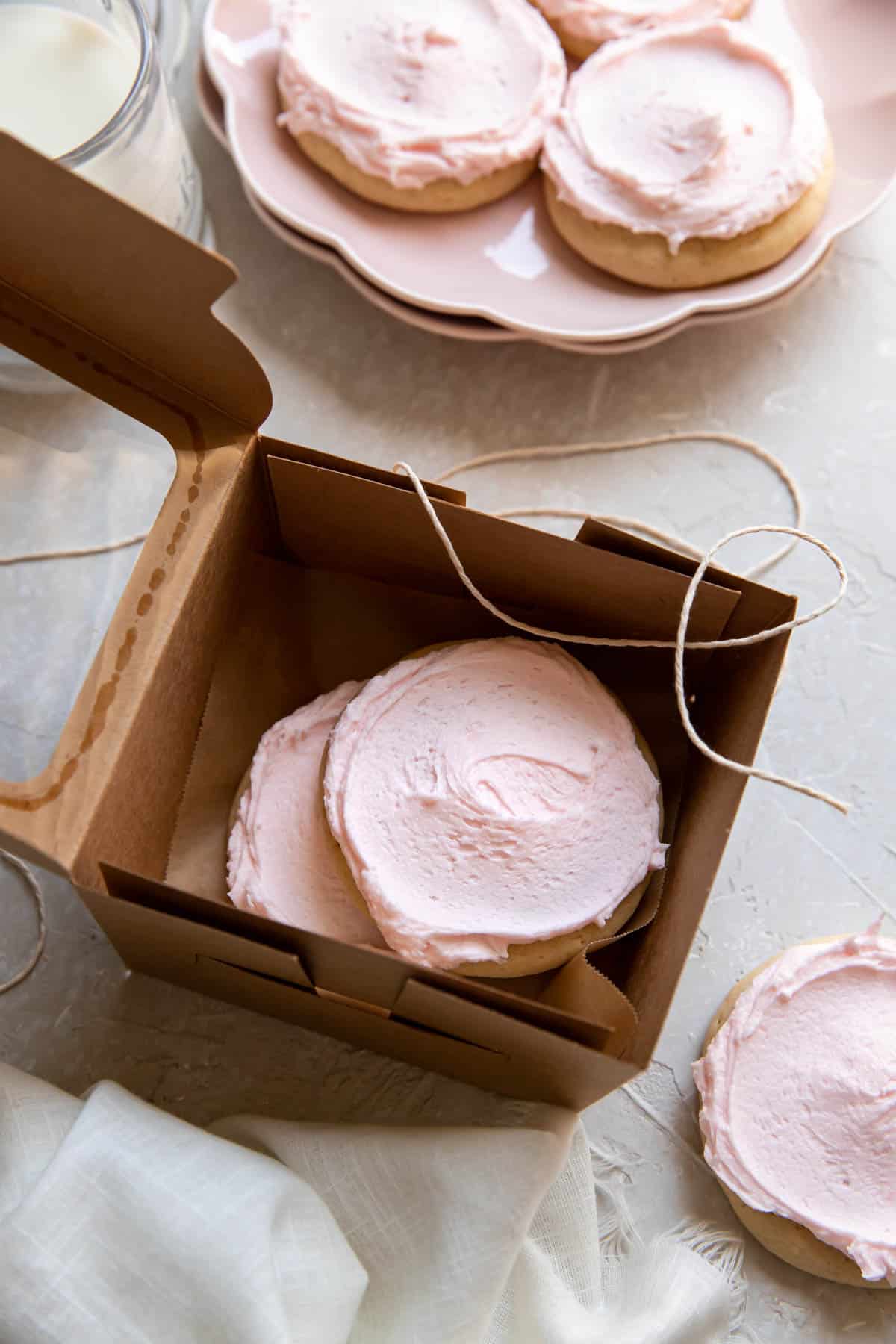 FAQ
Do you need to refrigerate these sugar cookies?
Yes! They do need to be refrigerated, do not leave them on the counter overnight. There is sour cream in the frosting and that should be chilled.
How many minutes for perfect soft sugar cookies?
9 minutes! Don't overcook these cookies, you may be tempted to leave them in for extra minutes but 9 minutes is the perfect time for super soft cookies. Slightly under baking them makes them perfect. Slightly over baking them makes them dry.
Can you tell the cookies are done by eyeing them?
No. These cookies will not be golden when done, they are a pale shade.
What if I forget to press the cookies flat before baking?
If you accidentally forget to press the cookie dough down before they bake, you can press them down after. They will look crinkled but the taste will be fine. You may also need to bake them an extra 1-2 minutes.
Why is there sour cream in the frosting?
The sour cream helps to balance out the sweetness.
Can I use a substitute for cream of tartar?
I suggest sticking to the recipe as written, changing ingredients can cause the cookies to turn out different.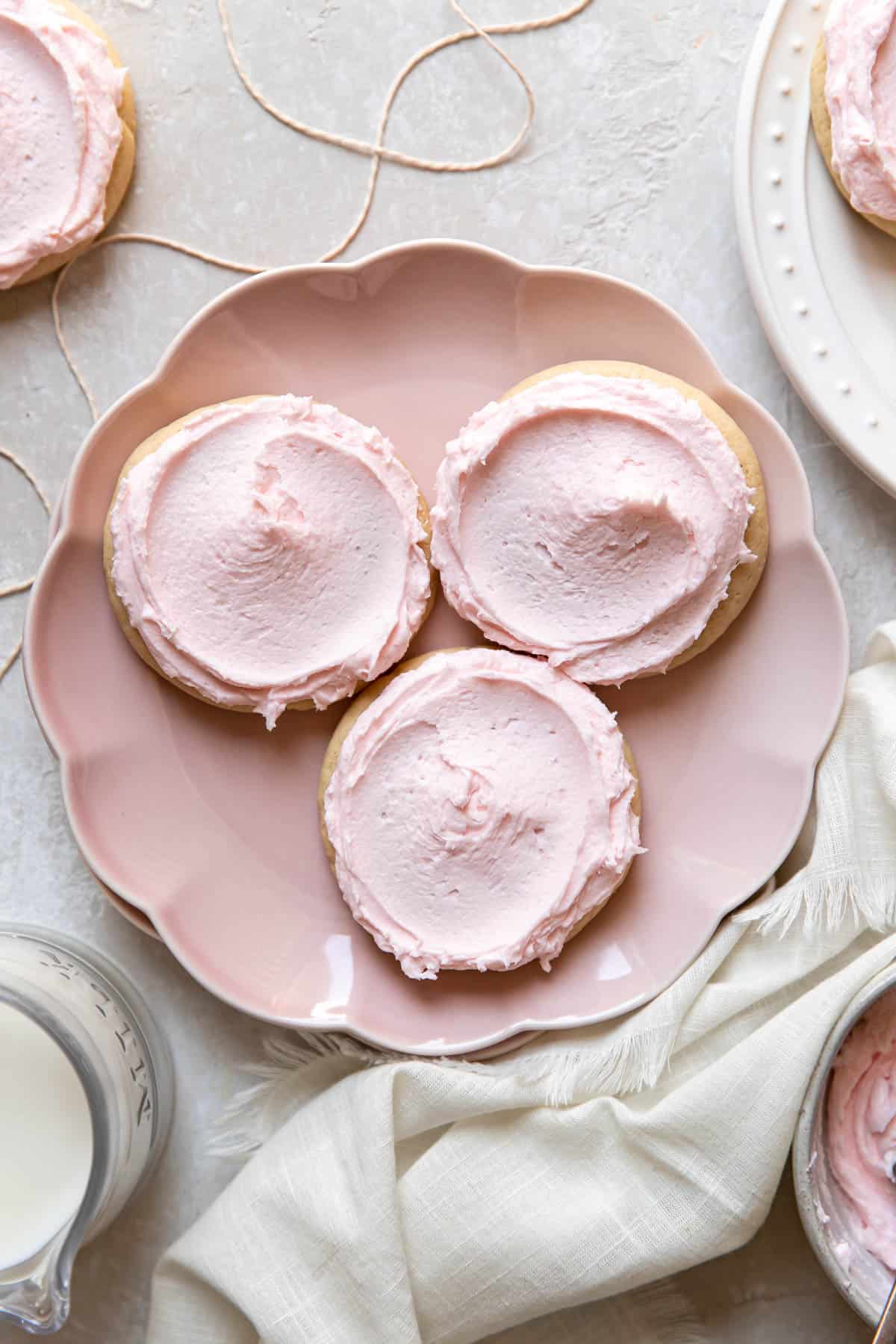 More Cookie Recipes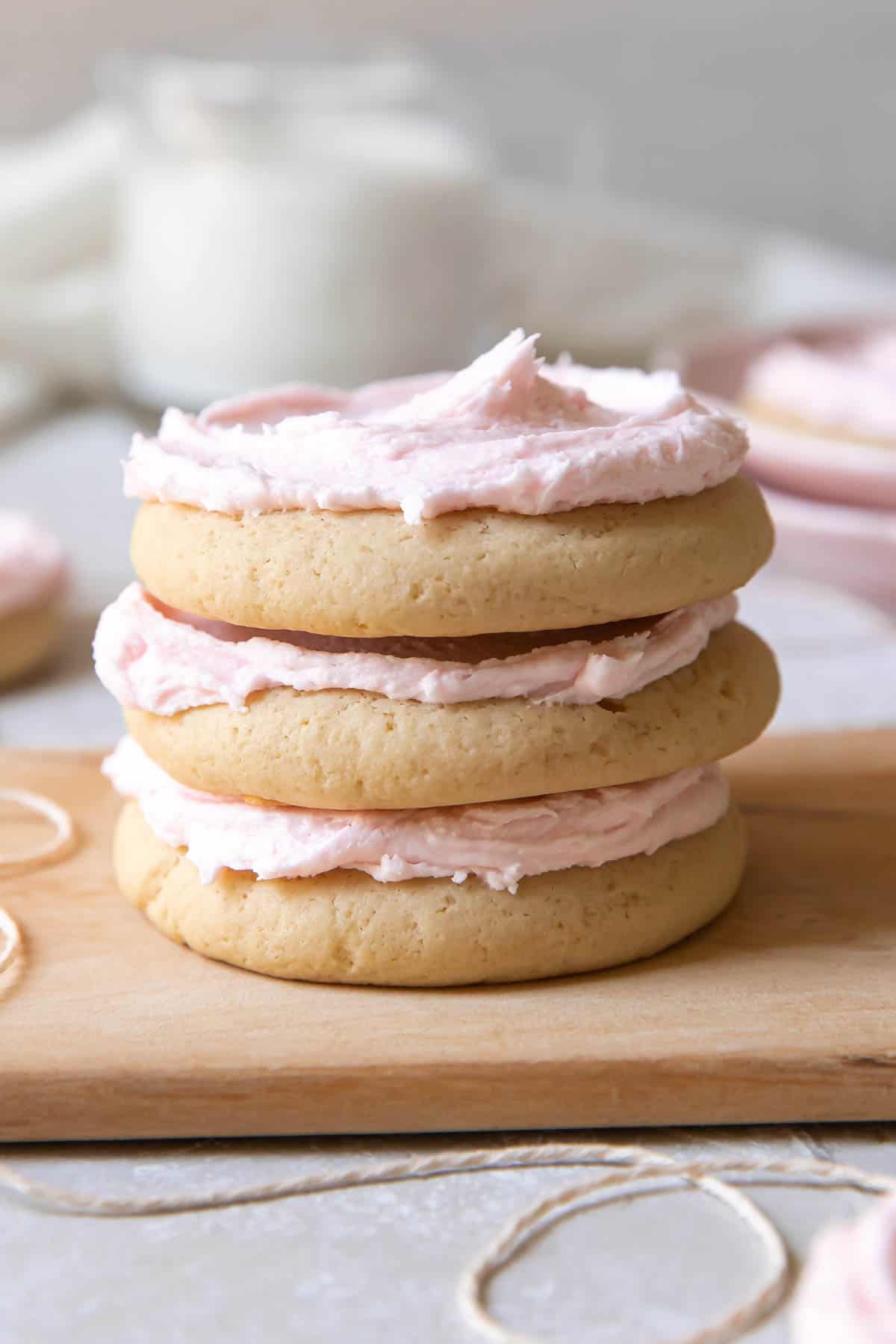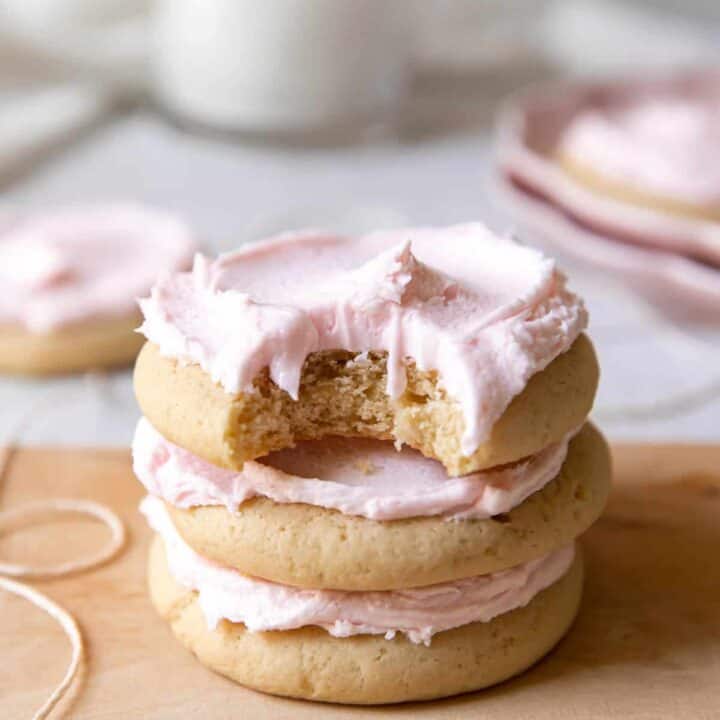 Soft Frosted Sugar Cookies
The most delicious soft frosted sugar cookies you will ever have! They are a super soft and chewy almond and vanilla flavored cookie with a fluffy thick pink frosting on top. These sugar cookies always get rave reviews from everyone who tries them and it's impossible to eat just one.
Ingredients
cookie
½ c butter
1 c powdered sugar
½ c brown sugar, packed
1 egg
1 egg yolk
⅓ c sour cream
½ tsp vanilla extract
⅛ tsp almond extract
2 ½ c flour
1 tsp cream of tartar
½ tsp salt
½ tsp baking soda
Frosting
3 cups powdered sugar
4 tbsp butter, soft
2 tbsp sour cream
Pinch of salt
¼ tsp vanilla extract
Splash of milk or heavy cream
Pink food coloring
Instructions
Preheat oven to 350
In a stand mixer cream together the butter, powdered sugar and brown sugar
Mix in the egg and egg yolk, stirring until combined
Stir in the sour cream, vanilla extract and almond extract
In a separate bowl sift together the flour, cream of tartar, salt and baking soda
Stir the dry ingredients into the wet ingredients, until the dough is completely mixed together
Chill the dough for 15 minutes in the fridge
Line a baking sheet with parchment paper
Use a 3 tbsp cookie scoop for the cookie dough, roll the dough into a ball and space them 2" apart on the baking sheet
Use a flat bottom glass and a small piece of parchment to press down on the cookies to flatten them (see photos)
Bake for 9 minutes
While the cookies bake, make the frosting
Beat together the butter, sour cream and powdered sugar, adding a cup of powdered sugar at a time
Little by little, add in a splash of milk or heavy cream (see notes), be careful not to add too much you are trying to get a thick frosting not a thin one, continue to beat this for 2-3 minutes
To the frosting add in the pink food color and a pinch of salt and the vanilla
Pull the cookies from the oven and transfer to a wire baking sheet, let these cool completely
Once the cookies are cool get a big scoop of frosting and spread it all over the cookies
To store, keep these cookies refrigerated since they have dairy in the frosting
Notes
Heavy cream seems to give the frosting a heftier and thick texture
Be cautious not to over beat the frosting, it will go from fluffy to flat if you over mix (5 minutes or less is adequate)
Adding food coloring is optional - you only need a small amount for the light pink color
*Upon more testing I've decreased the flour in this recipe by ¼ cup less (02/12/2022)
Recommended Products
As an Amazon Associate and member of other affiliate programs, I earn from qualifying purchases.
Nutrition Information:
Yield:

16
Serving Size:

1
Amount Per Serving:
Calories:

312
Total Fat:

11g
Saturated Fat:

7g
Trans Fat:

0g
Unsaturated Fat:

4g
Cholesterol:

52mg
Sodium:

199mg
Carbohydrates:

50g
Fiber:

1g
Sugar:

33g
Protein:

3g
This information comes from online calculators. Although moderncrumb.com attempts to provide accurate nutritional information, these figures are only estimates.