These soft pretzels are extra fluffy, delicious and stuffed with cheese! Instead of preparing something to dip pretzels in, it's baked inside. Filled with cream cheese, extra sharp cheddar, parmesan and garlic.
This recipe was first published on February 4, 2019.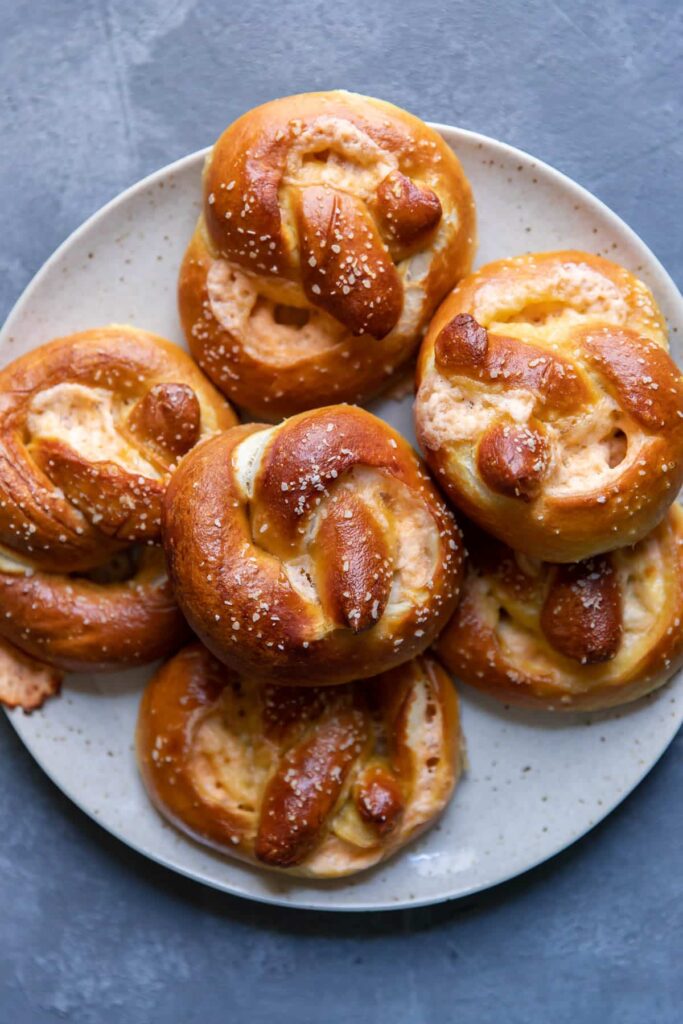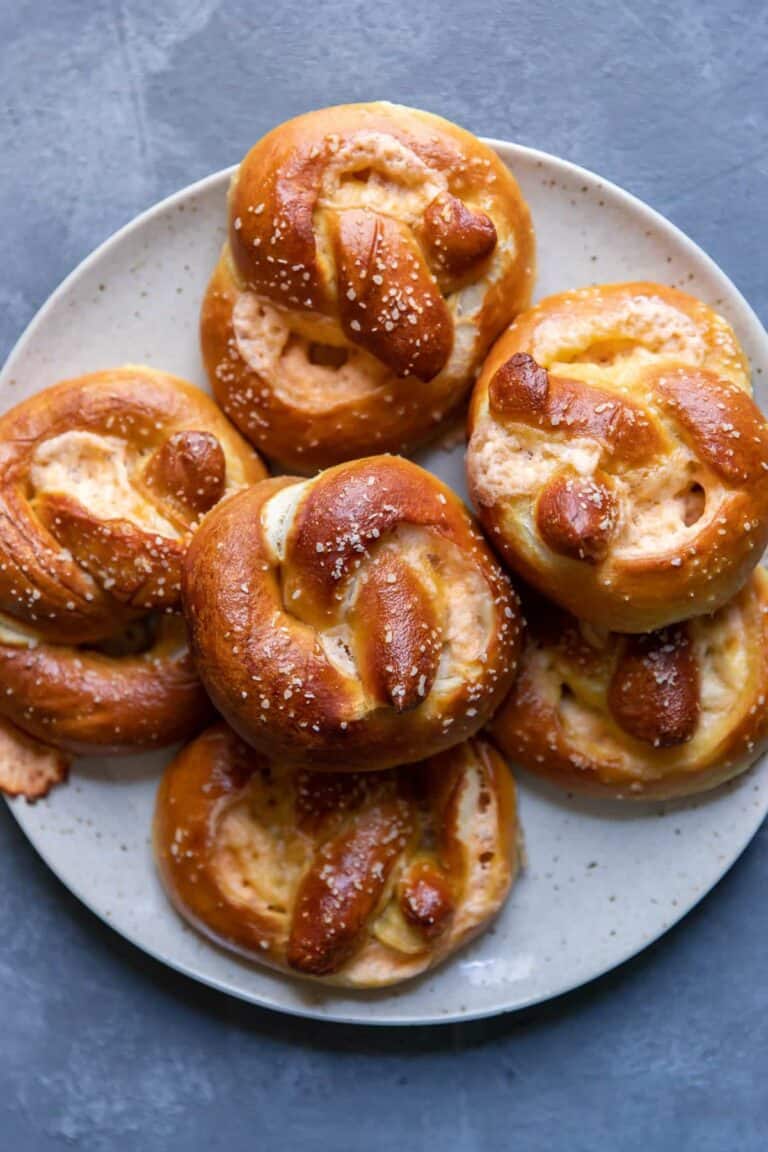 That title got you, huh? Just when I think I've made the most amazing thing ever, another one comes along!
I can't even tell you how many of these I ate (half the batch). Soft pretzels stuffed with cream cheese, extra sharp cheddar and garlic.
I'm going to go ahead and say that it was purely for research and development purposes. After much research I can report that they are insanely delicious.
Have you ever dipped a pretzel into cream cheese? When I was growing up, that was a thing!
The hot pretzel getting a big glob of cold silky smooth cream cheese.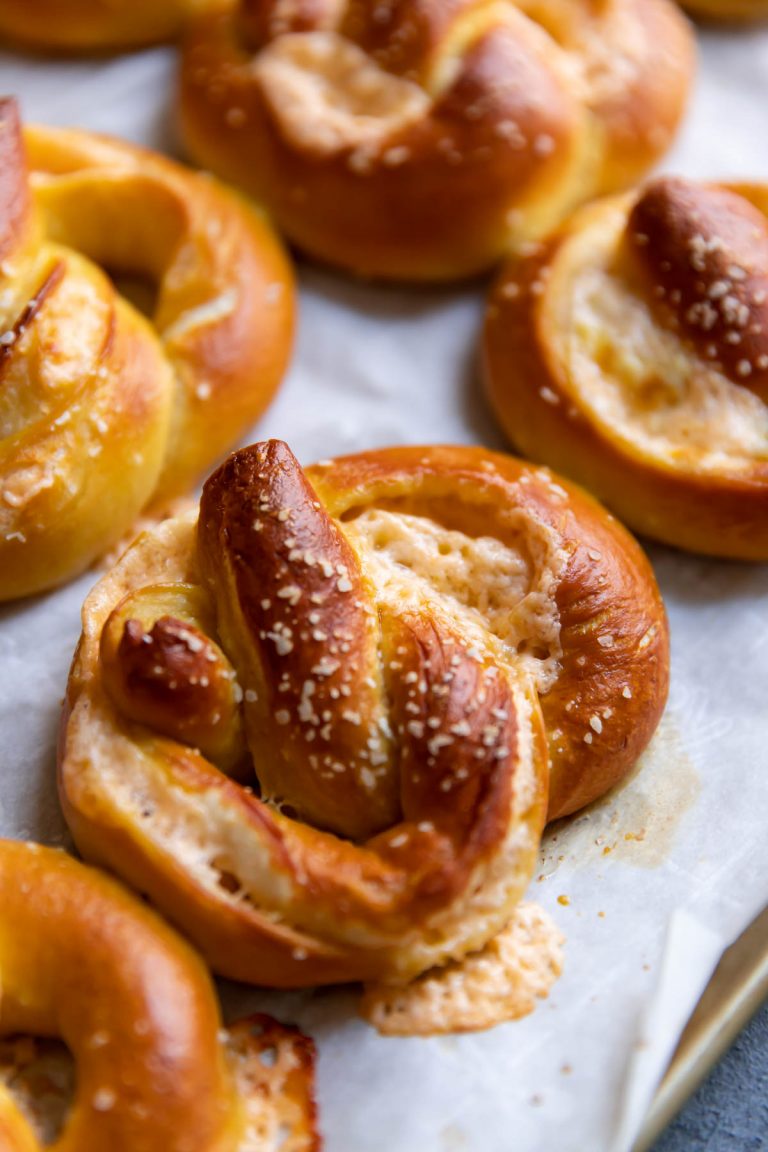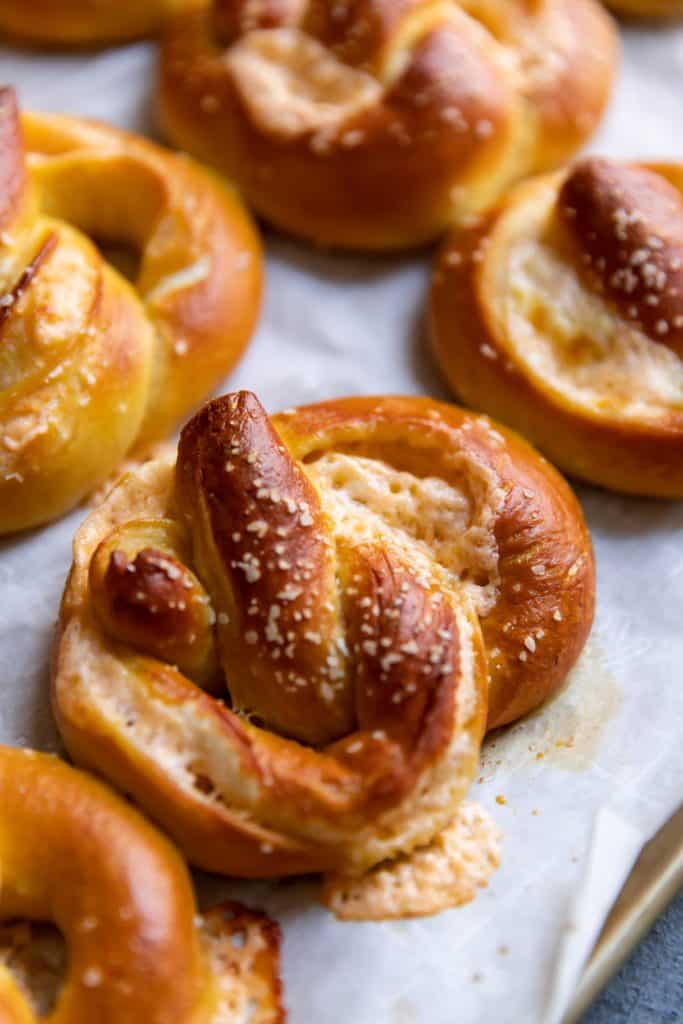 It was heaven. My kids love to eat their pretzels the same way.
Do you remember my pretzels balls and beer cheese from a bit ago?
This recipe is loosely based off a cheeseball my sister-in-law makes for the holidays. The cheddar cheese and cream cheese combined together, it was such a treat!
So naturally I decided to stuff a pretzels with it, and some fresh garlic.
Soft Pretzel Dough
Getting the pretzel dough right is the most important step!
It starts with proofing warm water and active instant dry yeast together until foamy (this means it worked). If it doesn't get foamy, start over, it didn't activate right.
Then you'll need to mix it together with the dry ingredients, flour, sugar and salt.
It's best to use a dough hook for this, if you don't have a stand mixer you'll be using your hands.
At first the dough will look a bit rough, but after kneading on low for 5 minutes it will be very smooth.
Use your hands to roll it into a tight ball and put it back into the bowl. Cover and rise for 45 minutes in a warm spot in your kitchen.
Tips For Making Stuffed Pretzels
To drain any excess water, you can blot the bottom of your slotted spoon on a paper towel before transferring the pretzel to parchment paper.
If you wind up with too much water on your paper you can always rip off a new sheet and transfer them to it before baking.
That way they won't be moist on the bottom.
Which is a great tip, if you have really wet pretzels on the bottom after baking, there was probably too much water from the baking soda bath when you put them in the oven.
To successfully stuff the pretzels here's some guided instruction with photos.
How To Stuff Soft Pretzels
I stretched my dough out to the length of my rolling pin, about 14", then took the rolling pin and rolled it length wise.
This flattens it out and gives you enough space to add the cream cheese, cheddar cheese and parmesan filling.
You don't need to slather on a ton, a line of cheese is perfect.
You don't want the filling to completely gush out and I'm happy to report my filling stayed snugly inside the pretzel.
To close up the pretzel, harness your inner cinnamon roll making skills, bring one end over to the other and pinch it closed, same with the ends, pinch those closed.
After it's all closed up, flour your thumbs (only if your dough is sticky, you can wet your hands if your dough is on the dry side) and in an upward swiping motion pull that pinched edge up off the counter.
Now you can sprinkle a tiny bit more flour on the pretzel or on your hands (if needed) but you'll want to use your palms to roll the dough back and forth, this will fully seal up that seem you made.
Next you just form it into a pretzel! I like to take the two ends and twirl them around each other, then bring them back over the body of the pretzel, pressing them down.
I will say the shorter your dough piece, the fatter the pretzel, and I think that looks so fun with a stuffed pretzel.
The Baking Soda Bath
The baking soda bath is an important part of pretzel making!
You want the water to be at a low boil and don't skimp on the baking soda.
There are two methods you can follow.
Dunk the pretzels face up for 15 seconds and use a spoon to splash water on the top. Or put them in the baking soda bath face down then turn them.
Now removing them can get tricky! Especially if you don't have the fancy tools to do it. You can use a large slotted spoon and a regular spoon to help guide it out.
Line them up on a baking sheet and brush on the egg wash, followed by some kosher salt. Bake and they are done!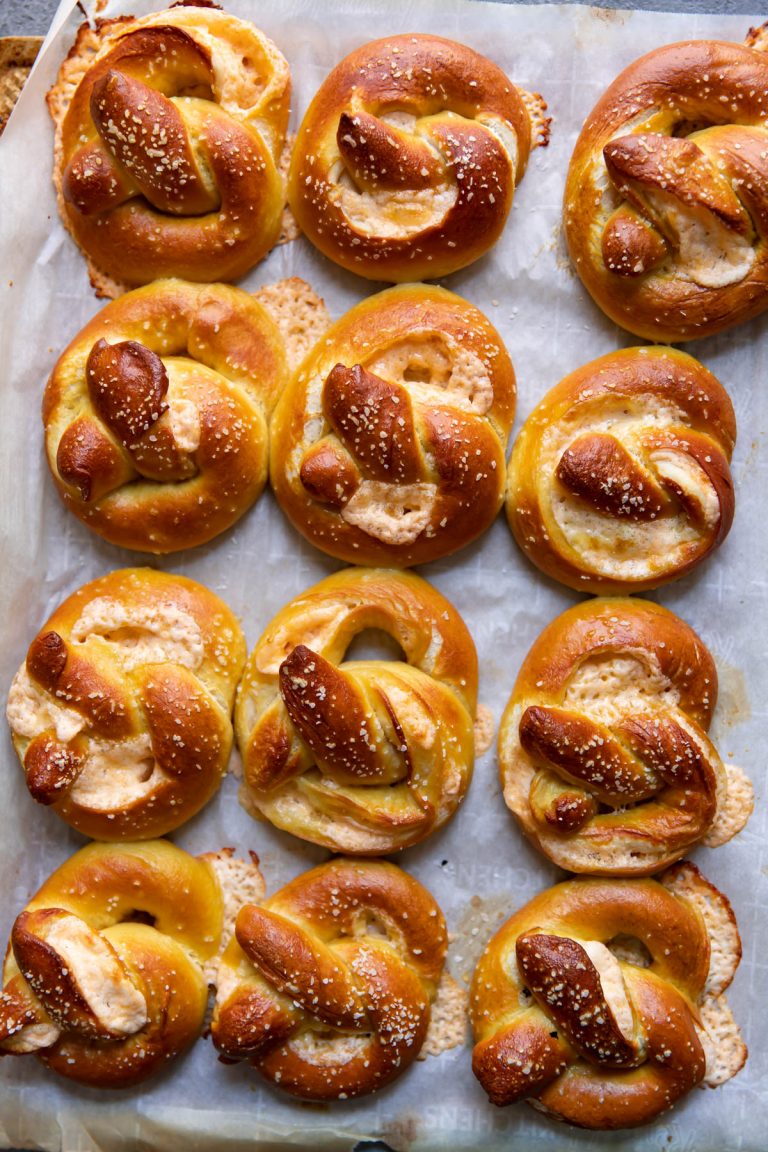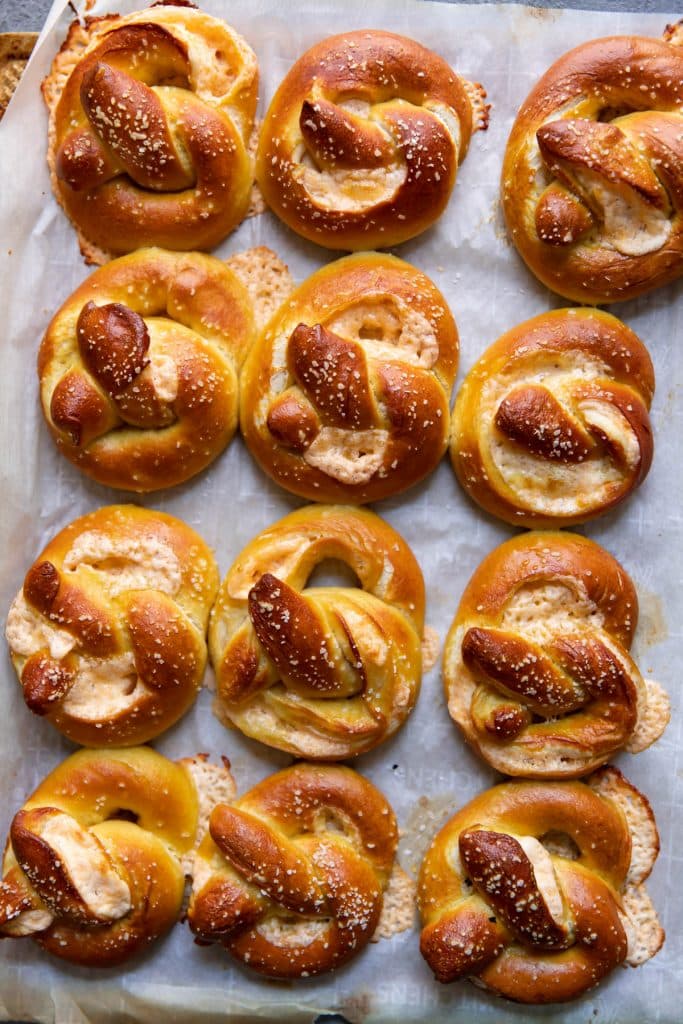 More Baked Goods Recipes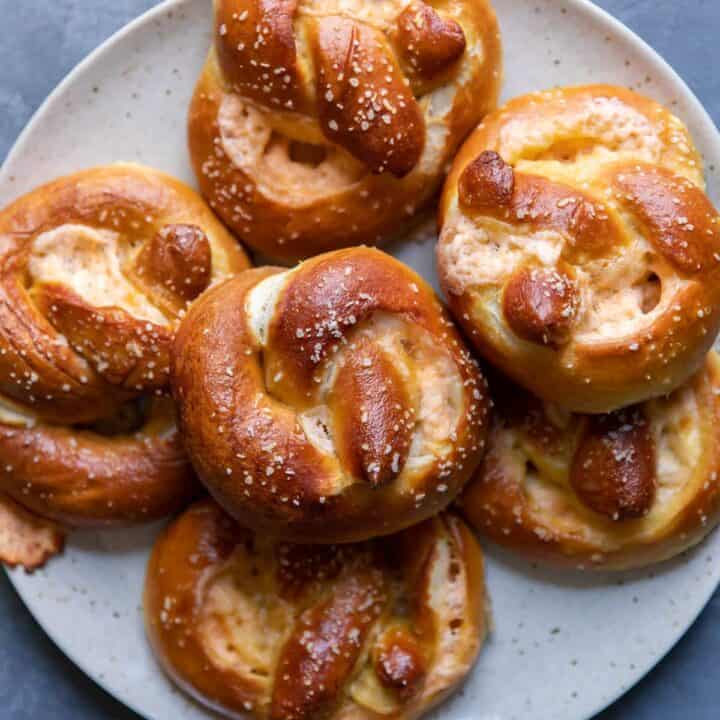 Three Cheese Stuffed Soft Pretzels
Total Time:
3 hours
15 minutes
These soft pretzels are extra fluffy, delicious and stuffed with cheese! Instead of preparing something to dip pretzels in, it's baked inside. Filled with cream cheese, extra sharp cheddar, parmesan and garlic.
Ingredients
1 ½ c water
1 tbsp yeast + a pinch of sugar
4 c flour
2 ½ tsp salt
1 tbsp sugar
3 tbsp butter, melted
3 c water
⅓ c baking soda
1 egg yolk + 1 tbsp water, for the egg wash
course salt, plus more if needed
8 oz cream cheese, room temperature
4 oz extra sharp cheddar
2 garlic cloves, minced
1 oz parmigiano reggiano
Instructions
Heat 1 ½ cups water in the microwave for about 1 minute, the water should be very warm but not burn your finger. Add the yeast and sprinkle a pinch of sugar on top, let sit 5 minutes, the yeast should get foamy
Mix together the flour, salt and sugar in the bowl of a stand mixer
Pour in the proofed yeast mixture and the melted butter
Knead for 5 minutes on a low speed
Remove the dough and shape it into a ball
Set the dough back in the bowl, cover and let rise for 45 minutes
tip: I turn my oven on for a few minutes, then turn it off, and set my covered bowl in the oven, it's the perfect amount of warmth!
Mix together the cream cheese, cheddar, parmigiano and minced garlic
After the dough has rested cut 12 equal pieces, one by one form them into a 14" strand
Use a rolling pin to flatten the dough, lengthwise then roll it out a bit widthwise
Spread a thin line of cheese mixture on the dough
Press the edges of the dough together to seal in the filling
Use your hands to roll the strand back and forth to fully seal it up
Shape into a pretzel by twisting the two ends around each other then bringing it back down over the body of the pretzel
Line a baking sheet with parchment paper and preheat the oven to 425 degrees
Bring 3 cups of water and ⅓ cup baking soda to a low boil
Dip each pretzel in the water for 20 seconds, drain excess water after each pretzel
Put the pretzels on the parchment paper lined baking sheet
Brush the pretzels with the egg wash and sprinkle with course salt
Bake until the top starts to turn golden brown, which can vary per oven, around 13-15 minutes
Nutrition Information:
Yield:

12
Serving Size:

1 pretzel
Amount Per Serving:
Calories:

311
Total Fat:

15g
Saturated Fat:

8g
Trans Fat:

0g
Unsaturated Fat:

5g
Cholesterol:

69mg
Sodium:

2392mg
Carbohydrates:

35g
Fiber:

1g
Sugar:

2g
Protein:

10g
This information comes from online calculators. Although moderncrumb.com attempts to provide accurate nutritional information, these figures are only estimates.