Super fluffy, buttery, salty and insanely delicious.  Say goodbye to the baking soda bath and all that extra work, we won't be using that method for these soft pretzels without baking soda!
Homemade baked soft pretzels are on the agenda today and I've got a recipe for you that won't disappoint.
This recipe was first published on 09/06/2018.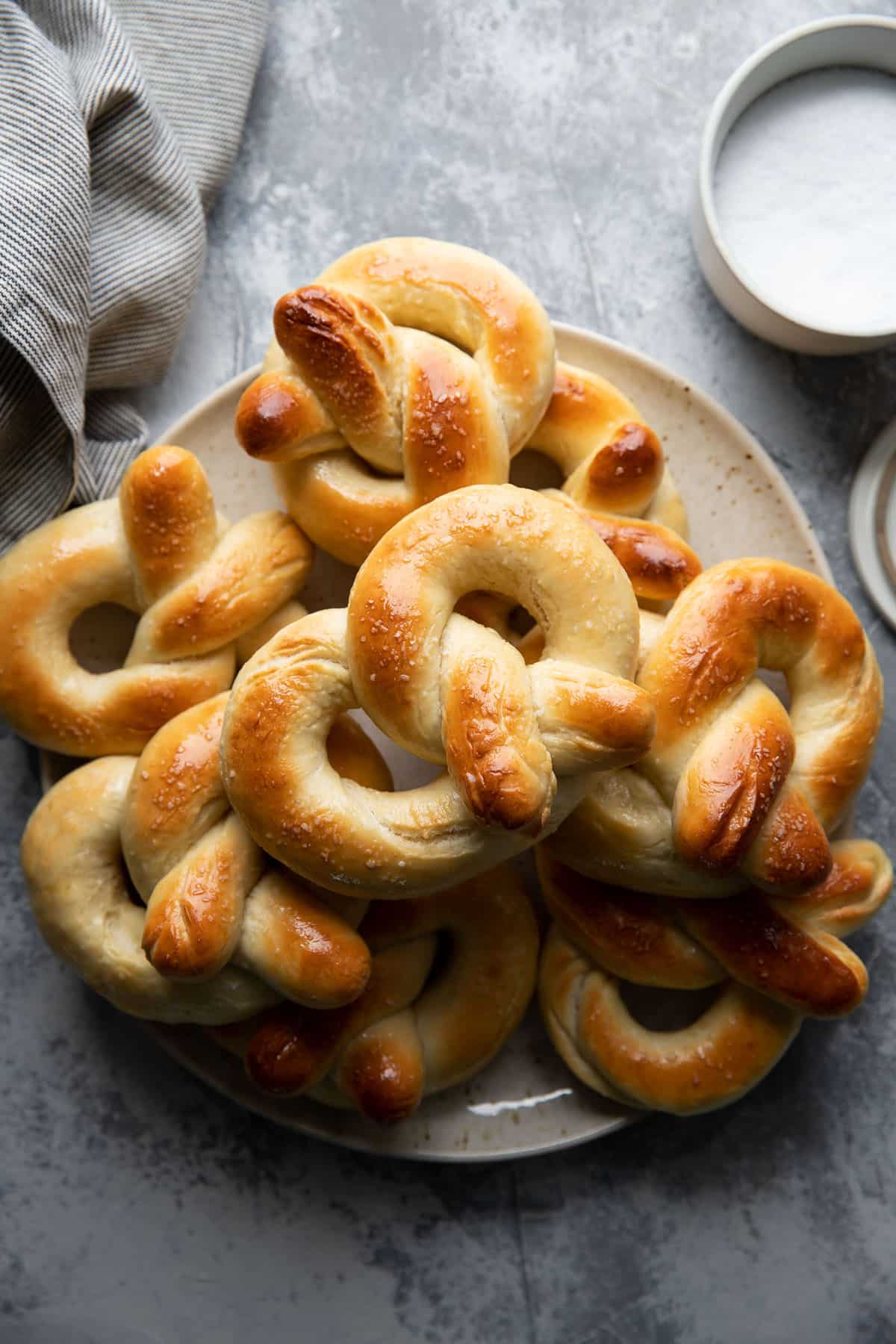 This recipe for soft pretzels without the baking soda is my absolute favorite way to make pretzels! Truth be told, you don't 'need' to dip them in a baking soda bath, see all that gorgeous golden sheen in my photos?
100% made by a quick trip under the broiler and a brushing of melted butter.
I've been making soft pretzels since I was kid, so you could say I'm sort of an old pro by now. 
Jump to:
Every time I make soft pretzels I get my kids involved and let them roll and shape the pretzels. But the most important job of all, the official pretzel taste tester, they do that job quite well.
They key to a great soft pretzel is extra butter. Butter makes everything better. Plus there's always all the yummy pretzels dippings.
My son loves to dip his soft pretzels in cream cheese, so delicious. 
It's actually a whole family thing, we all do it, we're all guilty of being cream cheese pretzel dippers.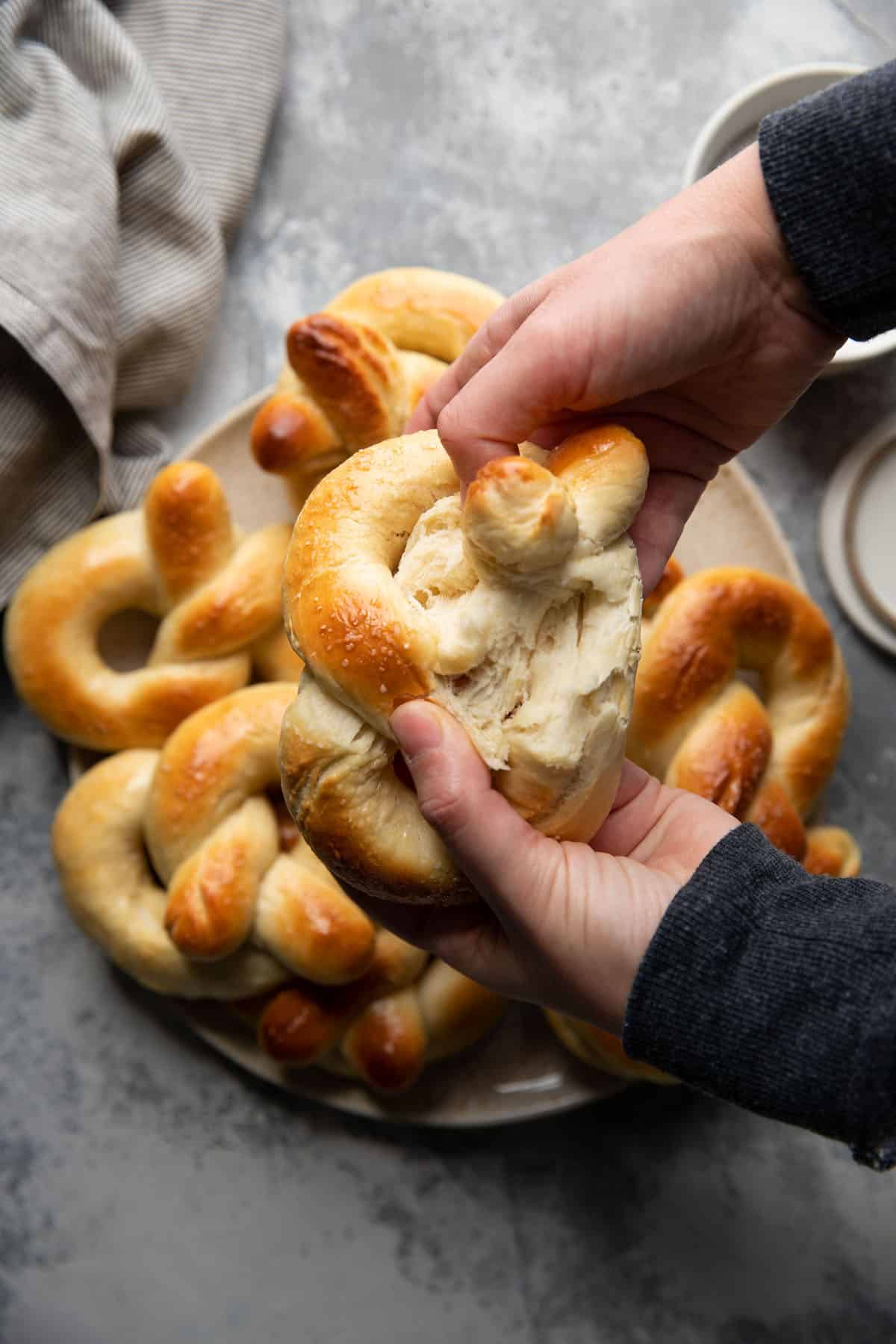 What Reviewers Are Saying
"An absolute hit here. Thanks I was so happy to find this great recipe."
"Oh my gosh these are amazing! I was trying the recipe out to make for a bunch of teenage boys tonight and my husband and I ate 6 of them! They will be a huge hit with the boys tonight. Thank you so much!"
"We skipped the salt on top and added cinnamon sugar on top instead and rolled chocolate chips rolled into the dough for some which turned out fabulous. This recipe is great!"
"This recipe is super easy to make and my pretzels turned out wonderfully delicious!!?"
"They turned out AWESOME! Yum! Thanks for sharing your recipe!"
"Such an easy and yummy recipe! I made pigs in a blanket with the dough and they turned out perfect. 4 happy boys devoured all of them."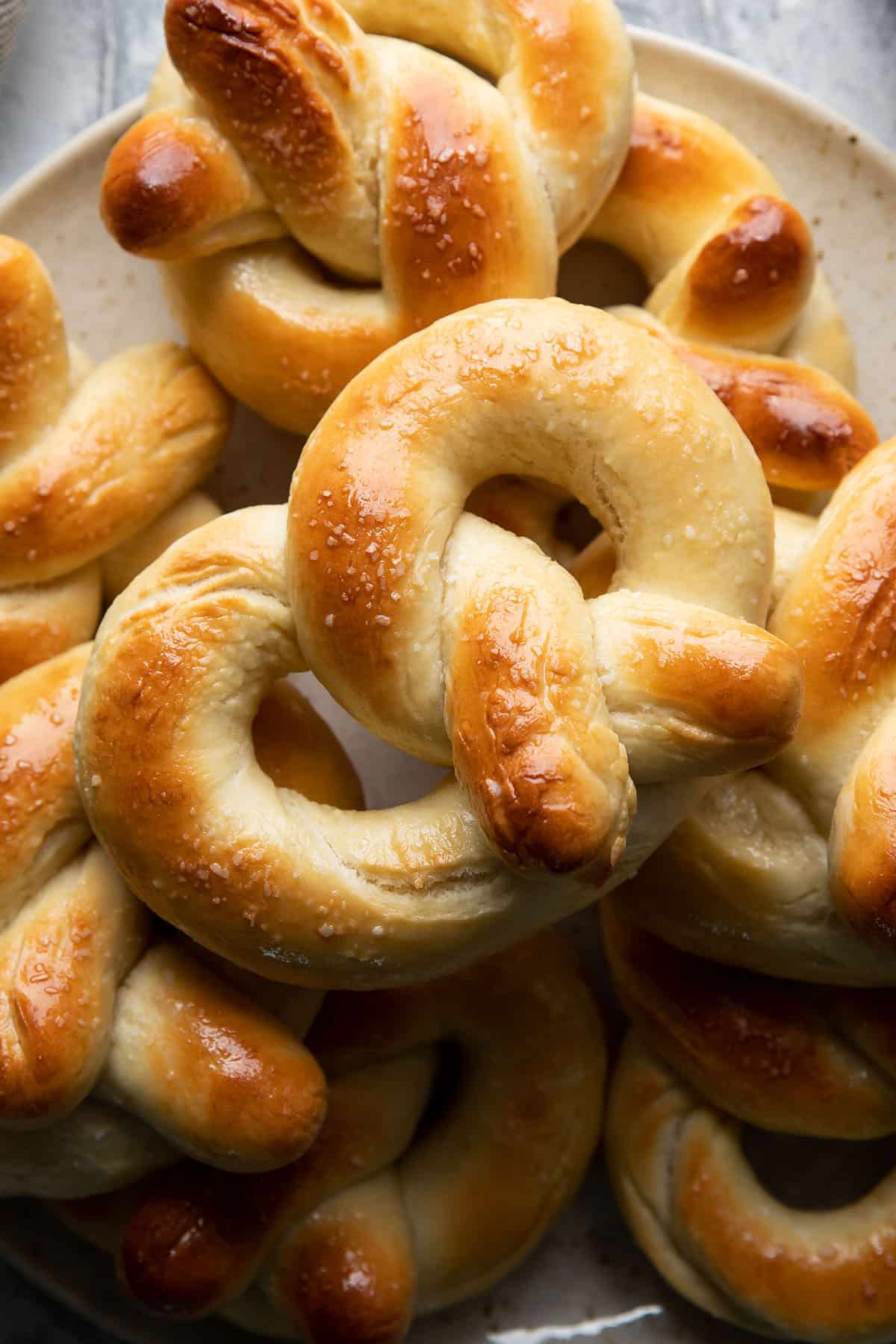 How To Form A Soft Pretzel
Here's a little step by step on how to form a soft pretzel.
(1) Start with a small piece of dough cut off from your large piece (I cut mine in to 8 even pieces from the original dough ball).
(2) Use the palms of your hands to roll the dough in to a long rope. The longer the rope, the larger but thinner pretzel. The shorter the rope, the smaller but fatter pretzel.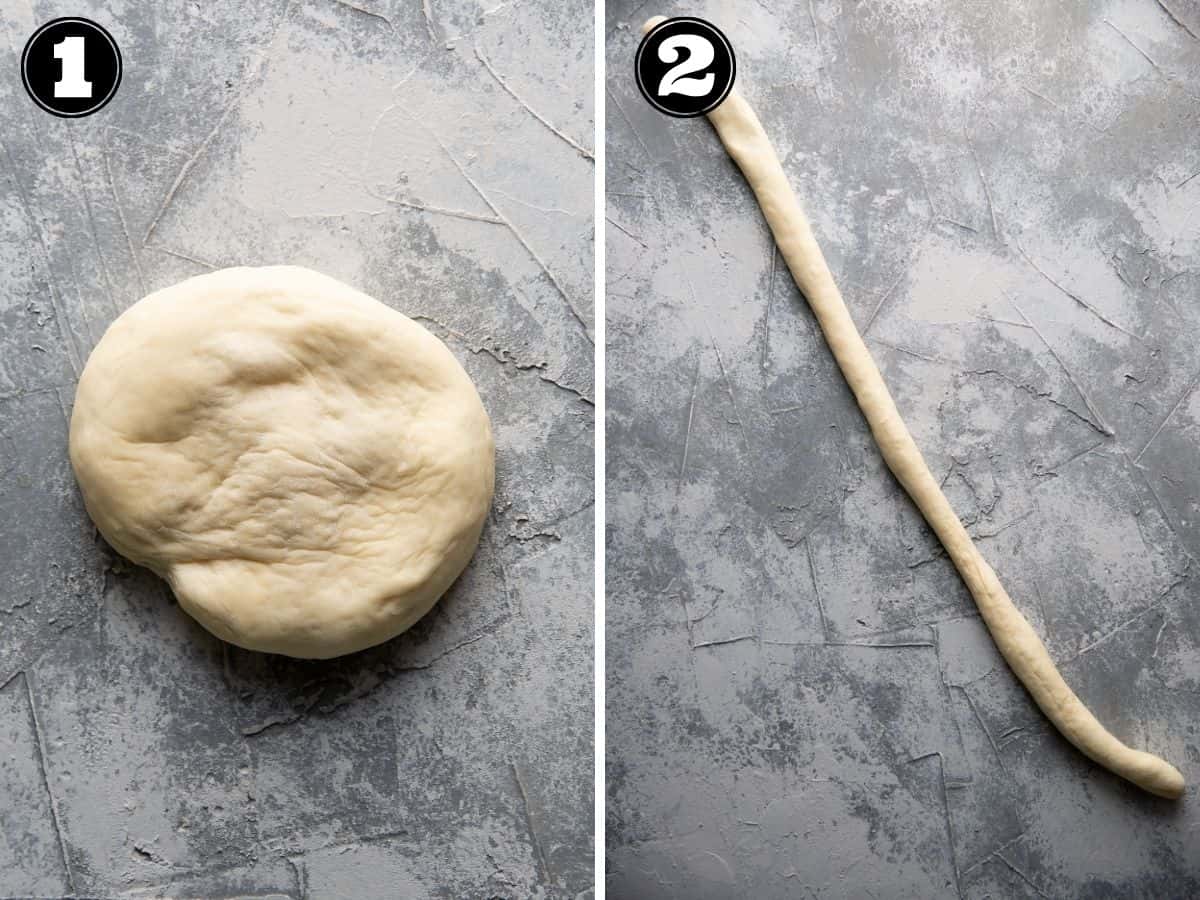 (3) Take the two end pieces and bring them together, away from you. Twist the two pieces together, like in the picture.
(4) Take the twisted ends and bring them toward you, so the ends slightly overlap the bottom.
Note. Don't dust flour on your counter while rolling out the dough into ropes unless your dough is super sticky, if your dough is a little on the dry side you can wet the palms of your hands to gain traction.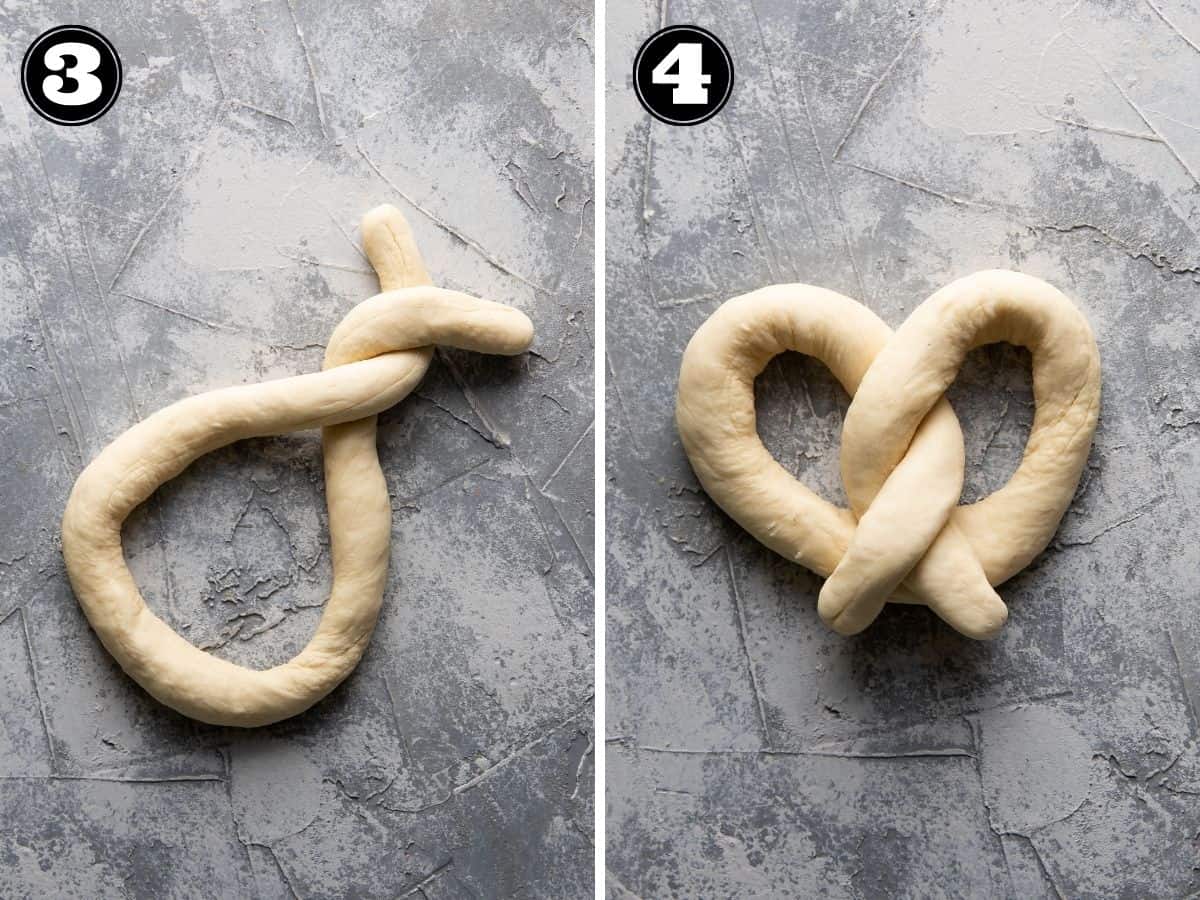 How long do the soft pretzels take to make?
They take about an hour from start to finish.
Which is all I can muster to wait when that buttery, salty, soft pretzel craving strikes!
Soft pretzels don't have to take all day.
These are a quick prep and a quick bake, since we're leaving out the baking soda bath it knocks off a lot of the normal pretzel making time. Because when you did the pretzels into the baking soda it adds quite a bit of time to the process.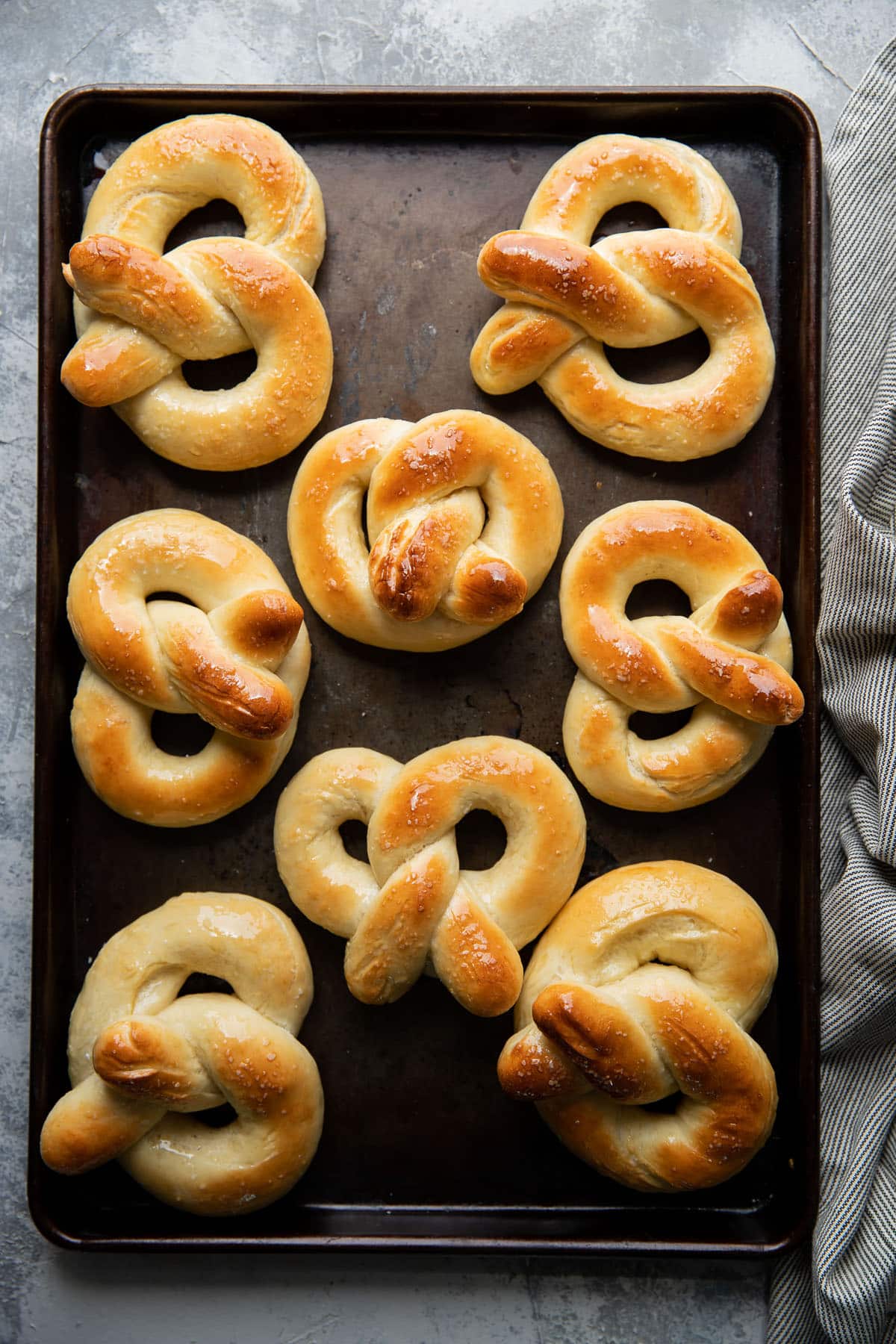 Resting Soft Pretzel Dough
There isn't a ton of 'resting' time for this recipe. The initial bit of rest time after the dough comes together and then you move right along in to making them.
You'll skip the traditional pretzel resting time after you form them in to pretzels. Go straight in to brushing with the egg wash and baking.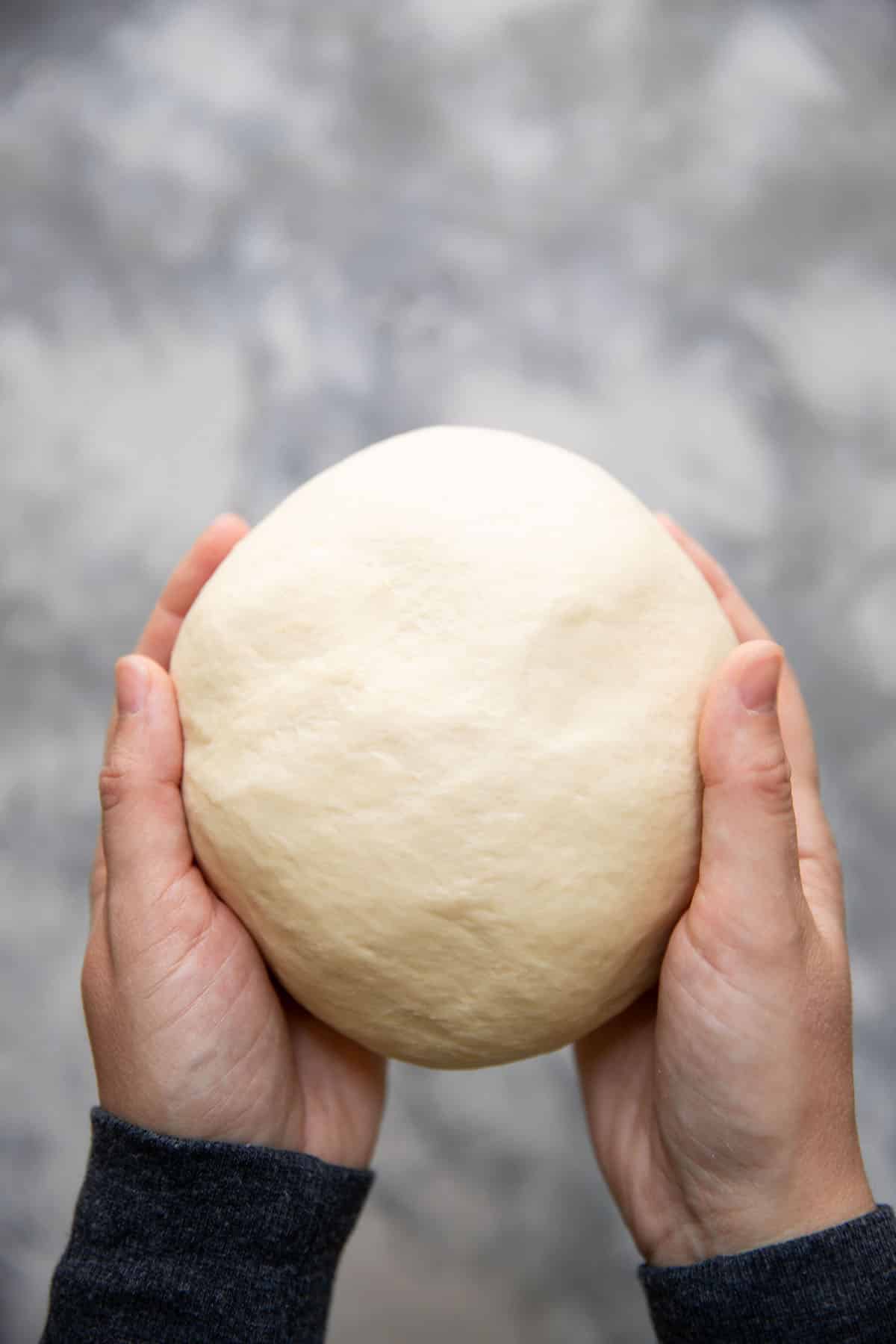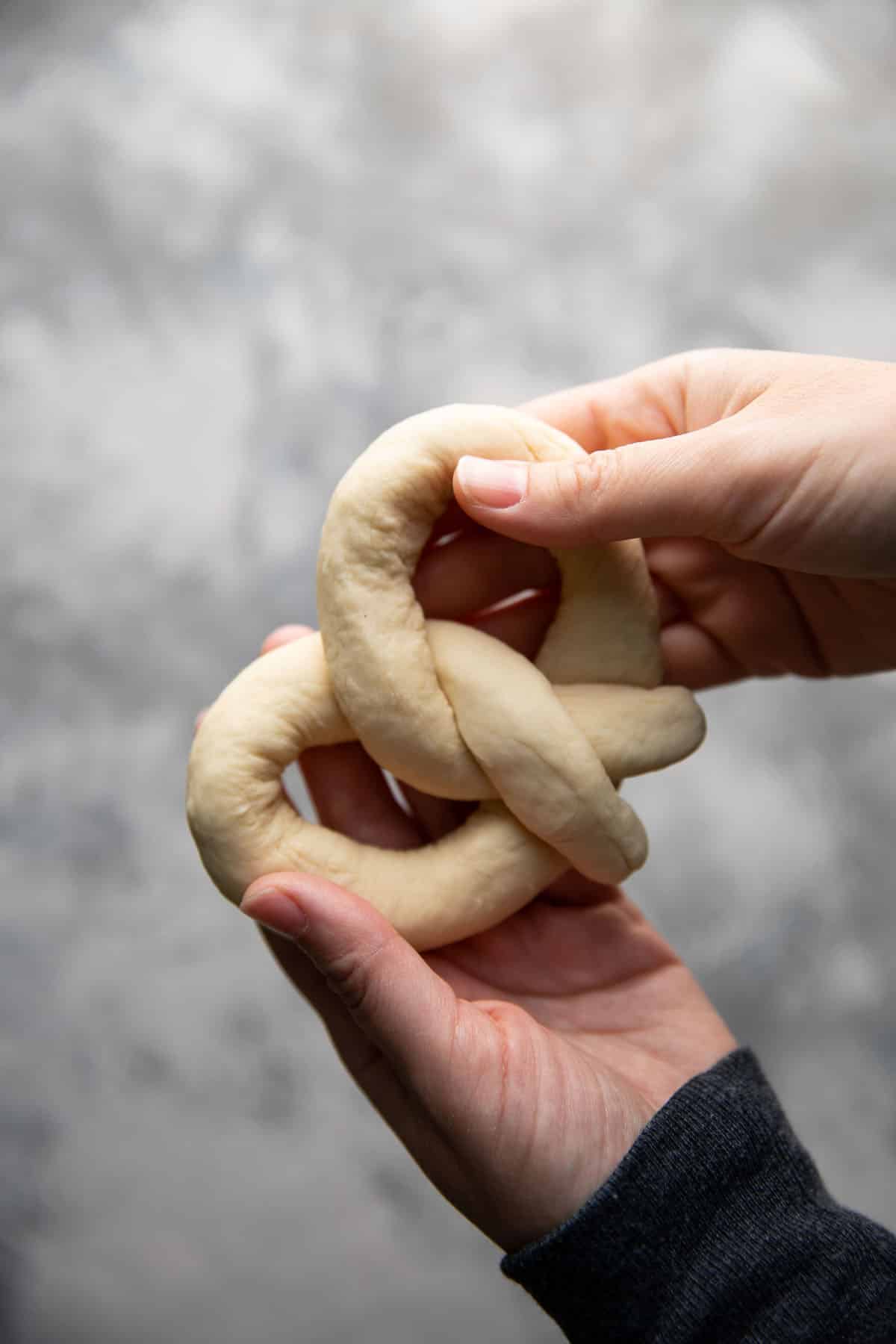 All the resting time that we are skipping saves so much time.
Now it doesn't mean that you can't rest them. You totally can. But know you don't have to. If you watch in my video, after my dough has puffed up I don't have any more resting time allotted.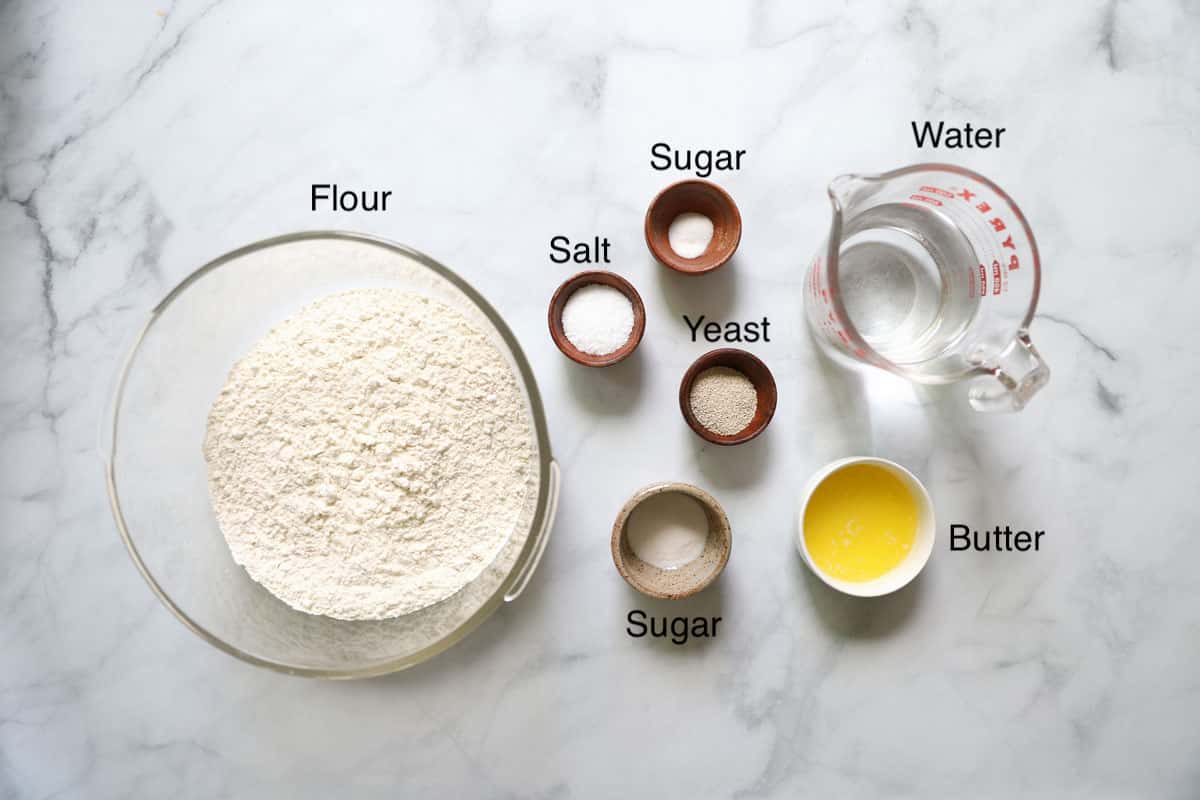 Why no baking soda bath?
Opting out of a baking soda bath cuts down the time it takes to make these by like half.
A baking soda bath is actually a cheat for at home pretzel makers, it's used instead of lye, which can be a bit dangerous to handle if you aren't a professional in that area.
This is what gives pretzels that dark, shimmering outer crust.
I don't know about you, but for me the whole pretzel experience is how soft and fluffy they are.
You won't get the extra crisp crust with this recipe but you will get super yummy fluffy pretzels. To create a bit of color I end the cooking process with a quick broil.
Your family will adore these soft pretzels without baking soda, they are such a short bake you can make them over and over again!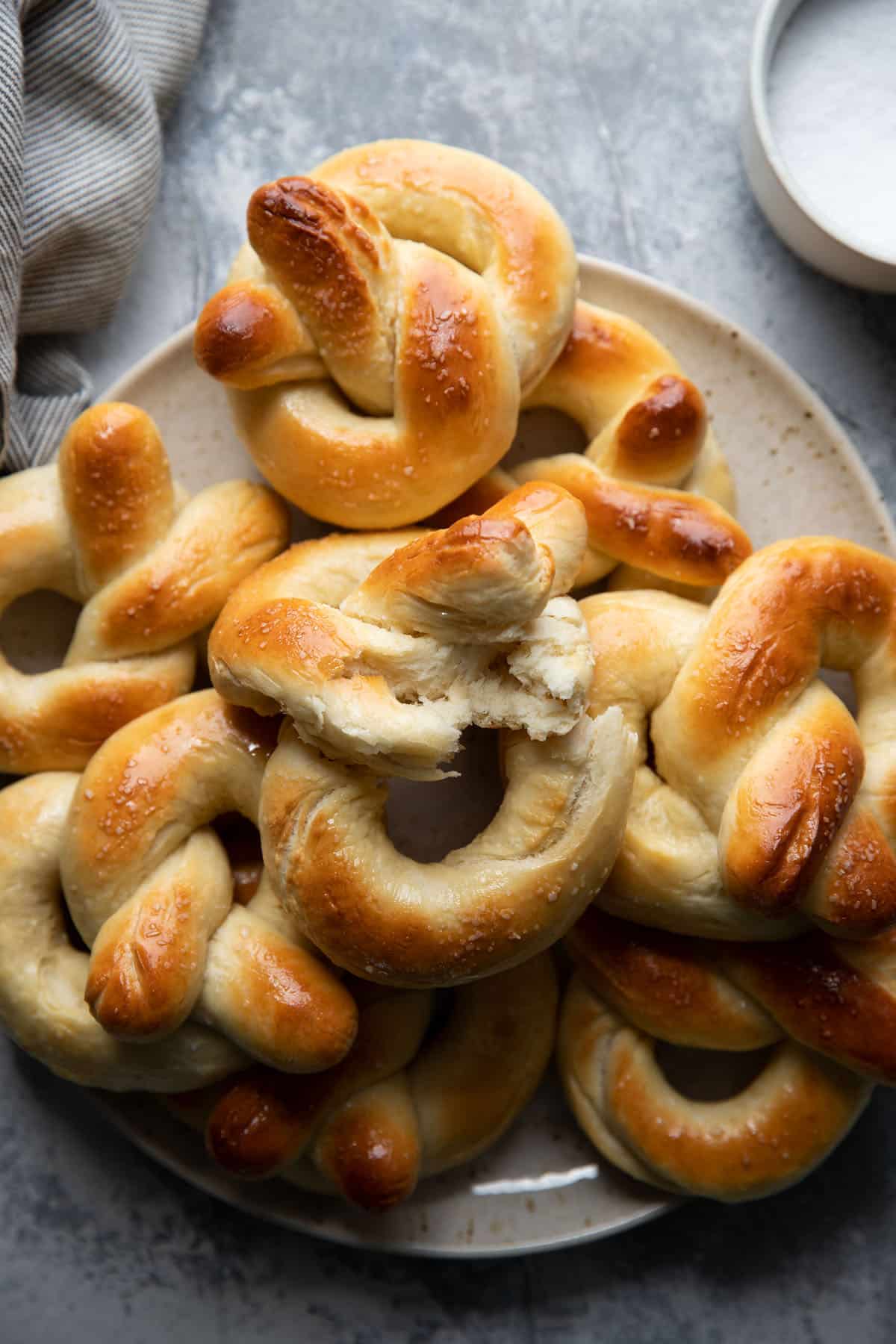 More Yummy Baked Goods
Watch How To Make Soft Pretzels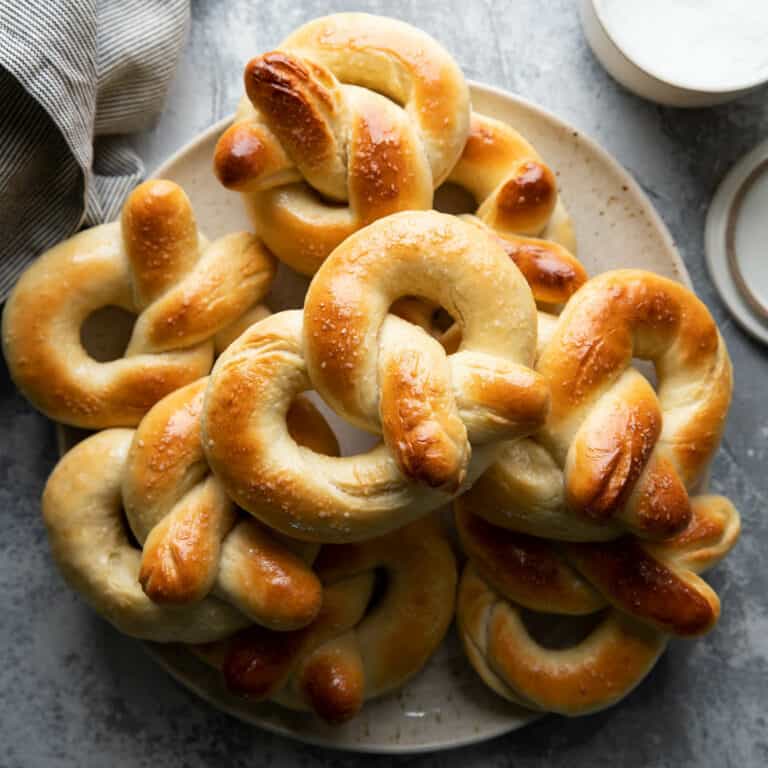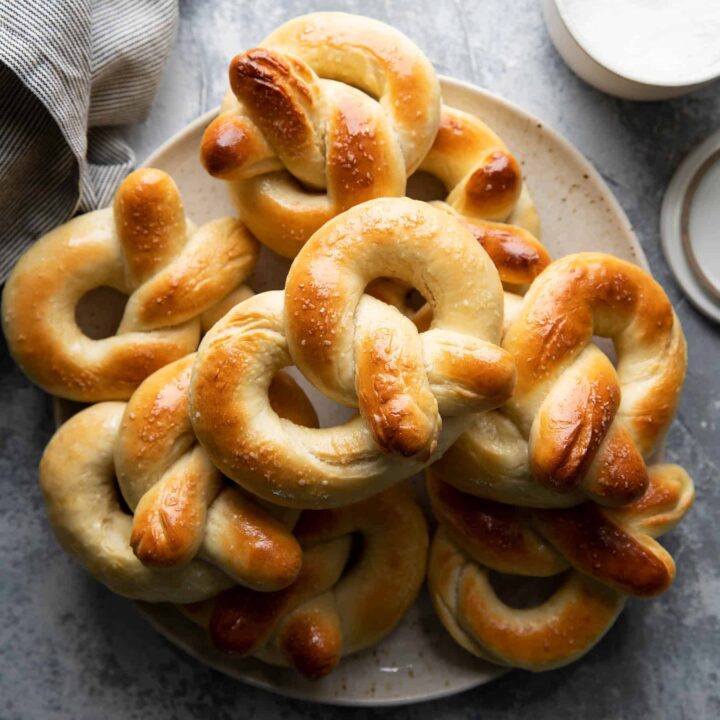 Buttery Soft Pretzels Without Baking Soda Bath
Inactive Time:
30 minutes
Total Time:
1 hour
23 minutes
Super fluffy, buttery, salty and insanely delicious.  Homemade baked soft pretzels are on the agenda today and I've got a recipe for you that won't disappoint. Say goodbye to the baking soda bath and all that extra work, we won't be using that method for these!
Ingredients
1 ½ c water
1 tbsp active dry yeast
1 tbsp sugar + ½ tsp, sepparated
4 c flour
2 ½ tsp salt
3 tbsp butter, melted
1 egg
1 tbsp water
kosher salt
melted butter, for spreading over cooked pretzels (however much you want)
Instructions
Heat 1 ½ cups of water in the microwave for 45 seconds so the water is warm
Add the yeast and sprinkle ½ tsp sugar on the top, stir and let sit 5 minutes
Mix together 4 cups of flour, salt and 1 tbsp sugar in a stand mixer
Pour in the yeast mixture and melted butter
Mix on a low speed with a dough hook until combined and smooth looking, about 5 minutes
Roll in to a ball, return to the bowl, cover and rise for 30 minutes
Preheat oven to 400
Line two baking sheets with parchment paper
Cut 8-10 pieces and roll them out into ropes, and a pretzel shape or any shape! (see video on rolling pretzels)
Brush the pretzels with egg wash and sprinkle with salt
Bake for 12 min
Turn oven to broil and broil for 1 minute
Remove from the oven
Brush the pretzels with melted butter
Serve!
Notes
Make sure your water is the correct temperature for the yeast, if it's too hot it kills the yeast and too cold it won't activate
Don't broil longer than 1 minute - it can easily go from a golden color to black if you forget
If you are hand kneading the dough it will take longer than 5 minutes, more like 10, to get it smooth
Recommended Products
As an Amazon Associate and member of other affiliate programs, I earn from qualifying purchases.
Nutrition Information:
Yield:

8
Serving Size:

1
Amount Per Serving:
Calories:

307
Total Fat:

7g
Saturated Fat:

4g
Trans Fat:

0g
Unsaturated Fat:

3g
Cholesterol:

39mg
Sodium:

902mg
Carbohydrates:

51g
Fiber:

2g
Sugar:

1g
Protein:

8g
This information comes from online calculators. Although moderncrumb.com attempts to provide accurate nutritional information, these figures are only estimates.